If you're a savvy business owner, chances are you already have a website.
But is it up to date? Is it time for a website redesign?
Aside from usability, the topics of security, SEO and conversion rate are all critical to small and medium-sized businesses.
With the world shifting towards the "new normal" following the pandemic, your business website has become an essential piece that drives new leads and sales. Customers now research, compare and buy products and services online more than ever.
And a website redesign can help keep up with the changes in consumer behaviour and maximize results you get online.
To help you make the right decision, in this guide you'll learn what are the benefits of a website redesign, why you may need it and how to effectively get started.
What is a website redesign?
A complete website redesign implies rebuilding your website from the ground-up, starting with the code all the way through to its appearance, functionalities, and user experience. Similar to how you'd renovate your office or shop, with a website redesign you'll improve the look and feel of your site, enhance it with new features, and ultimately drive better business results.
You may also choose to do a partial website redesign, which will overhaul only the backend or the frontend components (the backend being the code that powers your website's functionality and the frontend being the visual interface that visitors interact with).
How often should you redesign your website?
Ideally, you should evaluate if you need a website redesign every 2-5 years. However, this will vary depending on what your site looks like, to begin with along with your industry, audience, and the changes in technology and design that are always coming about.
Additionally, if your site isn't performing as expected, you should likely assess if you just need a website refresh or a complete website overhaul.
You can't solely use your calendar to determine when a website redesign is in order. While a site from 2014, or even 2017, is likely in need of a major overhaul today, that's not a hard and fast rule.
Dig into your analytics to identify issues with rankings, traffic, or conversions, then make a data-driven decision on what to do next.
The Ultimate Guide to Hiring a Web Developer
In-house, freelancer or agency. Download the guide to make the right decision for your web development project by following 3 key criteria.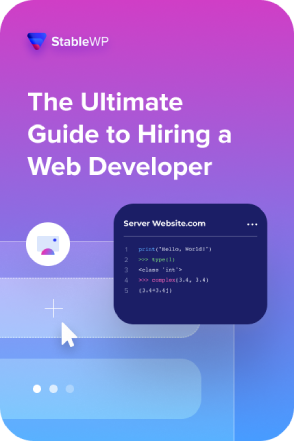 Benefits of a website redesign
As with any type of business expenditure, you will probably evaluate the need for a website redesign based on its returns to determine if it's worth it.
Since a good site redesign does require a significant investment, here are five major business benefits that justify the cost and help pay for it.
1. Improved branding
An updated website will help reinforce the consistency of your brand. With a modern design, your website will promote trust and brand recognition amongst consumers, which is why a website overhaul can do wonders for your brand-building initiatives.
Potential customers that find your business online will use the overall design and quality of your website to evaluate the trustworthiness of your company.
First impressions matter and they're 94% influenced by your site design.
If your site appears cheap and outdated, doesn't work well, or provides bad user experience it can turn people away from becoming your customers.
On the other hand, a website redesign helps keep your business relevant and enhances your brand image with a strong impression.
2. Better search engine rankings
Having a well-designed website also means better SEO. In fact, your website's redesign should take search optimization into account from the code all the way to its end responsiveness.
Ultimately, that means your site's redesign will help you climb up in the SERPs, scoring you more organic traffic.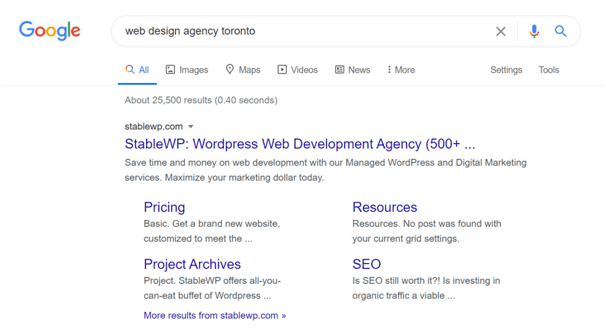 Moreover, once people click on your link and see your modern website, they're more likely to stick around. If your site structure is optimized, visitors will browse through your site, check out more pages which will reduce your bounce rate.
Finally, a well-designed website can also attract more backlinks, which can give you a strong push for even higher Google rankings and additional referral traffic.
3. Improved information flow
The core goal of your website content and information is to help potential customers learn more about your business, products/services and ultimately help close deals.
Whether it's info about your company, your founder's story, or just educating them on your products and services, a website's key purpose is to provide information that helps visitors take the desired action (conversion).
Of course, people expect the information they want to be right in front of them at any given moment. And to be able to persuade visitors to consider your offerings and become paying customers you need to have an optimal information flow.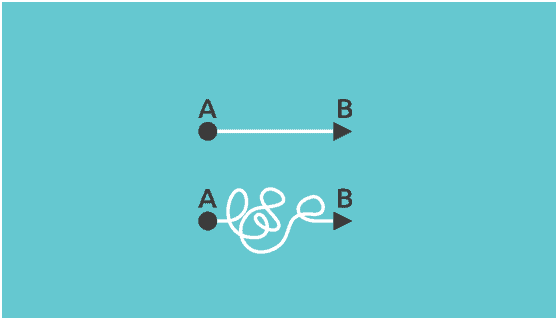 Unfortunately, many websites fail to meet this high demand.
With a website redesign, you can do your best to structure and present your information in a way that all the important stuff is easy to find as users flow organically from one page to the next.
4. More leads and sales
A website redesign will result in more leads and sales thanks to the implementation of cutting-edge conversion optimization tactics and features.
Let's face it, converting visitors is the ultimate goal of any website. Whether you want to collect their email or phone number, drive them to schedule a booking, purchase an item, or sign up for a subscription, conversions are where it's at.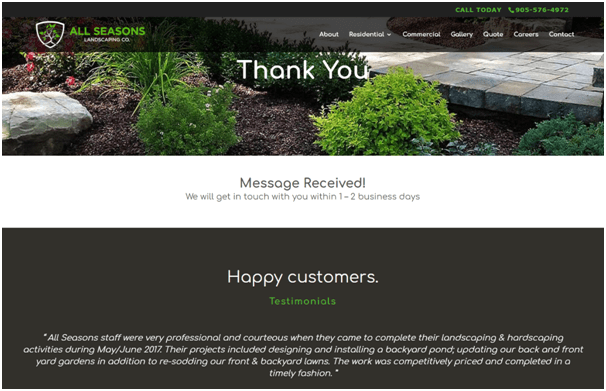 With a website redesign, you can make conversions the primary focus, and you'll do it by presenting a flow of information that funnels them to purchase, subscribe, or request more info. That's something most older websites just don't do very well.
5. Increase revenue and reduce costs
All in all, by improving brand consistency, boosting your rankings, and funnelling your visitors to a conversion event, a website redesign will help increase your revenue.
But, do you realize that it can also reduce your costs?
When doing a complete redesign, you get the opportunity to revaluate your hosting and CMS (Content Management System). Plus, a new website may run much more efficiently, taking up less space on your server and operating more quickly for all your visitors.
Also, it's often more cost-effective to do a redesign than to fix functionality issues and add more features over time. Rather than pasting a bunch of band-aids to your existing site, it's better to go with a complete overhaul and start over.
And most important of all, a website redesign will cut costs of missed opportunities and lost revenue caused by your old, clunky website.
That's an all-around win for everyone.
12 reasons why your business needs a website redesign
Now that we've reviewed the potential benefits your business will enjoy when investing in a website redesign, it's time to explore the topic more in-depth to help you determine when and if your website needs a redesign.
If you find any of these points to ring true, a website redesign should definitely be in your plans.
1. Your site is not mobile-friendly/responsive
Not being responsive and mobile-friendly are two major signals that your site is due for a redesign.
Last year, over 53% of all internet traffic originated from mobile devices.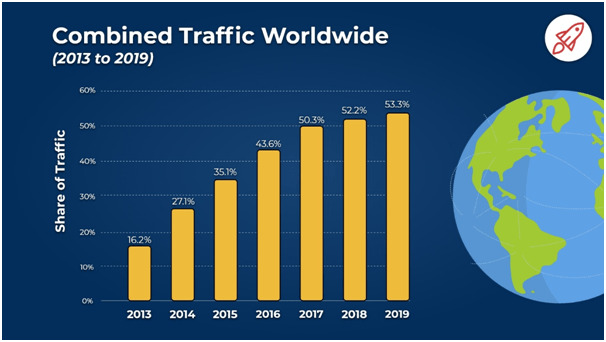 So, with over 5 billion people around the world carrying one, you must ensure your business' website provides a seamless experience on mobile devices.
That doesn't just mean it loads and looks "okay" on a mobile phone or tablet. A mobile-friendly website should offer just as great (if not better) user experience as your desktop website does, with the same great structure and information flow.
And if all that's not a reason enough to think mobile-first, then just keep in mind that poor performance on mobile devices can seriously hinder your SEO and organic traffic.
Google announced mobile-first indexing, meaning it will consider mobile performance when ranking websites.
2. You have a slow site speed
Speaking of users that hate to wait, people on the internet in general tend to be impatient. It's been found that nearly half of modern consumers expect a site to load in just 2 seconds. Slightly less will leave your website immediately if it doesn't load within 3.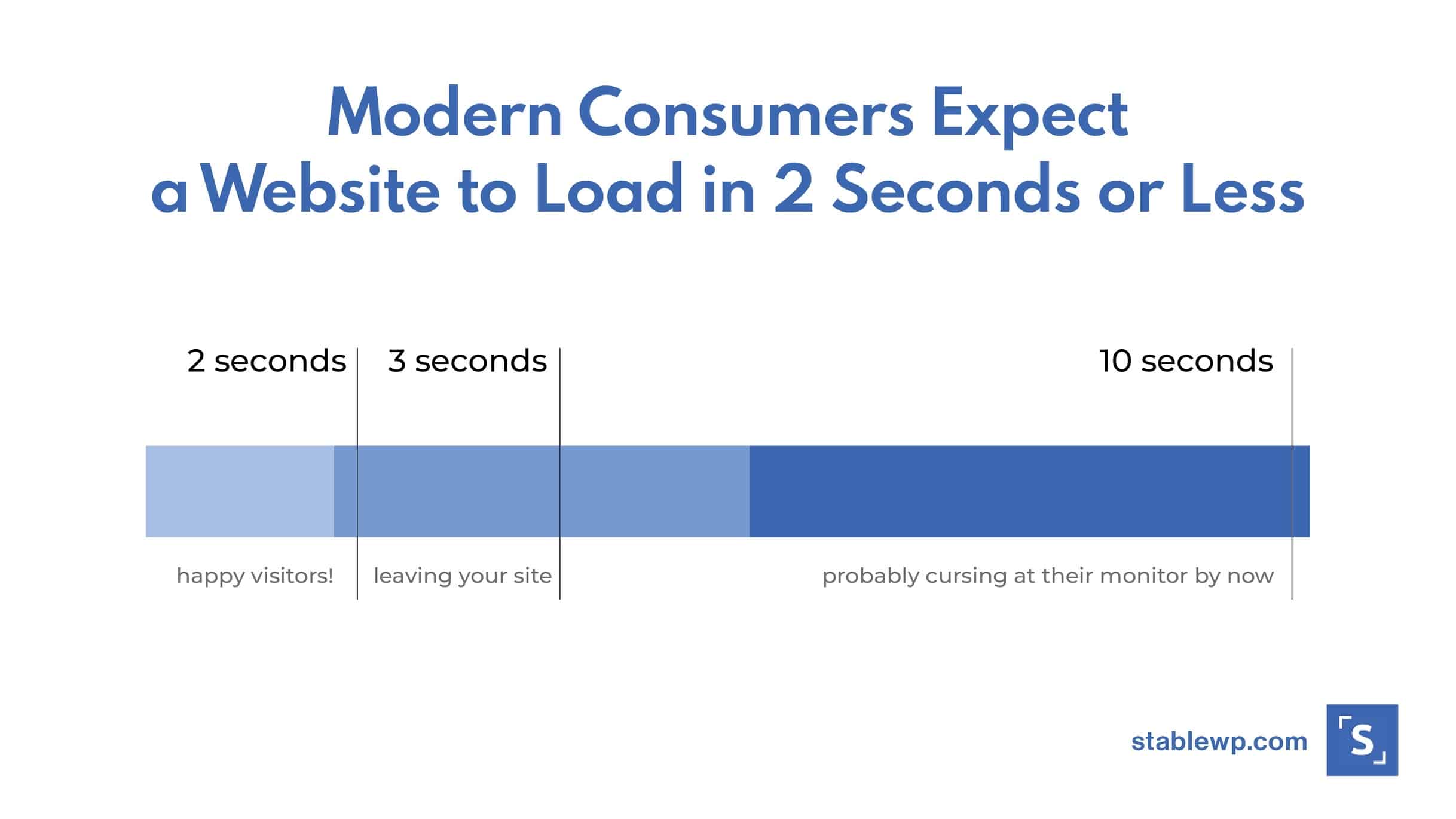 After all, when it comes to user experience, speed matters.
In other words, having a slow-loading website is simply unacceptable.


And, while there are things you can do to speed up load-time for your existing website, issues causing slow loading are often deeply ingrained in your site's design and code.
For a lightning-fast site, you need to design it with speed as a priority, not an afterthought.
What's more, since the bulk of internet traffic comes from mobile, you must consider that mobile users are much less patient and willing to wait when browsing the internet. Your responsive website should load almost instantaneously if you hope to gain any kind of traction in 2020 and beyond.
Consumer studies show that the stress level of waiting for a page to load is similar to that of watching a horror movie or solving a mathematical problem, and greater than waiting in a checkout line at a retail store.
3. Your site is not AODA compliant
If you're not familiar with AODA compliance, it's a set of accessibility standards that help ensure everyone, including people with disabilities, can use your website easily.

What's more, if you're a large business operating in the Ontario province, you're required to comply. Hefty fines are instated for businesses that violate AODA rules.
From January 2021 all websites and web content posted after January 1, 2012, must meet WCAG 2.0 Level AA.
Regardless of where your business is, accommodating those with disabilities is always a good thing.
With the AODA compliance deadline is fast approaching, it's about time to redesign your site with accessibility in mind, to avoid severe penalties and make the world a better place for you and everyone else.
4. Issues with user experience
Your site's user experience, of UX, should be a primary decision point when deciding if your website is up-to-par.
Think of your website UX as a part of the overall customer experience (CX). You need to optimize both to stay competitive and maximize results online.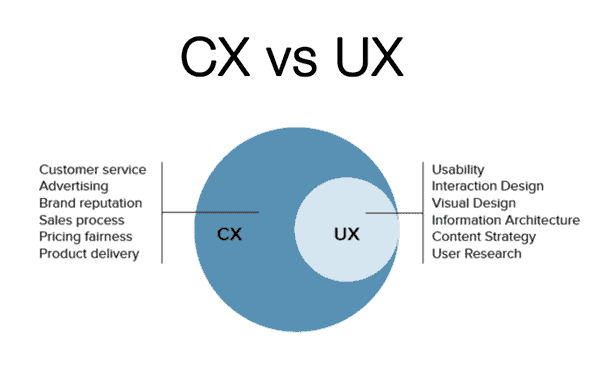 If your visitors struggle to find information, can't use all of your site's features across browsers and devices, find broken or missing functionalities, experience regular technical issues, or generally suffer through an un-intuitive UX, you urgently need a website redesign.
After all, websites that don't offer a good UX have higher bounce rates, shorter time on page numbers, and fewer returning visitors – all of which harm your SEO, conversions, and your reputation.
5. Your site has an outdated design
If your site looks dated, it's time for a redesign. A vintage look may be good for fashion, but when it comes to website design, people demand cutting-edge.
Think a modern design is a luxury? Think again.
More and more users are becoming extra discretionary about the websites they visit, in part because they know there's always a good-looking website in every niche.
In fact, according to Stanford University, 75% of users admit to making judgments about a company's credibility based on their website's design.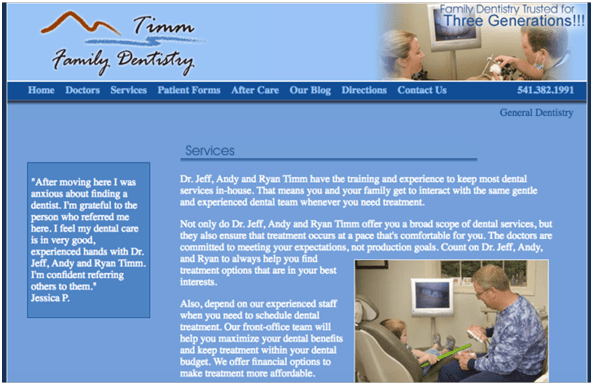 Also, outdated and clunky designs are often associated with untrustworthy sites. It gives the wrong impression of your business and you're going to lose customers.
6. There have been changes in your industry or audience
Changes in your industry, your target audience, or in users' behaviour all call for a website redesign. Trends and shifts in customer preferences will dictate what's considered as appealing and essentially what drives results.
You might notice competitors and industry leaders adding new functionality or using new design elements. Or you might learn that customers now expect certain features or new types of content.
For example, visitors to real-estate websites have come to expect virtual 3D tours and floorplans of listed properties.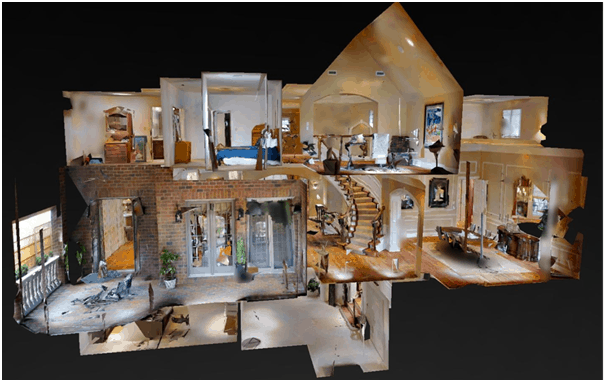 All this signals new trends that you should pay close attention to.
Without following industry trends, it means you're presenting a website that was built with different parameters in mind. Visitors and potential customers may perceive your business as out of touch, which is not a good position to be in.
And even just seemingly small details, like the wording in your CTA box or the imagery you use, could be throwing off your present-day audience.
Of course, this doesn't mean you should jump on every bandwagon that comes your way. Be strategic and whenever a new industry trend emerges, ask yourself these two questions:
Will a website design be beneficial to how your brand is perceived?
Are your competitors already taking advantage of these new trends?
If you answer YES to any of these two questions, then contact your web design team asap.
7. Your site has an overly complicated structure
Convoluted site structure and navigation are clear signs you need a website redesign.
Is there any page on your site that's more than 3 clicks from your homepage? If so, that's a big sign that your site needs better structuring.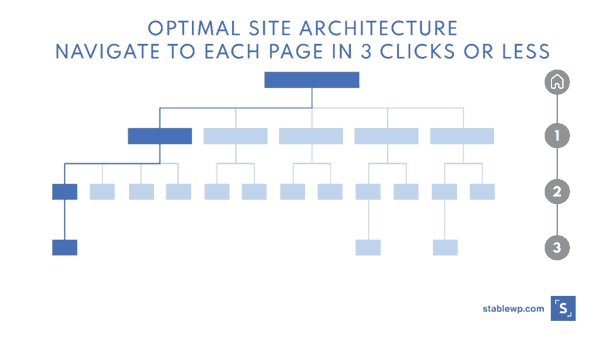 If a user is browsing your website, they should have a quick and intuitive path from any page on your site that leads them straight to the info they're looking for.
Moreover, they should have a direct path back to where they just were, once were, or started their journey. Does your site enable this?
8. Low rankings and poor SEO performance
If your site is losing rankings or you're experiencing a steady drop in organic traffic, that's a clear sign that you need a website redesign.

SEO and organic traffic are growing in importance each year.
After all, making sure that your website is optimized for search engines is the only way to rank high on Google and reap the rewards of long-term organic traffic.
Of course, SEO isn't as simple as publishing great, keyword-rich content. Your site's code and design play an essential role in a search engine's ability to crawl, index, and understand your site.
If your SEO isn't performing as well as you'd like, it's time to look deeper than your blog posts.
With a fresh redesign, your site will start to climb up the rankings and quickly grow your organic traffic.
9. Subpar conversion performance
Conversions are probably the single most important KPI to track on your website. If your website isn't converting, that means it's not driving the results and it's not serving its purpose.
While there are several things you can do to increase your conversion rate on your website, all of your efforts could be in vain if you're trying to boost your CR on top of a poor foundation.
Poor conversion rate can be a result of unclear CTAs (calls-to-action), confusing sign-up forms, complicated navigation, lack of features, poor information flow, too many distractions, etc.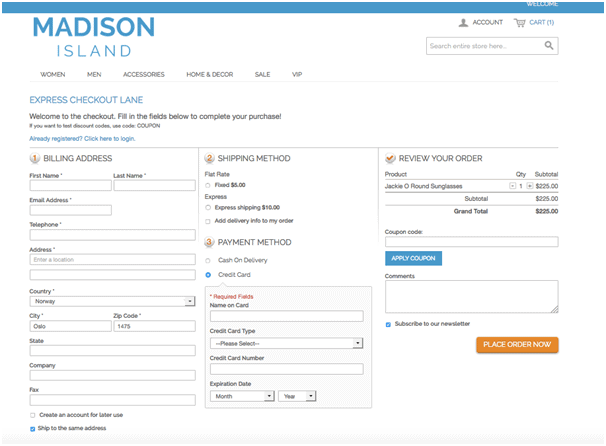 In other words, if your site's core code and functionalities aren't addressing visitors' needs and expectations, you're going to find optimizing your conversion rate to be next to impossible.
In that case, there's not much left other than to completely overhaul your website and start anew.
10. The purpose of your site has changed
Another common reason why you may need a redesign is because your business goals, and in turn your site purpose have changed.
Amidst the pandemic, more and more businesses have moved their operations online, and that likely means your website has different goals than it did just six months ago.
For instance, if you previously only sold in-store and used your site to drive foot traffic, you may now offer a "buy online" or pickup option. If so, your site's layout, structure, and wording should accommodate that.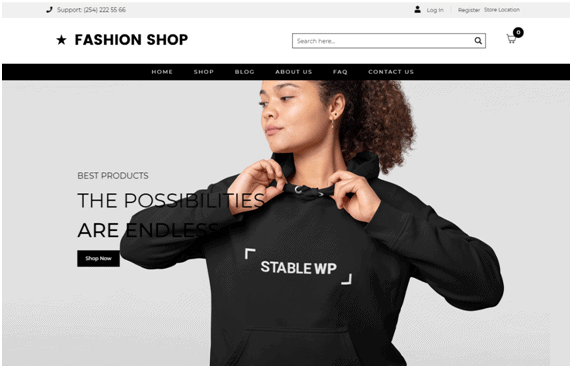 On the other hand, you may now be focused on lead generation whereas your previous goal was driving sales.
It's also possible that you started with a DIY or templated website that you've outgrown now. If the templates or themes are too restrictive for your new website goals, you should explore a redesign that allows for more customizations.
Regardless of what has changed, if your goals or purpose have evolved, it's time your site did, too.
11. You need to add new functionality and features
If you want to expand the functionality of your site or add new features, you may need to redesign or redevelop your website.
Maybe you're considering implementing e-commerce for the first time, or you'd like to add memberships to manage a community on your website, or in need of a complex technical integration that supports your operation.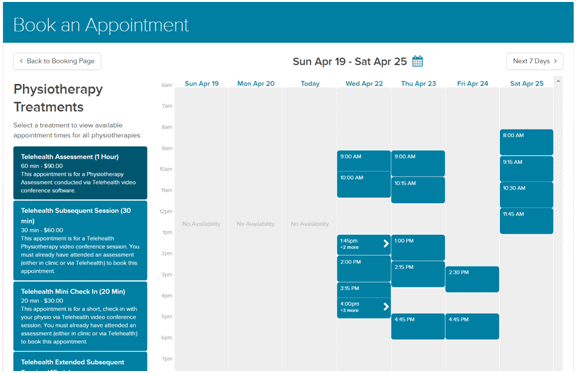 These are just some common new functionalities and features that businesses sometimes try to "fit in" to their existing site.
Unfortunately, trying to squeeze such major developments into and around your existing site infrastructure is probably only going to cause problems. Your existing website and structure were not built for these features and you may just end with a hot mess that performs poorly.
Whether it's a less-than-seamless integration or bugs and technical issues that plague the development, big new features and functionalities often call for a site overhaul.
12. You've changed your brand
A brand update is another compelling and obvious reason to start looking into a website redesign.
You may have made changes to your:
Business logo
Colour pallet
Imagery
Tone of voice
Content
Brand messaging, etc.
It's crucial that you redesign your website to reflect any major changes to your branding and provide a consistent look and feel.
After all, you probably already realize that your website is the core of your business's digital presence that significantly impacts your brand and its perception. Be instantly recognizable by staying consistent across all your marketing channels and customer touchpoints (including your website).
This will allow you to attract more customers, keep them loyal and stay trustworthy.
Like Dollar Shave Club, which went from a vintage, "gold rush" style…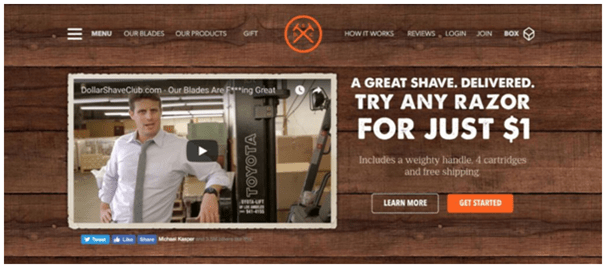 …to a sleek minimalist look that fits modern users.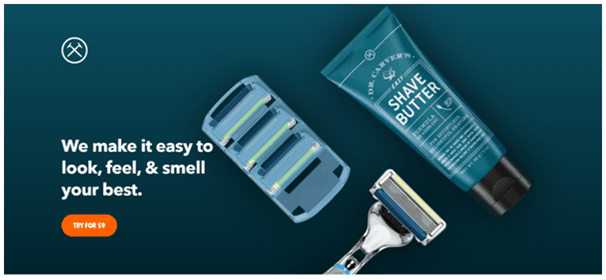 Your business's website is the only place on the web where you have complete control over how your brand is presented. It's not like social media where the platforms have complete visual control or where you must adapt your content to their format.
Your website is the one place where users know that every decision is up to you. So, it should reflect your brand consistently.
Given that, if you don't think your current website reflects your brand, or if you're looking to update your brand, it's time your website got its redesign as well.
How to assess whether you need a website redesign
A website redesign is a significant investment, that's why you don't want to guesstimate if you need it or not. You should do a thorough assessment of your current website and performance and then decide on your next move based on real data.
Once you go through the long list of reasons that can help clue you into whether or not it's time for a redesign, you can begin to think more objectively about your current website and gain some technical input to help you determine how dire the need is.
Run the following are seven major assessments to determine if your site is ready for a complete redesign.
1. Measure your website speed
A key part of assessing whether you need a website redesign is measuring your loading speed.
Remember how almost half of your visitors will expect your website to load in 2 seconds or less?
If your website is lagging, it's costing you precious clicks and conversions. That means a higher bounce rate and less time spent on your pages, resulting in both a ding to your Google rankings and a loss of conversions.
So, how do you know if your site is fast or slow?
It's easy enough to find out with tools like PageSpeed Insights and Gtmetrix.
Both will provide a website speed score and tell you just how many seconds it takes for your website to load.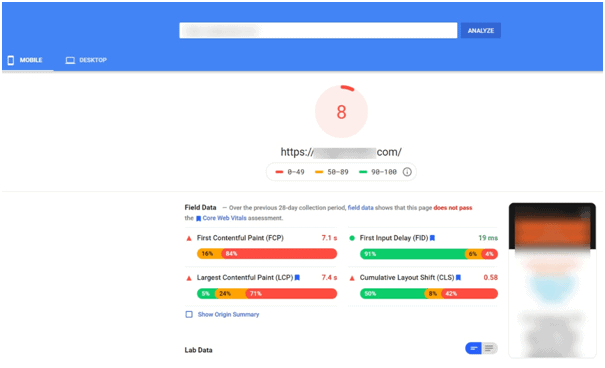 Once you know your website speed, you can begin exploring ways to make it load faster.
Each tool will provide insights into what elements of a page are causing slow loading times as well as suggestions on how to fix the issues.
But in case your speed is very low (like in the screenshot above) you're likely in for a complete website redesign as normal speed optimization tactics may not be able to improve performance.
2. Inspect your Google Search Console
Another tool you should use to assess if you need a website redesign is Google Search Console. If you're not already familiar with it, this is a tool that directly allows you to submit pages to Google so it can supercharge your SEO efforts.
Google Search Console is actually a multi-faceted tool that you can use to assess your rankings, view indexing and coverage issues and identify other issues that may be causing SEO problems.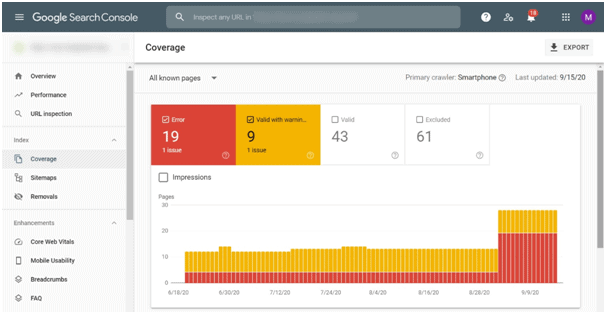 Another crucial report in GSC is the Core Web Vitals report. It shows your performance across three major Google ranking factors that directly impact your business visibility in the search results.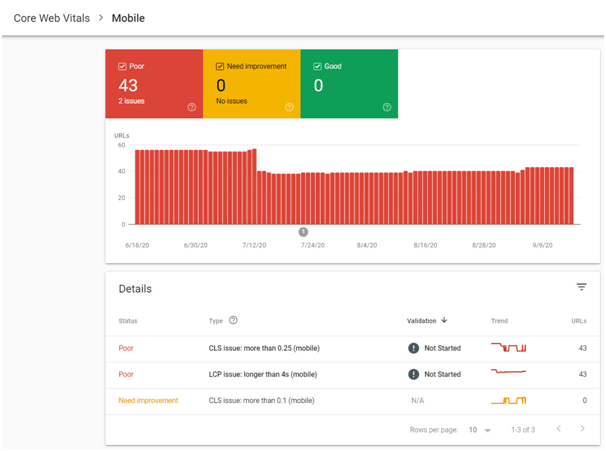 Since Google is the biggest search engine in the world, you should definitely be using these insights to your advantage. If you see too many errors, warnings, and issues it's probably a good time to contact a web design agency to get your site redesigned.
3. Go through your Google Analytics
Google Analytics is another one of those tools you should use to help evaluate your website and its potential need for a redesign.
One of the first metrics you should look at in your Google Analytics dashboard is your bounce rate.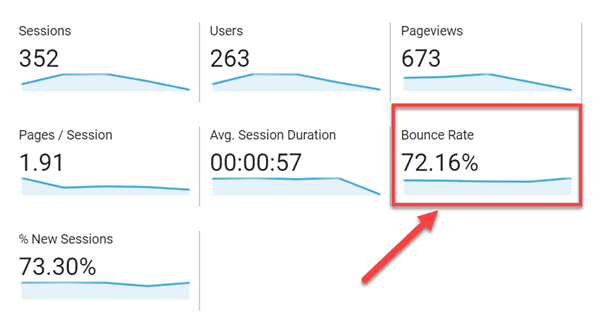 This number tells you what percentage of people who click on your links click the "back" button within a few seconds. In other terms, a bounce is when a user lands on your page but doesn't interact with any of its elements and doesn't visit any other page on your site.
Bounces are most often caused by a slow-loading or unattractive website, so take them to heart.
Moreover, combine your bounce rate analysis with the average number of pages visited per session and the average time on site, which helps you understand how long people stay on your website and each page.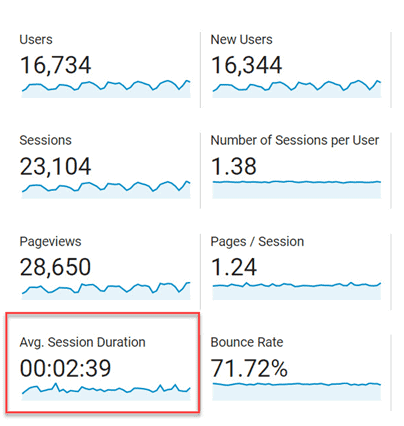 Finally, look into your Goal Conversions and Conversion Rate reports in your Google Analytics account.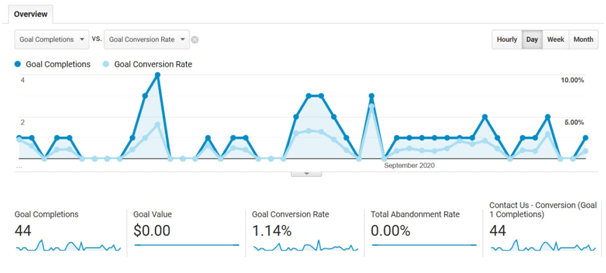 These reports are probably the most important as they show if your website visits result in leads or sales.
If you do operate an e-commerce site, make sure you analyze your checkout performance. Google Analytics allows you to inspect every step in your checkout flow to identify any problematic areas with potentially high drop-offs.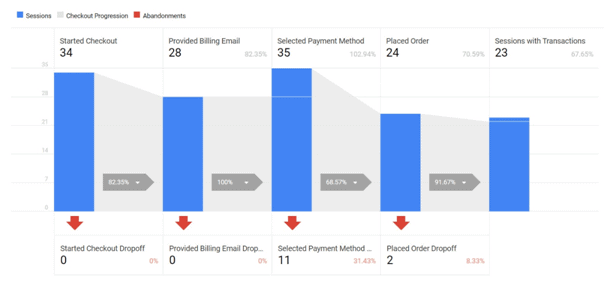 If your conversion numbers are low, try and find out why your site isn't converting.
While in some instances, elements can be tested and optimized for conversions, other issues may require a comprehensive overhaul of your website and landing pages.
4. Analyze your competitors
Competitors are another essential thing to consider when deciding if you need a website redesign. Perform competitive research to see how your site fares against your rivals.
The situation is simple: if your website is of a lesser quality than that of your competitors, you're most likely losing customers and sales to them!
Your top-performing competitors are surely doing something right, which is why they make great role models for how your website should look and perform.
Here are a few things to check:
Check your competitors' SEO rankings
Look at competitors' website design
Inspect their pages, content, and structure
Analyze how they optimize for conversions, etc.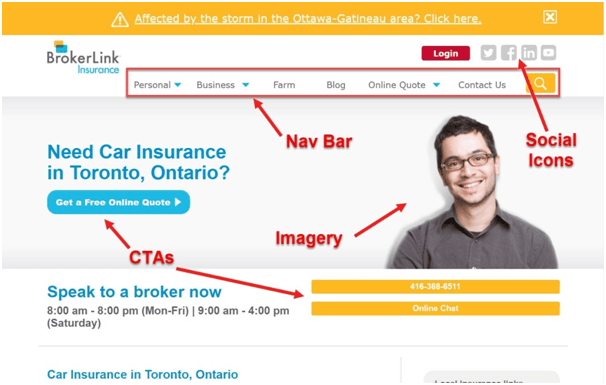 Take note of anything that's giving your rivals an advantage and try to replicate that. If your site is lacking in features, then it may just be the right time for a revamp.
While you don't want to be a copycat, you should take the time to look at multiple competitor websites and take notes about what's consistent among them.
Then, find ways to improve upon what they're doing so you can be even better.
5. Run a survey on your site
Running a survey on your website can help gain valuable insights and decide if you need a website redesign.
One of the best ways to give your users what they want (and make them feel listened to) is to run surveys on your website.
Surveys can help you get a better understanding of what helps your customers take the desired action as well as what's stopping them along that journey.
A tool like HotJar can help you do it, too, and it's all relatively easy to implement. You can ask practically any question that comes to mind, whether it's concerning your site's UX, speed, or features they'd like to see.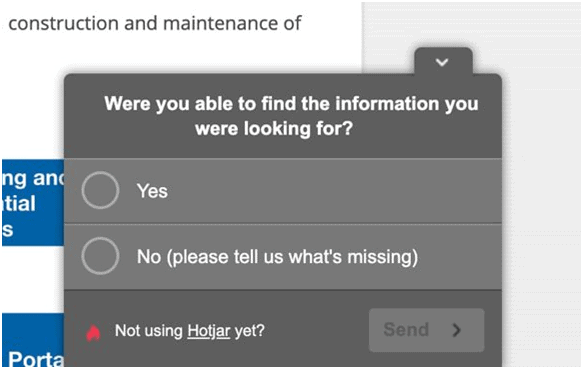 Analyzing the answers to your surveys will certainly prove valuable in helping you determine if your site is due for a redesign or what you should consider when pursuing one.
6. Check for any accessibility issues
Older websites built before the AODA enactment rarely meet all WCAG criteria. This is sort of understandable since back then there wasn't enough awareness, and most websites weren't built with accessibility in mind.
That's why it's critical to run an accessibility evaluation of your site.
Use tools like Wave to check for any accessibility issues.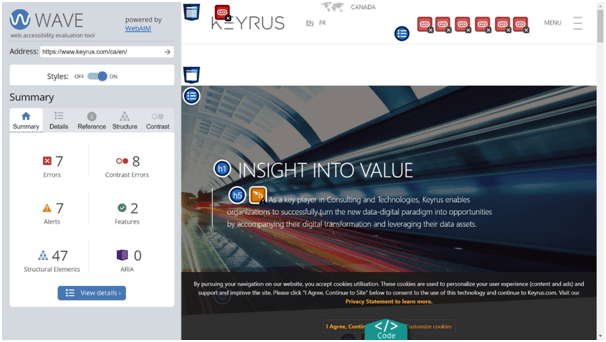 Remember, an accessible website is essential (and even required in some places) to serve your entire audience equally.
Of course, many website owners don't even realize how accessible or, rather: non-accessible, their website really is.
That's why an accessibility evaluation can help determine if you need to do a full website redesign to improve accessibility and avoid hefty fines.
7. Run a full website audit
Lastly, the final thing on your to-do list when evaluating your website should be a complete website audit.
Running an SEO audit isn't too difficult, albeit a bit time-consuming to go through all the checks and results.
However, it will prove well worth it once you have an actionable audit checklist in hand showing you all the areas where your site could improve.
A comprehensive audit includes:
Checking for critical issues
Ranking audit
Technical SEO audit
On-Page SEO audit
Analyzing UX signals
Backlink analysis
You can download our full SEO audit checklist here and run the analysis yourself.
Things to consider when redesigning your website
If you've made it this far and you've decided that a website redesign is in order, there are some critical considerations you should keep in mind before you look for the next steps.
1. Set clear redesign goals and KPIs
As with any business investment, you must have a plan in place that ensures you minimize costs and maximize returns.
By setting clear goals for your redesign that address all the issues you've discovered and by defining KPIs (Key Performance Indicators), you'll ensure your website redesign is a success.
2. Create a website redesign strategy and roadmap
With your goals listed out, you should do a "deep-dive" into that list and flesh it out into a complete strategy and roadmap. These will help you determine where your priorities lie and begin estimating a timeline for completion.
You'll also be able to mark milestones along the way so you can keep your redesign on track.
When laying out your strategy and roadmap, remember the things that are most important to your business (and your visitors).
Additionally, keep dependencies in mind. For instance, you can't begin to figure out the menu structure until you know all the pages you're going to have.
3. Consider your target audience
One of the biggest mistakes you can make when planning a redesign is failing to assess or reassess your target audience. After all, if your business or its needs have changed, your audience may very well have changed, too. There is no better time than now to look for such changes and work to accommodate them.
4. Consider your current high-performing pages
In the previous step, you analyzed your website to check its performance so you could find areas for improvement. However, you also need to make note of your high-performing pages so that you can preserve and even improve their performance after the redesign.
As such, you should analyze these pages to determine why they perform so well and then try to replicate the same results throughout your website.
You should also play around with split testing to see how you can get them to perform even better as you continue with your redesign.
5. Make sure you understand what issues exist
If you go through the steps and tools given to you above, you may find yourself spending a good deal of time trying to find all the issues with your current website, but it's time well-spent.
There's no use investing in a redesign if you haven't put in the legwork to figure out all the areas that need redesigning.
In other words, don't put any money into redesigning your website until you're confident that you understand all the issues that are harming your current website's performance or user experience. When you do pay to have your redesign completed, you want to make sure it's done right.
How to get started on a website redesign
Ultimately, getting started with website redesign begins with reaching out to a professional team that can help with the "due diligence" of evaluating your existing website and walking you through all the critical components of a successful redesign.
Here at StableWP, we redesign websites every day. As a web design and digital marketing agency, we're proud to take businesses by the hand and lead them through our modern, results-driven, and streamlined web design process.
We'll evaluate, analyze, and strategize to come up with a redesign roadmap that fits your business' goals and addresses the needs of your target audience. At the end of the day, we do everything we can to make our clients happy at all costs. So, what are you waiting for?
Reach out to our friendly team to request a website audit and get more information on your current site's performance and what we can do to bring your business to the next level. All while improving user experience and staying focused on increasing your revenue. Click here to contact us.