It's no secret that backlinks remain to be one of the most influential ranking signals in Google.
Most people struggle because they don't know where to get started or might be stuck with some ineffective methods that aren't bringing in any results.
I've compiled a list of top link building strategies that work for any business. Regardless if you are a brand new business(with a limited marketing budget), or are an established enterprise (with an immense budget to blow), you can jump-start your link building today, using this guide.
IMPORTANT NOTE : Not all backlinks are created equal. Depending on where those links are coming from they can have a diverse impact. Some links will directly increase your site authority and give you an SEO boost. Other links are a valuable source of referral traffic, and some can even help you make more sales and grow revenue.
With that said, it's important to get as many backlinks from as many different sources to spread out the link juice across your site and propel your business online.
So, let's get straight to it. Here's a list of 32 most powerful link building strategies that are proven to bring results. I've organized them into three categories; basic, immediate and advanced.
Basic link building strategies
Let's kick off this list with some basic link building strategies. These are relatively easy to execute, and you can get results in a matter of days (if not hours).
1. Get listed in trustworthy directories
Getting your site listed in web directories is a low hanging strategy anyone can carry out. Web directories are large websites that primarily act as an "online phonebook" where people can find relevant sites.
Submitting your site on web directories is usually free or very cheap, and can be as easy as filling out a form.
However, link building with web directories can be a double-edged sword. This strategy was heavily abused by self-proclaimed "SEO experts" in the past. As a matter of fact, you can get someone of Fiverr to list your site on over 2000 directories for only $10.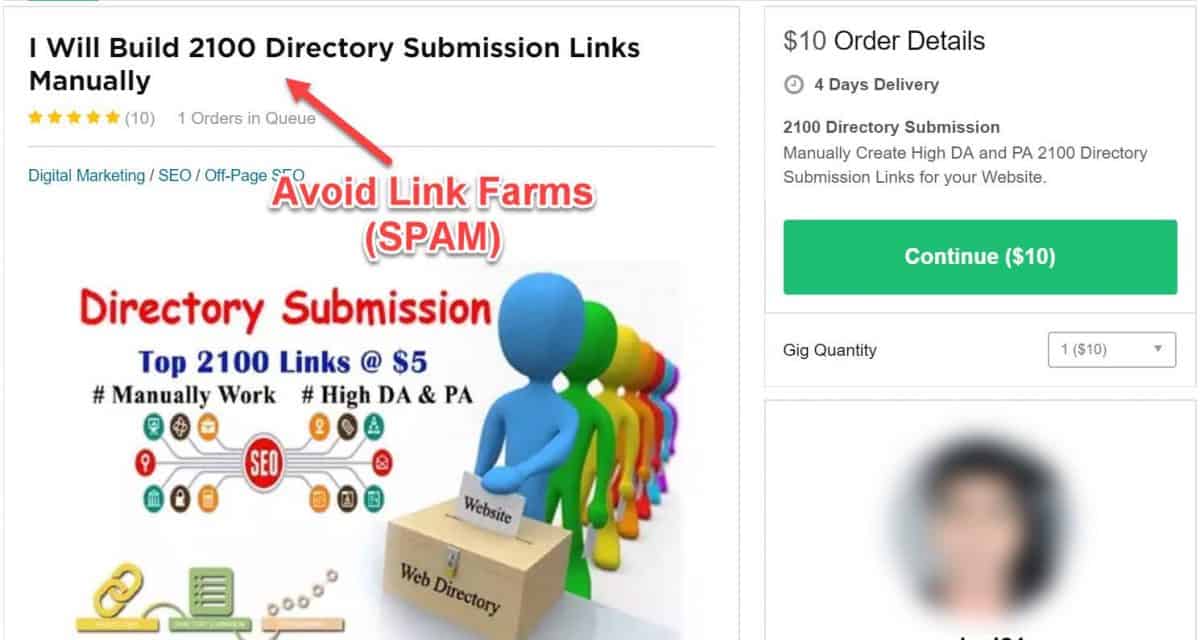 Needless to say, this is SPAM!
And that's why this link-building strategy got off to a bad name. If you do decide on buying this kind of service, there is a big chance that Google will penalize your site and reduce your chances of ranking in search results. (Check out the complete list of Google penalties and how to recover)
You'll end up having to pay to a link-cleaning company to remove your site from these link farms (which will increase your spending even more).
That's not to say this strategy doesn't work. Follow Google's guidelines and submit your website only to on-topic directories. What this means is you should list your site on:
Legitimate business directories (e.g. BBB)
Niche (industry) directories
For example, a chiropractor could list their site on ZocDoc and other relevant directories.

So, find those reputable directories related to your business, then submit your business website and get listed.
It's as simple as that, and it's a great way to get started with link building, especially if you have a brand new website.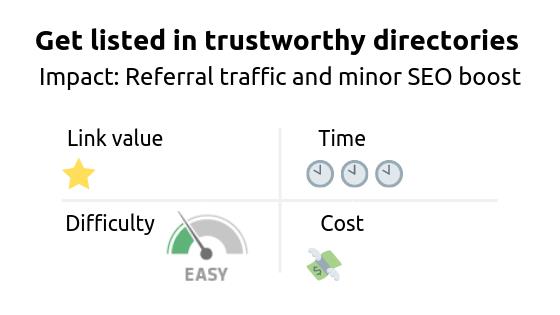 2. Submit your site to local listings
Building links using local citations is a superb way to boost your local SEO. Similar to building links with directories, local citations can be a relatively easy source of backlinks.
So, look for directories relevant to your city, region and even state, then submit your business for a citation.
These include worldwide sites like Yelp and Foursquare, as well as national directories like 411 and Hot Frog.
Local directories usually have a much stricter vetting procedure, and they allow users to review businesses. They are also super relevant (in line with Google's criteria), which makes them more trustworthy, and backlinks from these sources have more value in the eyes of Google.
Plus, they play a huge role in local Google rankings, which you can learn more about in our Ultimate Local SEO guide.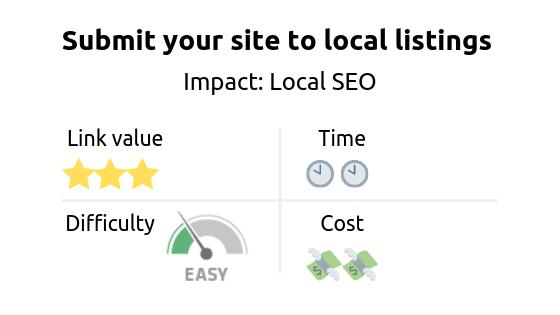 3. Insert links in your profiles
Whenever you create a profile online, be it a website/forum or on Social Media, make sure to add a link to your business site. That's pretty much all there is to this link building strategy.
Profile backlinks can be a good source of referral traffic. When someone visits your profile, they'll see a link to your site. If you post engaging content and have an optimized profile page, it should be a compelling enough reason for users to click on the link and check out your site.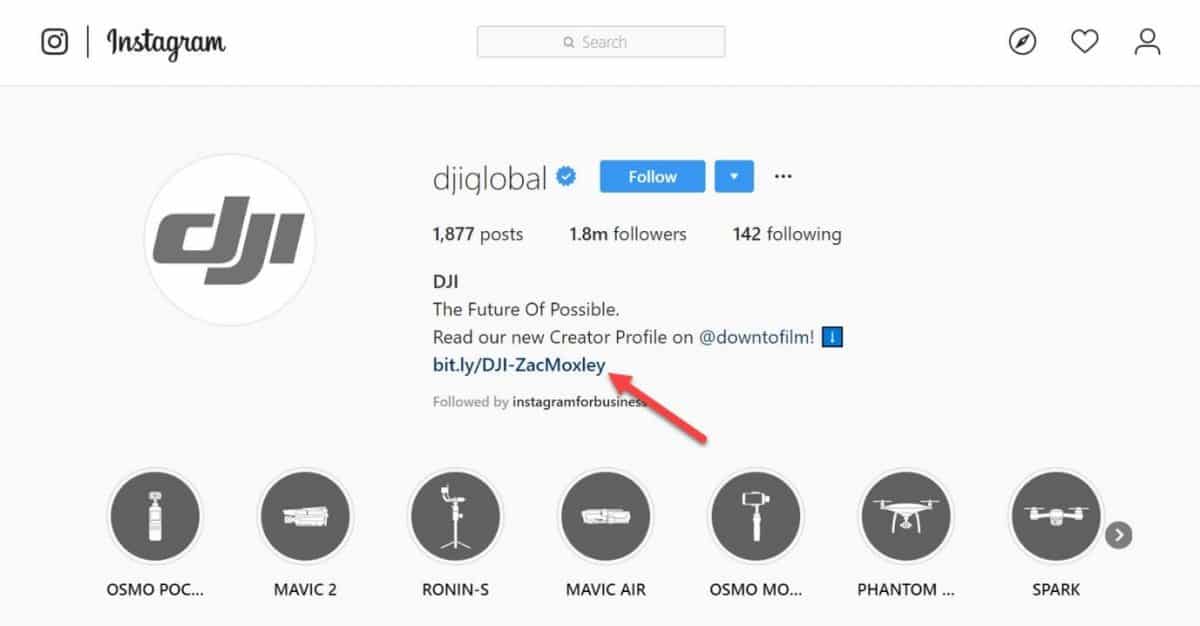 You can use URL-shorteners like Bitly or Google Analytics Campaign URL Builder to create a branded link which looks much cleaner and more attractive than your standard URL. Later, you can also track the performance of your link from the dashboard.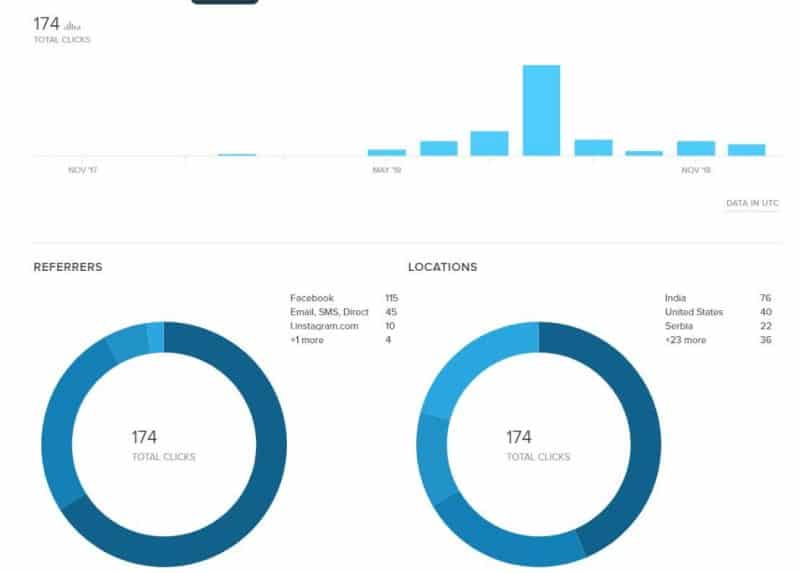 Besides referral traffic, having links in your profiles is also useful for branding and your online reputation.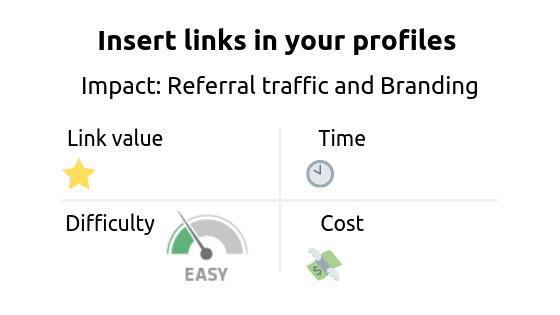 4. Give testimonials
Testimonial link building is a super-easy way to get valuable backlinks. Just write about your experience using the products or services you recently bought. Then reach out to those businesses and let them know how much you love it.
Testimonials are social proof, and every business needs them as a way to show off happy customers and build trust. So, they will gladly indulge you by linking back to your site.
It's win-win for both of you, you get a backlink, and they get the social proof they need.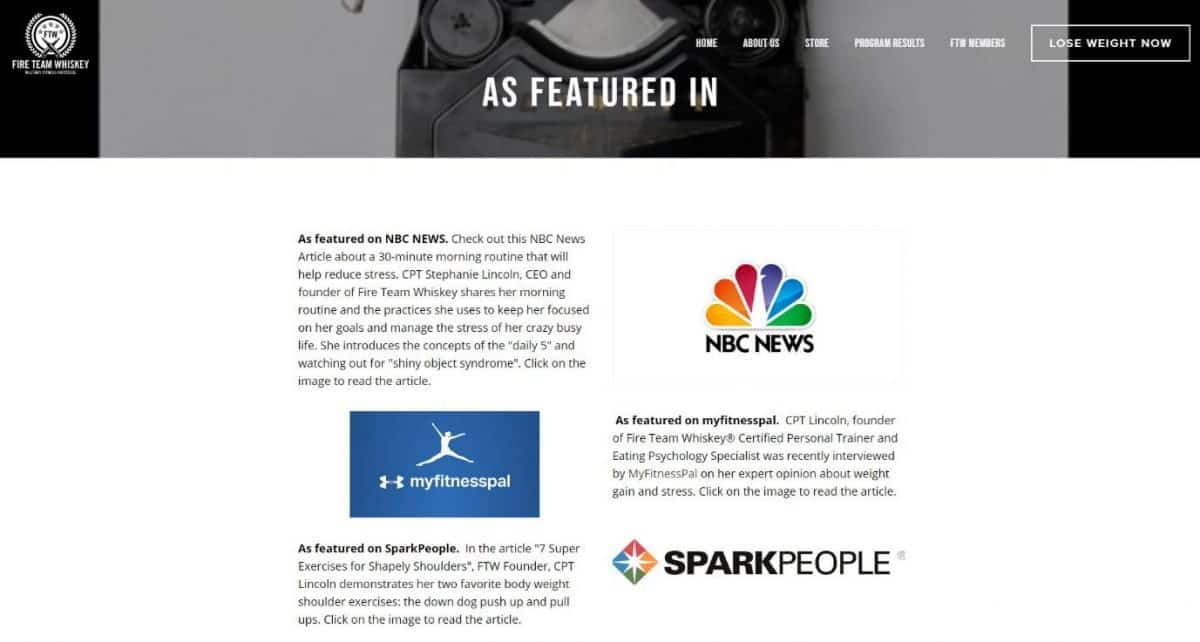 The downside of this strategy is that it's difficult to scale. You can only write so many testimonials, and it takes time to buy the product, reach out and get a backlink.
On the upside, if the products are relevant to your industry, and the other business has a sold website authority, these links can be precious for your SEO.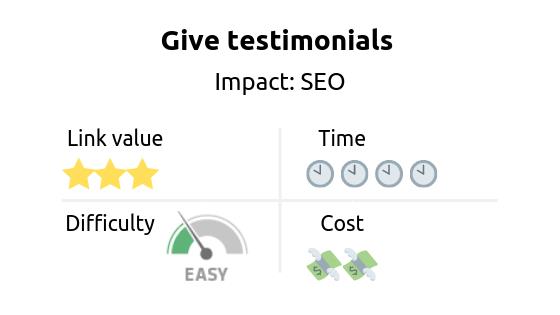 5. Joining the Chamber of Commerce
Joining your regional or national Chamber of Commerce is a guaranteed way to get high-quality backlinks.
Google sees organizations like the Chamber of Commerce as trustworthy, that's why links from these sites have high value and authority.
The downside is that it might take some time to get listed on their website as they are manually approved and added by one of the managing chamber members.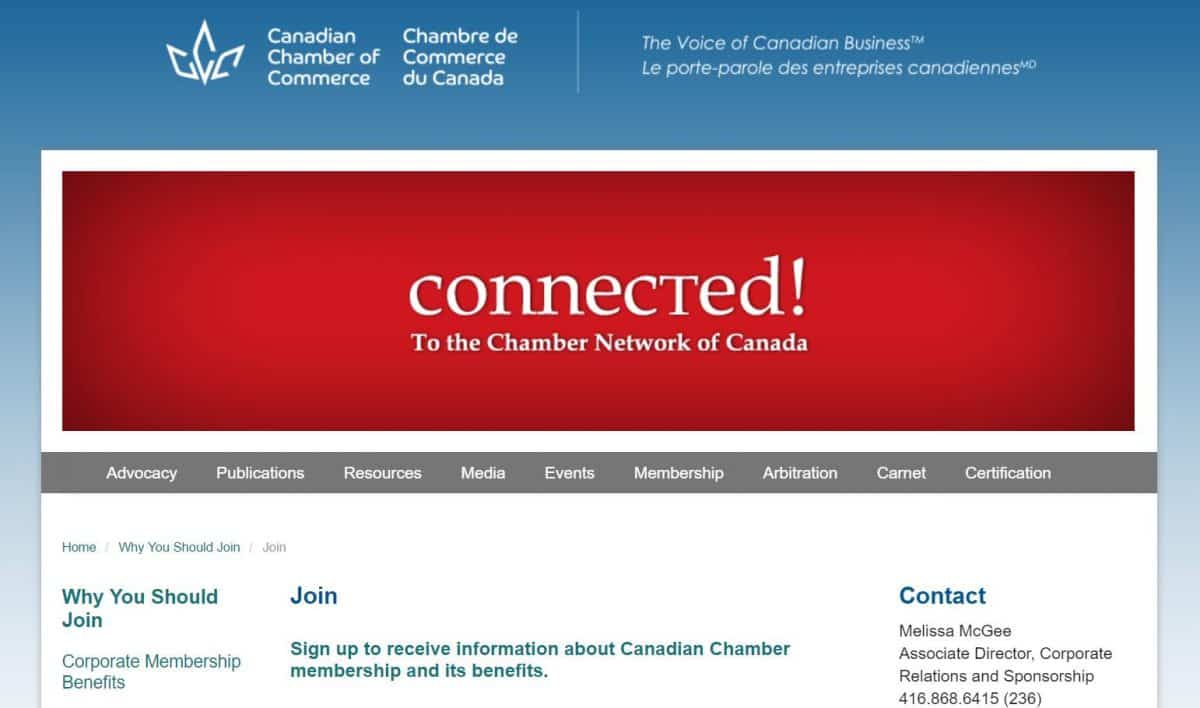 A perhaps quicker way to obtain backlinks from the Chamber is to offer discounts to members.
But don't forget about other local organizations such as:
Local Council
Sports clubs
Colleges or Universities
Local community groups
Professional associations and organizations
Charities, etc.
They can also be a source of high-quality links, and you can apply similar tactics as with the Chamber of Commerce.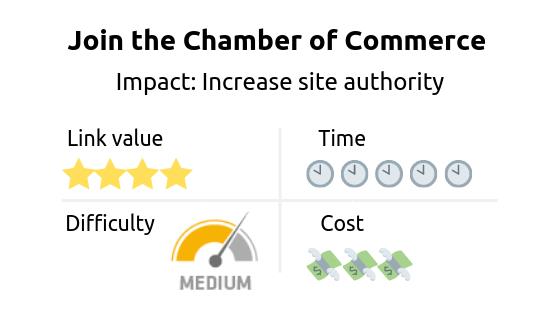 6. Links from shopping mall websites
If you run a brick-and-mortar business located in a plaza or mall, this is another super-easy way to get a link.
Most reputable shopping centers have a website where they list available stores, among other things.
Talk to the management and get your site listed on their website.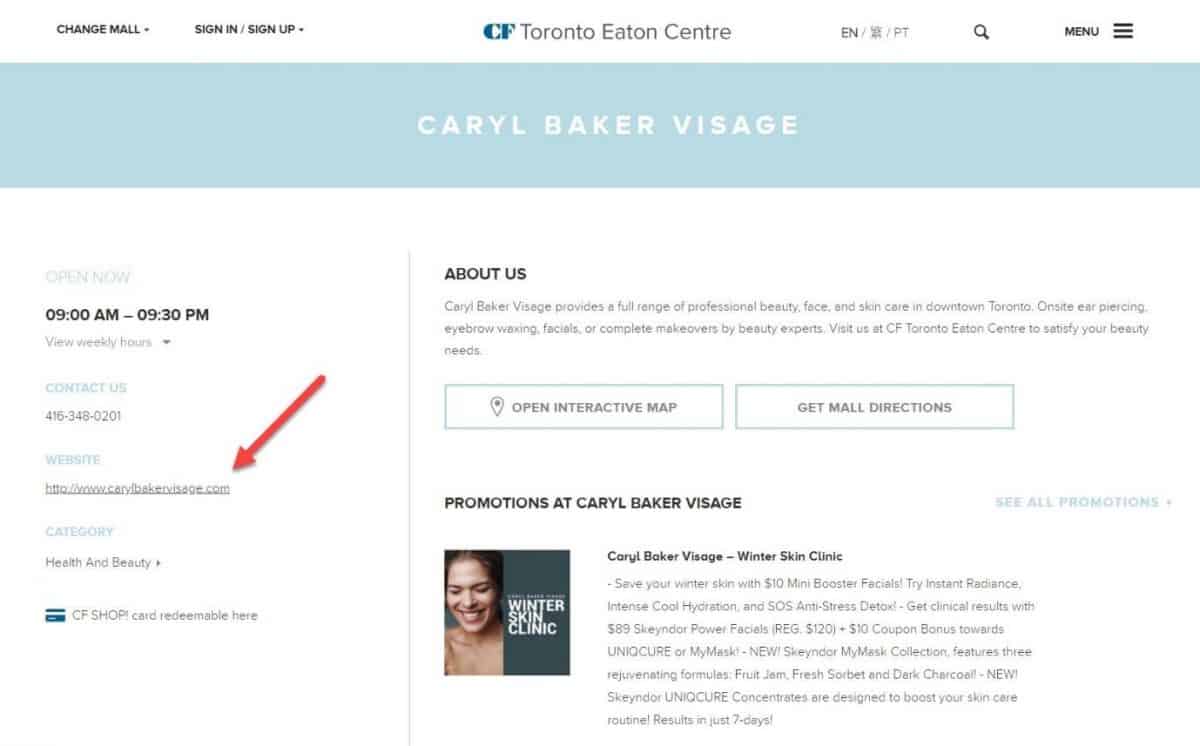 This tactic can help you with local SEO and ranking for local searches in Google.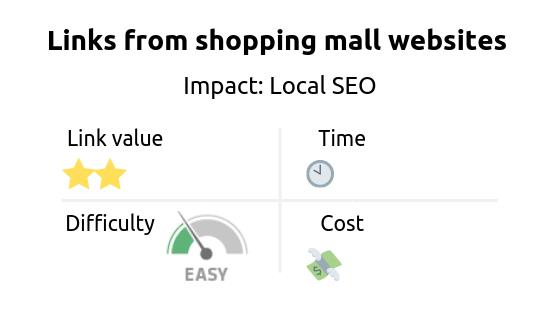 7. Leave comments on other people's blogs
Blog commenting is a very popular way of getting backlinks. The more you engage bloggers in the comments section, the more likely it is to gain valuable links from authority websites.
Google also loves it when you participate within your niche, as it gives you (and those blogs) more relevancy.
Commenting will help you build solid relationships with influential bloggers and help you get under their radar. If you leave relevant and insightful comments, they're more likely to check out your site and perhaps even link back to you.
Express your insights and expertise, and you'll earn valuable backlinks, albeit indirectly.
The main issue is that this technique takes a lot of time to scale, which is why many resorts to mass commenting which I don't recommend.
Stay away from any spammy (blackhat) practices like automated mass commenting. Most bloggers are aware of this and have spam filters turned on, so your comments are going to be deleted before they even get published.
Plus, that won't make you look good in the eyes of neither bloggers nor Google.
So, leave comments that provide value and add some quality to the conversation. It's a lengthy process but trust me, it works!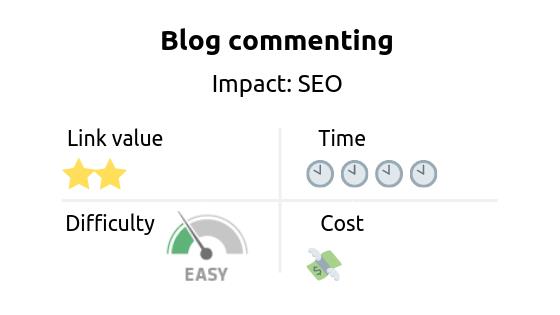 8. Answer questions on Quora, Yahoo, etc.
Q& A websites such as Quora and Yahoo Answers are very popular, with millions of monthly users.
It's another fairly straightforward strategy that guarantees to get you backlinks.
Getting a link to your website in front of such a large audience can be a great source of referral traffic. Additionally, it can help you show off your expertise and build your authority in your niche.
So, find relevant questions and provide genuine, helpful answers. You can leave a link to your blog post at the bottom where users can learn more.
The better you answer, the more likely it is for users to click on your link and check out your site.
Q&A websites are also a great way to find new topics for your blog. Identify some common questions and problems people have, then create high-quality content on that topic.
As a result, you'll get a ton of backlinks and traffic to your site.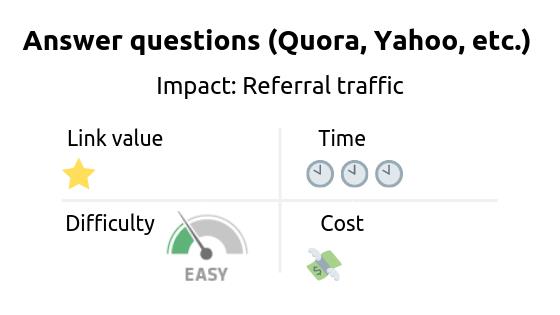 9. Content syndication
Content syndication is another popular link building strategy that can get you not only links but also more exposure and a boost in traffic.
The way syndication works is that you allow third-party websites to republish your content. This can be just a summary or a full rendition of your content. In exchange, they will link back to the original source – your website.
It's another win-win tactic, where both you and other websites benefit. They get quality content for their sites and you, in turn, get backlinks, publicity, and more visitors.
Some of the most popular syndication websites include:
Medium
Business 2 Community
LinkedIn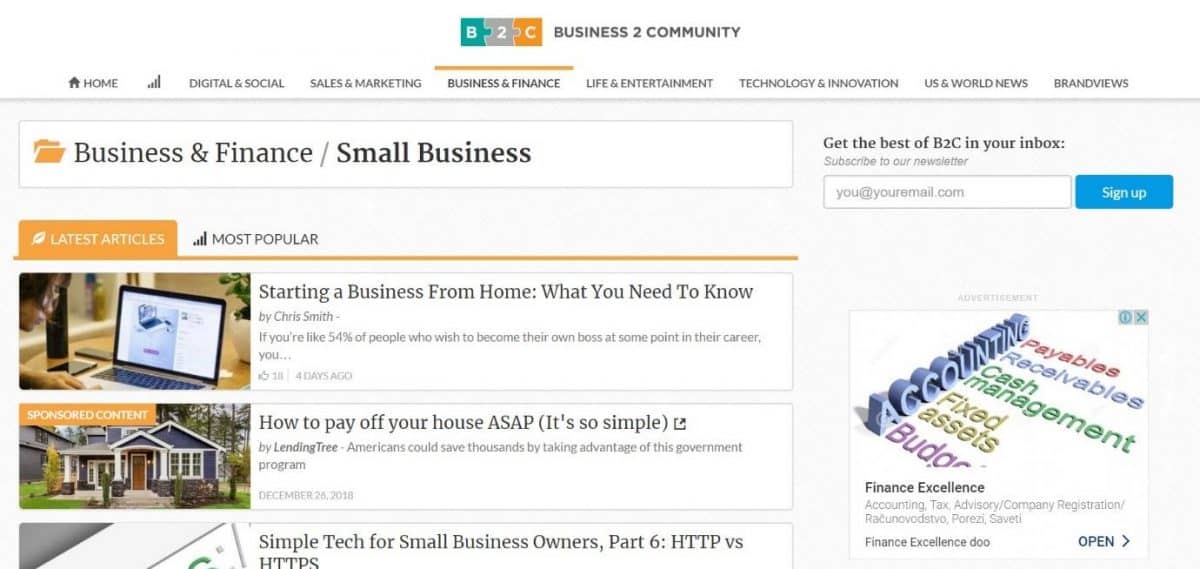 For best results write a custom headline and introduction for each platform. Also, avoid overusing this tactic and only syndicate content on relevant websites when it makes sense.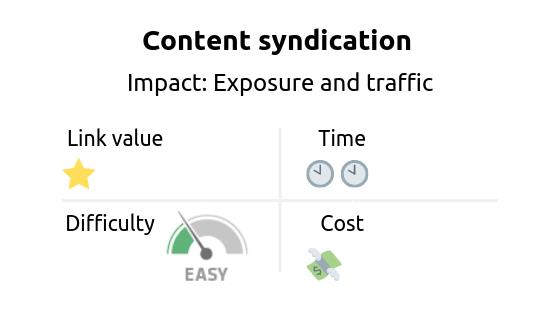 10. Include links in your video submissions
When you have a new website, every link you get is a real treasure. And including links in your video submissions is another quick way to build up your backlink portfolio.
Video content is essential nowadays, as a matter of fact by some predictions videos will take over the internet – by 2021 video will account for 80% of all internet traffic.
So, when you publish a video on YouTube or other platforms, make sure to leverage this opportunity and include a link to your site in the video description area.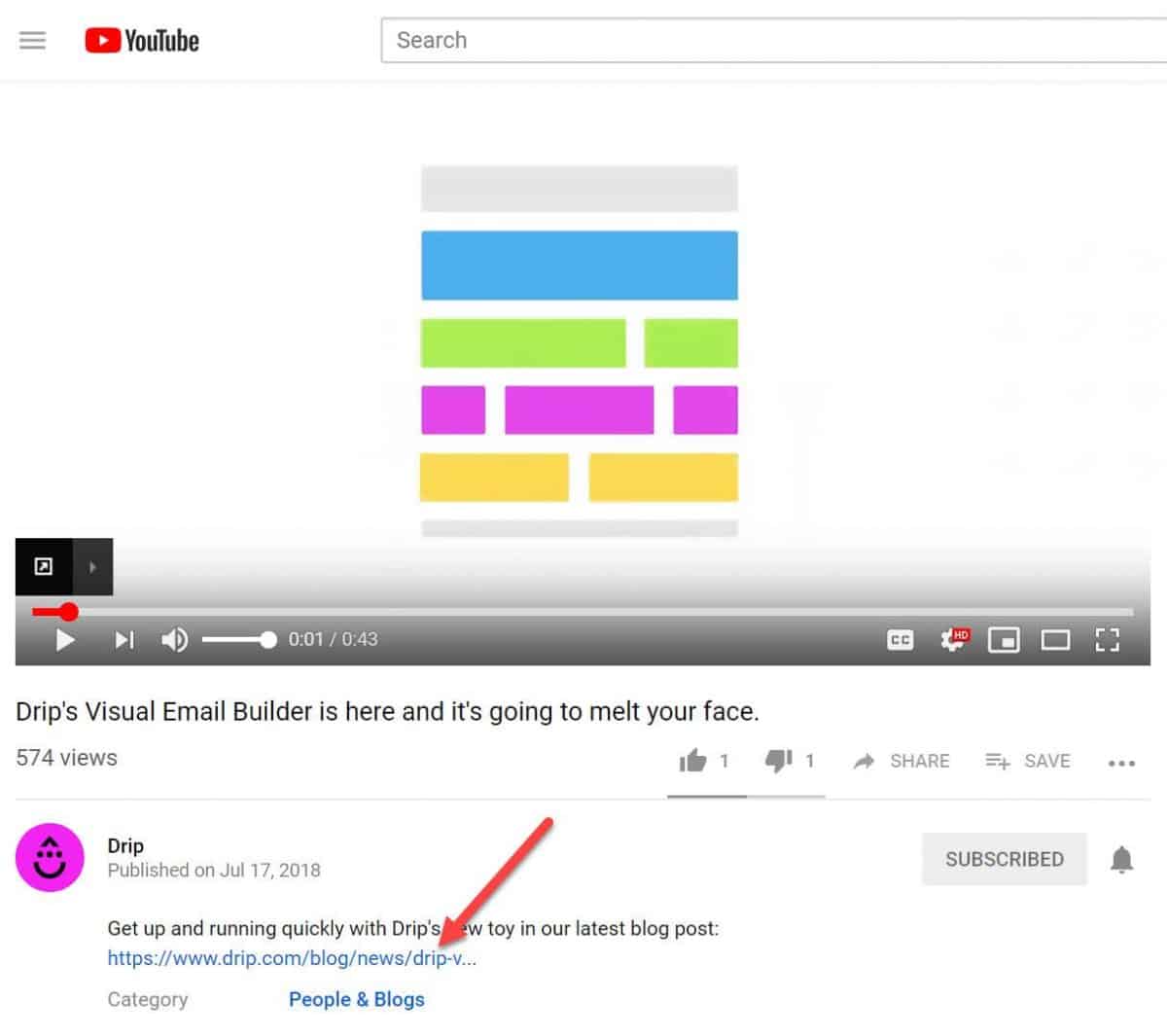 Don't forget to include calls to action in your video, where you invite users to check out the link in the description. Also, conduct YouTube video SEO to increase the chance of your videos ranking in search results.
Links in your video descriptions are a quick and dirty way to get some referral traffic. If the video is engaging and useful, most users will click through and visit your site.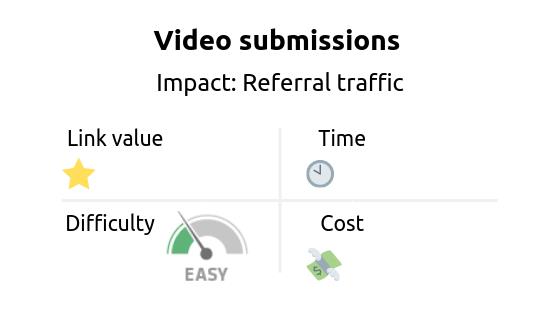 11. Promote your content
If you're just starting out with a brand new website, chances are you don't have a lot of visitors yet.
This means there's no one to see your amazing site and content.
You need to promote your articles online and get it in front of as many people as possible.
The rule of thumb is to promote it on relevant websites and social media that your target audience is already using.
Some of the methods were already mentioned like using Q& A websites, leaving links in video descriptions, content syndication and blog commenting. Other general best practices for promoting your content include:
Posting snippets of your content on Facebook, Twitter, and LinkedIn
Promoting content with paid ads on social media
Joining relevant Facebook Groups
Boosting posts on Facebook and Instagram
Using influencers to promote your content
Engaging relevant communities on Reddit
Repurposing content into slide decks and posting on SlideShare, etc.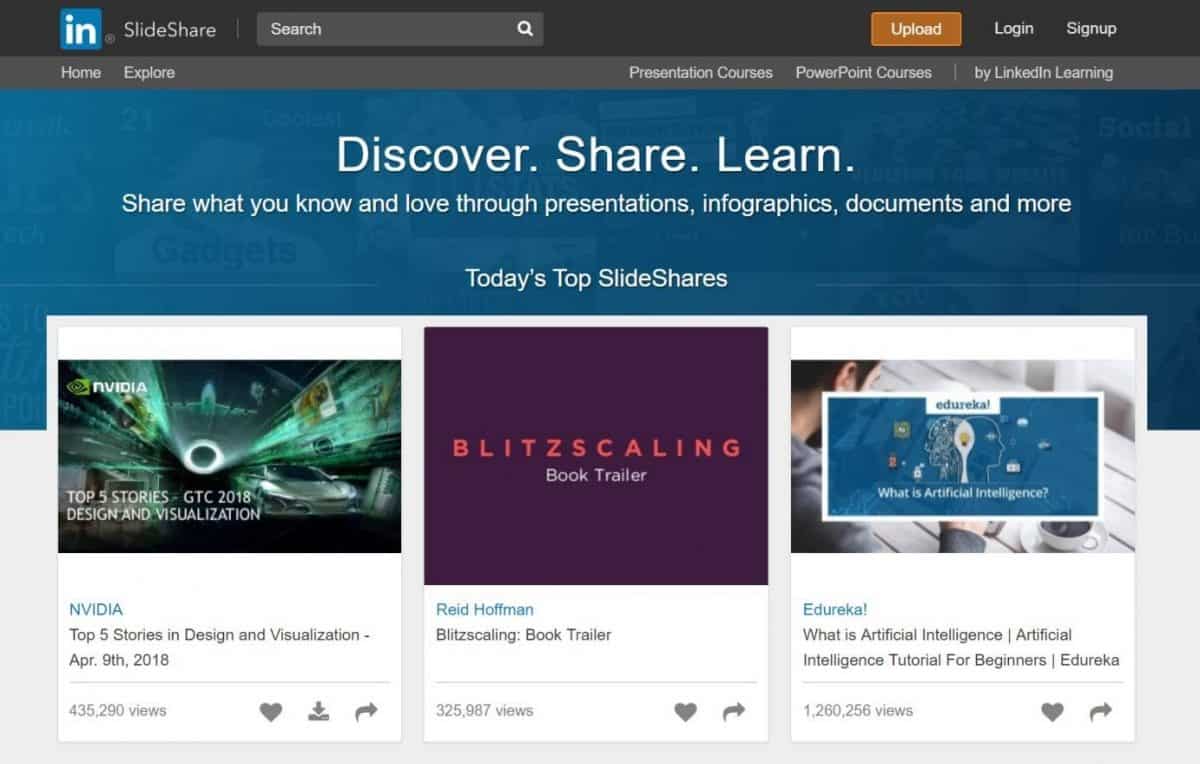 This strategy works best if you promote your content on websites and platforms relevant to your niche.
The biggest benefit to this tactic is you'll get a significant traffic boost. More visitors mean more eyes on your content and potentially even more valuable links in the future.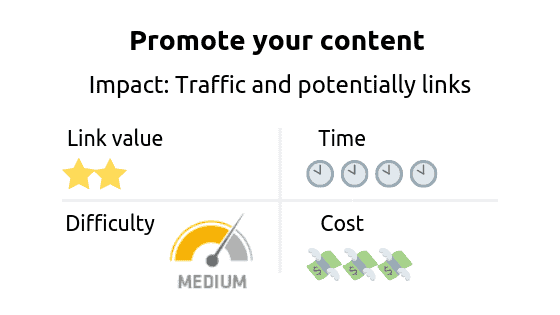 12. Sponsor events
There is no doubt that sponsorships will get you high-quality backlinks from authority websites!
Whenever you sponsor an event, it's going to grab attention from journalists, organizations, media, bloggers and other trusted websites. And they will be more than happy to mention you in their articles and link back to your site.
For you this is fantastic news, not only will you get a lot of publicity, but you'll get those valuable backlinks from high authority websites.
You can sponsor anything, like:
Charity events
Sports games
Local community events
Meetups
Conferences, etc.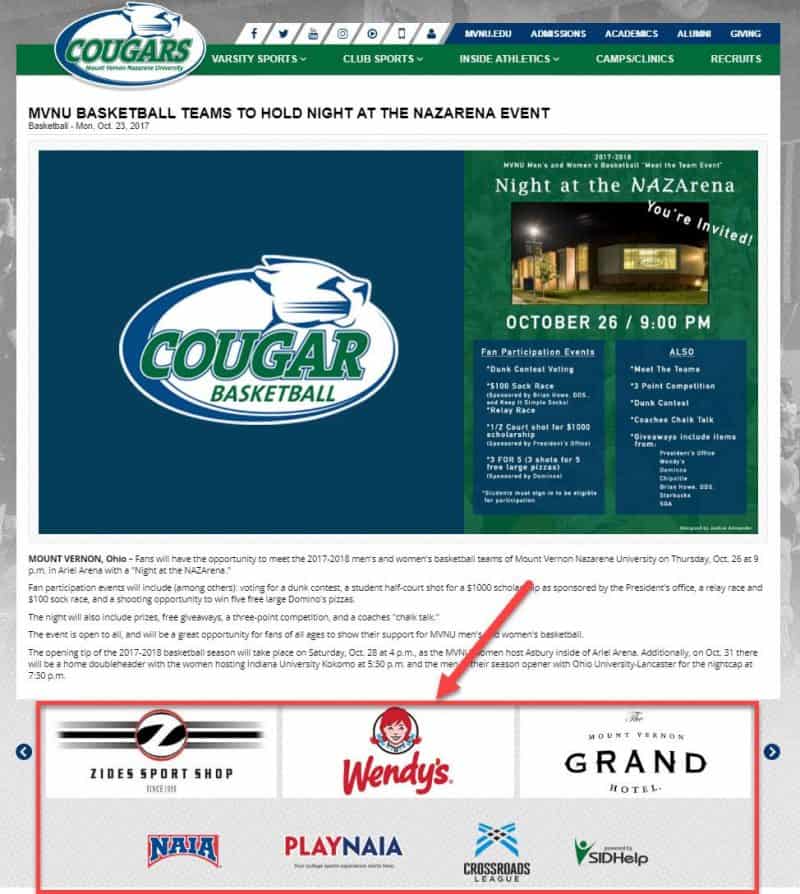 You can even sponsor individuals, like photographers and reporters, to cover an event. In exchange, they'll mention your brand with link attributions.
The downside of this strategy is that it usually requires a fairly sizable investment, which may be a major deterrent if you're on a tight budget.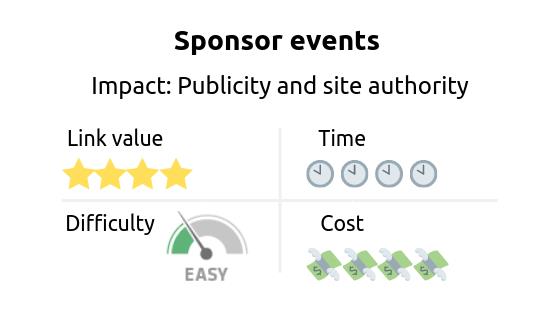 13. Participate in forums
Our final basic link building strategy involves participating in relevant (niche) forums. Whatever industry you're in, there's bound to be a forum full of eager and passionate members.
So, embrace and engage your community. Join niche forums and contribute, answer questions, help out and teach. After all, these are places where your potential customers like to hang out.
Don't try to sell your products here; you should provide genuine help and answers, then leave a link to your site where they can learn more or get your offerings.
Make sure to also include a link to your site in your account signature.
These links will drive a ton of traffic your way and perhaps even get you some sales. By answering questions and engaging in your community, you can build up your reputation and trust so anyone clicking through to your site can be considered as a 'warm lead' (semi-qualified).
Also, by participating in forums you essentially promote your content and your site, and in turn increase your chances of getting even more quality backlinks.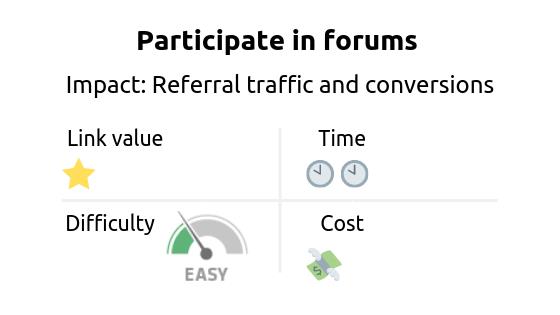 Intermediate link building strategies
So far, we covered the best basic link building strategies. Most of them are pretty straightforward and not too demanding (on your resources).
However, if you want some more authoritative sites to link back to you consider the following tactics.
NOTE: Most of the intermediate and advanced tactics will require you to have a blog. You have to provide a good reason for other high authority websites to link back to you, and that's where quality content and blogging comes in.
14. Create linkable content
You've probably heard it before – Content is king!
But when it comes to link building, not all content is created equal. Certain types of content are instant link magnets. Some refer to them as link-bait.
Whatever you want to call it, the principle is the same – create linkable content that organically attracts links because it's unique and provides immense value.
Link-bait content includes:
Original research
In-depth analysis
Captivating images/graphics
Unique data
Case studies
Surveys
The logic for link building is that when other websites create articles, they need resources to reference and that's where your link-baits come in. They will attract high-quality links from other authority websites, blogs, and even news outlets.
But not only will you get more backlinks, but also highly linkable and shareable content has high chances of ranking on top in Google.
It's just a matter of you promoting it in the right places and enjoy the link juice and traffic for a long time.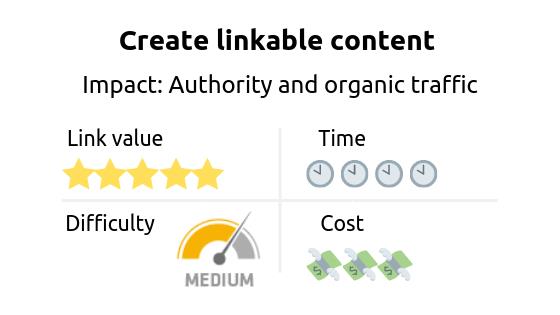 15. Infographics
Infographics are another type of engaging link-bait content. But due to their popularity, I figured infographics serve a section of their own.
Readers and bloggers alike, love infographics. They help readers visualize data and complex processes by boiling them down to simple to understand illustrations.
On the other hand, bloggers love them since they can easily explain difficult topics.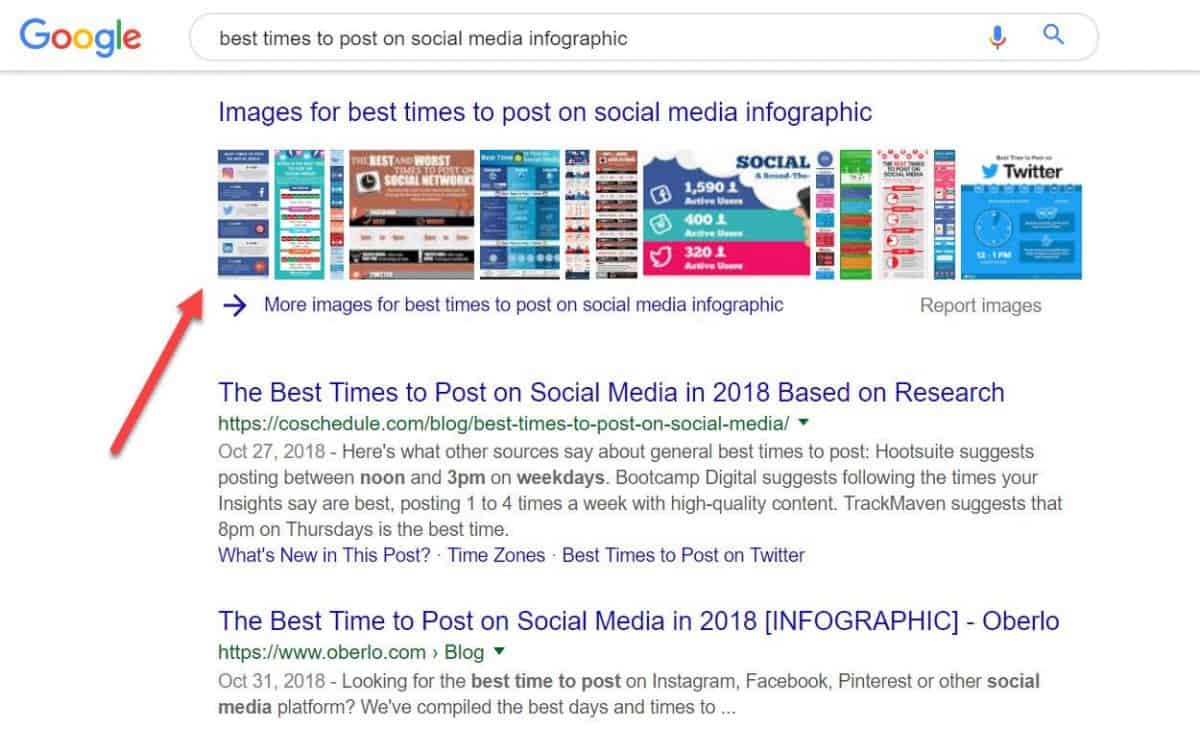 Don't worry if you're not a designer; tons of professionals and freelancers can do the work for you.
You can even do it yourself with the help of templates and tools like Venngage.
Once you've created your infographics there's a number of ways to get links:
Publish the infographic on your site with embed code (so others can embed on their websites). You can use this handy embed code generator.
Perform image SEO, so your infographics appear in Google image search
Outreach to influential bloggers and offer them your infographic in exchange for a link to your site
Submit your infographic on other aggregation websites like Pinterest and Visual.ly

16. Reclaim your mentions
People on the internet are talking about your business and products. However, sometimes they'll mention your name without linking back to your site.
This is an excellent opportunity to get some links. The author of the content mentioning you is already familiar with your brand, and you're halfway to earning a backlink.
Now, all you have to do is reach out, thank them for the mention and ask them to link back to your site.
You can also set up Google Alerts to notify you whenever someone mentions your business name or products.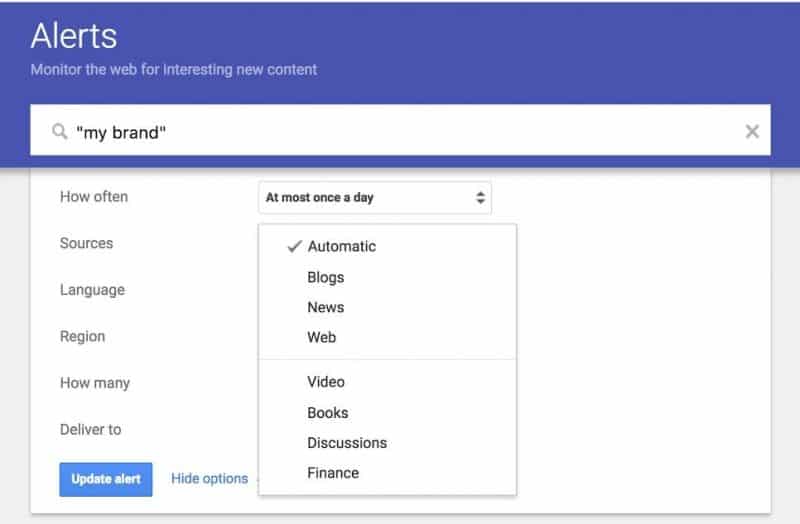 You'll receive email notifications when someone mentions the keywords related to your brand. Check if the mention contains a link to your site and if not reach out and ask for a backlink.
It's a straightforward way to earn valuable links (especially if you're mentioned on authority websites) without too much work.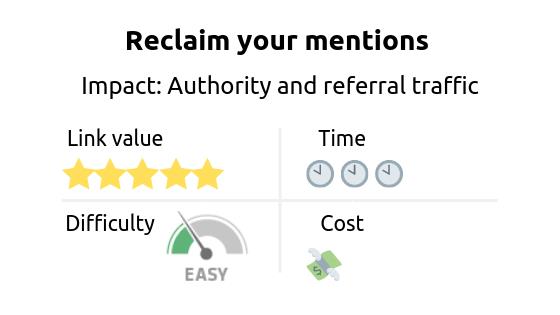 17. Guest posting
Blogging on other peoples' websites is one of the oldest and most popular link building strategies. Still, it remains effective to this day.
The way it works is you find relevant websites within your industry (niche) then write a blog post for them. Link to your site from that article and that's it – you've got yourself a quality backlink.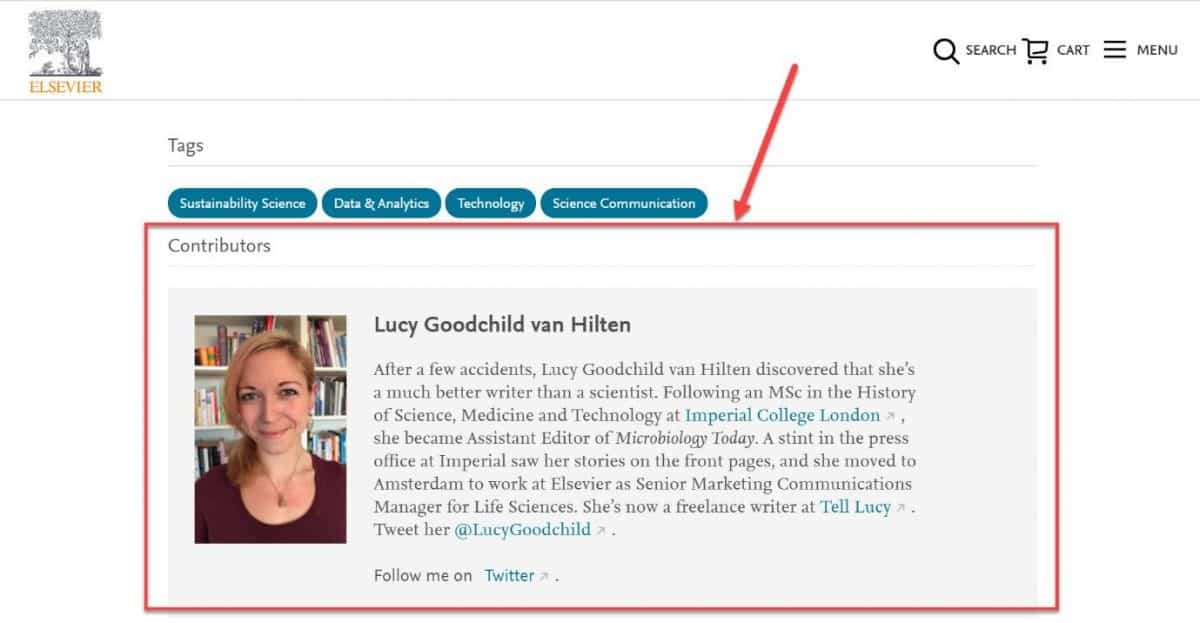 How to find guest blogging opportunities?!
You can use Google search operators to find relevant guest posting opportunities:
Keyword "guest post"
Keyword intitle:"write for us"
Keyword inurl:"write for us"
Keyword "submit a guest post"
Keyword "guest post by"
Keyword "accepting guest posts"
Keyword "guest post guidelines"
Keyword "submit blog post"
Keyword "contribute to our site"
Keyword "submit article"
Keyword "guest author"
Keyword inurl:"guest post"
Inpostauthor: "guest + post" Keyword
Inpostauthor: "guest + blog" Keyword
But don't waste your time blogging on every site that offers guest posting. Instead, focus on getting high-quality backlinks from websites with high domain authority.
You can install SEO Quake or Ahrefs Backlink Checker to check the domain authority (DA) of websites on the fly.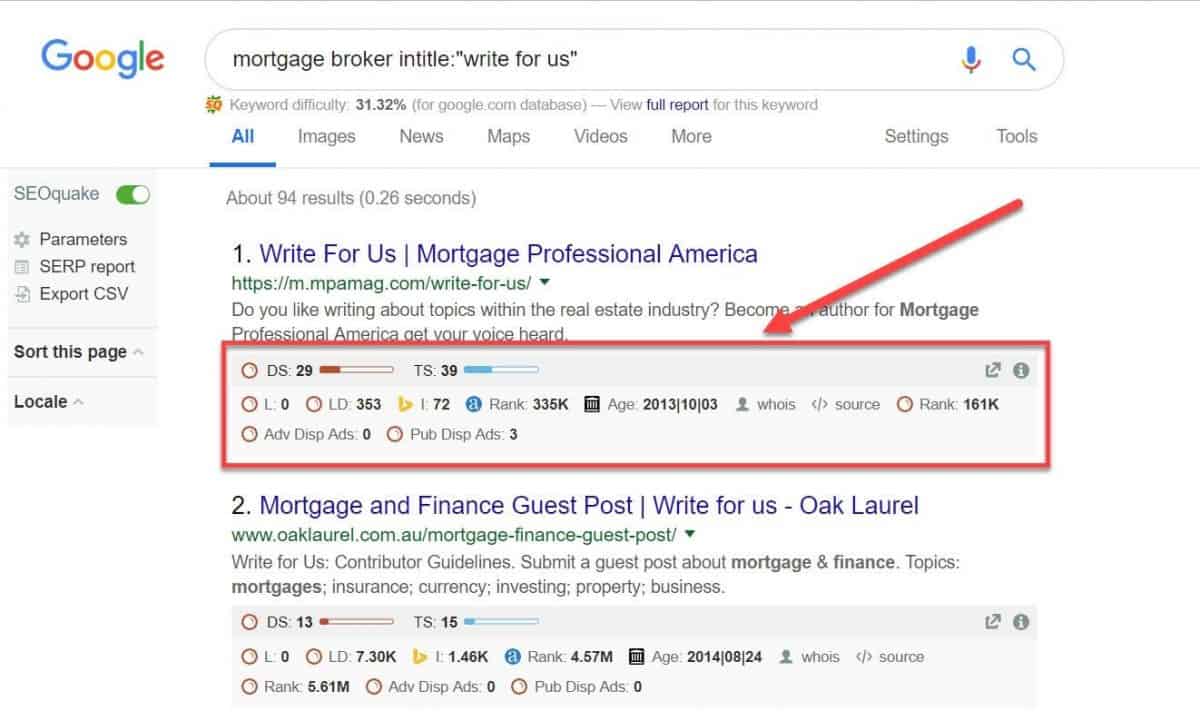 But also look for other high authority websites in your niche and reach out to them anyway, even if they don't advertise that they accept guest posting. Not many people would turn down a quality, well-written and free piece of content.
Besides the obvious SEO benefit, you'll also get your website and content in front of new audiences and a boost in referral traffic.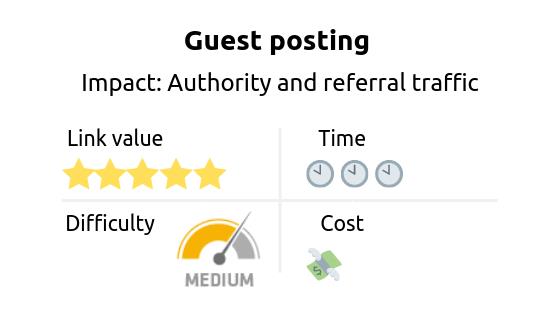 18. Broken link building
Another highly popular link building strategy is to hunt down broken external links on other people's websites.
But how does this help you get links?!
Well you see, authority websites often link back to useful resources in their articles. But as time goes on many of those resources disappear from the web. There can be many reasons for this, the company behind the resource may be out of business, their website might expire, etc.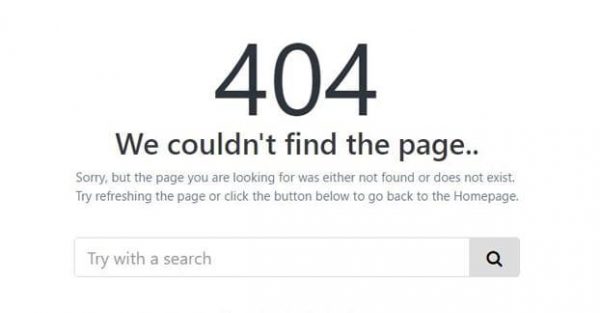 Broken links are a great opportunity for you:
Find broken links on authority websites
Create similar (high-quality) content to the broken resource
Reach out to anyone linking to the broken resource and offer your content as an alternative
This tactic has a high success rate since no one likes a dead link on their site.
Apart from getting authority links, you also get more exposure, build relationships with influential webmasters and get additional traffic.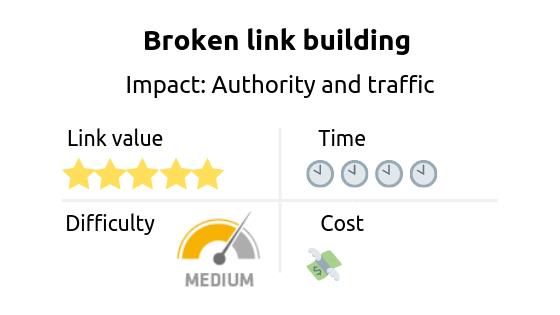 19. Stolen image link building
If your site features high-quality and unique images, diagrams, infographics, etc., chances are someone stole (or will steal) them.
What I mean by stealing is that someone will republish your custom graphics without link attribution. And as bad as it may seem, this can turn out to be an excellent opportunity to get some quality backlinks.
To find stolen images you can run a reverse image search on Google.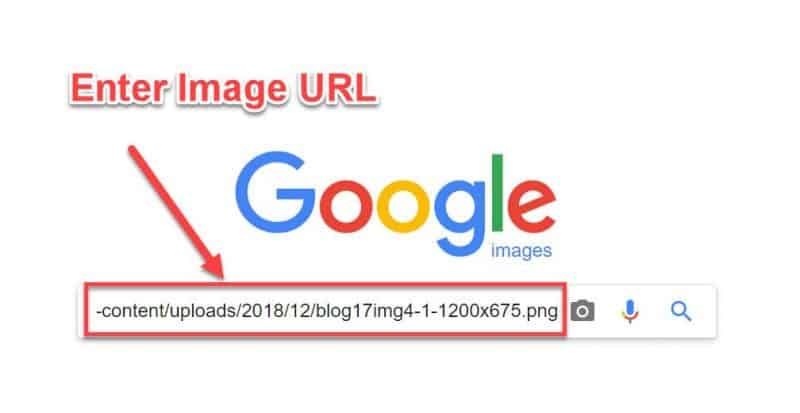 Look at all the sites republishing your images and make sure they're giving you credit with backlinks.
In case they don't, reach out and ask them to link back to your site. Otherwise, you'd have to file a DMCA complaint.
With stolen image link building you can get high-quality backlinks. Since your images would only be republished on relevant websites, this strategy will increase your site authority and boost your SEO.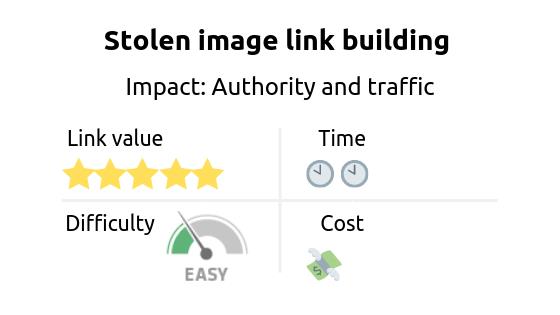 20. Get blogger reviews
Link building with blogger reviews is a pretty straightforward strategy. Send your products to influential bloggers and ask them for a review.
The trick is to find influencers in your niche that would be willing to review your products. But it's not limited to just products; you can also offer free services to bloggers in exchange for a review (suitable for restaurants, day spas, etc.)
Many online tools can help you find relevant bloggers, such as BuzzSumo.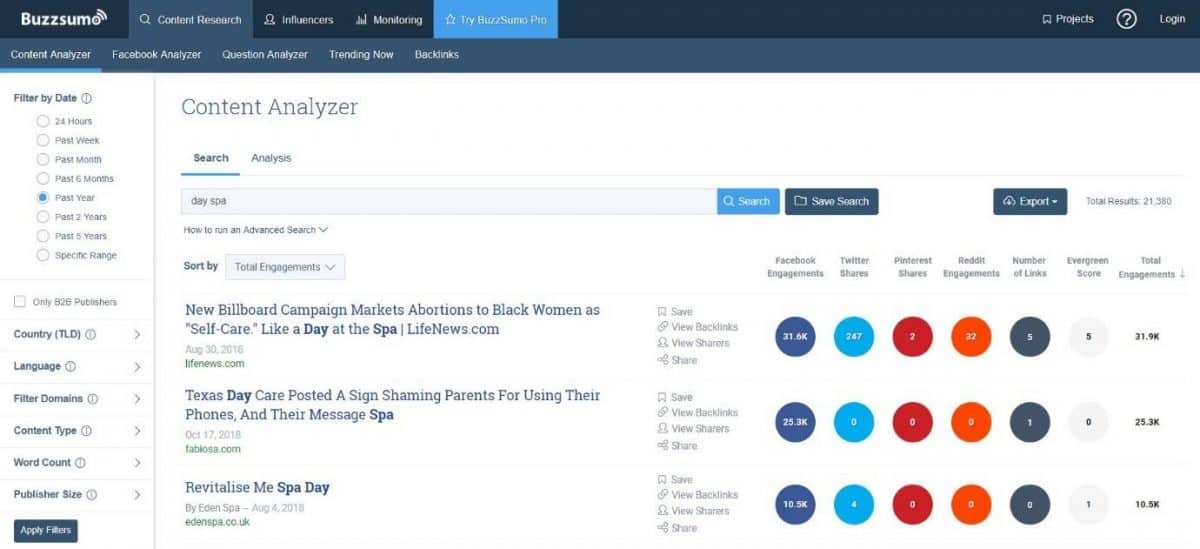 Remember to find bloggers that have an active community, that way not only will you get some quality backlinks but your products/services would be exposed to a new audience of potential customers.
There are many reviewers and influencers eager to check out your products, so this strategy can quickly scale up, and you could be getting a ton of backlinks in no time.
It will cost you a fair amount since you'd be giving out free products/services. However, if you get good reviews from reputable bloggers, more people would be willing to buy from you.
NOTE: When applying this tactic make sure that it complies with Google's webmaster guidelines. Google considers this type of link building as sponsored content, so make sure that the review articles are marked as sponsored.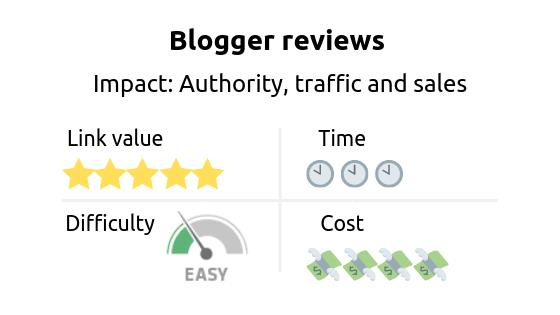 21. Create content round-ups
Creating round-ups is another quick win resulting in high-quality backlinks from potential authority websites.
To create a round-up, you need to:
Pick a trendy industry topic (e.g., top ways to prevent back pain)
Find relevant bloggers/influencers/experts
Reach out and ask about their opinions on the topic
Consolidate all the answers into one round-up article
Inform those bloggers about the post and ask them for a backlink
Your round-up will feature quotes with links to these influencers' blogs. And since the article makes them look good (remember, this is an industry expert round-up), most will be happy to link back to you.
This tactic is also known as ego-bait since it feeds bloggers' egos by portraying them as experts in the field.
These kinds of round-ups are very effective; however, they take a long time to implement. If you want to skip the initial outreach, you can create a round-up of their content.
For instance, "Top 7 books on back pain."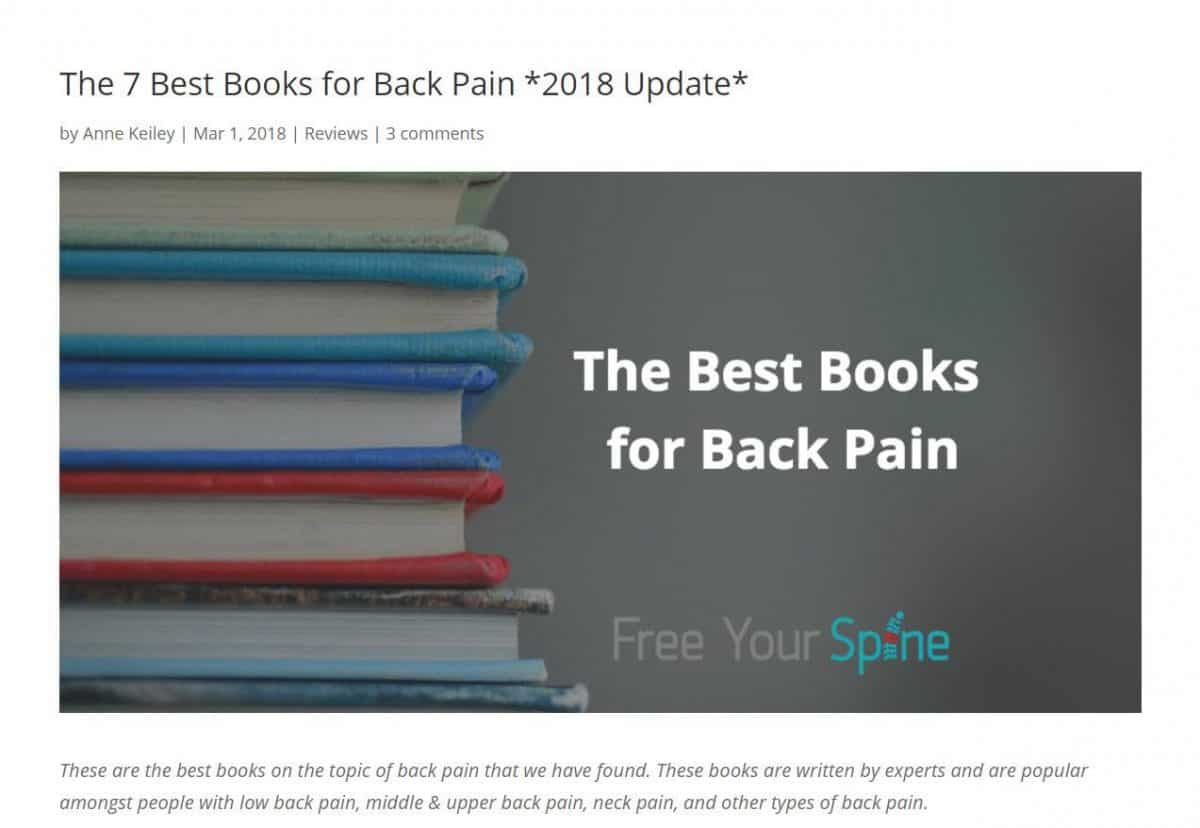 After that, reach out to the authors asking them to check out your post. And if they like it, chances are they'll link back to you.
The result of this tactic is a big boost in domain authority since all the backlinks belong to highly trusted sources.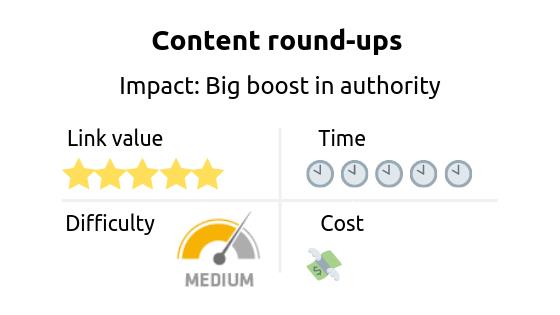 22. Outreach
Almost all the best link building strategies include some kind of outreach.
Outreach is an activity where you reach out to people (in your niche) and introduce them to your content, while at the same time implying they should link back to you.
It's an art of link building by (implicitly or explicitly) asking for backlinks.
When it comes to outreach there are two approaches:
Spray and pray – send out emails to anyone and everyone that could potentially link back to you
Laser-targeting – pick the best targets for outreach based on their site authority and probability of them linking back to you
I'd personally recommend the second one.
But whatever approach you go with, make sure your outreach messages bring value to the other side as well. Don't just ask for a link; otherwise, you'll get ignored most of the time.
Instead, give them a good reason to link back to you. Having linkable content (mentioned earlier) can help you significantly.
But sometimes you don't even need to have any content at all; your brand, products/services or your personality could also be worthy of a link.
For successful outreach, you need to send the right message to the right person!
There are many link building email templates online that can help you get started.
Luckily, I've compiled 11 outreach templates for every link building strategy, which you can download below and use for FREE.
11 Best Outreach Email Templatest
Download hand-picked templates for link building outreach. Get high-quality backlinks and boost your website rankings with templates you can use right away.
Outreach takes time; however, it's an essential part of almost every other link building strategy. That's why it deserves a special place on our list.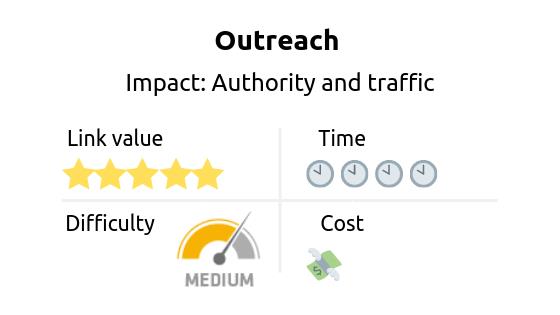 23. Get covered by the local newspaper
Local news outlets are starving for interesting content, especially in smaller areas. That's why getting coverage from local news websites is another relatively easy strategy for link building.
In essence, all you have to do is provide them with a newsworthy story, and you'll earn a mention and a backlink. This could be anything, like:
Opening a new location
Offering a unique product/service
Contributing to the local community
Organizing a fundraiser, etc.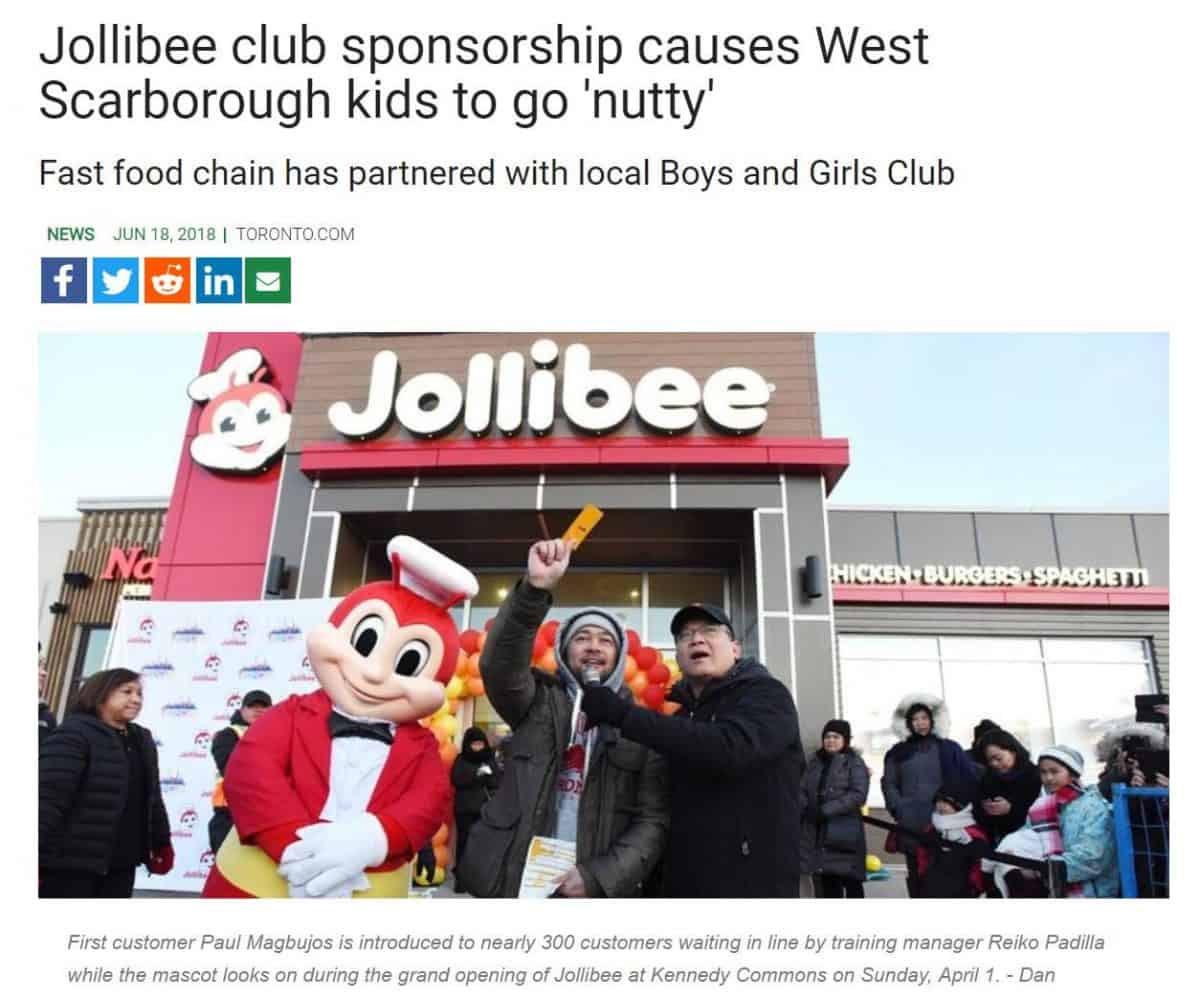 Google loves links from trusted news sources. Local businesses can particularly benefit from news backlinks since it gives them more relevancy. So, getting coverage from local news outlets can significantly boost your local SEO.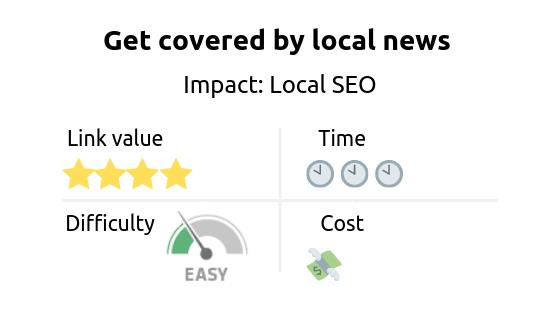 24. E-commerce partnerships
E-commerce websites rely on backlinks to get more traffic and exposure as well. Link building for e-commerce sites can also translate into more sales and return customers.
The three most effective link building strategies for e-commerce sites include the (aforementioned) influencer-outreach and blogger reviews, as well as partnerships (the focus of this strategy).
This strategy includes partnering up with other retailers in your industry that aren't your direct competition. These are stores that sell complementary products, and partnering with them you can cross-promote each other.
Using e-commerce partnerships your business gets in front of a new audience interested in your products. This makes it easier to convert prospects into happy customers.
Be wary of overusing this tactic; you don't want Google to see you spamming. Otherwise, you'll get penalized.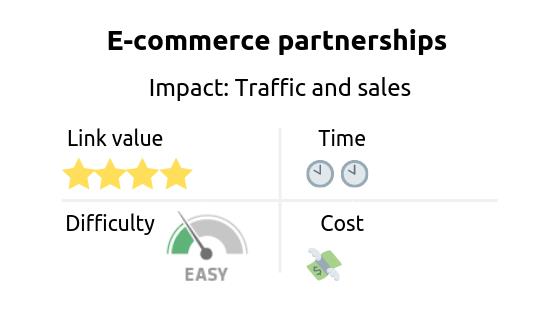 Advanced link building strategies
When you've done link building for a while, you'll become addicted to backlinks. Once you see how effective links are at boosting your SEO, traffic and even sales, you'll always want more.
Now, to build those most valuable links you have to bring out the big guns. The following advanced link building strategies will get you high authority backlinks at scale.
25. Skyscraper technique
There's a ton of content out there on the internet, but not all of is high-quality. In fact, most of it is pretty mediocre. But still, these websites get a lot of backlinks because there's no better resource around.
And that's a prime target for your Skyscraper link building!
The way it works is you find an inferior piece of content with a lot of (quality) backlinks, then check out the article and see what it would take to write something better.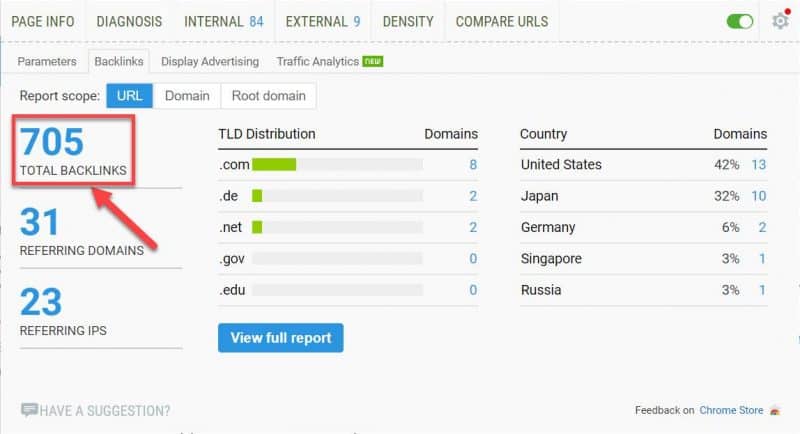 Do your best to create a beast of an article on the same topic, that describes the subject more thoroughly with more sections, examples, screenshots, etc.
Then all you have to do is reach out to websites linking to the inferior article and ask them to check out yours.
A similar approach is to find inferior articles with many backlinks on a topic on which you already have existing content.
This Skyscraper strategy works so well because:
There's already a proven demand for a quality piece of content on the subject
You're dealing with a primed audience which will get very excited about a fresh resource
Google probably already ranks the inferior content high, and if you can steal its backlinks you can quickly soar to the top of search results

26. Coin a new industry term
It's as straightforward as it can get, come up with a catchy new term for something related to your industry. If your new phrase catches on, you'll be relishing in backlink heaven for years to come.
A prime example is our previous strategy: Skyscraper technique is a term coined by link building guru Brian Dean in 2013.
And still to this day, whenever someone mentions link building, they include the Skyscraper strategy and leave a link back to the original article.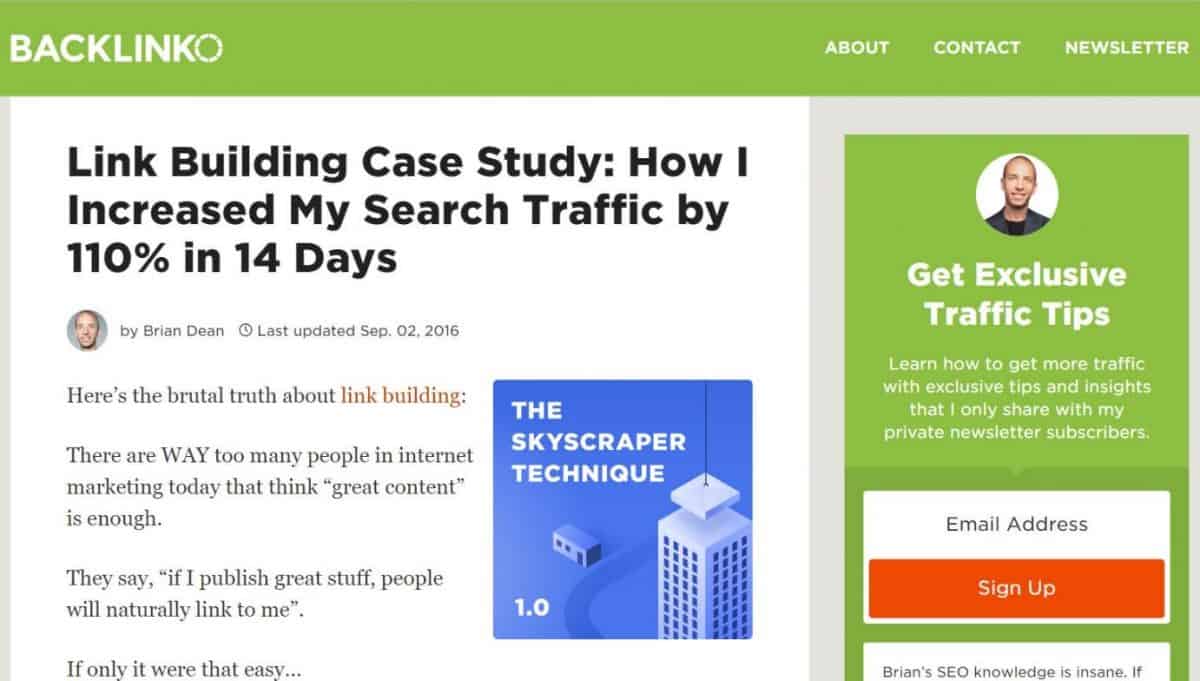 The pitfall is it takes time for the new phrase to catch on, and you never know if it'll be popular or not. But promoting your content and getting it in front of the right influencers can help popularize your term and significantly speed up the process.
Once it becomes famous, set up Google Alerts to notify you of any unlinked mentions so you can act quickly and get more link juice.
27. Create a useful tool
Want to get a ton of backlinks, boost traffic and build your site authority – why not create a free online tool?!
Create a simple, industry-related tool that you offer for free, and you have yourself an instant link magnet.
This can be something simple as an interest rate or a calorie calculator (depending on which niche you're in). Or how about a Headline Analyzer that helps content writers come up with better article headlines.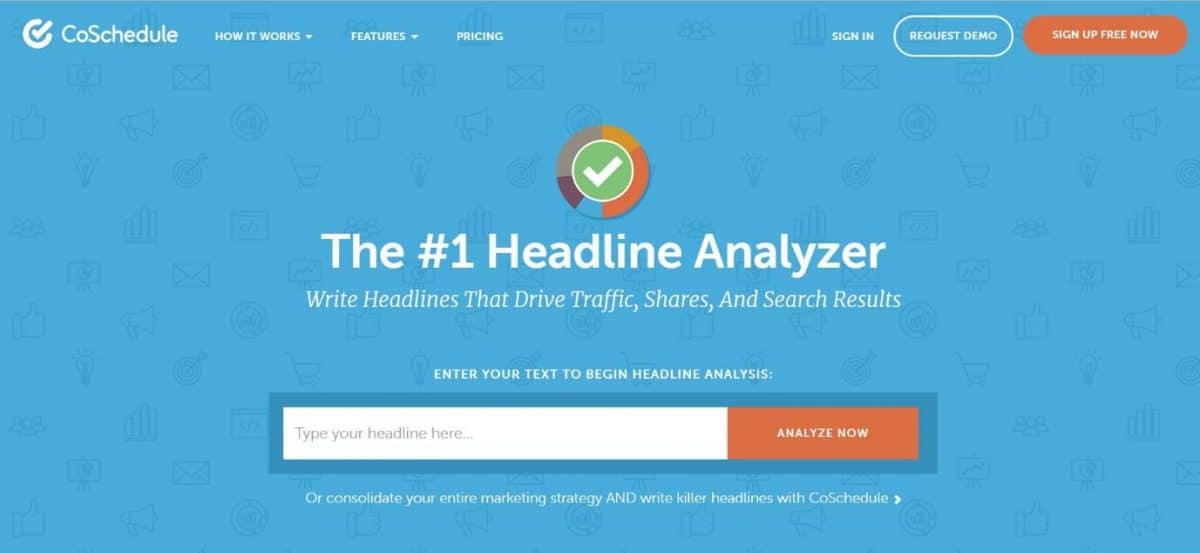 All you have to do is pitch it to relevant influencers to promote your new tool, and you'll be getting organic backlinks in no time.
And don't worry if you don't know how to create a web tool, you can outsource to freelance developers to make it for you.
It doesn't have to be anything fancy, as long as it's useful and relevant to your industry.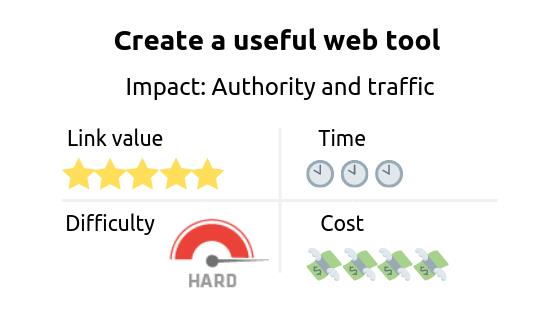 28. Interview an expert
Interviewing an industry expert is another ego-bait link building strategy similar to round-ups. The only difference this time is that instead of quoting multiple people, the entire article is focused only on one expert.
And if you pick a very hot industry topic, your interview can land a pretty good number of quality backlinks. Other relevant websites in your niche will be interested in sharing what the expert had to say in your interview.
Additionally, the expert himself may be interested in referring back to your article featuring his expertise on the subject.
For best results, highlight the most critical parts of the interview and make them easy to share. You can use Click to Tweet plugin to make parts of your blog posts instantly sharable.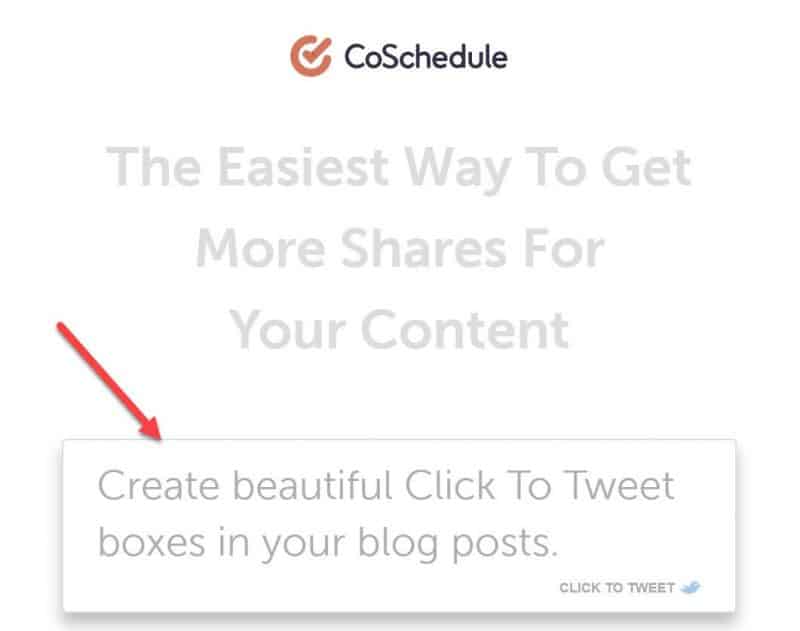 These kinds of interviews can help you grow your backlink count and increase traffic. But it's also going to help with publicity and PR.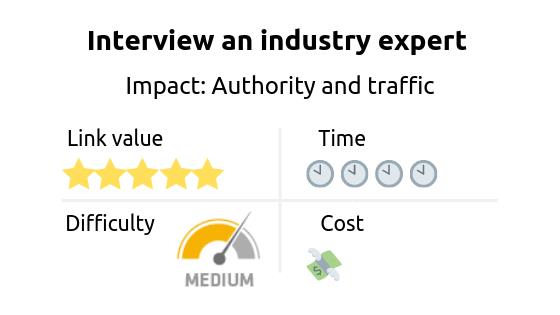 29. Help a reporter out (HARO)
HARO (help a reporter out) is a free web service that provides journalists with a robust database of sources for upcoming articles.
For you, this is an opportunity to become a source and help journalists write their next posts. In turn, you'll get highly sought-after media backlinks and coverage.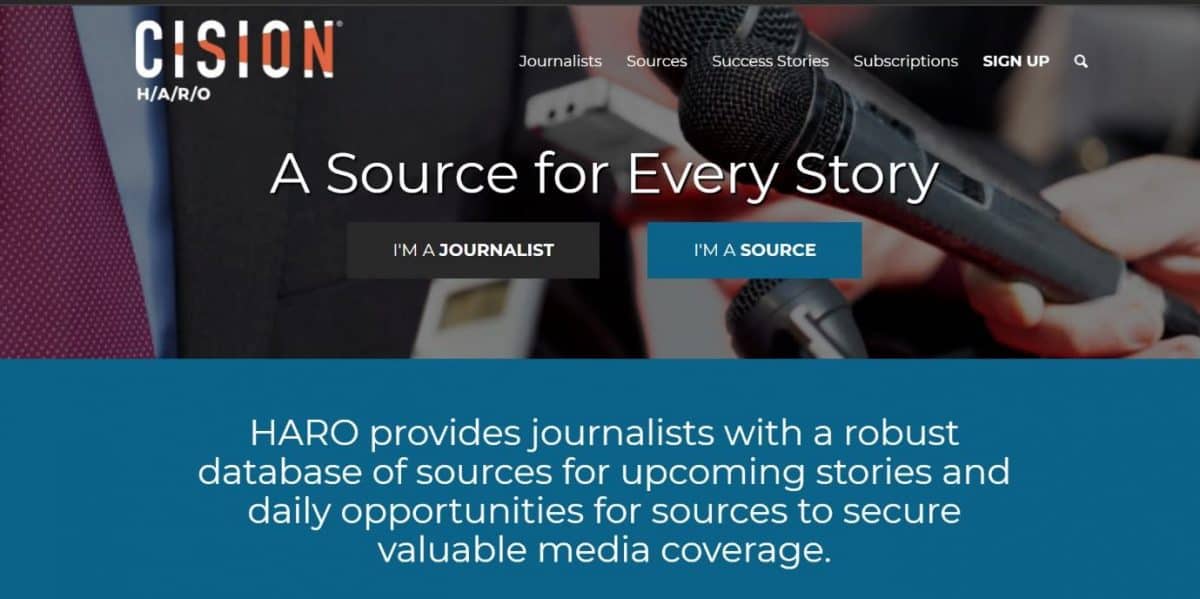 The great thing about HARO is journalists come to you instead of you having to do the outreach.
Each day you'll get emails with relevant topics that you can contribute to by providing your unique insight.
It's up to you to pick the ones you want to help out with and respond with your contribution.
But there's a catch.
Journalists will get a lot of responses for popular topics, so it's up to you to write a thorough and detailed reply to every question.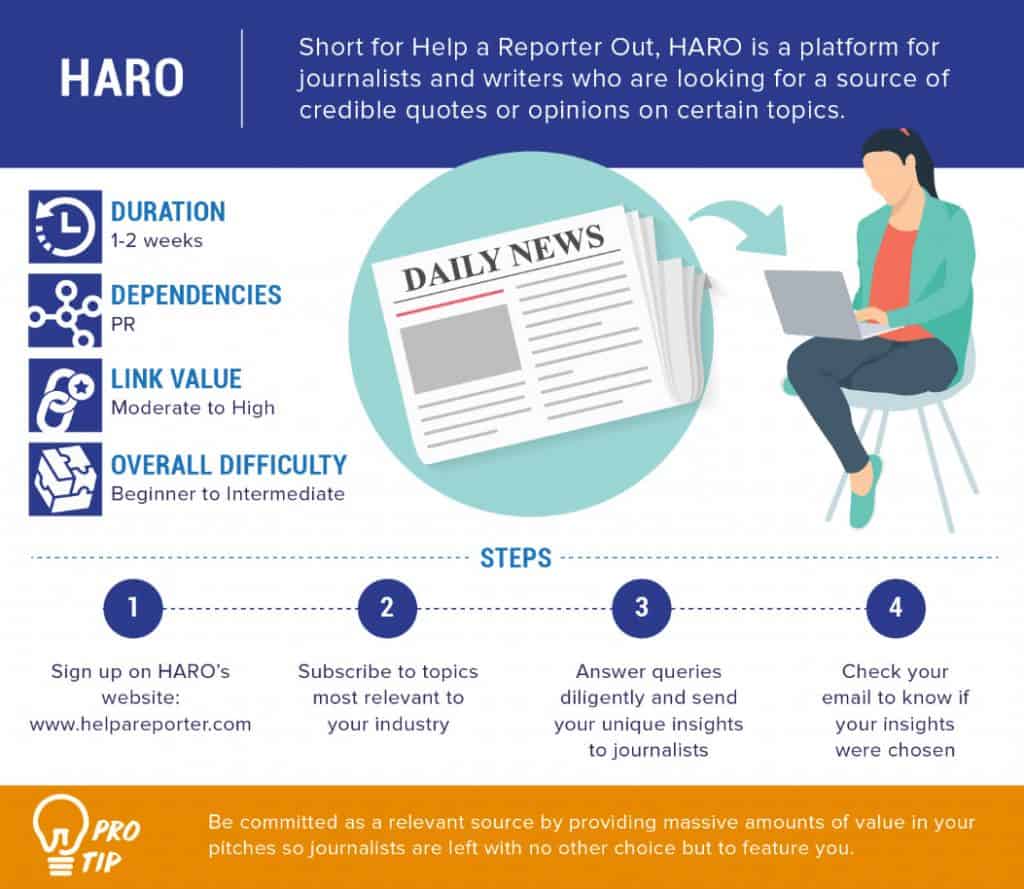 Make sure to include the author's bio and a link to your website.
It's a grind but if successful you'll earn valuable media backlinks as well as publicity and traffic.
An underrated link building tactic indeed, but it can result in high-quality backlinks and help you get connected to journalists and industry leaders.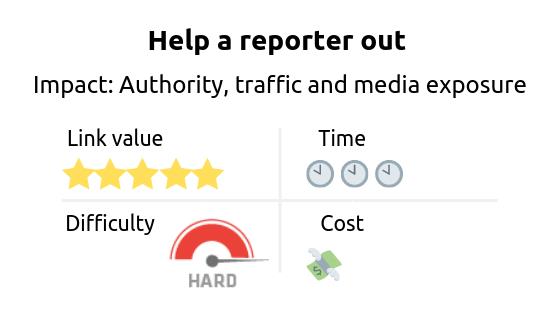 30. Reverse engineer your competitors (RRR method)
You're not the only one out there building backlinks; your competitors are going through the same grind as you.
But that's actually a good thing – they've done all the hard work for you. All you have to do is replicate the success of websites with rich link portfolios.
The RRR strategy consists of three steps:
Research competitors with a lot of backlinks
Reverse-engineer their link building tactics
Replicate their success
If they've managed to get these backlinks, why shouldn't you too?!
Besides uncovering their link building strategies, you can also inspect their backlinks to see if there are any recurring domains.
If certain websites keep popping up in their link profile, then they might be a good target to build relationships with. So in the future when you publish a new article, they'll link back to you instead of your competitors.
A great thing about this strategy is that it's highly scalable. So once you figure out your competitors' winning recipe, you can multiply its effects and grow your backlinks and traffic.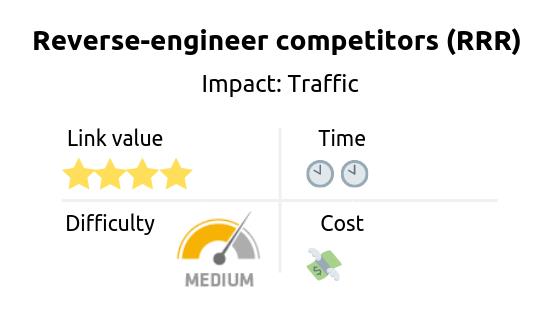 31. Create power pages
Power pages are massive in-depth articles that cover a topic inside and out. These are usually guides or how-tos, with practical tips on how to get something done.
The idea is to create absolutely the best piece of content possible for a given subject. Take our Ultimate Keyword Research Guide as an example.
You can use this guide to find the best topics to cover with your power pages.
Make sure to break up the article into chapters and sections to give it structure. A good idea would be to insert a table of contents at the beginning to make it easier to skim through such a long article.
Also, don't forget to include lots of images to make the content more visual and readable.
Since your power page covers everything about a topic, you can later branch off into other articles that cover related topics mentioned on the power page. That way you give your entire website some structure with internal links.
Consider enhancing the user experience of your power pages with a custom design. That way you make your content stand out.
Needless to say, high-quality power pages are instant link magnets.
Power pages will:
Establish you and your site as an authority
Get massive organic and referral traffic
Spread the link juice onto other pages on your site through internal linking

32. Newsjacking
Our final link building strategy is newsjacking. It refers to hijacking trending news topics and somehow integrating your brand into the story.
You can take advantage of hot news topics by:
Covering the news first (which is extremely difficult)
Giving the story your unique spin or commentary
Doing a detailed analysis of the subject after the dust has settled
Journalists will be eager to cover your unique perspective and collect quotes from relevant industry experts and businesses.
So, this is a great way to gather high authority backlinks from major news outlets.
However, when it comes to newsjacking time is of the essence. You need to act fast since news expires very quickly and you need to seize the opportunity while it's still there.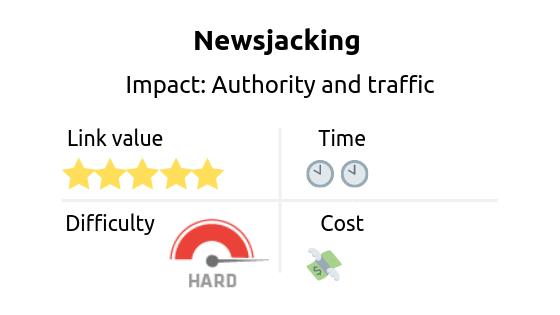 Next steps
Link building is a major part of your SEO strategy. It can benefit you in a number of ways:
Increase your site authority
Climb you to the top of Google rankings
Get you more traffic
Capture media attention and get exposure
In some instances even help you make direct sales
I know this process is never fun or easy, but with the right tactics, you'll be able to increase backlinks to your site and reap the benefits for a long time.
Get started with the 32 link building strategies I suggested above today.
If you find the article helpful, share it with others who you believe would benefit from this as well.
And let us know down in the comments:
What's your favorite link building strategy?