Think about the last time you went to dinner, why did you choose that restaurant!? Well, if you're like most people, you probably searched online for a restaurant with good reviews and reputation.
But this isn't limited to just restaurants.
People rely on Google and the internet to find products and services when they need them.
The last thing you want your customers to see is negative online reviews associated with your brand name.
Bad reputation = no business.
Your online reputation matters!
Read on and learn how to manage your online reputation to get more customers.
What is online reputation management
Your online reputation is how people perceive your business when they see your brand come up on the internet. First impressions matter and they will determine the sentiment (positive or negative) people develop towards your brand.
In turn, online reputation management (ORM) means influencing how people perceive your business. Or in more simpler terms, it means controlling what information comes up when people look up your brand, products or services on the internet.
The idea of online reputation management is to evoke positive feelings and opinions about your business, while at the same time stifling any negative review or bad comments.
All this with the goal of building trust in your business, which results in more people buying your products and services.
DISCLAIMER: Online reputation management is supposed to ward off negative reviews only when they're subjective and not fair. For the sake of good online reputation management (and good marketing) always listen to your reviews, positive and negative. See if there's anything you need to fix on your side first, and only then resort to managing your online reputation.
Why your online reputation matters
In modern times, lines are blurred between the digital and physical world. This means your online reputation translates into your offline reputation as well.
85% of consumers trust online reviews as much as personal recommendations, according to Bright Local!
Furthermore, 86% of people read reviews for (local) businesses.


The power of online reviews is on the rise – 57% of consumers won't use a business that has fewer than 4 stars (up from 48% in 2017)! At the same time, 11% of users demand a perfect 5-star rating.
Googling for product reviews has seen a 35% increase in the past two years. And it's not just for restaurants and hotels, other industries (like blinds, shades, and shutters) soared by as much as a 100% in review searches.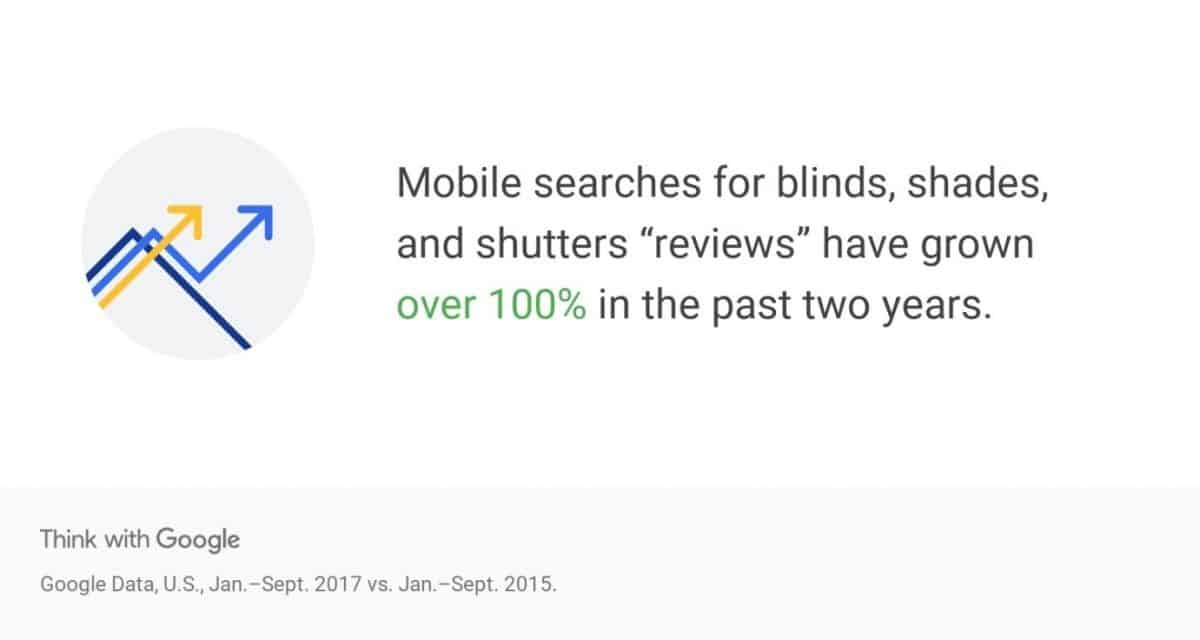 So, there is no doubt that having positive online reviews and reputation can have a big impact on your business. But what about negative reviews, how will they affect you…
Bad online reputation will hurt your business
I have some good news and some bad news for you!
THE BAD NEWS: Negative online reviews are going to hurt your business, big time!
Businesses risk losing as many as 22% of customers when just one negative article is found by users considering buying their product!
If 2 or 3 negative results pop up on the first page of SERP for your brand, you stand to lose 44-59% of customers.
Besides just those negative reviews, that disadvantageous story could be picked up by the local media. This can have a crippling effect, as trusted news sources tend to rank high in search engines.
You could be stuck in a downward spiral that's not only damaging your reputation but destroying your entire business.
THE GOOD NEWS: Now for some good news, you can take control over your online reputation. Be proactive, influence what people are saying about you and manage what comes up in search results. Encourage happy customers to leave positive reviews and useful feedback, and minimize the online presence of harmful reviews and articles.
Now, let's get down to business!
How to manage your online reputation
Clearly your online reputation matters, and you have to do everything in your power to control what comes up alongside your brand name.
Now let me show you how you can effectively manage your business reputation online.
1. Gauge your overall brand reputation
Before you set out to do anything, you should first audit your online reputation. You want to see what people are saying about you and what's your brand image in the eyes of your customers.
This can be as simple as asking friends, customers, business partners, and other stakeholders how they feel and what they think about your brand.
The next step would be to do a simple Google search for your brand name and see what comes up.



But to get a better overall sense of your online reputation you can use a tool like The Brand Grader.
Plug in your business name and check out what influential bloggers and news outlets are saying about you.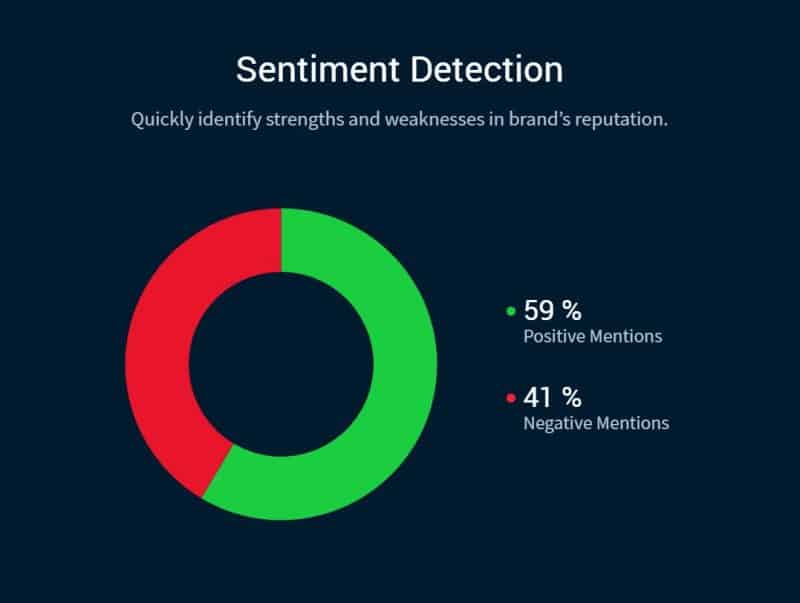 The tool allows you to also gauge your reputation by looking at recent mentions on social networks.
Plus, you can see how your competitors and other companies perform online.
While we're at the subject, check out our article on Competitive research and learn how to spy on your competitors.
And don't worry if The Brand Grader doesn't show any results for your business. It's actually a great opportunity, you have a clean slate, and you can start building your brand image and your online reputation.
You can also use the complaint search box by Go Fish Digital to run your name on over 40 complaint websites to quickly get a list of negative reviews related to your brand.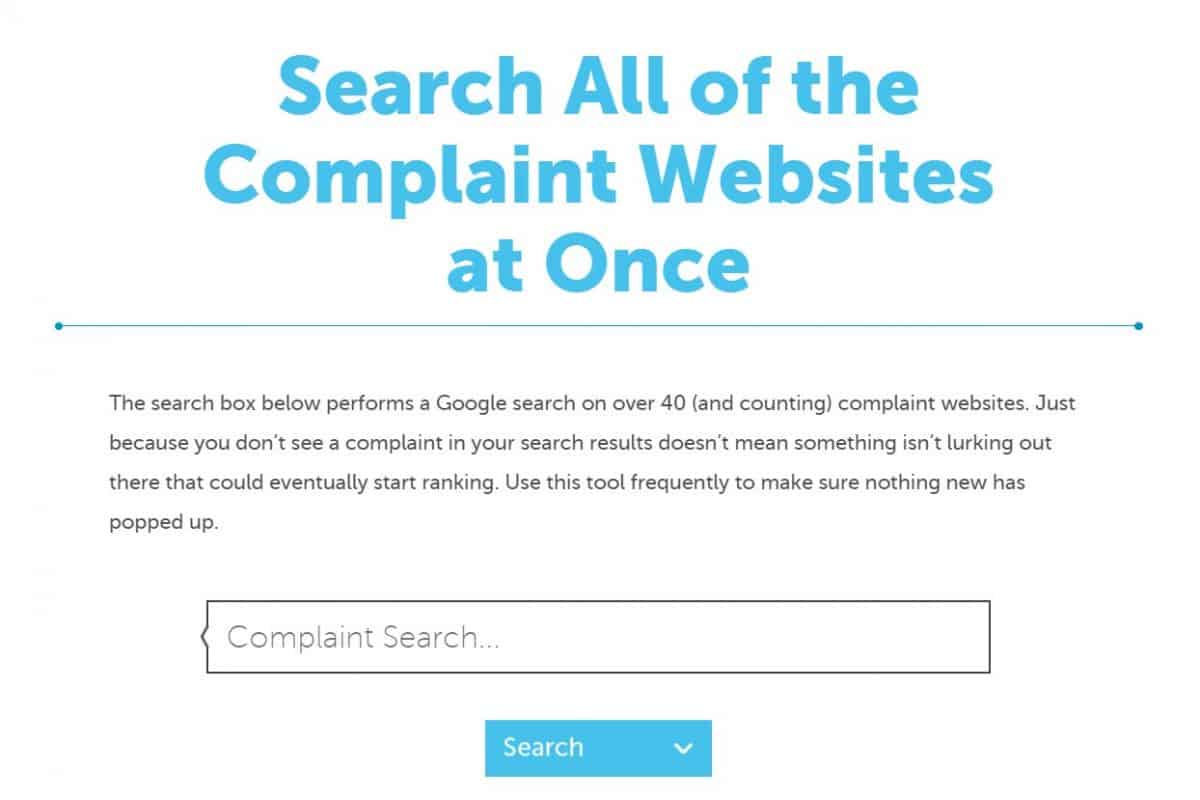 Once you've determined your current reputation, it's time to build and manage a strong online presence.
2. Secure your brand
Building your online reputation means building a name for yourself. And to start, make sure you own your brand name.
If you want to be able to control your online reputation, you need to protect your name across popular platforms.
The last thing you want to happen is when people look up your name, someone else's website or social profiles come up in the search results.
So, you need to…
Make sure you own your brand name domains
It's super important for all businesses to own a domain name that corresponds to their brand (even if you don't have a website).
For example, if your business name is Elmwood Spa, make sure you own the "elmwoodspa.com" domain name.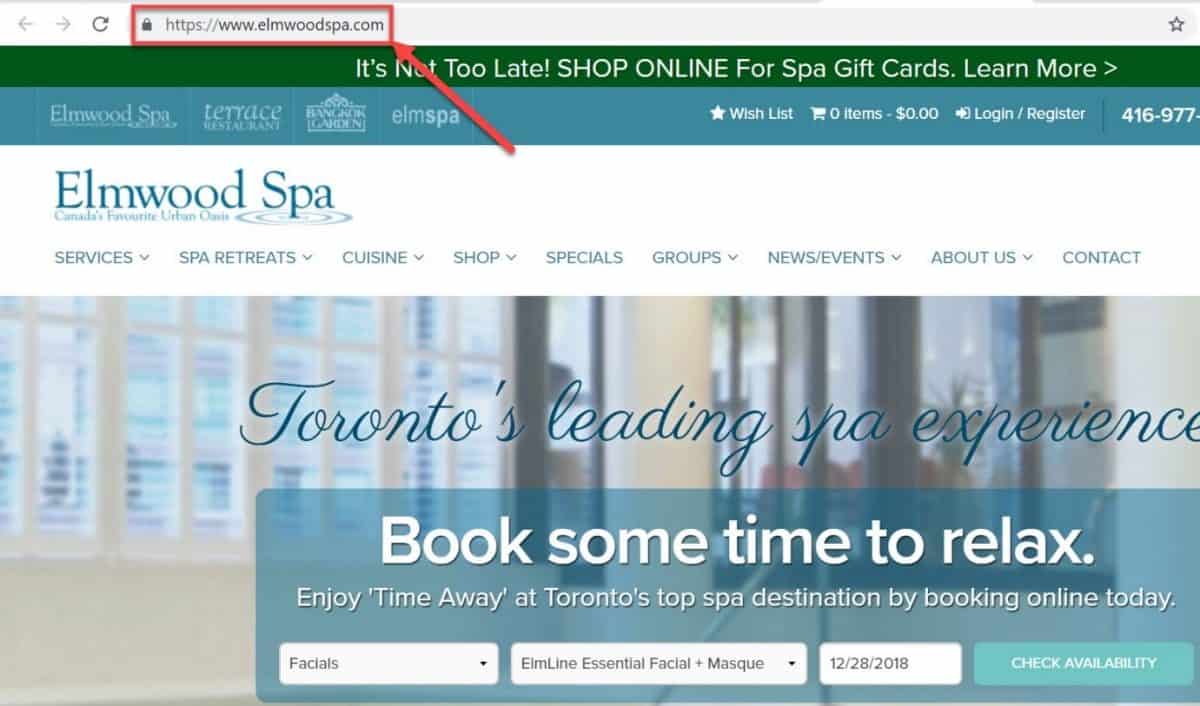 Besides the .com, I'd also strongly advise you to make sure you own other popular TLDs like .net, .org, and .info. But also acquire regional domains like .ca (Canada), .us (USA), and for all other regions, you may be servicing.
These are all trusted TLDs and may come up high in search results on Google. You don't want your competitors or other people to own those domain names. If you don't acquire them, you risk someone impersonating you on the internet, which not only 'cause damages to your reputation but will also hurt your business.
You can use KnowEm (free tool) to check your brand name availability on over 150 domain names.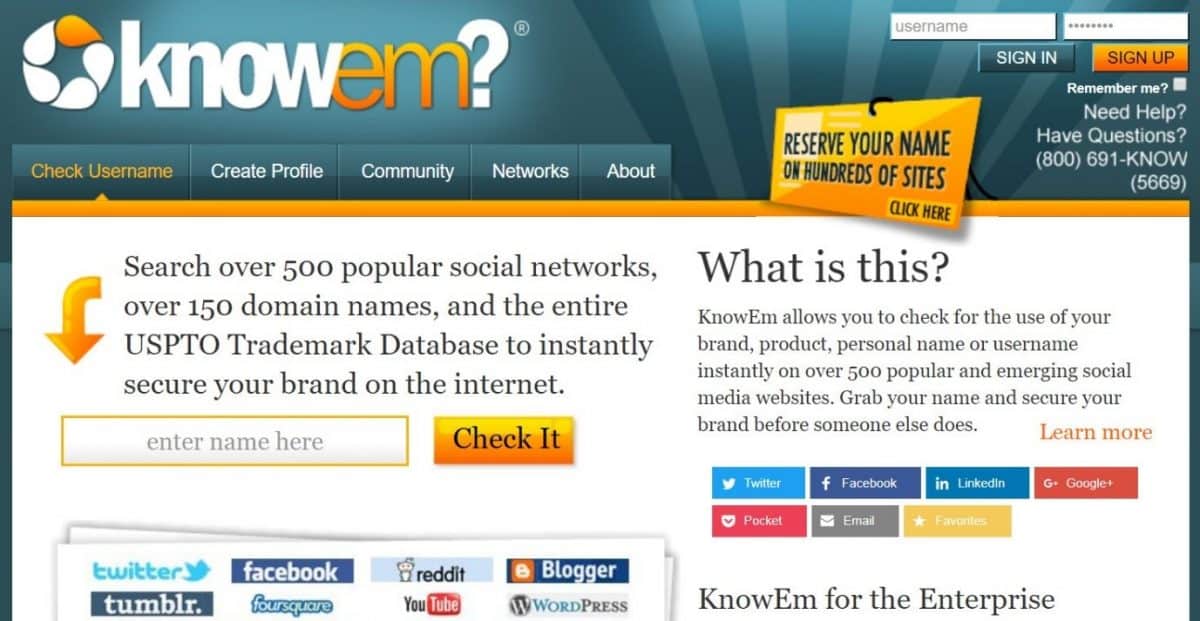 If someone else already has your domain name, you can check out if it's available for sale.



Do your best to secure all your relevant top-level domain (TLD)extensions, even if it means having to buy them form a current user.
You should also check if a handle under your brand name is available on over 500 popular social networks.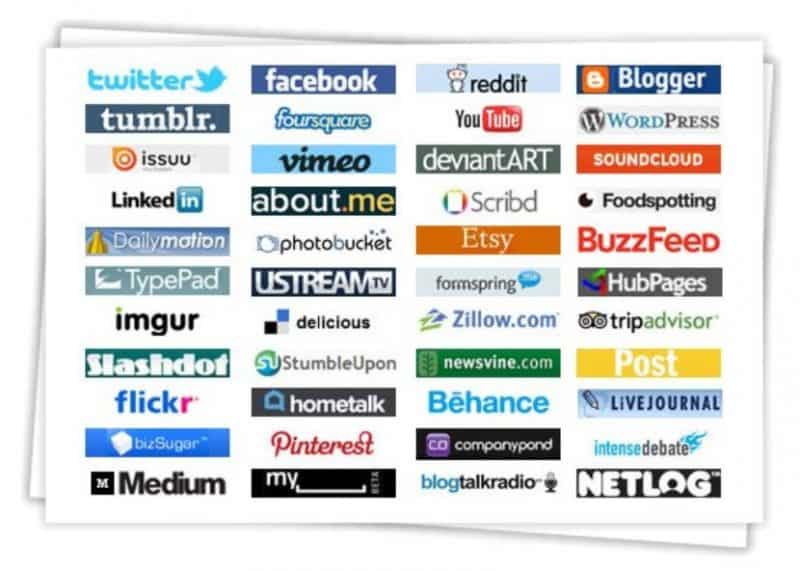 Which brings us to the next important thing.
Create accounts across ALL social media
It's not just about your website and search engines. People also use social media to find new products and businesses.
To give you a bit of a perspective, 60% of people on Instagram say they discover new products on the platform, and 80% of people follow at least one business.
Also, your customers may already be talking about you on social media even if you're not there. It pays dividends to be present and respond to users' feedback on social networks. You better be there before you run into some issues.
So, register your name across all social networks your potential customers may be using. Even if you don't have the time (or budget) to stay active on social media, it's worthwhile owning those social profiles.
Because of their of widespread popularity, make sure you register for an account on:
Facebook
Instagram
YouTube
Twitter
and LinkedIn
At the very least, fill out your bio, add a profile picture and a cover image. That way you protect your brand from imposters and other wrongdoers.
Also, link out to your social profiles on your website. You can add social media icons in the header as well as the sitewide footer of your website.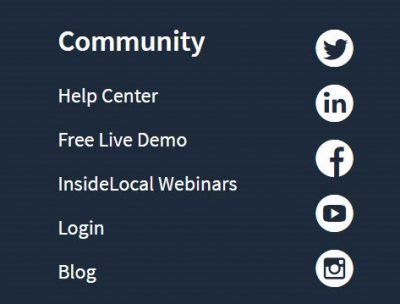 That way search engines know that those are your official pages and this can increase your chances of fully owning the SERP for your brand.
Get listed in business directories
Similar to telephone directories from the olden
days, online directories help people find businesses, their websites and contact information.
These could be industry or local directories. Your aim is to find the ones relevant to your business and make sure your site and info is listed accurately. NAP (name, address, phone) consistency is actually a major ranking factor in Google for local searches.
Moreover, many of these sites feature reviews and comments. Therefore, it's best to know where your site is listed and what people are saying about you, so you can respond to any criticism and resolve issues.
3. Leverage reviews
When was the last time you went out to buy something without checking out reviews first?
Can't remember, can you!?
You're not alone, most people won't try new products or services without looking online for reviews.
With so much influence over people's purchasing decisions, reviews are a vital part of your online reputation that you need to manage. This includes two major things:
Encourage people to leave positive reviews
Respond and neutralize negative reviews
But first, let's have a look at some of the most influential review websites on the internet.
Notable review platforms
Here are some of the must-have review websites to consider for your online reputation management.
Be proactive and ensure to claim your profiles across all potential review platforms.
Google My Business (GMB)
GMB is one of the top trusted sources for online reviews and is the go-to platform for every business that intends to have a proper online presence.
It's essential for local businesses, as Google pulls the majority of data from GMB in their local related search results.
Facebook
With over 2 billion users (2018), Facebook is by far the biggest social network. But it's also very important for businesses.
You should have a business page to keep in touch with your customers.
Users can also leave comments and ratings based on their experience with your brand and products.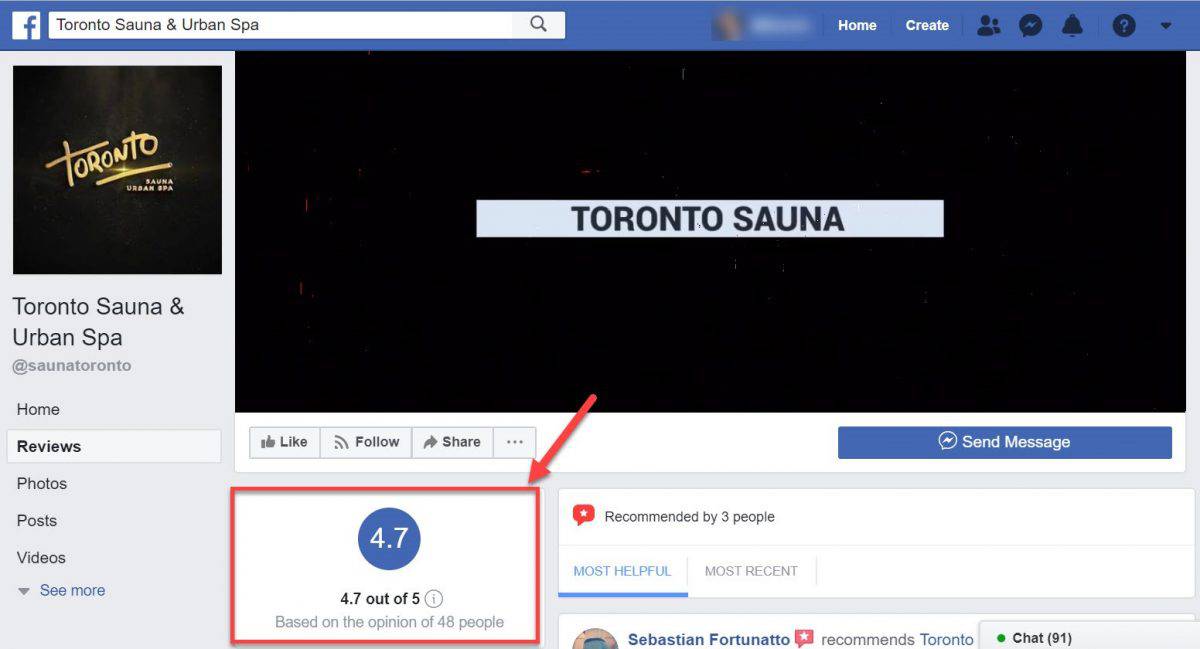 Amazon
The supreme king of online retail, Amazon is a powerhouse for online review as well.
If your products are listed on Amazon, you can bet people will check out the reviews even if they intend to buy it elsewhere.
Amazon has been training it's users to leave comments and ratings for quite some time, so each product is likely to have enough reviews to deem it a credible source.
Yelp
Yelp is one of the most trusted sources of customer reviews on the internet because of its strict review policies.
Businesses from all sorts of categories are listed on Yelp, form restaurants and bars, to dry cleaners and day spas.
Make sure to claim your business on Yelp and keep your information up to date. Also, make sure to respond timely to any negative comments.


Trip Advisor
It's mostly used for travellers and tourists, and it helps users discover good places to visit and activities to do. Users can check out rooms to book, find flights and even reserve tables for local restaurants.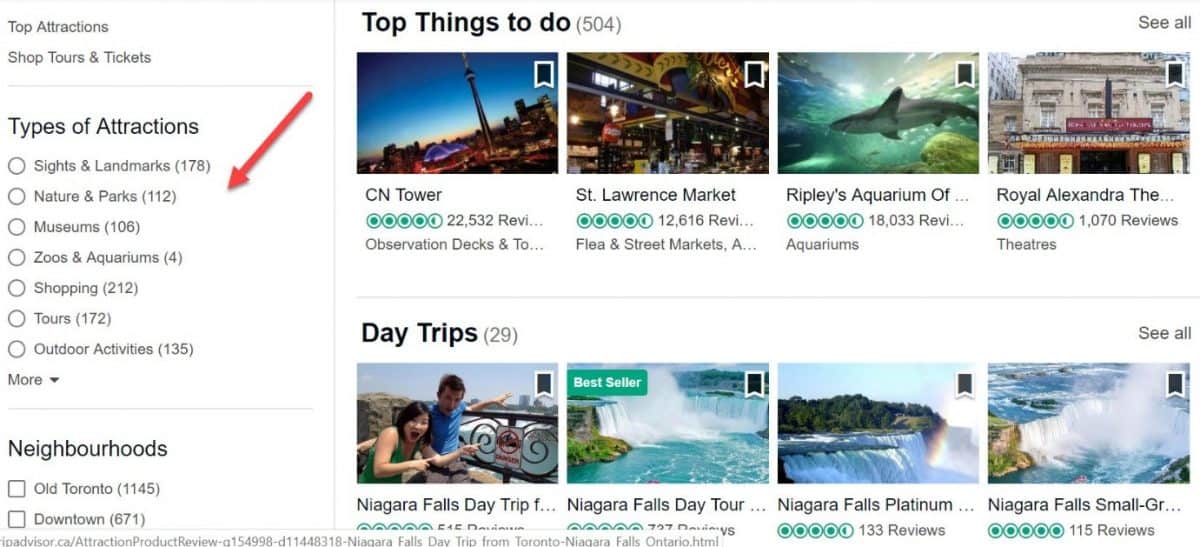 Yellow pages
Yellow pages are one of the largest and well-known business directories.
It's aimed at helping users find the best businesses with useful information such as addresses, phone numbers, as well as business ratings.
You can claim your business on YP to manage your reputation by responding to comments and reviews.
BBB – Better Business Bureau
Better Business Bureau is a non-profit organization aimed at helping people find trusted businesses.
Apart from user ratings, BBB does its own evaluation of the business with A-F ratings.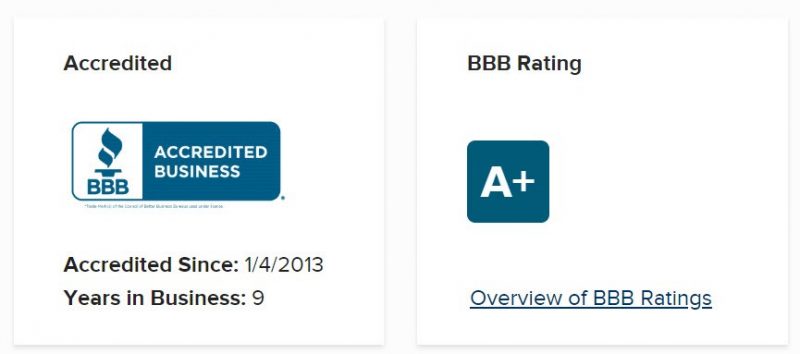 This rating is based on customer complaints and how the businesses resolve them. Users can file a complaint directly on the site, which is one more reason for you to keep a close eye on this platform.
Foursquare
For local businesses, Foursquare is a very important platform. It's centred around providing helpful information to nearby customers looking to get something to eat, have a coffee or go shopping in a local boutique.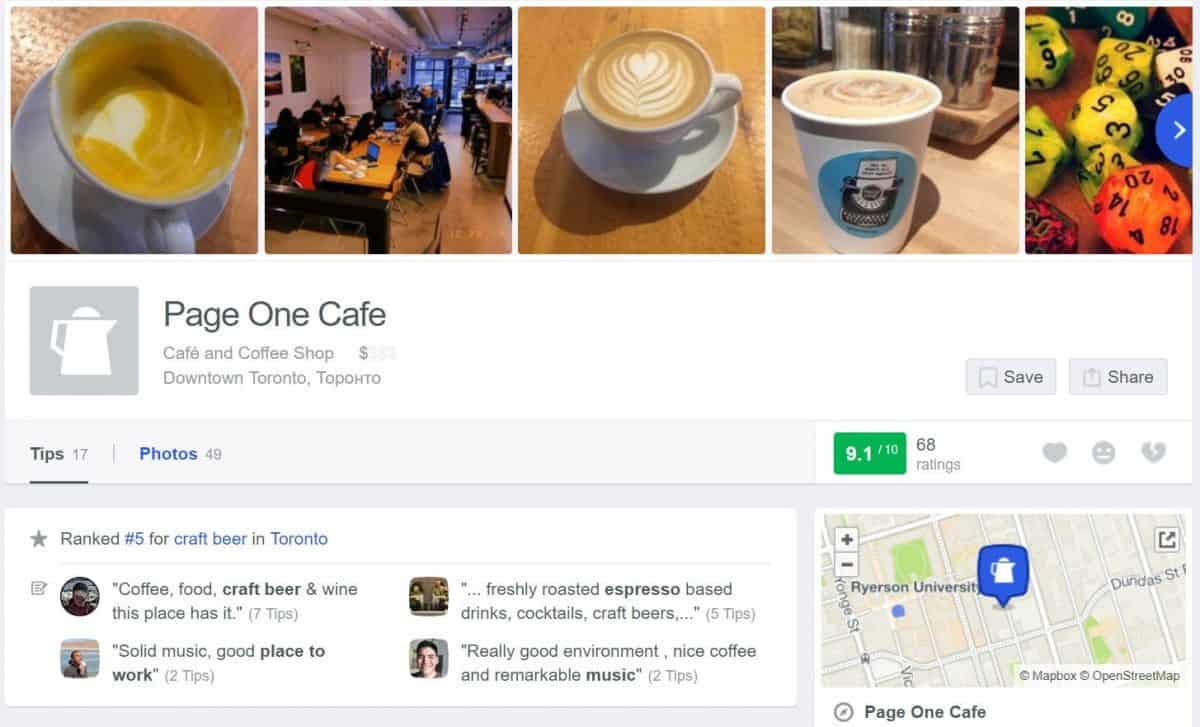 These are the top review sites in terms of traffic and influence. However, this is by no means a complete list.
Don't forget about niche review websites relevant to your industry.
Almost every business category from real-estate and home services, down to healthcare, financial and legal industries have a whole host of review websites.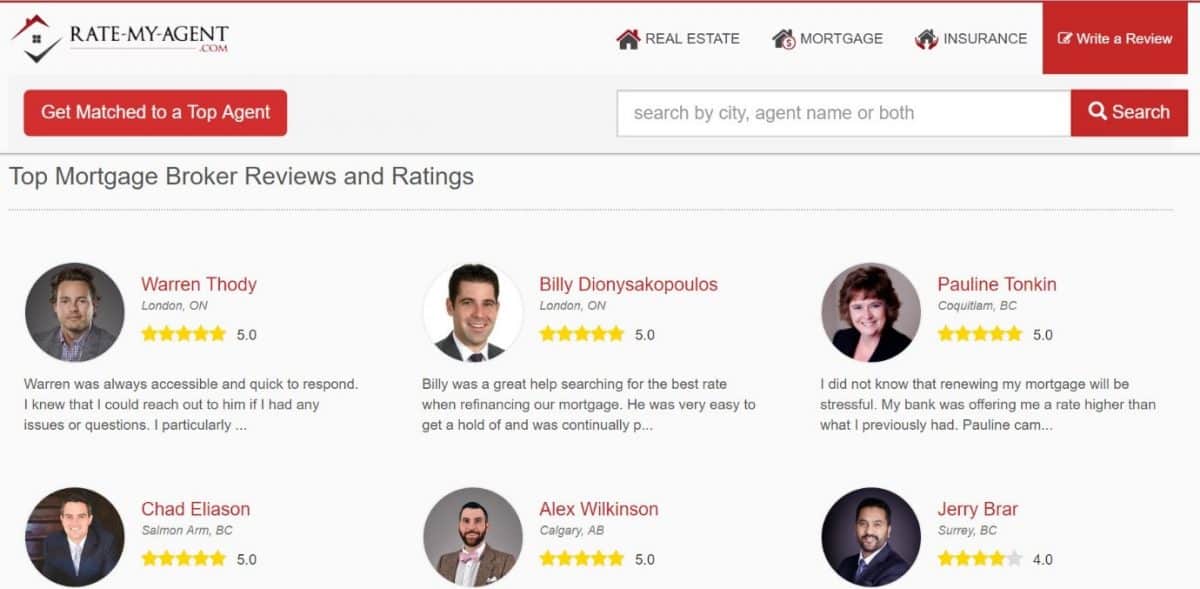 Keep a close eye on relevant review sites in your industry so you can manage your reputation promptly and effectively.
Get positive reviews
According to a study by Harvard Business School, a one-star increase in Yelp ratings leads to a 5-9% increase in revenue!
When you delight customers with your service and products, you want them to share their satisfaction with the world.
While some naturally leave a review without you asking them, most of the time you need to encourage happy customers to drop those 5 stars.
Ask for reviews – Sometimes all you have to do is ask. You can ask customers to leave feedback via email, phone, in person, or on your website.
Have a Review Us page on your website – Create a special page dedicated to reviews where users can easily leave ratings and comments. Simply, link the page to your Google My Business reviews URL so your ratings will appear in Google as well as your site.
Make it as easy as possible – Simplify the process, make it a one or two-click navigation. You can go so far as to create an instruction sheet on how to rate your business on your desired review platform.
Add a personal touch – Personalize your emails, your customers will feel much closer with you when you include their name. This will make them more likely to respond to your review outreach.
Have a review station at your physical location – If you own a brick-and-mortar business, you can have a tablet or a laptop waiting at the exit where customers can quickly drop a review before they leave your shop.
Include a review reminder with your products/services – Insert a "thank you" note in your product box that reminds users to leave feedback.
Offer an incentive – Many people don't want to deal with the hassle of having to review your business, and the only way to get them to provide ratings is to offer them an incentive. This could be a gift, a small discount or coupon, or anything else that would entice them to leave a positive review.
Respond to reviews – Responding to comments, positive and negative implies that you listen and care about your customers' options. Users appreciate when they know their voice is being heard. Often times, this will be enough to encourage them into reviewing your business.
WARNING: Each review platform has its own set of rules on how you can solicit and manage reviews. Make sure to read the Terms and Conditions before you start asking for positive feedback. You can read the guidelines to top local review sites here.
Respond to negative reviews
Just how important is it to reply to your online reviews?!
You'd be surprised to know that 89% of consumers read businesses' responds to reviews! So the power is not only in the reviews but also in how you reply and handle the situation.
Reviews, both positive and negative provide useful feedback from customers. In fact, one of the worst things you could do is ignore upset customers. It will simply mean you don't care about your customer satisfaction, and that's a huge blow to your online reputation.



Follow these guidelines when you receive a negative customer review:
Listen – Read their comments very carefully and try to uncover the root of the problem. Anticipate how they feel and try not to set them off. Show them that their voice is heard and their opinion matters to you.
Be Honest – Acknowledge the problem and apologize (even if it's not your fault). Accept responsibility and work together to move forward towards a solution.
Don't make excuses – Don't try to blame it on someone else, it'll make you seem even more guilty.
Remain calm – Don't take things personally, take it easy and stay calm. Make sure you don't exacerbate the situation further by losing control.
Speak like a person – Talk respectfully, like a normal person without being too Explain things in an easy-to-understand way. Remember, your customers may not have the knowledge to understand technical jargon and details.
Promise to be better – Thank you, customer, for their honest feedback and mention that it's only going to help you get better in the future. Promise them you'll be better and you may still keep their trust.
And don't forget to learn from your mistakes. Fix the problem that caused the negative review in the first place, and make sure it doesn't happen again.
4. Own Google SERP for your brand
It's no secret that people use Google (and other search engines) to find brands and products. But what you may not have known is that 64% of people trust search engines, and most people turn to them when conducting research on a business.
That's why you need to take extra care of what comes up in Google (and other search engines) when users search for your brand or products.
Treat your brand's Google SERP as your business card
First of all, you need to have the right mindset – treat your #1 page of Google SERP as your business card!
The number one page for your brand should provide all the necessary details about your business as well as establish credibility.
That means your website should be the first to come up, and you should "own" the number one page (or at the very least the above the fold area).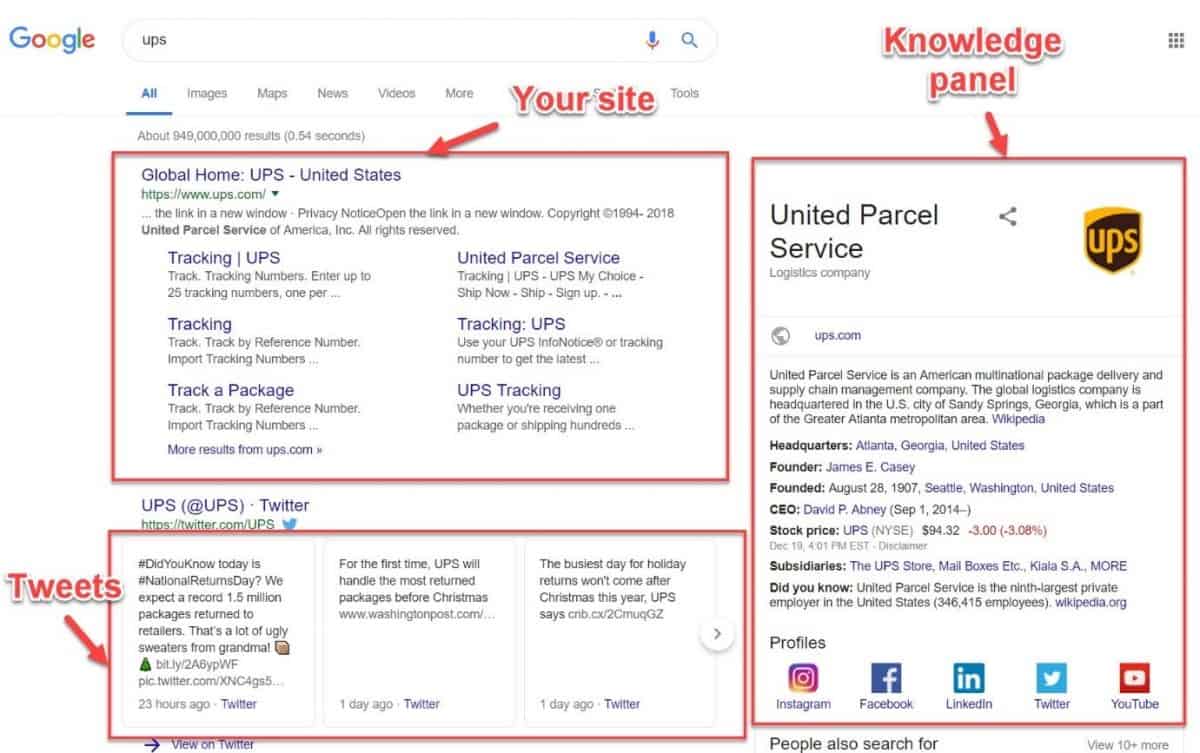 The new Google results page for branded searches now looks like this.
If you do things right you can dominate the SERP with:
Your website on the top with site links
Knowledge panel
Twitter cards
Wikipedia
News stories
Map packs
Google Ads
Have your website on top with site links
Your primary goal should be that when someone searches for your brand on Google, your website is the first result shown on the top.
And ideally, they should also see your site links. This is a pack of up to 10 shortcut links to different areas of your site that make it easier for users to navigate to the most popular sections.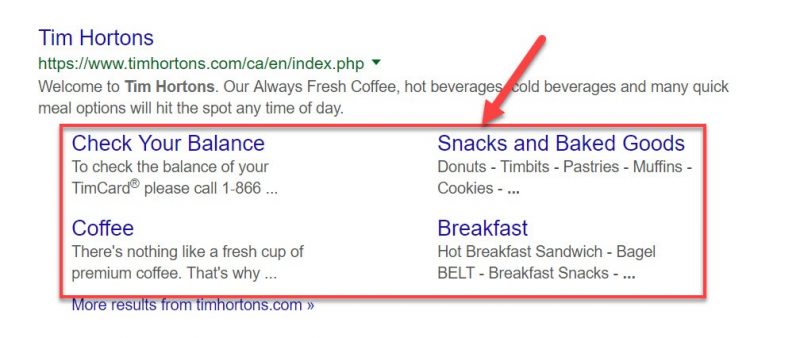 One of the reasons why you should care about site links is they occupy up to 5 organic positions in SERP, which means that the majority of space on page #1 above the fold area will belong to you alone.
This implies you need a well SEO optimized website, with a proper site architecture. Although you can't directly control when site links appear, there are a few optimizations you can do to help obtain them:
Have an optimized site architecture – You need to have a clear structure where each page is interlinked with others on your site.
Make sure your site is crawled and indexed in Google – You can check the indexing status in Google Search Console.
Have sufficient traffic – For new sites it might take a while to get enough traffic to earn site links. But if you create SEO content, you'll be able to drive more visitors soon enough.
Apply Search Action anchor markup on your site.
Knowledge panel
On the right side of Google SERP for branded searches, you may see a Knowledge Panel (aka Knowledge Graph) with more details about your business.
Depending on the type of business, the Knowledge Panel will display different information. For example, some might feature an address, opening hours, phone number, reviews, etc.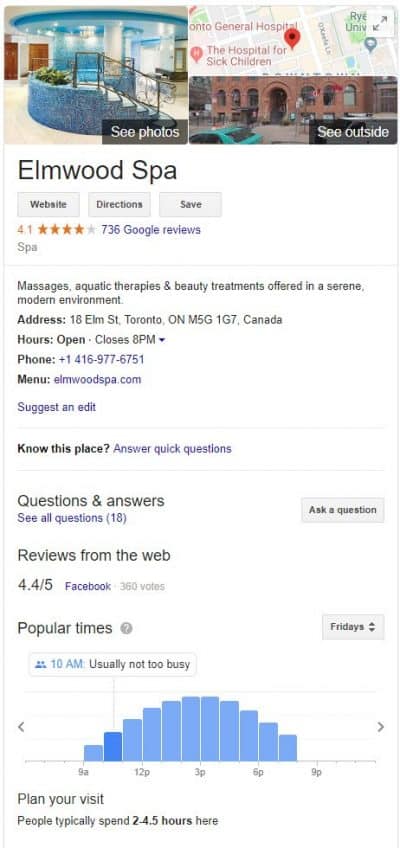 Google decides what information will be displayed in the Knowledge Panel for each query, so you can't completely control whether or not it's shown and what info will be available. But you can definitely increase your chances of getting your panel by verifying your business in Google My Business.
Learn more about Google My Business and how to set it up in our Ultimate Local SEO guide.
Google also pulls information from other credible sources, so having a Wikipedia page for your brand can also help. The more Google knows about your business, the better.
Your social media profiles may also appear in the Knowledge Panel.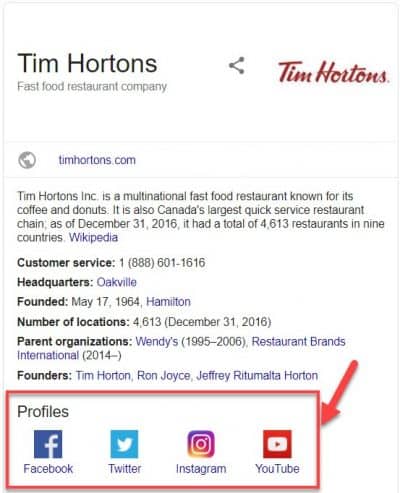 If Google can pick up on your social media accounts, it will display them at the bottom of the panel. To help with this, you should use a consistent name (handle) across all your profiles.
But also make sure to link to your accounts form your site (as I mentioned earlier).
Twitter cards
If you have a Twitter account, Google may also display your latest tweets as special cards. They also take up a lot of space so you can have even more real-estate to yourself.



Twitter cards are great since they occupy a prominent position and they're under your control, showing your tweets.
Wikipedia
Since Wikipedia has very strong authority, it's also going to show up on the first page for a branded search.



This is another reason why it would be helpful to have a Wikipedia page for your brand, no matter how big or small it is.
News stories
Top stories related to your brand may also appear on your first page.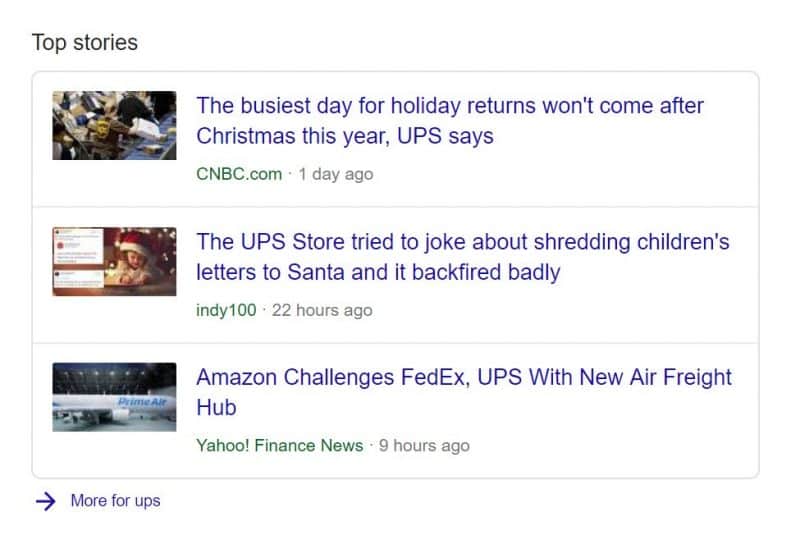 News can have a big impact on your reputation, both online and offline.
Although you can't control what the media is going to say about you, having a good PR and nurturing relationships with customers, reporters and other stakeholders will help you get positive publicity.
Map Packs
For local businesses, when a location is of importance (like for restaurants), Map Packs can also appear.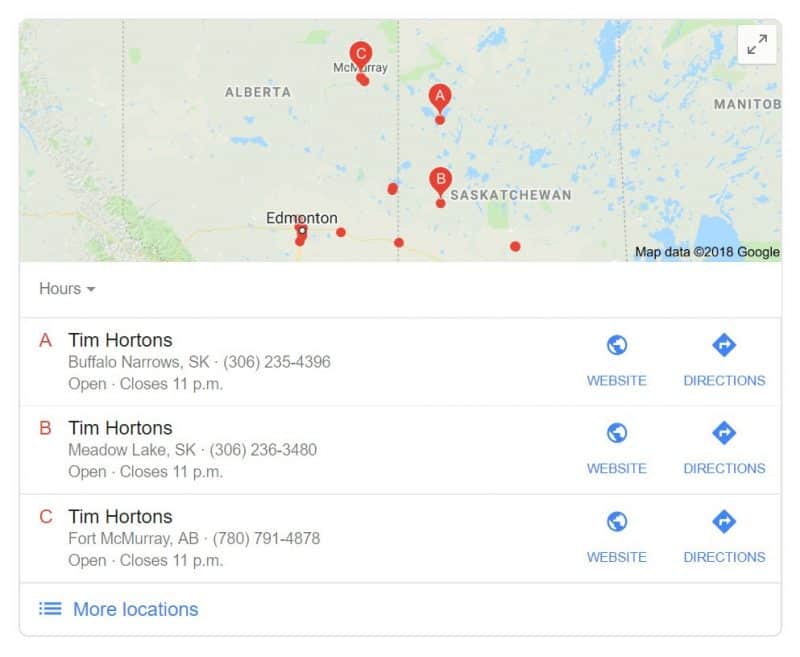 Map packs take up a huge chunk of space on Google SERP and will display different locations with opening hours, phone numbers, as well as links to website and Google Maps directions.
They are obtainable only if you do good Local SEO, which you can learn more about in our Ultimate Guide mentioned earlier.
Google Ads
One more thing to take care of is ads on your branded Google SERP. Your competitors might target your brand as a keyword for Google Ads. In that case, their ad will appear above your website, which is a complete disaster in my opinion.
For your competitors, it's a great way to get qualified leads, since those who look up your brand name on Google probably are close to the purchasing stage of the buyer's journey.
So to make sure this doesn't happen, bid on your own brand search terms, so your ad gets displayed on top.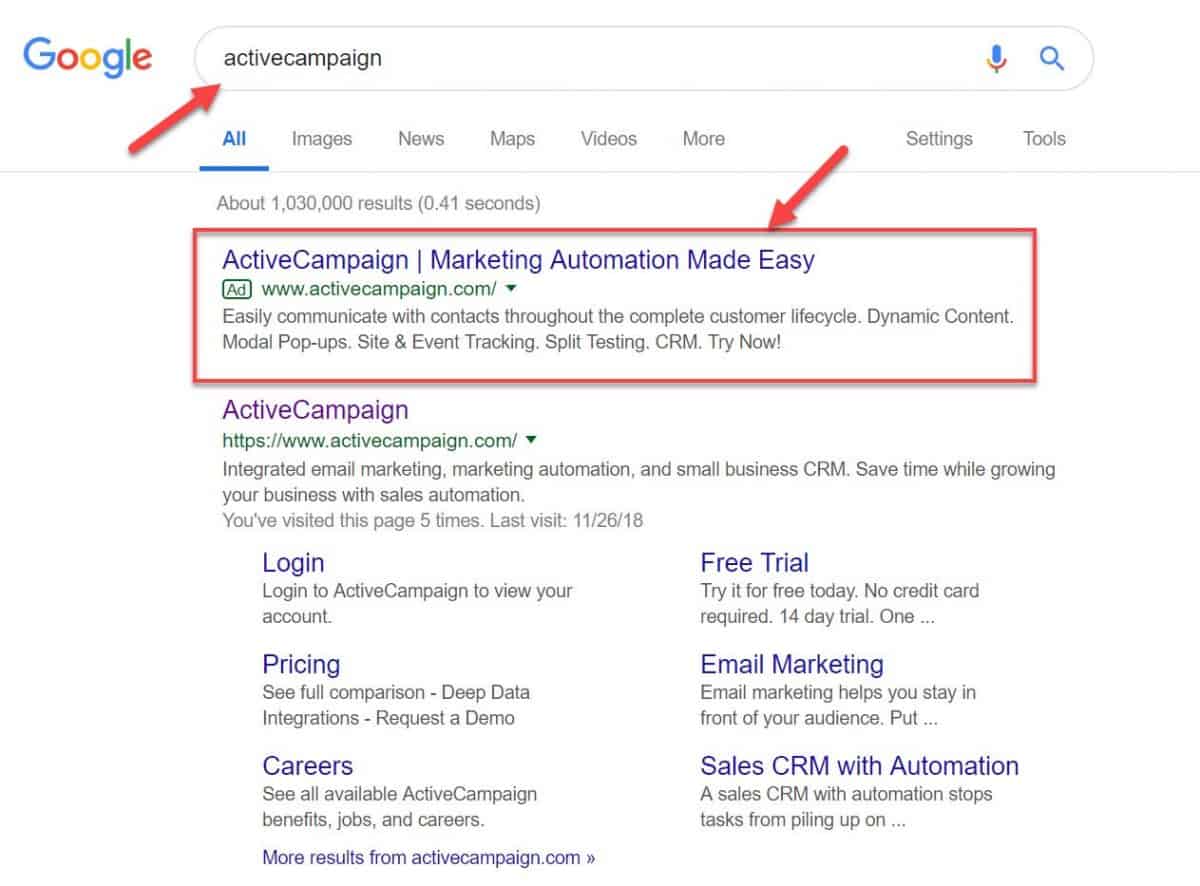 You should use the number one page of branded Google SERP as a way to provide useful info and build a brand image. You should care about the SERP elements mentioned above because:
They occupy a large portion of your results page
You can control, or at least influence them (in most cases)
That way you can ensure only positive information is displayed and you can establish a stellar online reputation.
Show off your expertise with blog posts
People don't use Google just to look up brands and products. Actually, most of the time users search for useful information that can help them do something or solve a problem.
But what does this have to do with you and your reputation?!
Well, for you this is an outstanding opportunity to show off your expertise and build a good name for yourself by providing useful, valuable information.
See, when someone searches "how to….", they're looking for a solution to a problem. And that's where you come in. Write a solid piece of content that helps your target audience. If it's high quality, your content will appear high in Google, resulting in more traffic to your site. But that's just the tip of the iceberg.
By helping people with valuable information, you build a strong reputation and brand image. So, when those users get a better understanding of the problem and when they're actually ready to buy, they will be looking for you!
You can learn exactly what search terms people type in Google when they're looking for useful information by conducting keyword research.
Run a common industry term through keyword research tools like Google Keyword Planner or advanced tools like SEMrush or Ahrefs to find the keywords that you want to target with your content.
Find a keyword that has a decent amount of searches and relatively lower competition, then create a high-quality blog post related to that topic.
You can learn more about how to find the most profitable topics to target in our Keyword Research Guide.
Avoid talking about yourself or your products in your blog posts, instead, focus on providing value to your audience. Show them that you know the problem inside and out, and you know how to deal with it. That way you earn their trust and build a reputation as an authority in your industry.
Make sure you optimize your content for search engines to help you get ranked on top of Google SERP. If you're using WordPress this can be relatively simple with Yoast plugin.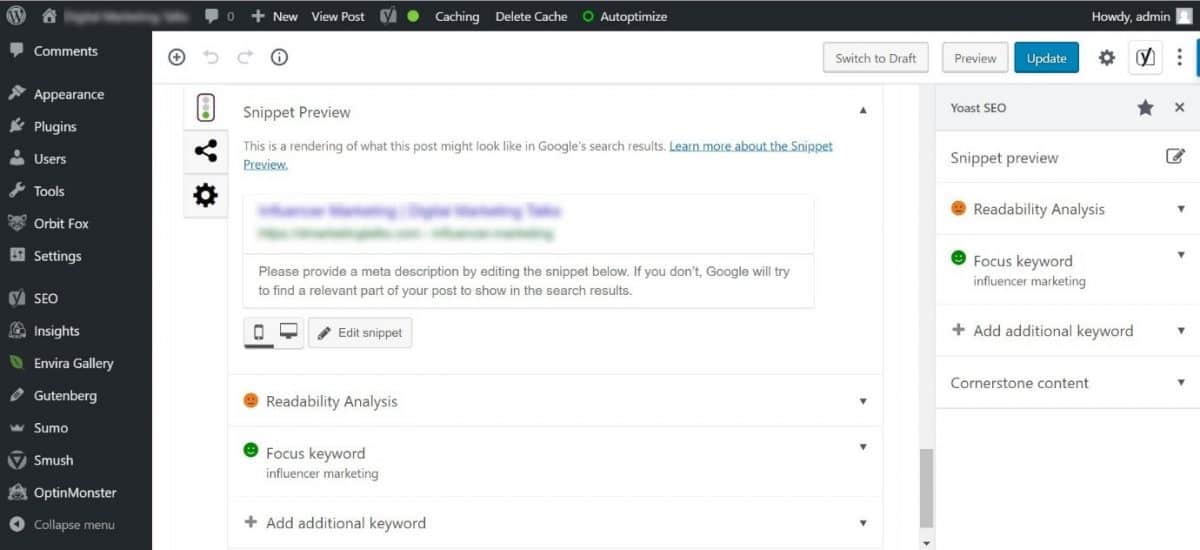 Also, make sure you write content that's easy to read, with headings and subheadings, short paragraphs, and lots of images.
Lastly, don't forget to monitor the performance of your website and blog posts using Google Analytics. Measure your performance to identify problems as well as opportunities so you can make informed decisions on how to improve your content to get better results.
Inspect popular content around branded search terms
People are talking about you on the internet already, they might be writing reviews about your products, guides, comparisons, etc.


And it's a good thing to get a bit of buzz going around your brand.
But some of those articles might feature inaccurate or outdated information. And this can be bad for your reputation. Especially if those articles are getting a lot of traffic.
So, run keyword research to find all the topics related to your brand name, and inspect the search results page to find all the blog posts mentioning you.
Look for articles with inaccurate or outdated images, pricing, feature, etc. These can cause a lot of frustration and damage your brand since they set the wrong expectations.
So, to mitigate this issue, reach out to these websites and politely ask them to update their articles with correct information. You can even go so far as to fix the issue for them, send them the right screenshots or product images, or rewrite the faulty part of the post.
It should do the trick in most cases. However, if that doesn't work, you'll have to resort to the next strategy.
Bury negative search results
In modern times, more and more purchasing decisions are influenced by online reviews. People rely on review sites and online articles to find the best products/services.
But what if some of those are negative reviews?!
I know, I know… It happens to everyone, you've done a fantastic job for your customers, and most of them are delighted, but still, someone wrote a negative article or review!


Sometimes the details may be inaccurate or outdated, or even worse, some might be trolling you and smearing your online reputation for no good reason.
Negative reviews are very off-putting and may damage your reputation and potentially cost you a ton of sales. The issue is exacerbated if those articles rank high and get a lot of traffic.
Sure, you could reach out and ask them to fix the posts. However, this won't work all the time. So you have to resort to drastic measures and take control of your Google results page by burying articles that portray your brand negatively.
The way this strategy works is you find high ranking negative reviews, which you then push down to the second or other pages of Google.
As most SEO experts say:
"The best place to hide a dead body is page 2 of Google SERP" – because no one is looking there.
I know it sounds cheesy, but it's true.
Once you identify high ranking negative results, you need to learn two more things:
Find out which keywords this page is ranking for,
Check what it would take to outrank this page (determine the domain and page authority)
The authority of a page is determined by the number of backlinks to that page, which you can check for free using SEO Quake.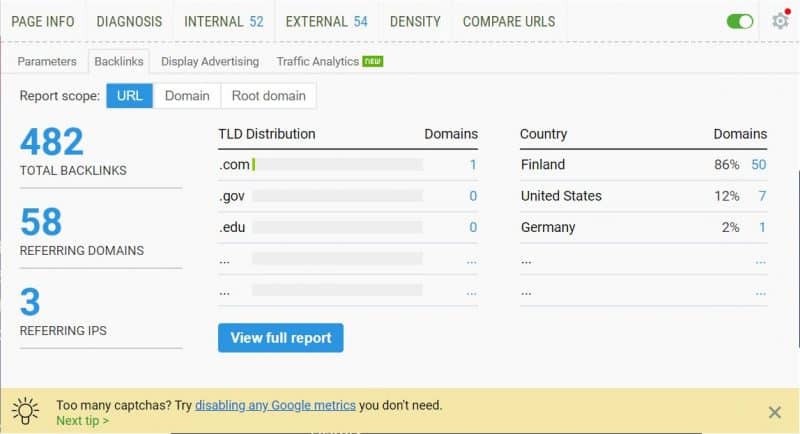 The next step is to create a high-quality piece of content on that topic, that would outrank the negative review.
The other option is to find a more favourable article that's already ranking (but doesn't belong to you) and try to pull it up in the SERP.
To pull this off you just need to add a few high authority backlinks to the page with a positive review, and it will push down the negative one.
Add links to the positive review from your own site (e.g., in your testimonial page)
Find authority websites in your niche that accept guest posting, write a blog post on a relevant topic. Then link back to the positive favourable review article that you want to pull up.
Lastly, do content promotion and outreach to get backlinks from other authority sites for those desirable review pages.
In severe cases when all else fails, you could try to remove the result from Google by filing a DMCA complaint. However, don't get your hopes up as search engines won't take down a page unless you have very good legal reasons.
5. Take control of your social mentions
To cap off this article, let's address the final piece of the (online reputation) puzzle – social mentions!
As I said before, people are talking about your business, and not just on Google. Social media is a great tool to build and enhance your online reputation.
Build your reputation on social media
Social media is a great opportunity to build your brand image and reputation. Engage your audience with valuable content and create a social following.
Share valuable content that users will actually enjoy seeing in their social media feeds. The possibilities are virtually endless, you can:
Post product images
Show behind the scenes videos
Make announcements and share company news
Promote new products
Ask questions and encourage people to comment and leave feedback
Invite people to share user-generated content, etc.
Don't forget the 80/20 rule where on social media 80% of the content should be fun and useful content, and only 20% of your posts should be promotions.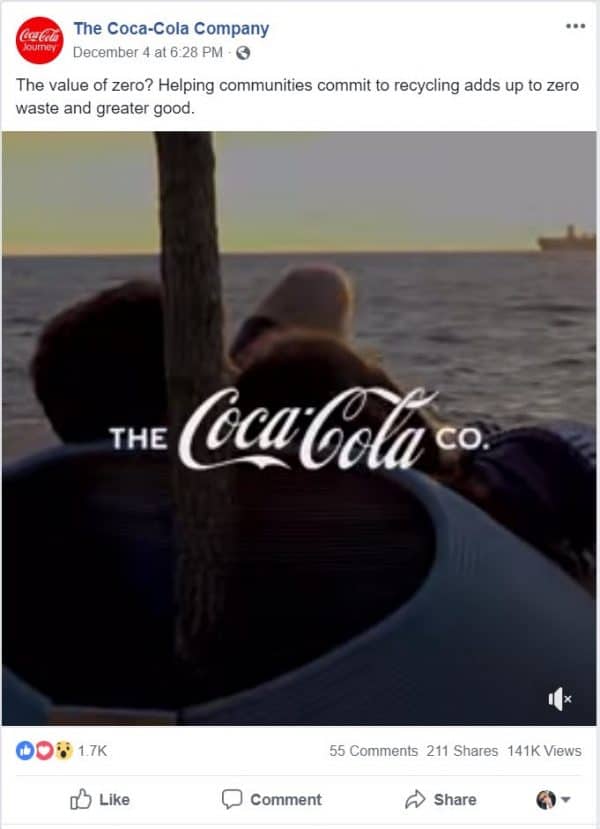 Social media will also help you humanize your business, and show that there are real people behind your brand. This will connect with your audience on a more personal and emotional level, building stronger relationships.
Open up your business to your customers, show users that you care about them, and you'll be well on your way to build a community of loyal followers and a solid online reputation.
Monitor your social mentions
To stay on top of what people are saying about your business and the products you need to monitor your social mentions online.
Use Google Alerts to keep track of new articles and posts relevant to your brand. You can even track news websites and monitor your competitors' mentions.
Just enter keywords related to your business (like your brand name or products) and receive a notification whenever there's new content published.
You can also use Mention to see what people are saying on social media, forums, and blogs. Besides monitoring your own brand, you can spy on your competitors and even customers.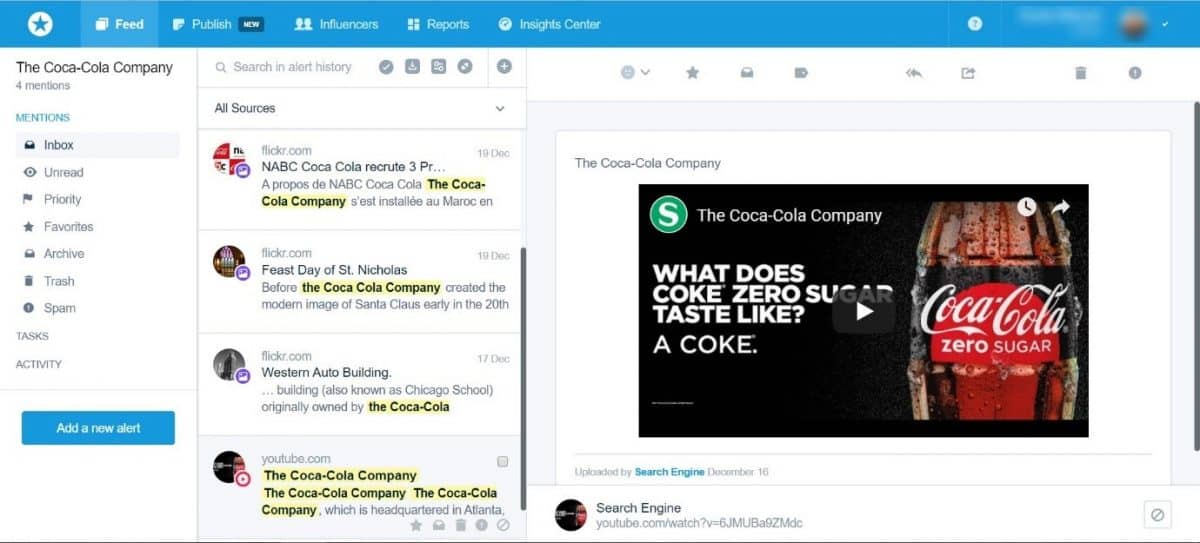 There's also the option to discover influencers in your niche and see what they have to say.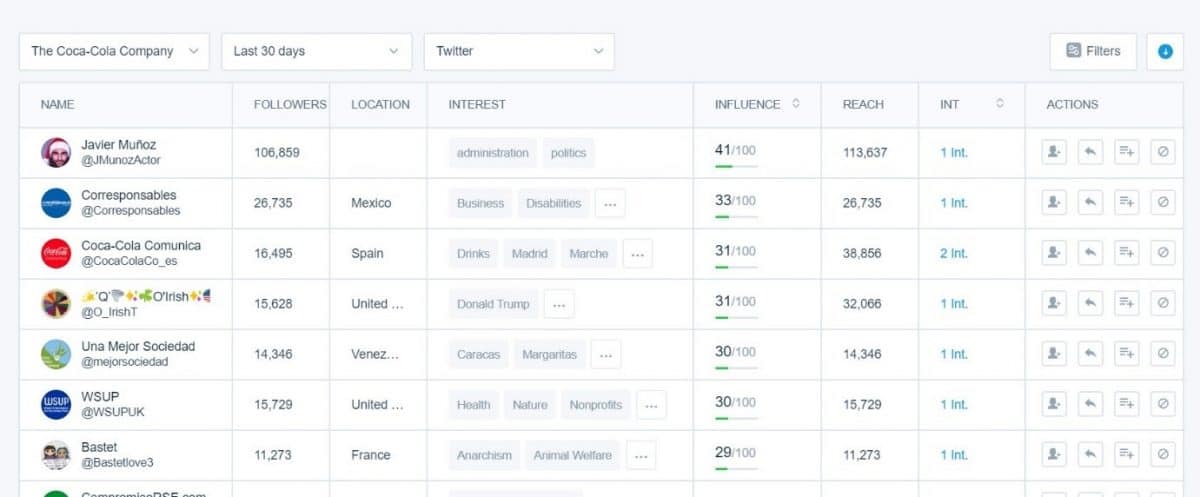 This way you can connect with influential people and build good relationships with them, so they'll have a more positive view of your brand.
Additionally, you can use Fanpage Karma to monitor your performance on social media. It's a great way to keep track of the sentiment towards you and your competitors.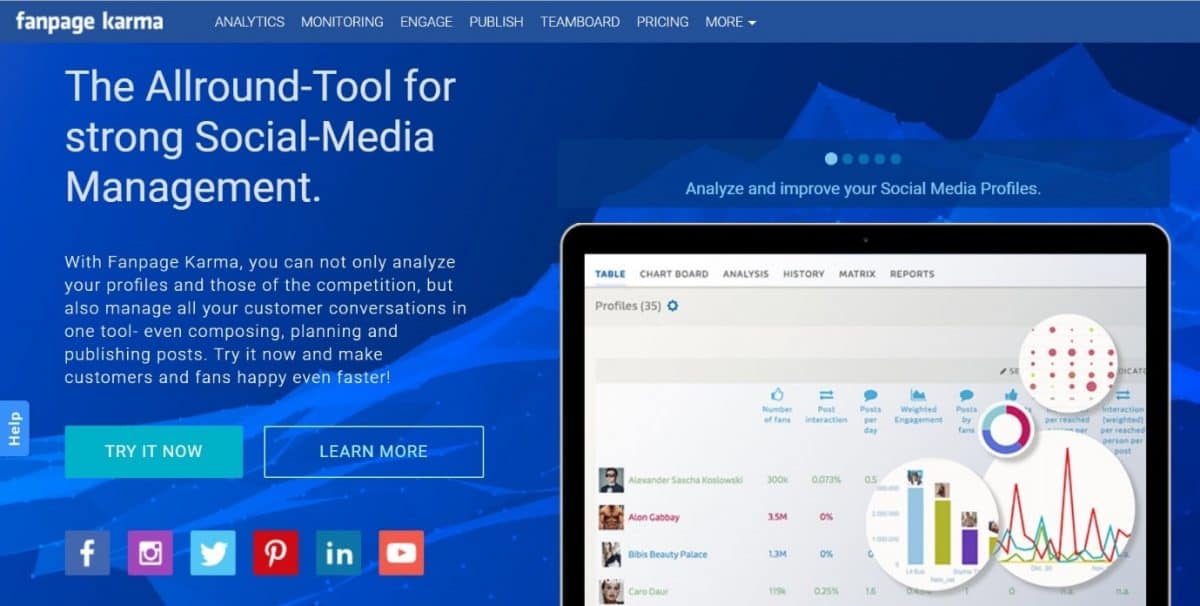 Other useful monitoring tools are:
BONUS: Use Twitter for PR
Twitter is all about open communication. It's easy for users to connect with each other as well as with brands, and have an open conversation on various topics.
And because it's open, people especially like to contact businesses for customer support on Twitter. It's your time to shine when they come at you with a complaint, make sure you resolve the issue in a respectful and constructive way.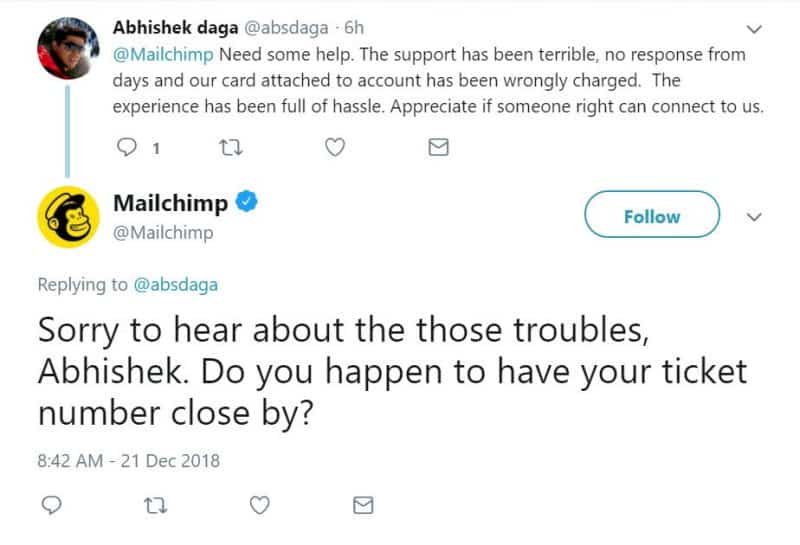 But be careful, don't let the situation get out of hand. Remember, it's open so anyone can see your conversation with an unhappy customer.
Show them that you care, if you handle the situation well you can avoid a total PR disaster! Resolving difficult situations and dealing with tough customers in a positive way will boost your online reputation.
Other potential customers will feel more confident in your business when they see you reply quickly, respond well to criticism and are able to handle adversity.
Be proactive, listen in on what people are saying about you on Twitter (other social media as well) and make sure you respond to any complaints and concerns. Great customer support on Twitter will lead to good PR and an excellent online reputation.
Final thoughts
Your online reputation is critical to your business bottom line. A positive reputation and high star rating can boost your rankings, drive more visitors and build trust with your prospective customers.
Your business depends on your ratings, so encourage positive reviews and manage those negative, hurtful ones.
Customer issues are inevitable, but it's how you react to those negative reviews that makes all the difference. Ensure you respond to your customer feedback and show that you listen and care about what they have to say.
Also, monitor what people are saying when they mention your brand and products online. Be proactive and ready to jump at any opportunity that can make you look good.
And remember, managing your online reputation is an ongoing process, so don't hesitate to ask for help if you don't have the time to do it yourself.
Now tell us what you think. Did you have any negative reviews and how did you deal with them?
If you liked the article and found it helpful, please share it with your friends on social media so more people can learn how to manage their reputation online.