Local SEO is a must-have for any brick-and-mortar, local business! It's the most effective online marketing strategy to attract nearby customers in your area.
With local SEO you won't just get a ton of organic traffic to your site, you'll also drive eager visitors to your place of business. The best part is these people are actually ready to buy your stuff or request your service.
If you want to put your small business on the map (both literally and figuratively), you need local SEO.
And thanks to a few new Google's features (Pigeon update and Local 3-Pack) your small, local business can outrank even national or global giants for local-related searches!
Using this simple, step-by-step local SEO guide, you'll be able to harness the full power of Google and dominate your local area.
Local SEO 101
Local SEO (search engine optimization) means optimizing your website with the goal of ranking high in the search engine results page (SERP) for location-related searches.
Put simply, it's a set of tweaks and optimizations which help Google understand your business, what you offer and deem your company as worthy of suggesting in SERP and Local Packs.
It's similar to regular SEO with the added element of geographic location.
For example, let's imagine you're running an Italian restaurant in Toronto.
When someone searches for "italian restaurants in toronto" or "nearby italian restaurants," you want your site to appear on top of search results in your local area. Preferably within the top 3 rankings on SERP, which now looks like this:
This is what's called a Local 3-Pack. These cards are displayed above the regular organic listings in Google SERP.
What exactly is a Local 3-Pack
A Local 3-Pack is a collection of the top 3 most relevant results for your local search.
If you search for things like: "car dealership near me," "pizza restaurant in [your location]," or even something like "dentist," Google understands that you're looking for local business and it's going to provide a Local 3-Pack card at the top position in search results.
Based on your geo-location, Google will surface the most relevant dentists in your area. The top result, above other organic results, will look something like this:
As you can see, the Local 3-Pack is displayed above other organic listings and it takes up a huge chunk of real estate on Google's results page.
The Local Packs were introduced alongside Google's algorithm update in 2014, dubbed "Pigeon." The aim was to provide more relevant search results for queries that included localized keywords.
Initially, Local Packs featured 10 results, later they were cut down to 7 and finally were reduced to only 3. This was done to optimize search results for hyper-local areas and better fit small screens on mobile devices.
Thanks to these updates, even your small business can outrank global or national companies for relevant local searches.
Anatomy of Local Packs
For most local businesses, a typical Local Pack includes the following elements:
Location on the map
Ratings (based on Google My Business, which we'll talk about later)
Phone number
Open hours
Website link
Directions
The standard Local 3-pack displays the most important details users searching for this type of business would want to know.
All this is meant to help users find exactly what they're looking for without scrolling or searching very far.
Local Packs show up for all sorts of local businesses:
Hair salons
Construction/renovation companies
Car dealerships
Car rentals
Swimming pools
Gyms
Photography shops
Auto repair shops, and many others…
But for some industries, like restaurants and hotels, you might see a Local Teaser Pack in your SERP.
Local Teaser Pack vs Local Pack
Besides the regular Local 3-pack, some local-intent searches might yield another type of local result called Local Teaser Pack.
Let's say you search for something like "luxury hotels near me," your results would look like this:
The results look similar to the Local Pack mentioned earlier, but with a few more elements added. Local Teaser Pack also includes:
Booking options
Pricing
Testimonials
Amenities
Images
And, just like with regular Local Packs, you can see a map as well as reviews.
But what if you're not running a hotel, does it still apply for other businesses?
Well, Local Teaser Packs appear for other reservation-driven businesses as well.
For instance, if you own a pizza place, this might be what people see when they search for your type of restaurant:
Not only that, for reservation-based local businesses you can check out a short description as well as the price range.
All of this is intended to allow people to search less and to get the information they need right off the bat. But why should you care about this so much?
Why are Local 3-Packs essential for your business
If you're a brick-and-mortar business operating in a localized area, then you need to utilize these new features in your daily life. It's critical that you get familiar with Google's local space.
Actually, local searches, especially "[business] near me" are becoming increasingly popular!
According to Nick Wilsdon (Vodafone), 46% of all Google searches have local intent. These are some staggering numbers.
And knowing that 78% of all local mobile searches end up with a purchase, you have the power to reach locals when they're ready to buy!
The Pigeon update and new Google SERP features (local packs) have opened up a whole new world of possibilities for you. Google's 3-pack appears in 93% of the time for local related searches.
When people search for products/services in your area, you want your business to be the first thing that comes up.
To run a successful business in your local space, it's essential for your site to appear in the Local 3-Pack. It's the most prominent feature in SERP and takes up so much screen space.
People actually have to scroll down to see the #1 organic ranking!
This means if you can put your business among the top three results in local packs, you'll dominate the Google search results page.
Rank #0 with Local Packs
Local Packs appear on top of search results, even above the #1 organic ranking. That's why ranking your site in the local 3-pack means ranking #0 in Google!
And there are many reasons why you'd want to rank #0…
Since Local Packs provide so much useful information, most people won't even bother scrolling down to check other rankings.
If for some reason they want to see more places, they're more likely to expand the list of local businesses.
Local Packs provide plenty of useful information with the utmost convenience, saving users' time and effort.
Another major reason for the Local Pack comes from the fact that 4 in 5 consumers use smartphones to look for local businesses.
Just look at how practical the Local Pack is for mobile users:
It's super convenient, you don't even have to visit any of the listed sites! Simply make a call to book a service straight from SERP or add it to your navigation app if you want to drive there directly.
And perhaps the most compelling reason to get your business on the Local Pack is that people searching for local services are ready to buy them!
It's very simple. If you're searching for a restaurant or a car wash near you, you are probably looking to utilize their services immediately.
Local SEO can potentially bring you higher ROI (return on investment) than any other marketing strategy. It reaches the largest market of likely customers.
With that out of the way, let me show you how Google determines local rankings.
How Google ranks sites for local searches
To do local SEO right, you need to understand how Google ranks sites for location-related queries.
When deciding who to rank in the Local 3-Pack, Google takes 3 major factors into consideration:
Relevance – This represents how well the results match the term that a user searched.
Distance – How close the user is to the location of your business. This is determined by the search term if it contains a location. If not, then Google will consider the last known location of the user.
Prominence and trustworthiness – This factor is determined by your company's reputation. Google tries to reflect the true popularity and credibility of a business, both in the offline and online world.
Based on these factors, Google is using all sorts of signals to determine which businesses deserve to rank in the Local 3-Pack.
According to MOZ, the most important local ranking signals are:
Google My Business signals
Link signals
On-page signals
Citation signals
Review signals
Behavioural signals
Personalization
Social signals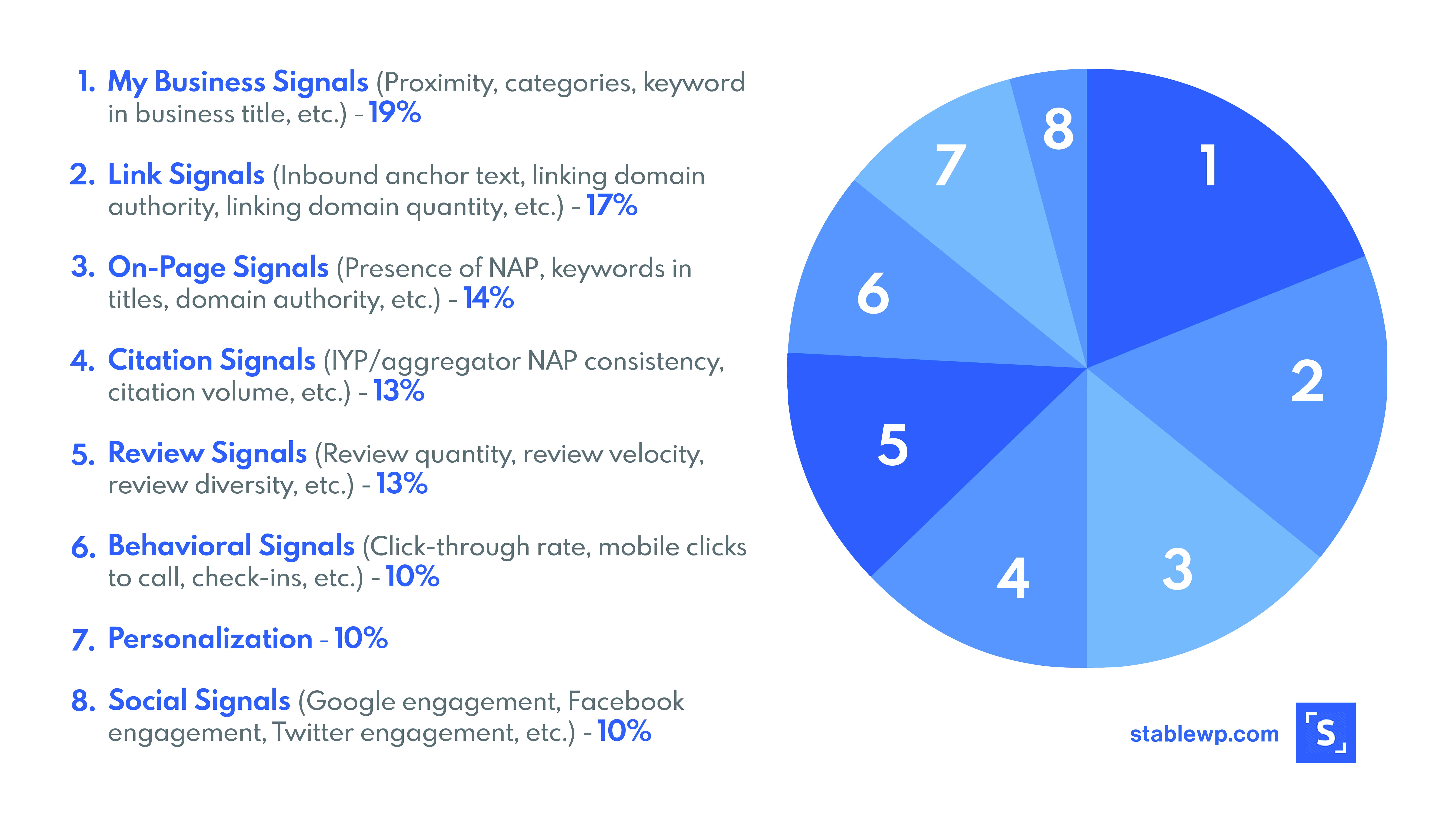 Luckily, you can manage all of these signals to tip the scale in your favour. With a little help of local optimization, you can get that coveted #0 spot in Google.
Stick around and learn how to rank in Google's 3-Pack.
How To Rank in Google Local 3-Packs
Since ranking in Local Packs is essential for every local business, here's a step-by-step guide on how to conduct local SEO and put your company on top.
Taking into account Google's most important ranking signals for local-intent search, we compiled a list of steps you need to take to optimize your site.
This ultimate local SEO guide contains 6 main steps:
Conduct on-page optimization
Optimize your Google My Business listing
Claim your other internet profiles
Manage your NAP consistency and citations
Get more reviews for your business
Create local content
And don't worry if you're not familiar with web development, coding, web design, etc., you can use WordPress to build and optimize your site without any of those skills!
Simply follow all the steps from this guide, and you'll appear in Local 3-Pack in no-time.
Step 1. On-page optimization
If you want to get noticed by Google and other search engines, the first thing you have to do is conduct on-page SEO.
There are a few things that are especially important for local SEO if you want to be ranked in Google's Local 3-Pack.
Here's a list of things that you need to take care of right now:
Boost your site's loading speed
Make sure your site is mobile-friendly
Have a contact page
Make phone numbers clickable to get more calls
Insert a map of your location
Bolster user confidence with testimonials
Add schema markup to your site
1. Boost your site's loading speed
Page loading speed is a major ranking factor for Google.
Previously, the loading time was only considered for desktop rankings, but as of the latest "speed update" (July 2018), Google is using the site speed as a vital signal for ranking on mobile devices as well.
It's critical for your site to be as fast as possible!
To check your site loading speed, you can use a free tool provided by Google called Page Speed Insights.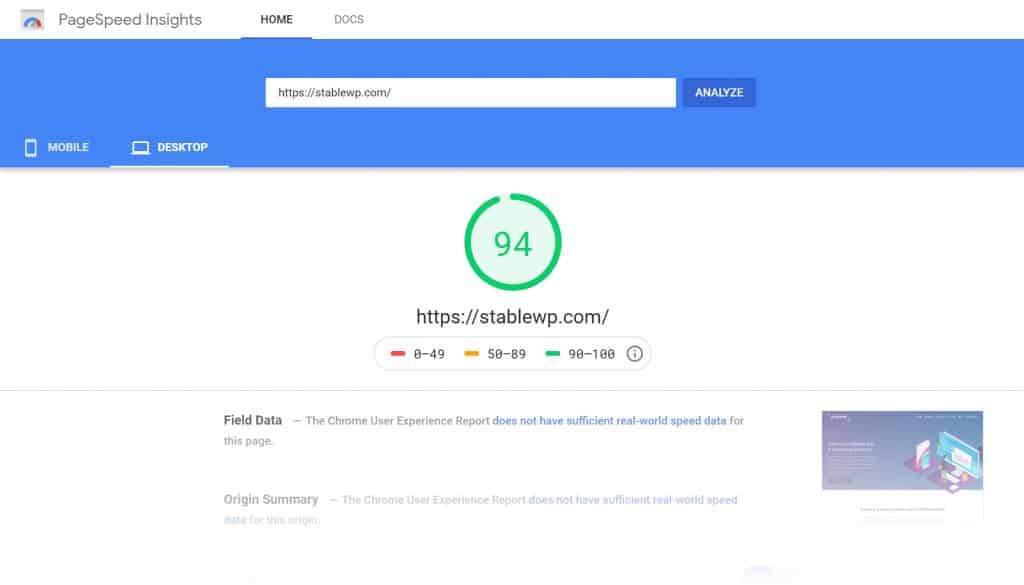 Just plug in your website URL and you'll see how fast your site is loading on both desktop and mobile.
To improve your site speed, one of the first steps is to leverage browser caching.
Browsers typically cache a lot of information (stylesheets, images, JavaScript files, and more) so that when a visitor comes back to your site, the browser doesn't have to reload the entire page.
If you're using a WordPress website, then you can install a simple plug-in like WP Super Cache.
Don't forget to enable caching in the WordPress dashboard as well as CDN support.
Other speed improvements that you might need are:
You can read our step-by-step WordPress speed optimization guide and learn how to make your site load in less than a seconds!
Once you've optimized your page speed, check Page Speed Insights again to confirm everything is optimal and ready for Google.
2. Make sure your site is mobile-friendly
The other decisive factor for ranking in Local Packs is mobile-friendliness.
Back in 2015, Google rolled out an update called the "mobile-friendly update" which was supposed to prioritize responsive and mobile-friendly websites. This means sites that looked and performed well on both desktop and mobile devices, were given a huge boost in rankings, especially for mobile search.
Soon after the update, there was a big fear of Mobilegeddon in the SEO community, since even some of the biggest companies and organizations were not ready for mobile devices yet.
But this update by Google made perfect sense. In 2017, more than 57% of traffic came from mobile devices.
Coupled with the fact that over 88% of people who conduct a local search on their smartphone visit a related store within a week, you can see why it's essential for your site to be mobile-friendly.
"Good Guy" Google has again provided you with a free tool to check how optimized your site is for mobile.
Head on over to Mobile-Friendly Test and analyze your site.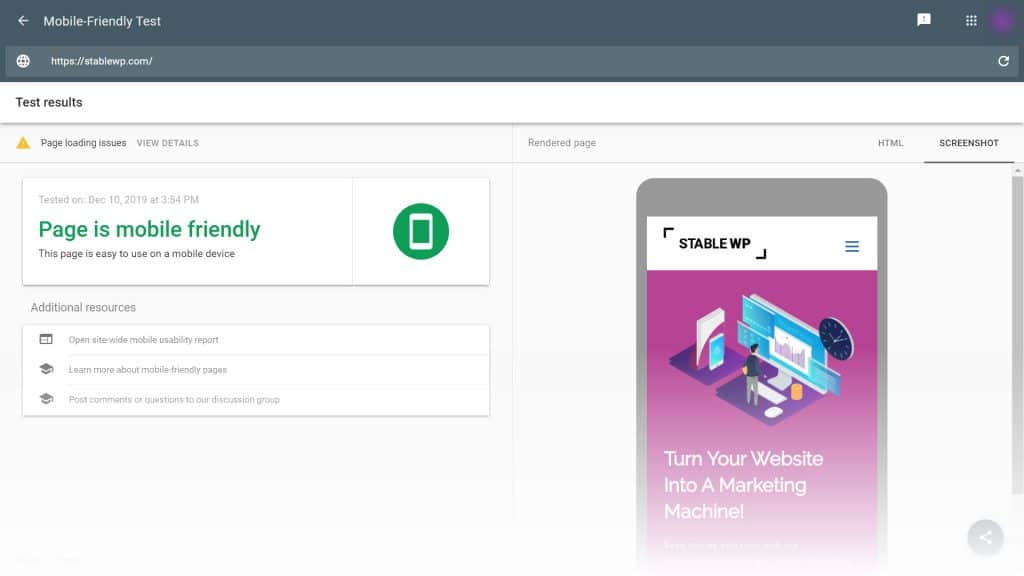 Even if you do get a positive result, make sure to check for any page loading issues that you might need to take care of.
If you're using WordPress, one of the easiest ways to make your site ready for mobile is by installing a responsive theme.
There are many to choose from: free, freemium, and paid. It really comes down to your preference, how much you're willing to spend, and how adept you are at optimizing your site once you install it.
If you don't want to pay a premium, there are tons of free themes in the WordPress repository.
There are a plethora of themes available, ranging from free or freemium, all across to paid.
Free themes are a solid start and some may be packed with features. However, you have to play around for some time until you set your theme to look right and to perform properly.
If you're looking for something premium, you can find cool, responsive themes from popular marketplaces such as Thrive Themes or Theme Forest.
3. Have an optimized contact page
Having a contact page is not only good for Google but also your potential customers. It's going to enhance the user experience of your visitors.
Just imagine yourself in their shoes:  You've visited a restaurant website, you were amazed by the home page, the menu items look delicious, and you're delighted with the images of the venue.
The next thing you want to do is check out the restaurant contact info. You want to see the address, and a phone number to book a table.
A contact page is critical for your local business site. With it, potential customers can find you and call you if they need to.
For example, Chiado, a restaurant in Toronto, has a very detailed contact page.
All the important stuff is clearly displayed; phone numbers, address, emails, opening hours, dress code, etc. Everything an eager diner needs to make a reservation and find the place is laid out here.
NOTE: If you have multiple locations, make sure to list all of the addresses, phone numbers, and emails for each location!
4.  Make phone numbers clickable to get more calls
Did you know that 76% of all mobile searches end with a phone call?!
Knowing this, if you don't make your phone number clickable on your site, you're really missing out on a huge opportunity.
Today's technology is so convenient that people have become somewhat spoiled. They expect an intuitive experience when they visit your site. This means that if they see your phone number listed on your page, they want to be able to click on it and immediately be routed to their phone dialer.
Take Sunny Dental, a dental clinic from Toronto, for example. When you visit their site, one of the first things you'll see is their phone number teasing you to click and make a call.
To make your phone number clickable you need to add syntax to your page's HTML editor, like this:
A minor improvement like this can lead to a huge rise in calls as well as visits to your local business.
5. Insert a map of your location
In the previous example of Chiada restaurant Toronto, you saw that on their contact page they display a map to help people navigate to their venue easier.
And that's the whole point! You want to make it as easy as possible for potential customers to visit your business.
Luckily, you don't need to be a seasoned web developer to add a map to your site. With Google Maps and WordPress, it's a pretty easy and straightforward process.
Go to Google Maps and type in the exact location of your business.
Click on the "share" button, and copy the HTML code.
Next, go to your WordPress dashboard, navigate to the desired page (preferably the contact page), switch to the "text editor," and paste the HTML code from Google Maps.
Finally, publish your page.
Simple as that!
6. Bolster user confidence with testimonials
Testimonials serve as "word of mouth" recommendations that can convince your potential customers that your products or services are right for them.
According to LocalSEOguide.com, testimonials are also a signal to Google that your business is trustworthy. They've become a very important conversion optimization tactic.
Either way, if done right, testimonials can entice people to book a reservation, schedule an appointment, or straight-up visit your business.
Testimonials can come in all shapes and sizes.
They can be a part of your home page:
Or be dedicated a page of their own:
Collect as many testimonials as you can on social media, review sites, or even talking in-person with your customers.
Display them prominently to show what they have to say about you and your services.
Testimonials signal trustworthiness and will boost the confidence of potential customers leading to more visits and sales.
7. Add schema markup to your site
Have you ever wondered how you can see those star ratings for some websites in Google search?
Or how, for some sites, you can see a knowledge graph like this:
Or similar results like this:
These and many other features like them are called "rich snippets."
The way you can add them to your site is by using something called schema markup.
Rich snippets are prominently displayed in Google SERP and can potentially drive more visitors to your site or your business.
Another benefit is that with schema, your site can be discovered by voice assistants!
Your website can also get a boost in the Google rankings thanks to a locally optimized schema.
So, how do you use schema for your site?
This is the part where it gets quite a bit technical. You can use this Google's guide for local rich snippets.
Or you can use this free schema markup generator tool by Joe Hall.
After you've added schema markup to your site, you can test it using the structured data testing tool provided by Google.
Rich snippets will propel your business to the top rankings. Your site may appear in many Google SERP new features like the knowledge graph and Local 3-Pack.
If installing the schema markup is not up your alley, perhaps consider getting help from a developer.
Step 2. Optimize your Google My Business page
Google My Business (GMB) is a must-use tool for all local businesses that want to be discovered in SERP, Google Maps, and other Google services.
It's become the go-to source for Google to get all the details about your business (your address, phone number, images, street view, etc.). Which makes sense, because it's Google's own in-house tool.
Google can rely on GMB data to be accurate since they can verify all the information and content posted there.
This makes it important for you too! You want to put your information on the most reliable source for Google.
The added benefit of using GMB is your site will show up on Google Maps.
So, how do you optimize your GMB page?
Create and claim your local business in GMB
Verify your business
Enter your complete info
Add photos
Download the GMB app
1. Create and claim your local business in GMB
Go to the GMB website, create your account and enter your business name.
Next, enter your correct street address:
After that, set your business category.
Select the most accurate category available. This way, you're telling Google which type of customers should see your business listing.
Start typing a term related to your business and choose the best option from the drop-down menu.
To finish creating your Google My Business page you need to add is your phone number and website URL.
2. Verify your business on Google
To claim your business on Google, you need to verify that it's yours.
The default option is to verify your business by sending a postcard with a verification code to your business location.
There may be other verification methods available depending on your region, business type and other factors.
And you're done with creating and claiming your business on GMB.
3. Enter complete info about your business
Once your page is created and verified, you need to customize your page with information. When you go to the GMB dashboard it will look something like this:
To complete your listing information, select "Info" from the left-hand menu or enter your details into the widget on the right.
You want to enter as many details as possible, as this will help Google understand your business and surface your listing for the right search terms.
Pay special attention to the description – it's your chance to describe your business to your potential customers, so make sure it includes all the relevant details.
Don't forget to add attributes!
Attributes in Google My Business represent amenities like Wi-Fi, or accessibility details such as wheelchair options, or highlights like rooftop seating and live music.
They act as tags and help your business show up for the right searches.
Bear in mind that anyone can suggest an edit for your listing if the information is not accurate.
Keep all your business information neat and correct!
4. Add photos
Once you have all your info down, it's time to enhance your listing with images.
According to Google, "Businesses with photos receive 42% more requests for directions and 35% more clicks through to their websites than businesses that don't have photos."
Images can tell a story or describe a place better than any text can so make sure to take full advantage of this feature.
In Google My Business you can set a variety of photos for different purposes:
Profile – This is your listing's identity, and it's a perfect place for your logo.
Cover – This is the storefront of your listing, so you want to make sure it represents your business well and displays a bit of personality. It shows up next to your business in SERP and Maps.
Interior – Show potential customers the exact experience they'll meet inside your facilities. Make sure the photos are bright enough for all the decorations and atmosphere to come to life. Google recommends posting at least 3 photos of your business' interior.
Exterior – Include images in both daytime and nighttime to give people a perspective of what your business looks like. This can also help them find your place while navigating—so make sure to take at least 3 images from different angles.
Food and drinks – Connect to your inner Instagram photographer and snap some photos of your best meals, cocktails, or salads. You might consider hiring a professional food photographer.
Menus – Showcase what you have to offer, along with ingredients and prices. This helps potential customers decide between your business and others.
Videos – You can also add videos to tell stories about your business.
Different types of businesses will have different options here. For example, some might have options to show employees at work, team members, common areas, rooms, etc.
Make sure to use all the photo options that are available for your industry.
5. Download the GMB app to control your business page on the go
To manage your listing on the go, you can install an app for your iOS or Android device.
Once you're done optimizing your GMB listing, don't forget to always keep it up to date. Especially pay attention to your:
Business hours
Address (If you change your address, you'll need to complete the verification process again to confirm the new address.)
Phone number
Website URL
Industry category
Step 3. Claim your other internet profiles
GMB and your website are not the only places where your potential customers might find you.
Review sites like Yelp, TripAdvisor, Foursquare, and even social media like Facebook will often appear as top rankings below Local 3-Pack.
Sometimes, these are accompanied by local guide and review sites.
These are all tools you can utilize to bring in more customers to your business.
To find websites that you need to claim your business on, you can Google something like: "best [industry/niche] in [location]".
Inspect the results and identify which sites come up in the first few pages.
Now claim your business as your own to take full control of each listing.
Claiming your profiles usually involves creating an account. However, some platforms may require additional steps to verify that you are the owner.
For local business indexes, the process of claiming may be completely different and it really depends on the platform.
By claiming your business on review sites, you'll also be able to respond to reviews from your customers. This is very important for getting more reviews and managing your online reputation.
Don't forget about social media!
Make sure to create a Facebook business page. It's the biggest social network and it appears in search results even for local-related searches.
Besides, people often look up businesses on Facebook and other social media sites.
To manage your online reputation effectively, having detailed profiles across all major social networks is a must.
Step 4. Manage your NAP consistency and citations
NAP stands for "name, address, and phone number." For Local SEO purposes, you must include this information on the contact page of your website as well as everywhere across the internet.
The name of the game is consistency. You need to make sure that NAP information stays consistent and up-to-date across all of your internet profiles.
This is important for two reasons:
It makes it easier for potential customers to find and contact you
Google takes it as a ranking signal (as mentioned earlier)
For these reasons, you need to claim all of your online profiles and manage citations, so you can set and update your NAP information.
What are citations
Citations are online mentions of your business and NAP information. They can occur on local business directories, on websites and apps, and on social platforms.
The more citations you have, the better for you. They're another signal telling Google that your business is relevant and they build up your authority. If the information is accurate and consistent, Google will trust the validity of the data and increase your chance of ranking in Local Packs.
On the other hand, if NAP details are not consistent, they might mislead customers and lead to loss of revenue and reputation. Google takes this seriously. In fact, this problem is going to be a big minus in the eyes of Google.
Surprisingly, citation inconsistencies are the #1 issue affecting local rankings.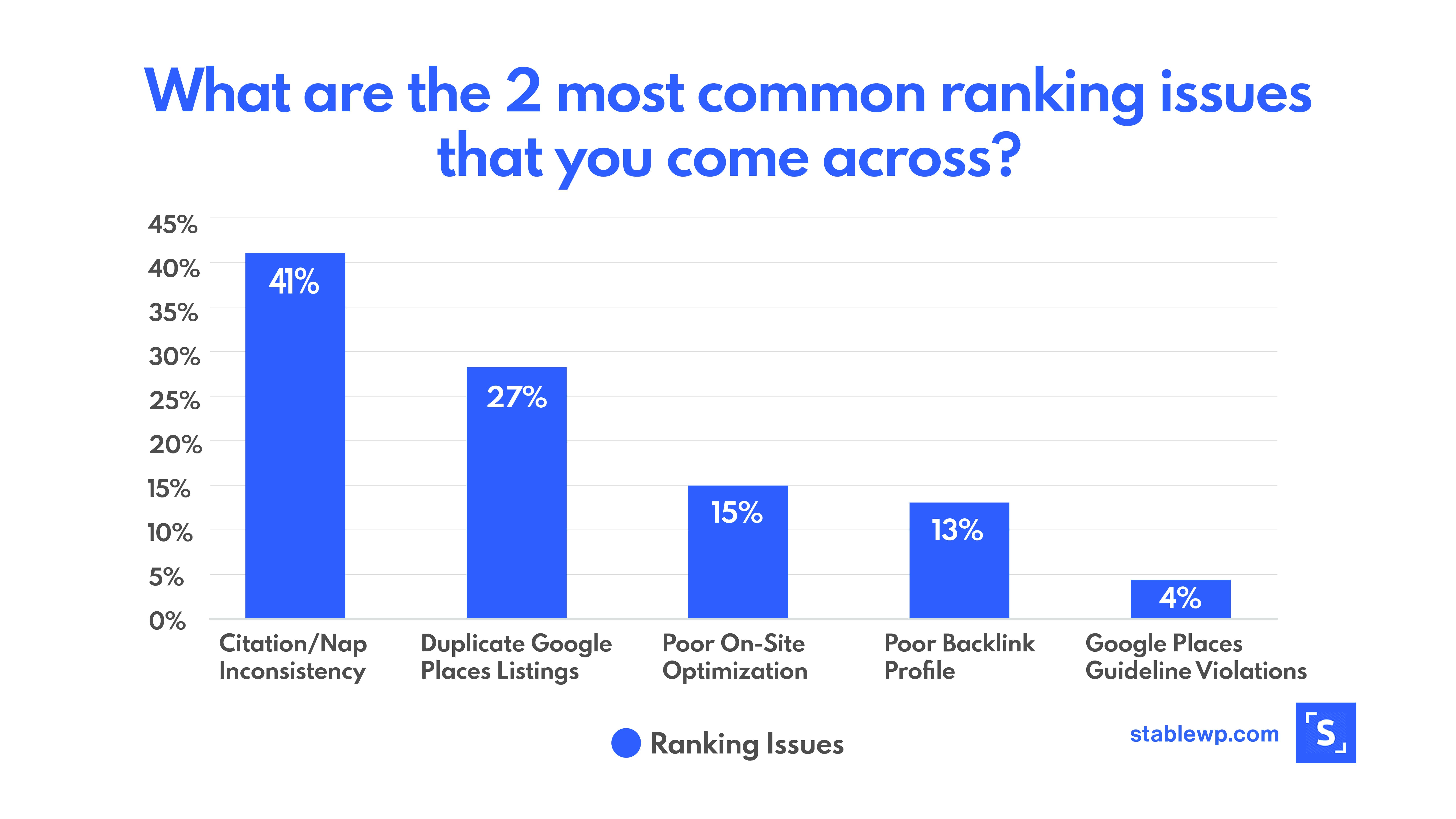 That's why you have to take an active approach. Find these citations, make sure they're accurate, and reach out to make the necessary changes. You also want to check for duplicated listings and remove them.
You can Google terms like:
"[your industry] directory"

"top [your industry] blogs + [location]"

Some of the top local citation sites in Canada are:
Yellow pages
411
Industry Canada
BBB.org
FoundLocally
N49
iBegin
Manta
Goldbook
Step 5. Get more reviews to boost your local rankings
Reviews are essential to your local business.
85% of customers trust reviews as much as personal recommendations and 73% of people form an opinion about your business after reading between one and six online reviews.
Your goal is to get as many positive reviews as possible because 73% of consumers trust local businesses with positive reviews.
Reviews are featured in Local Packs as well as other organic results in Google.
Review signals equate to 13% of ranking signals in Google.
If you amaze and delight your customers with outstanding services and products, many of them will want to share their elation with the rest of the world.
However, most customers won't leave any review unless you give them a little nudge. You basically need to ask your customers to leave a review after they've experienced your services or products.
You can use some of the following tactics to encourage more reviews:
1. Create a "Review Us" page on your website and link it to your Google Review URL. To get the review URL, click on your own listing in Google SERP: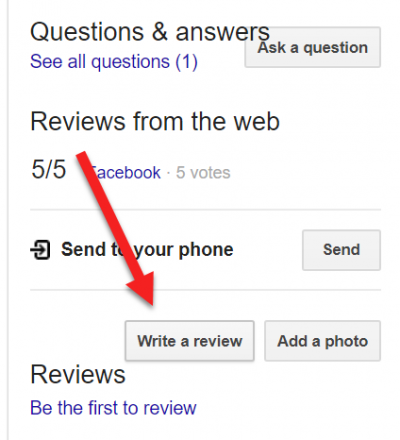 Copy the URL from the browser and paste it at your desired location.
2. Offer printed material (receipts, handouts, cards, etc.) at the time of delivery of the service/product that asks for a review
3. Ask people personally at the end of the transaction
4. Gather customers' information and send reminders to review your listing
5. Include a QR code on a decal or postcard that links back to your Google Review page. You can create a QR code using this free tool.
6. Have a laptop or a tablet waiting at the exit of your business to get feedback
7. And finally, perhaps one of the most powerful tactics is to respond to existing comments and reviews.
When people see you are open to feedback and criticism, they'll trust you even more and know that their voices are being heard.
Respond to both positive and negative reviews.
For positive reviews, express your gratitude for the feedback and their visit.
As for negative reviews, apologize and accept responsibility. Express empathy and commitment to fixing the issue. Show that you care and you wish to regain their trust.
Don't forget about other review sites as well. Yelp, Foursquare, TripAdvisor, and others are also important sources of foot traffic to your business. And reviews on these sites are also signals which Google takes into account.
But before you go asking people for reviews, consider that each platform has its own review guidelines. Make sure to get familiar with them before you take any action in order to avoid being penalized or banned.
You can see a list of most common review sites and their policies here.
Be sure to check out our in-depth online reputation management guide for more info.
Step 6. Create local content
No matter if you're a small business or a big corporation, you need some content on your site.
Your content is what gets you discovered in Google when people search terms related to your industry, niche, products, and services, etc.
That's why you'll see a blog section on every website that knows their SEO.
Not only that but with quality content, you can build trust with your potential customers. Reading your blog, they can see you know what you're doing and that you can genuinely provide the best product or service.
But wait. There's more.
Your content is what helps build your authority in the eyes of Google.
Again, if your content is of high quality, other websites will link back to your content. These are called backlinks. They are the source of your site's authority.
Authority is the biggest ranking factor for Google, accounting for almost 24% of the total.
Now that you realize how important it is to have content on your site, let's talk about what kind of content you need.
The answer is simple! For your small local business, you need to write local content.
What I mean by this is that you want to write content that is somehow related to your region, city, area or even neighbourhood.
Make sure to infuse your content with words that are associated with something local.
But don't forget about mentioning some of your neighbouring towns, local institutions, and even specific slang that is used by locals in your area.
A great way to do this is by talking about happenings, local news, community events, etc. that are somehow connected to what you do. You can also give your own perspective about these matters.
But don't write about your business explicitly! That's a huge turn-off.
As David Meerman Scott, an influential digital marketing strategist said: "Stop talking about your products and services. People don't care about products and services; they care about themselves."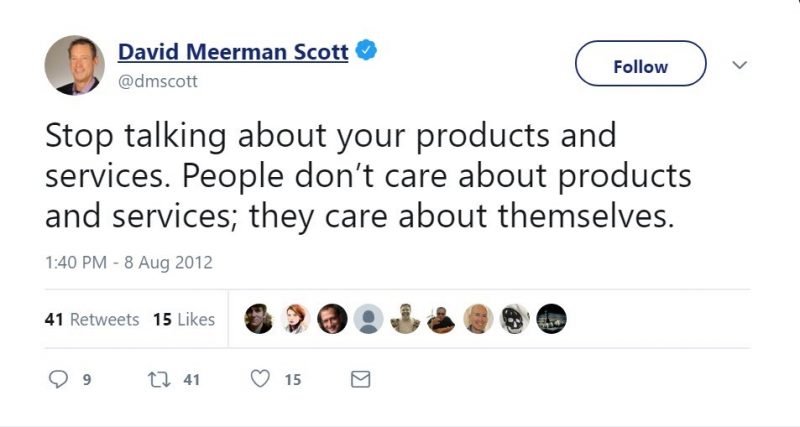 So, don't write about your business and your products and services. Don't try to sell in your blog posts. That's not what blogging is for!
Instead, help people.
Write content that offers some value; answer users' questions, inform them, teach them, or help them solve a problem.
That's what people are looking for. And that's how you build trust and loyalty with them.
Now, it might seem tricky to come up with topics to write about. Your industry or services and products are a great source of inspiration:
A pizza place can have recipes for amazing pizzas.
An auto detailing shop might write about methods to get a car squeaky clean.
A chiropractor can blog about correct sitting posture, make a list of stretching exercises, etc.
Use your content to provide genuine help to your visitors, and they will begin to trust you.
You get the point!
To help you find topics that people are actually searching for, you need to conduct keyword research.
Enter a keyword or phrase connected to your niche, products, or services.
Look for keywords with a sufficient search volume.
Be wary of keywords with high competition, as they might be too difficult for you to rank for if you're just starting out.
Once you've found your target keyword, you can start writing content around that topic. If you want something more advanced, you can use a paid tool like Ahrefs.
Learn how to find the most profitable keywords using our Keyword Research guide.
Other than your blog page, there are two more pages I would recommend your local business website to have:
FAQ page
It's a great opportunity to add local content.
FAQ pages should answer questions that your real local customers ask about your company, products, or services.
Talk to your customer service employees who answer the phone or your sales representatives in order to uncover questions people commonly ask.
If you're stuck and don't know what potential customers might be asking, you can use the tool Answer the Public.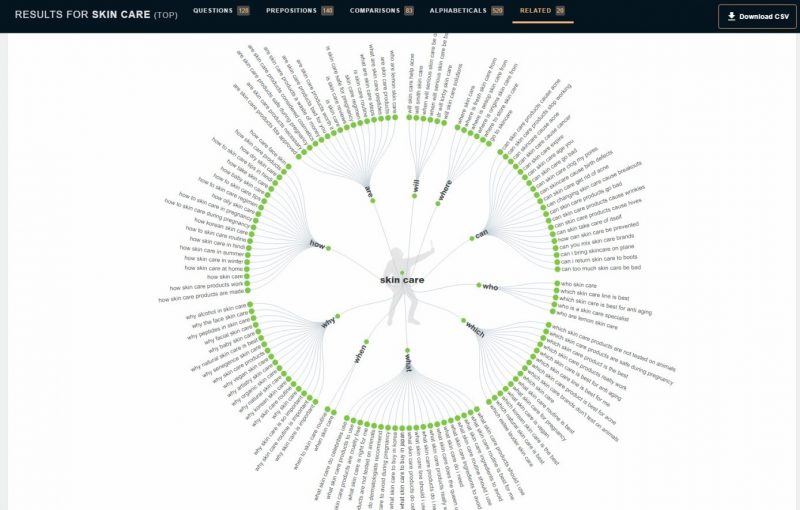 Answer The PublicATP scrapes Google for potential questions people search for that are relevant to your business or service.
About Us page
This page is your opportunity to tell potential customers a story about your business and even your team members.
Besides that, it's a great place to add geo-targeted keywords you're trying to rank for.
For instance, a local law office can write something like:
"Our law firm was founded in 2007 by Mike Spenser. Our initial office was at 181 University Ave #1765, but in 2015 we moved to a bigger office downtown at 79 Wellington St W #3460."
That's essentially how you can create content for your local audience. For a detailed guide on how to optimize your content read our On-page Yoast SEO guide.
Conclusion
It used to be that small businesses had to fight an uphill battle against big companies to rank in the top pages of Google.  But with the latest Pigeon update and new SERP, your small business has the opportunity to fight back and dominate the #1 page of Google.
Local Packs are packed with information, they're convenient and most importantly, they take up so much screen space that they demand attention. Most people will simply have a look at them and decide where to navigate to immediately.
That's why it's imperative that you take advantage of this feature to its fullest!
It does take a bit of work, as well as a bit of know-how, but following this guide is going to get you results fast!
Now it's your turn.
Take action, perform local SEO, and get your site to the top with Local 3-Pack!
Let me know down in the comments if you learned something new from this local SEO guide. Also, be sure to reach out if you need help ranking your local business in Google.