Top of the Funnel (TOFU) marketing is essential for attracting potential customers into your sales funnel. To scale your business online, it's necessary to introduce your brand and products/services to new prospects and take them on the buyer's journey towards becoming paying customers. The main challenge with TOFU is that it has too many moving parts. It may be difficult to find an effective way to reach the right audience with the right message. And since its main goal is not to drive direct sales, it may be confusing to understand its effectiveness if you don't know how to measure success. To maximize the ROI of upper-funnel marketing, you need a clear strategy to fill your funnel with quality prospects that you can turn into leads and sales, without wasting money and time on tactics that may not work. This article will describe how to use TOFU marketing to attract quality prospects at the lowest cost possible, to increase sales and profit. Let's jump straight in.
What is top of funnel marketing
Top of the funnel (aka upper funnel) marketing refers to activities and campaigns used to introduce and expose your brand, content and offerings to new (cold) audiences, then gradually take them on the buyer's journey towards becoming leads and customers. TOFU is the first funnel stage and the initial touchpoint with potential customers. They have a chance to get to know your business, and you have an opportunity to collect valuable data for later stages of the funnel. The main goal of
marketing funnels
is to bring traffic to your website, engage with prospects and turn them into customers. It helps segment your audience based on where they are in the buying process and allows you to effectively communicate with them with messaging that resonates at each stage. The funnel concept works for both B2B and B2C companies. The only difference is that with
B2B funnels
it usually takes longer to convert prospects into customers. The sales funnel consists of three stages:
Top of the Funnel (TOFU)
Middle of the Funnel (MOFU)
Bottom of the Funnel (BOFU)
Each stage works as a filter to guide potential customers from the top of the funnel towards the final conversion. The TOFU targets broad audiences that fit the ideal customer profile (buyer persona). As inevitably some prospects drop off, the targeting in the latter stages narrows and only the most qualified prospects remain. Since some of the TOFU prospects leave your funnel, you have to attract as many people as possible at a low cost so enough of them can trickle down into the latter stages. Each funnel step corresponds to stages of the customer journey:
TOFU – Awareness – Strangers, aka prospects, aka cold audience
MOFU – Consideration – Leads, aka warm audience
BOFU – Conversion/Decision – Qualified leads, aka sales-ready leads, aka hot audience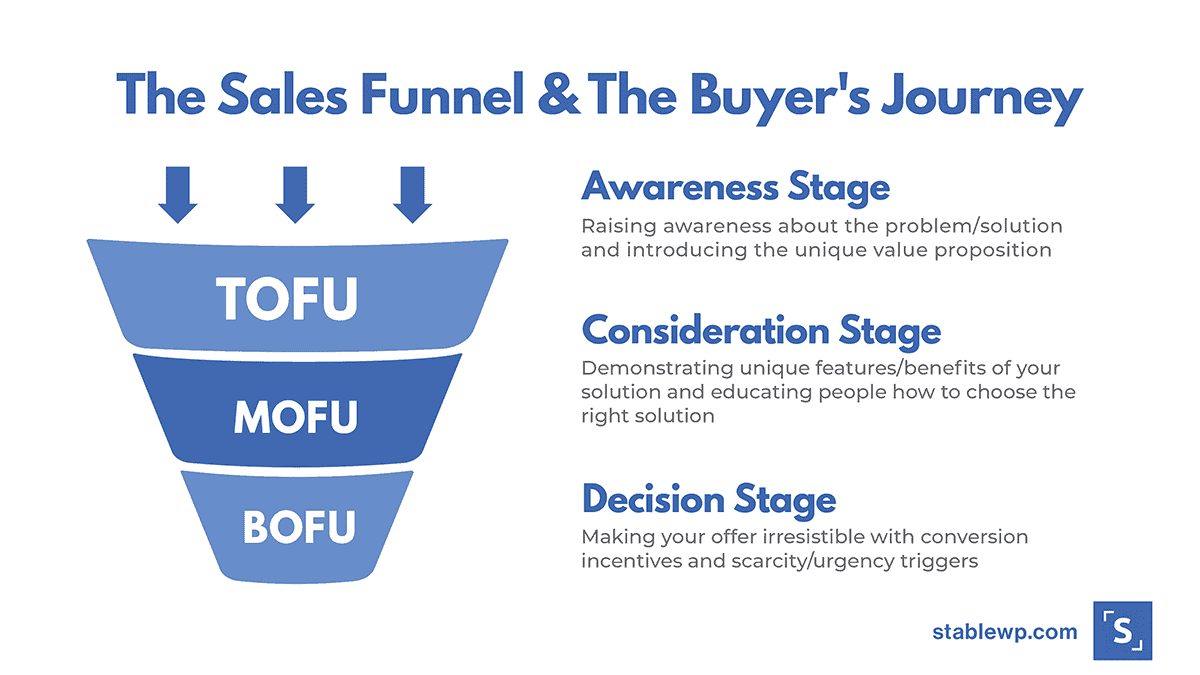 Top of the funnel coincides with the Awareness stage in the buyer's journey. Most people in the TOFU phase are complete strangers to your business. They've probably never seen any of your products and are not aware of the services you offer; that's why they're often called 'cold audience.' Since prospects at this stage are in the research mode; gathering initial information before making a decision, TOFU content should focus on education about their pain points, suggesting solutions, and building trust. People are not ready to buy yet – they are here to learn. Avoid anything even remotely related to a sales pitch because trying to sell in this phase can be counterproductive. Instead, provide helpful information without mentioning your product/service or sounding too salesy. At the TOFU stage, prospects usually have a problem they want to solve. Your content has to attract them to your website by answering questions they have or helping them solve their issue. This is the first touchpoint with potential customers, and it's the critical part of the funnel. Warm and hot audiences are already interested in a service/product you offer. However, with cold audiences, you need to work hard to get discovered and noticed. And you need to persuade them with a compelling reason to click through to your website. You'll learn some of the most effective strategies to attract top of funnel prospects in a later section. For now, let's go over the key reasons why TOFU marketing is important for your business.
3X Your Business in 90 Days
Get an unfair advantage with our powerful 3-step funnel strategy and learn how to increase leads and sales by 300% fast.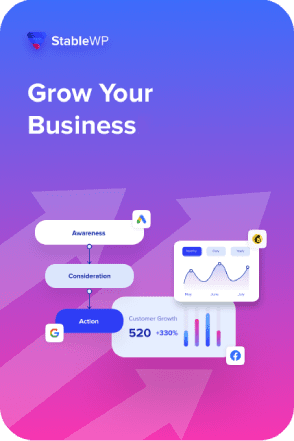 Why is top of funnel marketing important
At the TOFU phase, you are helping the prospects find and enter your funnel. Even though the main goal is not to drive direct sales and just a small percentage of prospects will become customers, there are still some strong reasons why TOFU marketing is crucial for your sales. Read on to learn 9 key benefits of top of the funnel campaigns.
1) More prospects to fill your sales funnel
A sales funnel depends on a steady stream of new prospects flowing in. TOFU marketing helps reach a massive audience of engaged users. So even if only a half pass through to the next stage, you still have enough people to convert.
The more people you influence in this phase, the more you'll have to work with at the MOFU and BOFU stages. More prospects create more opportunities to acquire new customers.
2) First touchpoint with a potential customer
As already mentioned, TOFU is the first touchpoint with a potential customer. And we all know there's only one chance for leaving a good first impression and how important that is. TOFU is essential for brand awareness and acts as a jumping-off point for your relationship with a potential customer. Top of the Funnel marketing provides the opportunity to introduce your brand in the best possible way, demonstrate your unique value proposition and build trust. By providing value, useful information, and a pleasant experience, you ensure prospects develop a positive opinion about your brand. So, when they're ready to convert, chances are they'll seek you out and not your competitors.
3) Higher brand awareness
TOFU marketing helps raise more brand awareness, which is crucial for a successful business. Most people would rather buy from brands they're familiar with. You need people to know about you and talk about you. Preferably, talk about how great your brand is and how it helped them with their issues or provided them with what they needed. With the right top of the funnel campaigns, you can reach new audiences at scale and put your brand on the map. It's what every business needs, especially if you're new and still an underdog in the game.
4) Top of the funnel marketing helps build trust and credibility
Most prospects you meet in the TOFU stage are complete strangers to your brand. That's why you first need to earn their trust before they consider becoming a customer. By publishing quality content and consistently adding value, you can build trust in your brand and secure your company's position as an industry expert. Answering your prospects' questions and offering solutions for their issues will create a connection in their mind between your brand and a positive emotion they have felt by solving the problem.
5) TOFU marketing helps stay top of mind
A positive and memorable experience in your initial touchpoints ensures your brand stays top of mind. This has two major benefits:
Prospects will recognize your brand easier, making your MOFU and BOFU campaigns more effective, and
When prospects are ready to convert, chances are, your company is the one they'll reach out to first.
6) There's less competition
Top of funnel campaigns are typically far less competitive allowing you to capture prospects' attention easier. Competing for customers at the bottom of the funnel can get pretty fierce.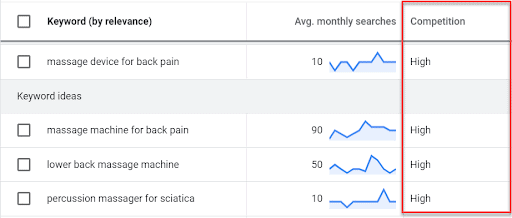 Every company is trying to capture prospects with the highest buying intent. And you should too. However, top of funnel marketing provides a huge opportunity to reach customers before they're ready to buy when there's far less competition. In the TOFU stage, you have more options. For example, you can create more content on a variety of topics and target more keywords. And since each topic can have a huge search volume, there are more opportunities to reach potential customers without clashing with direct competitors. You can also target more broad audiences based on their interests, affinities, and behaviour, again avoiding fierce competition.
7) TOFU campaigns have a lower cost
Less competition means lower costs to acquire customers. TOFU marketing campaigns typically cost less than BOFU. It means that for less money, you can attract more prospects into your funnel and convert them into paying customers. Lower costs are necessary for sustainable top of funnel campaigns. Since people are not going to buy your product or service right away you don't want to spend too much on TOFU clicks. Running a full-funnel campaign is also more cost-effective than going after the bottom of the funnel users straight away. Since you can capture and nurture prospects at a lower cost with TOFU campaigns, you can avoid relying only on expensive bottom of the funnel campaigns with intense competition. This can help
increase the profitability of your campaigns
.
8) TOFU attracts more users for retargeting
Another benefit of the top of funnel marketing is creating a bigger retargeting pool. So even if the majority of these people don't convert right after the first touchpoint, you can later
retarget them through ad campaigns on Facebook
, Google, etc. Depending on how these prospects interact with your business, you can reach them in the later stages of the funnel, encouraging them to come back and become customers.
The average
shopping cart abandonment
today is around 71%.
9) TOFU helps fill your email remarketing list
By capturing visitors' contact information through TOFU campaigns, you open up a new opportunity to nurture prospects with email remarketing. As mentioned, most people that discover your website through top of funnel marketing are not ready to do business with you right away. Nonetheless, you can still extract value by collecting emails for later remarketing. Having email capture forms and popups is an excellent opportunity to
grow your email list
.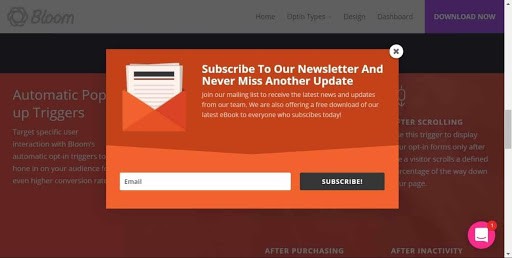 Through TOFU marketing, you can attract people at a low cost and contact them again – for free.
How to attract new prospects to your funnel
Not everyone from the TOFU stage will end up as a paying customer. Many people will drop off from the funnel during the process. It's essential to attract a massive number of users to the top of the funnel, at a low cost. The nine following methods are the most effective digital marketing strategies to reach new audiences and drive cold traffic to your funnel at scale.
Use SEO and content marketing to drive top of funnel traffic
SEO and content marketing are some of the most effective ways to raise awareness and drive cold traffic to your site. Top of the Funnel content serves to attract potential customers because it helps capture users that are in the research and information gathering phase. People use search engine sites to find answers to specific questions or solutions for the problems they face.
The main goal of the TOFU content is to educate users, and that's why these visitors are usually referred to as learners. There are 5 main levels of customer awareness:
Unaware
Problem aware
Solution aware
Your solution aware
Most aware
Users at the top of the funnel typically fall into the unaware, problem aware and solution aware categories. Match your website content with prospects' search intent and provide valuable, informative content that will demonstrate the solution and connect it with a product/service. With a great blog post, you can inspire visitors to learn more and raise their level of awareness. And if your website blog becomes a useful resource, potential customers will keep coming back to your site anytime they have a related question. You want to appeal to learners, and the best way to do that is by having content that is helpful, entertaining, and pleasing to the eye as well as providing a smooth and
snappy user experience
. But you also need to ensure people looking for a solution can discover and find your content. The most effective way to drive targeted cold traffic to your blog is by ranking on the first page of Google search results.
That's where SEO comes into the picture
. Even if your content is incredible, educational and helpful, not many people are going to find it unless it's on the top page of Google SERP. It will remain the "best-kept secret." Make sure your content is optimized for search engines, or else you'll be at a loss. Perform On-Page optimization to help Google understand your content and match it to relevant search queries. Quality content paired with good SEO will help your site rank on the top page and even in the Featured Snippets.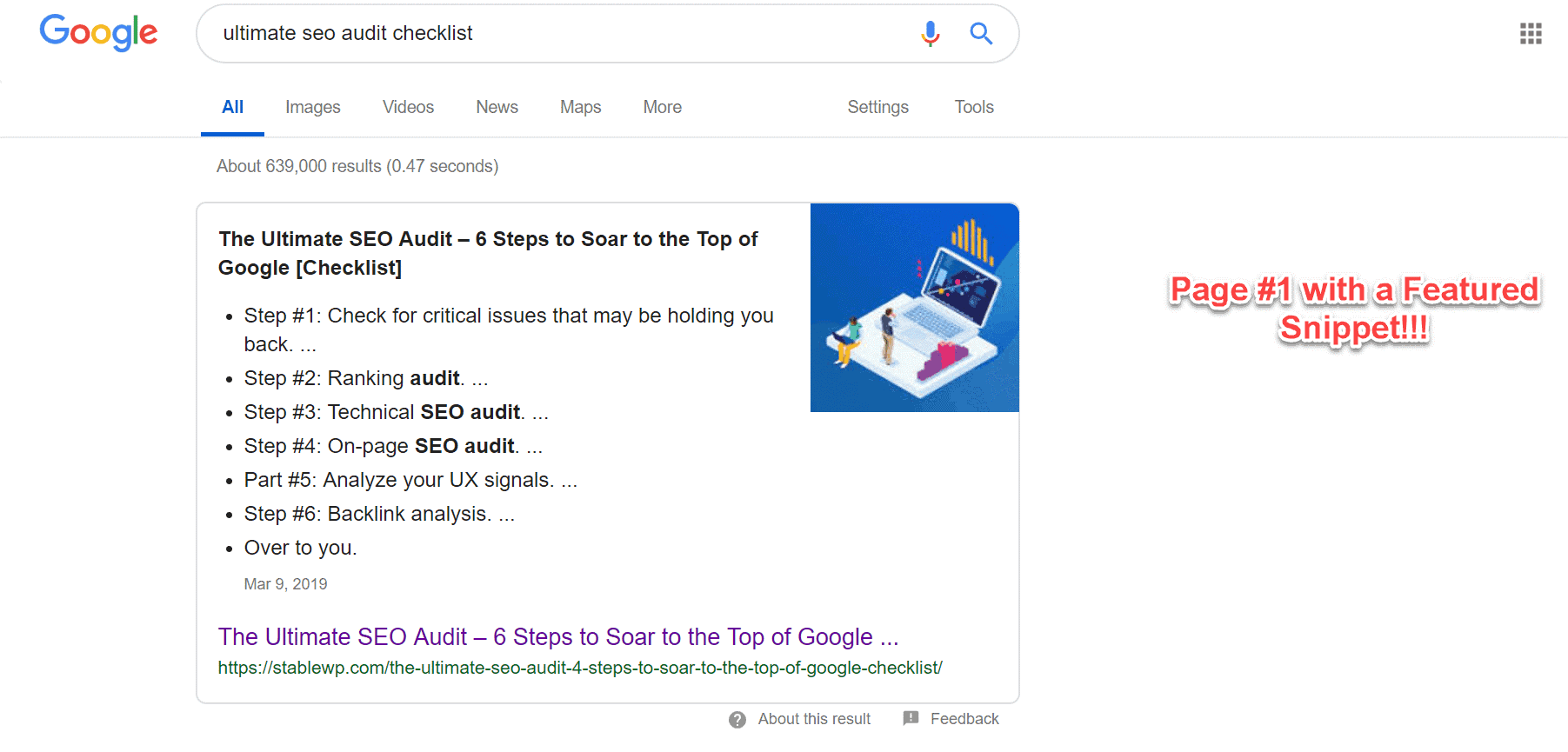 How often do you find yourself on the third page of search results? That's right. Almost never. SEO will make your articles easier to find and more visible to users. It will help you rank for specific topics that potential customers research and drive new visitors to your website. SEO delivers one of the highest ROIs in digital marketing due to its relatively low-cost and long-term benefits.
Once your content starts ranking
, you'll be able to drive a ton of organic traffic for a long time at no cost.
Reach and inspire cold audiences with Facebook Ads
Top of funnel
Facebook advertising
has one main focus, and that's to attract new audiences to your website. With Facebook and Instagram, you can reach a massive audience of potential customers that you can quickly inspire into a purchase with visual content. These people are likely not familiar with your brand at all. They have no idea who you are or what you do, they don't trust you and may not be interested in what you offer (yet). That's why your TOFU Facebook Ads need to peak user interest and stop them from scrolling away.
What you want to do with Facebook and
Instagram ads
is to warm up the cold audience and turn these people into prospects by raising awareness and educating them about your unique value proposition.
Using Facebook ads is a perfect way to introduce your brand to an entirely new audience by highlighting their interests, needs and problems and demonstrating how you can solve all that. Focus on showing the unique benefits your product or service offers and inspiring people to visit your website. Facebook Ads are also perfect for top of funnel marketing because you have unparalleled targeting options which can help you reach the right audience. If you are trying to reach completely new users, you should use the following three types of Facebook audiences:
Demographics-based audiences
Interest-based audiences
Lookalike audiences
Facebook allows you to target users based on their demographics, location, interests, behaviour, etc. For example, you can target men between 35 and 50 living in Canada interested in fishing. When building out your prospecting audiences, use all the information you have about your ideal customer. However, remember to start with moderately broad targeting because you want to reach as many people as possible and let the Facebook algorithm do its magic.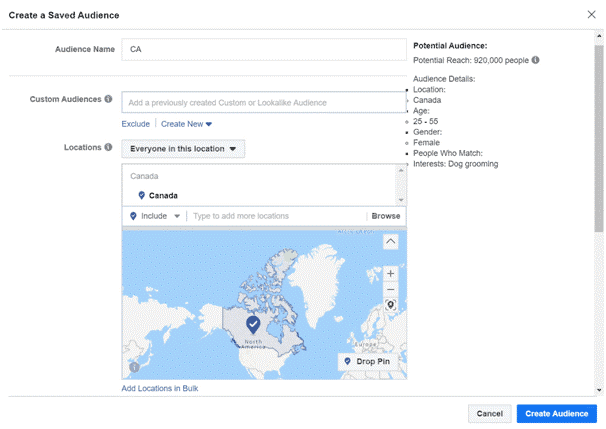 On the other hand, lookalike Audience targets people similar to your previous website visitors or buyers. Facebook can find similar users to your former buyers if you upload the customer data you have from before. This technique is compelling as it can help you reach new prospects that are more prone to convert.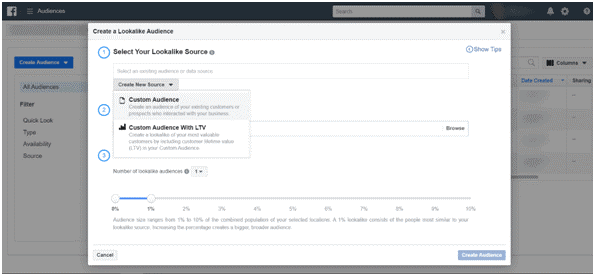 Another way to create a Lookalike Audience is using the information you have on their lifetime value (LTV or CLV). In the TOFU stage of the funnel, it's essential to focus on the right ad creative and copy. Cold audiences are unfamiliar with your brand, and you want to use Facebook ad formats that are scroll-stopping and eye-catching, something that will make people stop what they're doing and pay attention to what you have to say. Video ads are an excellent format for the top of the funnel on Facebook because you can show and tell so much more than with just an image. Videos capture the attention of the audience for a longer time and offer a better chance to stay top of mind, making them recognize your brand the next time they see it.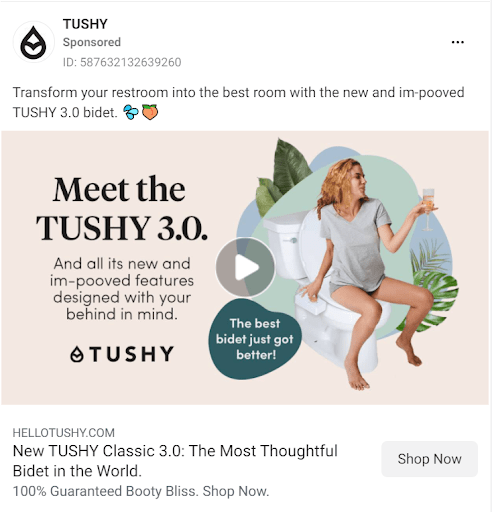 Videos allow you to highlight the benefits your product/service offers and introduce your brand to cold audiences. Leaving a solid first impression can be done by focusing your video ads on your unique value proposition. If you are still not convinced of Facebook video ads' superiority, let us reveal one more benefit they offer: you can retarget an audience based on how much of a video they watched. Facebook Ads provide a unique opportunity to create a Custom Audience based on people who have watched a specific portion of your video ad (3 seconds, 25%, 50%, etc.).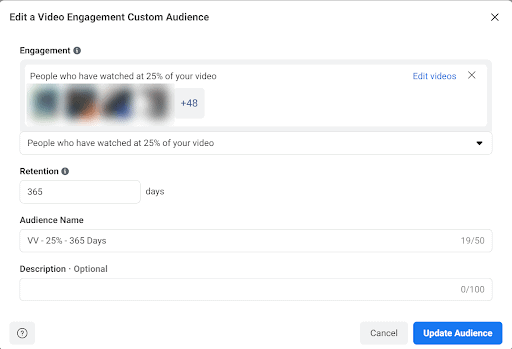 Video-based campaigns help you to reach a wide audience, lower your customer acquisition costs (CAC), and most importantly, allow you to embed your brand into users' minds. Image and carousel ads also work well in the Awareness phase if you don't have any videos. However, with images and carousels, you won't be able to create new Custom Audiences based on users engaged with them. Ensure to use relevant and proper ad copy and CTA appropriate to the cold audience.
Drive cold traffic with Google Ads Display prospecting campaigns
Google Ads
Display campaigns' goal is to get your brand exposed to entirely new audiences unfamiliar with your business and raise awareness about your brand. The great thing about Google's Display ads is that they can appear just about anywhere on the internet helping you reach the right audience at the right moment. Any placement that is a part of Google Display Network is a potential spot to promote your brand and raise awareness.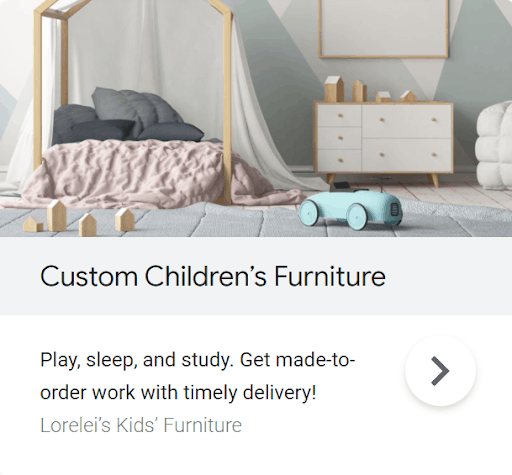 Google Display Network (GDN) is a group of more than two million websites as well as Gmail, YouTube videos, and apps. According to Google, you can reach over 90% of internet users around the world with Display ads.
With Google Display Network targeting, you can set a place or time you want your ad to be shown based on your ideal audience's features. With Display ads, you can target people based on:
Audiences – Who you target
Placements – Where the ads are shown
Keywords – Interests based on what users actively search for
Topics – The topics of website/videos
Interest (audience) targeting allows your ad to be shown to people interested in the products or services you offer or those engaged in activities associated with your business. Audience targeting can be divided into three categories:
Affinity Audiences – Includes eighty different groups based on interests or hobbies, such as "beauty products fans," "gamers" or "car enthusiasts." Simply put, you can target people based on what they usually like.
In-Market Audiences – Helps you identify customers who are actively looking at products or services similar to yours. These might be customers who have added makeup products to their shopping cart or those who have visited websites related to hair products.
Custom Intent Audiences – This is the most effective method that allows you the control to narrow your targeting even more by creating your own audience attribute combination using keywords. If you're running ads for your online beauty store, you might use keywords such as "skin routine," "healthy hair tips," or "glowing skin." Your ads will be displayed to people that have recently used these keywords. It's also possible to add specific URLs that your target audience might visit, e.g., beautyworld.com or skinandhairproducts.com and target people that have recently visited these websites.
If you're selling items everyone needs, you might also opt for broad demographic targeting to reach potential customers only based on their location, age, and gender. Placements and Topic targeting is another excellent way to reach your ideal customers on exact websites or content. Select the topics and let
Google Ads
analyze web content and show ads based on your chosen topics.
Placement targeting gives you the option to designate websites, videos, or apps that your customers usually visit. With this type of targeting, Google will only show your ads on the selected placements. A placement can be an entire website, a YouTube channel or a video, a specific app or app category, or a subset of a site.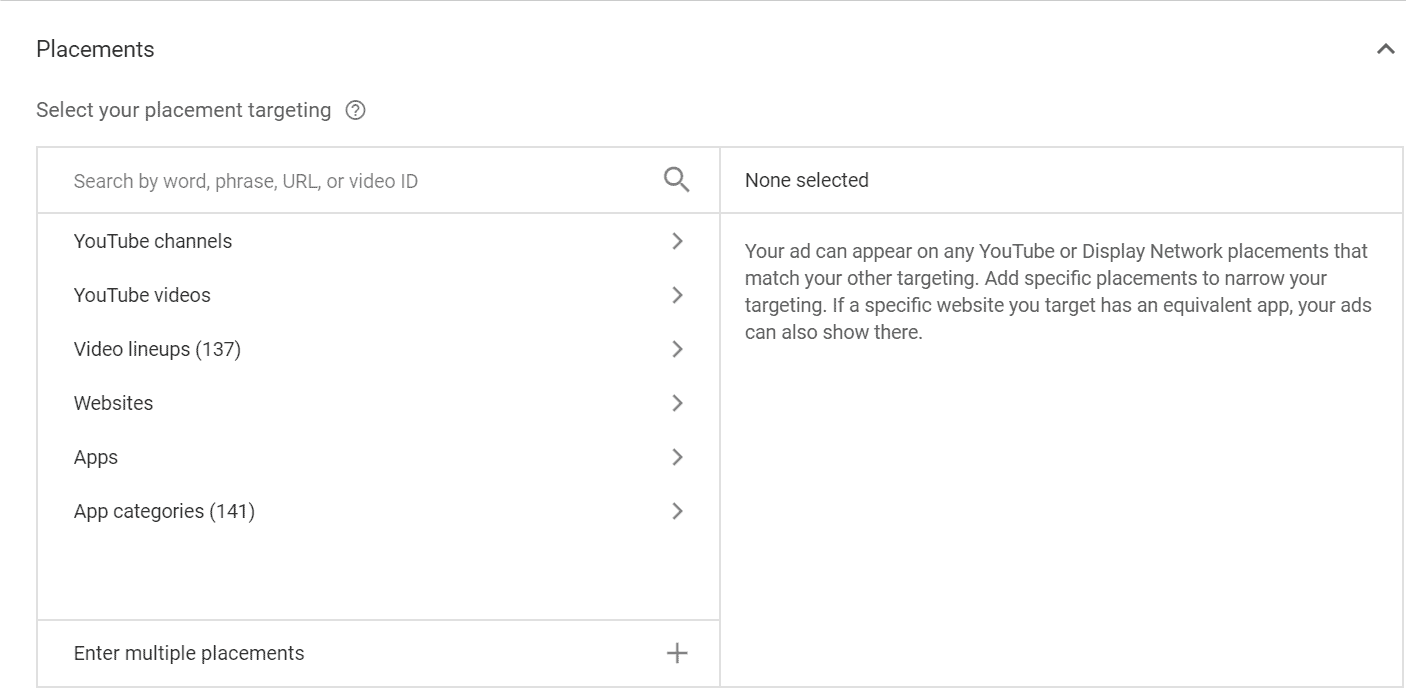 A solid alternative is Smart Display campaigns. They allow you to show ads in a wide range of formats and reach a variety of audiences all across Google Display Network, without having to configure targeting. On the flip side, you have very little control over this type of targeting.
Leverage YouTube video marketing to capture top of funnel audiences
YouTube videos are a great way to raise awareness by providing context and visuals in a way that text or image ads can't. They work especially well as an initial touchpoint to introduce your business to new audiences unfamiliar with your brand. As we established, the primary purpose of marketing in the TOFU phase of the funnel is grabbing users' attention and getting them hooked on your content, so much so they take themselves to the next stage of the sales funnel. Create videos that educate users and provide engaging content. Doing so means fewer people will skip, and more people will be inspired to actually visit your website and check out what you have to offer.
The best way to do that is to create TOFU YouTube content that attracts new audiences, builds brand awareness, gives people a valid reason to visit your website, and generates prospects that will flow down the sales funnel to the next stage (MOFU). However, similar to your other content marketing efforts, you need to ensure potential customers can discover your videos. This means you need to perform
YouTube video SEO
. YouTube video ads are another way to increase awareness and fill your upper funnel with new prospects.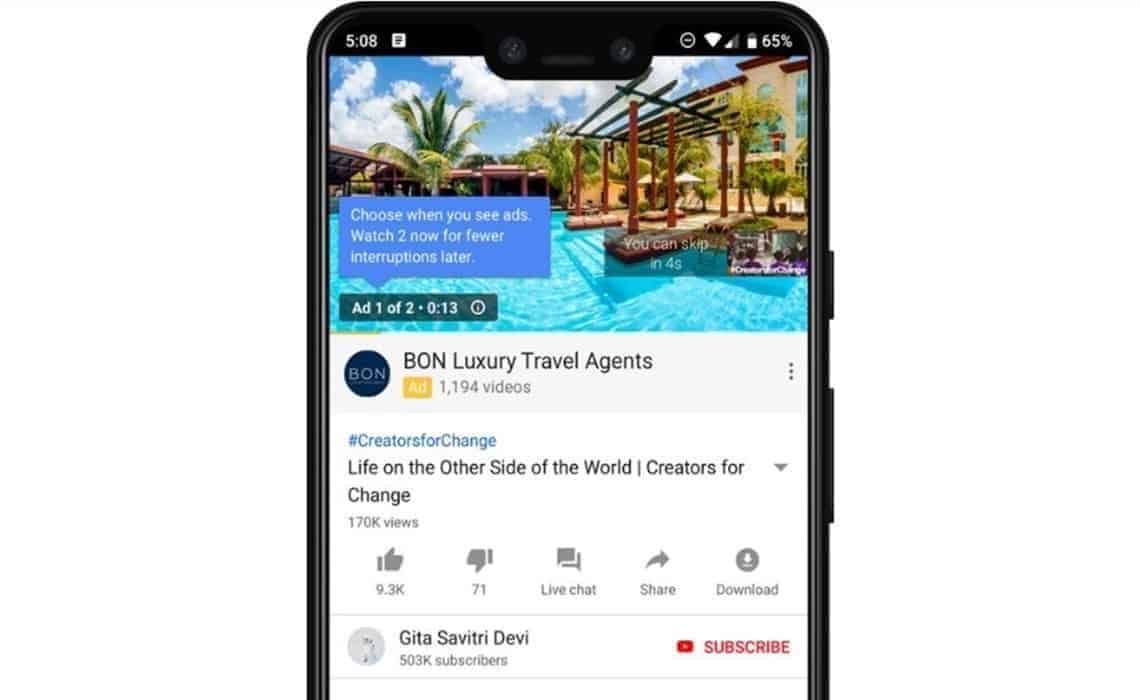 You can set up skippable and non-skippable in-stream video ads, which can play before (pre-roll), during (mid-roll), or after (post-roll) the playback of regular YouTube videos. The targeting is similar as with Google Display ads, so you can reach users based on:
Demographics
Interests (including Affinity, In-Market and Custom Intent)
Placements (specific YouTube videos and channels)
Keywords
Topics

With the number of people watching YouTube videos daily, using these campaigns for the top of funnel marketing will help you reach cold audiences and raise awareness at scale.
Use LinkedIn Ads for prospecting B2B customers
LinkedIn Ads are a perfect strategy for prospecting B2B customers. Since this platform focuses on building business connections, it's the right place to introduce your brand, raise awareness and reach key stakeholders and decision-makers.
LinkedIn Ads
prospecting works quite similarly to Facebook Ads prospecting, but instead of targeting users based on their interests, LinkedIn allows you to target people based on a company they work for, their position within the company, or their seniority level.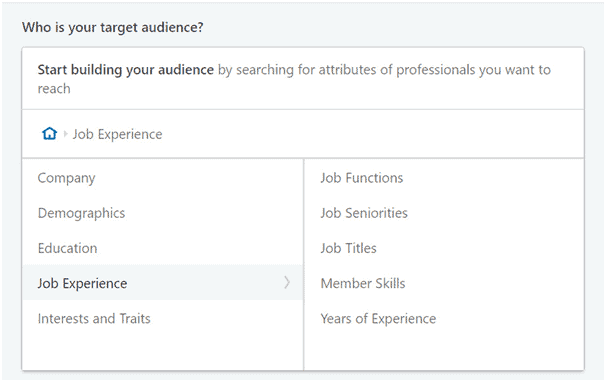 In the TOFU stage, where your priority is expanding your reach to capture cold audiences, the best LinkedIn audiences to use are:
List of companies (Account list) – You can also target specific companies by uploading a list of company names, called the Account list. Layer your targeting with company demographics to only show ads to, for instance, managers and above.
Broad prospecting based on audience attributes, or LinkedIn's native targeting, allows you to target Audience attributes such as job title, industry, or skills. This is a great technique for targeting a completely new, cold audience. Layering combinations such as job function+seniority, skills+seniority, or groups+seniority are worth exploring.
Lookalike Audiences – If you already have high traffic and conversion volume, you can use LinkedIn's Lookalike audiences. LinkedIn will try to find users similar to your past visitors or customers.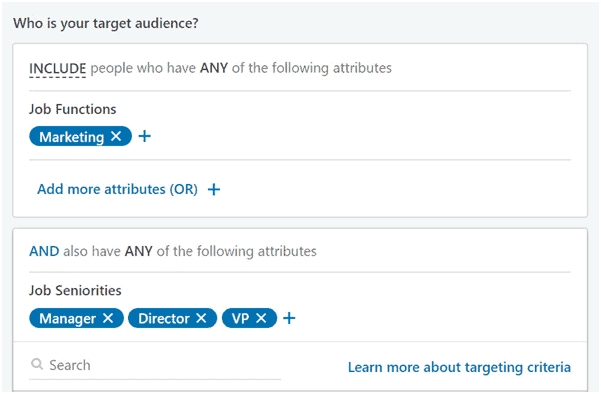 One of the most effective strategies to attract cold audiences like this is with a video ad, which should only focus on a common problem your B2B audience faces. However, be careful not to push your solution too aggressively. Instead offer useful resources that help overcome their business challenges. The most effective LinkedIn ad offers in the Awareness stage of the buyers' journey are:
Guides
Checklist
Cheat sheets
Reports
Industry stats
Infographics
E-books
Educate users on the benefits and values your solution brings and promote low commitment and low-pressure offers. You want to drive them to your website, not away from it. Ensure your landing page is informative and helpful, offering solutions for your prospect's issues.
Focus on social media marketing to reach new audiences
Organic social media marketing can do wonders for your TOFU. Use your social media profiles on Facebook, Twitter, LinkedIn, Instagram, etc., to promote your content and build up pages so you can attract more people to your website.
Focus on channels your potential prospects are using the most. Posting regularly on your social media platforms can help you reach new potential customers and drive new people into your sales funnel. Post relevant content, develop a style and voice you'll stick with, and don't forget to engage with your audience. With social media posting tools like
AI Kontent
, you can easily schedule and publish social media posts automatically. You want to leave an excellent first impression. Once you're able to build up a strong social following, you can gradually funnel those users to your website and deeper into lower-funnel stages.
Alternative advertising platforms can supplement your TOFU marketing
Alternative online advertising platforms
, such as Microsoft Ads, Quora Ads, Pinterest Ads and Twitter Ads, are another excellent method for reaching additional audiences with top of funnel marketing. Each of these platforms is quite popular and has hundreds of millions of active users to target. The competition on these platforms is relatively low, and advertising on them can be quite cheap. Some of the best alternative advertising platforms to use in the Awareness phase are Pinterest and Quora.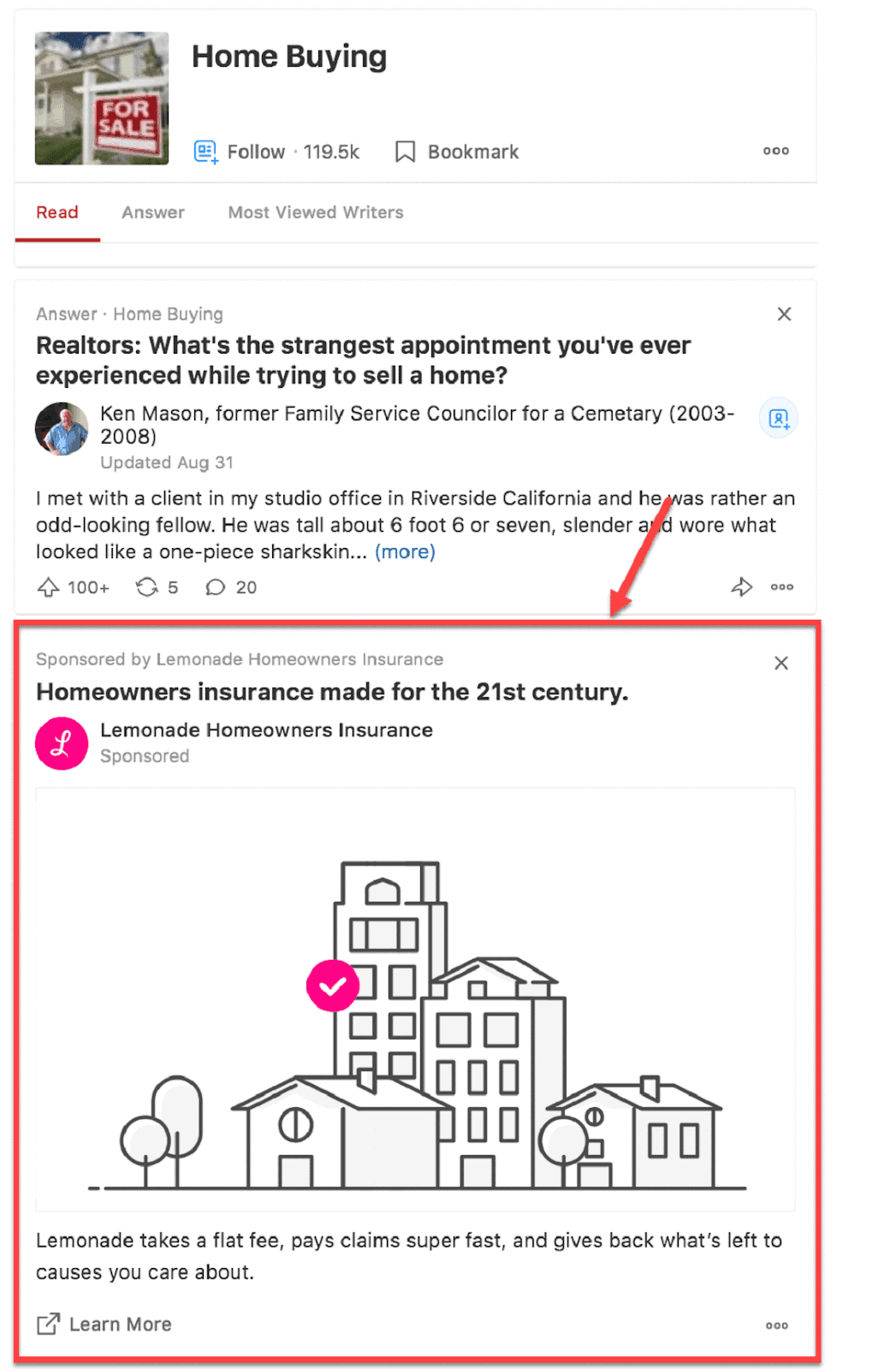 Quora ads can do a lot for your brand awareness and lead generation. People on Quora ask for tips, conduct research, and try to find solutions for their problems. In other words, they are highly engaged, open to new ideas and discovering new products – just what you need for your top of funnel marketing. You also have some powerful targeting options which allow you to reach new audiences based on:
Questions
Topics
Keywords
On the other hand, Pinterest can serve quite well for e-commerce brands looking to introduce their products with visual content.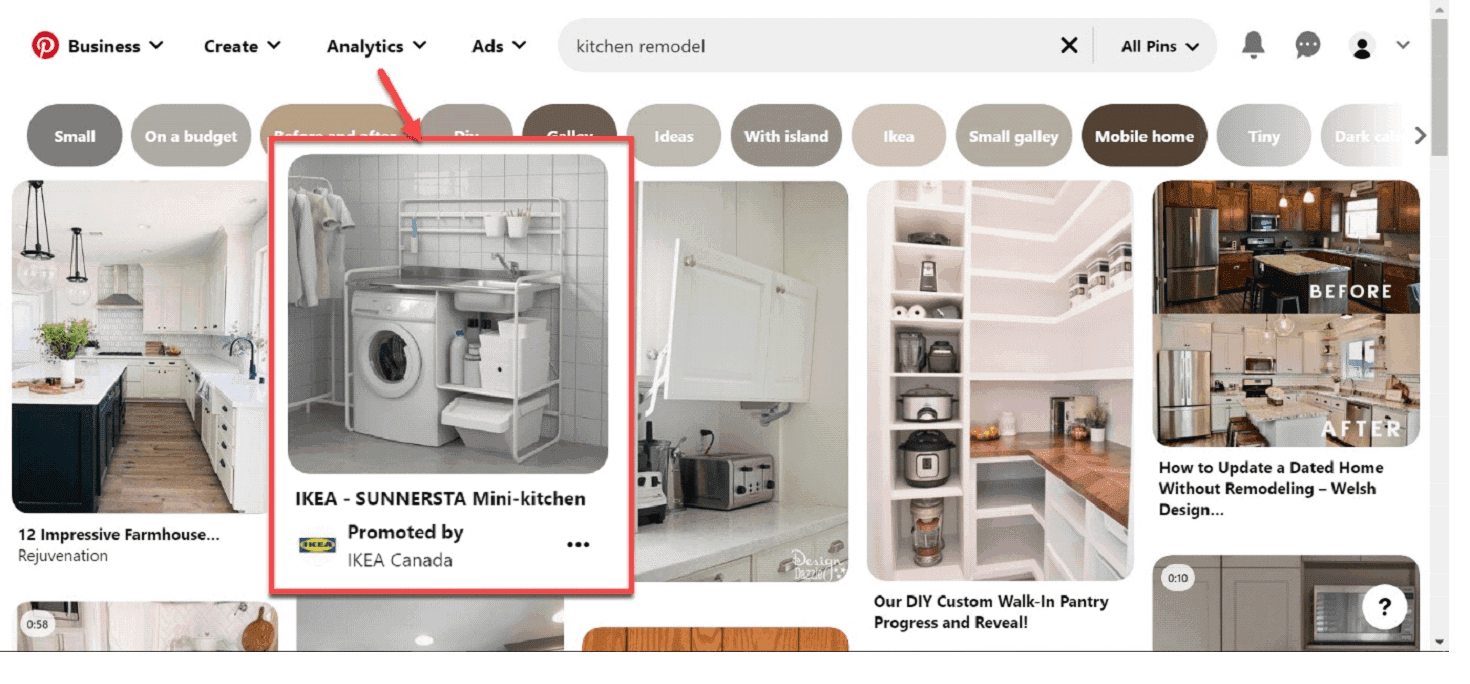 Be sure to explore alternative platforms to find the one that's most suitable for your business and target audience.
Use influencer marketing to build trust with cold audiences
You can leverage other people's audiences to attract users into your sales funnel. Influencer marketing is highly effective because it works like a personal recommendation. The top of the funnel is an introduction between your brand and a consumer. Brand awareness should be your chief objective, and influencers are the people that can help you target new audiences with effective messaging.
People trust these influencers, they are trying to imitate them, and if they suggest using your products or services – people will come running to see what you have to offer. For best results, you need to give away something of value. Try with giveaways, contests or product samples, as it will help build trust and funnel these users back to your website. For new brands, it's best to start working with micro influencers since they can have a closer connection with potential customers and can help you get the maximum ROI.
Leverage native ads to promote your website content
Native ads can be an effective option to drive top of funnel traffic to your site. They work by promoting your content on popular websites, helping you attract more people and amplify your content to reach potential customers across premium publishers (blogs, news outlets, etc.). Native ads are paid promotions designed to blend in with the existing content on external websites. There are a lot of types of native ads, for example, In-Feed, Paid Search, Recommendation Widgets, Promoted Listings, In-Ad with Native Elements, Custom, etc. They are less intrusive than traditional ads, and they don't interrupt your online experience.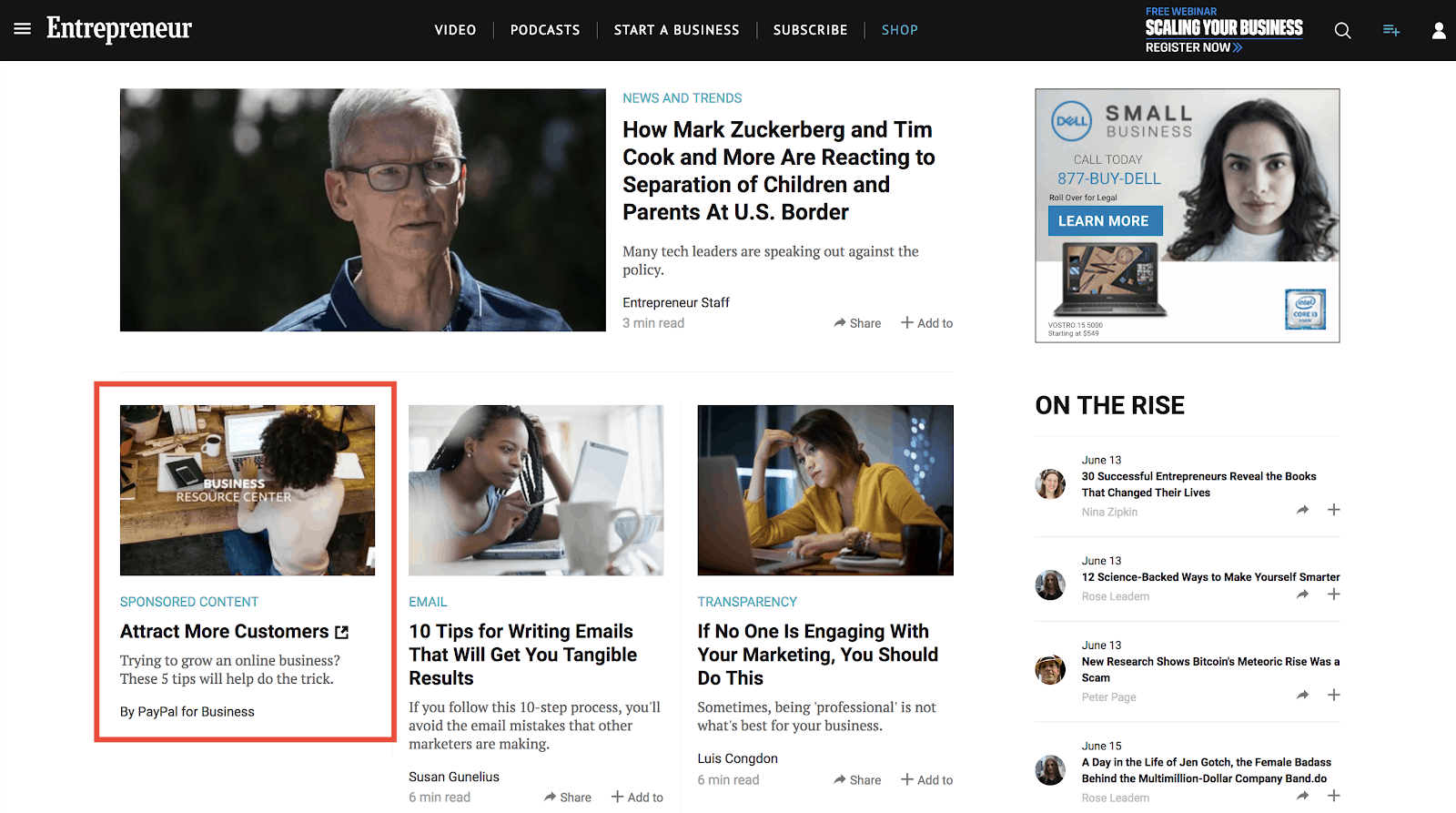 The upsides of these ads are numerous – more website traffic, increased brand awareness, low cost etc. So, it's definitely an option to consider for your TOFU marketing.
How to measure top of funnel marketing ROI
Since the main goal of TOFU marketing is not directly related to new customers or leads, it can be difficult to measure its effectiveness and if it's delivering a good ROI. So, instead of looking at your sales and revenue, you need to focus on measuring micro-conversions. These conversions are typically measured by user activity on your website, such as page visits, video views, engagement, etc. The following are the key metrics to monitor to measure the top of funnel marketing.
Impressions and views
The most basic brand exposure measurements in the top of the funnel marketing are impressions and views. Impressions are important for understanding how many times your ads and content appeared in front of your target audience. They're metrics that are available across all advertising platforms as well as in Google Search Console (for SEO).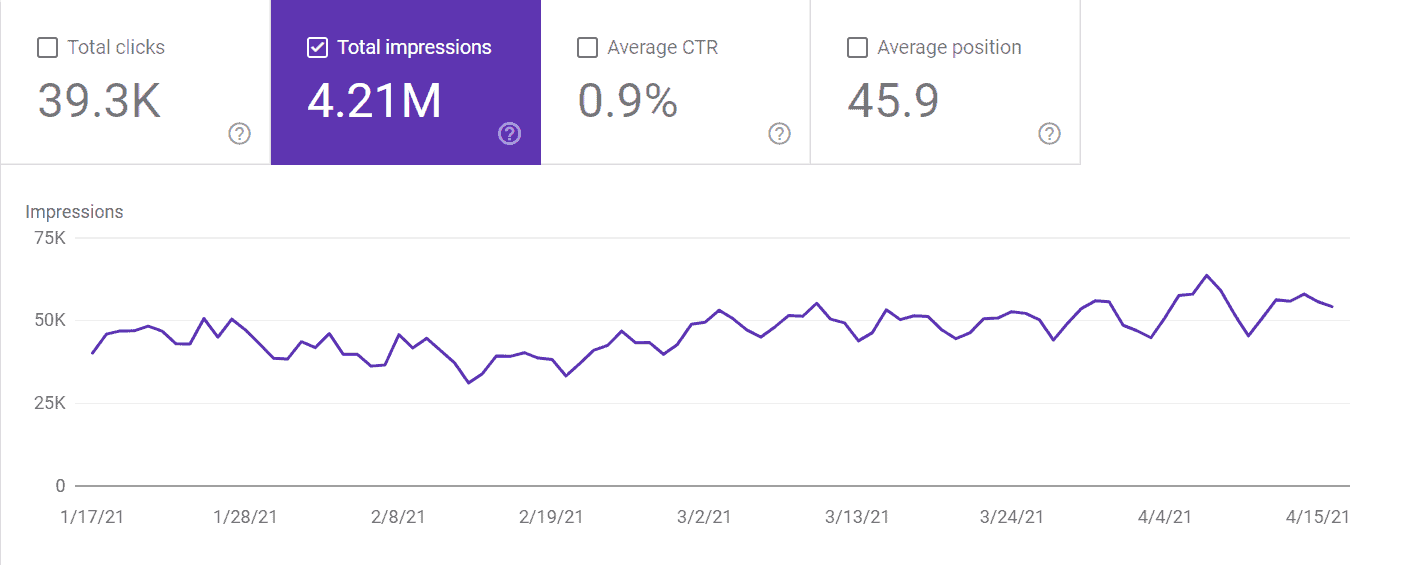 Views represent the number of people who viewed your videos. This metric is important if you're creating videos on YouTube as well as if you're running video campaigns on Facebook and YouTube.
To get a better insight into your top of funnel campaign performance you should also monitor your CPM (cost-per-thousand impressions). This metric will show you how much it costs to show your ads 1000 times.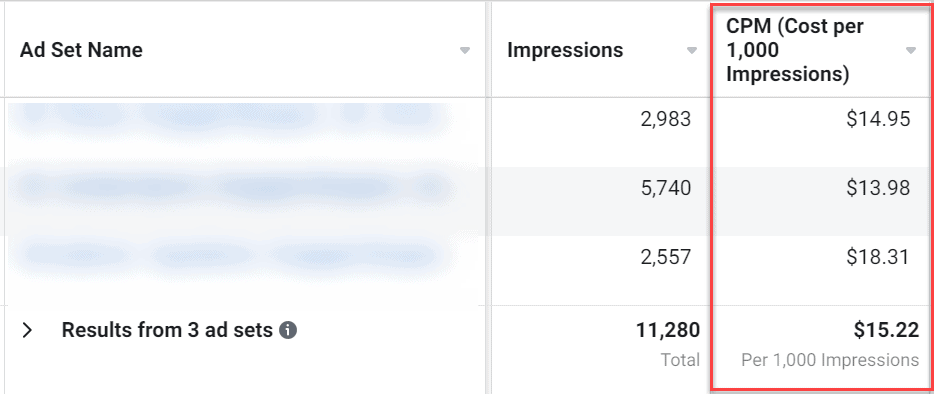 Naturally, you want to keep the CPM as low as possible to allow you to reach more users at the same cost. An unnaturally high CPM can be an early warning that something's off with your campaign setup.
Reach
Reach represents the total number of unique individuals your ad has been served to across diverse digital platforms. It can be used to explain the performance of your marketing campaigns. Your ads reaching a broad audience but not engaging, clicking, or converting are signs for you to make changes and improve your performance. You might need to concentrate your efforts on the audiences who have a higher chance of engaging or test new ad text and creatives.
Website traffic and click
One of the most important metrics for measuring your top of the funnel marketing strategy success is website traffic. Google Analytics breaks website traffic into two core categories: users and sessions.
Be sure to monitor the website traffic trend to see if your traffic is growing or
dropping over time
. Clicks are particularly important for advertising campaigns since you want to get the most out of your ad spend. It shows the number of times your ad was clicked.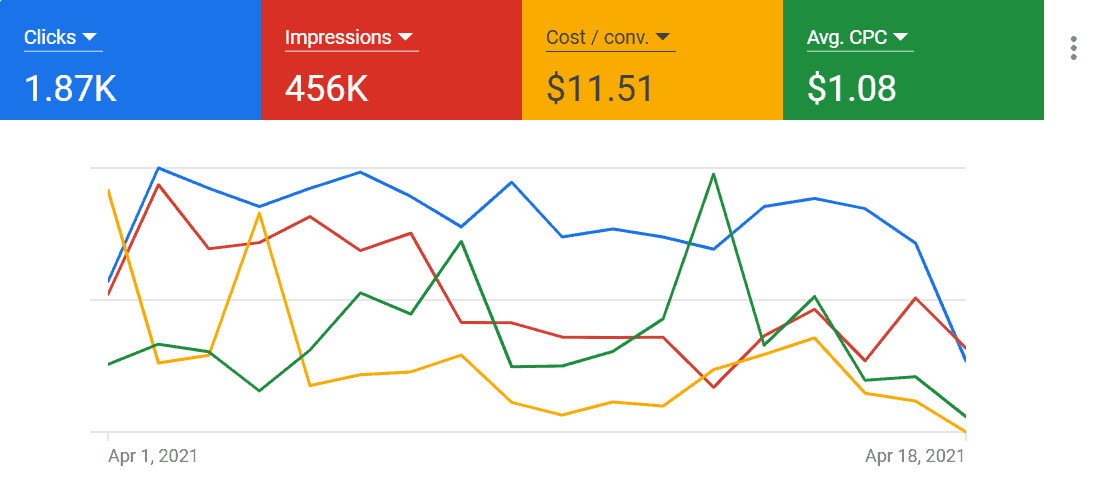 Clicks can serve as a micro-conversion helping you understand if your ads are compelling enough for users to click through.
Average time on page
Average time on page measures the time visitors spend on a page on average. It helps you realize how your website visitors engage and interact with your site and content.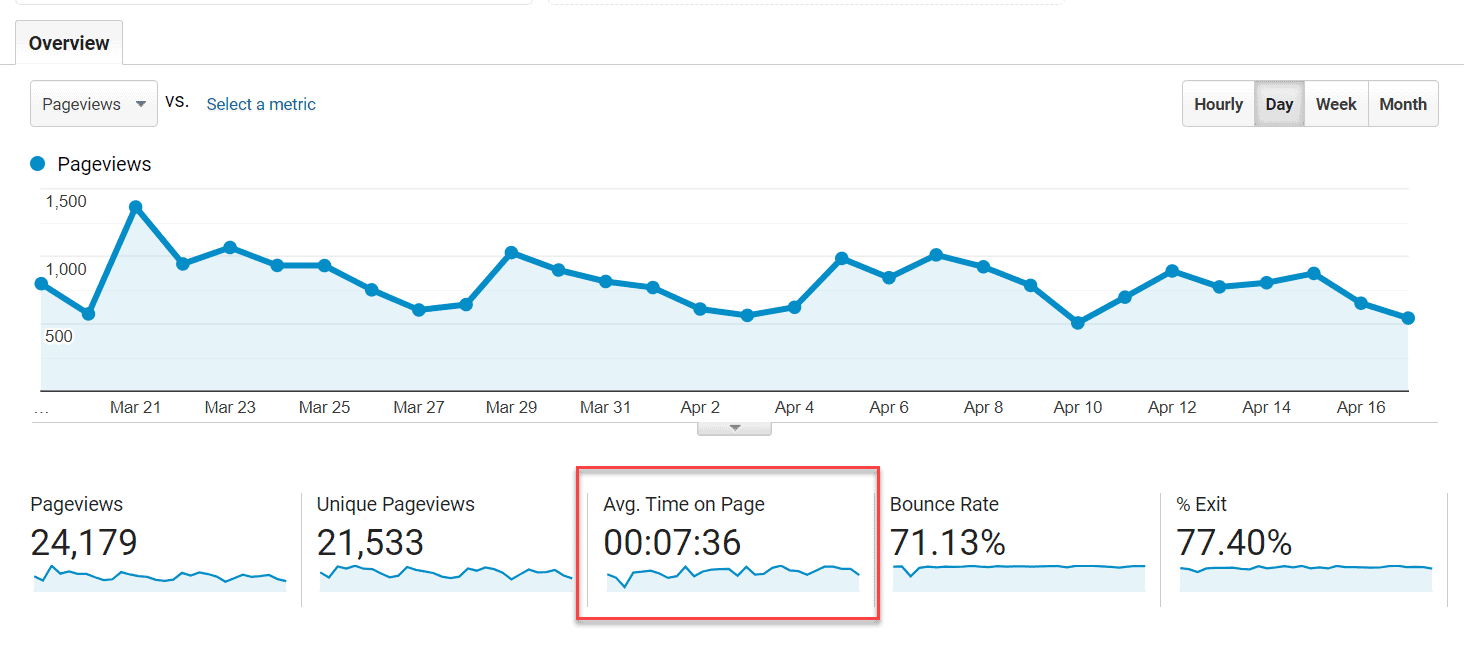 A higher time on page is proof of having an engaged audience. It means that users are interested in that piece of content, and they might be curious about what you have to offer.
Bounce rate
Bounce rate
presents the percentage of users that land on your page but leave right away without any engagement or browsing. In Google Analytics, it's measured by single-page sessions divided by the total number of all sessions. Bounce rate shows you how the website visitors are engaging or interacting with the content.
In general, a healthy bounce rate is somewhere between 30% and 70%, depending on the type of content and your own historical site metrics. An unusually high bounce rate can indicate issues with your website. It might be a signal that your page didn't deliver on its promise from your ads and Google search listings. To improve your bounce rate, provide interesting and relevant content and ensure that users have a great experience.
Event and goal tracking
You can set up Google Analytics to track when people click on certain buttons or perform a particular action on your website that you consider a micro-conversion.
Doing this will help you track and measure how your top of the funnel marketing campaigns translate into desired actions on your site.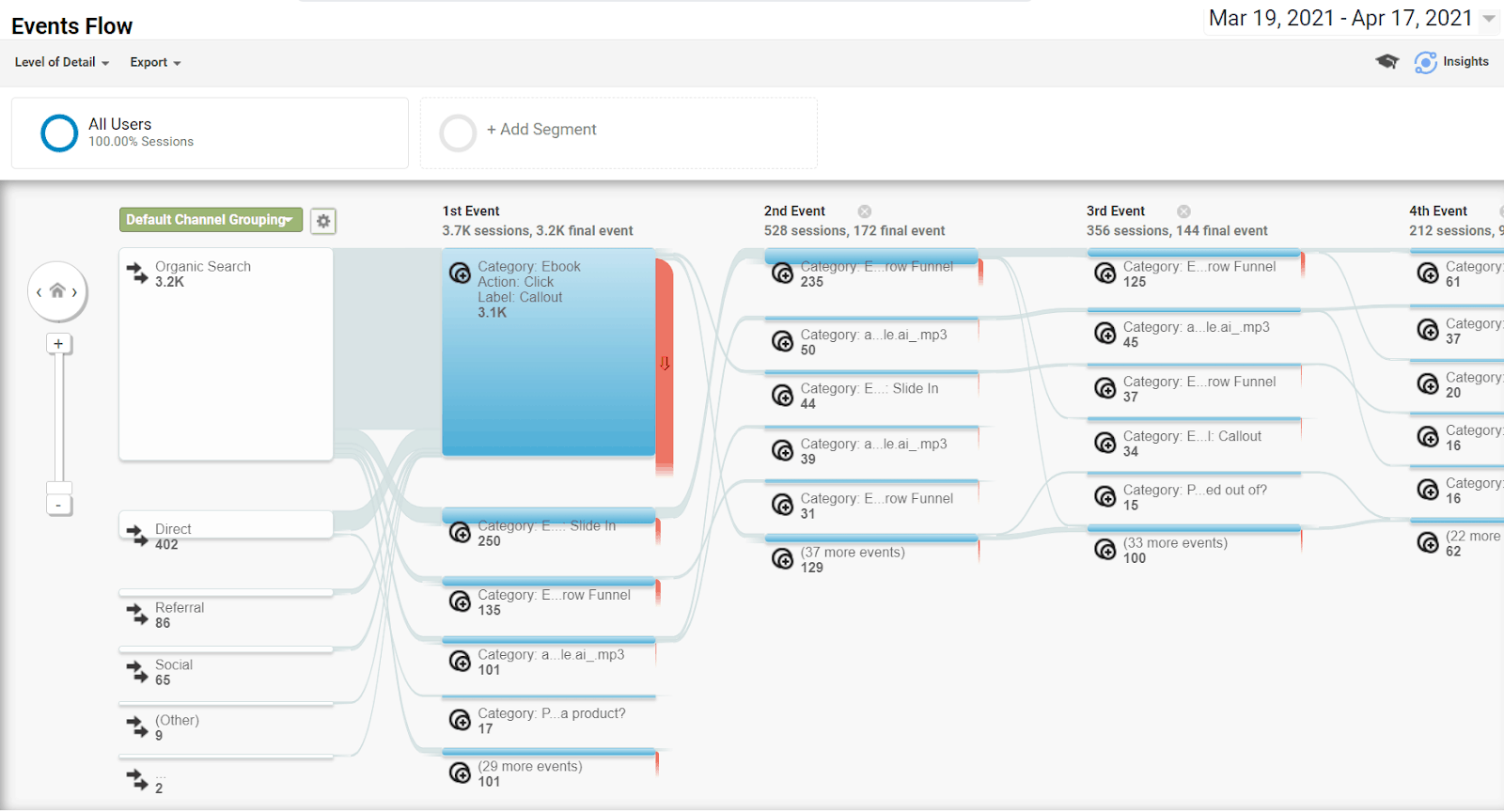 You can even assign values to events and goals to understand their effectiveness and ROI better.
Conclusion
Top of funnel marketing is essential for your brand awareness and your business. Without attracting cold audiences, it would be difficult and expensive to acquire new customers. It's important to drive as many people as possible into the upper funnel so you can gradually warm up these prospects and convert them into leads and sales. Be sure to introduce your brand to new potential customers, demonstrate what you can do and what unique benefits your product or service has to offer. In this article, we discussed the most powerful strategies you can use to attract new audiences that will hopefully become your customers. Remember to produce useful and valuable content, eye-catching and scroll-stopping ads, and do not try to sell right away. No one wants to buy anything from a stranger! If you need help driving top of funnel traffic your way, be sure to reach out and learn how we can help convert those strangers into happy customers. And if you have any questions, drop us a line below. We make sure to read all your comments. 😊