Facebook Ads retargeting is an absolute must for every e-commerce store.
Retargeting is one of the highest ROI strategies that allow you to tap into shopper's behaviour and serve ads with relevant products potential customers are most likely to buy.
But instead of mindlessly retargeting all site visitors with the same offer over and over, you need to get more strategic.
That's why we've built a sophisticated system for Facebook e-commerce retargeting that will maximize the purchasing potential of each shopper.
Read on to learn 7 advanced Facebook Ads retargeting strategies proven to drive sales and increase revenue.
Why you need Facebook retargeting for E-commerce
One of the biggest challenges of every e-commerce merchant is generating sales. With an average e-commerce conversion rate of 1.85%, if you're not retargeting, you're leaving a ton of money on the table.
Because such a small number of shoppers ends up buying on their first visit, retargeting those that abandoned their cart or didn't complete the checkout will capture sales you'd otherwise lose.
If you've built out a solid Facebook or Google advertising funnel you know shoppers need multiple touchpoints before they become customers.
Let's put things into perspective.
Here's an example of actual campaign performance:
86 453 Impressions
4956 Clicks
2810 Product Page Views
479 Add to Cart
144 Initiate Checkout
49 Purchase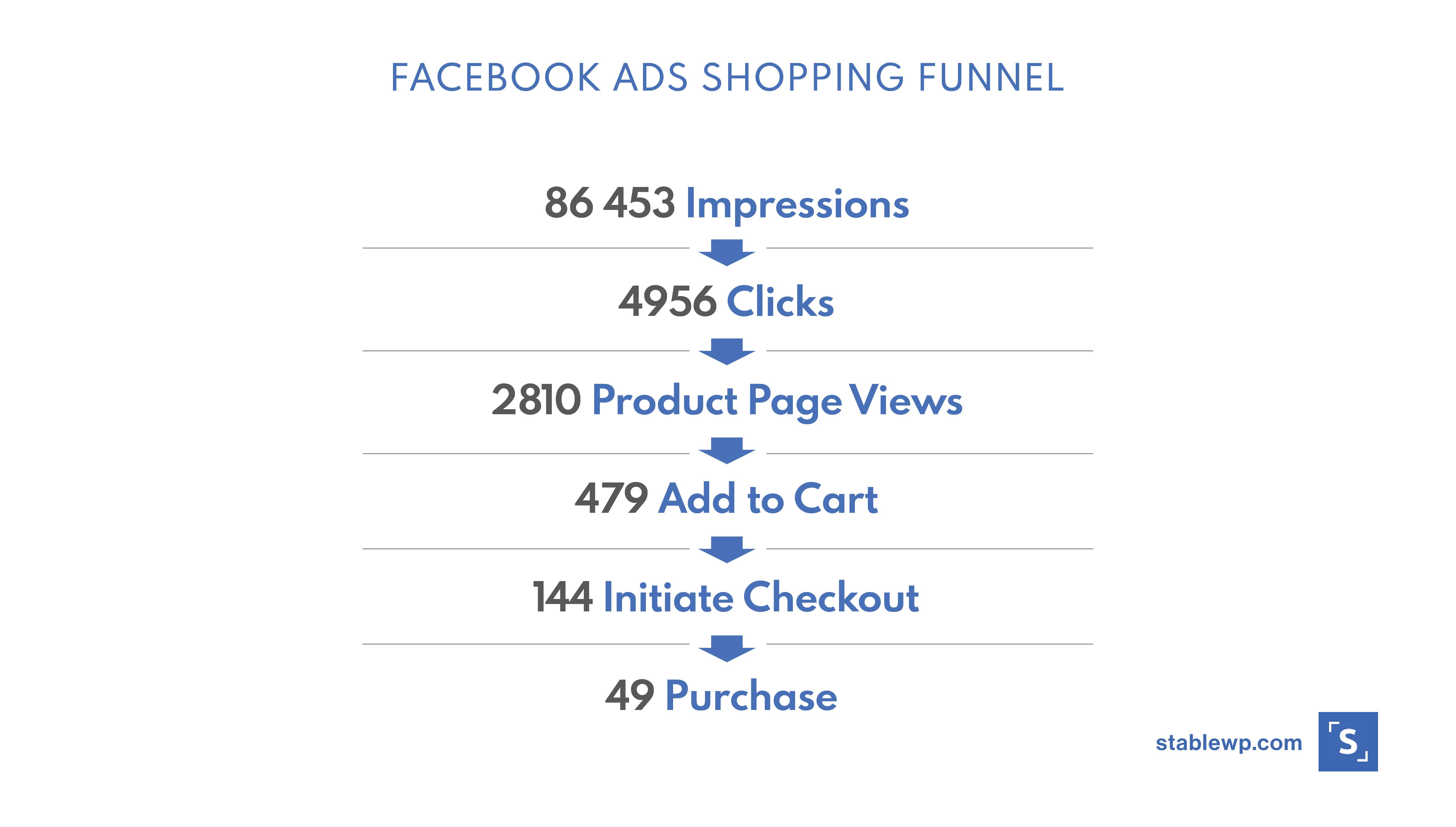 Out of almost 5K visitors, only around 1% actually purchased!
But there's a huge unrealized opportunity here.
There are almost 3000 shoppers with a high buying intent that viewed product pages. And around 500 hot shoppers with a proven interest in buying (Add to Cart).
Retargeting these users will be very cheap, yet highly effective at driving sales.
This type of retargeting could double or triple your sales, which can mean the difference between a positive and negative return on ad spend (ROAS).
Eager prospects will get introduced to your brand, click through to your e-commerce site, browser products, add to cart and even begin to checkout. But unfortunately, many won't purchase or sign up to be a lead on the first visit.
For one, shoppers may need time to understand your products and decide whether it's something they want to spend money on.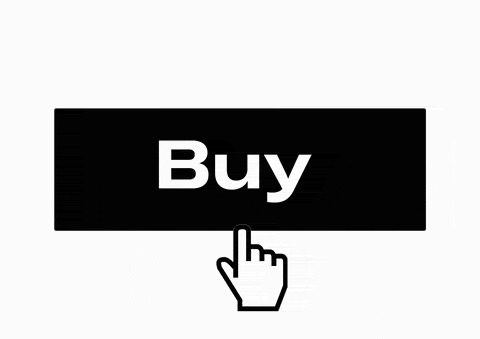 This keeps them from completing the purchase, even though they may be genuinely interested in your products.
On the other hand, they may get distracted for a number of reasons. Or they may get too lazy to fill out forms in your checkout process.
This is especially true for mobile users.
And most of the time, prospects will see your ads on mobile. In fact, Facebook announced that 94% of its ad revenue comes from mobile devices.
Retargeting on Facebook will give these shoppers a good reason to come back and complete the order.
Inspect your Google Analytics Time Lag report
If you're unsure whether retargeting is necessary for your online store, just go into your Google Analytics account.
Navigate to Multichannel Funnels – Time Lag report from the Conversion section in GA.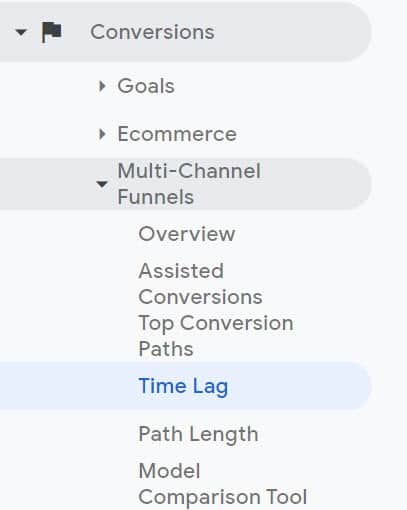 The Time Lag report shows you how many days it takes from users' first interaction to the conversion.
From there, you can observe how long (in terms of days) it takes each sale to occur from the day of the initial visit.
In our example, around 68% of the conversions happened on the first day.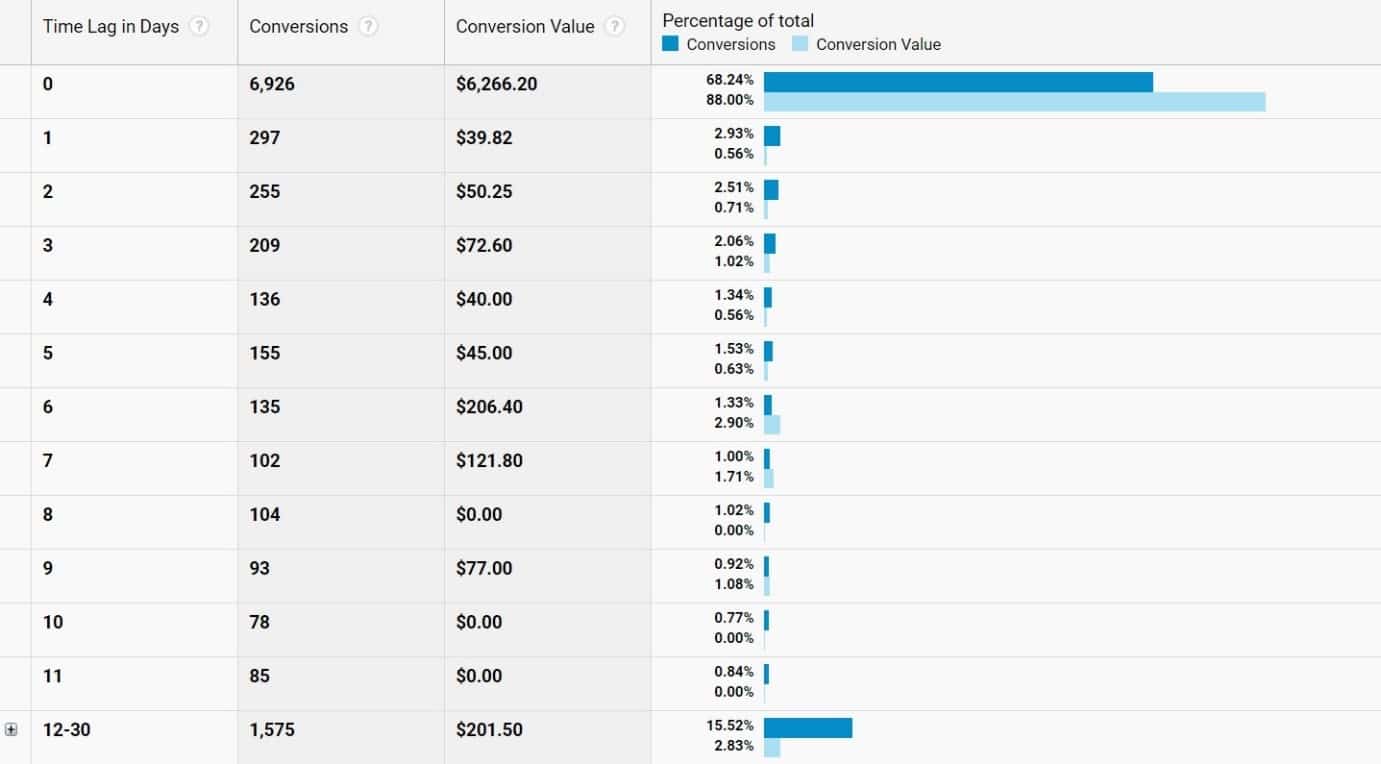 This looks pretty good, right?!
However, you can also see that around 32% of conversions took more than a day. And more than 15% of sales happened between 12-30 days.
So, without retargeting, this online store would likely miss out on around 30% of its sales.
Remember this report later when we start building out one of the advanced Facebook retargeting campaigns.
Download the 2023
E-commerce Benchmarks Report
Get the latest industry trends, stats and insights to benchmark your e-commerce performance and find unique growth opportunities.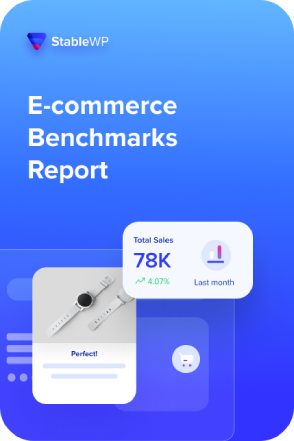 7 advanced Facebook retargeting strategies that drive e-commerce sales
Advanced Facebook Ads retargeting includes running campaigns aligned with shoppers' interests, behaviour and likeliness to buy.
With the help of the Facebook Pixel, you can track and retarget users based on events or interactions with your online store. Typical e-commerce event examples are:
Page View – Default event for all website pages
View Content – Event triggered when a user lands on a product page
Add to Cart – Activated when shoppers add a product to cart
Initiate Checkout – Fires when a potential customer starts the checkout process
Purchase – As the name implies, this event is triggered when an order is completed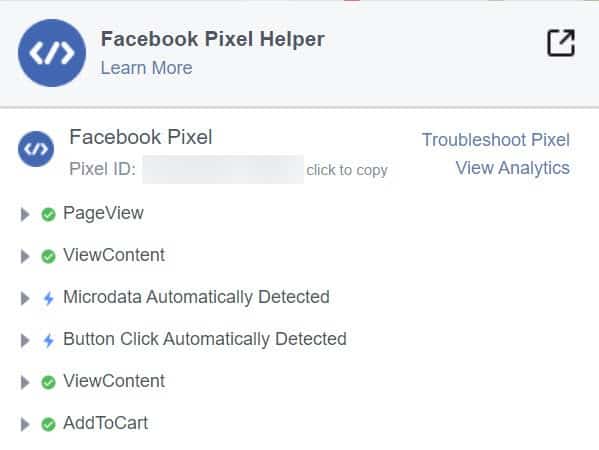 No matter the channel they come through, be it from a blog post, an ad, social media profile or a referral site, you can effectively reach and bring back shoppers to complete a purchase.
To take it a step further, you can retarget shoppers on Facebook based on how far they've gone in their customer journey. Or depending on how close they are to purchase.
Advanced retargeting strategies dynamically add and exclude Audiences based on their actions.
Unlike static retargeting where you'd put all your site visitors into a single retargeting campaign, with advanced tactics you can effectively keep running campaigns long-term without causing ad fatigue.
Let me show you how to build out and execute 7 advanced Facebook Ads retargeting strategies for e-commerce sales.
NOTE: Check out another one of our guides if you want to learn how to use Facebook and Google Ads in tandem for a powerful e-commerce strategy.
1. Shopping funnel retargeting
One of the most powerful Facebook retargeting strategies is to segment Audiences based on the funnel stage.
Shopping funnel retargeting means you divide Facebook retargeting campaigns based on shopping behaviour that indicates where users are in the customer journey.
So, based on shoppers' interaction with your site, you'll present different offers to encourage them to finalize the purchase.
For example, you can divide your retargeting campaigns into three segments:
All visitors
Visitors who added to cart
Shoppers that initiate checkout
The idea is to retarget users with offers based on their buying intent.
Campaign #1
Audience – Website Visitors
Time window – 7 Days
Offer – Free Shipping
Campaign #2
Audience – Add to Cart Users
Time window – 14 Days
Offer – $10 or 10% off
Campaign #3
Audience – Initiate Checkout Users
Time window – 28 Days
Offer – $20 or 20% discount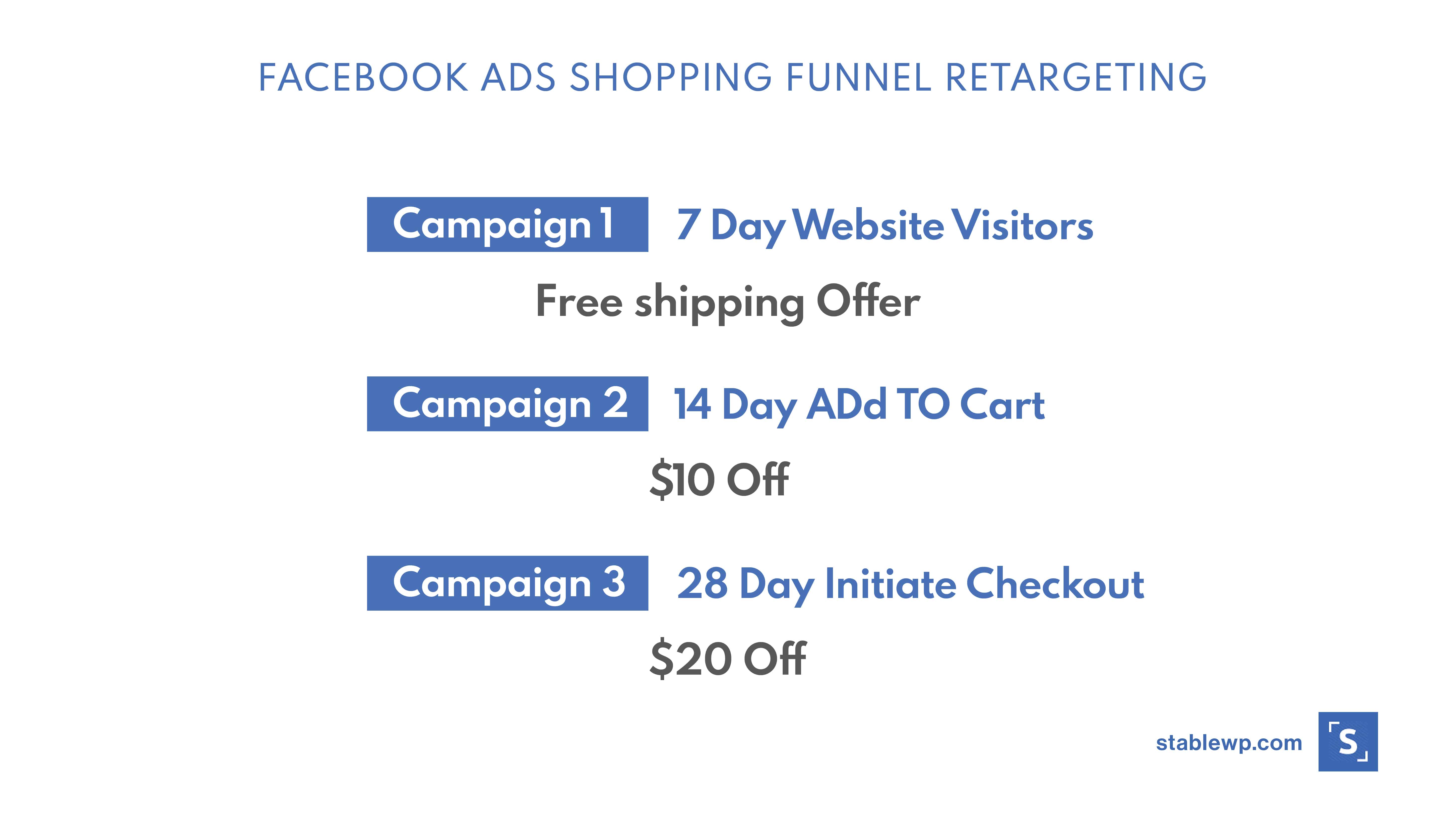 Prospects that visit your site are an excellent audience, however they have a weaker buying intent. You can't quite pinpoint if they're actually interested to buy.
This is why you'll want to set a shorter retargeting window and only serve ads for 7 days after the visit.
Since the buying intent is still mild, you can also start with a smaller incentive like free shipping.

Users that added a product to cart have expressed a strong buying intent. These are very warm audiences.
Because of that, they'll be more receptive to your retargeting and you can show ads for longer. We recommend 14 days for Add to Cart users.
You'll also want to up the stakes, so offer a discount as an incentive. You can start with a $10 coupon or a 10% off deal.

Those that started the checkout process are closest to making a purchase. These are super-hot audiences which you need to get back into the buying mood.
Typically, the further someone is down the funnel the longer you can retarget them. In the case of those that initiated checkout, you can go for up to 28 days.
That's where you should bring out your strongest offer. This can be a $20 coupon or a 20% discount, depending on what resonates with your buyers.

It's also key to exclude Facebook Audiences that are lower down the funnel.
Here's a map of which audiences to include and exclude for each campaign:
Campaign #1
Include: 7-day visitors
Exclude: 14-day add to cart users, 28-day initiate checkout users, 180-day purchasers
Campaign #2
Include: 14-day add to cart users
Exclude: 28-day initiate checkout users, 180-day purchasers
Campaign #3
Include: 28-day initiate checkout users
Exclude: 180-day purchasers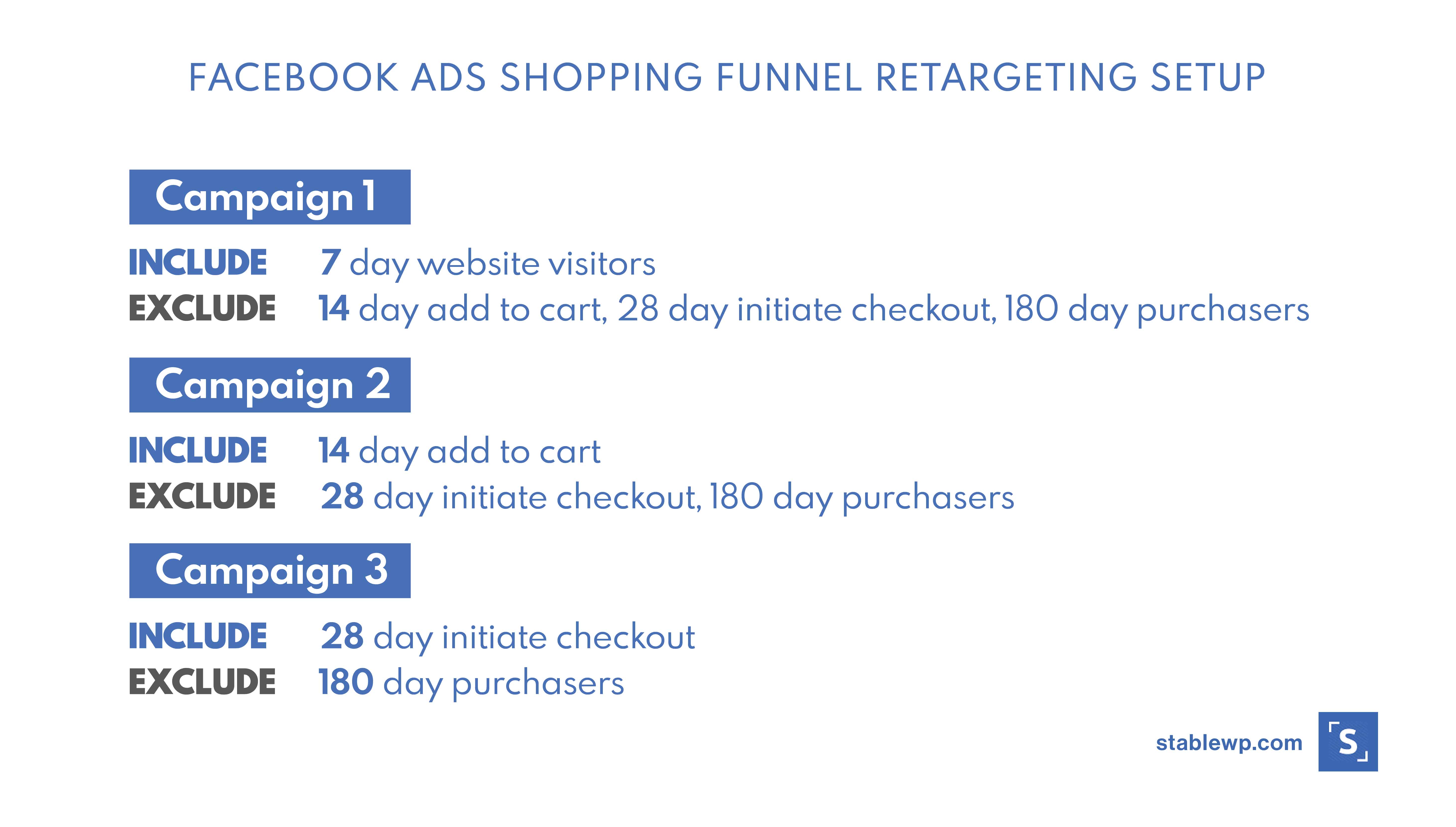 You should also exclude previous purchasers from all retargeting campaigns.
The last thing existing customers want to see is you bombarding them with ads for products they've already bought.
Set the time window to exclude previous buyers from the last 180 days.
Depending on how often people make repeat purchases from your online store, this time window can be longer or shorter.
Always avoid audience overlap since it can cause confusion and unnecessarily increase costs.
2. Time funnel retargeting
Time funnel retargeting on Facebook allows you to create a sequence of ads based on a time window for each Custom Audience. The idea is to use time intervals to emulate the funnel stages that comprise a customer journey.
Only in the case of a time funnel, recency of visit is an important indicator as to whether someone will convert or not.
The Audiences closer to the initial visit are the hottest (BOFU) and closest to the purchase. As time passes, they get colder and further move away from the sale.
This type of time funnel retargeting works well in many situations. For example, when it's not possible to retarget users based on their actions or for products that have a longer sales cycle.
Time funnel retargeting is especially useful for subscription-based products.
Let's go through an example…
Campaign #1
Objective – Get a 3-month subscription
Audience – 1-4-day visitors
Offer – $20 coupon
Campaign #2
Objective – Get a 1-month subscription
Audience – 5-8-day visitors
Offer – $10 coupon
Campaign #3
Objective – Sell a one-off product
Audience – 9-12-day visitors
Offer – Free accessory
Campaign #4
Objective – Sell a tripwire product
Audience – 13-16-day visitors
Offer – $10 (low-cost) item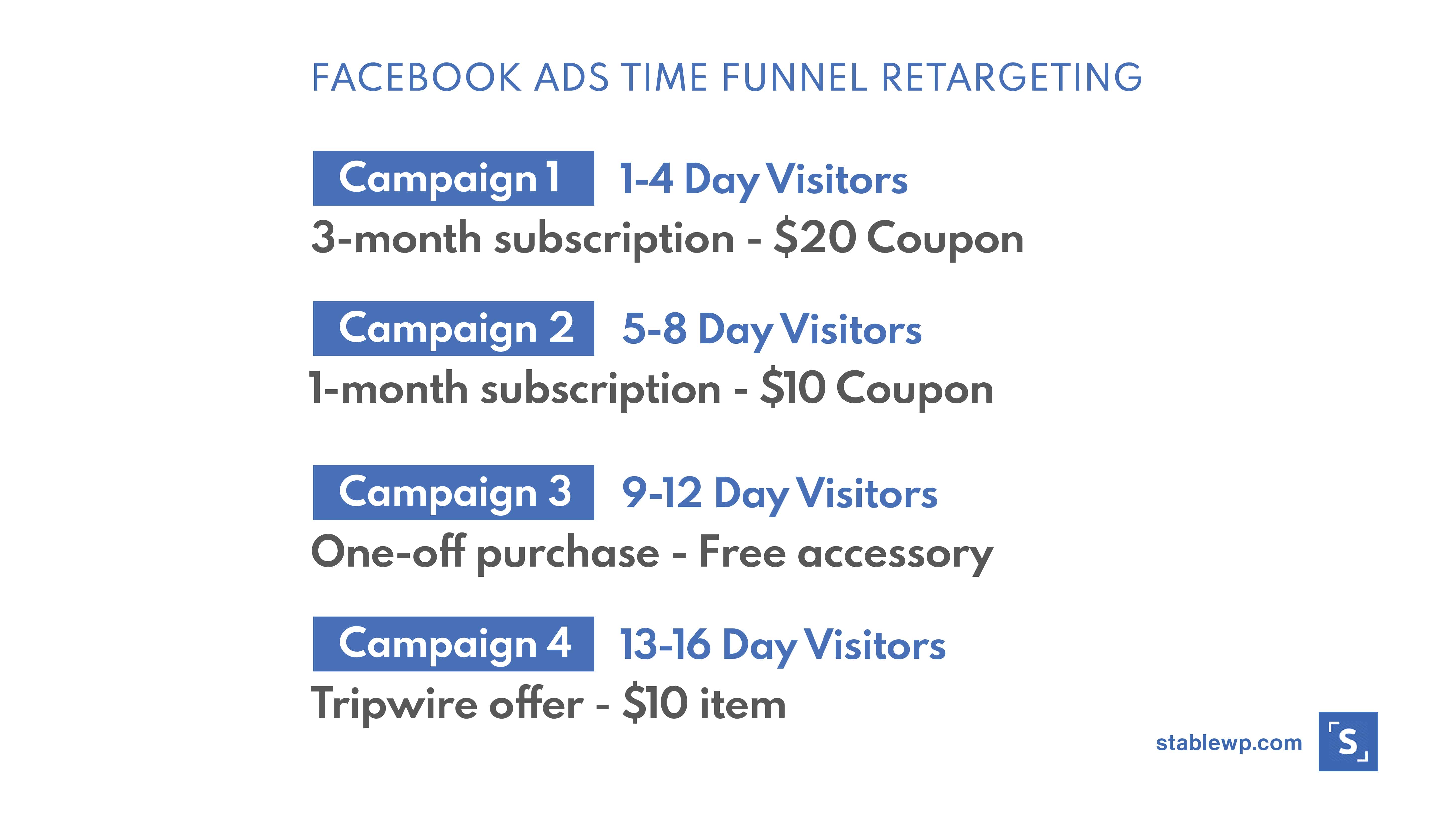 On days 1-4 after a visit to your online store without a purchase, you'll want to aim big and try to get a 3-month subscription.
This is where you'll want to pitch your core offer and provide the biggest incentive. A $20 coupon or a 50% discount can work to push the user over the edge to subscribe.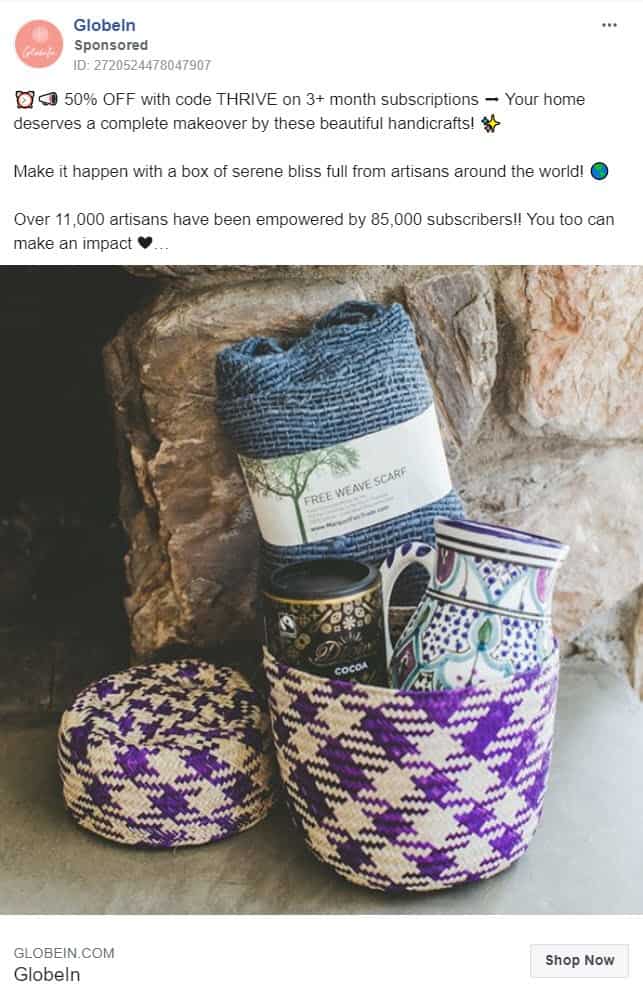 If that doesn't work, you can run the next ad from day 5 to 8 that promotes a 1-month subscription.
Since this is still a very warm audience you can offer a high-value discount, like a $10 coupon code.
In this case, you're asking for a lower commitment and you're giving up a lower value offer.
If they don't purchase in the first 8 days, you don't want to give on them yet. There's still a chance.
Now you should try and switch up the offer. Use Facebook retargeting to promote a one-off product instead of a long-term commitment.
Offer up a product with a free accessory or a gift as an incentive.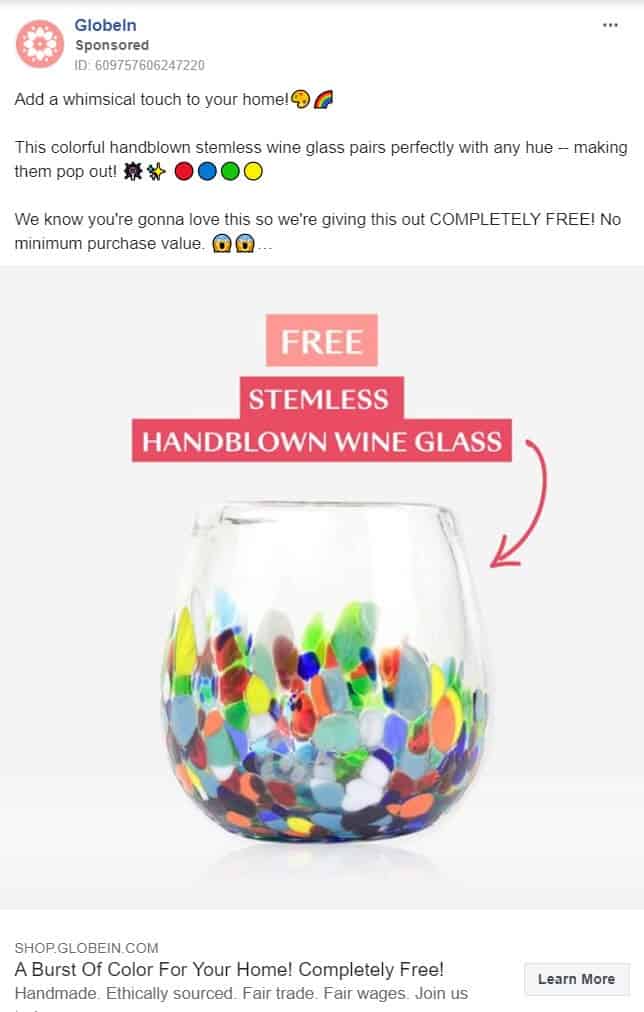 Finally, if all else fails, you can try one more time with a tripwire offer. This would be a very cheap, low-cost item just to help turn that prospect into a customer.
You can always upsell them later once they pass that psychological threshold.
PRO TIP: Most conversions happen in the first 4 days after the initial visit. Ask for the highest commitment and promote your best offer first, while the shoppers are still hot. Then gradually pull back, ask for lower commitment and offer lower-value incentives as their buying intent cools down.
Again, it's essential to get your Facebook Audience right. Make sure you include and exclude the right people from each campaign.
However, Facebook doesn't allow you to exclude users in the 5-8, 9-12, or 13-16-day time windows. This is where it gets creative so do follow along:
Campaign #1
Include: 1-4-day visitors
Exclude: 180-day purchasers
Campaign #2
Include: 1-8-day visitors
Exclude: 1-4-day visitors, 180-day purchasers
Campaign #3
Include: 1-12-day visitors
Exclude: 1-8-day visitors, 5-180-day purchasers
Campaign #4
Include: 1-16-day visitors
Exclude: 1-12-day visitors, 180-day purchasers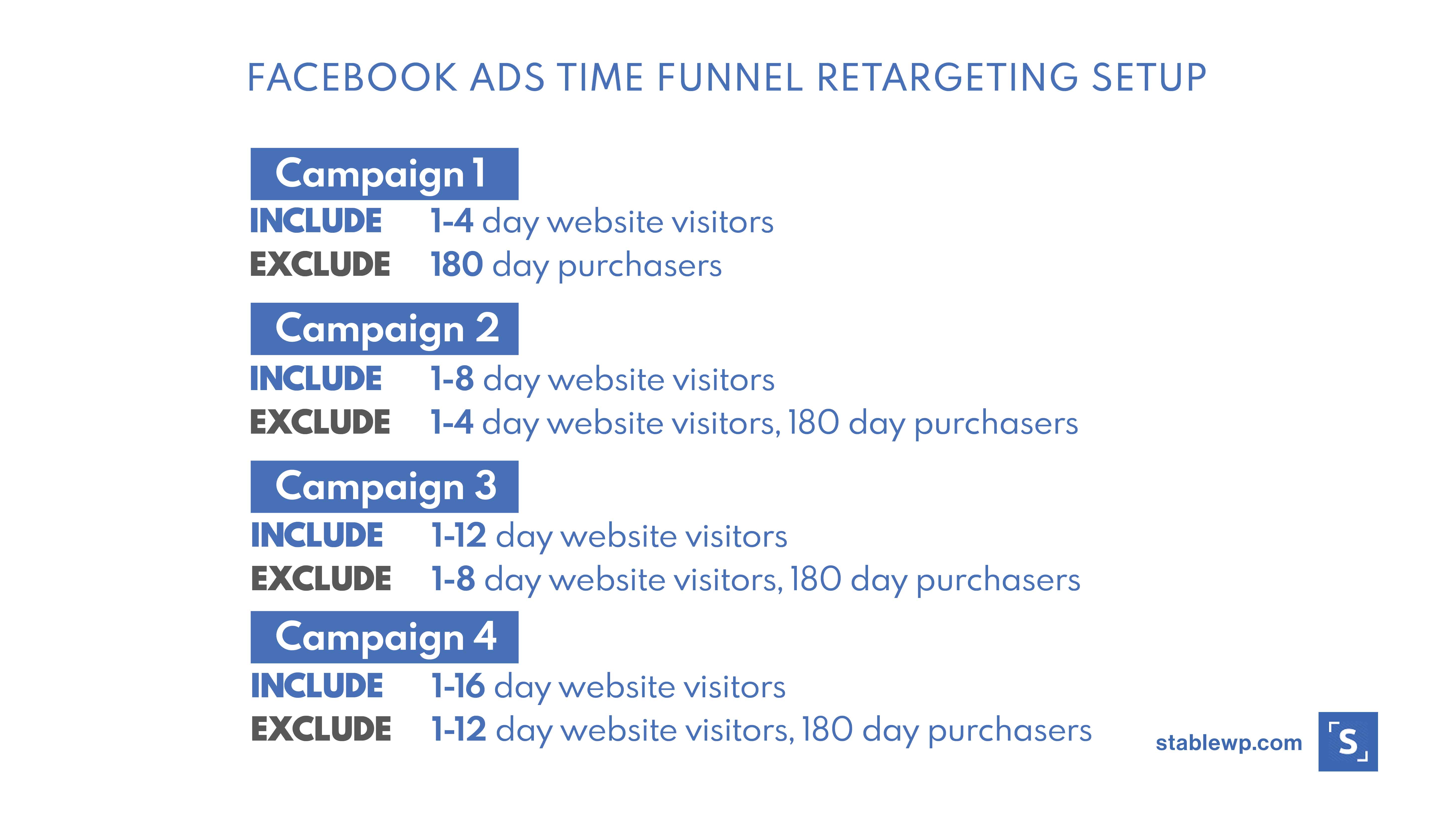 If you're selling impulse-purchase products that are lower cost, you'll likely need to retarget shoppers for fewer days.
On the other hand, for higher-end stores selling big-ticket items, retargeting might take place over a 180+ time window.
Depending on your type of product and the shoppers' behaviour you can determine the exact time windows for each segment.
Remember that Time Lag report from earlier?! Well, you can use it to set your Facebook Audience time ranges.
From this analysis, you may determine that it's best to break down your retargeting Audience into 4 groups: 1-4 days, 5-8 days, 9-12 days, and 12-60 days. Or some other way.
It all comes down to how your specific shoppers behave and how many days it takes them to purchase.
3. Themed seasonal retargeting
Seasonal retargeting is a Facebook retargeting strategy that uses themed promotions that match the holidays and seasons to get shoppers back to your e-commerce site and into the buying mood.
The two retargeting strategies from earlier, Shopping Funnel and Time Funnel work dynamically. So, people enter and drop off from these retargeting audiences.
But what if a user finishes your entire retargeting sequence and even after 14 or 28 days they still don't convert?
Even then, you shouldn't give up on them!
This is when you can use seasonal retargeting on Facebook and Instagram. Create promotions around holidays such as Labour Day, Canada Day, International Dog Day, Easter, Christmas, Black Friday, etc.
You can also create themed promotions around seasonal events, like Back to School Sale, Spring Sale, Winter Sale, etc.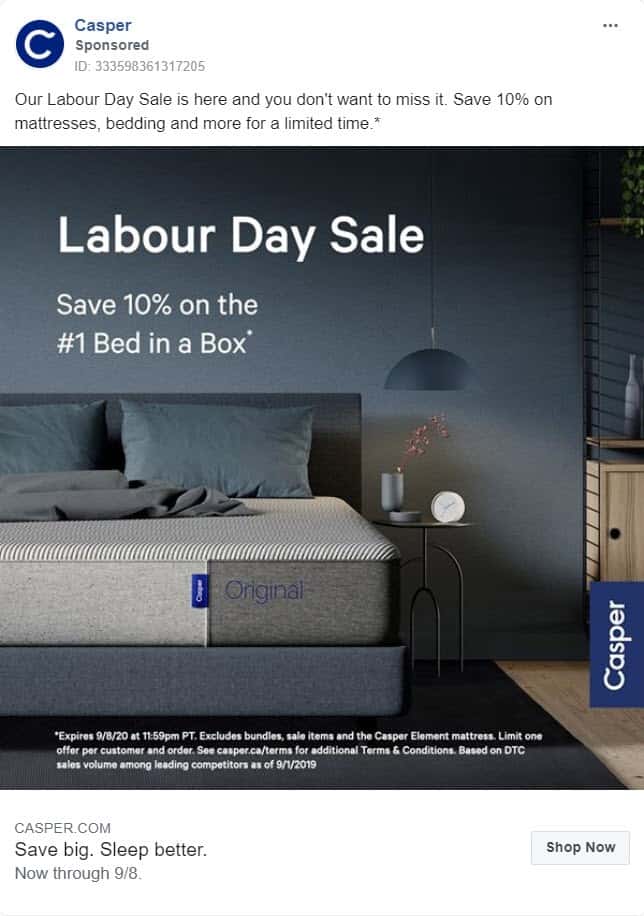 Depending on your products, you may also use gift-giving events and holidays to inspire shopping like Mother's Day, Father's Day, Valentine's Day, etc.
So, instead of offering random discounts, create special themed sales that would help your ads stand out in the Newsfeed on Fb and IG.
Run up to two promotions each month to give shoppers enough time to get excited and start buying.
As a rule of thumb, you should run each promotion until potential buyers begin losing interest and your performance starts to decline. Once the numbers go down, pause the promotion and switch to the next one.
A key thing to running successful seasonal retargeting campaigns is to ensure you exclude the right audiences to prevent overlap. In this case, you'll want to exclude all users that are currently in your Shopping or Time Funnel sequence, depending on which one you're running.
If you're stuck coming up with ideas for themed retargeting promotions, you can download the latest Marketing Calendar from Twitter.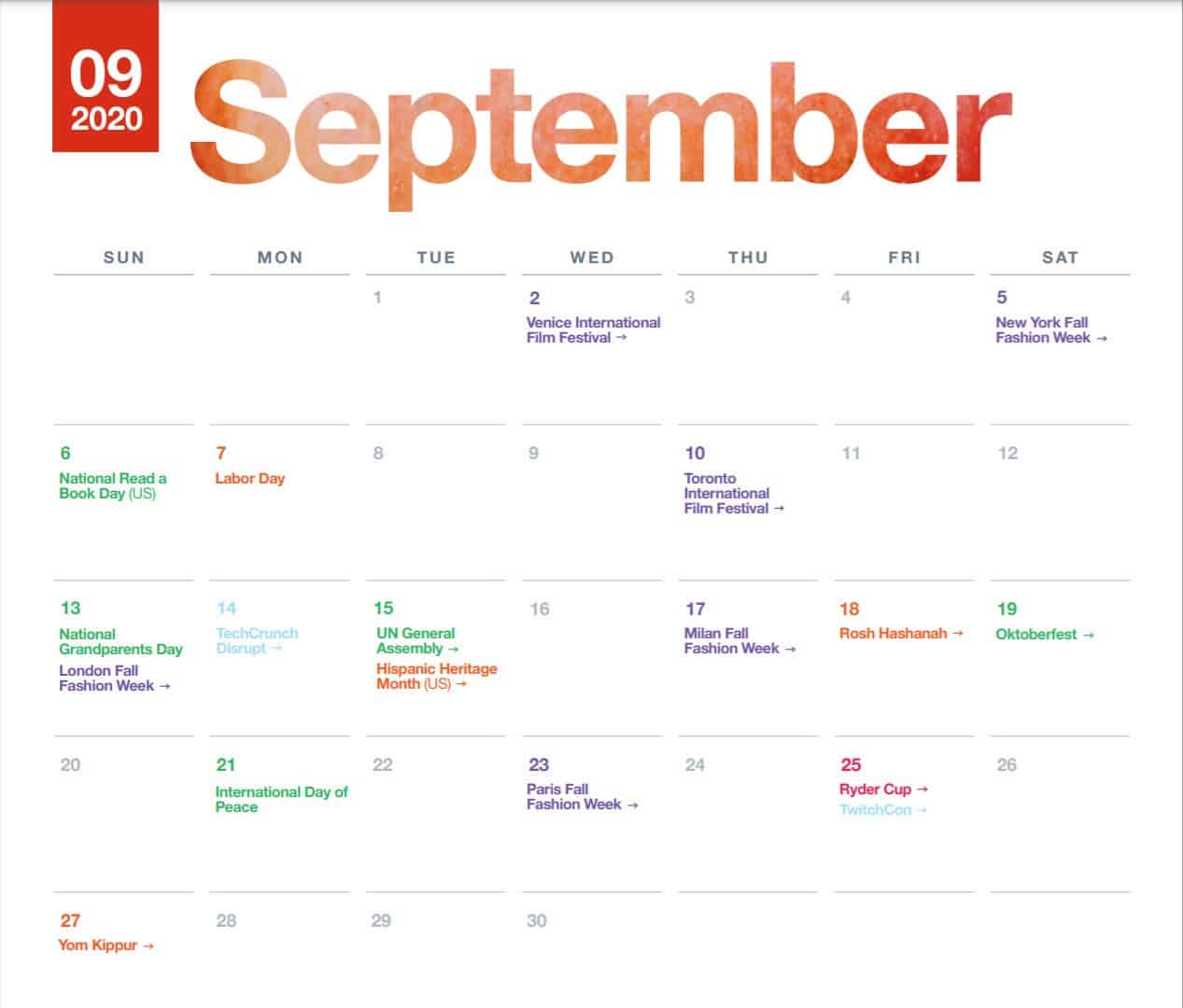 It's a great resource that can help you map out your seasonal retargeting campaigns for each month, quarter, or the entire year.
4. Retargeting Email Custom Audiences
Another powerful Facebook retargeting strategy includes using one of your most valuable audiences which is your Email Custom Audience. This is a list of your leads and existing customers.
One of the biggest advantages of this strategy is that you can retarget these users (almost) forever. This makes it a perfect option for seasonal retargeting mentioned earlier.
You can use Email Custom Audience not only to encourage first-time purchases but also for repeat purchases to increase the customers' lifetime value.
The idea is that customers that bought from you previously are more likely to buy from you again during the holiday or gift-giving season. Also, those that bought from you during the last Black Friday sale, are more likely to buy again this holiday season.
And that's one of the biggest advantages of Email Custom Audiences, since the membership lasts forever, unlike the Pixel audiences that only last for 180 days.
To create an Email Custom Audience, you need to select the Customer List and add the CSV or TXT file containing users' contact information.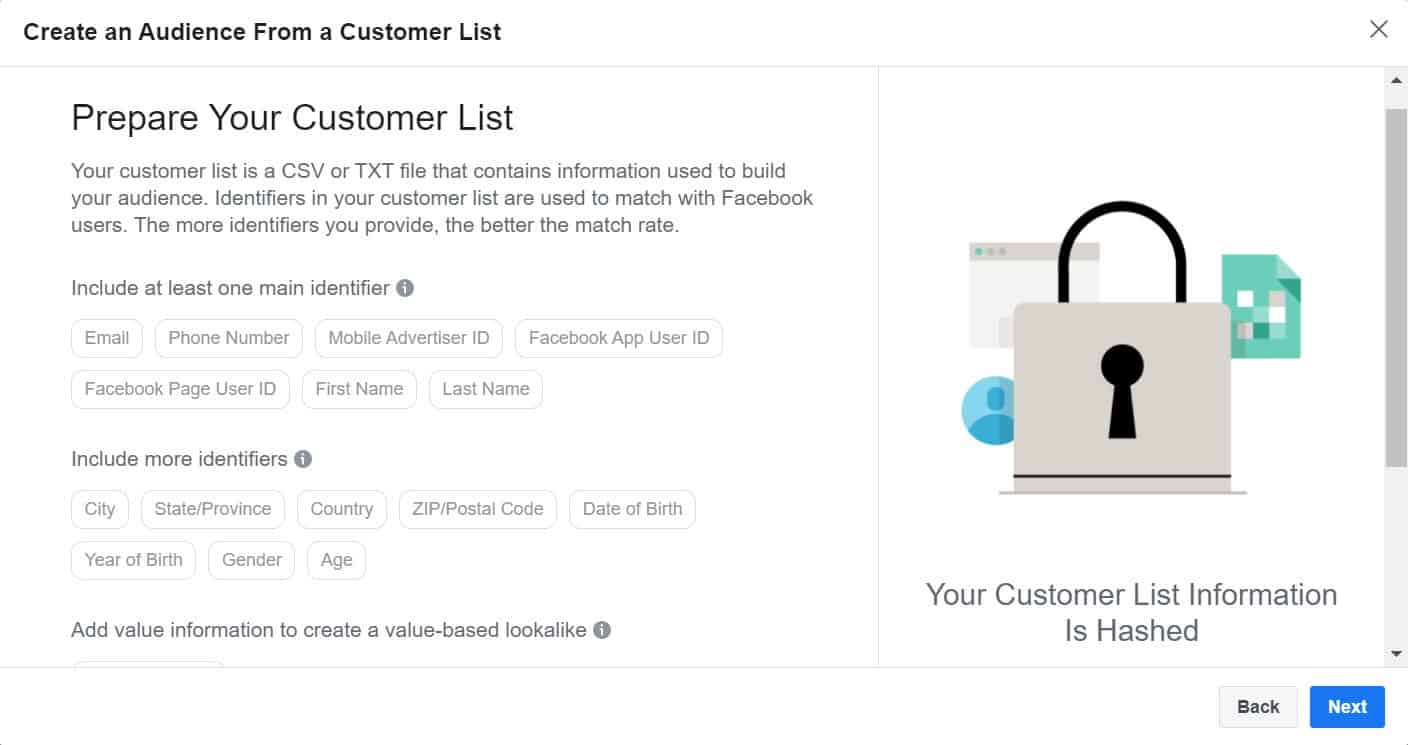 Once you upload your email list, Facebook will try to match those addresses to user profiles.
You can automate the upload of your email list using Facebook integrations with your CRM.
Another powerful way to use Email Custom Audience is to offer your best customers VIP and other special promotions to encourage repeat purchases.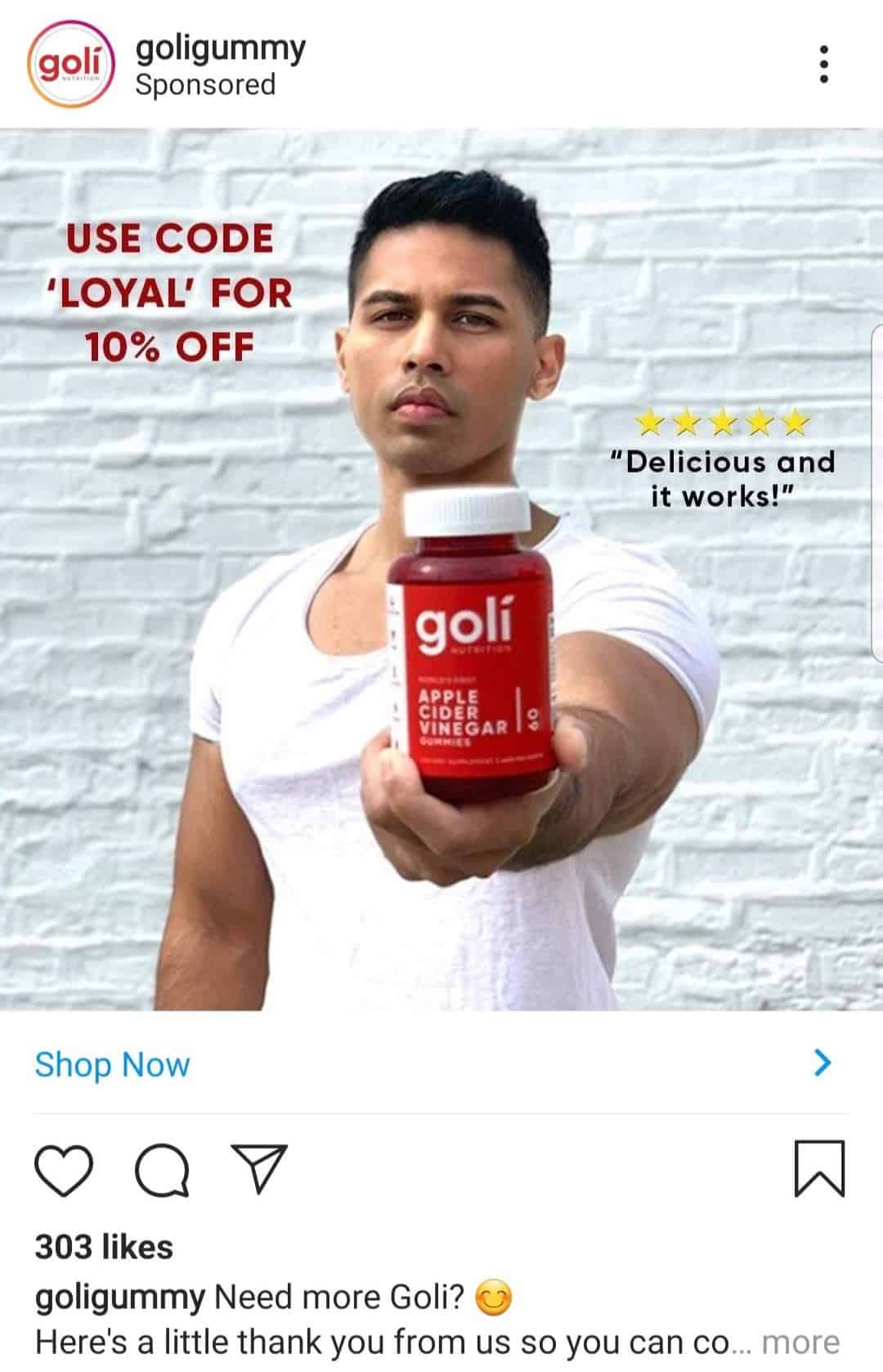 To make this strategy work, create a special Custom Audience to retarget users who made a purchase 30 or 45 days ago, depending on repurchasing frequency.
For example, if you're selling is a one month's supply of tea, create a campaign that targets a 45-day purchaser audience and excludes a 25-day purchaser audience.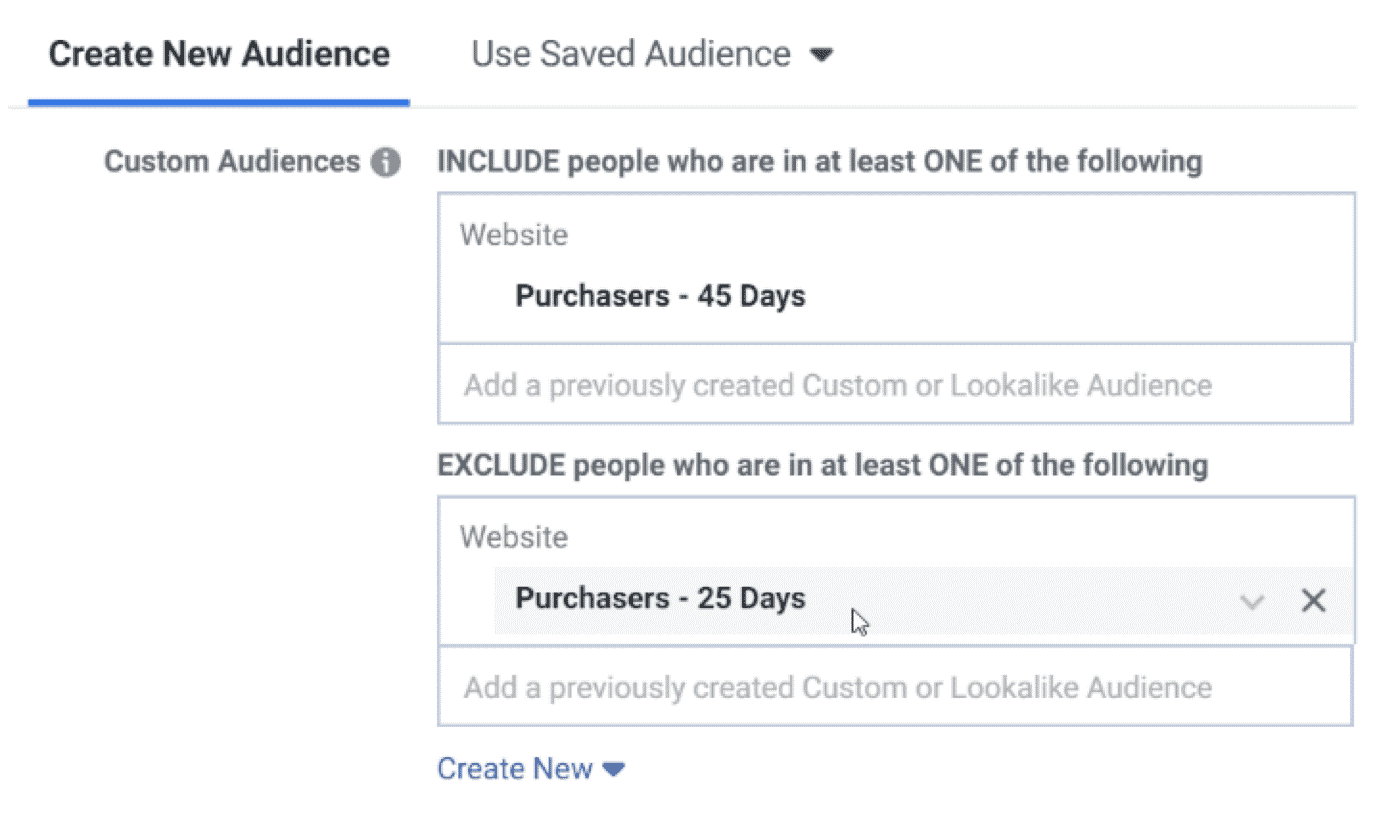 For even better performance, optimize this campaign for Value to receive higher-value purchases and improve your return on ad spend (ROAS).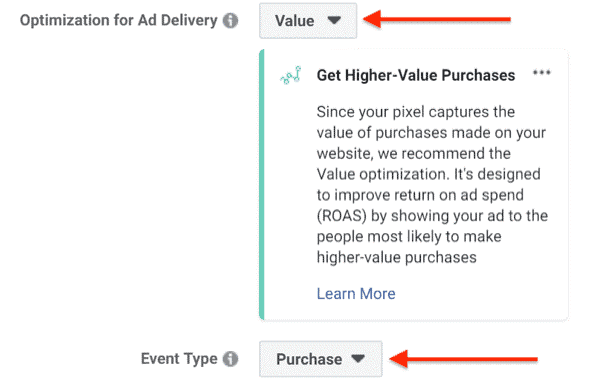 Unfortunately, Email Custom Audiences on Facebook come with a few drawbacks.
First of all, you can only retarget people that left their email addresses. Pixel, on the other hand, allows you to retarget anyone visiting your site no matter if they signed up to be a lead or became a customer.
The other drawback is that the match rate of emails on Facebook is only around 60-70% and is even lower for B2B. This is due to users not using the same email for shopping as the one they use to create a Facebook or Instagram account.
That's why it's best to use a combination of email lists and Pixel audiences for Facebook retargeting.
5. Dynamic retargeting on Facebook (DPA)
Dynamic product ads (DPA) on Facebook allows you to retarget users showing highly relevant ads that feature products a shopper was browsing or adding to cart. This advanced retargeting strategy is very effective at bringing shoppers back to their cart or checkout to complete their purchase.
So, when a shopper visits your site, views products or even adds some to cart without purchasing, the next time they're on Facebook or Instagram they'll see personalized ads featuring those exact products.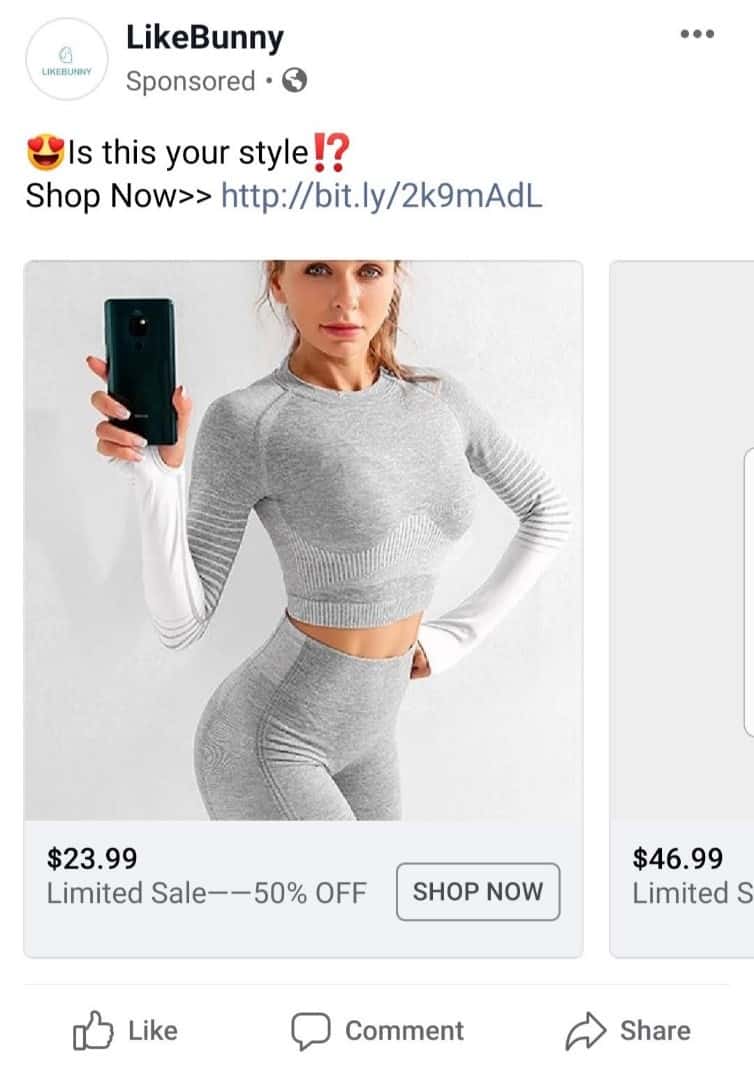 DPA is especially effective for e-commerce sites that have a large inventory with a diverse product range.
Facebook DPAs pulls product images, titles, prices, and descriptions directly from your e-commerce store to create a carousel of products a shopper might be interested in.
To run DPA on Facebook and Instagram you need to select the Catalog Sales objective during the campaign creation.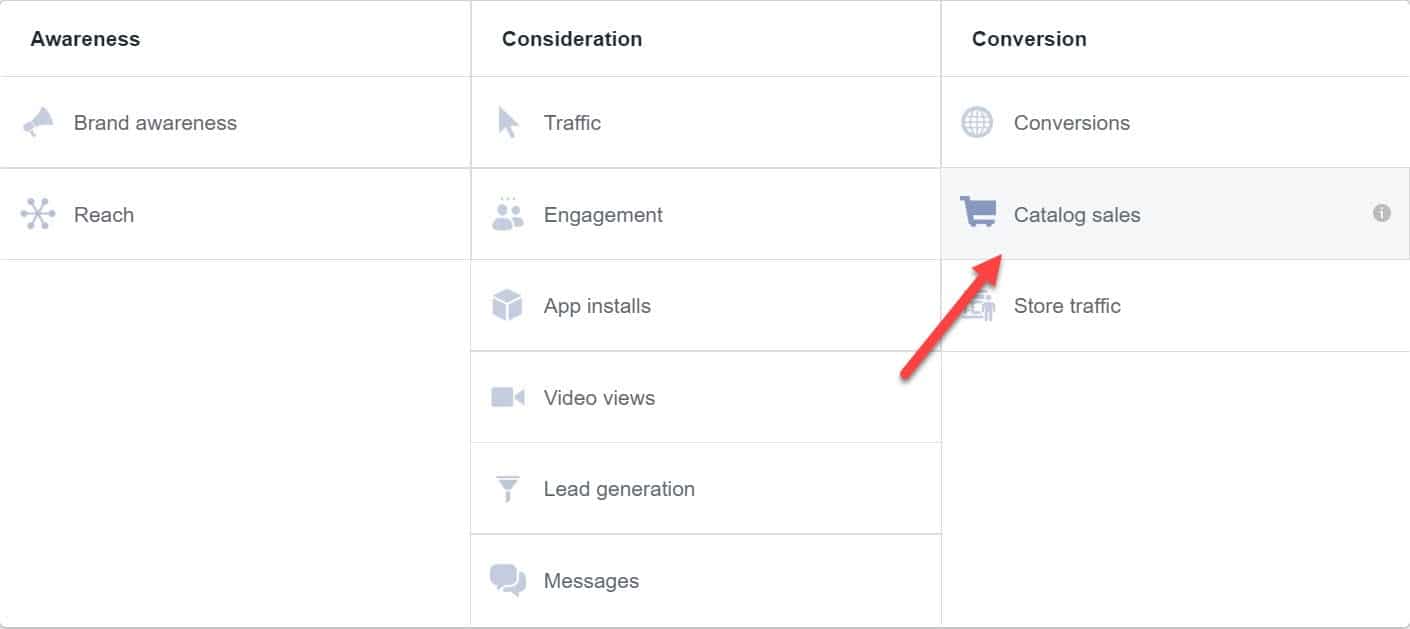 On the next step, select the Create New Audience to retarget ads to people who interacted with your products on and off Facebook.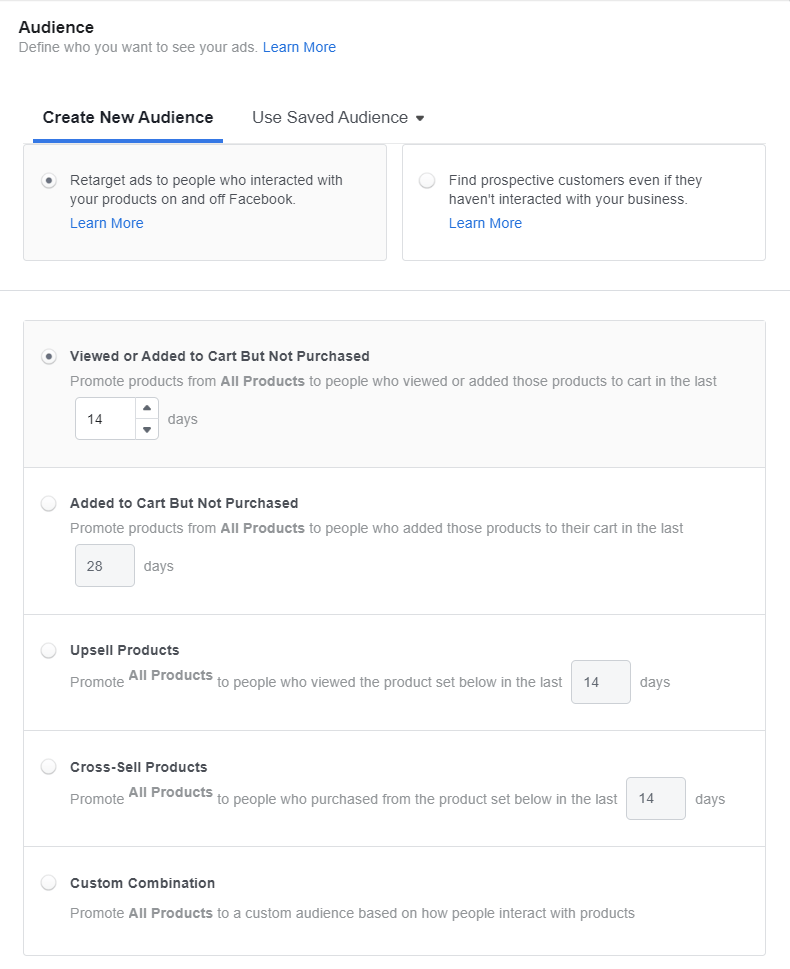 You can choose to retarget users that viewed products or added to cart, or just those that added to cart but haven't purchased.
There's also the option to create a custom combination of criteria you'd like to use.
Follow the same system as for the Shopping Funnel retargeting.
Set the time window for product viewers to 7 days and for those that added to the cart to 14 days.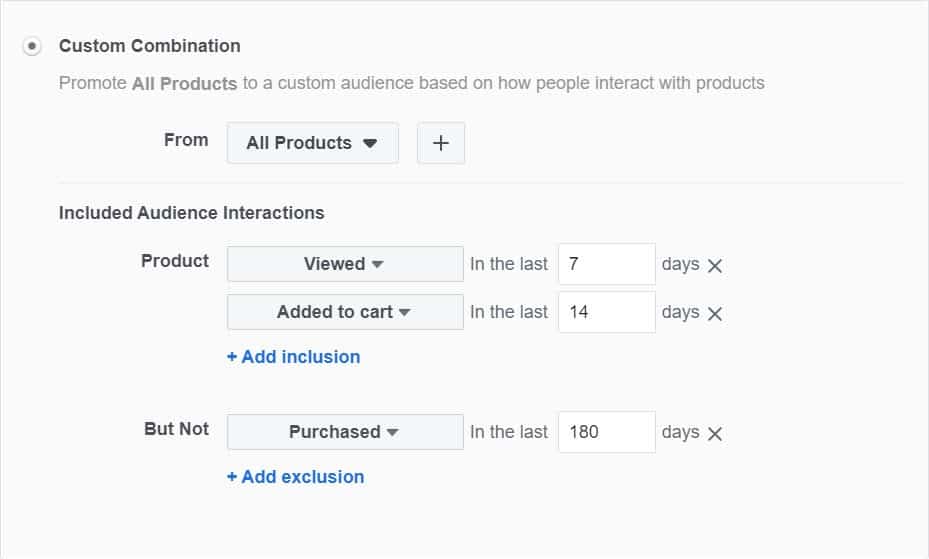 Also, don't forget to exclude purchasers from the last 180 days (depending on your repurchasing frequency).
DPA on Facebook gives you a few other cool options to increase the AOV and CLV of your customers.

You can dynamically retarget users that have purchased a product in the past few days and offer them complementary products as a cross-selling tactic.
The idea is that users that have already purchased from you in the last couple weeks may be interested in complementary products, which is a perfect opportunity for you to get them buying more from your store.
6. Retargeting based on engagement
Retargeting users based on engagement with your profiles on Facebook and Instagram is another powerful way to guide prospects towards a sale. You can dynamically retarget audiences based on the following types of engagement:
Facebook Page
Instagram Business profile
Video views
Ad engagement
Messages to your Page or Business Profile, etc.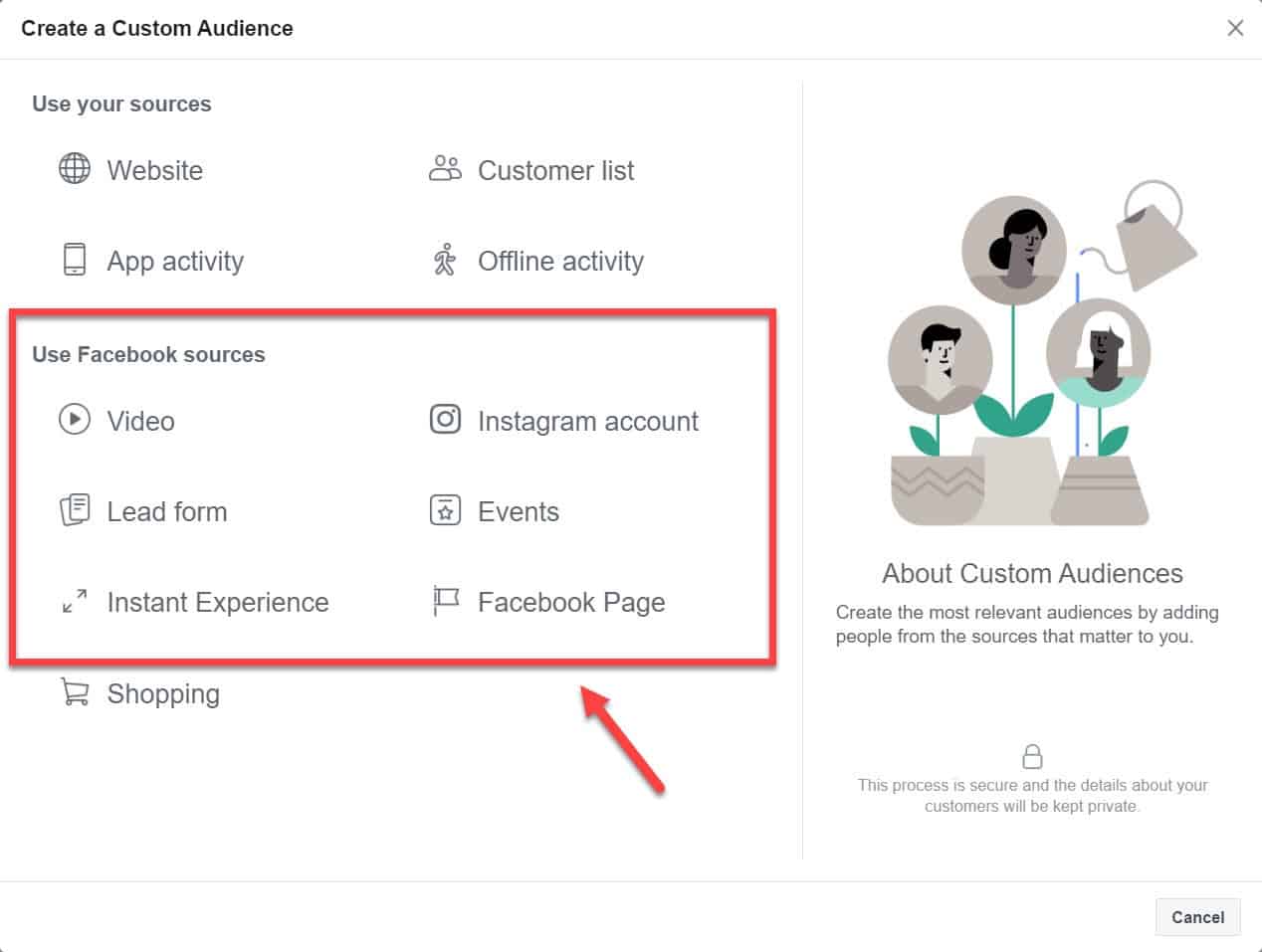 Use a shorter time window for engagement audiences since their intent is much weaker compared to that of store visitors, product viewers or cart abandoners.
For example, start with the following time windows:
3-day Facebook page engagers
3-day Instagram profile engagers
3-day video viewers, minimum 25% watch time
3-day ad engagers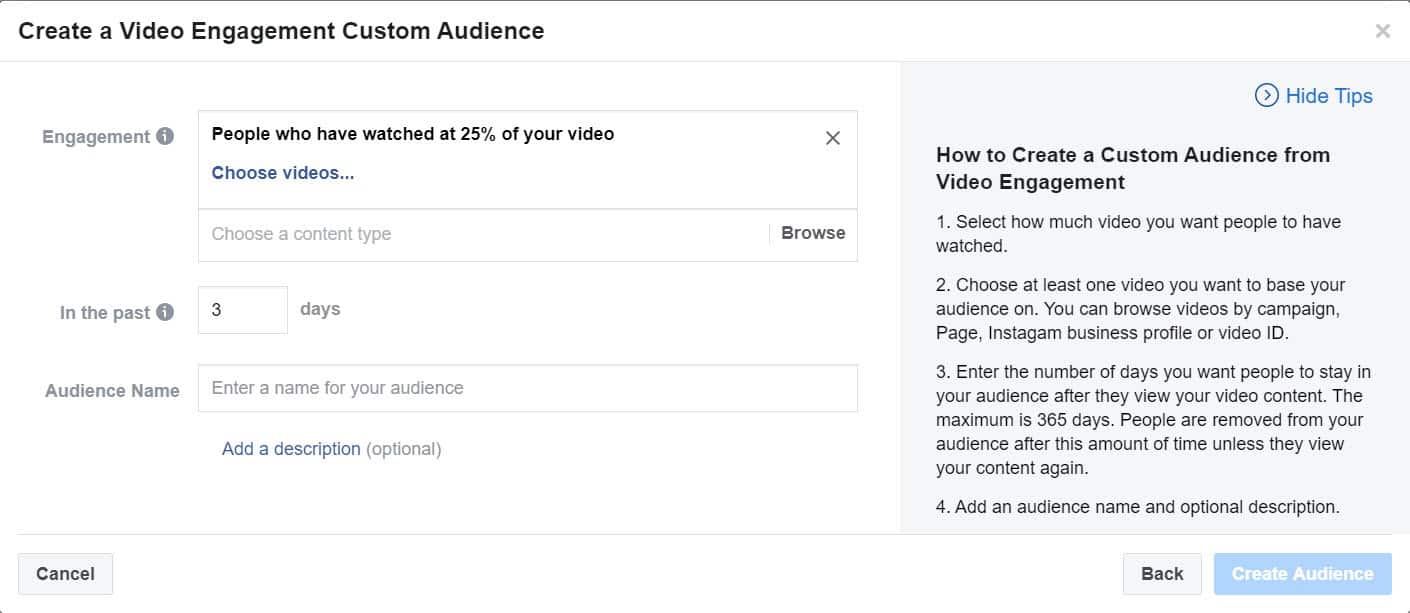 Of course, you can add these users to your seasonal campaigns later on.
In that case, you should start with a 90-day time window.
Engagement on social media as well as interactions on your e-commerce site imply whether the shopper is in the top of the funnel (TOFU), middle of the funnel (MOFU) or bottom of the funnel (BOFU):
Social media engagers (TOFU)
Website visitors (TOFU)
Viewed product page (MOFU)
Added to cart (BOFU)
Initiated checkout (BOFU)
Based on this you can map out the time windows and offers for each audience.
What this essentially means is that you likely must nurture engagement audiences with more touchpoints before you start pitching your high-value offers.
Engagement audience retargeting serves as a precursor for your Shopping or Time Funnel, and other retargeting campaigns.
Once a user watches your video ad, checks out your Facebook Page or comments on your posts, you can retarget them with soft offers that don't require too much commitment. Encourage them to visit your online store, browse products or sign up for your lead form.
After that, you can continue retargeting with other campaigns we mentioned earlier based on their interactions with your e-commerce store.
7. Retargeting based on Facebook/Instagram Shops
The final advanced retargeting strategy is to re-engage users that have interacted with your Facebook or Instagram Shop. This is a fairly new feature that can help increase your retargeting pool and provide more options to get shoppers deeper into your sales funnel.
Recently Facebook launched a new shopping feature that allows you to set up an additional online shop on your Facebook and Instagram pages.
You can create a storefront on your pages with the option for users to browse products and even add items to cart and checkout.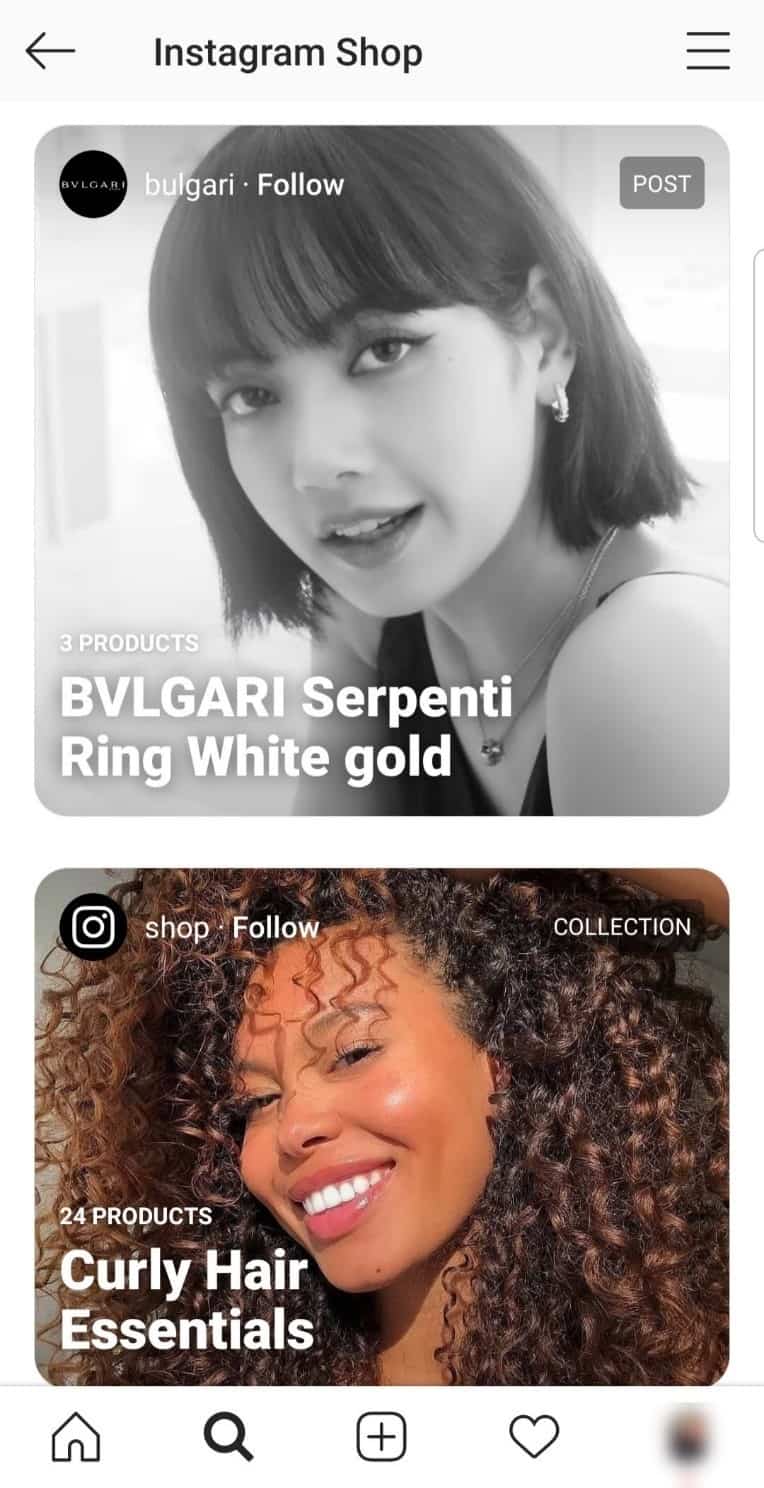 To run this retargeting strategy, you need to create a Custom Audience by selecting the Shopping option in Facebook Ads Manager.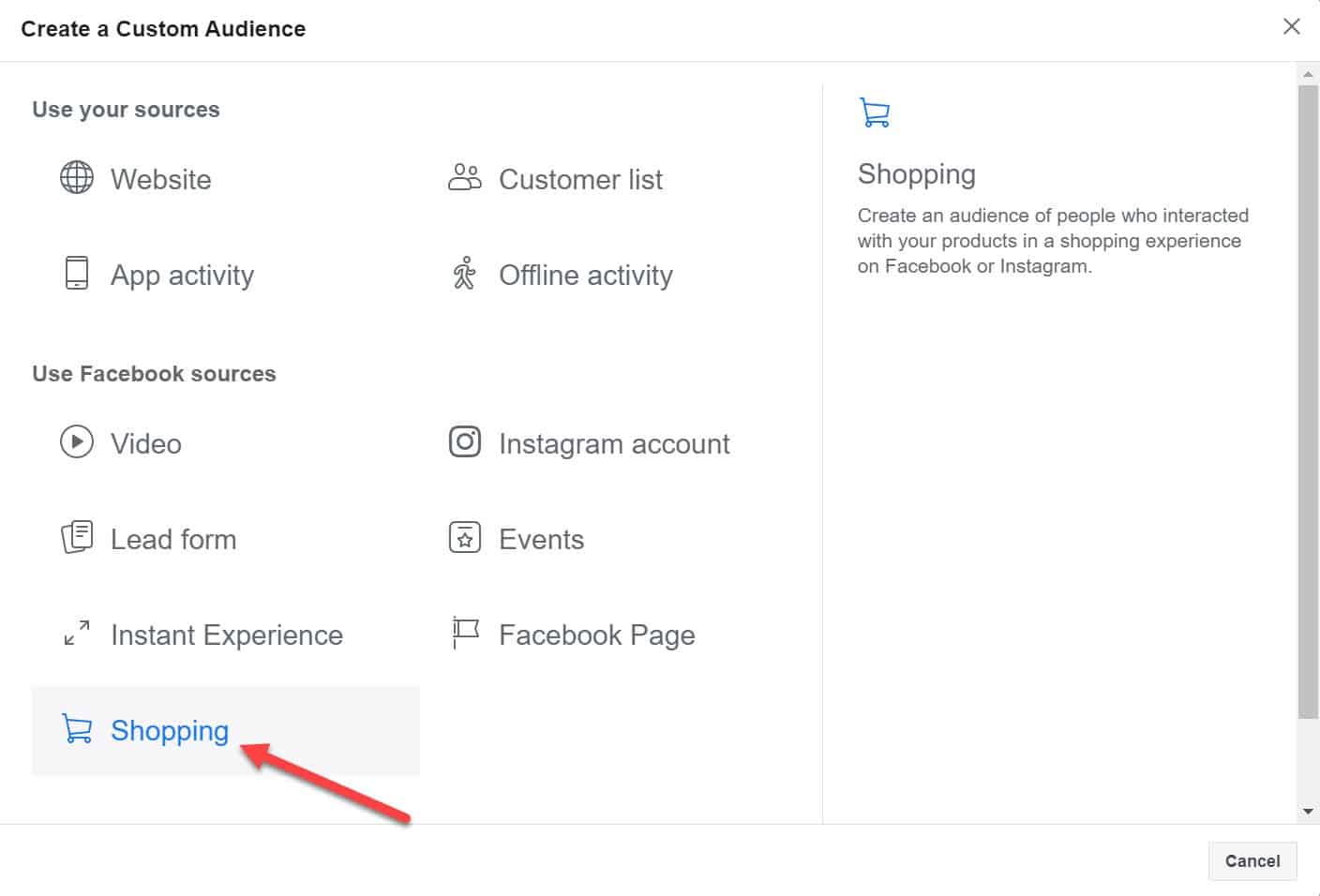 From there you can create a retargeting audience based on users that:
Viewed products on your Facebook/Instagram Shop
People that added a product to cart
Those who purchased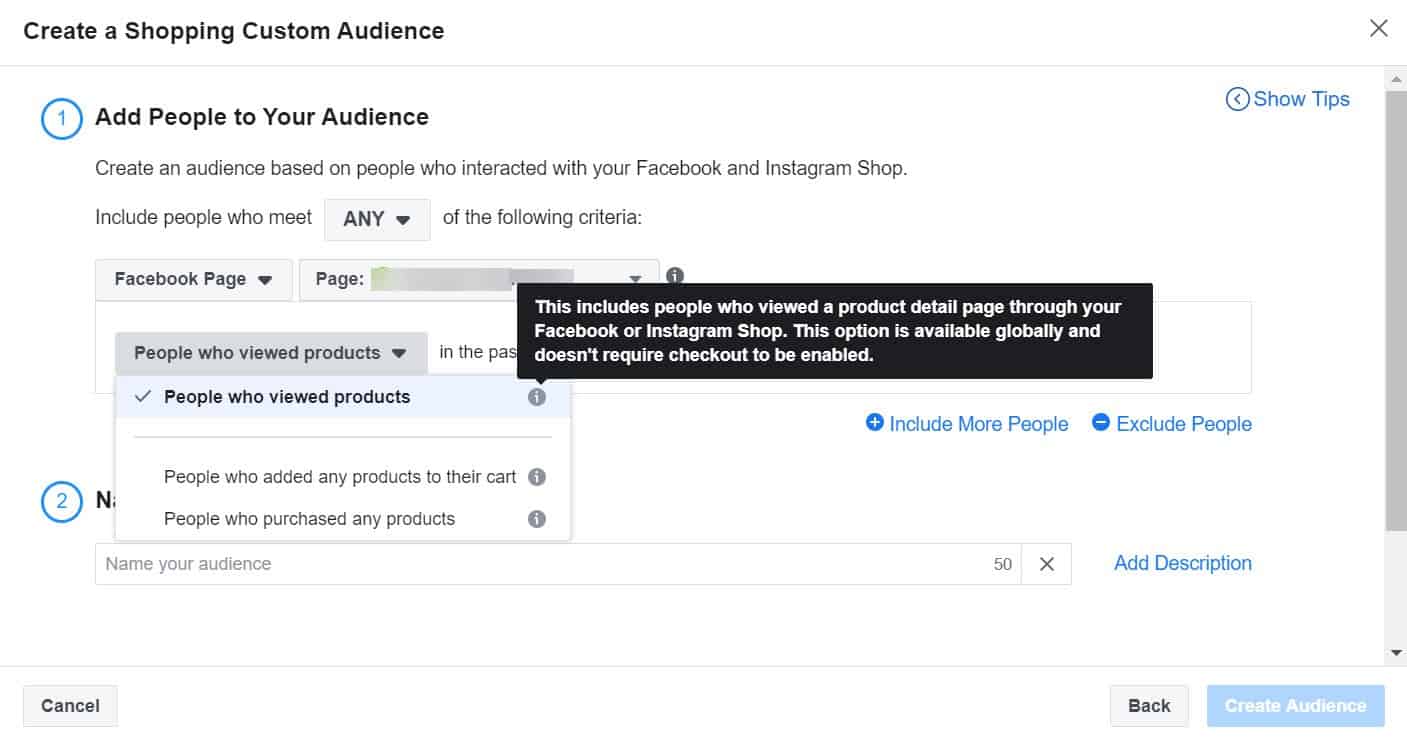 Similar to Shopping Funnel retargeting strategy we mentioned earlier, you can create campaigns to reach users based on how far they've gone into the buying process.
Campaign #1
Audience – Product Viewers
Time window – 4 Days
Offer – Free Shipping
Campaign #2
Audience – Add to Cart Users
Time window – 7 Days
Offer – Discount
Start by testing shorter time windows for these audiences. For example, 4 days for product viewers and 7 days for add to cart users.
Also, remember to exclude purchasers to avoid wasting ad budget on those who already converted.
That provides another effective way to re-engage people who've expressed a clear interest in your products.
Best offers for e-commerce retargeting
To make your Facebook retargeting work effectively you need to pair your ads with special promotions and incentives. These would trigger the shopper to make a decision and buy from your online store.
It's essential to address any objections that may be preventing potential customers from buying.
Some most common objections and offers are:
Price – Address with discounts or easy financing options
Shipping – Promote (conditional) free shipping
Delivery time – Highlight fast delivery
Warranty – Mention your warranty duration for peace of mind
Risk – Boost shoppers' confidence with easy returns and money-back guarantee
Commitment – Include easy cancellation in your retargeting ad copy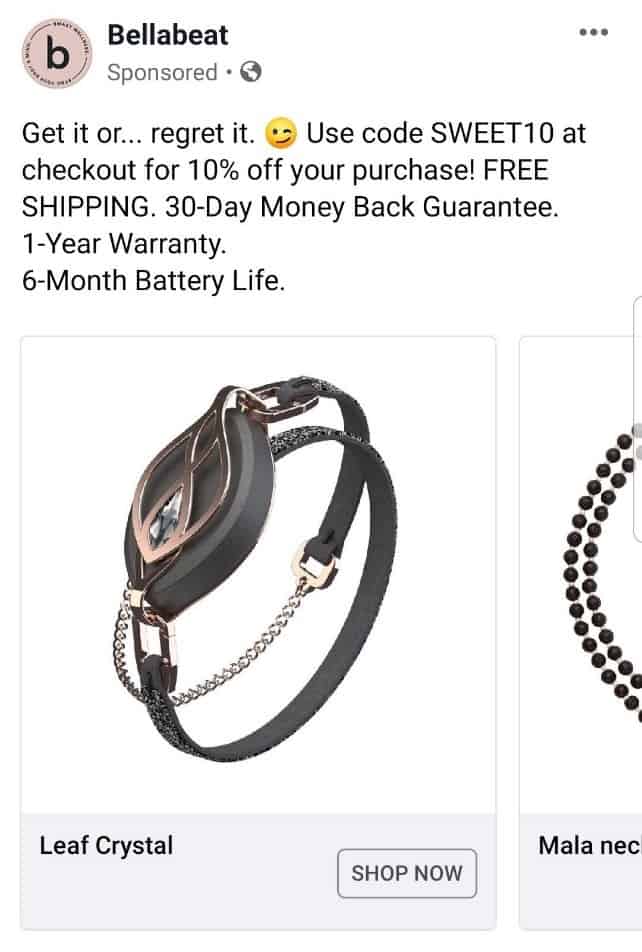 Your ad copy should answer questions customers have during the consideration phase of their purchasing journey.
There are essentially four types of offers proven to work for e-commerce retargeting:
Free accessories
Free shipping
Money off
Percentage discount
Free products and accessories are a great way to incentivize e-commerce sales.
There are two main reasons that make this type of offer so powerful.
For one, you're not devaluing your brand with discounts, especially if you're selling premium products. And it avoids eating up your profit margin.
Secondly, people love freebies. It enhances the value of your products even further.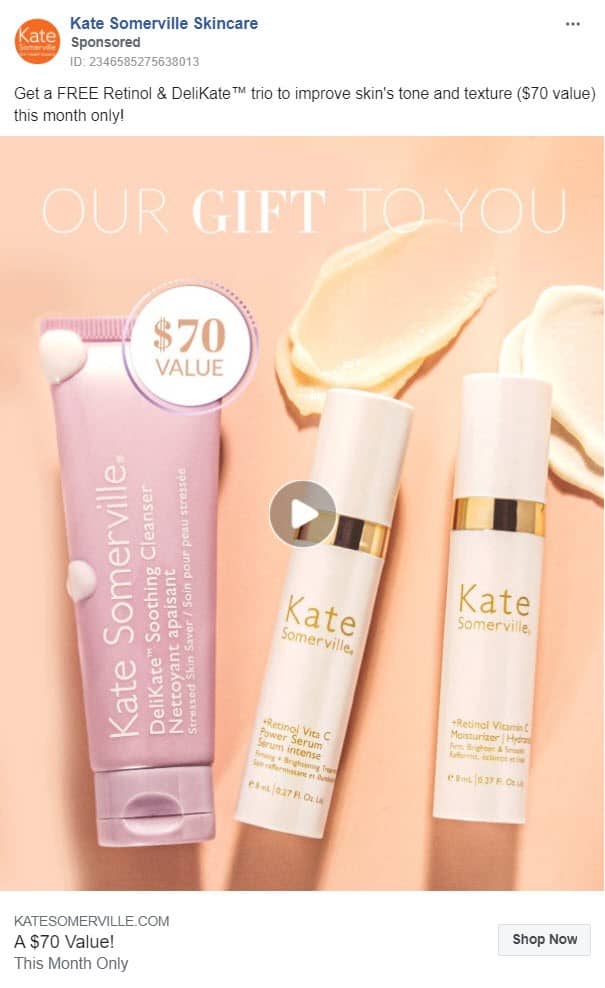 Look for products that are very cheap to buy in bulk but have a good perceived value in the eyes of your customers.
Free shipping can also be a compelling offer for retargeting.
One of the most common buying objections is the shipping cost. By offering free delivery you can encourage potential customers to pull out their wallets and make the order.
One of the best ways to use this incentive is to offer conditional free shipping to increase the order value.
For example, offer free shipping on all orders above $50.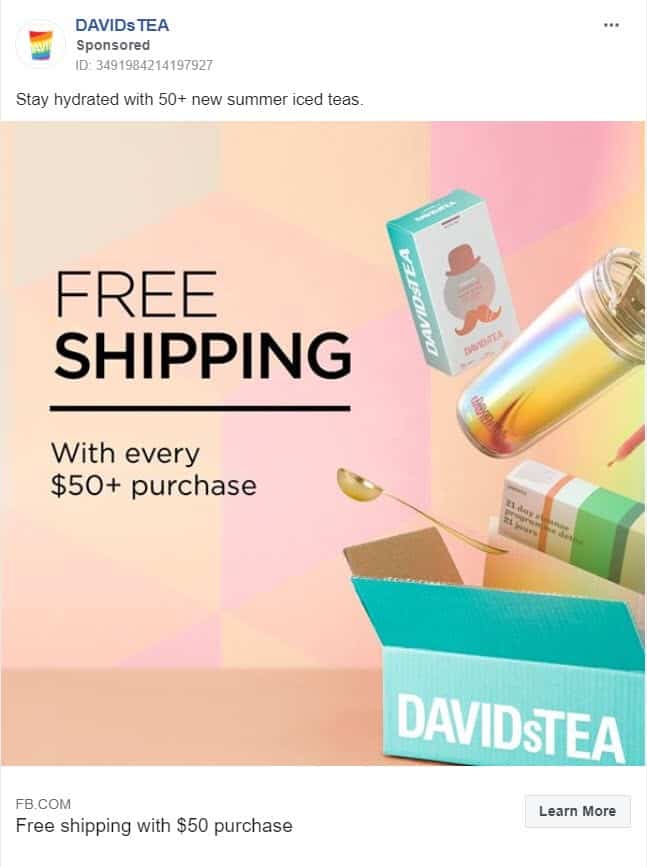 This way you ensure shoppers make bigger orders which helps you generate more profitable sales.
Finally, we have discounts and coupons.
Monetary discount shows a reduced price in terms of $$$.
For example, you can offer $25 off as a buying incentive.
You can even present your monetary discounts with slashed prices to leave a phycological effect.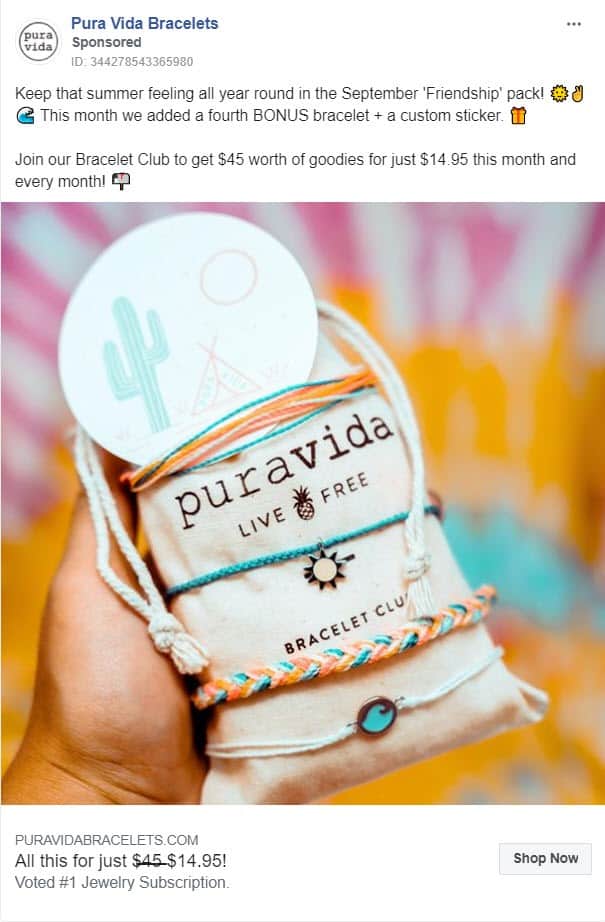 If prospects don't act now, they'll miss out and they'll have to pay the full price later.
Percentage discount works by promoting a reduced price in the %%% amount.
For example, you may offer a 30% discount that expires in the next hour.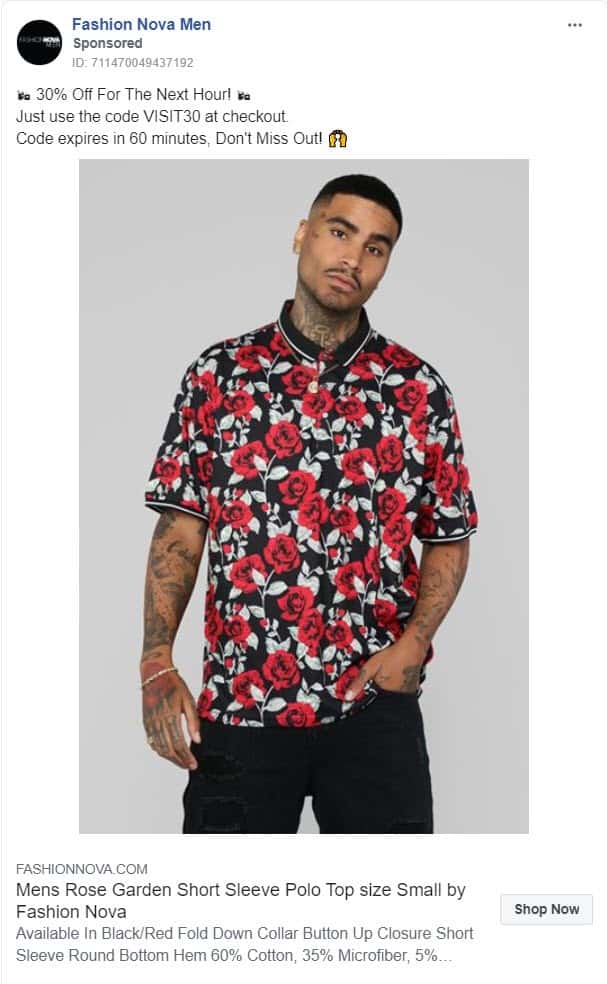 Both monetary and percentage discounts work in the same way.
The general rule is to use the discount type that sounds better. The one with a higher perceived value.
If you're selling an inexpensive $25 product, then a 20% discount has a higher perceived value than $5 off.
On the other hand, if you're selling a big-ticket item that costs $2000, then $200 off may sound more impressive than a 10% discount.
Test each option to see which one delivers the best results for your e-commerce.
Wrapping up
Retargeting on Facebook is one of the most essential strategies for e-commerce sales that deliver the highest ROI.
When most shoppers are reluctant to buy after just one visit, you need to create a system that automatically encourages them to come back and make a purchase.
However, keep in mind that adding all your website visitors into a single retargeting pool will lead to poor performance, low returns and wasted ad budget.
That's why you need a sophisticated retargeting system that can generate consistent sales and revenue for your online store.
Always keep in mind which audience you include and exclude, their membership duration as well as the offers and incentives you use to get them buying.
Map out your entire retargeting campaign strategy in a spreadsheet or flow chart.
However, if you need professional help setting up, managing and optimizing your Facebook retargeting campaigns reach out to us.
We maximize the value you get from your ad campaigns and scale that success further.
If you have any questions, feel free to reach out or leave a comment down below.
We read all comments 😊