As an e-commerce selling physical products, you need to figure out how to get goods to your customers.
Mastering your shipping logistics can be a serious challenge for any online merchant. And considering high shipping rates in Canada, there's not much room for error.
However, if done right your shipping strategy can be a powerful marketing opportunity.
To give you a leg up on your competition, this guide will help you take full advantage of e-commerce logistics. You'll learn how to keep shipping costs to a minimum and win more customers.
CHAPTER ONE: How to choose an e-commerce shipping solution in Canada
To kick things off, you need to pick a reliable shipping courier to work with.
One of the most common questions we get is "which shipping company should I use for my business?"
While there are many providers to choose from, there's no one-size-fits-all. Which one is best for you will depend on your products, distance, speed and other factors.
Shipping rates will dominate your decision making
Shipping cost in Canada is often exorbitantly high and can undercut the competitiveness of your online store.
To add fuel to the fire, customers expect free shipping when they're shopping online. In fact, 88% of consumers are more likely to buy if you offer free shipping.
You, like other Canadian merchants, are torn between high shipping rates and customer demand for free (or cheap) delivery.
To help you make better decisions, it worth getting a grasp on why shipping is so expensive for Canucks:
Distance – Canada is a very large country, plain and simple.
The remoteness of pickup and delivery address – We have a very small population relative to its size. Infrastructure and hubs are built in concentrated areas, which leaves a large chunk of the country underserved. Small towns or villages cost the couriers more which is why many tack on a "delivery area surcharge" for these remote locations.
Fuel costs – The price of fuel can fluctuate during a year and courier companies will transfer a part of that cost on to you as a merchant.
And that's on top of regular costs like the service fee itself, residential delivery fee, insurance, taxes, etc.
That said, shipping rates can vary wildly from courier to courier which is why it's a good idea to always get quotes from multiple companies before sending your package.
Most courier companies in Canada have shipping calculators to help you get a ballpark estimate of how the distance and size affect the shipping cost:
IMPORTANT: Make sure to sign up for a business account to get special volume discounts and other perks like better management and order tracking, free shipping supplies, etc.
Most couriers offer discount programs for e-commerce based on the number of packages you send. You may even be eligible for association discounts based on your industry.
More on actual volume discounts for each shipping company in the upcoming sections.
Finally, keep in mind that you can sign up for multiple couriers to give customers some options.
For example, use one company for short-distance delivery and another one for remote areas. Or one for standard and another courier for express delivery.
Now, let's glance over the two main factors that contribute to your shipping costs…
Consider your package size and weight
One of the decisive factors of your shipping costs is the package size and weight.
Shipping providers use package dimensions to determine rates.
If your product dimensions are relatively uniform across your inventory, choosing the right shipping company won't be too much of a problem. Just look for the courier that delivers the packages of your size and weight at the lowest rates.
Use the shipping calculators from the links above to get an idea of the costs and pick a company that is best fits your business.
Things get complicated if your e-commerce is selling a wide assortment of products with varying dimensions.
One way to go around this is to divide your inventory into groups based on size and weight and then determine which company offers the lowest rates for each group.
Packaging plays a huge role here, so keep it compact.
Carefully choose the packaging to make sure it's big enough to hold your products safely, while not being too big that it inflates shipping costs.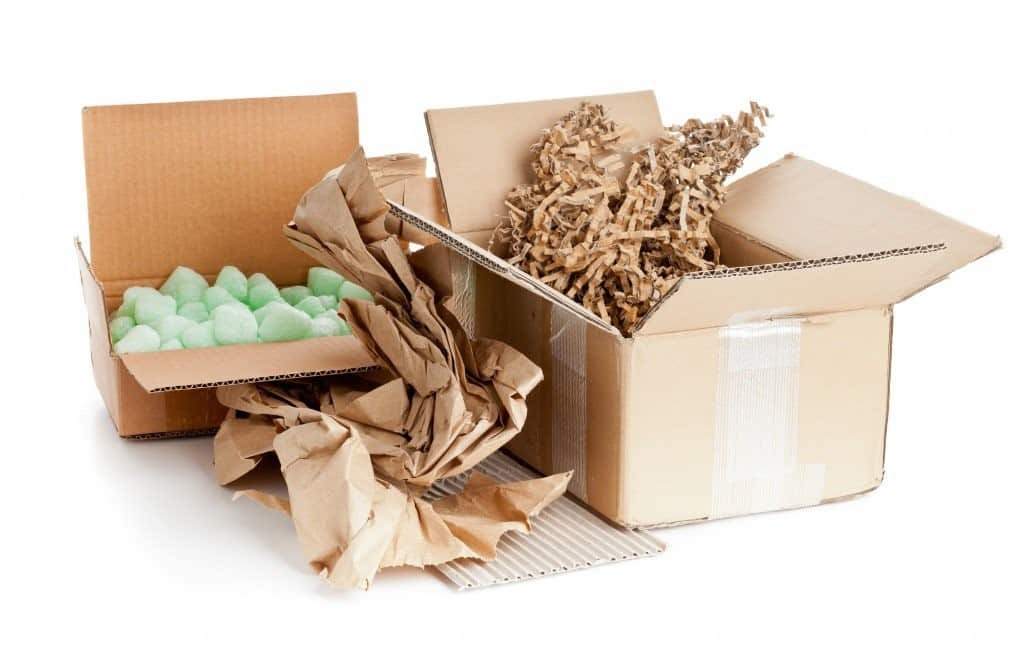 Not only will this help you and your customers save on shipping, but it will also keep packaging costs from eating away your profit margin.
Think about the destination
Package origin and destination are the other crucial factors that determine your shipping cost. Distance plays a big part in how Canadian couriers set the delivery price.
As mentioned, because of many remote areas in Canada, distance can balloon your shipping expenses.
If you ship nation-wide there's not much you can do about this. Look for companies that will deliver your products at the lowest costs across the entire country.
As your business grows and you gather enough data about your customers' locations, consider using fulfillment warehouses. To reduce shipping costs to a minimum, choose a warehouse that's the closest to the bulk of your customers.
For international shipping, go with established shipping companies such as UPS and FedEx. You'll have peace of mind knowing your parcels are in good hands.
Download the 2023
E-commerce Benchmarks Report
Get the latest industry trends, stats and insights to benchmark your e-commerce performance and find unique growth opportunities.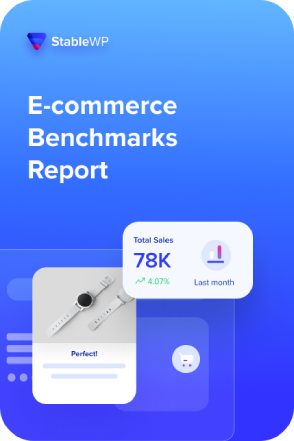 Popular shipping companies in Canada
The following are the four most popular shipping companies for e-commerce in Canada.
Canada Post
Canada Post is the largest domestic shipping company in Canada by volume.
It has a vast network of post offices and also offers parcel delivery. CP leverages its network to provide quick and inexpensive services to business customers like you.


Besides domestic shipments, Canada Post also offers international delivery to more than 190 countries across the world.
When it comes to shipping rates, Canada Post is very competitive.
For example, shipping a parcel containing shoes from Toronto to Montreal would cost around $29 CAD.
Destination: From Toronto to Montreal
Weight: 1kg
Size: Standard box 56 x 46 x 38
Value: $150 CAD
Estimated lowest shipping cost: $28.9 CAD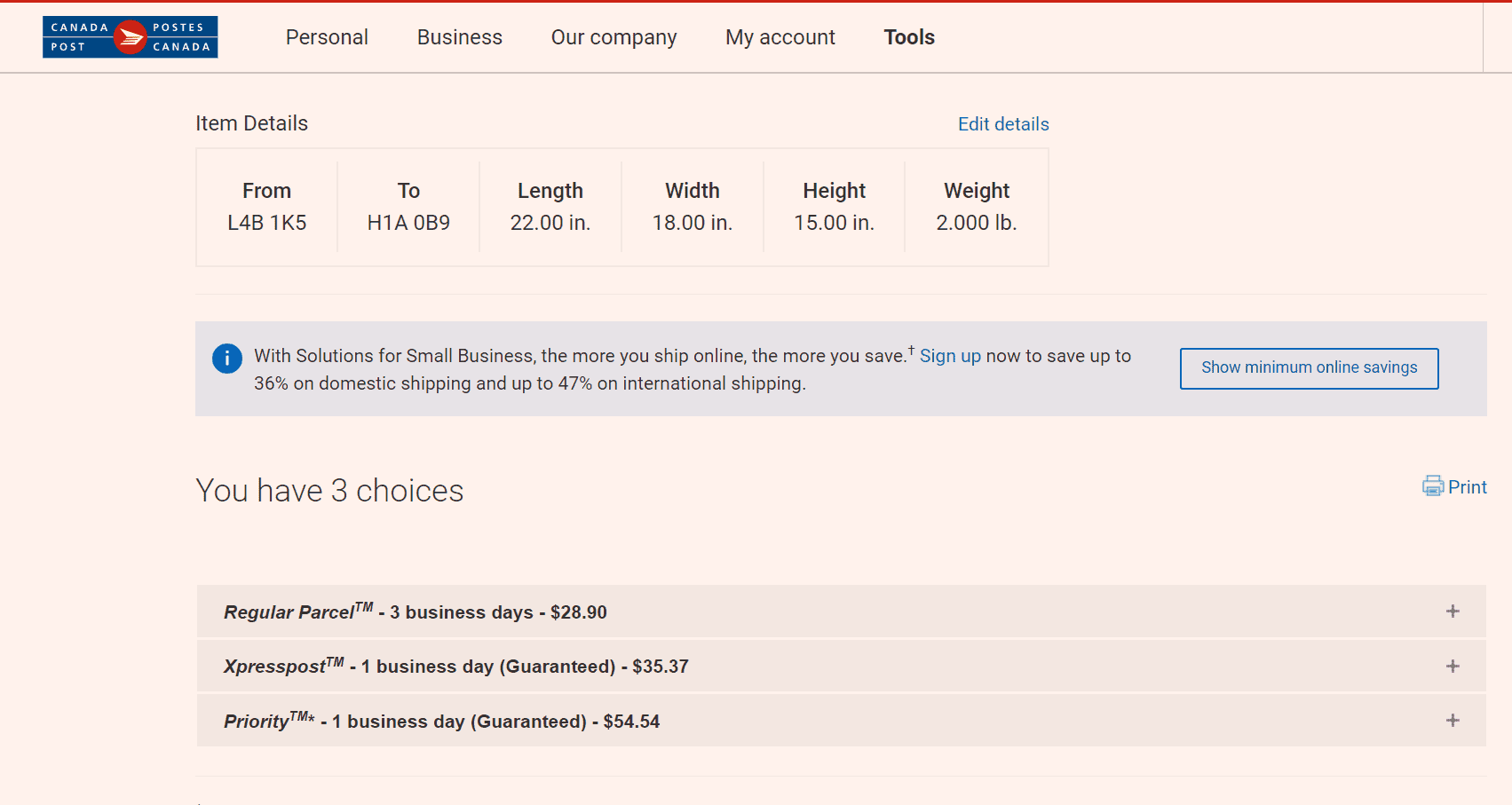 Canada Post also gives you the option to create a business account and ship your products at a discounted rate.
Canada Post offers 4 discount levels for domestic shipping:
| | | | | |
| --- | --- | --- | --- | --- |
| | Level 1 | Level 2 | Level 3 | Level 4 |
| Yearly shipping spend | $0–$2,499 | $2,500–$4,999 | $5,000–$7,499 | $7,500+ |
| Priority | Up to 9% | Up to 13% | Up to 18% | Up to 30% |
| Xpresspost | Up to 12% | Up to 18% | Up to 26% | Up to 34% |
| Expedited parcel | Up to 11% | Up to 19% | Up to 25% | Up to 33% |
When you sign up for a business account, you'll be assigned to a 'tier' from Level 1 to Level 4, based on your annual shipping volume.
For a brand new e-commerce store, it may take a while to qualify for any actual discounts.
Still, CP's reliable service and good rates make it a go-to courier for many. So, it's worth signing up for the business account from the beginning.
Keep in mind that your mileage may vary. Negotiate with your CP account manager to get the best rates.
Negotiated rates can lower the base shipping cost, and even waive additional fees such as the residential surcharge and tracking fees.
Canada Post offers unbeatable rates for shipping smaller packages.
It's also an excellent option for delivery to rural and very remote areas because of its vast network. CP is often the only company that ships to those communities.
For domestic deliveries, Canada Post is often the most affordable provider.
However, as parcel weight goes up, shipping costs can also drastically increase. Once the package goes over 4.5kg, UPS and FedEx start offering more competitive rates.
UPS
UPS (United Parcel Service) is the world's largest package delivery service. They operate with a massive network for fast and reliable deliveries all over the globe.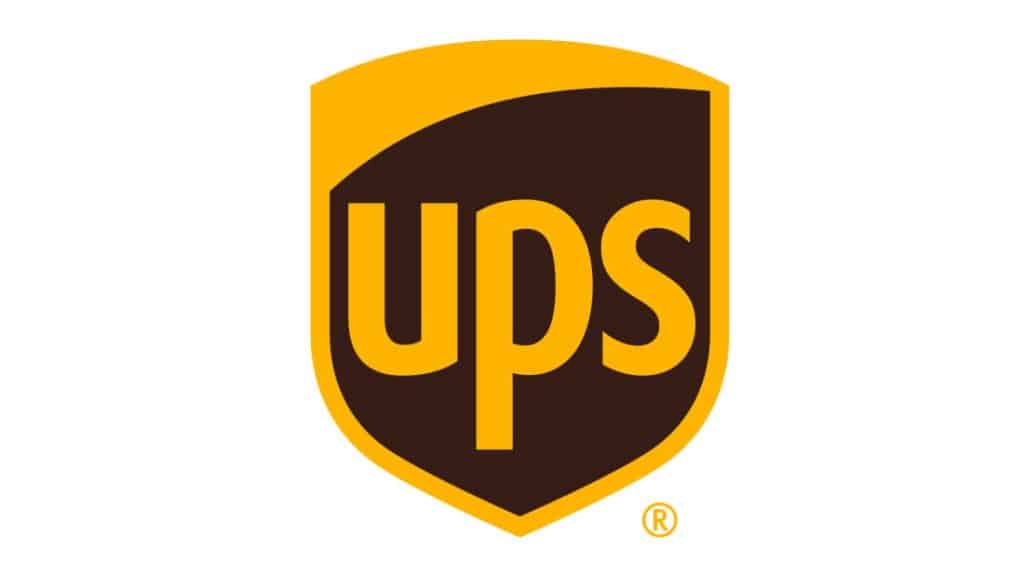 You can get pretty good rates if you ship from Canada to the US as well as other international destinations.
However, when it comes to domestic deliveries, UPS rates are nothing to brag about.
Using our example from before, the lowest rate we could get to ship a box with shoes from Toronto to Montreal was around $67 CAD.
Destination: From Toronto to Montreal
Weight: 1kg
Size: Standard box 56 x 46 x 38
Value: $150 CAD
Estimated lowest shipping cost: $66.78 CAD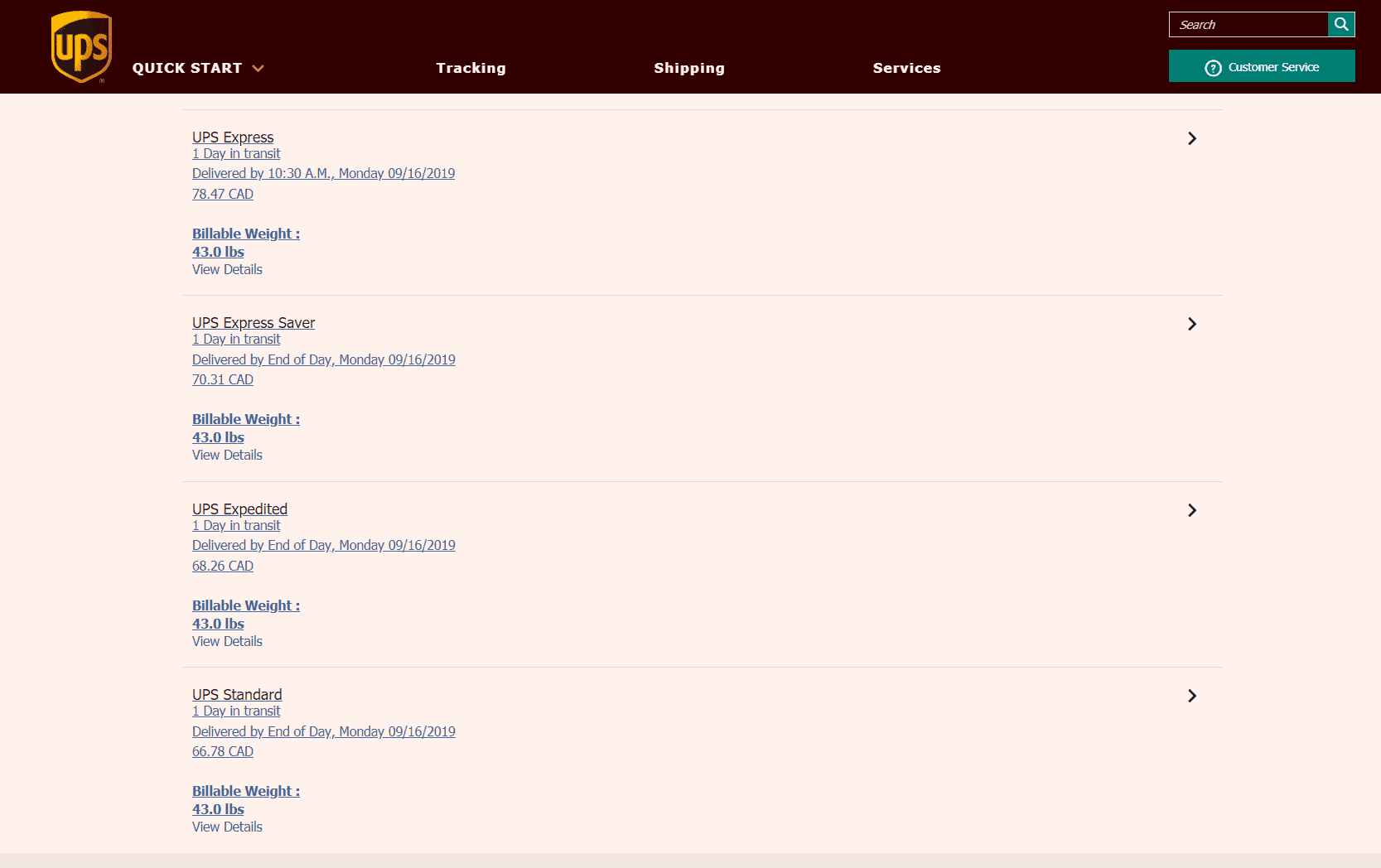 UPS Canada is quite expensive due to fees and surcharges that are added to its base rates.
This is especially true in cases where the shipping address is in a residential area and the delivery person has to get inside a building to drop off the package.
UPS also offers a discount program for e-commerce businesses.
Unfortunately, they're not too upfront about the exact discount rates. Based on our experience, you could save up to 40% if you ship a decent volume through UPS.
Where UPS really shines is delivering large packages. It only becomes economical to ship with UPS when your parcel exceeds 1.5kg.
It's also good to know that UPS allows you to ship up to 70kg.
Furthermore, if you need fast delivery, UPS offers some of the fastest services, including overnight shipping. They may be able to deliver your packages more quickly at a lower price than most competitors.
And finally, if you need international shipping, leverage UPS' worldwide network to deliver your package anywhere in the world.
FedEx
Similar to UPS, FedEx is another multinational delivery company that built its reputation as a reliable and fast service.
They provide shipping under two divisions – FedEx Ground and FedEx Express (air division).


FedEx has something for everyone, from super-fast and expensive NextFlight (where available) that delivers packages within hours, to cheaper delivery like FedEx Ground that takes 1-7 days to arrive.
Using our example, the FedEx shipping calculator gave us a bunch of options with the most expensive Overnight costing just below $135, and the cheapest FedEx Ground set at around $43 CAD.
Destination: From Toronto to Montreal
Weight: 1kg
Size: Standard box 56 x 46 x 38
Value: $150 CAD
Estimated lowest shipping cost: $42.87 CAD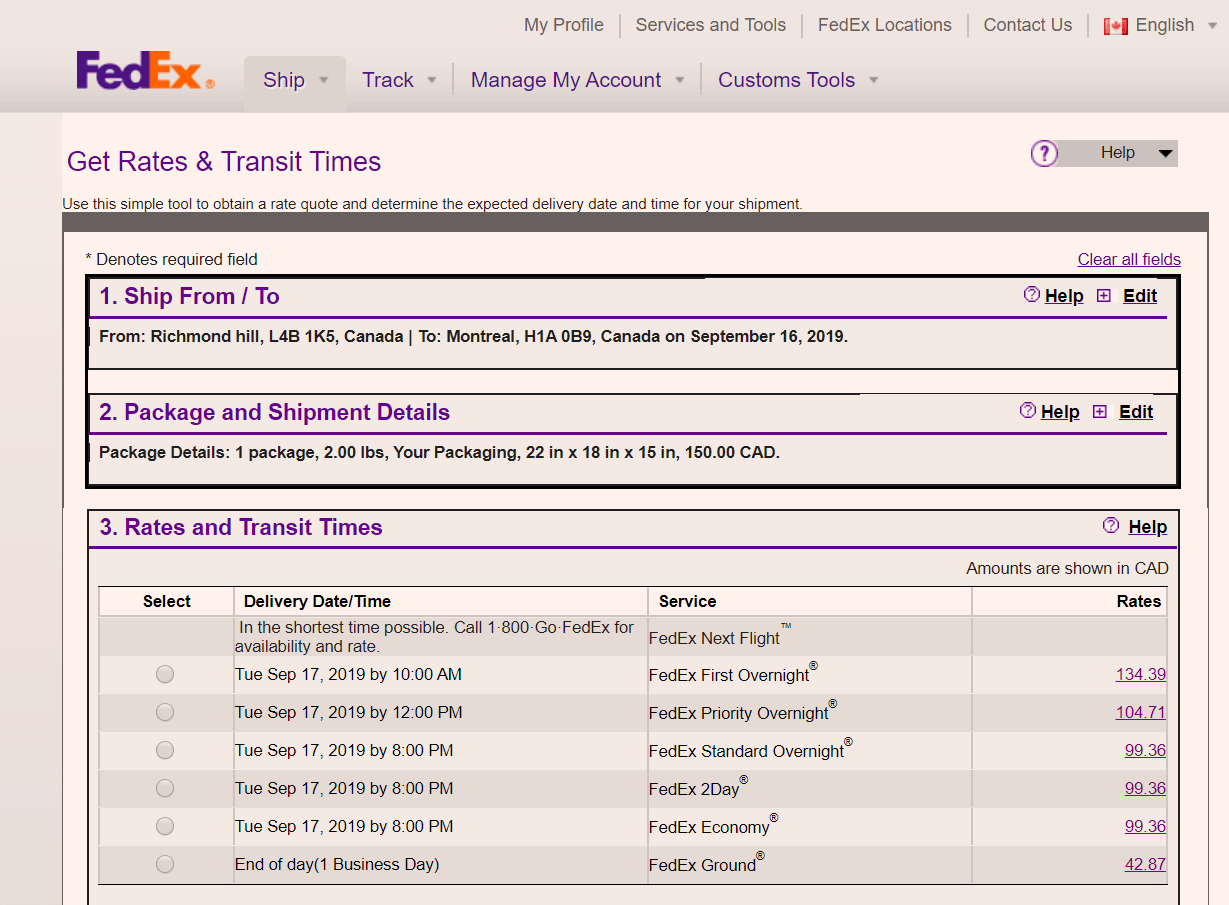 FedEx hooks you to sign up for a business account with a welcome discount. As an e-commerce merchant, you can save up to 45% from FedEx Express and up to 20% off FedEx Ground right off the bat.
However, this discount lasts only for the first six months, after which you become eligible for other discounts based on your monthly shipping volumes.
FedEx discounts in Canada:
| | | | | | |
| --- | --- | --- | --- | --- | --- |
| | Tier 1 | Tier 2 | Tier 3 | Tier 4 | Tier 5 |
| Monthly Shipping Spend | $.01–$549.99 | $550-1,249.99 | $1,250–2,899.99 | $2,900–4,649.99 | $4,650+ |
| FedEx Express | 5% | 10% | 20% | 25% | 30% |
| FedEx Ground | / | / | / | 5% | 10% |
Notice that the threshold for the Ground (cheaper) service is set pretty high, at almost $3K/month. And even then, the discounts are not that big.
FedEx does offer some leeway. So, always remember to negotiate better deals with your account manager.
FedEx is an excellent solution if you ship very large quantities each month and want to offer swift delivery to your customers.
It's also a good choice for large packages and shipping to the US as well as internationally.
Purolator
Purolator is another domestic shipping company that offers a reliable delivery service.
As a Canadian company, it has a large and developed network used to provide fast and efficient courier service.



Purolator offers same-day and next-day deliveries by 9:00 AM, 10:30 AM and 12 PM. This is excellent when you need to guarantee customers your parcel will be arriving by a certain day and time.
In our example, however, Purolator's quote was a lot more expensive compared to Canada Post. The cheapest delivery for our parcel would cost almost $96 CAD.
Destination: From Toronto to Montreal
Weight: 1kg
Size: Standard box 56 x 46 x 38
Value: $150 CAD
Estimated lowest shipping cost: $95.73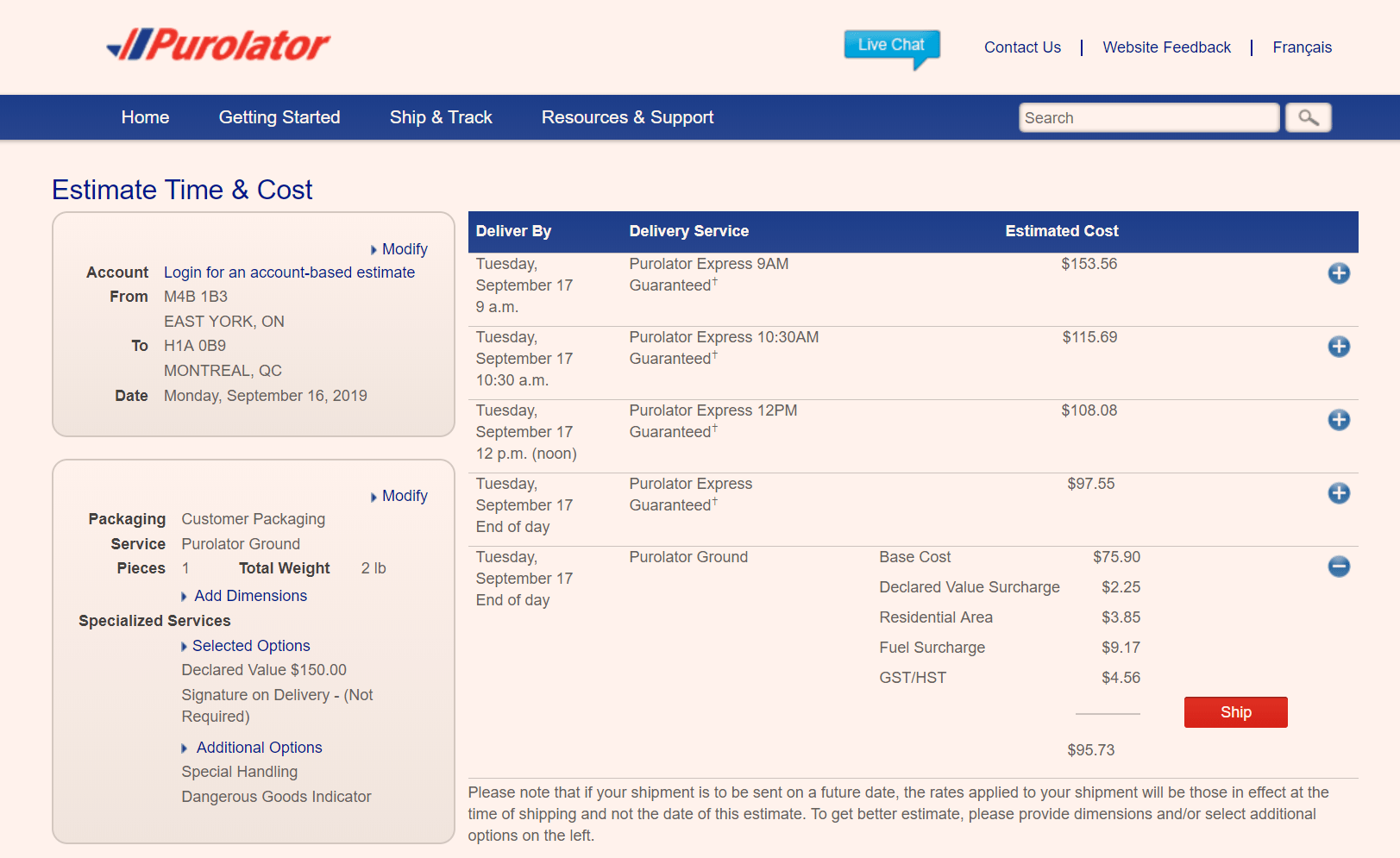 Purolator also has a rewards program for small businesses. You get discounted shipping rates, dedicated sales support and exclusive rewards if you sign up for an account.
Depending on your shipping volume in a six-month period, there are six discount tiers you can qualify for.
Purolator e-commerce shipping discount rates:
| | | | | | | |
| --- | --- | --- | --- | --- | --- | --- |
| | Tier 1 | Tier 2 | Tier 3 | Tier 4 | Tier 5 | Tier 6 |
| Avg. Monthly Spend | $0.01-249.99 | $250-499.99 | $500-999.99 | $1000-1499.99 | $1500-1999.99 | $2000+ |
| Discount | 5% | 10% | 15% | 20% | 25% | 30% |
These discounts can't be combined with any other Purolator discounts, promotions, savings plans or waivers.
But, same as with other couriers, contact your account manager to negotiate potentially better rates based on your performance.
Purolator is a good choice for sending packages within Canada. If you're looking to offer guaranteed delivery times and 1-up your customer experience, Purolator is your best bet.
When it comes to international shipments, Purolator handles the delivery to the border and UPS takes it from there to the final destination. In that case, I'd argue it's better to use UPS for the entire international delivery.
Canadian couriers head to head comparison
| | |
| --- | --- |
| | BEST FOR |
| CANADA POST | Small packages, domestic shipments and delivery to remote areas |
| UPS | Large package delivery and international shipping |
| FEDEX | Express delivery and if you ship huge monthly volumes |
| PUROLATOR | Guaranteed exact time delivery |
NOTE: Depending on your location, your niche, etc., you might be able to join a local chamber or networking group and receive discounted shipping rates. Couriers often offer these groups discounted pricing which can then pass on the discount to you.
Some examples of this may be networks like StartUP Canada, eWomen Network or London Chamber of Commerce.
Use modern shipping solutions for better rates and management
If you're just starting with e-commerce it can be difficult to meet couriers' thresholds and get good shipping rates. The volumes you need to be eligible for discounts will be beyond your reach, especially in the first year.
So, if you can't get good rates by yourself, opt for a shipping solution like ShipStation or eShipper.
Shipping solutions integrate directly to your e-commerce platform to manage orders, help you find the best rates for each destination and print labels, all from one place.
But most importantly, shipping solutions allow you to get big discounts from the outset. You won't have to worry about reaching couriers' volume thresholds.
Thanks to huge volumes that they process, shipping companies offer them big discounts which are then passed on to you.
So, these two shipping solutions allow you to reap the benefits of low shipping rates from the start.
ShipStation
ShipStation is a web-based, multi-courier shipping solution for e-commerce merchants.
It's designed to streamline fulfillment by integrating with your preferred shopping cart, payment gateways and courier.



ShipStation allows you to manage everything from one place.
As your customers check out, all details will be pulled from your shopping cart automatically so you can view the contents and process the order.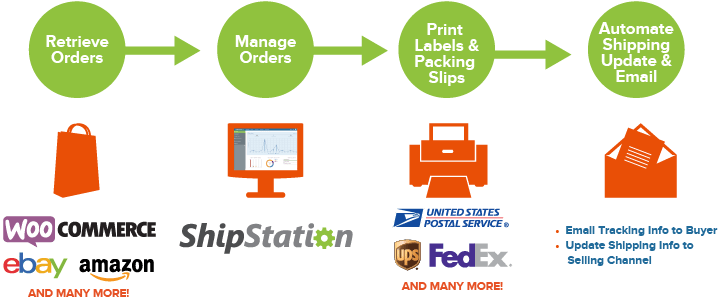 With ShipStation you can search for the best rates using their built-in shipping calculator. This helps keep delivery costs low by comparing all available rates for each of your connected courier accounts at once.
Once you find the right fit for each delivery, enter the details of your package all from within the app.
You can also set automation rules to save time and automatically apply service and package types as soon as an order is received. For example, with ShipStation automation you can have:
Apply the best courier and postage options to specific kinds of orders
Shipping labels created and printed for your orders
All orders marked complete in your e-commerce dashboard
Tracking numbers generated and sent back to your store, and more.
ShipStation also allows you to track orders in real-time to make sure everything goes smoothly.
And finally, you get access to big courier discounts out-of-the-box.
Connect your existing business accounts from Canada Post, FedEx, UPS, Purolator and others and receive the best rates regardless if you're new and don't have massive volumes yet.
You can use ShipStation to ship with multiple couriers which not only ensures the best prices for each delivery but also gives you more leverage in negotiating your rates. Shipping companies will potentially negotiate lower rates with you to make your volume through them increase.
ShipStation comes with a monthly fee that starts from $9/month and goes up depending on the volume.


There is also a 30-day free trial so you can get your feet wet and test if it's the right solution for your e-commerce.
eShipper
eShipper is a Canada-based alternative to ShipStation that specializes in working with small to medium-size businesses. With eShipper you can easily manage and fulfill orders, compare quotes, rates and transit times for your online store.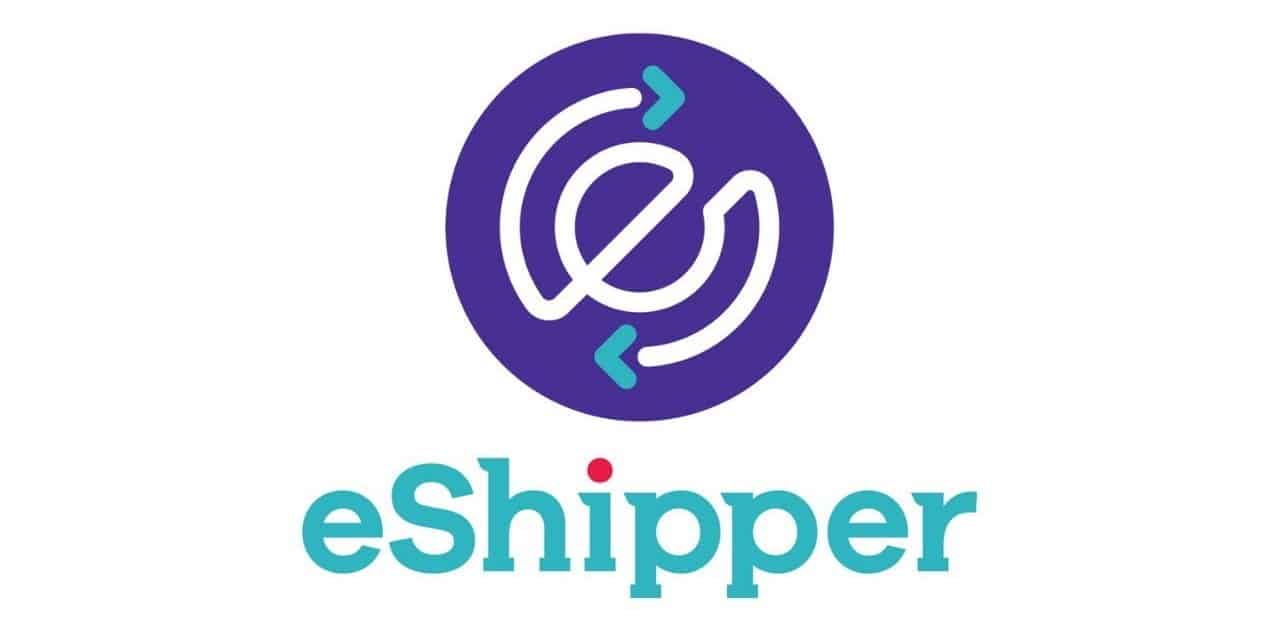 A big standout feature of eShipper is that you get a dedicated account manager to give you shipping advice, consulting, and any help you might need to expand your business.
Besides that, eShipper provides warehouse and fulfillment services, which is great for scaling your business. As you grow you can move stock to warehouses located close to the bulk of your customers to provide faster delivery as well as lower shipping costs.
Similar to Shipstation, you get access to preferred rates from couriers no matter your shipping volume. This is great if you're new to e-commerce and don't qualify for discounts by yourself.
eShipper leverages its volume to obtain lower rates from couriers and pass most of this on to you.
The major advantage of eShipper is that it's completely free to use. There are no monthly, setup or other fees. You only pay for what you ship.
The drawback is that eShipper will not pass the full discounted rate on to you. So, the shipping cost may end up being somewhat higher than with Shipstation.
CHAPTER TWO: Figure out your shipping strategy
Besides choosing your courier and shipping solution, the other major decision for your e-commerce is your shipping strategy.
Although free shipping sounds like the most attractive and simple strategy to offer, high Canadian rates can sink your business very fast if you're not careful.
Your shipping strategy can make or break your competitiveness. Consider what's important for your customers, what your competitors are doing, as well as what you can afford.
Some common goals of your e-commerce shipping strategy can be to:
Increase conversions
Increase average order value (AOV)
Expand the market or target new customers
Decrease costs
Let's go over some of the top shipping strategies for e-commerce merchants in Canada.
Live rates
Live rates are real-time rates calculated based on the weight and destination of the order. You can pull up-to-date prices from your preferred couriers to generate shipping options with live pricing for your customers.
When customers enter their address at checkout, the system will automatically calculate the shipping cost based on purchased items (weight and size) and the destination.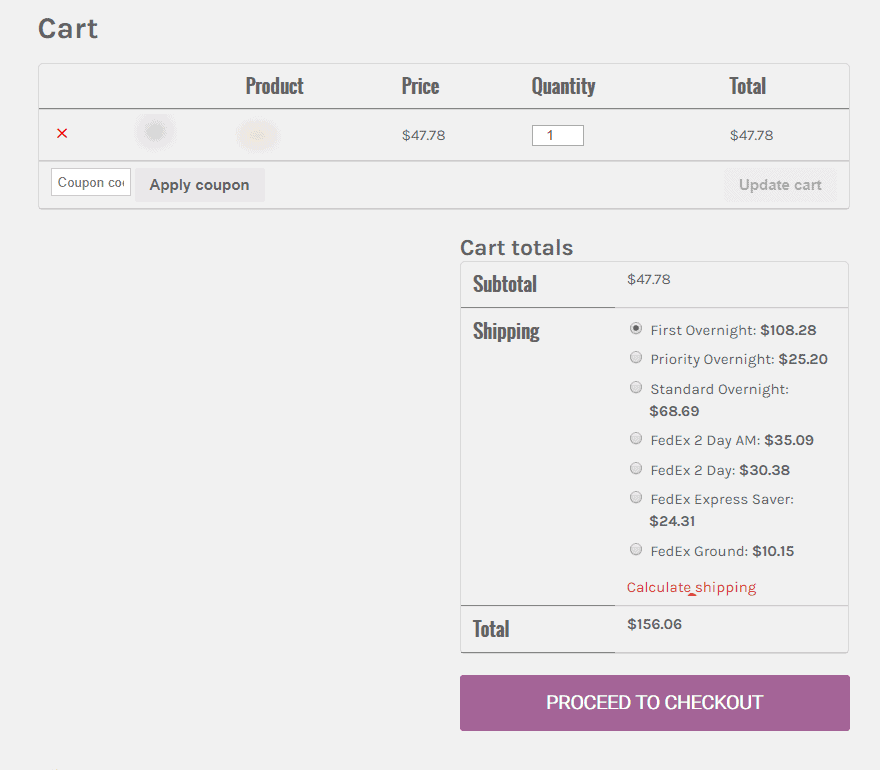 PROS
Live rates ensure that 100% of shipping costs are covered and transferred over to the customer. At the same time, since the system looks for the most cost-effective solution, customers get the best possible rates.
It's a fair option that ensures everyone pays according to the destination and the items they purchase. You offer the cheapest available shipping option by charging your customers exactly what you'll be charged by the courier.
CONS
However, you can hardly use it as a promotion tool since this may not be the most attractive deal for customers.
Another pitfall of this strategy lies in how shipping in Canada works. Namely, in some cases when buying inexpensive items and shipping to remote areas, customers might end up having to pay more for delivery than for the actual product.
And finally, shipping rates calculated at checkout might come as an unwelcome surprise which can cause many shoppers to abandon their carts.
Table rates
Table rates allow you to create shipping classes based on the order value, destination, as well as delivery speed.
For example, you can charge different rates for orders under and over $100, and even charge differently depending on if the package goes to Ontario, Quebec or Atlantic Canada.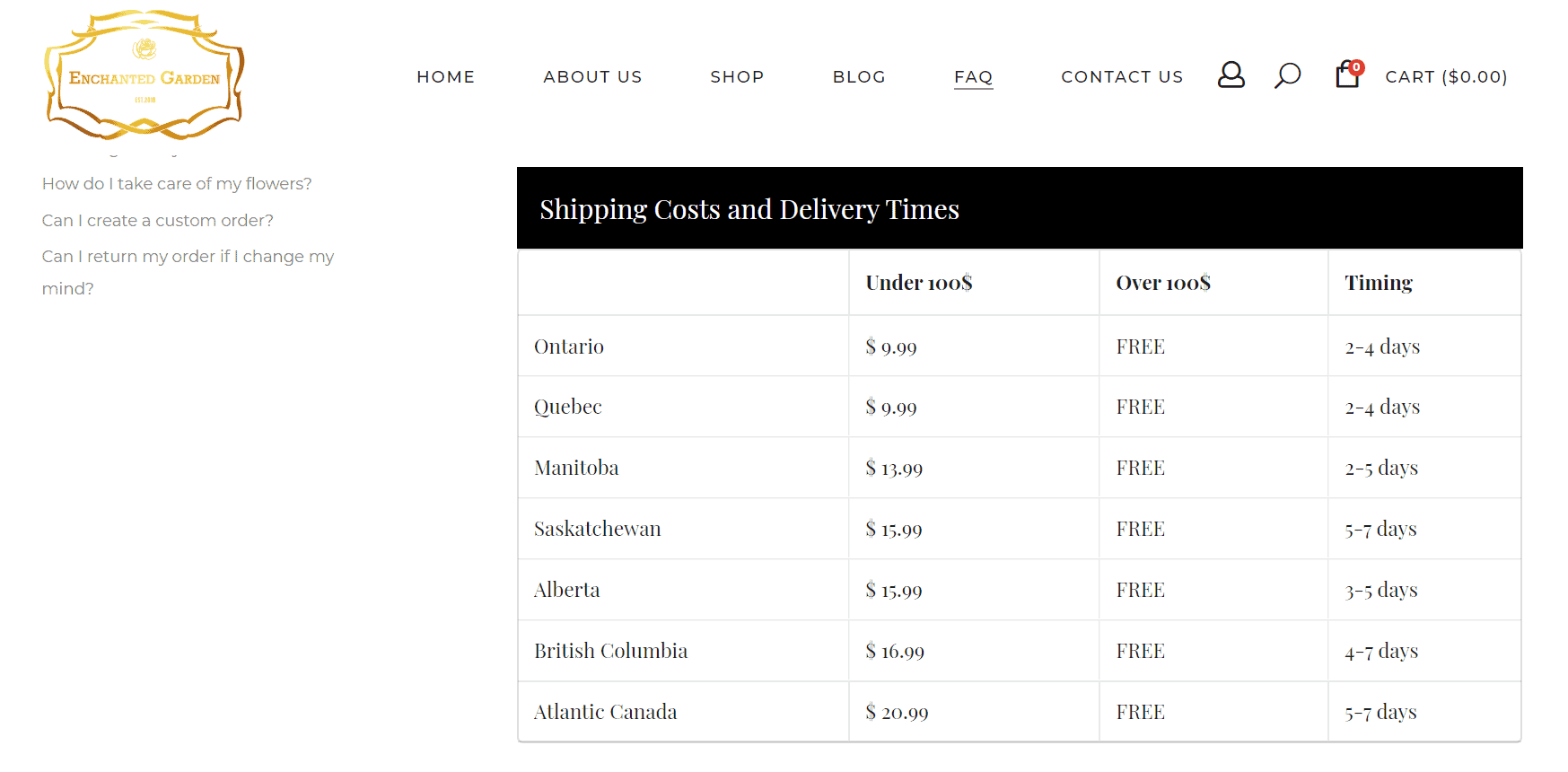 PROS
Table rate shipping helps mitigate some of the problems with live rates. It's more predictable for customers while still keeping the cost at a fair level.
Furthermore, table rates allow you to create and display shipping rules in a tabular form, which is easy to understand for you and your customers.
It's also more flexible and easier to manage than live rates, especially if you have a very big assortment with various products.
After the initial setup, the system will do all the calculations for you.
CONS
Table rate shipping is an advanced strategy that brings extra complexity to your e-commerce. There's a multitude of setup options with some like weight-based table rate scenarios requiring a lot of figuring out on your behalf.
The other caveat of this strategy is that you'll have to cover a part of the shipping expenses in some cases. Other times, the customers will pay a bit more than with live rates to even things out.
For this, it's essential to figure out shipping classes, rules and conditions that make sense for your business. This also requires you to calculate the thresholds for each scenario correctly, which can be a real pain.
Flat rates
Flat rate shipping means you charge the same, fixed amount for all orders, regardless of the order value, product dimensions or destination.
You should use this option typically for standard shipping only, not expedited or overnight orders as the costs are significantly higher.
Once again, you will want to do some research to understand your average cost of shipping, so you can determine a flat rate that will work for you and your customers.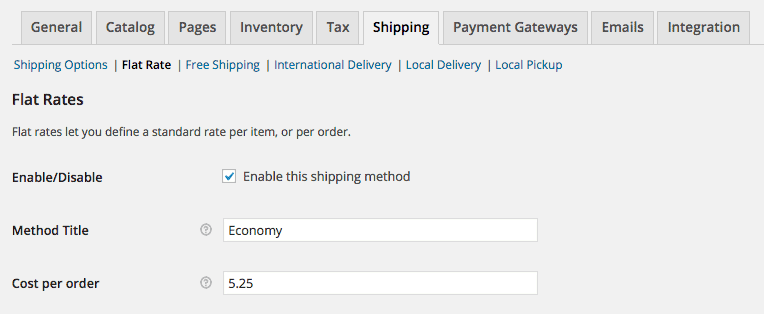 PROS
Flat rate shipping works well as a promotional tactic. The shipping technically isn't free, but customers still perceive it as a discount.
This option works well as an incentive for customers who want to spend more or buy larger orders. Increased order value can then lessen the burden on your margins.
CONS
Flat rate shipping can discourage small orders. If a customer only wants a small amount or a single item, flat rate shipping can dissuade a purchase if the shipping fee is too high.
Free shipping
Free shipping is the most attractive strategy for customers. It can help you win over new buyers, expand your market and increase the order value.
Customers have a strong positive emotional response to anything that is free. The perception of free has a greater impact than any item offered at a discount, even if the monetary value is the same.
In Canada, due to the reasons already explained, free shipping is not so common and can be a huge advantage if you can offer it.
If you opt for free shipping, be sure to advertise it prominently in your ads and all over your online store to let everyone know.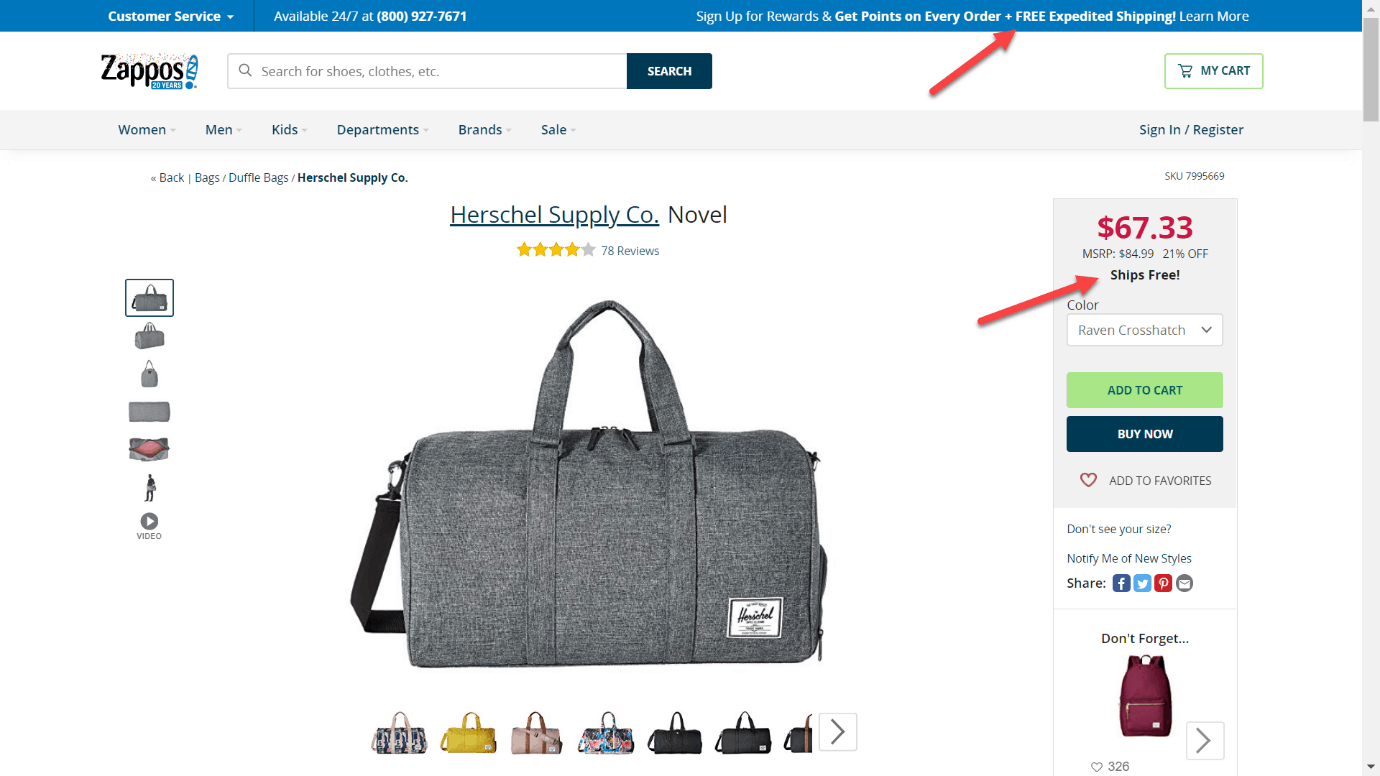 PROS
Free shipping is a great way to attract new customers, increase their order size and value, and expand to new markets.
It's an excellent promotional strategy that's both easy to explain and understand.
Free shipping can give a significant boost to your conversion rates and reduce cart abandonment.
This option works best with lightweight items, where shipping costs are less steep and if you're having large profit margins.
CONS
Unfortunately, shipping is never really free; someone has to pay for it. It may be free for customers but it's not free for you.
To make free shipping work, you have a few options:
Increase product prices to cover costs for shipping (customer pays)
You pay the full price of shipping by lowering your margins (you pay)
Increase prices slightly to cover some part of the shipping costs (you and your customer pays)
Shipping in Canada is relatively expensive, and to avoid bleeding money make sure you assess the following:
Your AOV (average order value)
Evaluate your competitors
Analyze your internal costs
If free shipping is not your cup of tea, try some hybrid shipping strategies you can use as marketing tools without diminishing returns.
Hybrid shipping options
Hybrid shipping options are a combination of two or more strategies to get high promotional value while keeping your delivery costs at bay.
While you can mix and match shipping strategies to your heart's content, the following are some of the most popular hybrid options.
Free shipping over $$$
Free shipping over a minimum order value (aka conditional free shipping) is probably the most common hybrid option.
It works by offering customers free shipping once they go over a specified threshold.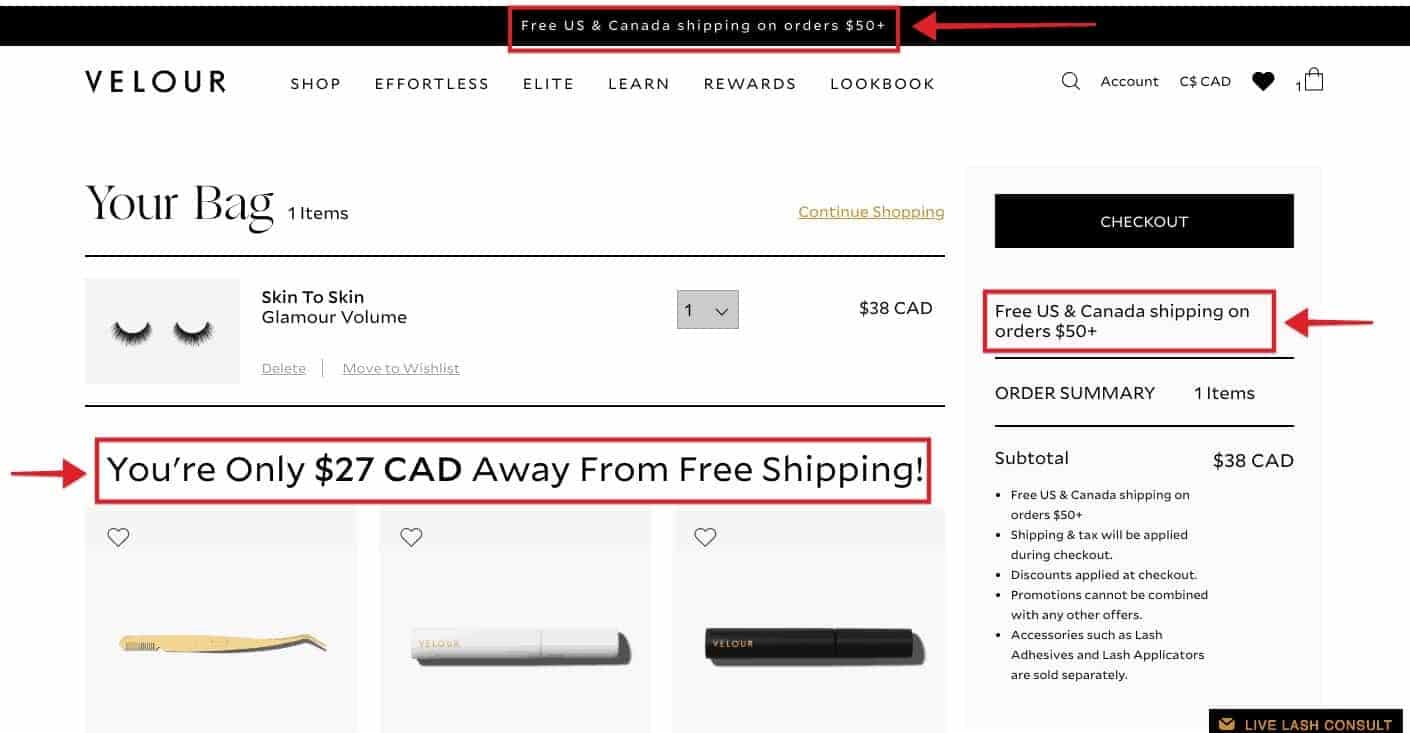 This hybrid strategy is a very potent marketing trick to increase your AOV and improve your profitability. Shoppers will likely add more items to their cart just to qualify for free shipping.
The main challenge is to research and determine the free shipping breakpoint and set the minimum accordingly.
The downside of this strategy is that you're still paying for shipping out of your own pocket.
If you set the limit too low, it can even hurt your profitability.
On the flip side, if you set the threshold too high, you'll be asking your customers to spend too much to reach it. In that case, customers won't be willing to spend more money to qualify and the entire promotion will be a bust.
Tiered flat rates
This is an advanced alternative to flat rate shipping. It allows you to create multiple flat rates based on tiers.
For example, you can charge a flat $10 fee on orders up to $100, $5 fee for orders between $100-249 and even free shipping on orders that exceed $250.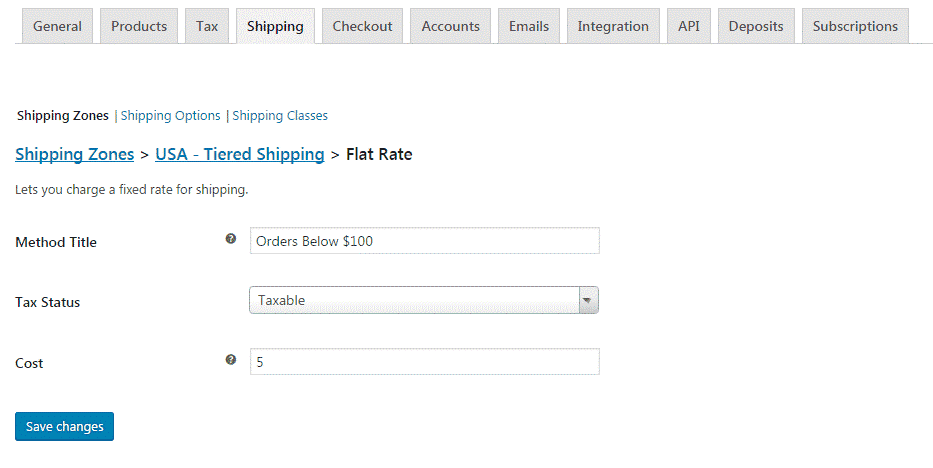 It's similar to table rates with the biggest difference being that there's only one condition (order value) instead of multiple (value, location, size, etc.).
The main benefits are that it's much easier to set up and understand. It's usually a good option if you're shipping internationally and want to keep the costs more predictable for customers.
However, you're still required to do some math to set each tier properly.
Free shipping for specific products or to specific locations
Free shipping for specific products is a marketing strategy to stimulate customers to buy certain products that need a boost.
These can be products you want to get rid of because they're not selling well.
Alternatively, you can set free shipping for popular products with very high margins or those with low shipping costs.
You can also offer free shipping for certain product variations (i.e. colours) to encourage customers to buy more.
Use free shipping for specific locations when you want to expand and win over new markets.
On the other hand, you can restrict free shipping only to locations where delivery is cheap. Customers in distant or remote areas will still have to pay for their shipping.
Mixed delivery options – Standard and Expedited
Mix standard and expedited shipping as an advanced marketing tactic to win more customers and increase your profitability.
Offer slow delivery for free to drive customers to checkout and then show expedited options to entice them to still pay for shipping.
You can upsell on shipping by showing the estimated delivery time for those customers that just don't like to wait.
For example, you can hook shoppers with free shipping for 2-day delivery. Then on the checkout page upsell them by offering $5 standard (faster) and even $25 express delivery.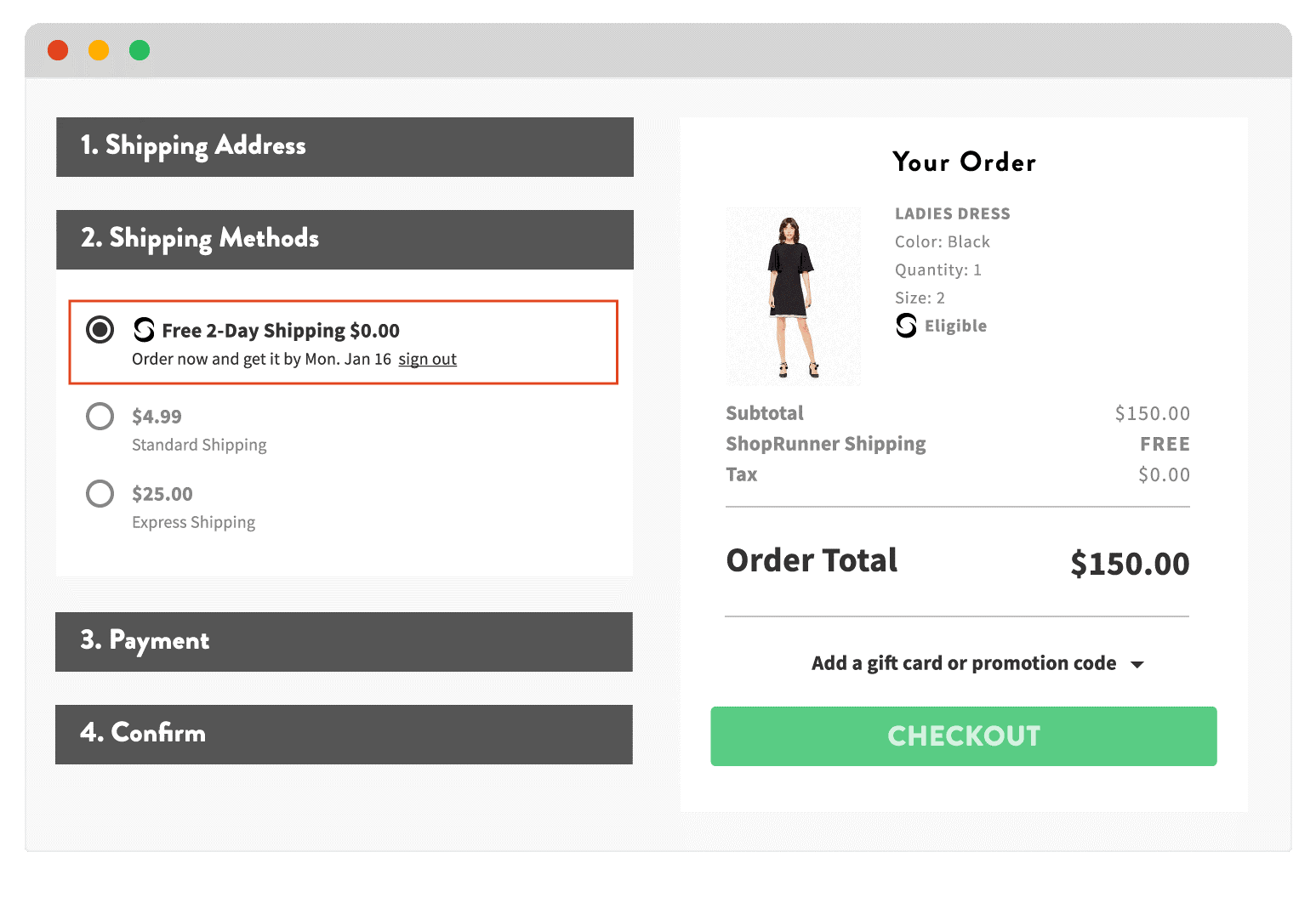 This strategy gives you all the benefits of free shipping without the cost that comes with it.
Same-day shipping
If you're selling time-sensitive or perishable goods (i.e. food) you can offer same-day shipping for local customers. Customers that live nearby will be able to get their products almost immediately.
Same-day shipping works well as a marketing strategy to delight customers, especially if you're the only one offering it in your local area.
Make sure to add a surcharge for same-day shipping to make this option more profitable for you while keeping customers happy at the same time.
Free in-store pickup
With the in-store pickup, you can forgo shipping entirely and still provide good customer service.
You can enable the "local pickup" option in your e-commerce platform which gives your customers the opportunity to pick up their items from you in person.
This works best if you run both an e-commerce and a physical store.
You'll save time and money on shipping, and customers will have the option to visit the location closest to them to get their products quicker.
Offer a discount for local pickups and customers might be more motivated to visit your location, and perhaps keep coming in the future.
And don't worry about profitability, when customers come to pick up the items, you can always upsell and get them to spend even more.
Conclusion
Figuring out your shipping can be a real endeavour.
But don't worry, your shipping strategy can and will change over time.
Everything from your preferred shipping company and how you charge for shipping, to your packaging and unboxing experience, all of it can be altered as you gather more data and your business grows.
What's important for now is to determine your starting point. Then adapt as you go, either to aim for better customer experience, higher profitability, or increased efficiency.
And remember that you're not alone in this, we always have your back!
If you need any help figuring out or setting up shipping for your e-commerce leave a comment below or contact us. We'll get back to you in a jiffy.