The holiday season is every store owner's favourite time of the year. The holiday spirit gets everyone into a shopping frenzy, and with the right marketing strategy, you can win a big piece of that pie for yourself.
But the competition is getting brutal, year after year with more competitors popping up everywhere. Every store wants to get in on the action. Furthermore, people are preconditioned to have high expectations.
So, to truly make a killing this holiday season, you need to get extra creative because just offering discounts alone are becoming less effective and they cut straight through your margins.
Set your e-commerce up for success and get inspired with 12 ingenious holiday marketing campaigns that work.
The holiday season is the king of e-commerce sales
Black Friday, Cyber Monday and Christmas are the most lucrative for most businesses. It's the final chance to boost revenue and beat (or meet) sales target.
The demand for holiday shopping is staggering and on a perpetual rise.
Research shows that Canadians are projected to spend CA$1,593 on average this holiday season, which is an almost 2% increase over last year.
Millennials plan to spend 55% of their holiday shopping online, and this demographic will lead the charge in 2019.
The situation is very similar in the US. All signs point to another record-breaking holiday season with trillions being spent from November to January ($149 billion from online shopping).
Most consumers plan to spend the same or more this holiday season.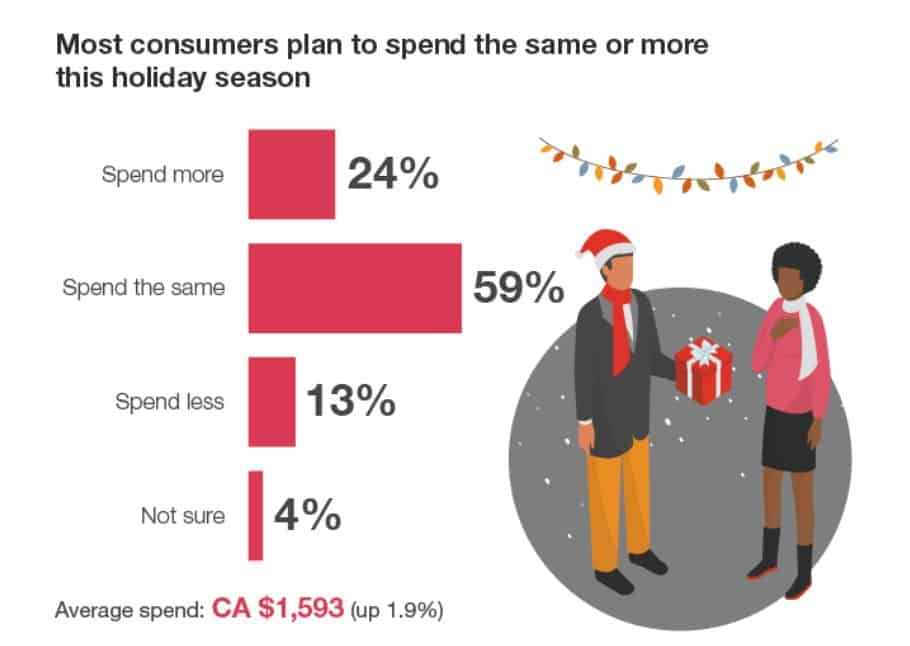 Customer experience will play a huge role in getting people in the shopping mood.
That's why you should get creative and capture the holiday spirit with imaginative marketing campaigns.
Additionally, the advertising costs in Q4 typically soars. You need increased transaction values to offset the high cost and make the sales more profitable.
For this holiday season, your e-commerce campaigns should aim to:
Win over new customers to grow your sales and business
Retain existing customers because they're less expensive to acquire and they typically spend more, and
Increase the AOV (average order value) to make sales more lucrative
Build a customer base and prime your audiences early, before the advertising costs go up.
Create a holiday marketing plan that will boost your revenue, increase the AOV and maximize profitability.
Top online marketing channels for e-commerce holiday sales
Holiday season campaigns and promotions go hand in hand. Your discounts and deals are worth nothing if people don't know about them. That's why you need to leverage various marketing channels to win new and retain existing customers.
Based on research, when it comes to acquiring new customers the most effective holiday marketing channels are:
Facebook ads: 72.5%
Instagram ads: 58.8%
Google search ads: 56.9%
Instagram organic: 41.2%
Search organic (SEO): 35.3%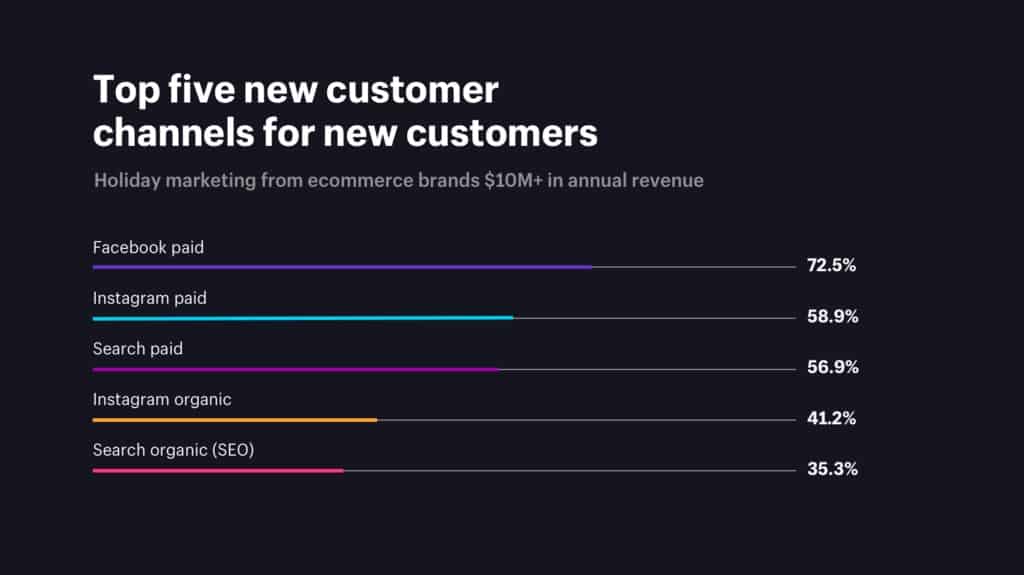 Start early to generate interest and prime new customers to get them shopping during the holidays.
On the other hand, getting existing customers to buy should also be a high priority on your list. That's because it's much easier and cheaper to retain customers than to acquire new ones.
73% of North American shoppers buy from brands that they're familiar with. They also tend to spend more, making your holiday sales highly profitable.
The top marketing channels to promote your holiday deals to existing customers are email marketing and retargeting ads.
Segmented email offers: 80.4%
General email offers: 74.5%
Facebook retargeting for general site visitors: 64.7%
Facebook retargeting for pages or products: 62.7%
Instagram retargeting: 51.0%
Both email marketing and retargeting ads outperform other types of promotions with email being the top converting source (4.29%).
So, be sure to capture visitors' emails before and during the holidays.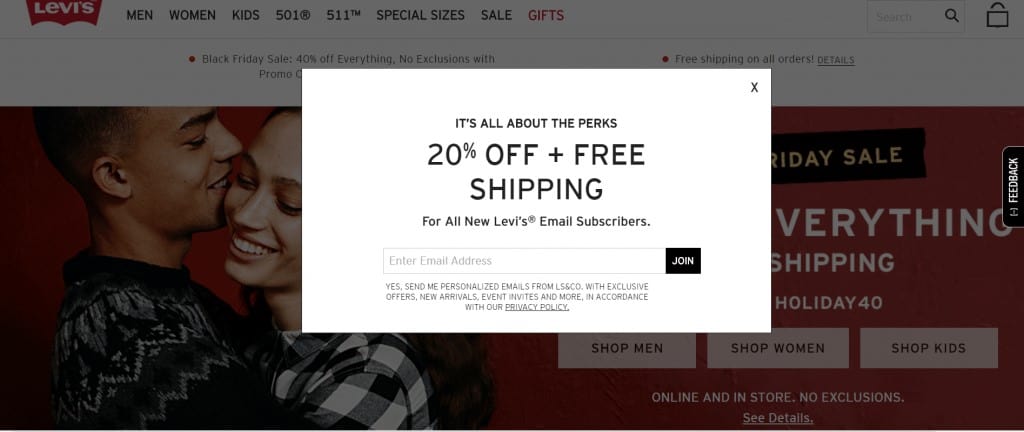 Holiday season happens only once annually, but if you already have a database of clients, you can remarket to existing customers throughout the year.
For maximum effect be sure to segment users and deliver the right message to the right people.
The same goes for retargeting campaigns; you can promote your holiday deals to existing customers and window shoppers, and get them moving through the purchasing funnel.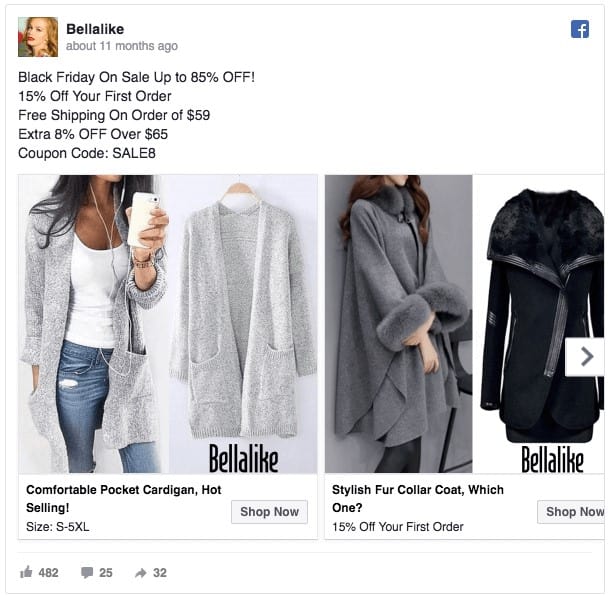 E-commerce holiday shopping calendar
Key dates for this year's (2020) holiday season:
Canadian Thanksgiving: Monday, October 12
Halloween: Saturday, October 31
American Thanksgiving: Thursday, November 26
Black Friday: Friday, November 27
Sofa Sunday: Sunday, November 29
Cyber Monday: Monday, November 30
Green Monday: Monday, December 14
Free Shipping Day: Saturday, December 12
Christmas: Friday, December 25
Hanukkah: Thursday, December 10 – Friday, December 18
Boxing Day: Saturday, December 26
New Years: Thursday, December 31
Plan out your holiday marketing to attract as many customers as you can on these key shopping days.
But don't just settle for that, aim to get people buying even between the holidays to truly crush it this season.
Download the 2023
E-commerce Benchmarks Report
Get the latest industry trends, stats and insights to benchmark your e-commerce performance and find unique growth opportunities.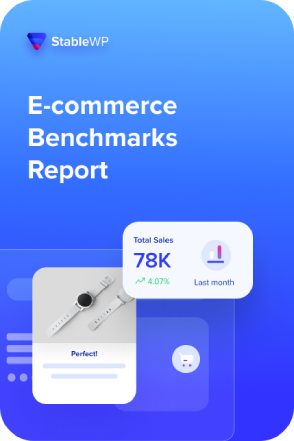 Creative e-commerce holiday campaigns
The holiday season is the ultimate showdown for all e-commerce stores. Everyone brings out the big guns to capture as much of that shopping craze as possible.
Deals are everywhere, so to cut through the noise you need to be creative.
Although the simplicity of site-wide discounts can be very tempting, it might not be enough to stand out. Customers are more demanding and a bit spoiled nowadays, so you must deliver on their high expectations.
Additionally, site-wide discounts don't do much to increase each transaction. And if your AOV flatlines during the holidays, you'll be the one subsidizing these sales.
So, here are 12 creative holiday campaign ideas to hit the jackpot this season.
1. Create hype ahead of the holidays
During the holidays, everyone fights for customers' attention. The competition gets brutal and the advertising costs skyrocket.
Generate hype and prime shoppers early so when Black Friday and other holidays come, your shop stays top of mind.
ASOSdoes a great job promoting Black Friday deals a week early with stunning Instagram ads.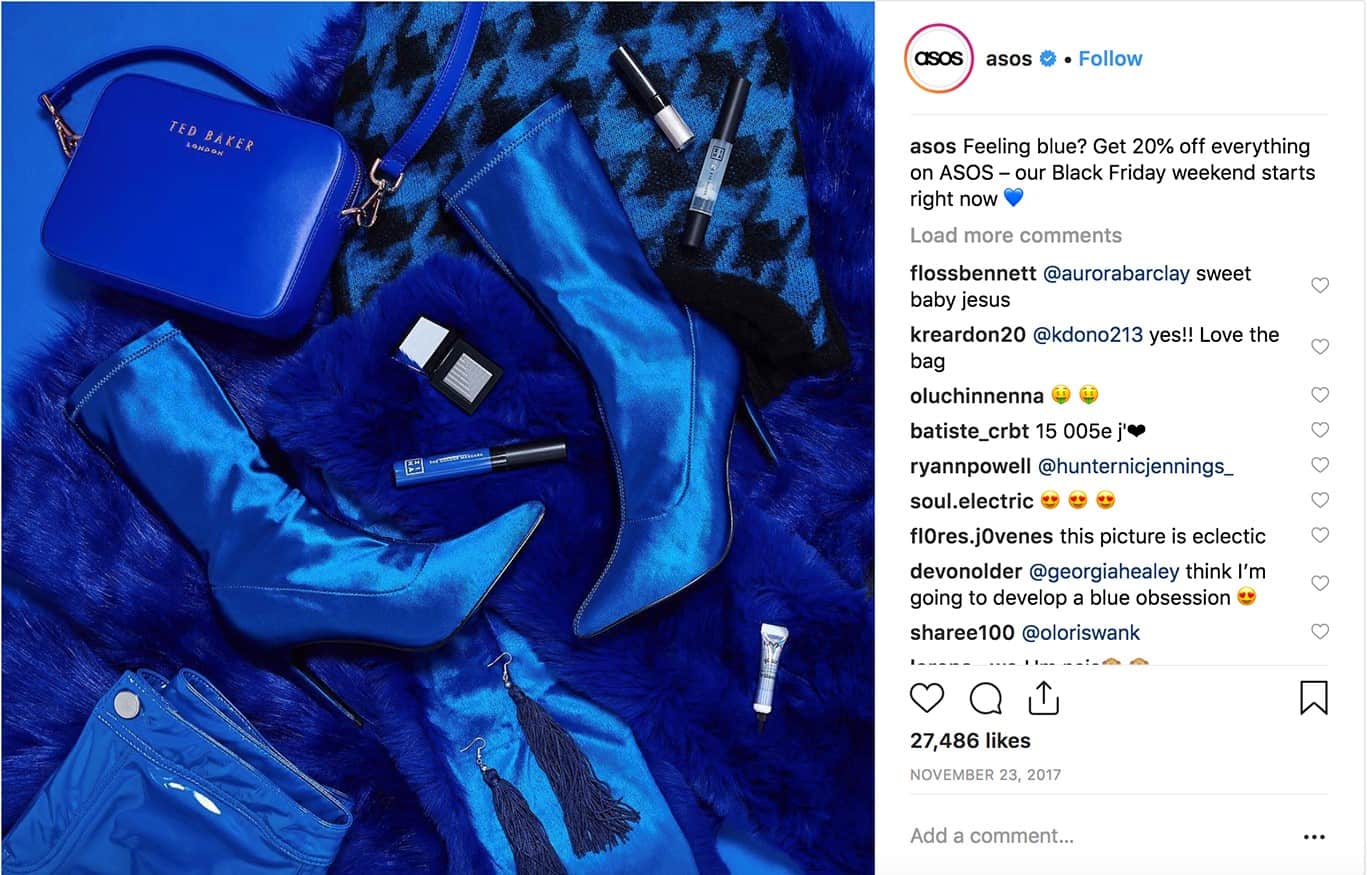 Casper entices people to shop way ahead of the holiday season with their Daylight Savings email campaign.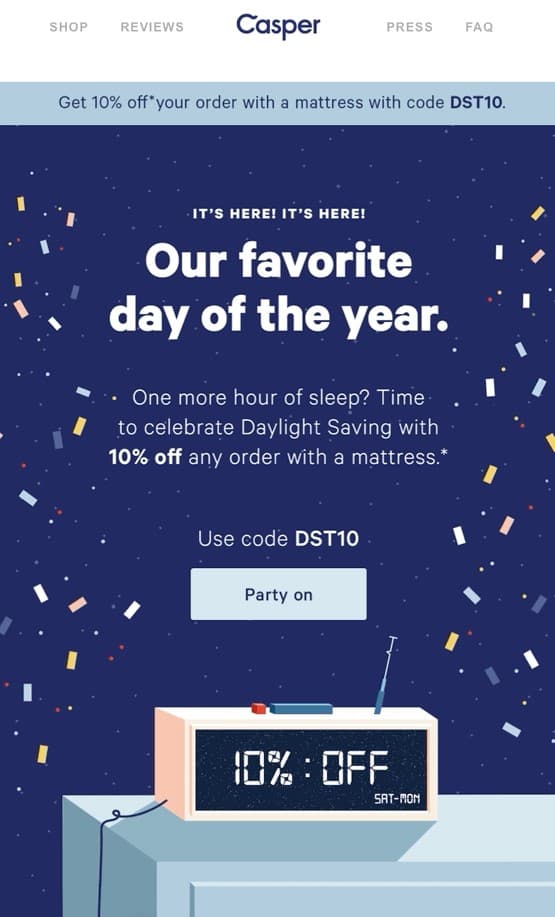 You gotta love the creative design and copy of this email.
Cute illustrations, descriptive, humoristic CTA button and an animated GIF alarm clock makes the campaign engaging and the 10% discount unmissable.
Another great idea to hype up potential customers is to have a holiday gift shopping guide on your site.
Sephora has a prominent holiday gift guide to get shoppers inspired. The guide is categorized based on who you're buying it for, the price and the product category.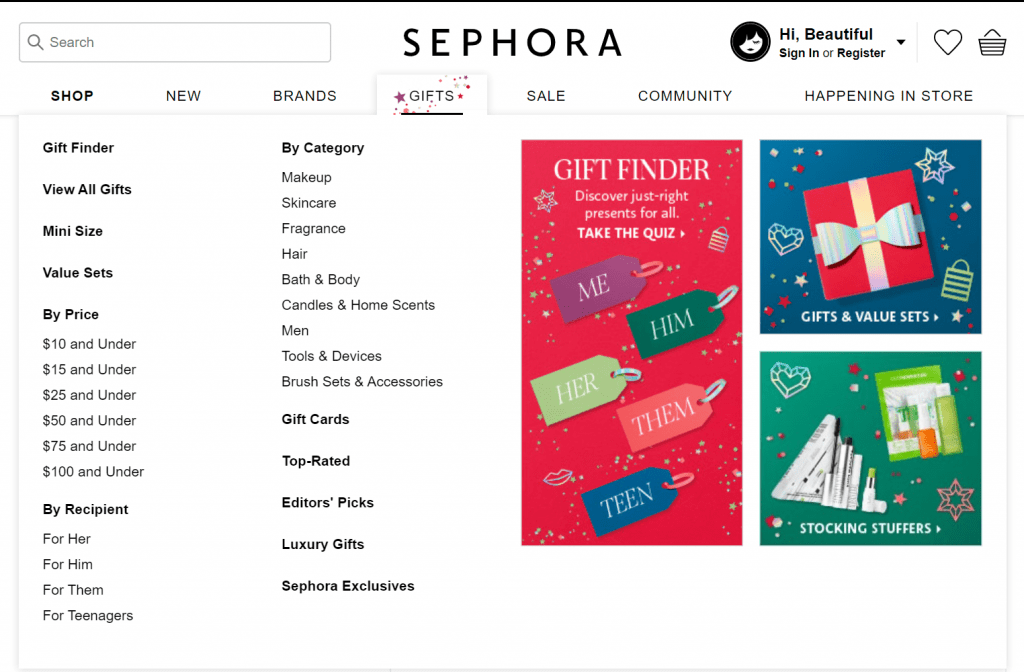 All you need to make a good gift shopping decision is there.
But don't wait for shoppers to come and discover your holiday guide on their own. Promote it via your newsletter.
Ivory Ella does a great job promoting its gift shopping guide with a fun a quirky email highlighting their cozy collections and deals.
The play on the 12 Days of Christmas song at the bottom of the email makes it truly come to life. Each shopping day features a different gift to get people pumped for the holidays.

Bonobos gives its own twist for Thanksgiving with a holiday to-do list that ties back to their own products.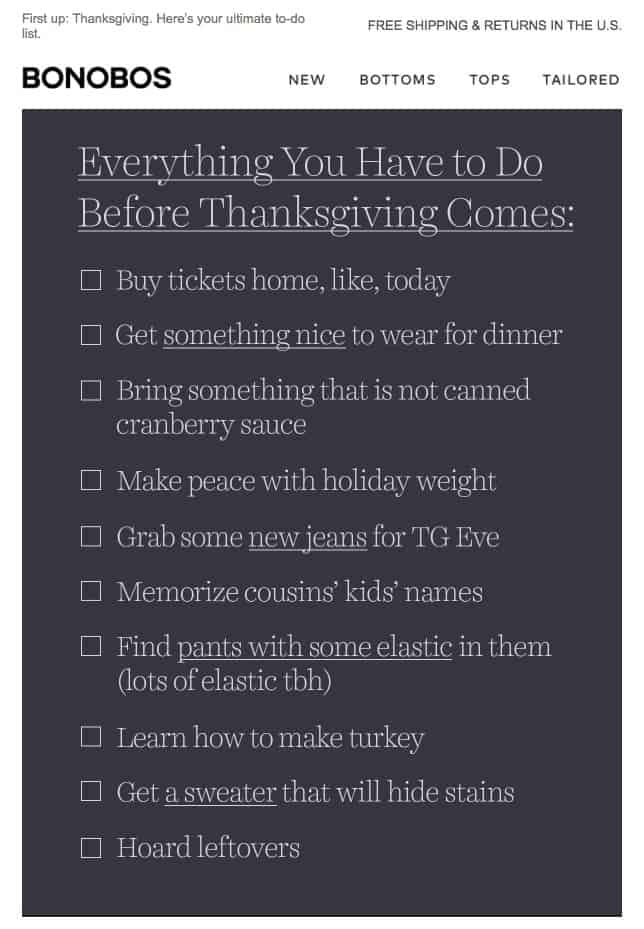 The email does a great job immersing readers with just the right amount of humour.
The email subtly suggests Bonobos products that can help out in these common Thanksgiving situations. It speaks directly to the target audience and shows it understands what they're going through in an authentic and funny way.
2. Early access deals to get VIP customers shopping…early
Reward your subscribers with early access deals before the holiday rush.
This helps you attract customers to purchase ahead of the holidays.
Your subscribers will feel special that they can get a good discount right now and before everyone else. Plus, people haven't spent any money on holiday shopping yet, which means they have more to spend in your store.
Also, this eliminates the risk that customers' favourite products get sold out. It's a compelling way to create a sense of urgency, which is exactly what Birchbox does with its "Get First Dibs" call to action.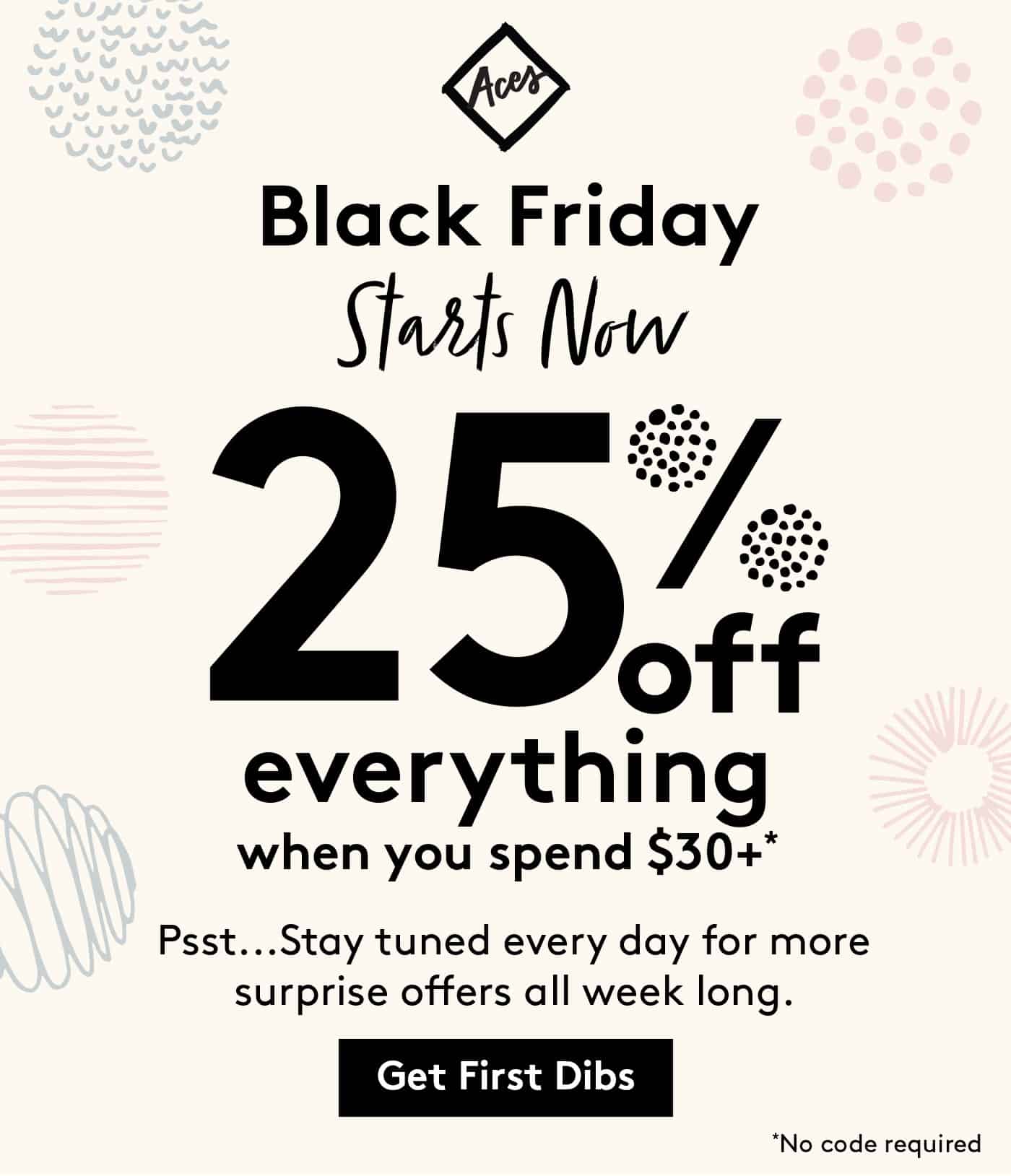 This email signals that customers should take up this 25% offer ahead of Black Friday and before the items go out of stock.
BestBuy elite members get exclusive early access to doorbuster deals.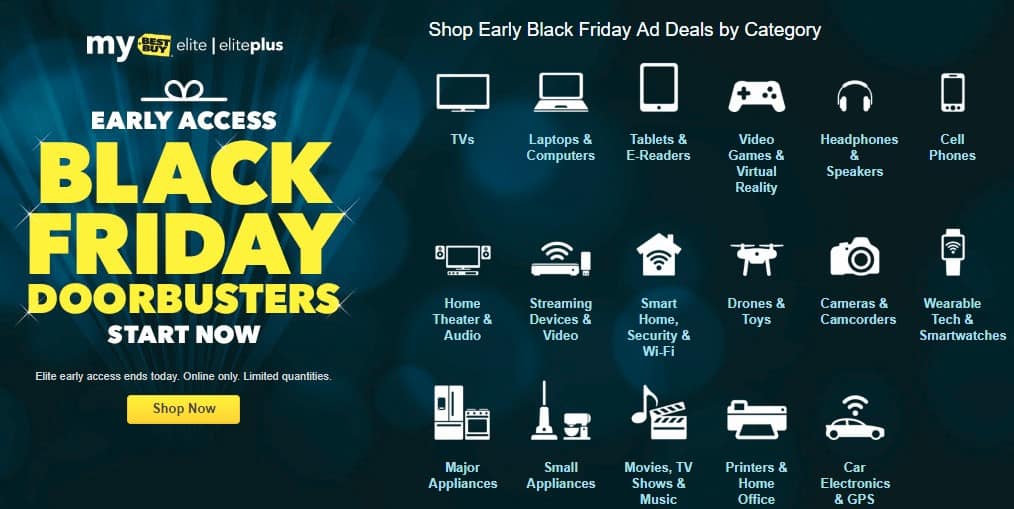 And the subtle FOMO triggers like "early access ends today" and "limited quantities" signal that you need to act fast or miss out on some terrific bargains.
Similarly, Loft offers an exclusive early access 50% discount to their LOVE LOFT card members.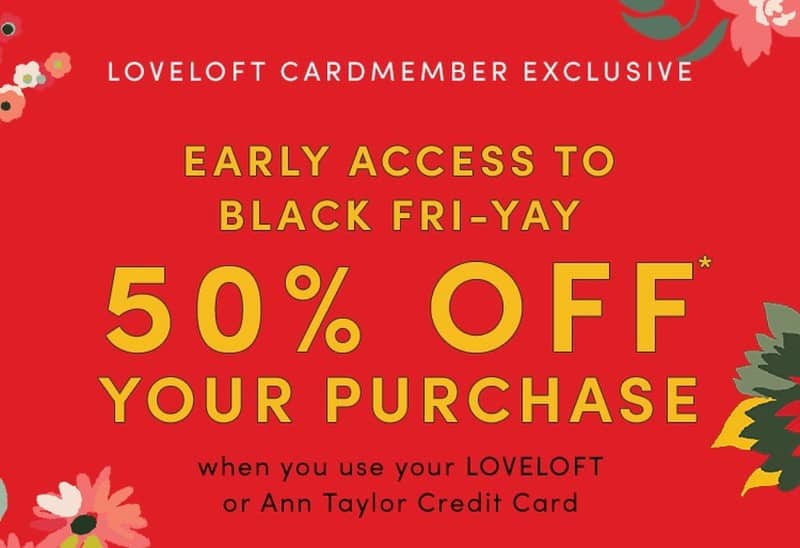 Early access VIP campaigns help you retain your best customers (loyal, high spenders) with exclusive deals.
You'll also benefit from making sales early on, before the holiday frenzy. It'll make your life easier to manage and fulfill orders before the holiday chaos.
A sense of exclusivity and special treatment will make VIP customers happy and keep them buying for a long time to come.
3. Offer holiday bundles
Product bundles are a no-brainer for holiday sales. They're very popular for customers because they deliver greater value than standalone products. And they're offered at discounted prices.
What's not to love about that?
You win by getting a higher AOV which, as explained, is critical for every e-commerce.
Planet of the Vapes (a cool name by the way) does a great job bundling up their vaping pen along with complementary accessories at a discounted price.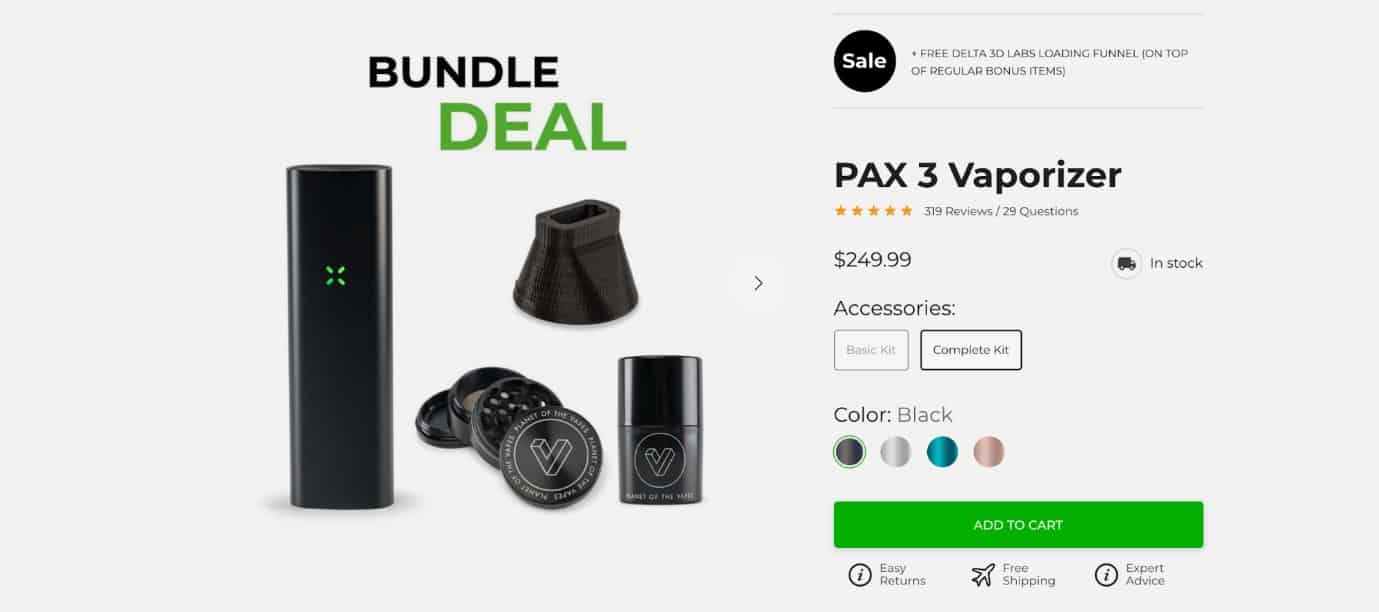 On top of the bundle deal, you also get a free gift in the form of a Delta Labs 3D loading funnel to make the offer that much more enticing.
Be sure to have a great copy for your bundle that particularly highlights the features and benefits. You can also create a sense of urgency or scarcity by stating that the bundle is a limited time or may go out of stock soon.
Customers will most likely make a decision quickly and buy your bundle to avoid missing out.
4. Captivate customers with mystery upsells
This type of campaign is a real doozy. So, the best way to explain is through an example.
Pura Vida Bracelets starts their holiday campaign with regular deals you can see elsewhere. A 50% site-wide discount plus a free gift. So far, so good.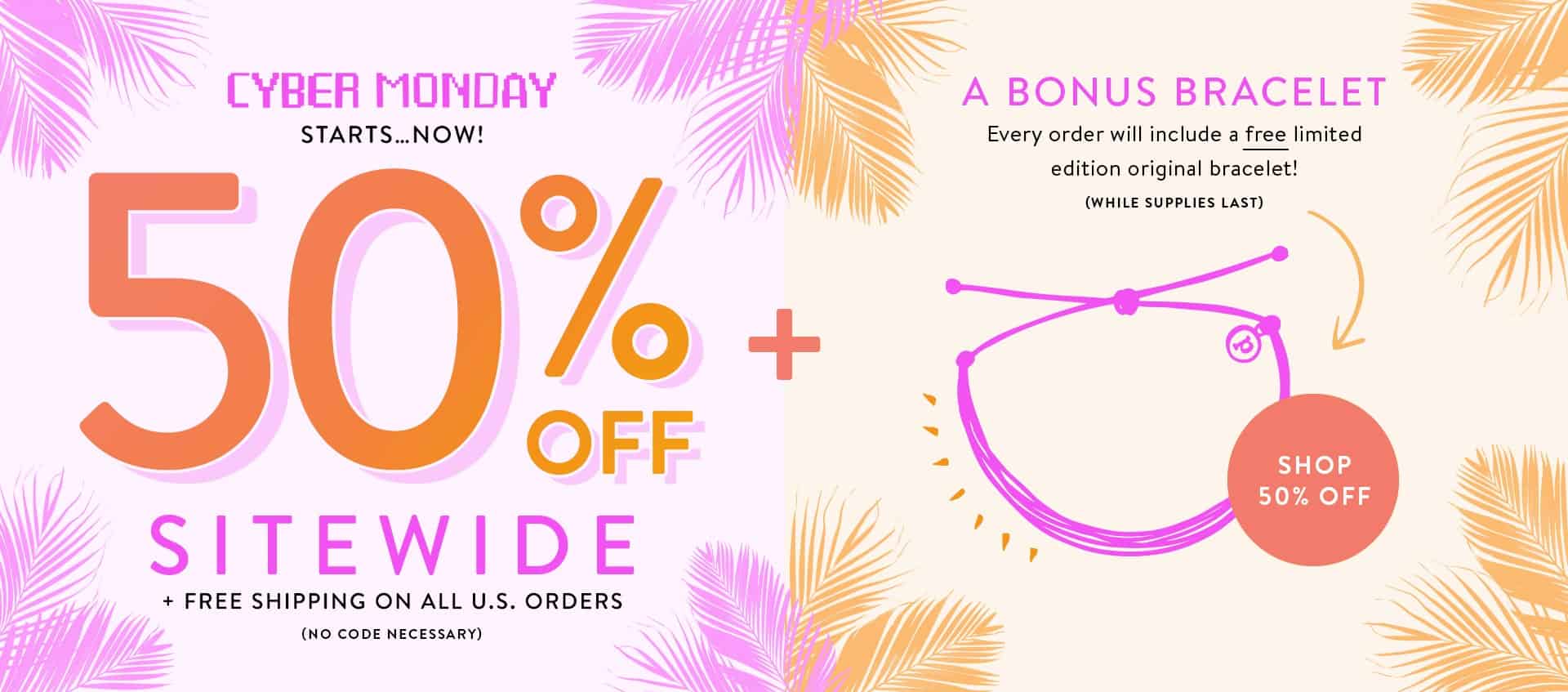 To get people shopping the offer includes a bonus bracelet. The promos emphasize that it's "limited edition" and it's only available "while the supplies last."
But the real magic happens on the checkout page.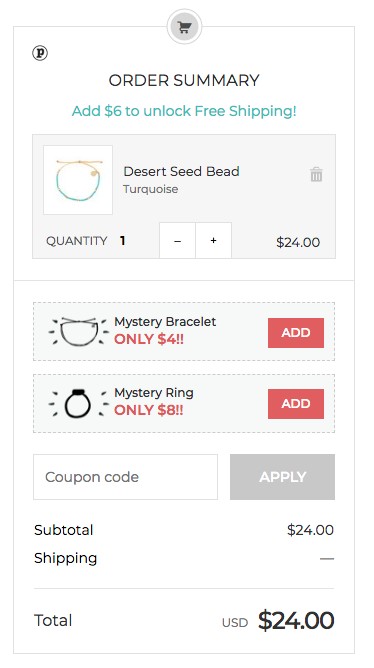 Pura Vida masterfully upsells you in two ways.
First of all, if you spend just a tad bit more (over $30) you qualify for free shipping.
And then, there are two mystery products – a mystery bracelet and a mystery ring.
Having those mystery items builds upon the intrigue. It's a surprise tactic that peaks users' curiosity in a fun and compelling way.
And who doesn't love a good mystery…
The only way to solve it is to buy.
Does it work?
A third of Pura Vida's 350K orders during Black Friday/Cyber Monday, included a "Mystery" item.
5. Keep customers coming back with a different deal every hour/day
This is another holiday marketing tactic that plays with mystery and users' curiosity. In a nutshell, to keep customers coming back, create a campaign that offers different deals every hour or every day.
Amazon has perfected this strategy with its Lightning Deals as a part of Black Friday/Cyber Monday Deals Week.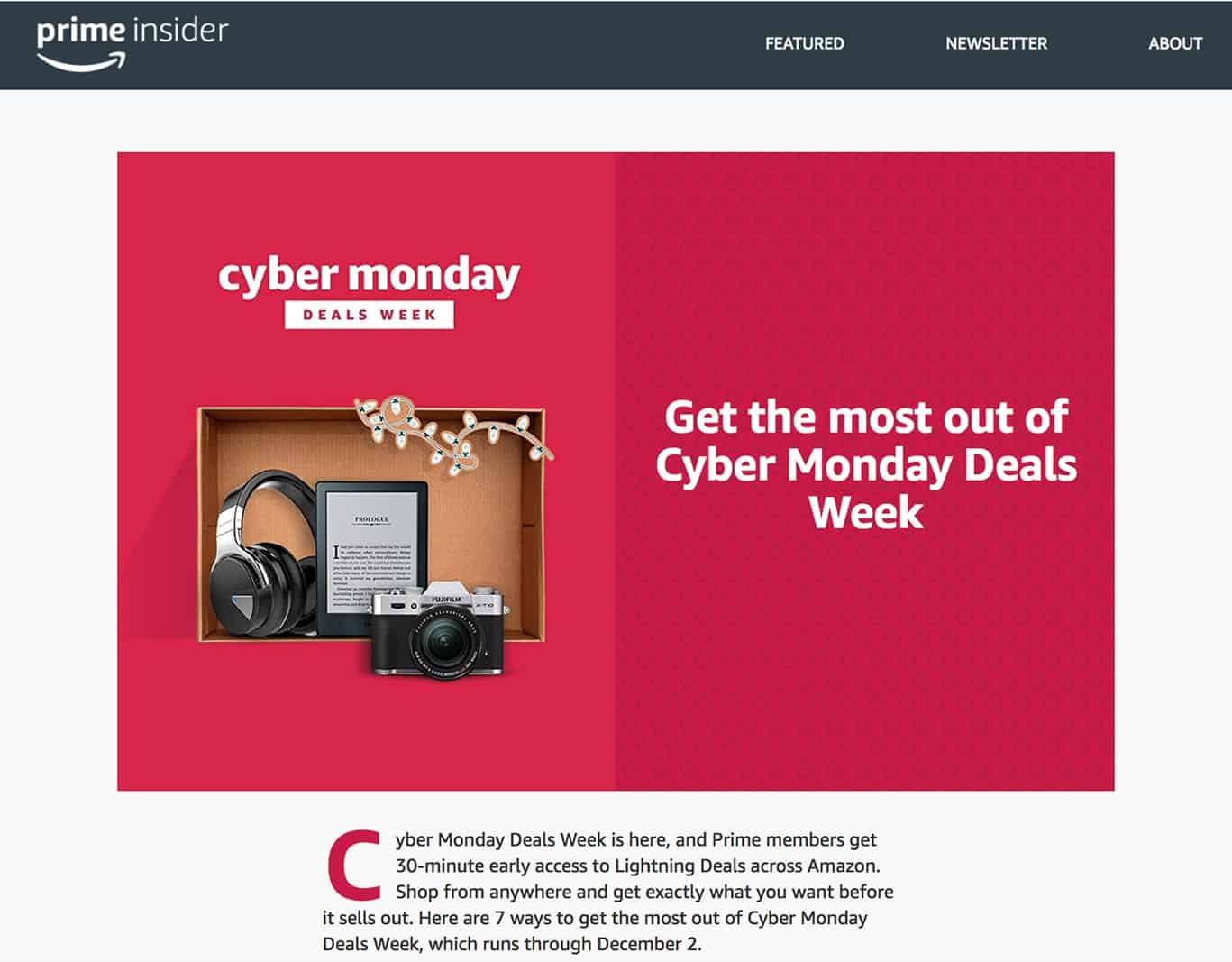 Each day, customers get a chance to buy what they want at huge discounts before it sells out.
To really drive home that sense of urgency, the deals page features items you just missed.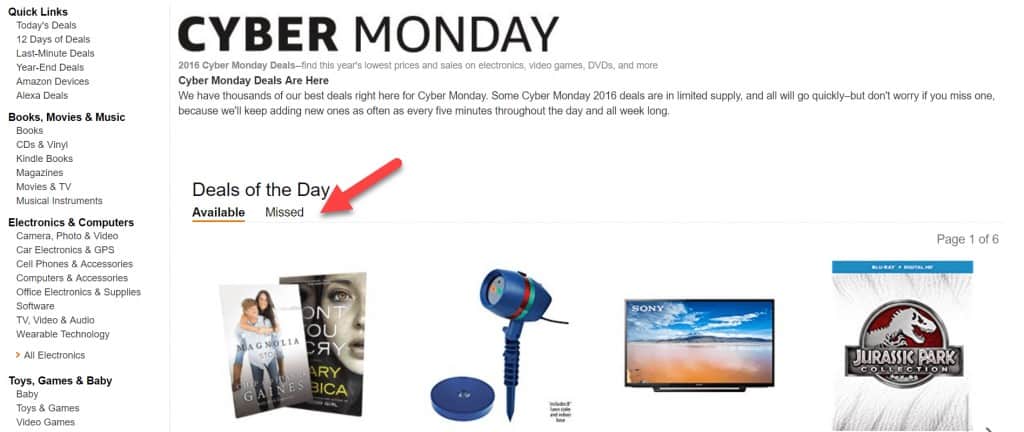 Additionally, if you become a Prime member you get access to these deals 30 minutes before everyone else. Another reason to sign up for the membership.
Customers are compelled to come back each day to check out the latest deals. It both arouses and feeds the curiosity of the users. Once you have them hooked, it becomes a habit to check out the daily deal.
Plus, each visit is another chance for them to buy something from you, even if it's not a part of the promo.
Chubbies, known for comfortable shorts, swim trunks, and bathing suits, uses hilarious ads to promote their Thighber(Cyber) Monday's "Free gifts every hour" deal.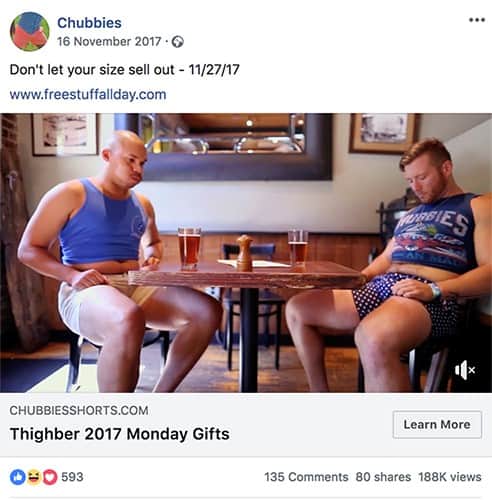 The video ads feature two guys in undersized shorts and shirts, depicting what it would be like if your size gets sold out.
Of course, you can play around with this strategy and offer discounts every hour, every day, or even replace discounts with free gifts. Whatever works for your business.
6. BOGO with a twist
"Buy one and get one free" (BOGO) is a way of encouraging more sales of a product by offering customers another item of the same type for free. "Two for the price of one" take the same approach.
BOGO is typically designed to clear out and move inventory and create cash flow.
But to make BOGO more lucrative while keeping the same appeal of a good deal, give it a twist.
For example, you can offer customers to buy one item and get another one half-price.
Marks &Spenser offer this BOGO deal as part of their Black Friday campaign.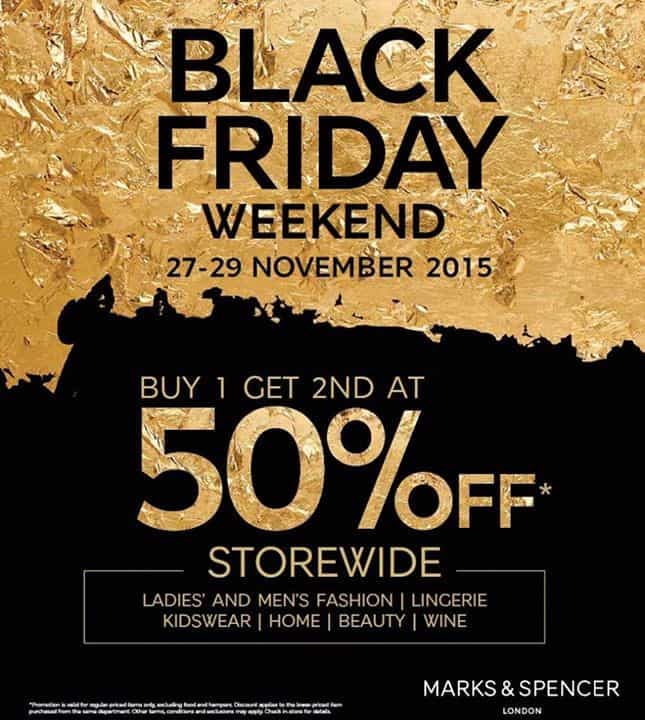 This is a great way to win over new customers and get them to spend more.
Use BOGO when you want to generate more cash. People have to increase the order value to qualify for the offer, so you get more cash.
Even though the second item isn't free, it's still a compelling offer that customers will perceive as a good deal. And you won't have to completely subsidize the second item.
Just be mindful of your profit margins. Work out the math and find the best deal structure that fits your e-commerce.
In general, BOGO with the second item half-off works great if your profit margins are over 50%.
It's easy to set up BOGO deals on your WooCommerce platform. All it takes is a plugin and you too can boost sales with these highly enticing holiday campaigns.
7. Have tiered discounts to increase customer spend
As you've probably noticed by now, the general theme of holiday campaigns is to boost sales while also increasing the value of each order.
Your traffic, CTR, and cost-per-click all go through the roof during holidays. Sales soar, but so do acquisition costs.
Which is why it's necessary to get your customers to spend more.
Cue in tiered discounts.
The logic is the more customers spend the more they save.
HomeDepot does this by offering dollar savings based on the number of appliances you buy.
For 2 you save $50, for 3 you save $100, 4 gets you $200 off, 5 saves you $300. And to qualify for the highest savings of $500, you need to buy 6 items.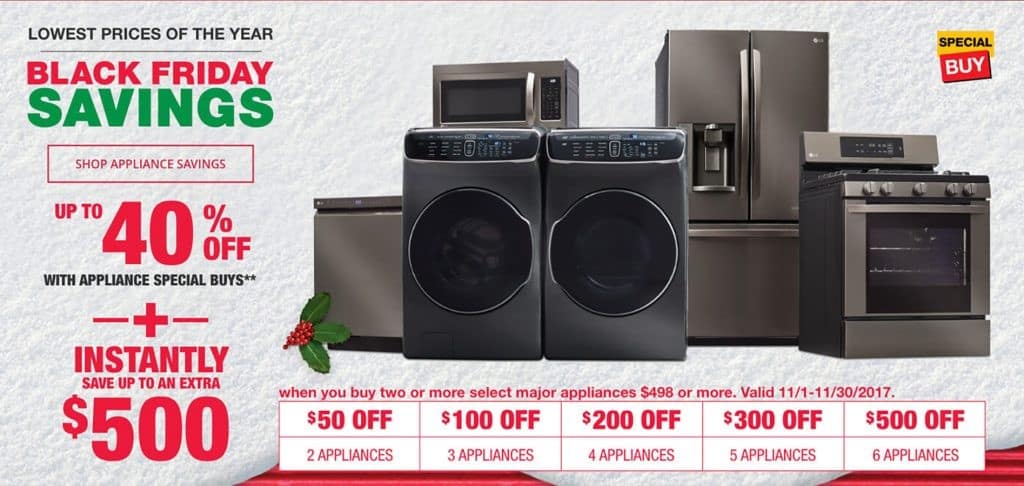 Comrad Socks has a similar idea for their Cyber Monday promo.
Depending on the amount you spend you qualify for three different tiers of discounts.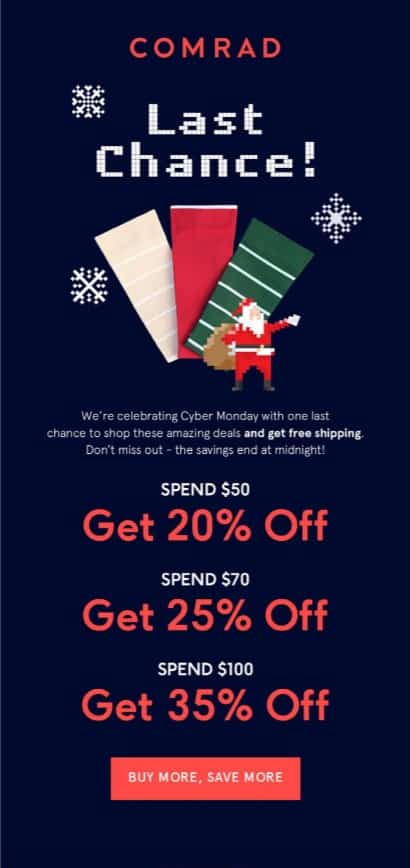 The value of the deal is captured in the catchy CTA: "buy more, save more."
Comrad proves that even selling socks online can be a lucrative business.
Tiered discounts are excellent drivers of highly profitable holiday sales.
Just be mindful of your discount thresholds when setting up the campaign.
Also, test dollar-based deals vs %-based deals at different levels in order to find the winning combination to maximize your ROI.
8. Sneaky ways to stir up a sense of urgency
Draw on people's fear of missing out (FOMO) by creating a sense of urgency.
Despite your awesome deals and big discounts, some people might be on the fence and not ready to buy immediately.
Don't leave anything to chance and don't let them overthink it. Target people's fear of missing out with scarcity and urgency.
A typical example of this are countdown timers, like the one featured on Fashion Nova Cyber Monday's sale page.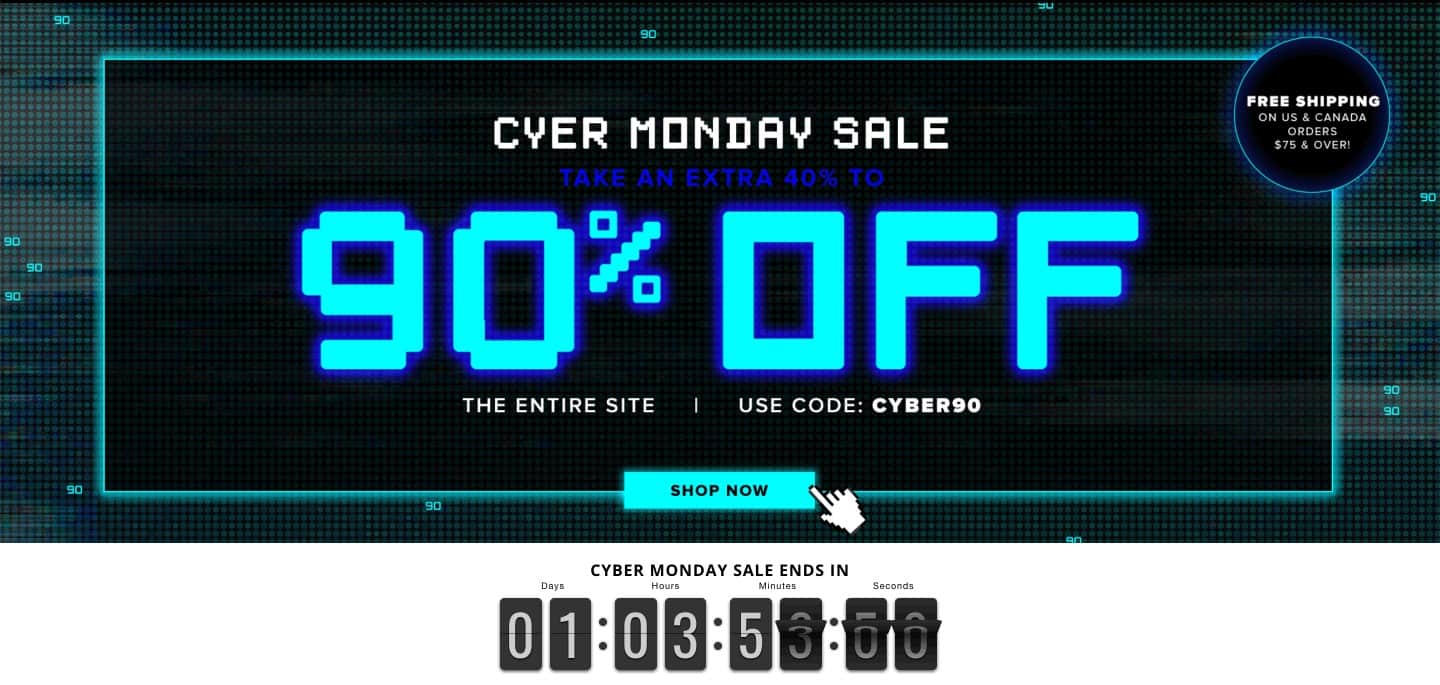 You can easily add countdown timers, "while supplies last," "limited stock" badges, and other FOMO sales triggers to your WooCommerce home and product pages with just a single plugin.
To get even more sneaky, limit the stock of your most popular items and have them sell out. Making something rare increases its perceived value and makes it even more desirable.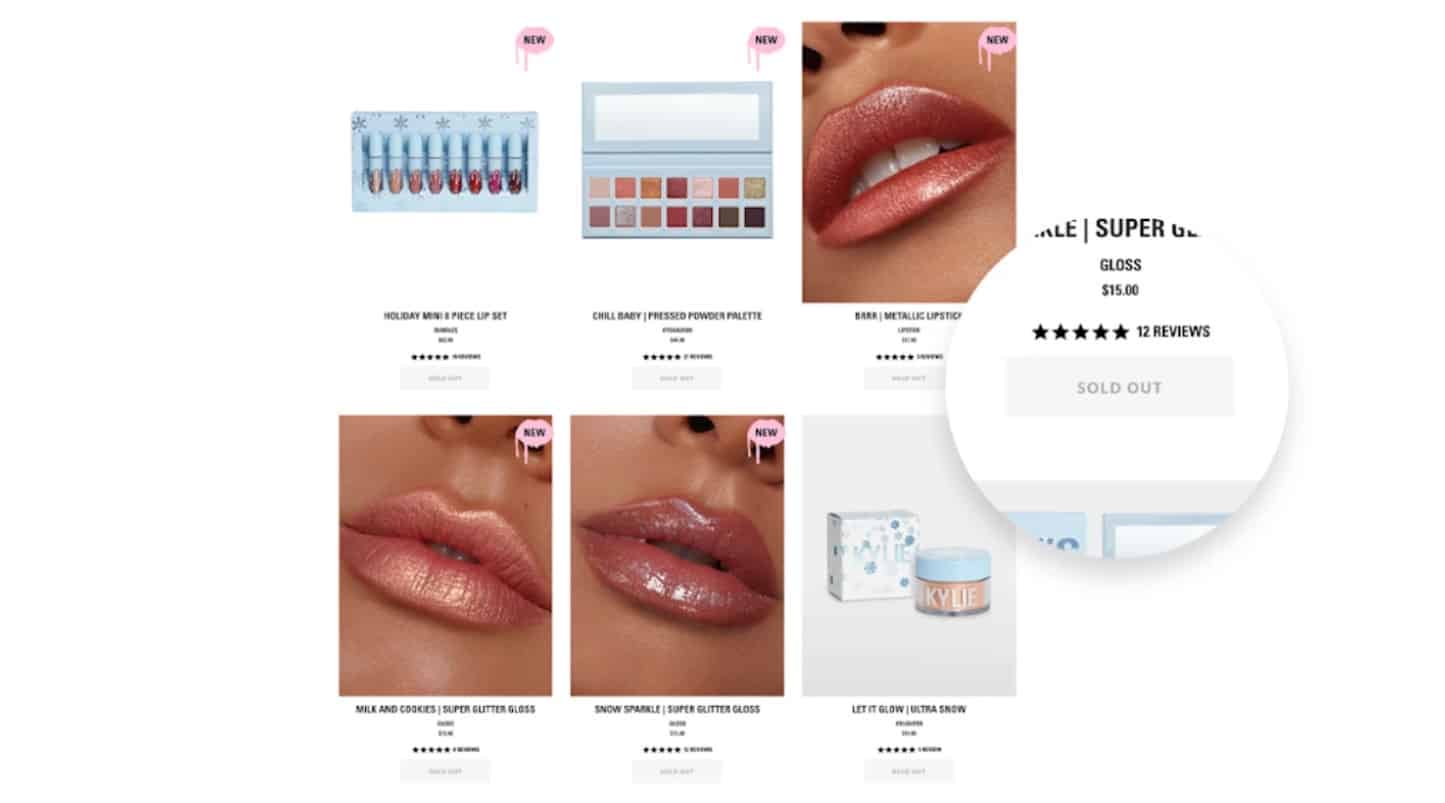 Announce a restocking alert and customers will come racing in to get a piece for themselves. Kyle Cosmetics did a fantastic job with this on Instagram.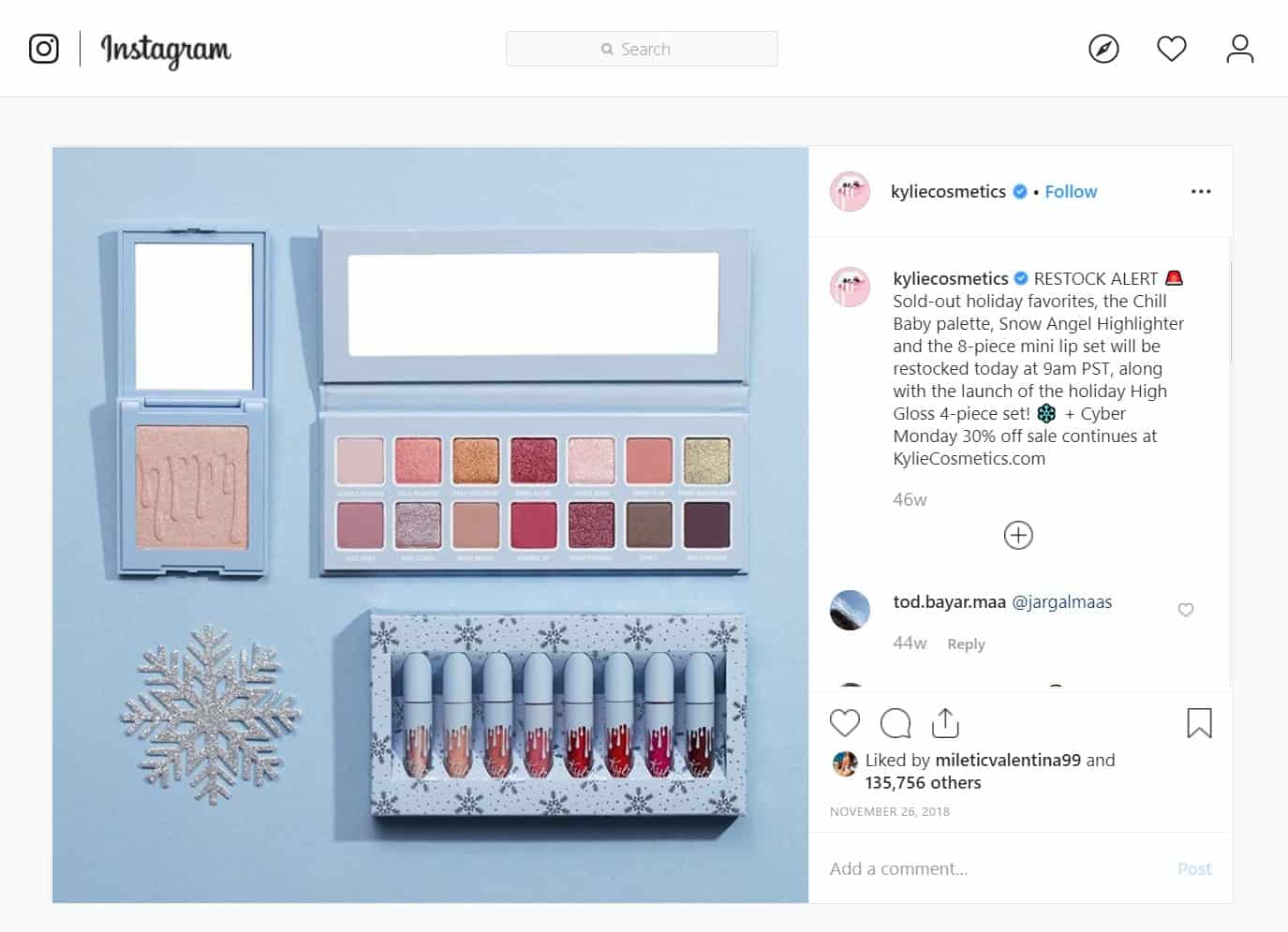 This also helped the brand expand the sales between the holidays while keeping eager customers on their toes.
You can also stir up a sense of urgency with countdowns in your Google search ads.
Use ad customizers to dynamically change the remaining time in your ads and remind searchers to hurry up before the deal expires.

9. Offer free gifts to boost conversions
To ensure high conversion rates, consider offering free gifts with each purchase.
It's a great way to join in on the holiday spirit and give away stuff for free. It makes your shoppers happy and gets them into the buying mood.
Just don't go overboard, offer something inexpensive that doesn't require extra shipping costs.
Pandora offers a free limited-edition Christmas ornament along with every $150+ purchase as a part of their holiday campaign.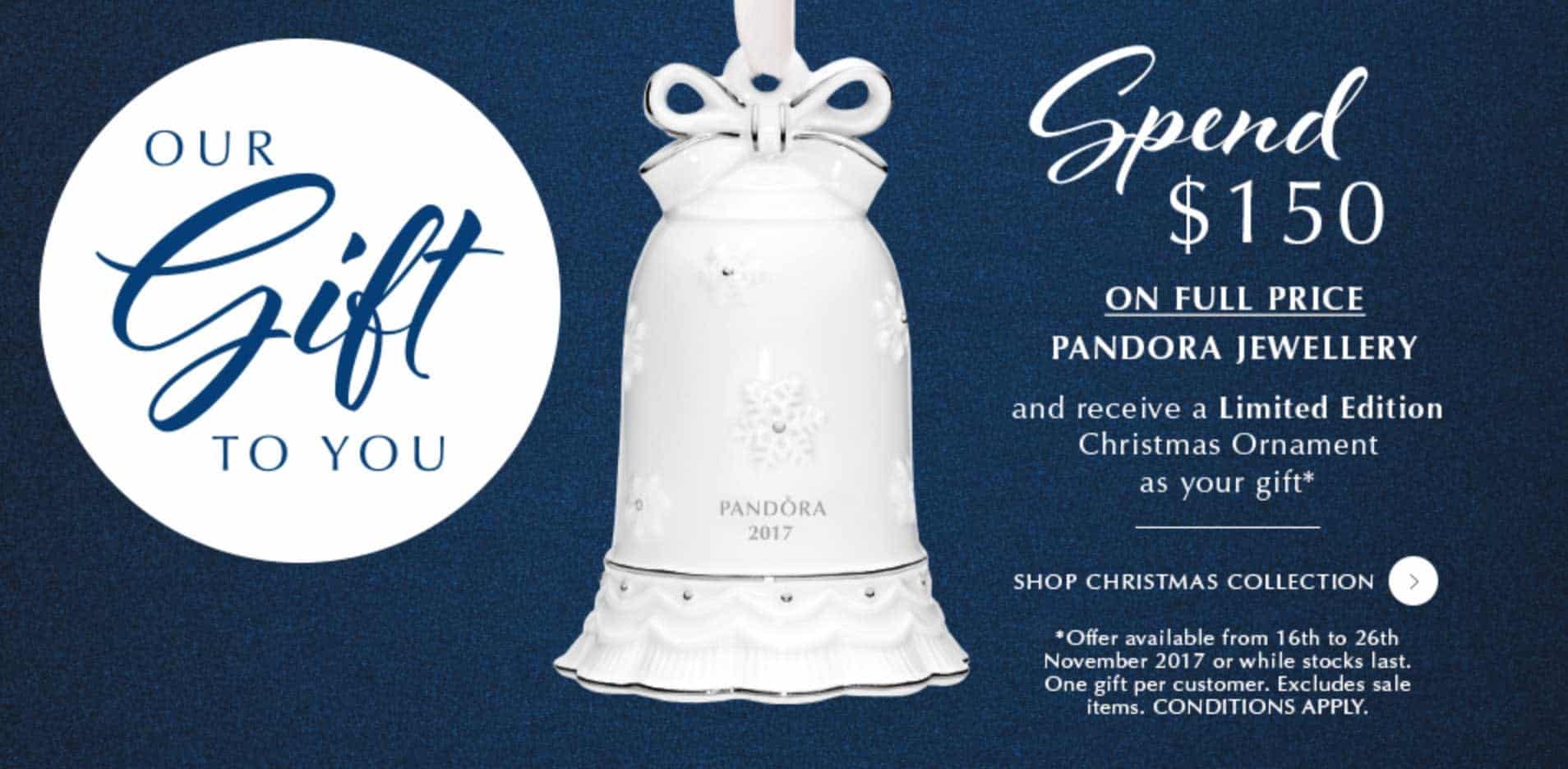 Even though the ornament is free, Pandora increases its perceived value by making it a limited edition. So, the item will likely be available for one season only.
You can also offer combo deals, like Avon. Depending on how much people spend, they can get free shipping, free shipping plus a 20% discount, or free shipping + 20% off + a free gift.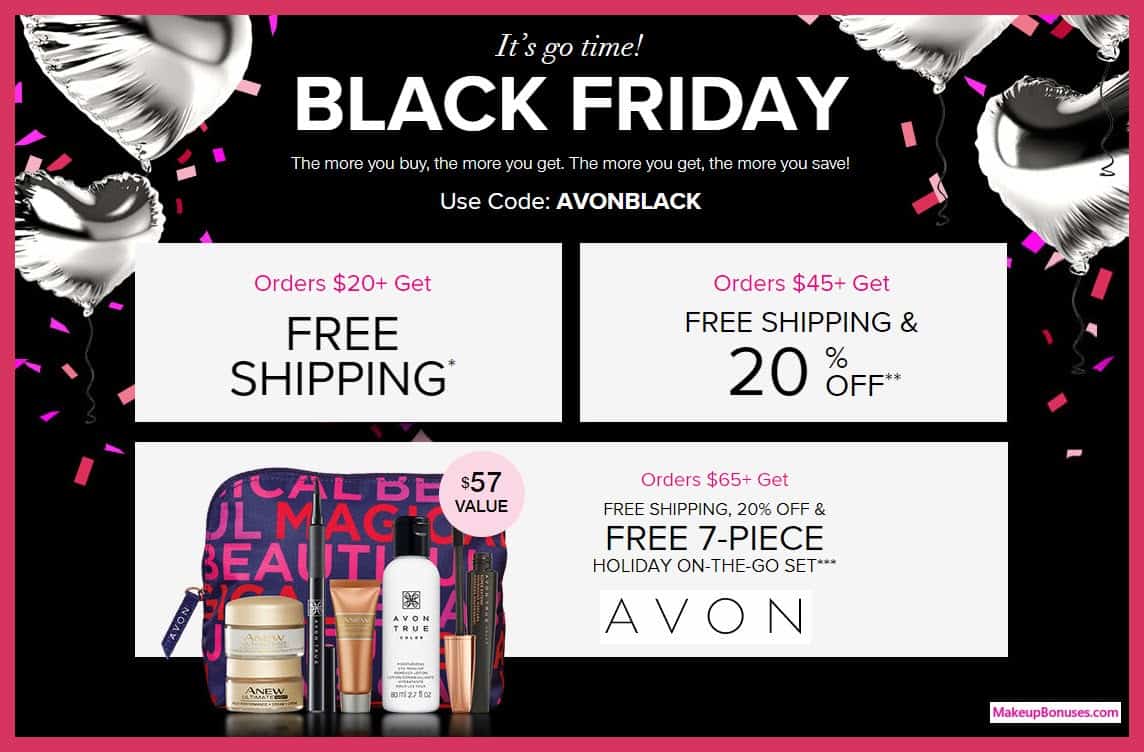 In this case, the "$57 value" tag raises its perceived value of the free gift.
Free gifts make people feel special. They show you care enough to share the holiday spirit with them. Needless to say, it works as a strong conversion booster so you'll grab as many sales as possible.
And if you make the gifts available only to those who spend a certain amount, you got yourself an AOV increase as well.
10. Give last-minute gift shoppers a chance
Some people are terrible at gift shopping. It doesn't mean they don't care, it's just that they don't have time or procrastinate until the very last moment.
The biggest concern for last-minute shoppers is if the gifts will arrive on time for boxing day.
Play on their anxiety and win them over with expedited shipping guaranteed to deliver the presents on time.
Bryan Anthony's uses email to target common fear of last-minute shoppers and dispel any uncertainty over the delivery time.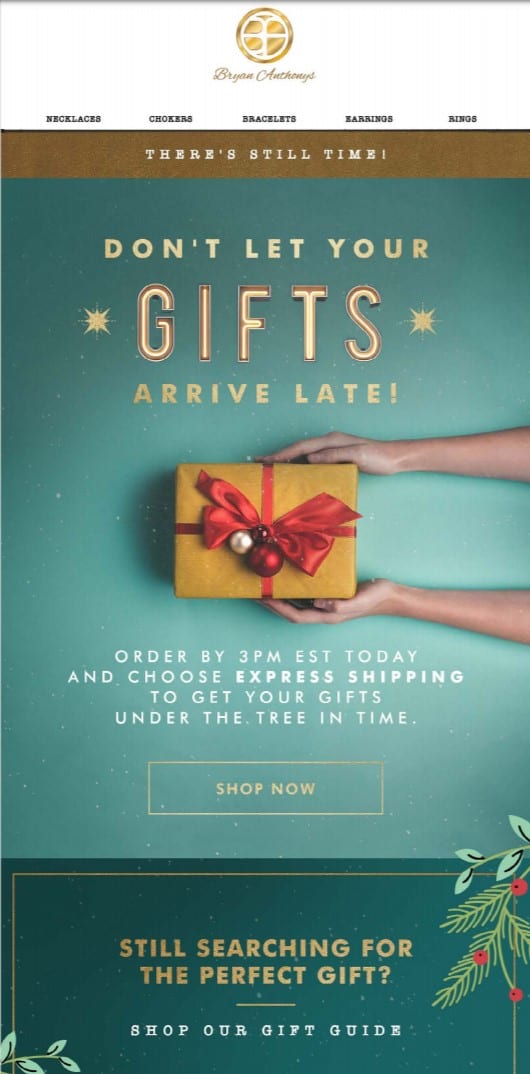 At this point, the biggest threat for shoppers isn't the cost, that's why the email has no mention of the holiday discounts. The main focus is on the delivery, which is why the brand guarantees the gifts will be under the tree in time.
I know that shipping, express in particular, can get very expensive in Canada. That's why you can lower your discounts to offset high shipping costs and make this tactic work for you.
11. Entice sales between holidays with gift cards
Gift cards are universally the most popular gifts given during the holidays. They allow your customers to buy vouchers for their loved ones if they aren't sure which product their friends or family members will love best.
As an e-commerce merchant, you want to cash in on that.
Gift card promos are simple. You can set an expiration date to entice people to shop between or after holidays when sales typically plummet.
But you can get even more creative…
Ivory Ella's email campaign targets last-minute shoppers who waited until the very last moment to buy presents for their loved ones.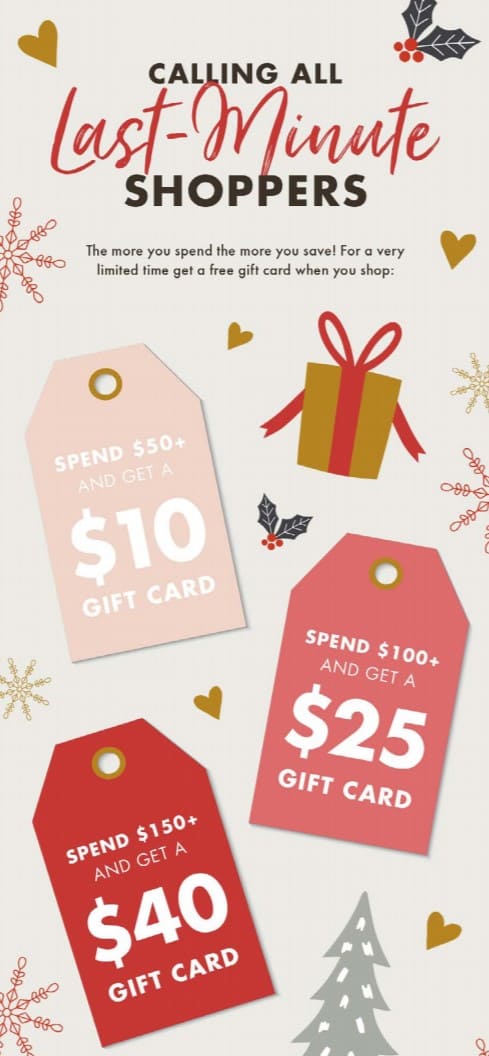 With the Cyber Week deals behind, IE uses a combination of tiered promo with a gift card. The more people spend the higher value gift card they get.
They don't have to worry about delivery time because the printable gift cards are the Christmas present.
An ingenious campaign like this allows you to bring AOV back up after the shopping week is done, when sales typically stagnate.
It also encourages those who received the gift card to come back and buy from their online store between and after the holidays.
Pure genius!
12. Have something for those that missed out
There are ways to boost sales even after the main holiday shopping is over.
Just because someone didn't buy from you during the BFCM craze, doesn't mean they don't want your products. Give these people a chance at redemption with post-holiday targeted deals.
Mahabis, a brand selling comfortable slippers, has the right email campaign for those that missed out on the holiday sales.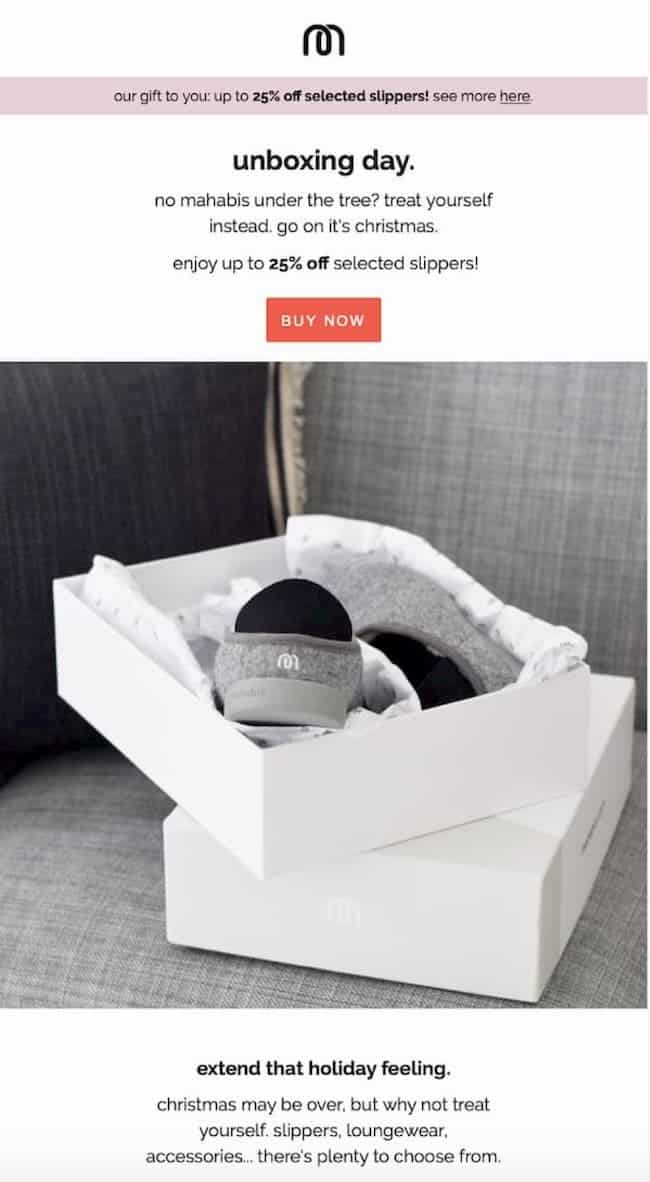 The email copy is what really sets Mahabis apart.
The comforting words show that the brand knows what it's like to not get what you want for Christmas. But there's a second chance to extend the holiday feeling and treat yourself with a pair of slippers.
A very encouraging email for those interested in such products.
Finally, once the new year starts, you can offer flash sales and try to squeeze as much as you can from this barren post-holiday period.
Frederick's of Hollywood does their best with a very alluring email designed to get people back to their online store even after the shopping spree is over.

All lingerie for $20.19 sounds like a good way to celebrate the new year of 2019.
Conclusion
Start planning your holiday marketing early, to get a leg up on your competition and explode your sales.
Get creative to attract customers with fun and engaging campaigns that also skyrocket your AOV.
Hopefully, the 12 promos from this article are enough to inspire you to come up with your own perfect holiday campaign.
If you need help with your marketing plan, implementation on your e-commerce website or campaign execution, get in touch and find out what we can do for you.
And if you have any questions or comments, drop them below and we'll be sure to respond as fast as possible.