Alternative online advertising platforms can help you reach additional audiences and build a more comprehensive omnichannel marketing strategy.
With Google and Facebook Ads becoming more competitive (and expensive), it's smart to include other ad platforms like Microsoft Ads, Quora Ads, Pinterest Ads and Twitter Ads into your online marketing.
Each has hundreds of millions of active users that you can target.
There's also far less competition meaning it's much easier to break through at a significantly lower cost.
While these ad platforms may not provide enough volume to rely solely on them, they can fit perfectly in your marketing funnel to complement advertising powerhouses like Google and Facebook.
In this guide, you'll learn how each of these ad platforms works, their unique features, as well as when and how to use them in your online advertising strategy.
Ad platform breakdown
Microsoft, Quora, Pinterest and Twitter advertising platforms are often overlooked, however, they each one has powerful features that can fit perfectly into your marketing strategy.
But which one is the right for your business? What makes them worth the investment?
To help make a smart decision as to which of these ad platforms to include in your advertising plan, here's a clear breakdown of each platform with its cost, standout feature, who it's for, and how they fit into your marketing funnel.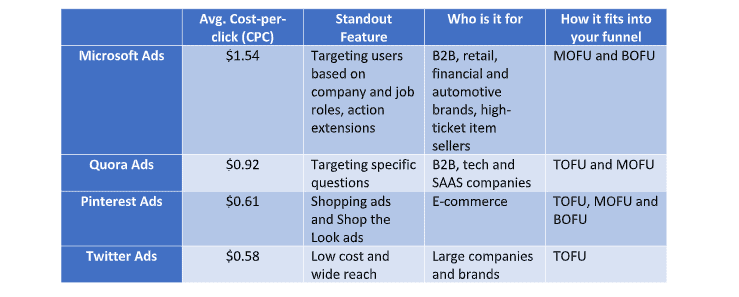 Read on for a detailed overview of each advertising platform and its core features.
Microsoft Ads (formerly Bing Ads)
Microsoft Ads is a search advertising platform that covers three major search engines – Bing, Yahoo and AOL.
Bing is actually the second largest search engine behind Google. Bing holds a larger share with PC users, especially in North America with 36.7% in the US and 21.3% in Canada, amounting to about 6.9 billion monthly PC searches.
Similar to Google, Microsoft Ads is a pay-per-click (PPC) advertising platform where your ads appear in the search results whenever users search for a term that matches your target keywords.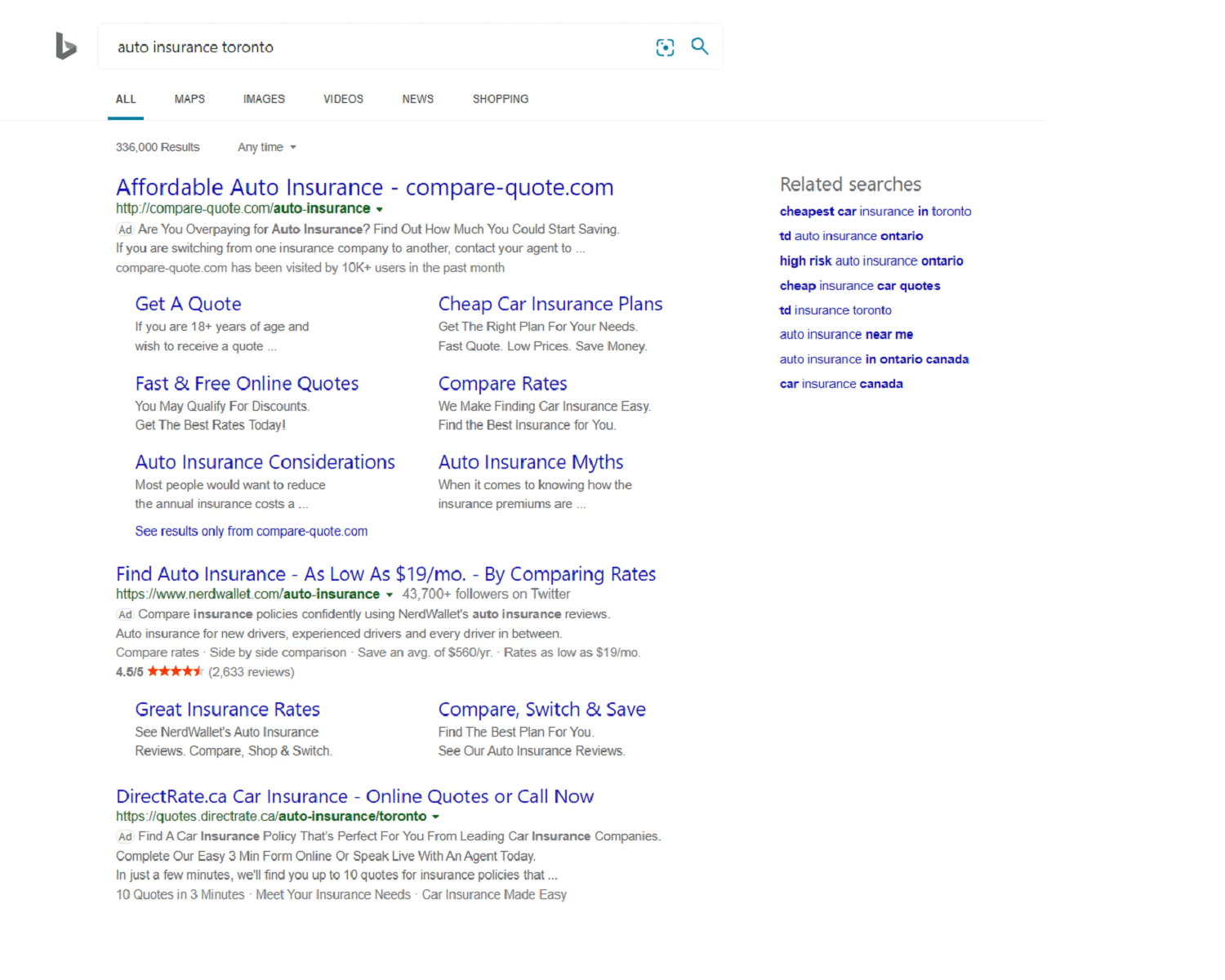 With Microsoft Ads, you can increase the visibility of your business online, especially with enterprise users that stick with Microsoft's default browser.
In general advertising on Microsoft's platform works similarly to Google Ads. However, you can reach a very specific demographic at a much lower cost.
Bing (Microsoft) is predominantly used by middle-aged and senior adults that have an upper-middle-class income, making it a perfect platform for selling high-ticket items.
Where does Microsoft Ads show
Microsoft Ads appear in Bing, Yahoo and AOL (Microsoft Search Network) as well as partner sites that form the Microsoft Audience Network. This includes sites like MSN, Outlook.com, Microsoft News as well as other selected third-party websites, and even Windows OS and Xbox.
Microsoft Ads include four main types:
Search ads
Shopping ads
Smart search ads
Display ads
Search ads appear as textual advertisements displayed in Bing and other search engines above regular (organic) results.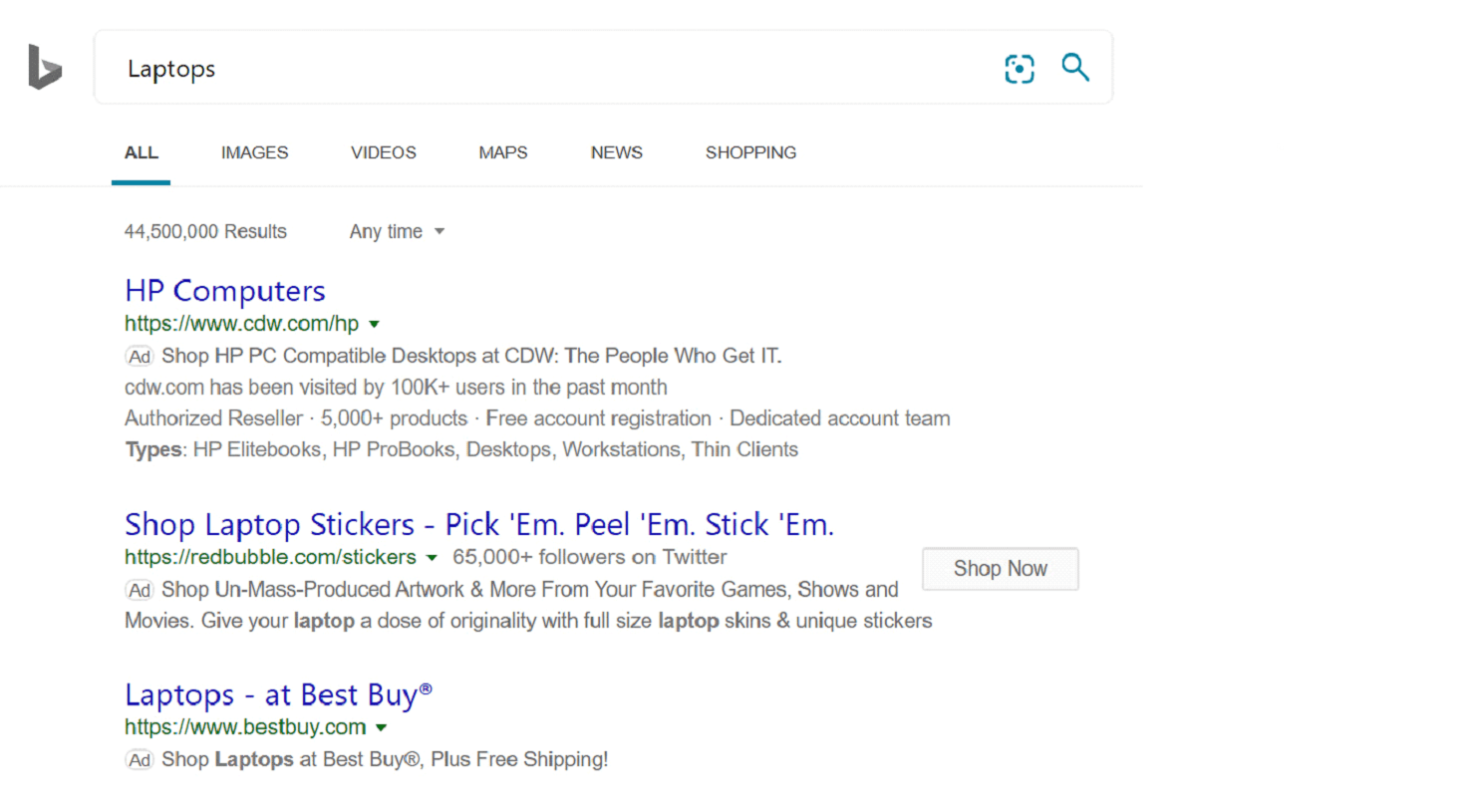 They appear both on top and bottom of organic search results.
Ads on Bing may also feature an Action Extension that serves as a call-to-action (CTA) button. This encourages users to complete a specific action like shop, browse products or even book a reservation.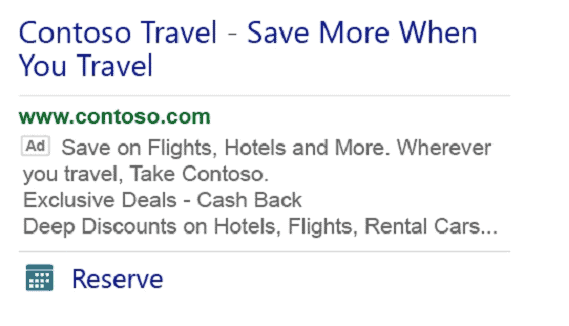 Shopping ads appear on Bing in the regular search results as well as in the Shopping section. They work great for e-commerce businesses that want to promote products for relevant searches on Bing.
Shopping ads allow you to promote specific products with ads that include an image, price, review stars, discounts and shipping options.
These product ads can help claim more real-estate as they can appear next to your regular text ads in Bing search.
Bing Smart Search ads show up in Windows OS as users type in search queries in the Start menu. Smart Search ads look similar to regular text ads, however, they also feature a preview of your landing page.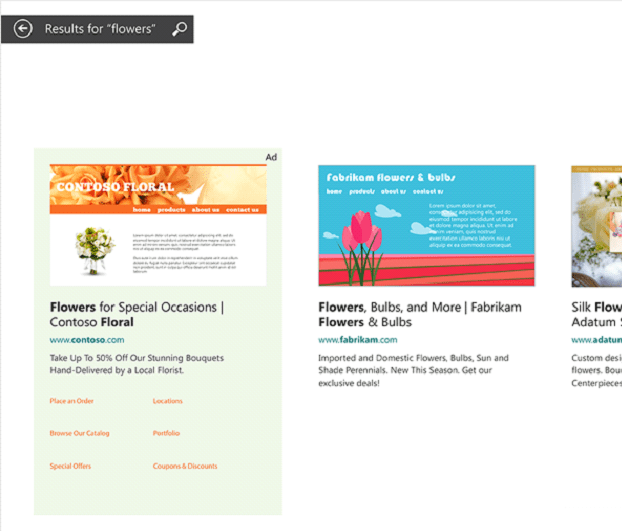 Smart Search ads use the same ad copy and extensions you create for your ads on the Microsoft Search Network. Microsoft will automatically take a snapshot of your landing page from time to time, so there's no additional action required from you to be eligible for these ads.
Finally, Microsoft's Display ads appear on the Audience Network including approved third-party sites as well as MC's own properties.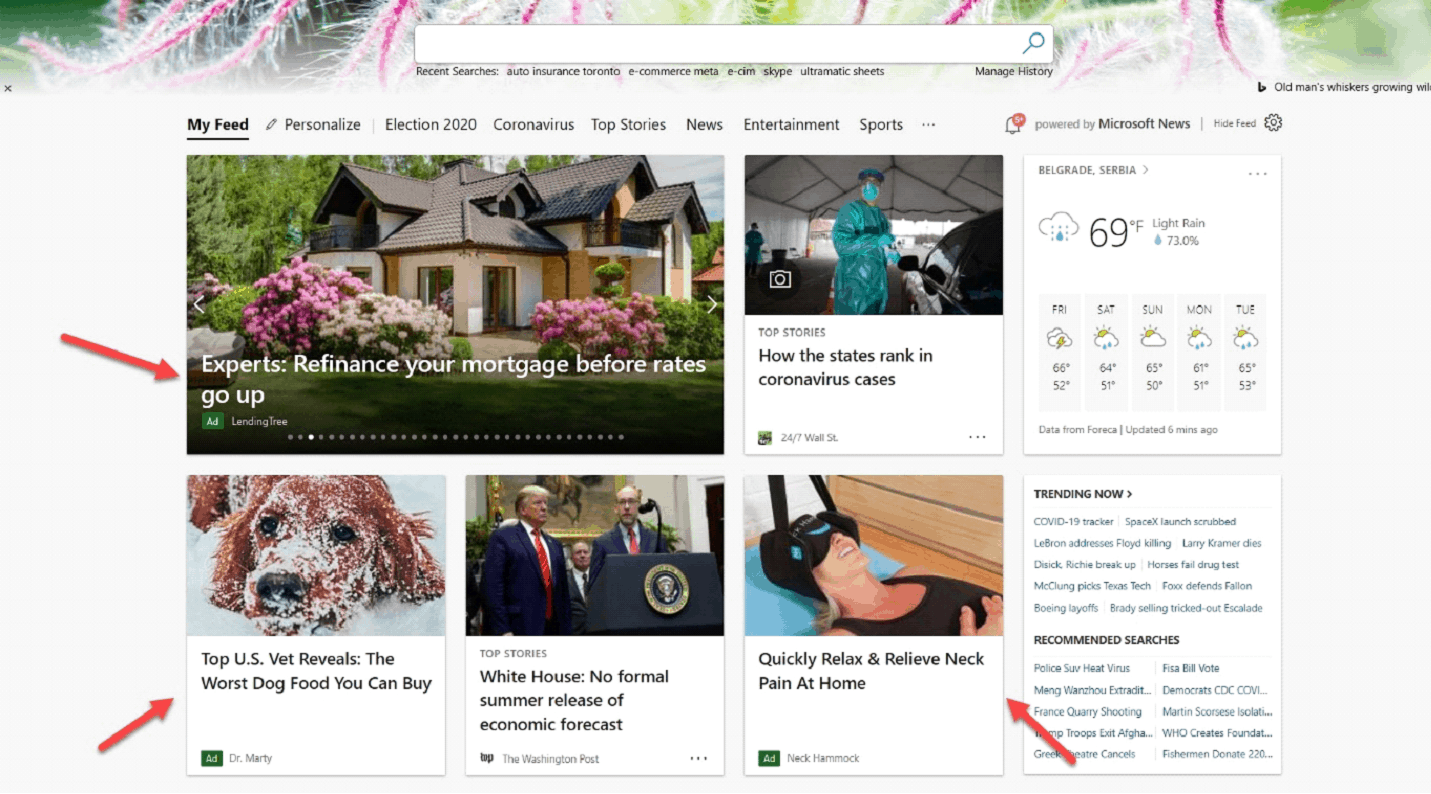 With Microsoft Display ads you can reach a huge audience across a big network of websites to raise awareness as well as drive purchases with retargeting ads.
Microsoft Ads targeting options
Microsoft Ads' primary targeting method is based on keywords. You pick which search terms you want to target, set the match type (broad, phrase, exact match) and create your ads.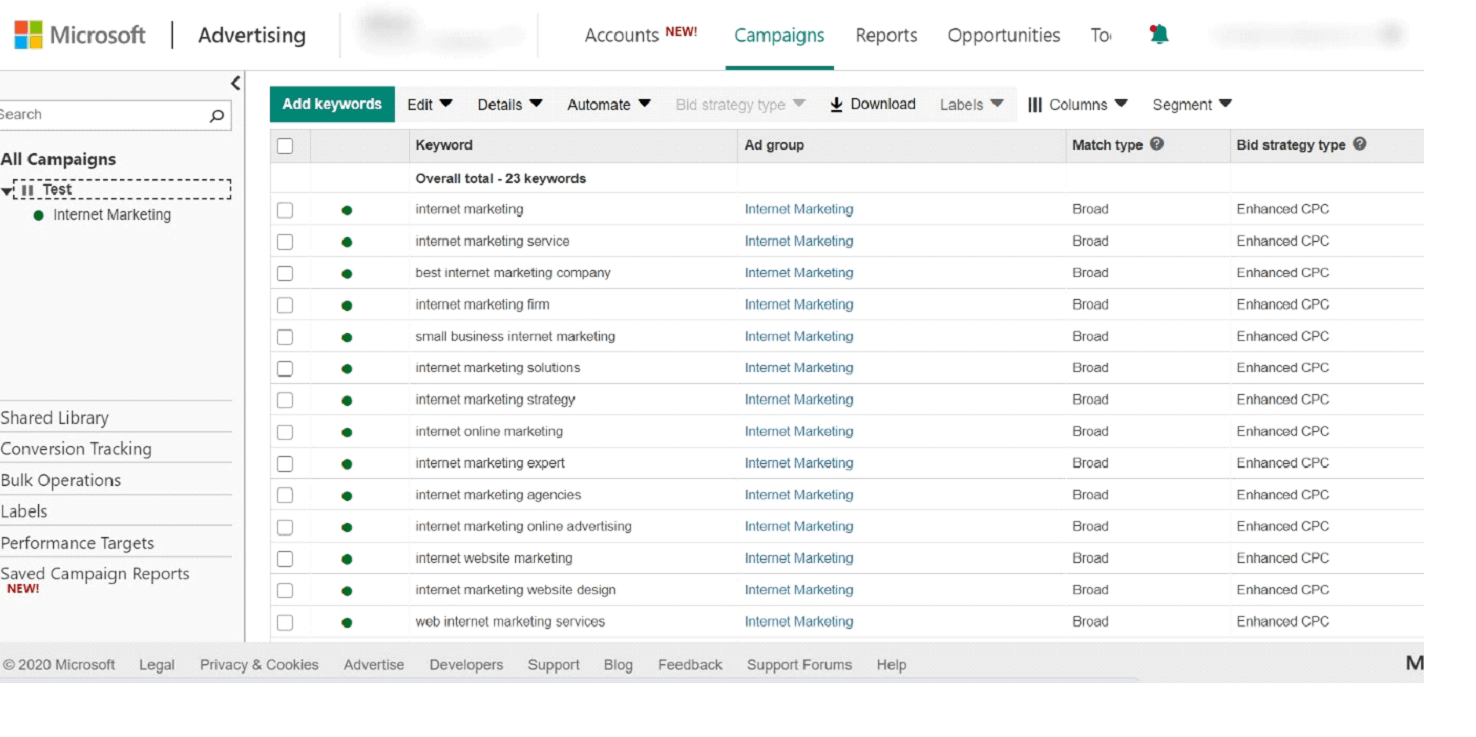 Besides that, you also have a range of targeting options like language, location, time, gender, age, and device.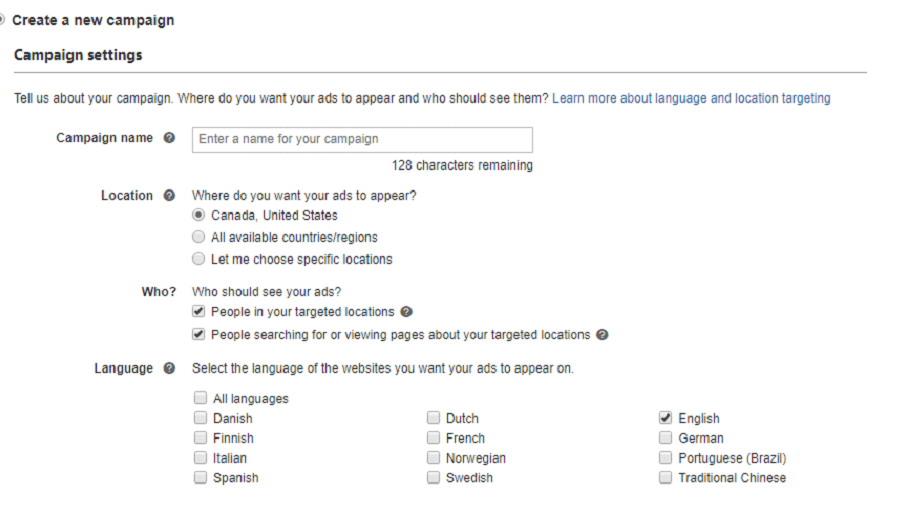 Microsoft Ads also allows for additional, advanced settings that include website exclusions as well as audience targeting.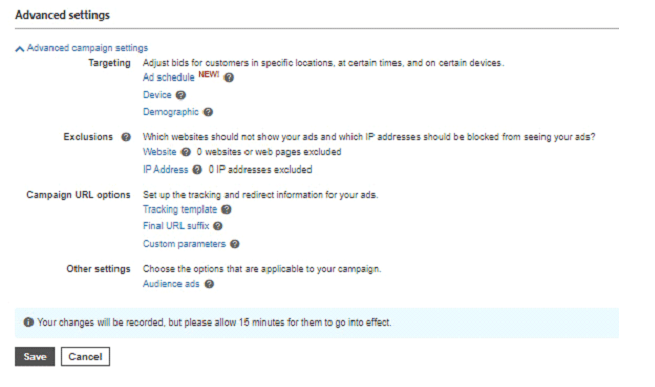 The Audience ads targeting option allows you to adjust your bid (increase or decrease bids) for specific groups of users when using Microsoft's Audience Network.
Finally, Microsoft Ads allows you to create retargeting campaigns to reach people that have visited your site business before.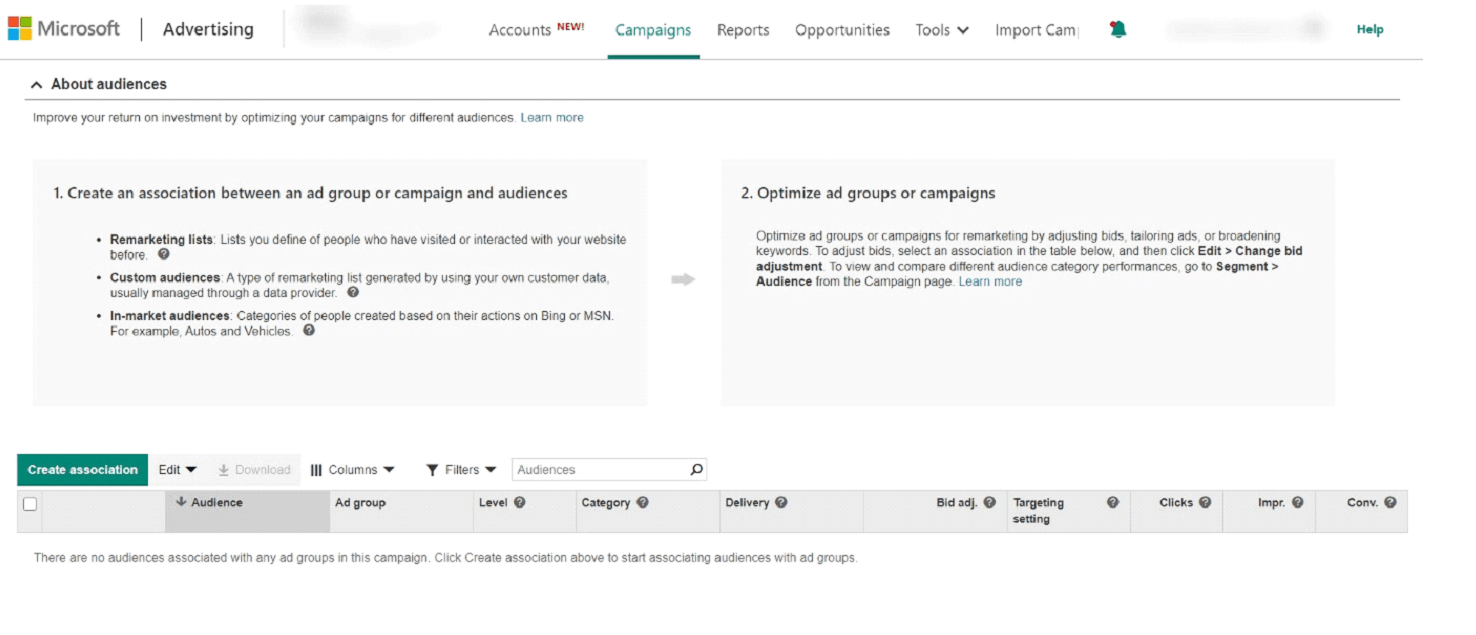 You can create target audiences based on website visits, visits to a specific page (i.e. product or checkout page), based on your customer data, as well as in-market audiences.
Standout features of Microsoft Ads
Looking at how Microsoft Ads work it would seem as it's the same as Google Ads. However, Microsoft does have a few standout features in its arsenal that you can't find on other platforms.
For one, Microsoft Ads are extremely simple to set up. In fact, one of the key features is the ability to import entire ad campaigns from Google.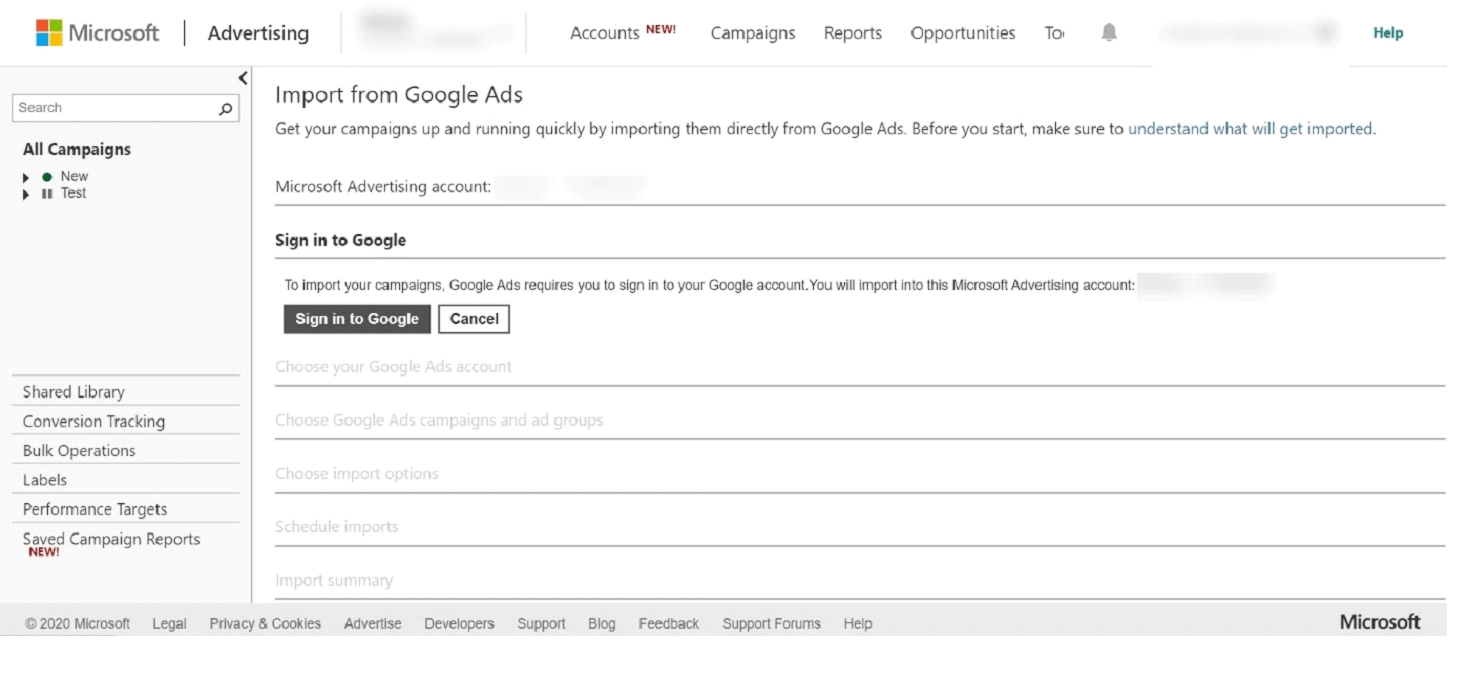 It's a truly awesome feature that can help you instantly scale your high performing Google Ads campaigns by importing them into Bing and the Microsoft ecosystem.
Another powerful feature of Microsoft Ads is that it allows you to target potential customers based on their LinkedIn profile information. You can target customers based on their:
Company
Industry
Job function
Microsoft leverages data natively used by LinkedIn Ads to allow you to reach key decision-makers in a company when they perform a Bing search or use other Microsoft products.
This is a potent functionality for B2B companies that can help target key individuals that make or influence buying decisions.
Finally, another Microsoft's highlight feature is Action Extensions that can be added to your text ad copy in Bing search.

Action extension represents CTA buttons that not only help your ads stand out in search results but also direct users to take a specific action.
And you can be sure that people that do click through your action extension buttons will most certainly convert on your offer.
Who should use Microsoft Ads
Microsoft Ads is ideal for B2B companies and those in the retail, automotive and financial industries.
Bing, as the centrepiece of Microsoft Ads, is most inclined to business and corporate users which make up the bulk of its audience. This makes it a good platform to target other companies as well as specific decision-makers.
On the other hand, Microsoft advertising also includes Yahoo which is predominantly used by finance and investment focused users.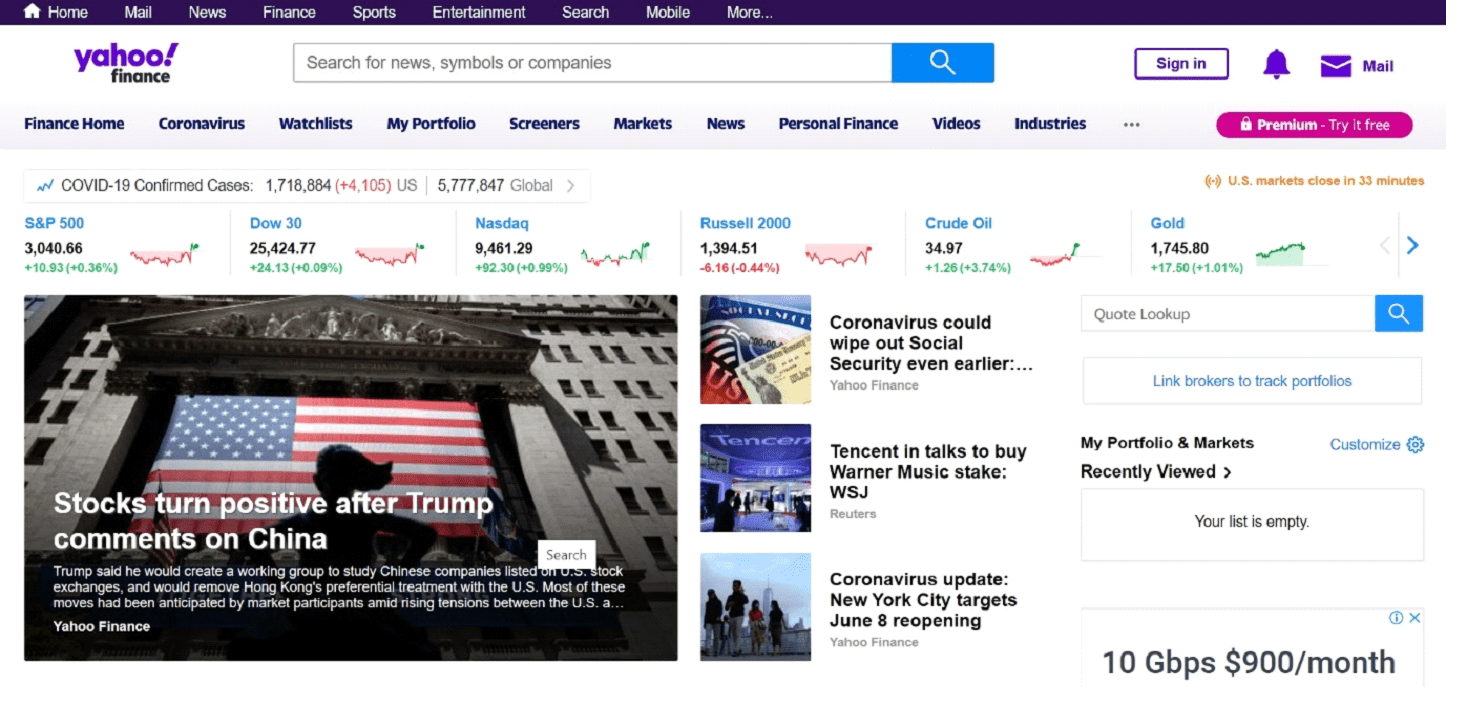 Also, Shopping Ads on Bing work great for retail businesses and e-commerce to connect with high-value shoppers and customers.
Finally, looking at the demographics of Bing's user base, Microsoft Ads can also deliver strong results for brands that sell high-ticket items as well as those that appeal to an older demographic.
When to use Microsoft Ads
If you're considering Microsoft Ads, it's important to understand when to use it; how it fits into your online advertising funnel.
Since Bing makes up the biggest chunk of Microsoft's ad inventory it's most useful in later stages of the marketing funnel.
Use Microsoft Ads in the MOFU and BOFU stages, where users have already defined their needs and are actively searching for a solution.
Microsoft Ads can also work well as a remarketing channel to reach existing leads and website visitors that interacted with key pages on your site.
3X Your Business in 90 Days
Get an unfair advantage with our powerful 3-step funnel strategy and learn how to increase leads and sales by 300% fast.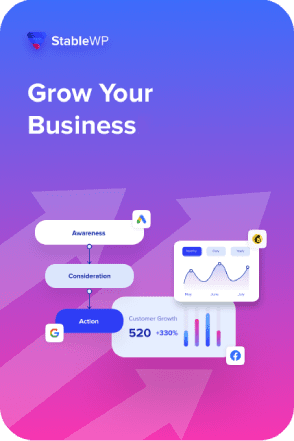 Quora Ads
Quora is a Q&A website where users ask questions and get answers. It has an audience of over 300 million users who tend to be highly educated.
From a business perspective, Quora is a powerful platform to promote your business both organically and through Quora Ads. You can reply to questions related to your industry or products to drive traffic to your site, as well as have your advertisements appear for relevant topics and questions.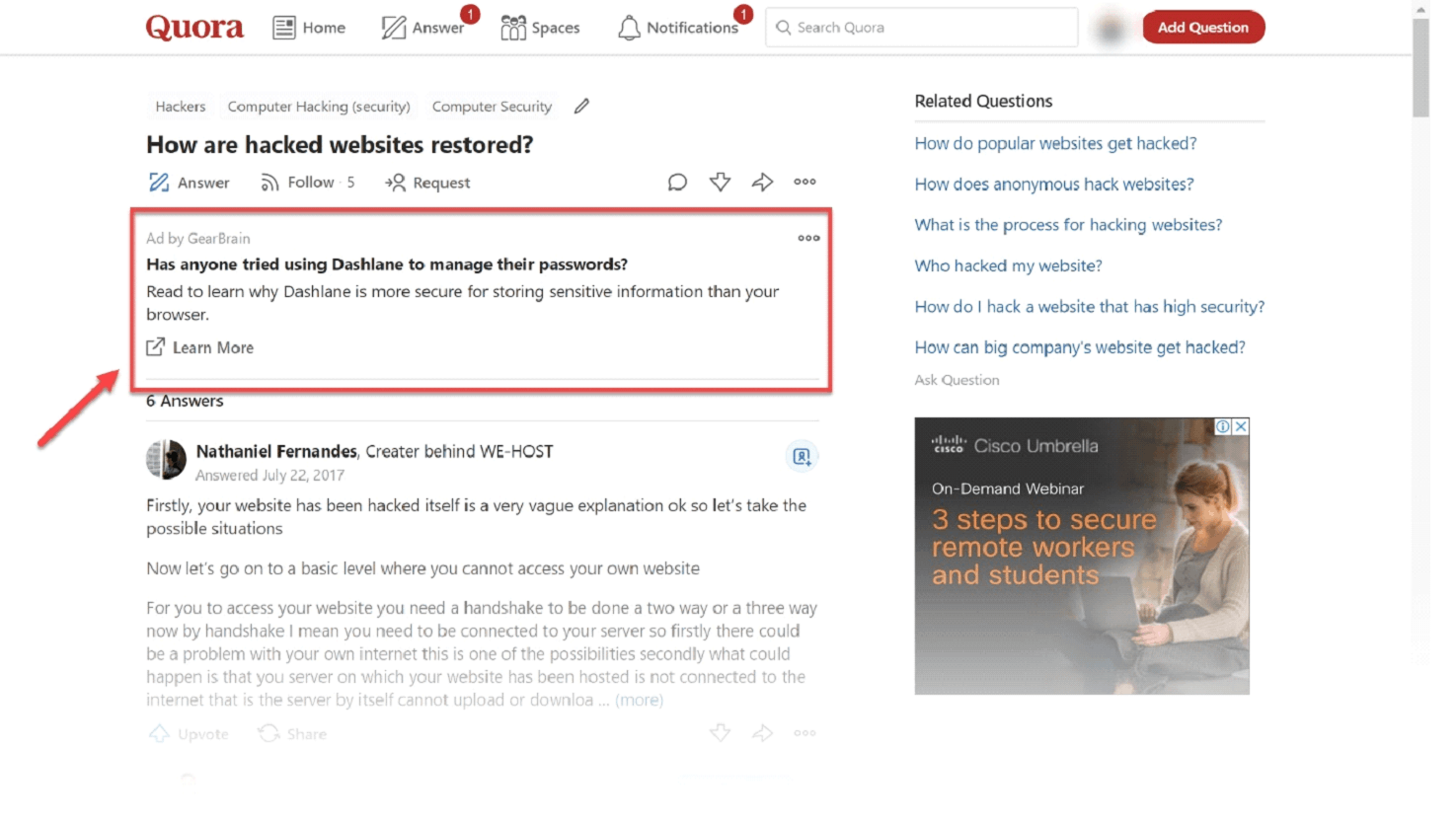 The biggest opportunity with Quora advertising comes from high user intent. People that ask questions or read answers are highly interested in a solution to a challenge or problem their facing.
By having your ads appear on Quora, you can reach the right users, at the right moment with the right message to pull them into your marketing funnel.
Where do Quora Ads show
Quora Ads can appear in multiple areas on the Q&A site, including:
Question pages
Topic Feeds
User Feeds
Quora's email newsletters
Quora Ads' primary placement is on the questions page. Your ads can appear above all organic answers as well as below the first few replies.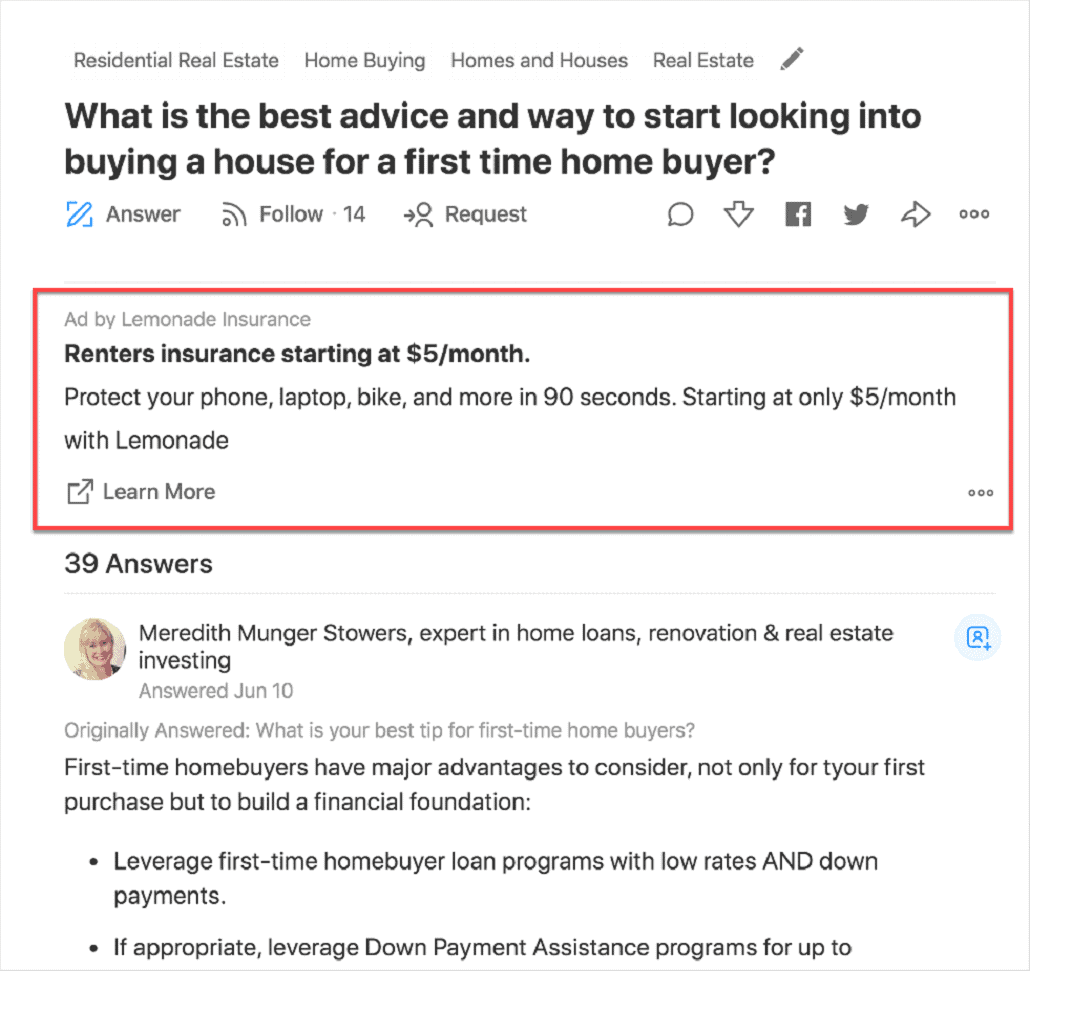 These are text-only ads that make them feel native to the page as they look almost exactly the same as other answers.
Quora ads also appear in Topic Feeds between regular questions and answers. These ads contain both a text headline, short ad copy and a CTA button, as well as a big image that can stand out.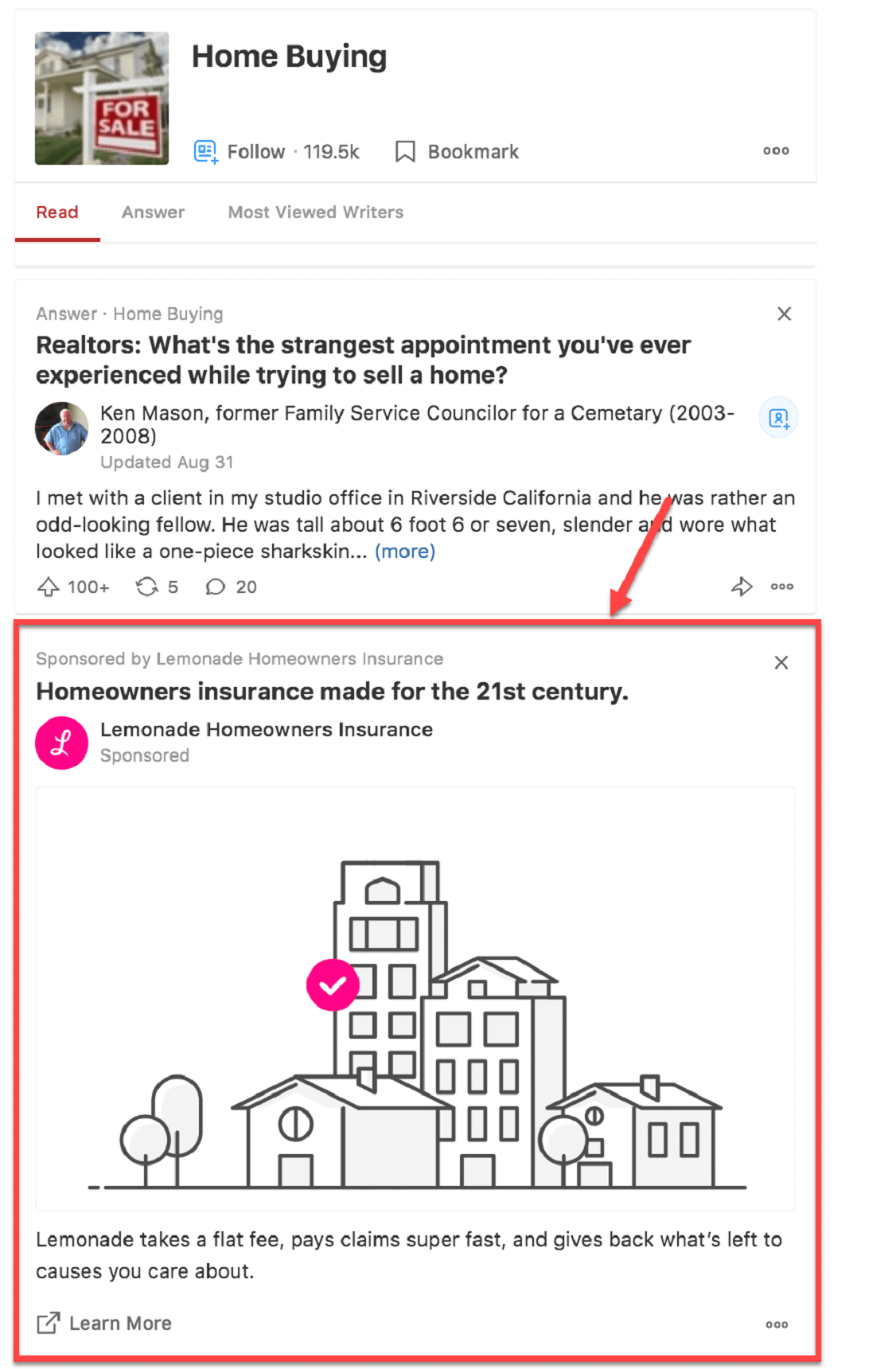 Topics on Quora represent a collection of questions and native blog posts related to that topic. It's broader than a question.
As seen in the example above, a Topic of "Home Buying" can contain a question like "What is the strangest appointment you've ever experienced while trying to sell a home?"
Users on Quora can follow these broad topics and get updates on subjects they're interested in. The Topic Feed is a good placement if you want your ads to reach users that are highly interested in a specific subject.
Your Quora ads can also appear in User Feeds, such as the home page.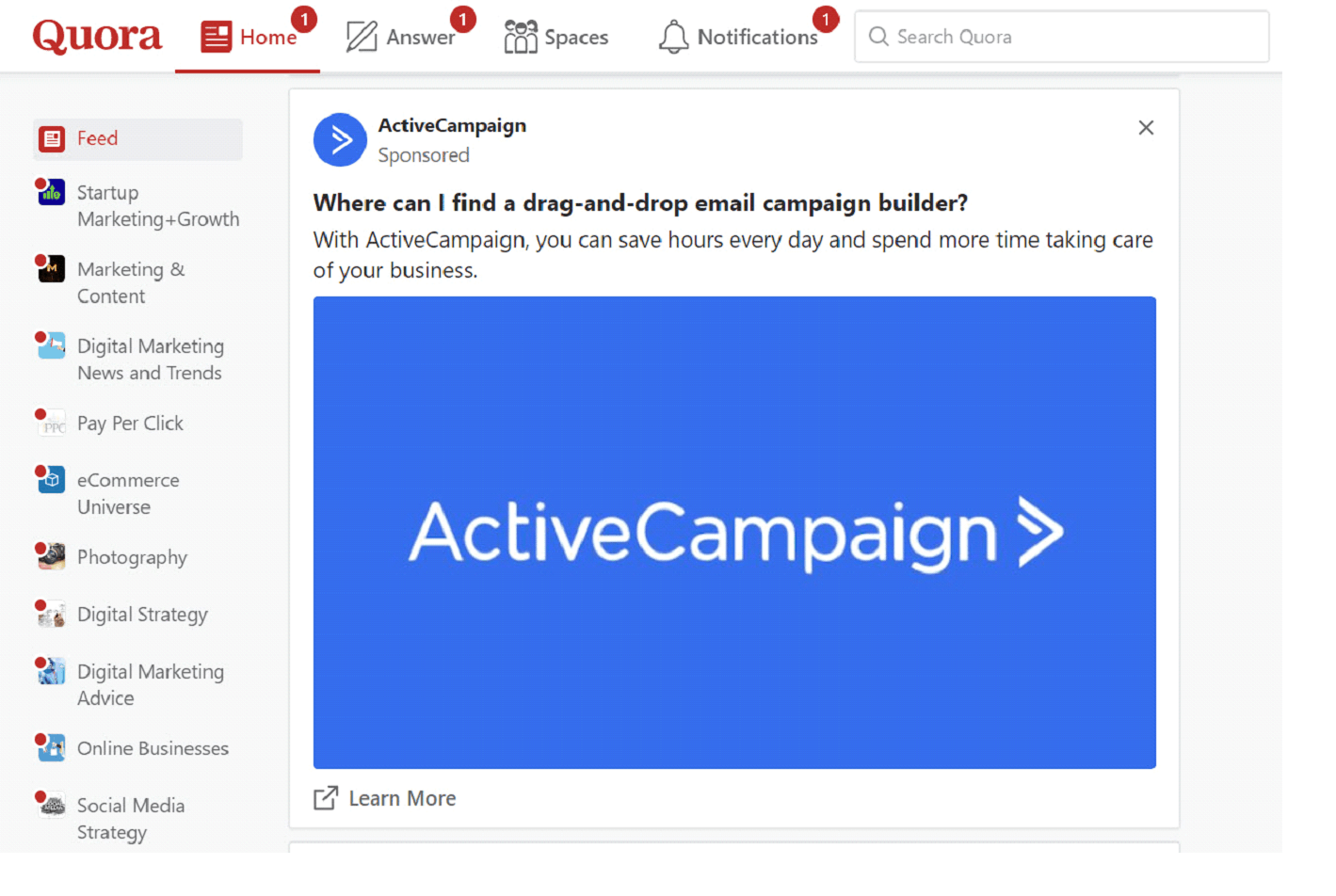 The User Feed ads typically have a weaker user intent since they're not contextually related to what a user is searching for. However, they can still work great for raising awareness and reaching new audiences.
Finally, if you opt for Email Targeting, ads can also appear in users' Quora Digest newsletters.
Take note that the ads that appear in the sidebar are not a part of Quora's ad platform, but rather they belong to Google Display Ads.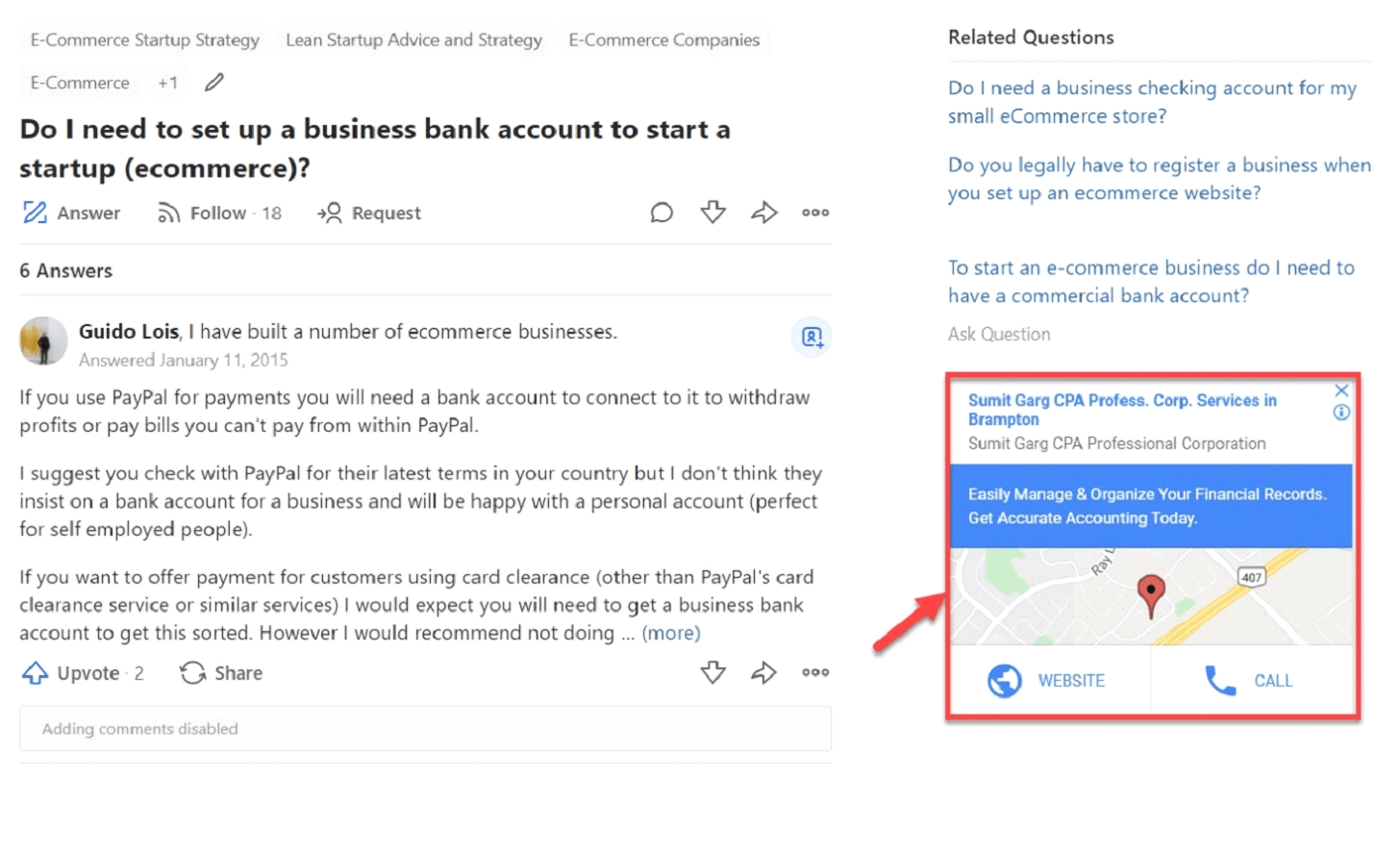 Quora Ads targeting options
There are two main parts to Quora Ads targeting – Primary and Secondary targeting. Primary Targeting on Quora includes:
Contextual Targeting
Audience Targeting
Behavioural Targeting
Broad Targeting
The bread and butter of Quora Ads is the Contextual Targeting with its three precision targeting options:
Topic targeting
Question targeting
Keyword targeting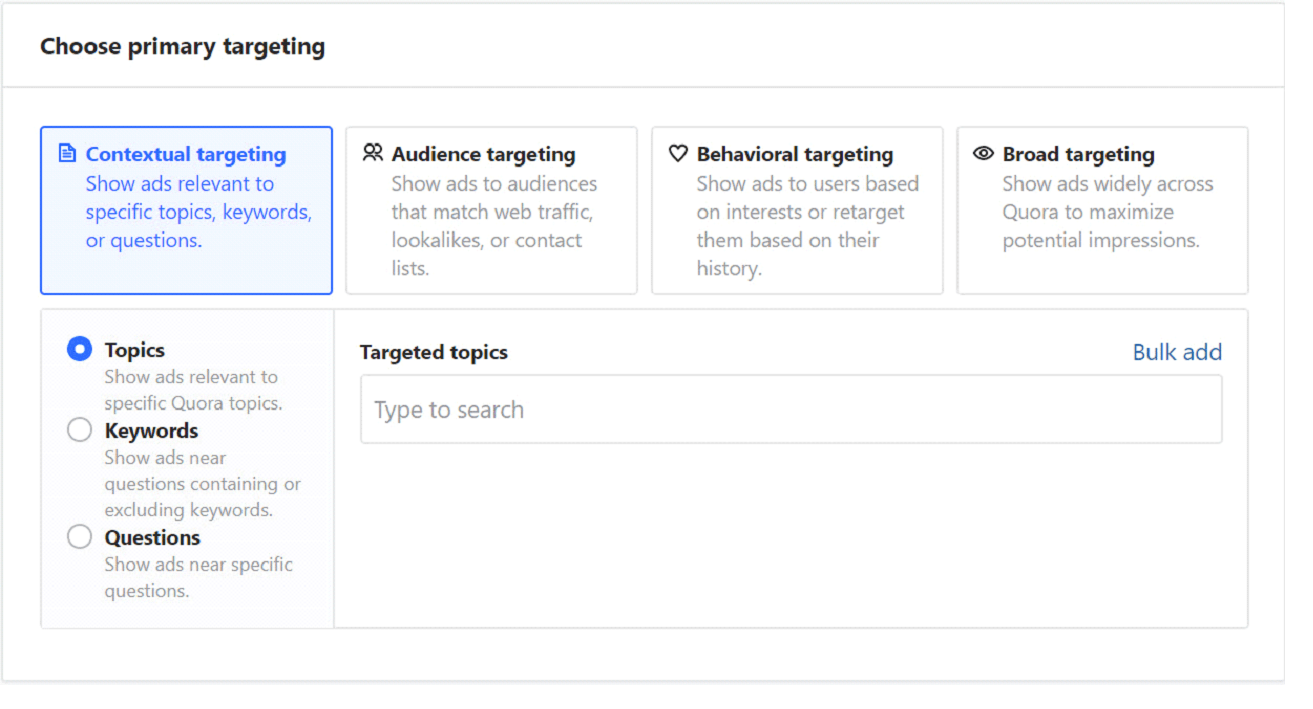 With Topics targeting your ads are shown on relevant Topics on Quora. As mentioned, Topics are broad subjects that can cover many questions and posts related to that subject. For example, a topic on Quora can be "home furnishings" or "dog grooming business."
Keywords targeting option allows you to reach people that look for answers to questions containing specific keywords that are relevant to your business.
Finally, you can be very specific with your targeting and set your ads to show only for certain questions that may be valuable to your business.
This is extremely powerful since you can gauge users' interest and intent based on the questions they're interested in. This can help you establish a strong position by offering a solution relevant to the target question.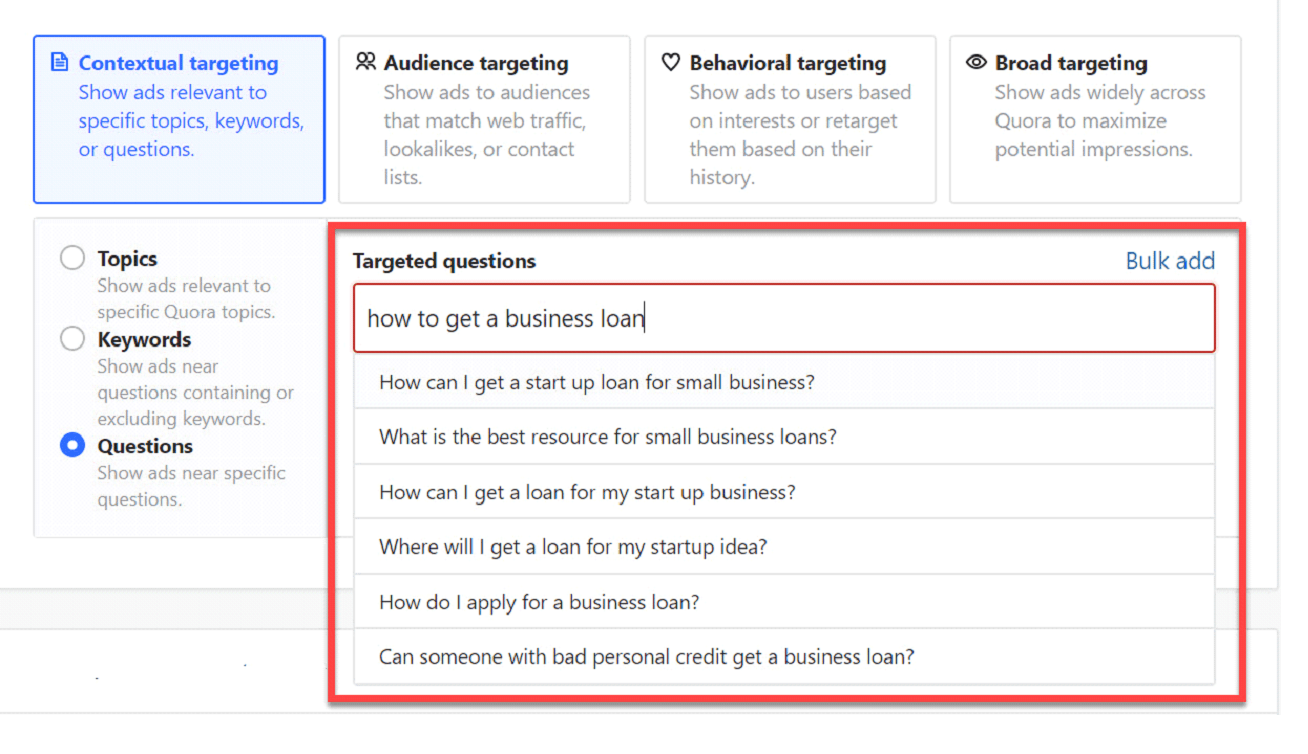 Other Quora options like Audience and Behavioral targeting allow you to reach specific users that match your website visitors and leads based on contact information or interactions with your site.
Finally, with Broad targeting, you can reach large audiences across Quora to raise awareness and introduce your business and products.
Besides location, Quora also provides additional targeting options (aka Secondary Targeting) that allows you to reach users based on:
Devices and browsers
Gender
Exclude certain questions from targeting
Exclude certain people from targeting
Opt-in or out of appearing in Quora's email newsletter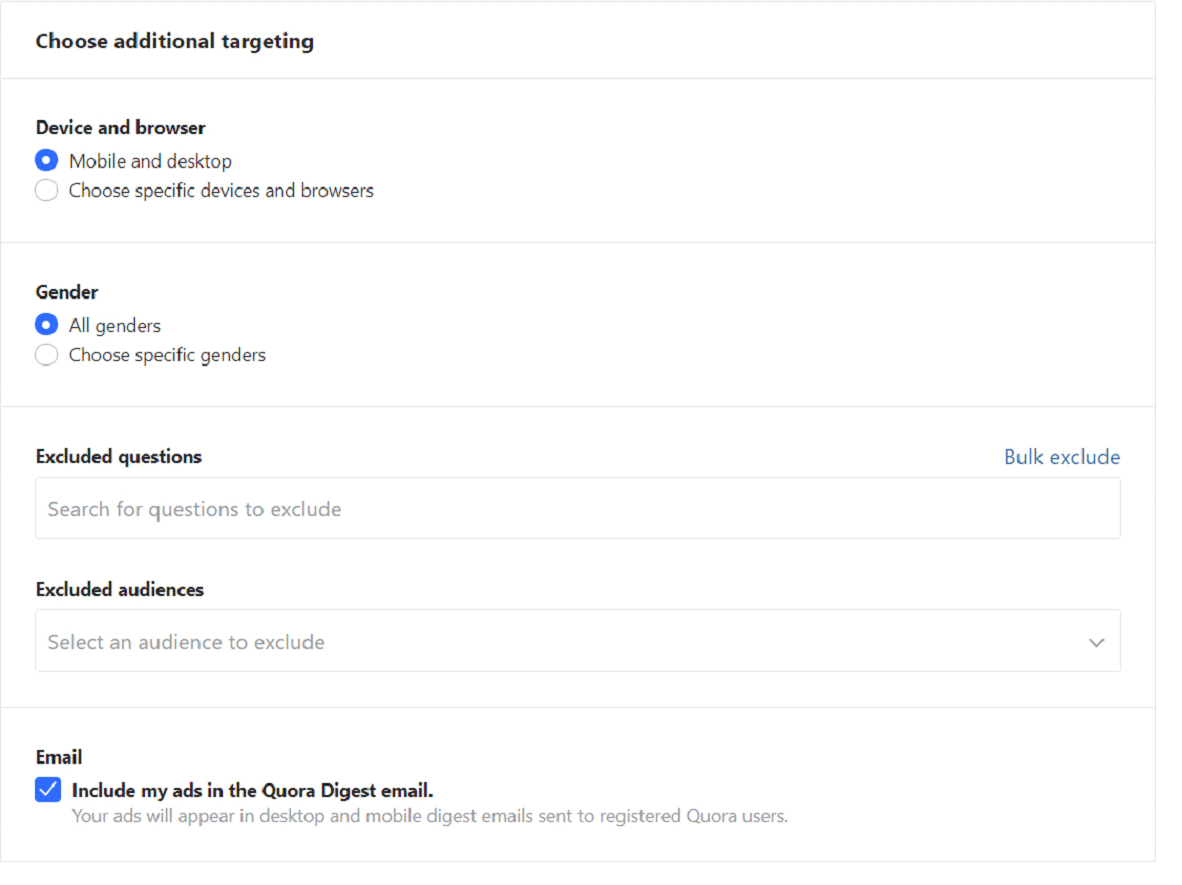 Standout features of Quora Ads
Besides just advertising platform diversification, Quora ads have some very important features that make it worth the while.
For one, Quora users have very strong intent. They're very active in seeking out answers and solutions to their problems and challenges.
The biggest highlight of Quora Ads is the ability to target specific questions.
It's a very powerful way to get down to the very specific question if you know that's a question people are going to convert on.
With Quora's question targeting, you can match your product or service to someone that is looking for that solution.
For instance, someone checking out a question about where to learn about stocks is likely also interested in the FINRA Securities Industry Essentials (SIE) exam.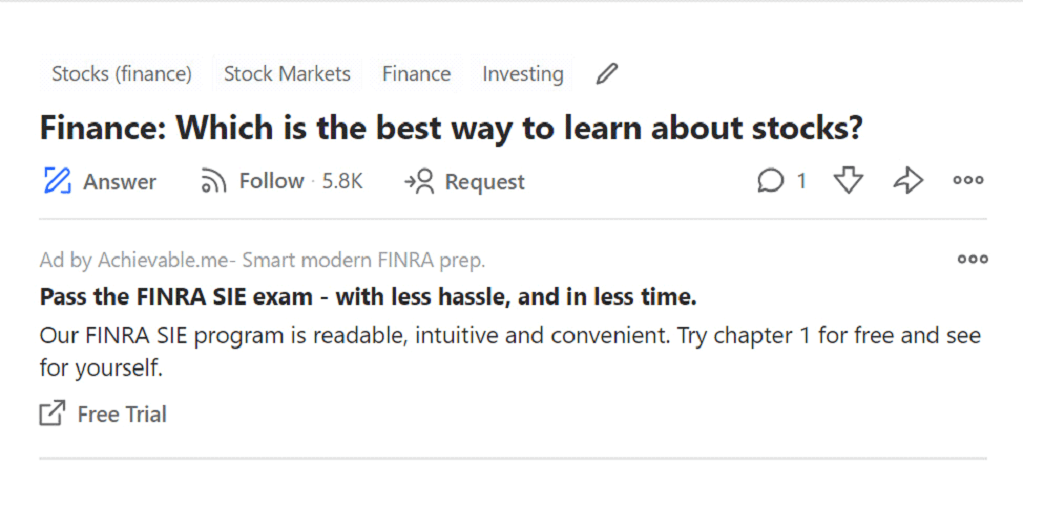 So, it's a perfect question to target if you're selling financial courses or exam preparation.
When you target questions that are contextually related to what you offer there's a high chance of users clicking through and converting.
Unfortunately, since question targeting is so narrow it also limits your volume. You can't count on massive amounts of people seeing and clicking on your ads. However, it does represent a strong targeting option that can help you reach the most engaged and highly interested users.
You can also broaden up your reach with keyword targeting to capture a bigger bucket of users.
Who should use Quora Ads
Since the vast majority of Quora's audience consists of highly educated people and professionals, it's more tailored to B2B companies.
Advertising on Quora definitely suits larger companies with experimental budgets that want to test new advertising platforms and reach potential customers across as many networks as possible.
It works great for content distribution and driving people to your blog posts, webinars, free tools, or other lead magnets.
Looking at the industries, Quora Ads have a proven record within Tech and SAAS companies that are looking to drive more people to their demos and free trials.

However, B2C businesses in some niches may also find it useful as a supplement to their Google and Facebook campaigns.
When to use Quora Ads
Quora Ads delivers the best results in the early stages of the funnel. Think brand awareness and lead generation.
People come to Quora to conduct research, evaluate products, ask for tips, and find solutions to their challenges. This makes them highly interested and open to new ideas and discovering new products.
Despite the high search intent, users are still researching and evaluating solutions that put them far away from an actual purchase.
However, Quora Ads can be extremely powerful when it comes to generating leads in the MOFU stage.
With the right ad shown below the right question or keyword, you can get users to click through to your site and convert on your lead generation offer.
On the other hand, Topic targeting can also help reach a bigger audience to raise awareness and gradually build a connection with potential customers (and a remarketing database).
Pinterest Ads
Pinterest Ads is another advertising platform that can help promote your products and reach potential customers.
Pinterest is the fourth most popular social network with over 320 million active users each month. The user base consists of around 72% of women, who account for 80% of household buying decisions.
It's a highly visual platform that people use to discover things and get new ideas, from home furnishing and remodelling to clothing and even food recipes.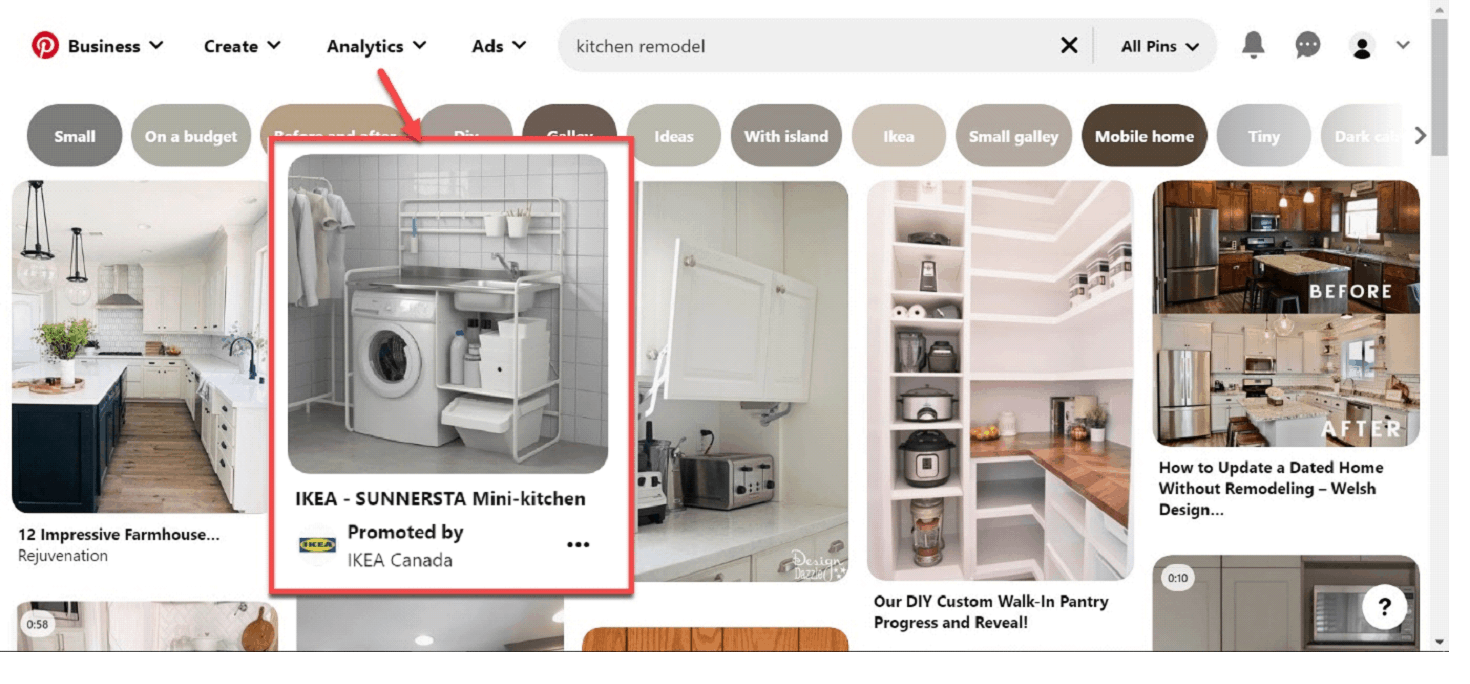 Most Pinterest users find new products and content that they save for later.
Pinterest is a perfect advertising platform for businesses that sell products, such as e-commerce, as well as others that rely on visual content to generate sales.
Pinterest Ads can be a powerful driver for purchases. According to Pinterest, as much as 83% of users made a purchase based on Pins they saw from brands.
Where do Pinterest Ads show
Pinterest ads appear in two main placements on the platform:
Browse placement
Search placement
When you select the Browse placement on Pinterest it means your ads show when users browse their home feed as well as when they scroll through related Pins.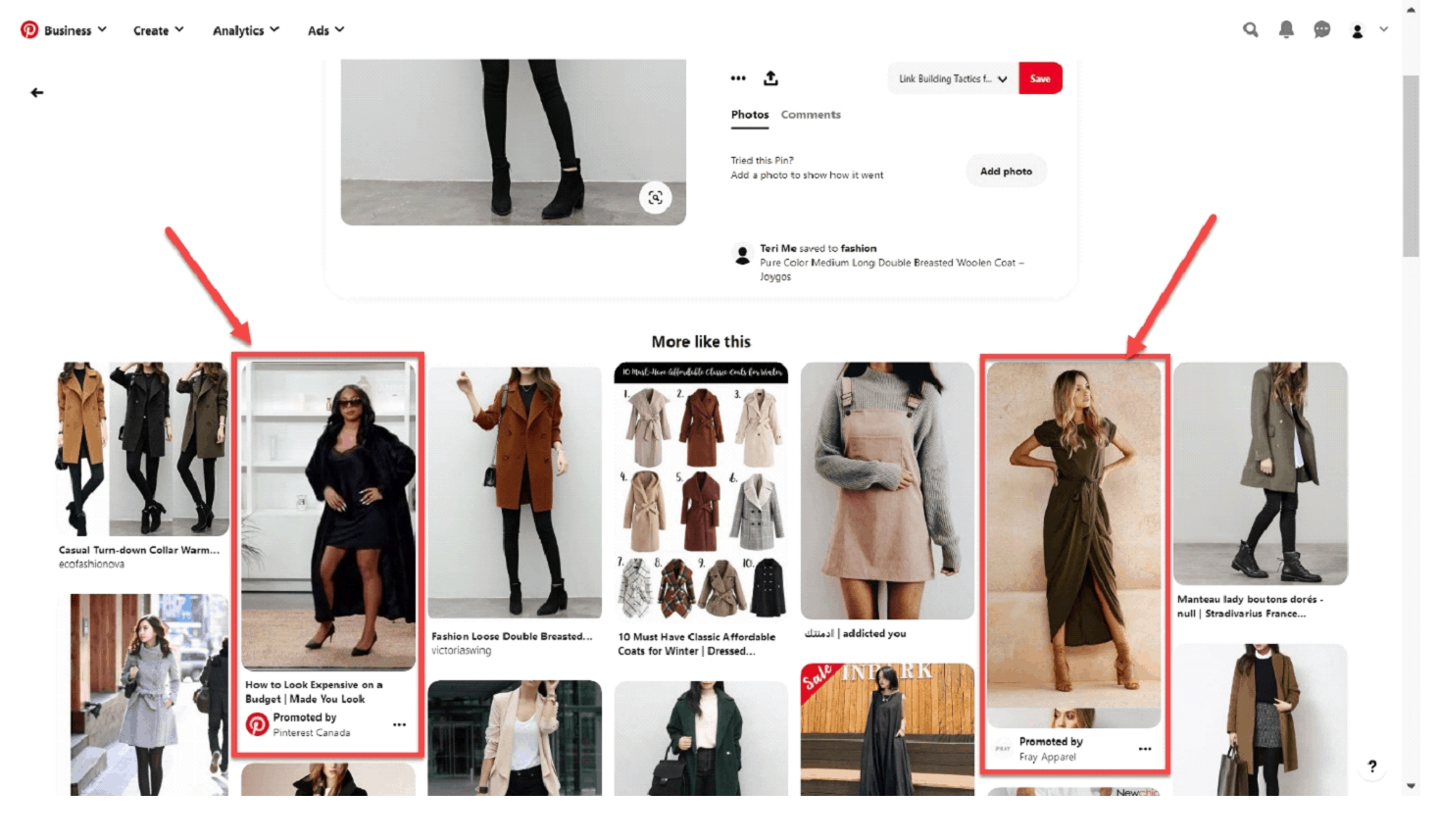 On the other hand, Search placement means that your ads show up when someone searches for a keyword on Pinterest.
For example, when a user searches for "stake recipe dinners" your ad may appear in the search results.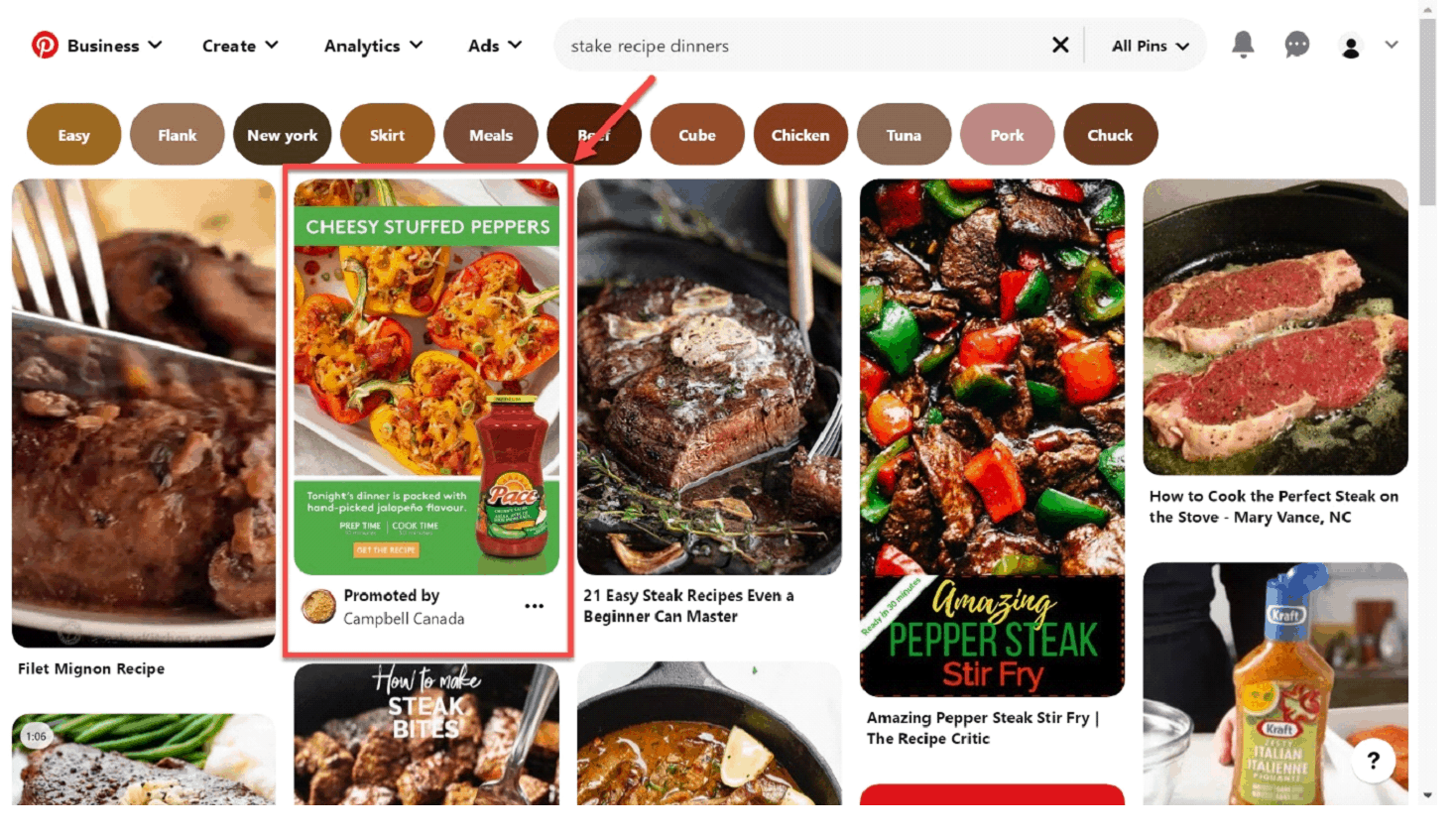 Of course, you can also select all placements and have your ads show up more often and get more impressions.
Ads on Pinterest can be in the following four formats:
Image
Video
Carousel
Collection ads
Image Pins are a basic ad format on Pinterest that features a single image.
If you want to showcase your products from different angles, then use the Carousel format which can contain up to 5 images that users swipe through.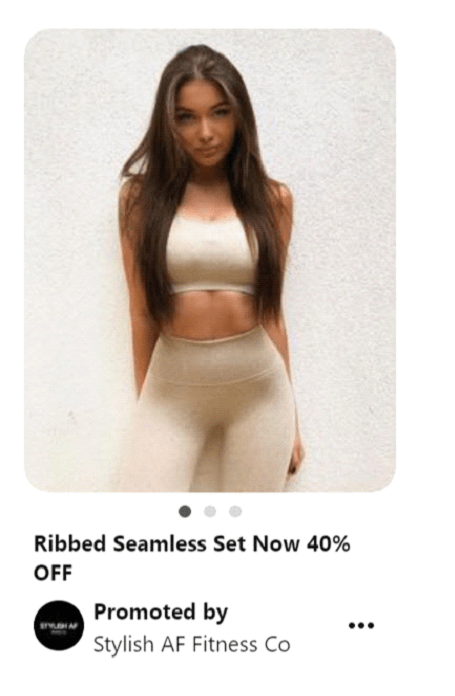 Finally, if you want to breathe some life into your Pinterest ads and instantly grab attention, then the video format would be the best choice.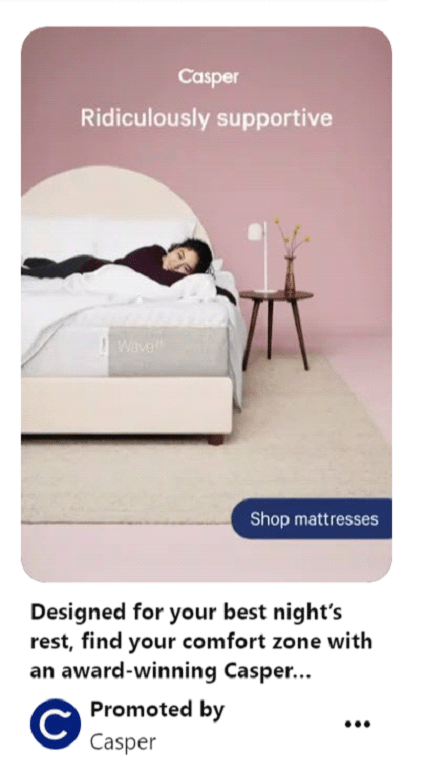 You can capture users' attention and tell a strong story with a visually engaging video ad.
Collection ads on Pinterest appear as a combination of one large, hero image followed by three smaller, secondary images.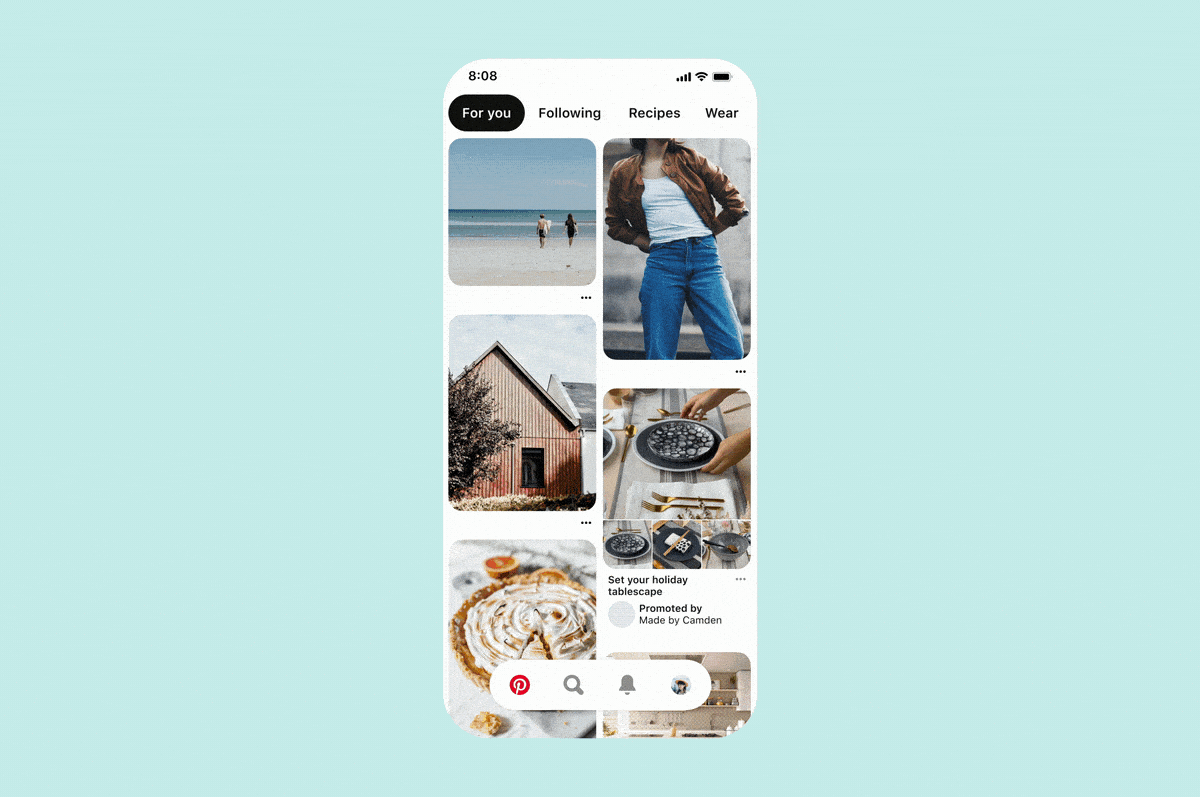 When a user taps on your Collections ad, they'll be taken to a full-screen experience where they can see the hero image up close as well as up to 24 other images.
Collection ads on Pinterest provide an immersive experience that allows you to promote a set of related products that can effectively inspire users into shopping.
Pinterest Ads targeting options
Pinterest Ads allow you to layer multiple targeting options to help reach the right audience with your promotions. The targeting options on Pinterest include:
Audience targeting
Interests targeting
Keyword targeting
Demographic and device targeting
With Audience targeting on Pinterest you can create audience groups to reach specific people based on website visits, customers or leads as well as other custom audiences.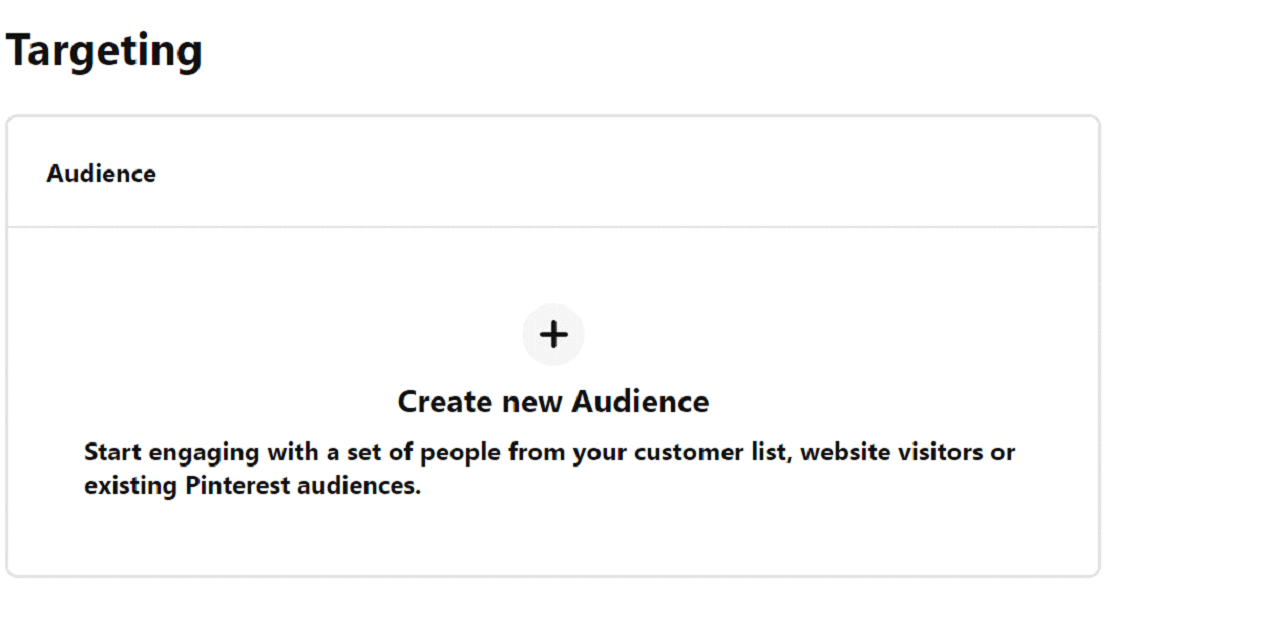 This type of targeting works great for remarketing campaigns where you want to advertise to specific users that already expressed some sort of interest in your business or products.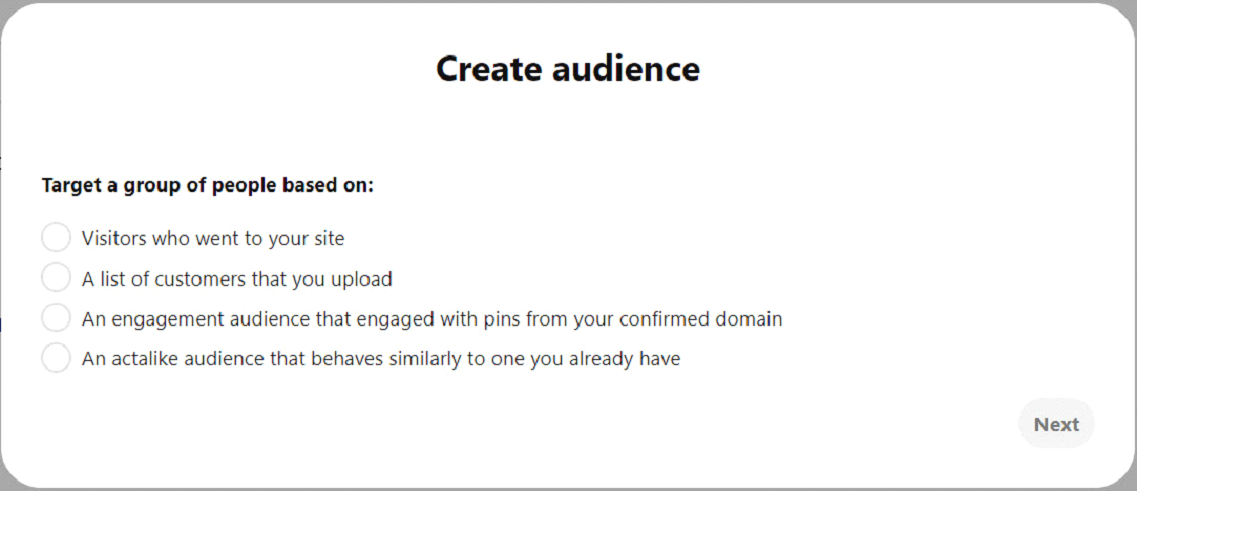 This could be based on website traffic, contact lists or Pinterest engagement. You can also create Actalike audiences to target users that are most similar to your best-performing audiences.
Interests targeting option allows you to reach Pinterest users based on Pins they engage with.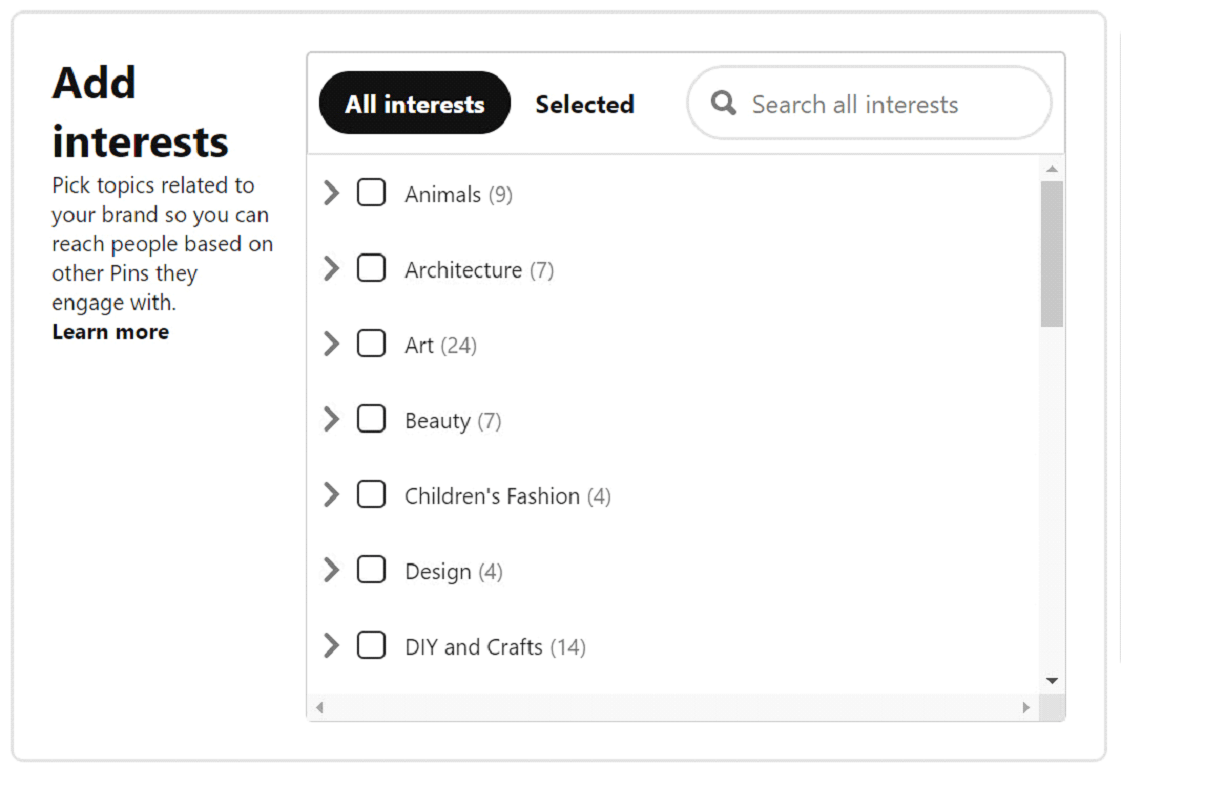 This helps you tap into Pinterest's unique understanding of people's interests, tastes, and life stages based on user behaviour and engagement on the platform.
You can also choose relevant keywords to target users based on what they search on Pinterest.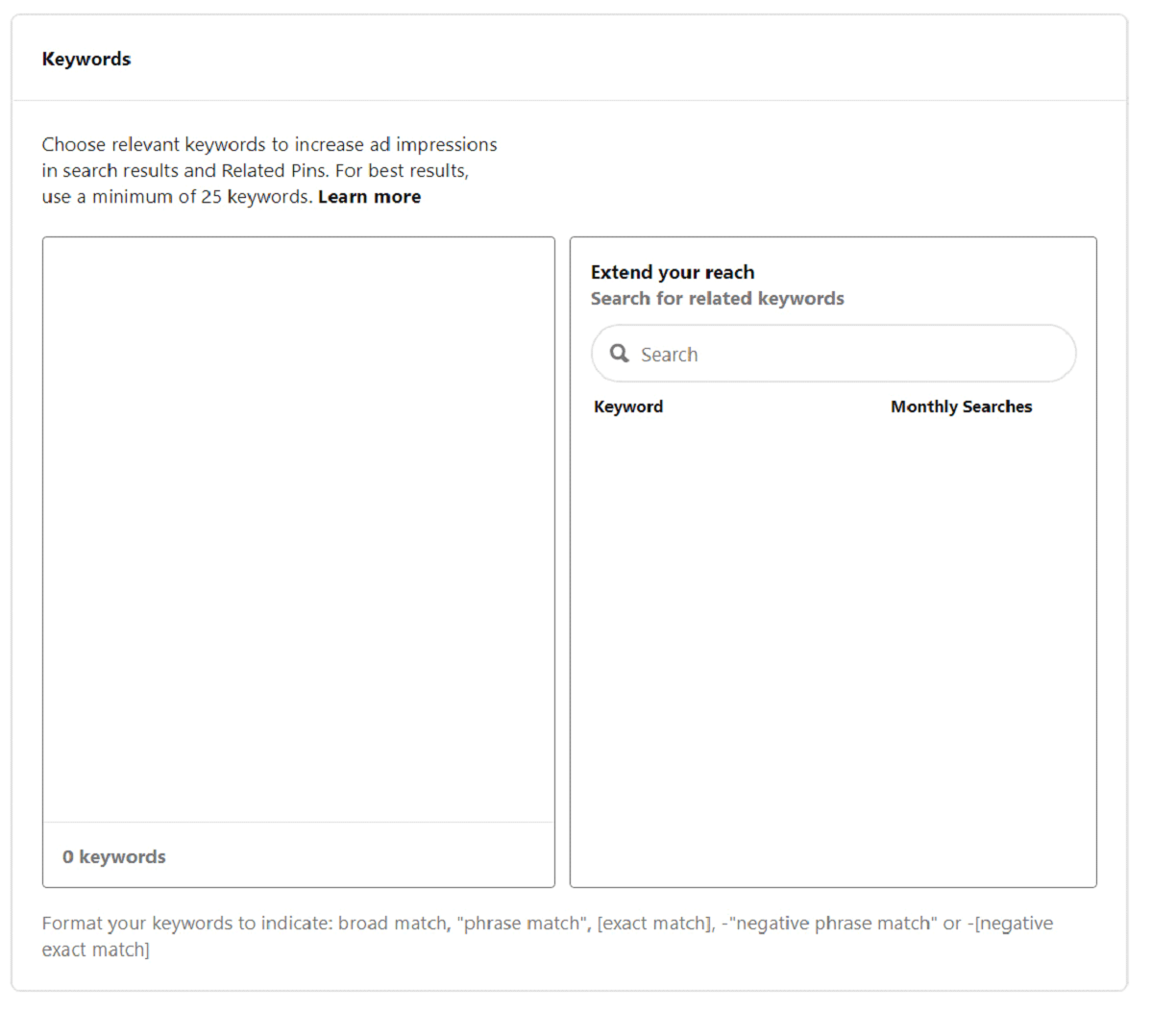 Keyword targeting gives you more control over when your ads appear. Users that search for specific keywords clearly express interest, so it's a good way to get your ads in front of people with higher buying intent.
If you're selling home décor you may want to target keywords like "throw blanket" or "living room display shelves."
Finally, there are also additional targeting options that let you set the location, language, age and gender, as well as devices to target.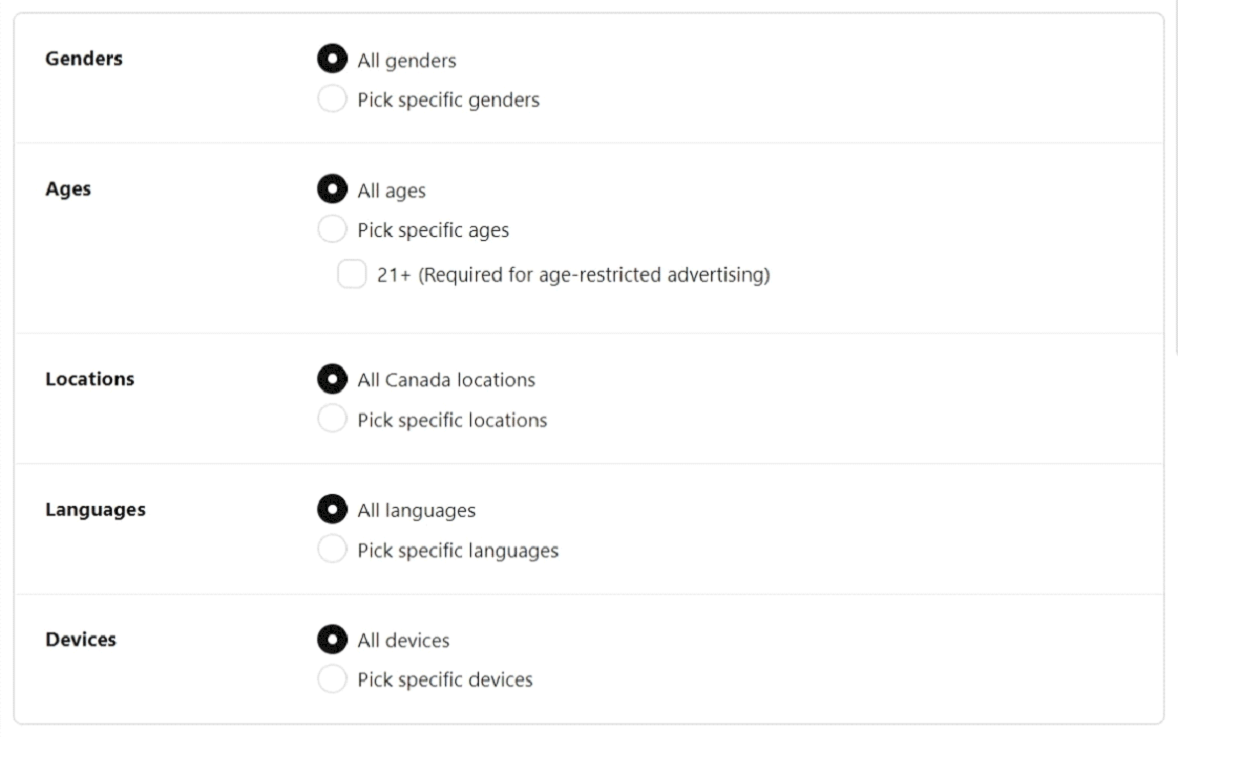 Standout features of Pinterest Ads
As mentioned earlier, people use Pinterest to discover new ideas and plan their future shopping. Since they're actively looking for shopping ideas it means these users have a high buying intent.
You can capture this by leveraging Pinterest Ads to promote your products to the right users that are most likely to buy your products.
Similar to Instagram Ads, by advertising on Pinterest you can quickly inspire people into impulse purchases with highly engaging visual content.
Pinterest Shopping Ads are a powerful feature that can make this easy and frictionless by promoting products from your e-commerce store.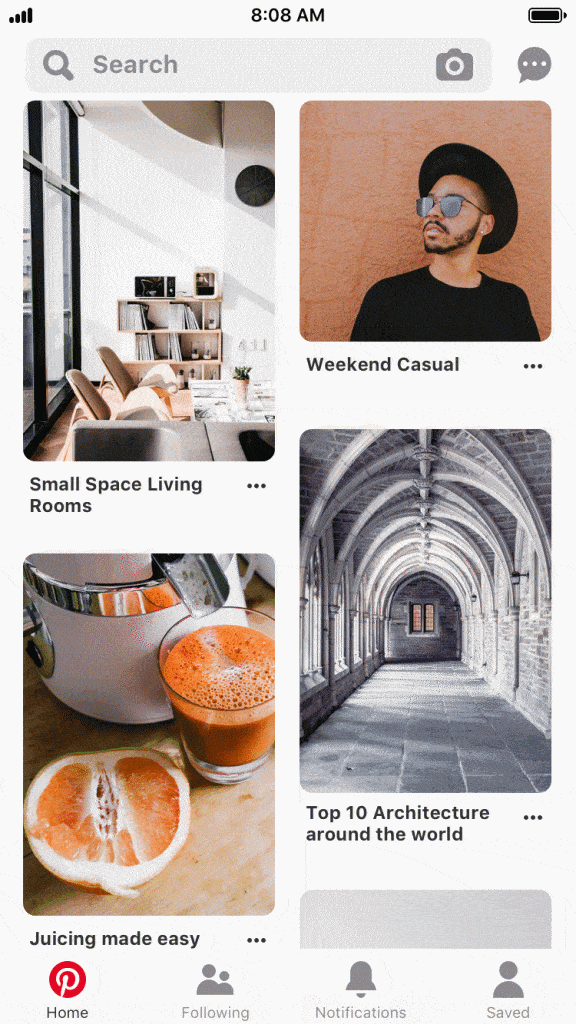 An additional feature is Shop the Look ads that allow you to tag up to 25 items in an image (represented by white dots).
With this format, shoppers will see a preview showcase of four items and can click through to checkout on your online store.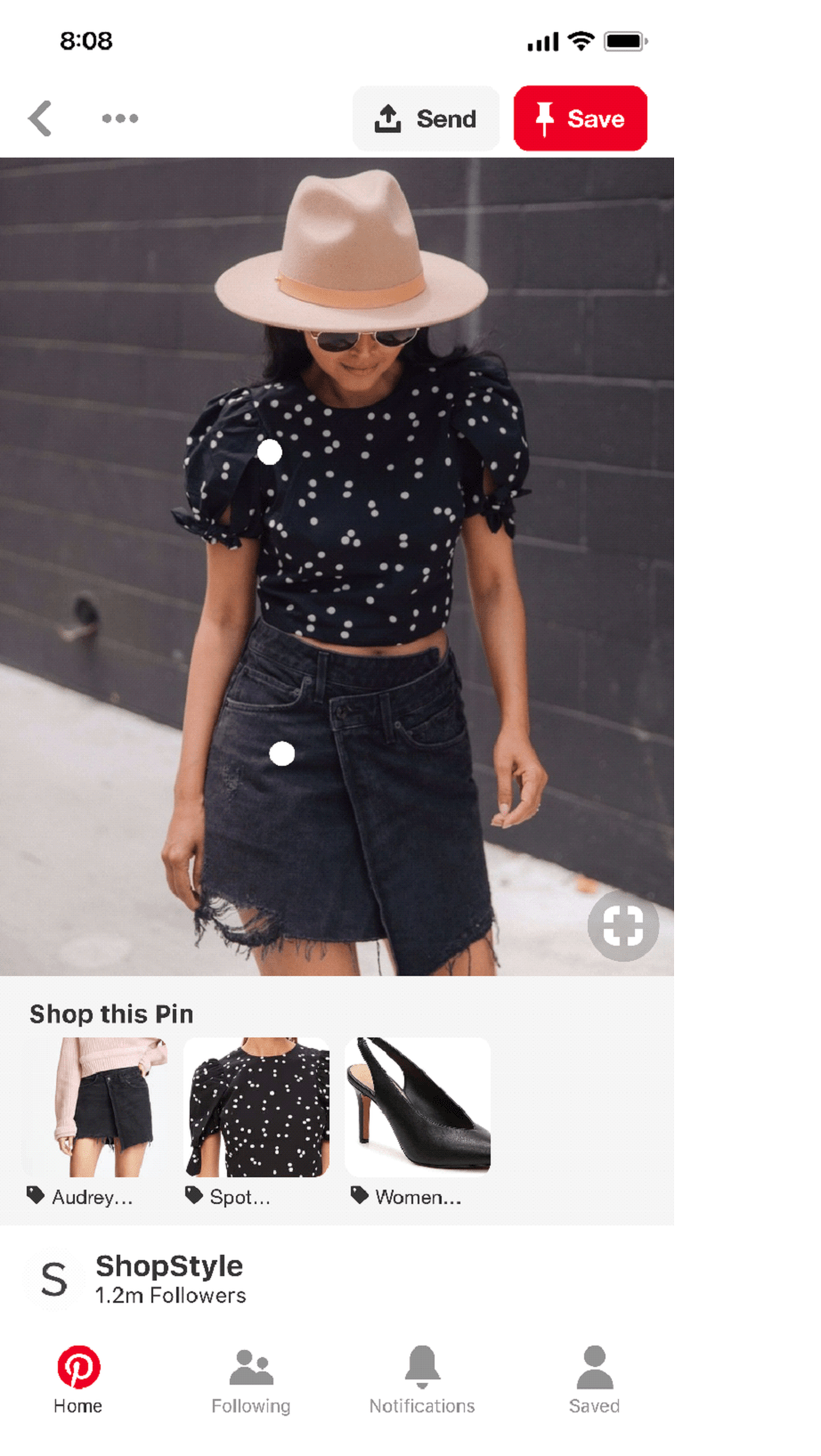 Shop the Look ads can instantly get users in the shopping mood and inspire impulse purchases.
You can integrate your product catalogue from your e-commerce store to unlock this special ad format tailored to promoting products on Pinterest.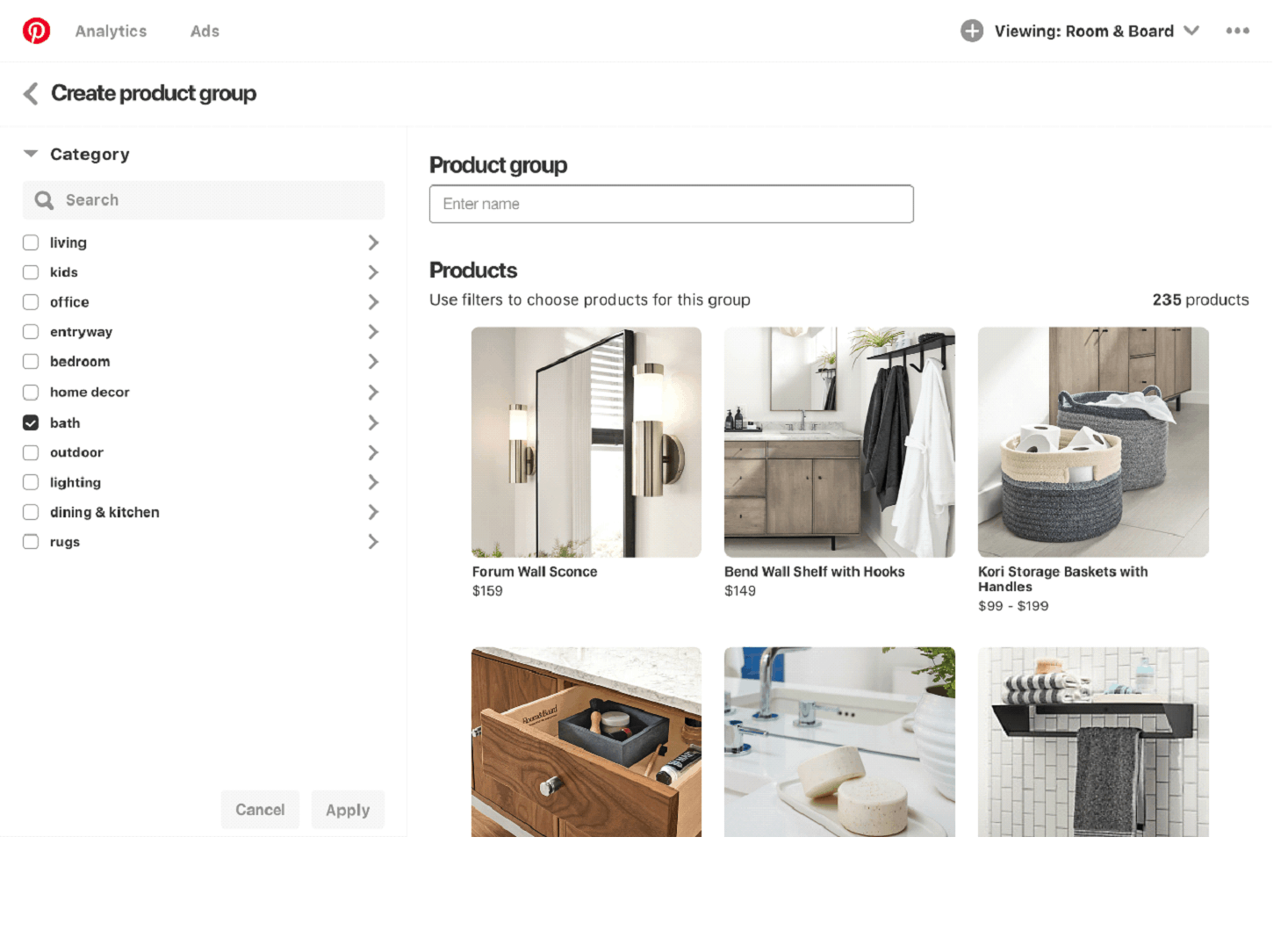 Once you've set up your product groups within Catalogs, you can promote them as Shopping Ads to showcase your products to Pinterest users.
This feature also opens up Dynamic Retargeting on Pinterest.
Dynamic Retargeting helps you reach specific users who have already visited your site or added items in their cart but haven't completed a purchase.
You can retarget these users with the exact or similar products to those they engaged with as they browse Pinterest to remind them to return to your e-commerce store and finalize the order.
Who should use Pinterest Ads
Pinterest is definitely most useful for e-commerce sellers that are looking to promote products to a big audience of engaged shopping planners.
Unlike other social media where users primarily connect with each other and share content, Pinterest users search for inspiration and look to discover new products or ideas.
In those terms, it's more akin to a shopping search engine that helps people plan out their next shopping round.
Pinterest has evolved into a place for users to create elaborate wishlists. It's also a perfect space for e-commerce brands to showcase products and make discovering and buying simple and fun.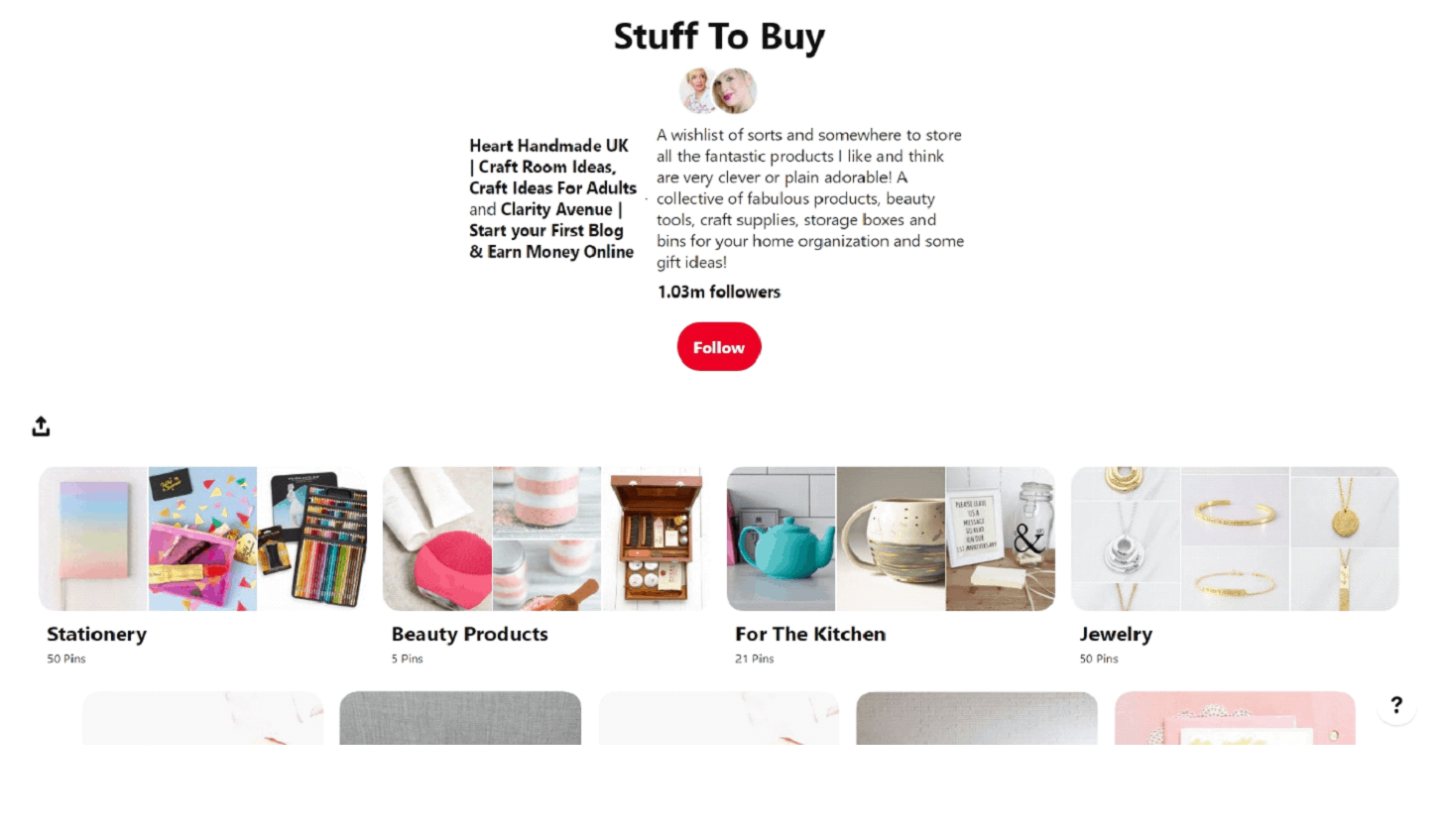 It works great if you want to promote anything from meal recipes to home décor, all the way to fashion items and beauty products.
When to use Pinterest Ads
Pinterest Ads can play an important role across your entire purchasing funnel. They are particularly potent during the discovery phase (TOFU) as well as the purchasing phase (BOFU).
With Top of the Funnel ads on Pinterest, you can help potential customers discover your products.
But ads on Pinterest can also work as a standalone mini funnel, where users can see your products for the first time and get quickly inspired to make an impulse purchase.
However, for those that don't buy from your first ad, BOFU campaigns using Dynamic Retargeting ads on Pinterest should do the trick to recover abandoned carts and give a nudge to shoppers to complete the order.
Twitter Ads
Twitter is a social media advertising platform with over 330 million highly engaged users. With Twitter ad campaigns you have the potential to reach a massive audience that's ready to take action.
According to studies, 54% of users take action after seeing a brand on Twitter – from website visits and brand searches to retweeting posts from a business.
Although it may not be your main sales driver, using Twitter can help encourage more engagement and interactions with your business.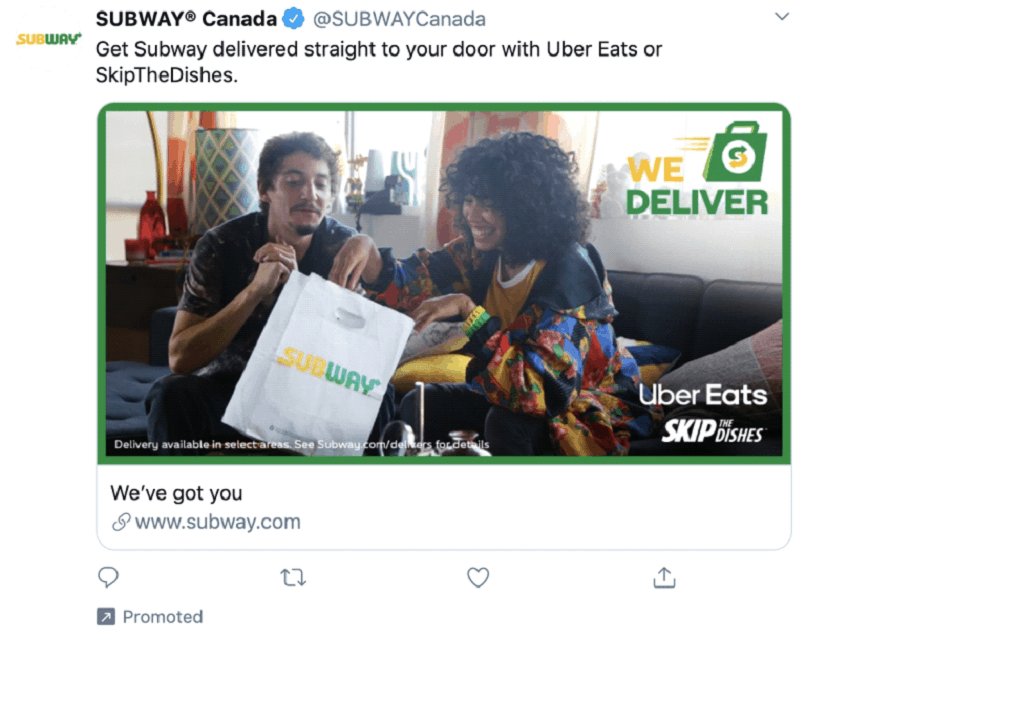 But Twitter advertising is so much more than boosting Tweets.
Twitter is a place for people to find out what's happening, meaning strategically placing your ads in front of eager users can get you more traffic and website conversions.
Where does Twitter Ads show
There are several places where your Twitter ads can be displayed. Twitter Ads placements include:
Users' timelines
Profiles
Search results
Twitter Audience Platform
In Twitter's campaign creation tool, you can select where you want your ads to show by simply checking the boxes of your desired placements.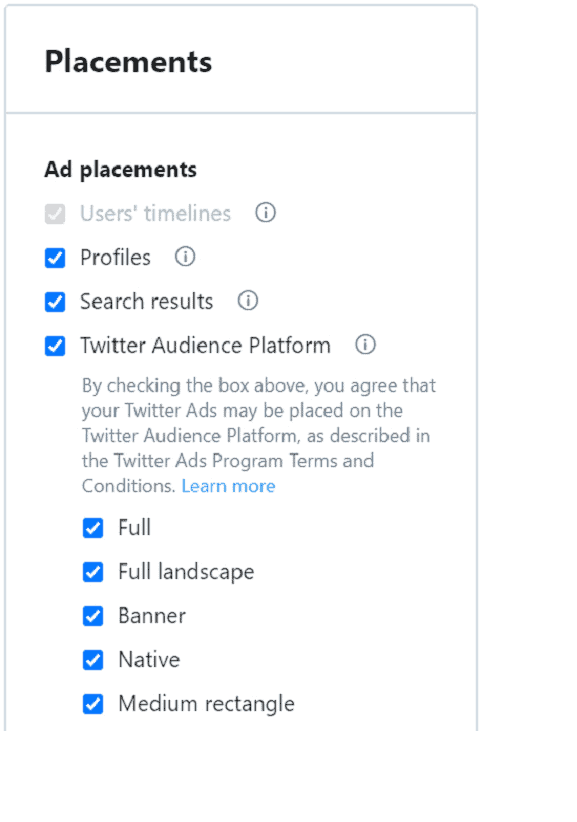 With Twitter Audience Platform (TAP) you can reach additional people away from Twitter on thousands of mobile apps. This works similarly to display ads on other advertising platforms.
TAP can help extend the reach and get your ads in front of more people using mobile apps that belong to your target categories.
There are three main types of Twitter ads:
Promoted Tweet
Promoted Account
Promoted Trend
Promoted Tweets are the primary ad type on Twitter. They look exactly the same as organic Tweets from regular accounts, except for the small tag at the bottom left corner.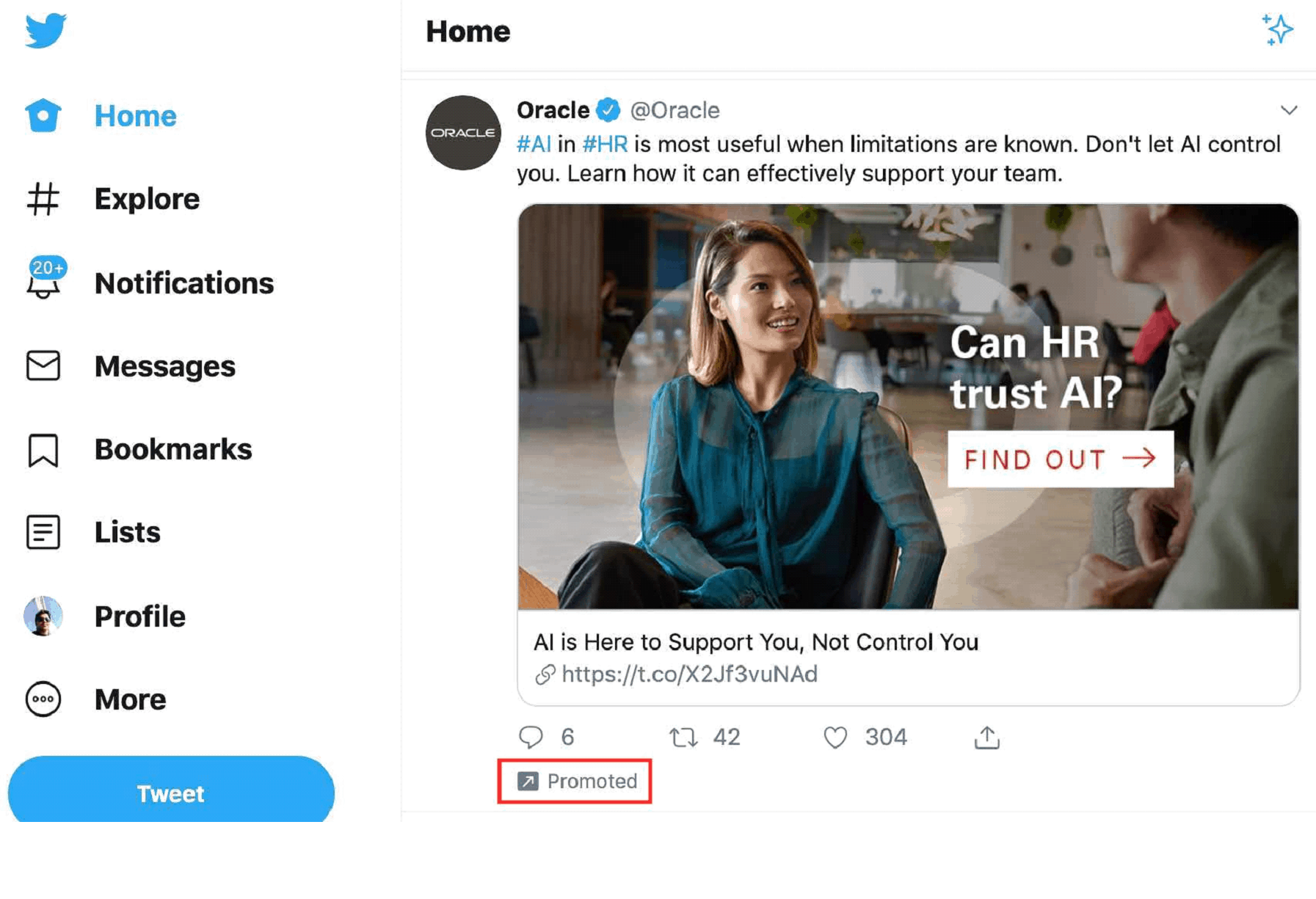 Promoted Tweets can be text-only or include visual content such as images, GIFs and videos that will auto-play in users' feeds.
Your ads can also feature interactive polls that allow you to engage users and gain valuable insights.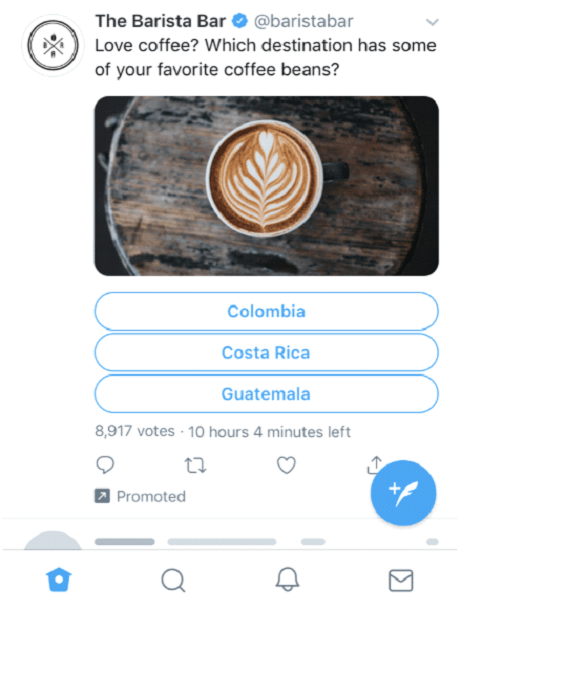 If you're looking to go beyond just promoting a specific Tweet, you can also promote your entire Twitter account.
Promoted Accounts ads are typically shown in the "Who to follow" section in users' timelines.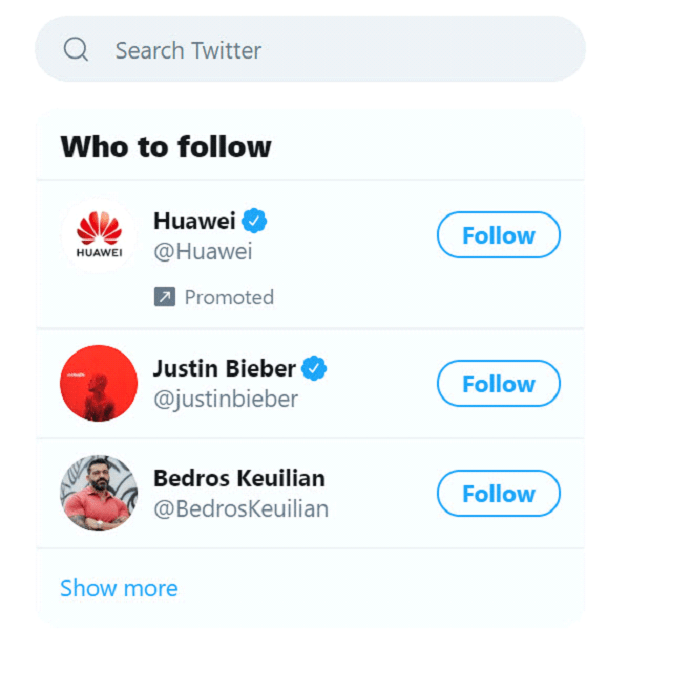 Promoted Account ads target users who don't already follow your business and can help grow your Twitter following.
Twitter is known for its trending topics and hashtags. With Promoted Trends ads you can tap into exploding topics and leverage trends that are most popular right now.
Promoted Trend ads appear in the same way as any other trending topic. The only difference is that an ad also displays a small "Promoted" tag.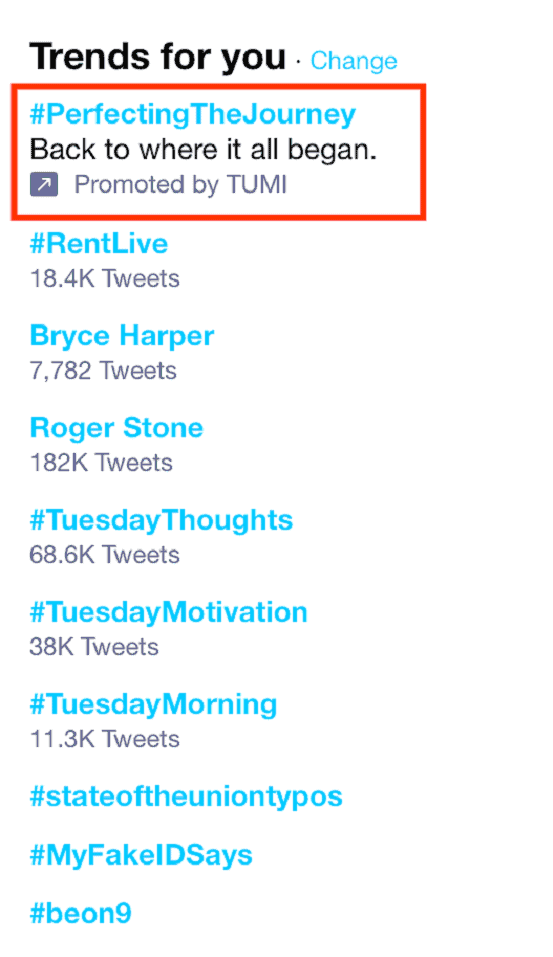 A Promoted Trend ad can show as one of the first spots under the "Trends for you" section. They can appear both in the Explore tab and in the Timeline.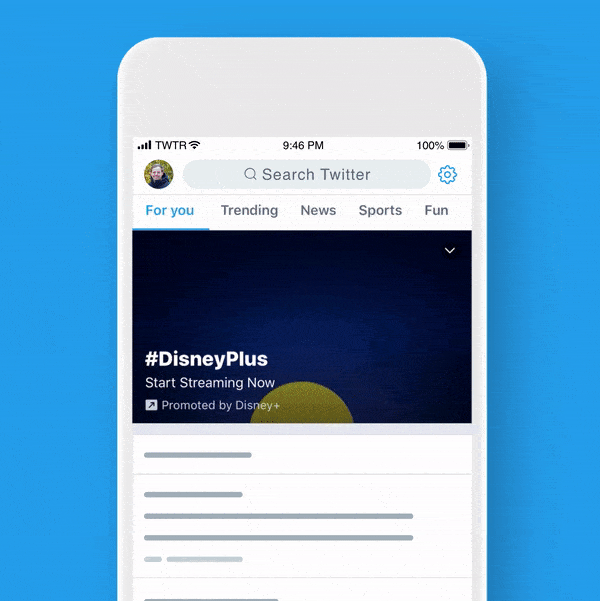 Twitter Ads targeting options
When it comes to targeting on Twitter you have the options to create four main types of audiences:
Tailored Audience based on website traffic
Mobile Audience Retargeting
Tailored Audience based on a contact list
Flexible Audience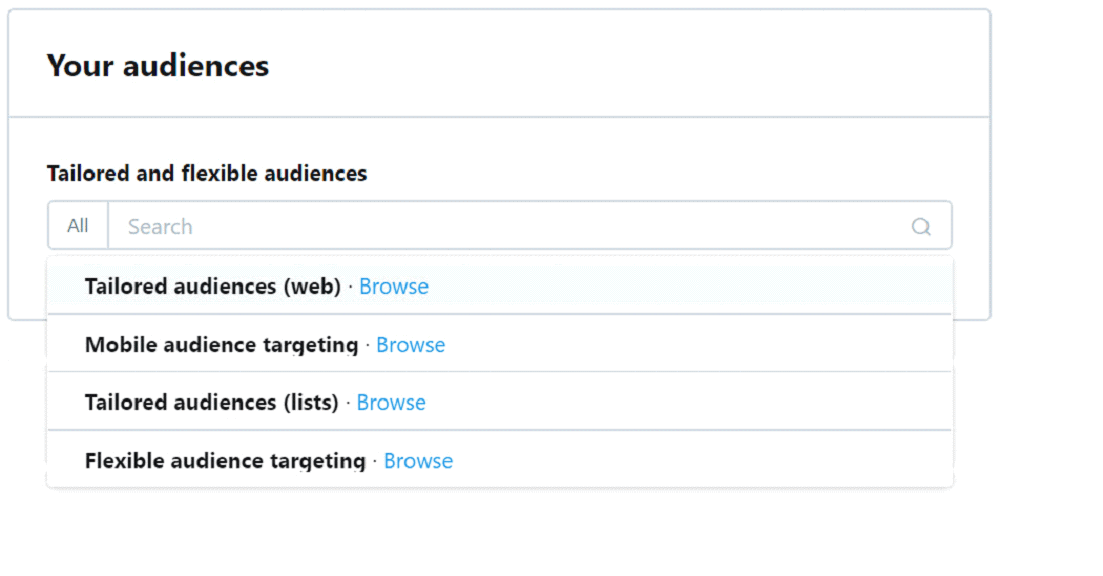 Tailored Audiences on Twitter mean that you can target users that already interacted with your business, be it your website, mobile app or users on your contact list.
With Tailored Audiences, you can set up remarketing campaigns to reach engaged users, leads or existing buyers who are likely to become your customers or repeat their purchases.
Flexible audiences provide the ability to build audience combinations based on your existing Tailored Audiences.
Using demographics targeting you can reach people based on location, language, device, age, and gender.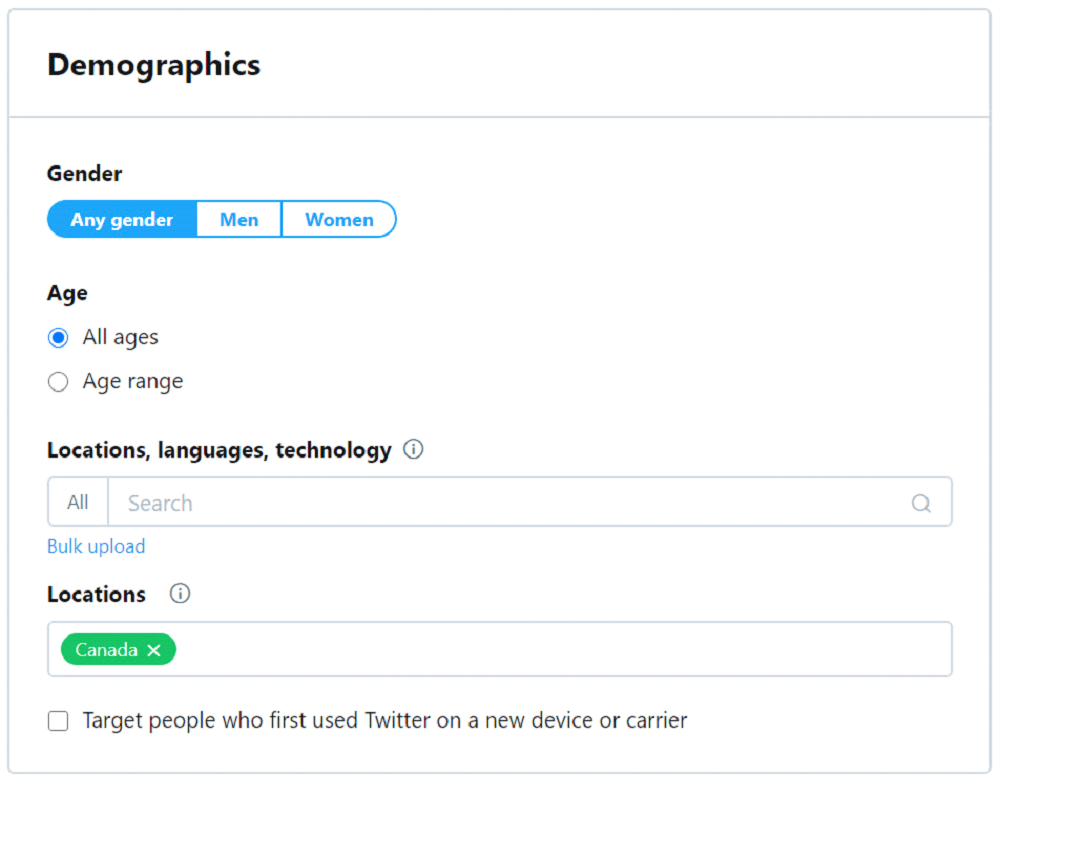 Lastly, you have the option to configure audience features. The main part of this is the option to target Twitter users based on keywords, events, interests, as well as follower look-alikes.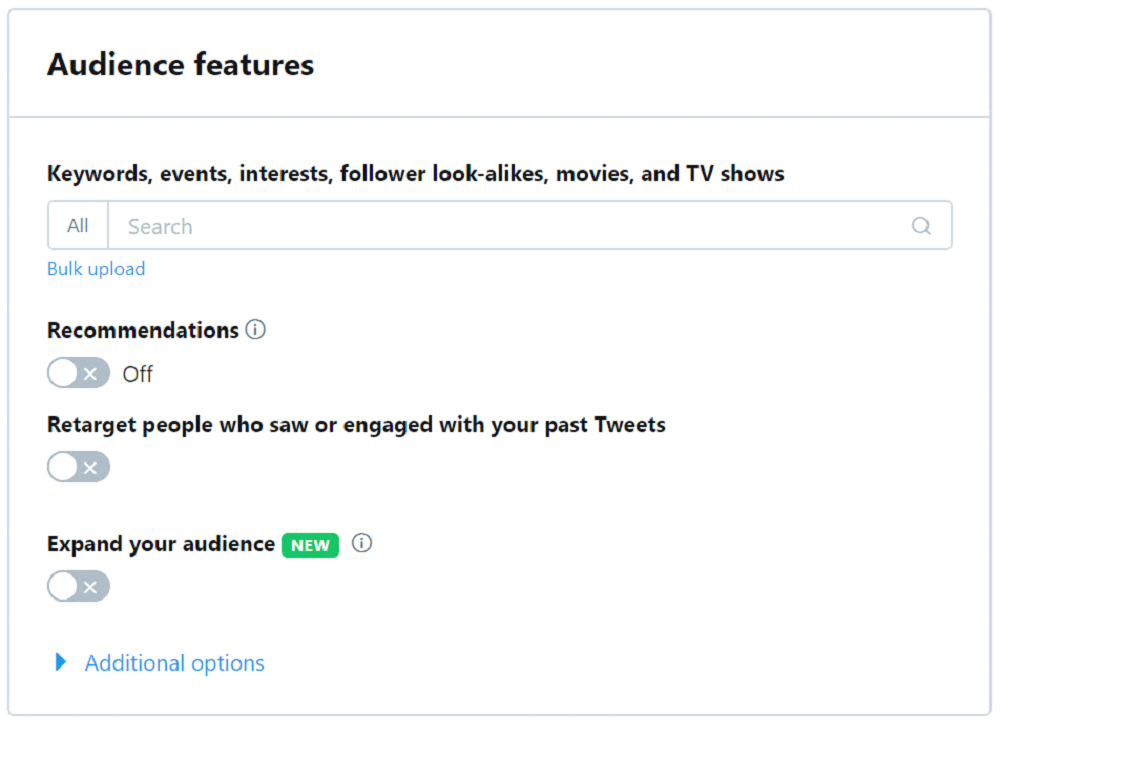 Keyword targeting allows you to reach people on Twitter based on keywords in their search queries, recent Tweets, and Tweets they recently engaged with.
This targeting option puts you in the best position to reach the most relevant people that explicitly shown interest in specific keywords signalling a high user intent.
Interest targeting ensures that your ads reach users whose interests broadly align with your business.
Targeting followers and look-alikes allow you to include your existing followers in your target audience, as well as people who follow similar brands, competitors, and industry leaders.
This helps you connect with people who are likely interested in your business.
Standout features of Twitter Ads
The biggest highlight of Twitter Ads is the ability to reach a huge audience for very small advertising investment.
Promoted Tweets with keyword targeting can expose new users to your posts and amplify your marketing message. It lets you target specific people that expressed interest in something related to your business. This can be a keyword used in a Tweet, a hashtag or a search term.
With this type of campaign on Twitter, you can get tens of thousands of impressions at a very low cost.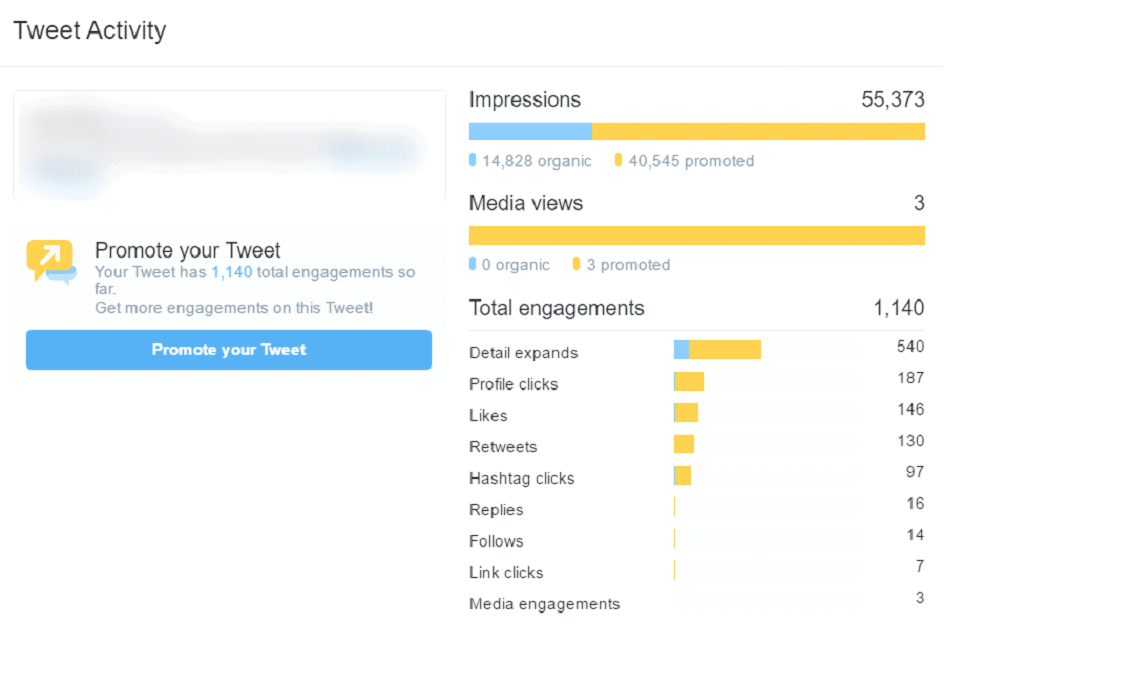 And the cost of Twitter advertising is literally pennies.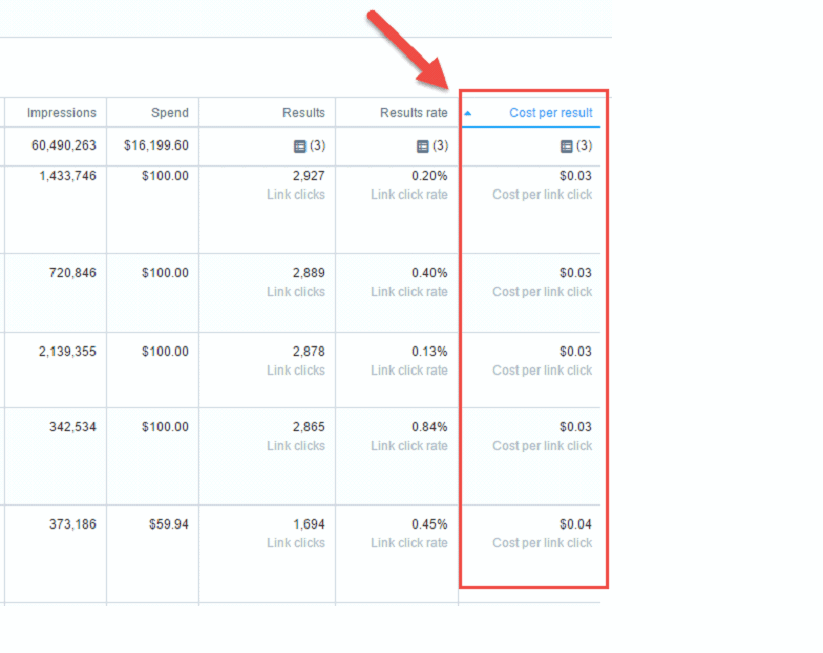 If your audience is on Twitter, make sure to leverage the extremely low cost of advertising to reach masses of highly engaged users.
Who should use Twitter Ads
Twitter Ads can work just as well for B2B and B2C companies. Although it's mostly used by bigger companies, low barriers to entry in terms of cost can make it a suitable advertising platform for SMBs and entrepreneurs as well.
Powerful targeting capabilities can prove useful for building a brand and a mass following.
However, since most businesses can't rely on Twitter Ads to directly contribute in terms of new customers and sales, smaller companies will likely continue to avoid it.
When to use Twitter Ads
Because of the way people use Twitter, it's a great advertising platform for building a brand and raising awareness. That means it's best for very early stages of the funnel that don't require users to take some decisive action.
Twitter Ads are most suitable to introduce your business and make announcements like new features, products or company changes. It's a true PR and customer service tool.
You can use Twitter Ads to get more followers, promote your branded hashtags, get your Tweets trending and even help your content go viral.
Although Twitter does feature retargeting and conversion-oriented campaigns, don't expect to get a ton of sales or customers through Twitter Ads.
Conclusion
Online advertising is much more than Google, Facebook and LinkedIn.
Alternate ad platforms like Microsoft, Quora, Pinterest and Twitter can perfectly complement your marketing funnel strategy and help reach additional audiences at a much lower cost.
These ad platforms can also help create a true omnichannel presence and allow you to follow potential customers with the right ad, on the right platform, at the right moment. Every step of the way, from raising awareness to driving sales.
Be sure to install pixels and set up conversion events with any ad platform you plan to use.
This will enable you to include and exclude specific users based on their interactions with your business and website which indicates their position in the customer journey.
You'll be able to tailor your messaging and offers that resonate with each segment to maximize your advertising investment.
And finally, if you need help setting up your ad campaigns or entire marketing funnel, get in touch and learn how we can elevate your business online. ?