Abandoned carts are one of the biggest issues that plague all e-commerce merchants. Having a high cart abandonment rate means you're losing sales, which is a problem you must resolve asap if you want to run a successful online store.
The average shopping cart abandonment rate today is around 72%. Such a high rate can aggressively cut into your e-commerce profits.
It's known that a 65% cart abandonment rate leaves a 97.9% gap in conversions, which costs marketers an average of $2-4 trillion per year. With that said, Forrester Research suggests annual losses of $18 trillion.
If you want your e-commerce business to thrive, then you must know how to reduce cart abandonment and turn more shoppers into paying customers.
In this article, you'll learn how to analyze shopping behaviour, why shoppers abandon carts and 12 smart ways to reduce your cart abandonment rate.
What is cart abandonment
A shopping cart abandonment occurs when a customer starts filling the shopping cart with products on an e-commerce website but does not follow through and make a purchase.
For the most part, when we talk about cart abandonment, we include all instances when shoppers add items to the cart but don't purchase, even when they initiate the checkout.
Cart abandonment rate is measured as the percentage of carts abandoned over a period of time.
The shopping cart abandonment rate is calculated by dividing the total number of completed transactions by the total number of carts created.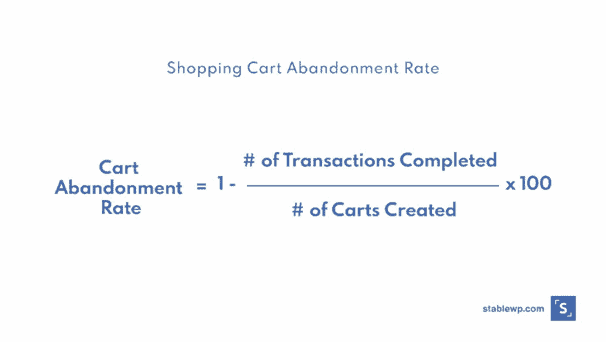 The cart abandonment rate shows what percentage of shoppers that express a high purchase intent (by adding an item to the cart) don't complete the purchase.
As such, it can be a strong indicator there are certain issues on your e-commerce store that create friction and prevent shoppers from buying.
We'll cover the biggest culprits of abandoned carts in a bit…
For now, it's also important to know that you need to benchmark your cart abandonment rate to determine if it's too high or normal for your industry.
Shopping cart abandonment rates vary by industry, typically averaging around 70% to 80%, with mobile shopping cart abandonment rates even higher (85%).
No matter how you stack up against other similar businesses, you'll always want to optimize your e-commerce store and streamline your checkout process to keep the cart abandonment rate as low as possible.
Cart abandonment rate strongly correlates to e-commerce conversion rates, and it is quite a significant business metric for online retailers to monitor.
With that in mind, let's go through the checkout performance analysis.
How to analyze your checkout performance
Before you start optimizing your checkout to reduce cart abandonment, you first need to analyze shopping behaviour to determine where users drop off.
Google Analytics provides a powerful breakdown report that allows you to analyze each step in your purchasing funnel. To find it, navigate to the Conversions section > Ecommerce > Shopping Behavior.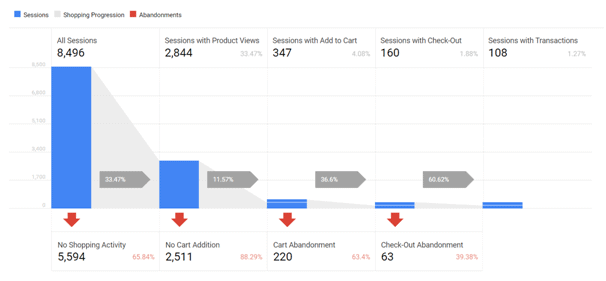 In this report, you can determine how many visitors viewed product pages, how many added to cart as well as how many completed the transaction.
But even more importantly, you can see the exact cart and checkout abandonment rate.
This helps us understand how many users add items to the cart but don't proceed to the checkout page, as well as how many initiate the checkout but don't complete the order.
You can also use the Checkout Behavior report for a more in-depth analysis of the checkout process to identify any weak spots with unusually high drop-offs.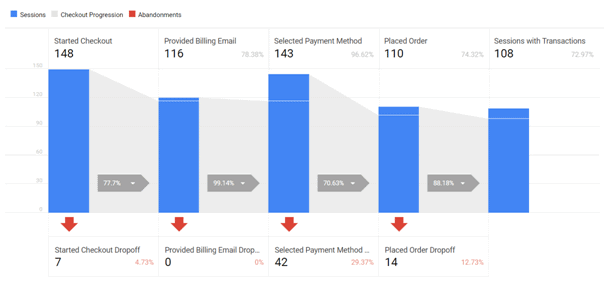 This analysis can help you pinpoint the issues with your online store and checkout that cause a high abandonment rate.
In our example, it seems like the step where shoppers need to select their payment method has the highest drop-off rate, which signals this step might need some attention. Perhaps the site doesn't offer enough payment options for shoppers to select from, or the page might be lacking security features.
When trying to interpret the cart abandonment rate, you also need to know the main causes that prevent shoppers from completing the order.
Download the 2023
E-commerce Benchmarks Report
Get the latest industry trends, stats and insights to benchmark your e-commerce performance and find unique growth opportunities.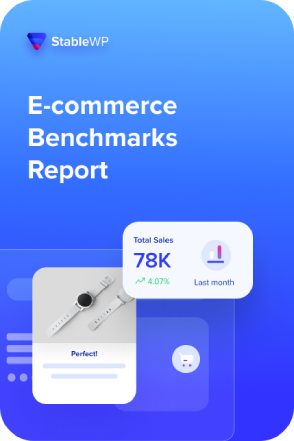 Why shoppers abandon carts
There are numerous reasons why shoppers abandon their shopping carts.
Cart abandonment can never be fully eliminated. However, understanding the reasons why shoppers abandon their purchases and taking charge in optimizing trouble spots will help protect and increase your conversion rate.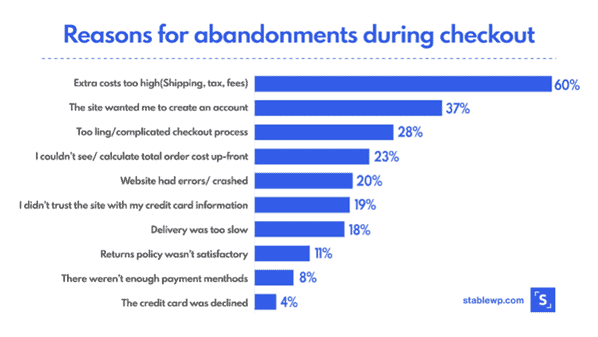 Let's look into some of the most common reasons why potential buyers remain solely potential buyers.
1. Products don't meet expectations
If the product(s) a customer adds to their cart doesn't look or work as advertised, you will undoubtedly lose a customer. To avoid such mistrust, an e-commerce business must be very attentive to the way they present their products to potential customers.
That means good, clear, high-quality images in all key areas of their website, accurate and detailed item descriptions as well as meaningful product/brand information across the entire site.
For example, if the product description says the product is blue and red, but the picture shows it's actually green and black it means you're not giving your potential customers what they expect and deserve.
On the other hand, when you allow shoppers to select the colour, the colour in the product images should also change to accurately depict the item.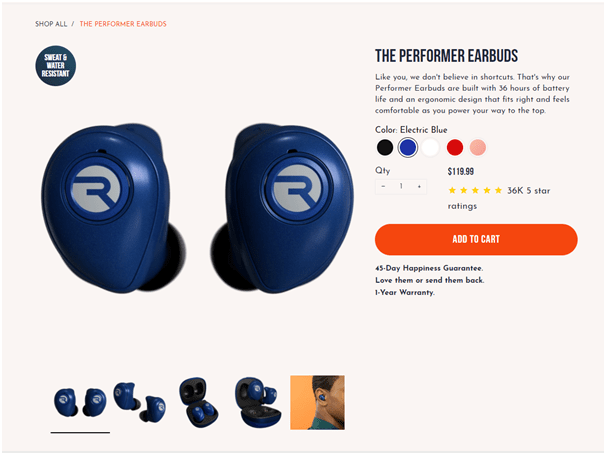 If you sell computer equipment online, your product specifications should match what's written on a website or box (i.e. processor speed).
2. Shoppers get distracted
Customers add products to their shopping cart but get distracted by other elements on your website and abandon the shopping cart before completing their purchase.
Distractions can come in many shapes and sizes. Shoppers might get distracted by an email, pet, friend and just about anything else. And there's not much you can do about it.
However, what you can do is keep your e-commerce store and checkout distraction-free.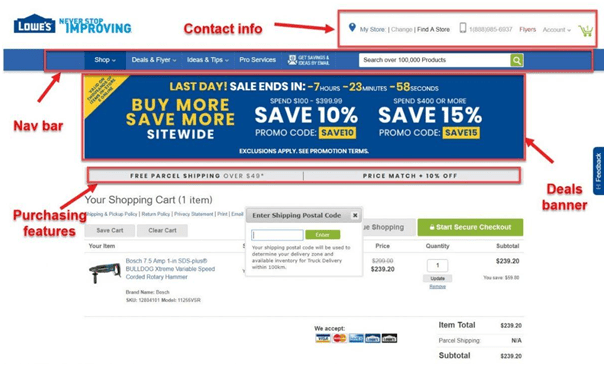 Any type of distractions on your cart and checkout pages can be harmful to your conversion rates and it can lead to shopping cart abandonment.
Get rid of all the unnecessary click-aways that are not helping users make a purchase and give them a distraction-free checkout experience with clear call-to-action (CTA) on what to do next.
3. Comparison shopping
We live in a world where technology is effortlessly accessible to almost everyone. Customers now have an incredible number of options when it comes to online shopping. They can visit as many sites as they want and compare the prices of all products they're interested in.
Very often, shoppers will browse multiple sites selling similar products and add the same items to their carts, to find the best deal.
Google Shopping has also created a fierce playground for e-commerce stores that allows potential customers to compare products and prices straight from a Google search.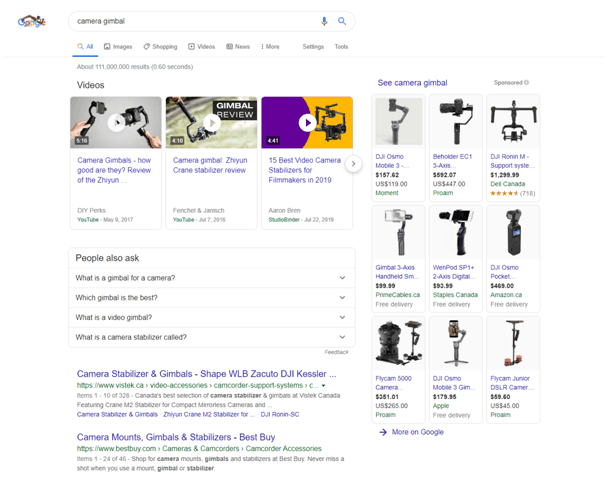 If they find an e-commerce site that offers prices more affordable than yours, they may leave the shopping cart in favour of the other site.
There are many e-commerce tactics to use to make your offer seem more appealing by creating bundles, deals and other special promos that make your offers unique and stand out.
4. Requiring users to create an account
The next biggest reason why as many as 34% of shoppers abandon their carts is when a site requires a customer to make an account. It is an undesirable obstacle to purchase, especially for first-time customers who are probably not eager to sign up for an account yet.
Adding that one extra step, which is creating a username and a password to complete the purchase, can slow down the checkout flow, which can be detrimental to your conversions.
5. Long and complicated checkout process
One of the biggest reasons for cart abandonments (claimed by 26%) is a long and complicated checkout process.
In today's world, people live fast. We expect everything to be as quick and as simple as possible.
A convoluted checkout process with too many steps and form fields can create friction and obstacles that prevent potential customers from placing an order.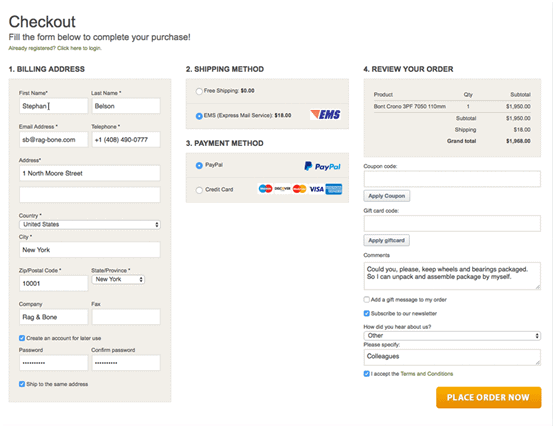 A long and complicated checkout process can result in customers never returning to your e-commerce website again.
It may seem like a trifle but making it easy to enter card information with a well-designed payment form that is clear, easy to understand and has as few form fields as possible, can go a long way.
6. Lack of trust
Online shopping has a lot of virtues and one big flaw. A lot of people get scammed while trying to buy something online. You need to make your shoppers feel secure and confident in their purchase.
Imagine this: you wanted to buy something for a very long time, but you couldn't find it anywhere. Finally, one day, you are scrolling through an e-commerce store and there it is. You feel blessed. Your eyes are teary. This is the moment you've been waiting for.
You are ready to order, but you notice something. The website looks…suspicious. There are no security badges, you can't find any reviews, it just doesn't feel right.
If your online store can't convince potential customers your business is legitimate, you'll have big issues with cart abandonment.
No matter how attractive your products are or how good of a deal you offer, if shoppers can't trust you, they won't buy from you. It's that simple.
7. Security concerns
Information theft is a serious and threatening thing. That's why a lot of shoppers are, unsurprisingly, very cautious when it comes to online payments. Customer discomfort with sharing credit card details is one of the main reasons behind shopping cart abandonment.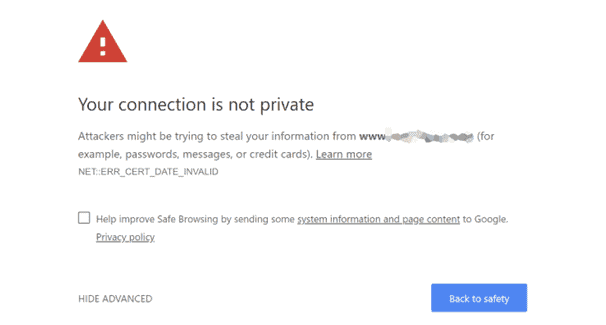 If a customer doesn't feel safe giving personal information or if they are concerned their payment information won't be handled securely, they will leave the e-commerce shop before they complete the purchase.
8. Unclear or no policies
Not having clear returns and other policies can also have a strong impact on your cart abandonment rate. Shoppers that can't easily find policies often don't feel confident placing an order.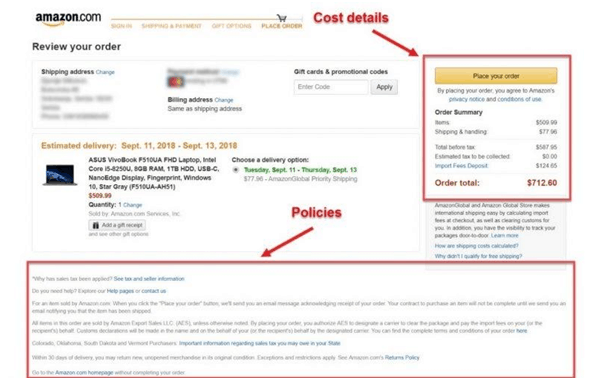 And this is completely understandable.
What if you want to buy a piece of clothing in an online shop, but you are not certain if the size will fit? Or if you order an expensive headset, but when it arrives, you notice the colour is just not the one you wanted?
You want to make sure that it's possible to return it and get a new item or a refund.
It's a common practice on e-commerce sites for customers to get information on return policies and warranties after they add items to their cart. Shoppers appreciate being informed about all the details of their orders.
Return policies that are inadequate or vague cause users to reassess their purchase. Knowing that they can return the undesired item and receive a refund or a new product can help turn a shopper into a paying customer.
9. Not having the preferred payment method
When it comes to online shopping, it's all about convenience. One of the fundamentals of a successful e-commerce business is to support multitudes of payment options.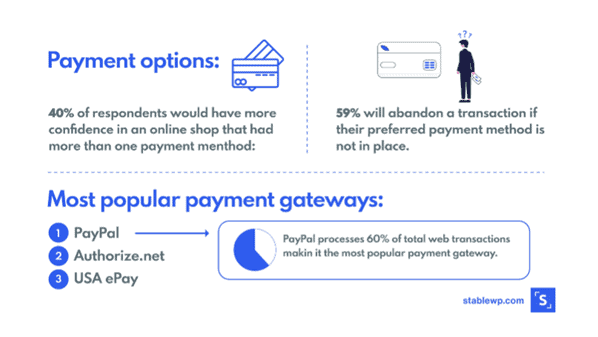 There's a better chance for a customer to complete their purchase if your e-commerce shop supports their favoured method of payment.
If you are not able to give them that option, whether it's PayPal, Apple Pay, or a "buy now pay later" option, they will probably get frustrated and give up at the very end of the purchase process.
You should pay attention to your customers' needs and preferences and offer the opportunity to choose the most preferred payment option.
12 powerful tactics to reduce cart abandonment
Now that you're familiar with the biggest reasons shoppers abandon carts, let me show you the 12 most effective methods to reduce your cart abandonment rate.
According to the Baymard Institute, around $4.5 billion worth of online products is abandoned every year. On average, a customer who abandons his/her shopping cart will leave for good after 22 minutes.
This is a huge loss to an online business as it could have resulted in a sale if recovered at that time.
Below, we are focusing on some effective strategies for reducing cart abandonment and sharing tips to help you with e-commerce conversion optimization.
1. Be upfront about extra costs
Customers are often deterred by too many fees and costs associated with shipping and handling. It's of great importance to be upfront about these additional charges.
For example, if a customer from a remote part of Canada, where shipping costs can reach high figures, wants to order a product that weighs 4 pounds and needs to be shipped from Toronto, let them know how much they will pay for shipping right on the spot.
Reason number one for abandoned carts is, as mentioned, unexpected costs. All pricing and cost information should be made obvious and easy to follow.
Customers don't appreciate being caught off guard with a sudden price increase, and that's why you should always provide all costs upfront – whether those are shipping costs, taxes applied, or any other fees.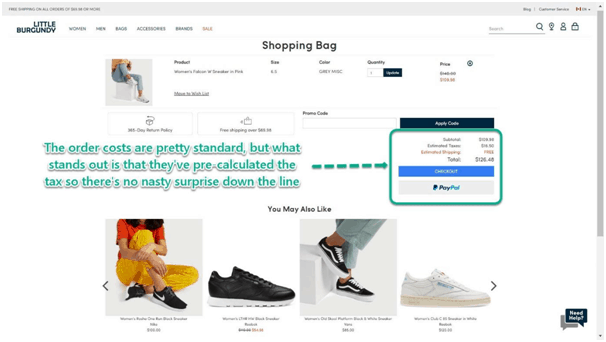 If you offer flat rate shipping, be sure to communicate that even before the checkout page.
On the other hand, if you're offering calculated or table-rate shipping, then be sure to show it clearly during the cart page. Displaying a message that says ''Shipping costs are calculated at the checkout'' can instill confidence in your potential customers and show them that you care about their shopping experience.
By eliminating surprise costs, shoppers are not only more likely to complete the purchase, but also come back to your e-commerce website and maybe even become regular customers.
2. Have a mobile-friendly checkout experience
Designing and optimizing your checkout for smartphones and small screens can significantly help reduce the cart abandonment rate on your online store.
As much as 59% of e-commerce site visits come from mobile phones. Unfortunately, the highest abandonment rate also comes from mobile devices (85,65%).
Since mobile screens are small, you must simplify the checkout and optimize it for touch screens.
Always think mobile-first when designing your checkout.
Avoid things like too many form fields, small buttons and redirecting users from page to page which causes loading screens.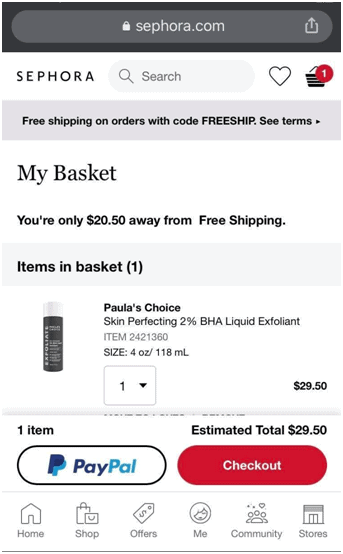 Be sure to provide a convenient shopping experience across all devices and all screens.
Responsive and mobile-first design has become a staple of modern web development.
This will not only help you convert more carts into sales and stop abandonment but also give a significant boost to your e-commerce SEO.
3. Consider offering free shipping
When it comes to shopping online, one thing customers always look forward to is free shipping.
Why? We all enjoy things that we get for free, and it makes us happy when we can save up a couple of dollars on things like shipping and spend more on items in an online shop.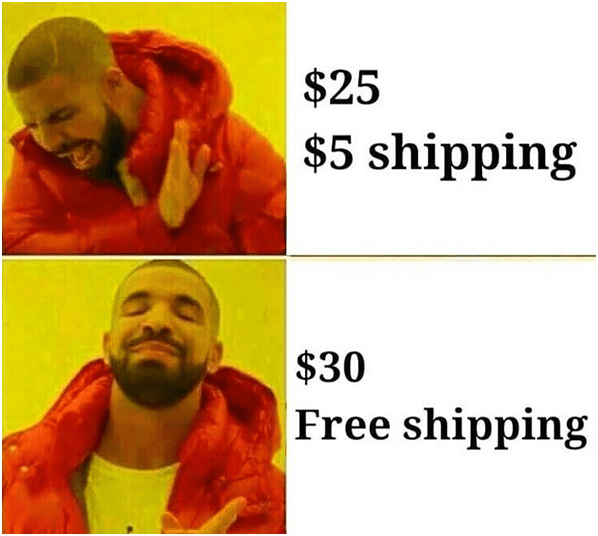 Shoppers want to receive their purchased products as quickly and easily as possible and free shipping provides just that – a way to get the product at their doorstep without paying additional money for it.
Even though low prices are the main reason why shoppers revisit e-commerce sites, expensive shipping is one of the biggest causes of abandoned carts.
Research shows more than half of respondents said that they prefer free shipping over expedited shipping and that they would choose the cheaper shipping method over the fastest one.
About 50% of small to medium-sized businesses studied said that offering free shipping boosted their earnings. However, it is crucial to find a balance between adding expenses and improving sales.
Down below are some suggestions on how to find that sweet spot:
Offering free shipping on standard delivery, but additional fees for premium services, such as expedited shipping.

Offering conditional free shipping when shoppers purchase items that meet or exceed a certain value threshold (i.e. free shipping over $50).

Charging shipping for low-value products but offering free shipping for high-value products.

Using lower-cost carriers and offering free shipping if these carriers are chosen by the customer.
Be sure to select a shipping solution that offers the right cost and features for your type of products.
4. Build trust and credibility
As already said, in the e-commerce business trust is everything. Buyers are not just looking for a product when they visit your website. They're also looking for a brand they can trust.
One of the biggest, if not the biggest, concerns for most users nowadays is online security. Shoppers are not eager to give out their sensitive information easily because of all the scams and other fraudulent activities.
Infusing your site with trustworthiness by displaying trust seals throughout your checkout process can help you make buyers feel secure and confident in your business.
Pages that require sensitive information need to have trusted logos strategically placed all over them, particularly your billing and payment pages.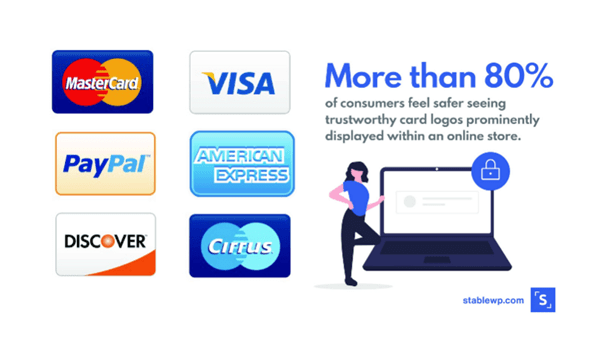 Trusted logos, such as credit cards, PayPal, etc., can reinforce the trust in the security of your e-commerce checkout.
A Baymard survey discovered that the most trusted badges are those from Norton (35.6%), McAfee (22.9%), TRUSTe (13.2%), and BBB Accredited (13.2%).

You can incorporate other website security features, such as SSL certificates, as well as social proof like ratings and reviews, or any other verifications and accreditations to make your customers feel safe and secured.
It is known that 84% of the customers trust online reviews as much as recommendations from their friends.
Placing your best reviews on the check-out page is a great way to soften the chance of your potential customer abandoning the cart.
5. Offer guest checkout option
Providing a guest checkout can help reduce shopping friction and cart abandonment rate by allowing shoppers to make a purchase without mandatory account registration.
It's a common practice for e-commerce businesses to require customers to create an account before they can purchase a product. However, a great number of shoppers consider creating a new account a setback.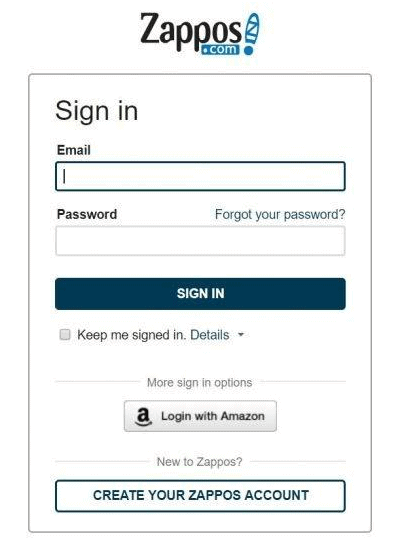 If you don't want to lose almost 40% of customers due to registration, avoid forcing shoppers to create an account.
The most effective way to do this is with guest checkout. In this case, shoppers don't need to create an account before they place the order.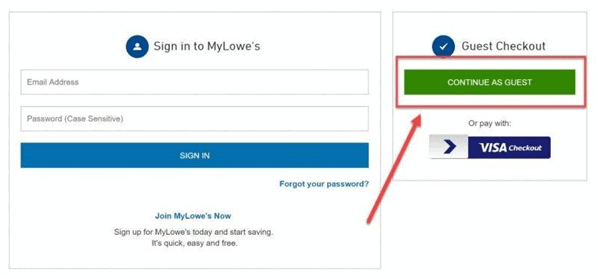 Once they fill in their shipping and billing information, you already have all the necessary details about your customers.
If your goal is to collect emails or other contact information for promotional purposes, there's always an option to ask your customers to save their checkout information on the confirmation page.
It is also an option to bribe customers to register on your e-commerce site, with gift cards, special discounts, store points or any other incentives that can motivate them to open an account.
To boost your conversions and sales, always provide shoppers with a choice.
If you insist on having shoppers create an account on your e-store, offer the option of social login.
With social logins, users can forego the registration process completely and create an account using their existing profiles on Google, Facebook, Twitter, etc.
6. Streamline the checkout process
One of the main reasons why people shop online is because it's easy, fast and convenient. Be sure to streamline the checkout process as much as possible.
If the checkout process is lengthy or daunting, most shoppers will give up and abandon their cart without completing the purchase.
According to the Baymard Institute, the average large-sized e-commerce site can increase its conversion rate by 35.26% through better checkout design.
If you want to give your customers a pleasant shopping experience, simplify the checkout flow by:
Having fewer form fields

Breaking the checkout flow into steps

Having 2-3 checkout steps max

Eliminate all unnecessary form questions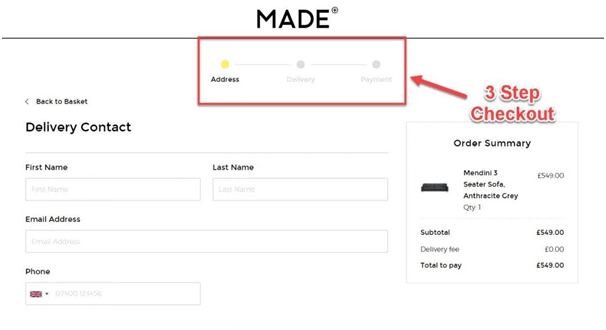 Most shoppers won't input their card info in forms that are poorly designed and confusing, and that's why it's necessary to give them the most straightforward form design with as few fields as possible.
Examine your existing checkout process. Does it seem confusing? Is it too complicated or too long? What fields can you eliminate?
Give it a shot, test new changes and measure the effect they have on your conversion rates before fully committing to them.
7. Offer alternative payment methods
When it comes to payment options customers enjoy having numerous alternatives, so the more you offer – the better.
40% of consumers have more confidence in online shops with multiple payment options, and 59% will abandon a transaction if their preferred payment method is not in place.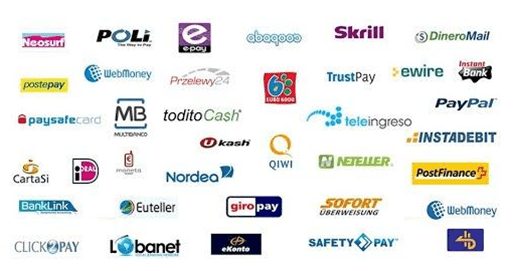 Provide a large variety of payment methods for your customers to choose from – credit and debit cards (Interac), and perhaps even PayPal. You can offer a financing option for more expensive items. Another great idea is to consider integrating with digital wallets like Apple Pay, Google Pay, Amazon Pay, etc.
Mobile e-commerce sales are expected to hit over 54% of total e-commerce sales in the near future. With this in mind, it's not hard to understand why digital wallets are especially important for your mobile e-commerce experience. Don't let your customers down. They've come this far, don't lose them just because your e-commerce store doesn't offer their preferred payment method.
Banks charge International transaction fees on an almost daily basis. For example, Citibank has been charging between $10 and $20 per transaction for making international purchases by credit cards since August 2013.
Doing business with banks is unavoidable but e-commerce businesses need to pay attention to this as well because the customer will see the fee in the checkout process anyway whether they know about it or not.
International transaction fees may seem like a minor issue but actually, it's one of the ways that most e-commerce companies lose money when they sell products internationally from their website due to these fees.
8. Provide multiple shipping options
Customers are more likely to buy a product if they can choose the delivery method that's most convenient for them. This doesn't necessarily mean offering the cheapest shipping, but rather providing a range of options that allow shoppers to choose the option they're most comfortable with.
Although some people only care about the shipping cost, others are more concerned with the speed of delivery.
Some customers need their product to be delivered as fast as possible. They want the product delivered overnight, or at least to have an option of expedited shipping.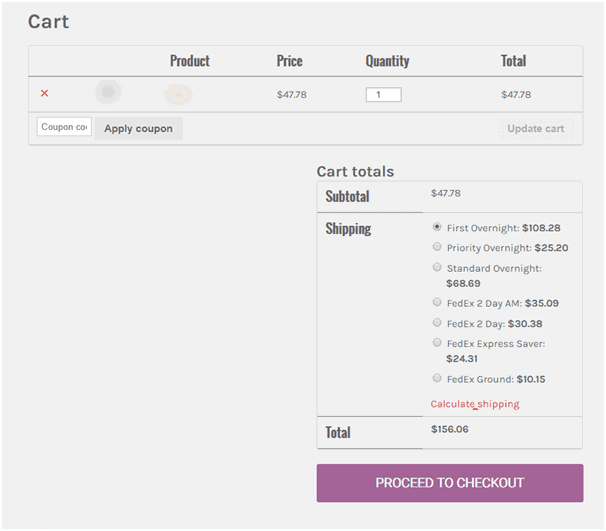 The best solution is to propose at least two options, regular shipping that can take three or more days, as well as paid, expedited shipping. In case you have a physical store, you can also offer in-store pickup.
By providing multiple shipping options, you can enhance the shopping experience and boost your conversion rate.
9. Have clear and easily accessible returns and refund policies
Return and refund policies should be straightforward and self-explanatory. They should also be easy to find and understand. This can have a big impact on reducing cart abandonment by boost shopping confidence.
Online customers don't have the luxury of trying on items or seeing a product in person. There is a better chance for a customer to buy something from your e-commerce shop if they have the opportunity to return the item for a full refund or to exchange it for another item.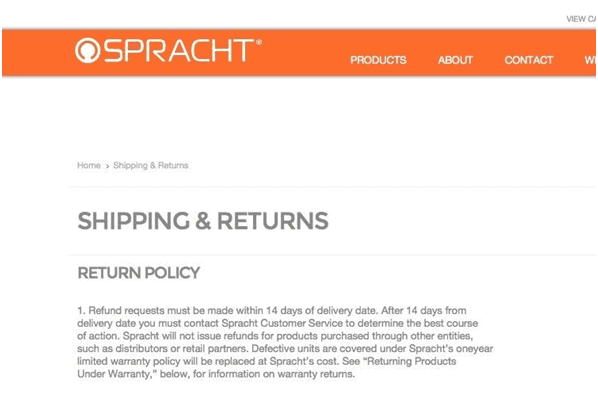 Your customers will feel confident and safe knowing that they are protected by the strong return policies of your e-commerce shop.
Linking the return policy early in the checkout process can also encourage shoppers to complete the order.
10. Remove navigation menu on cart and checkout pages
Removing distractions from your checkout page can have a big impact on reducing the cart abandonment rate. In the e-commerce world, this is also known as enclosing the checkout.
Forget everything you know about making it easy for users to navigate to other pages of your site because on the checkout page you want to the opposite.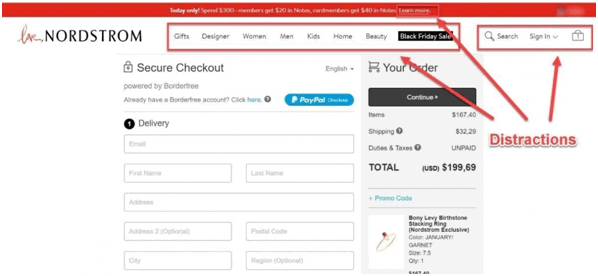 When it comes to the checkout page, all elements usually found on other pages, such as header, footer, navigation bar, search box, etc., are simply a distraction for your customers.
You don't want them to click away to other sections of your e-store but to complete the purchase.
All unnecessary diversions should be stripped-down and your users should be given a distraction-free checkout experience.
The full focus should be put on the ultimate goal, which is to complete the order. So, don't sidetrack shoppers with elements that don't contribute to making a purchase.
11. Offer phone and chat support
Chat and online support can oftentimes prove to be a potent tactic to reduce cart abandonment. Be sure to answer any potential questions, address concerns at the checkout and assist shoppers to complete the order.
Allowing customers to get the information they need in the shortest time makes them feel respected and understood. When you shop in brick-and-mortar stores, you have the benefit of asking the salesperson anything you want about the product.
However, in the e-commerce business, that's not the case.
Imagine this: you are shopping online and have a question about the product, but you can't find the answer anywhere on the website. What can you do to find out what you want to know?
Hearing a friendly, helpful voice on the other side of the line can help your customers to stop hesitating and finish the purchase.
Chat support is the next best thing.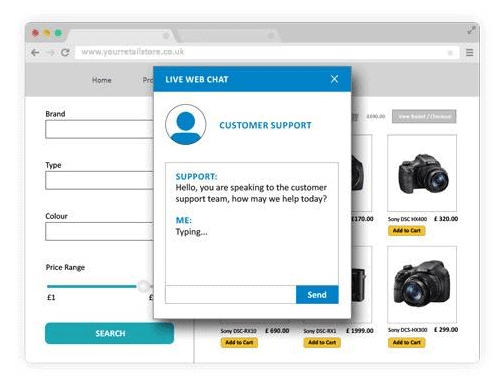 Some people don't enjoy talking on the phone.
That's why it's important to provide a live chat option with customer support. Shoppers can ask questions and get answers in a matter of seconds.
12. Ensure your website is fast
One of the most important optimization efforts is page speed. If it takes more than three seconds for a website to load, shoppers will simply leave the site.
As already mentioned, speed and convenience are some of the main characteristics of a successful e-commerce page. No one wants to waste their time waiting for a page to open!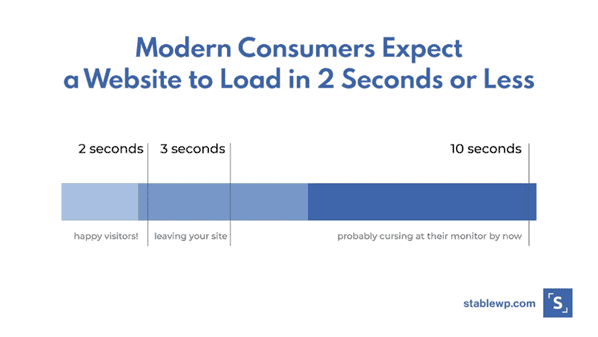 Slow e-commerce shop pages are what can cause high cart abandonment.
Faster sites mean happier customers, and what can be better for increasing your conversion rates?
Recover abandoned carts
Let's face it, no matter what you do to optimize your site for conversions, there'll always be some shoppers that slip through the cracks and abandon their cart.
But don't throw in the towel yet! There are several remarketing strategies you can use to convince lost shoppers to come back a finalize the purchase.
Below, you can read about some of the best strategies for recovering abandoned carts.
Send cart abandonment emails
To maximize your efforts in lowering the cart abandonment rate, you need to have a solid abandoned cart email strategy.
Salesforce data show that 60% of shoppers returned to purchase within 24 hours of receiving personalized emails after abandoning their shopping carts.
Abandoned cart emails are easy to create, and they can go a great length to pull back reluctant customers.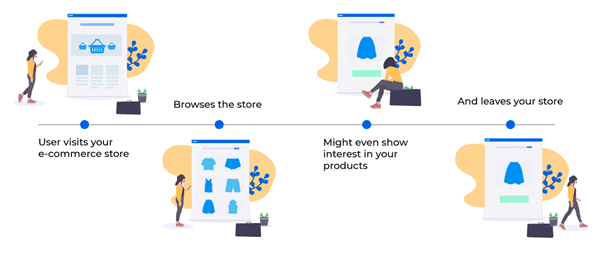 There are two things that every abandoned cart email must have:
An attention-grabbing subject line

A reminder of what they've abandoned

A compelling incentive to recover the abandoned cart (discount, special offer, free shipping, free gift card, etc.)
After some time, your customers may decide that they do want to buy after all. It may take a few hours after abandonment to be reminded of what they saw in the items in the first place.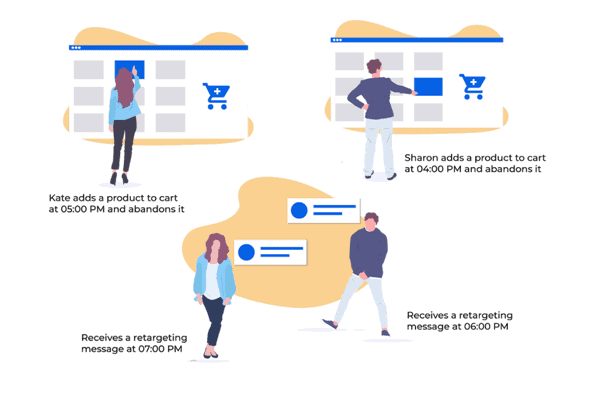 Adding a must-click subject line, quality product images, and even memes can help increase the recovery rate.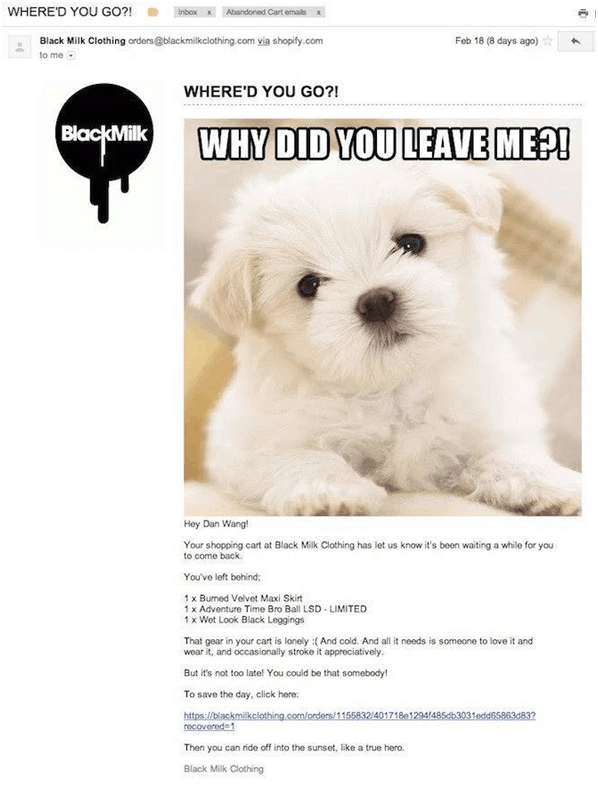 Black Milk Clothing isn't afraid to use a bold email subject line: "WHERE'D YOU GO?!" It also writes: "That gear in your cart is lonely :(" and "To save the day, click here," with the link back to the cart.
Email remarketing also helps create a FOMO effect. With smart email copy, you can infuse shoppers with enough scarcity that this might be their last chance to buy your product at a discounted price.
Running email remarketing campaigns does require you to capture shoppers' emails before they abandon the cart…
Capture emails with exit-intent popups
It takes a lot of money and effort to drive visitors to your online store, so you want to leverage every opportunity to convert them into paying customers or leads.
Exit-intent popups are a powerful tactic to capture shoppers' emails right before they leave your online store.
What are exit-intent popups?
You know when you're on the website and right before you are about to close the browser or click on a different page, you get a popup asking you for your email address?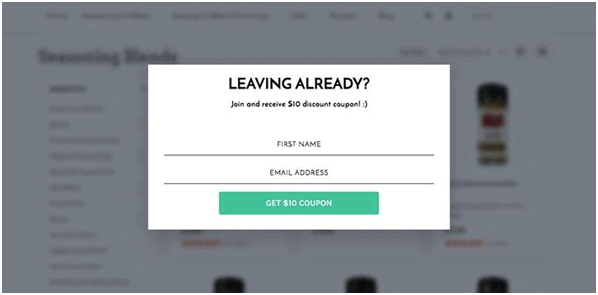 Well, that's an exit-intent popup.
Creating a popup that generates leads and captures shoppers' emails is more than just timing it correctly. You want to give your visitors a reason to subscribe. And even better, you can offer incentives that will not only capture leads but also help convert them into customers.
Some effective exit-intent popup strategies include:
Offering a discount code or coupon

Creating a free eBook or guide to download

Encouraging visitors to read reviews or watch testimonials

Asking visitors to complete a survey

Directing them to a new site tool

Presenting them with items in their cart
Run retargeting ads on Google and Facebook
Retargeting ads are a powerful strategy that can help recover abandoned carts by following lost shoppers on websites they browse and social media reminding them of the items they left behind.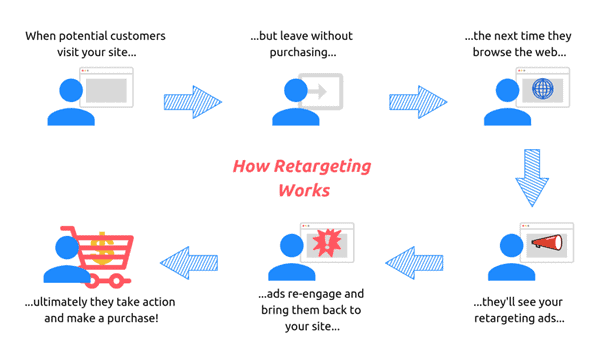 Visitors become ''cookied'' (tagged) when they visit your website, and to remarket them, a code is placed on the page that the user visits. This triggers your ads to follow that user around the internet, no matter where they go.
Seeing ads on the sidebars or top banners of other sites of something that you just searched for is not magic nor a coincidence. It's just remarketing.
Visitors are 70% more likely to convert if they see a retargeting ad. Yes, you read that right. Seventy percent!
Retargeting plays a huge role in the Facebook Ads funnel strategy, proven to generate great success.
You can simply add tracking codes to your web stores like Facebook Pixel and Google Ads Conversion Tracking. They'll keep a record of all the visitors and their interactions with your e-commerce site.
That allows you to target them with specific ads relevant to their last visit even if they are not visiting your site at the moment.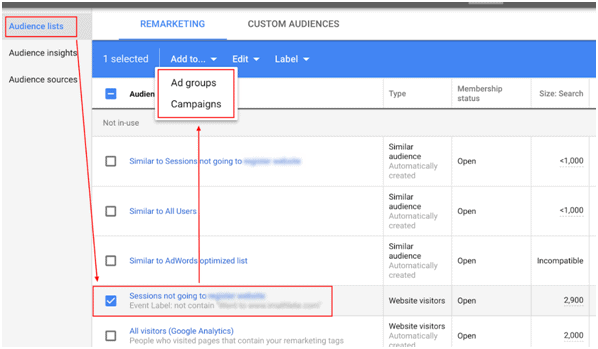 Remarketing comes in many shapes and sizes, and here we are going to talk about the two most effective options: Google Ads and Facebook Ads.
Facebook remarketing and Google remarketing are quite alike. However, if you use Facebook remarketing, your ads will be shown on Facebook and Instagram, and not across the Google Display Network.
We've also developed powerful strategies that combine the power of both Google and Facebook retargeting.
To maximize your retargeting campaigns, you can implement advanced Facebook retargeting strategies that drive sales based on shoppers' behaviour.
Conclusion
With three-fourths of shopping carts being abandoned on average, the e-commerce business is still not as successful as it can be.
The most important thing is to always be one step ahead of your customers, anticipate their needs and be ready to offer them a fast and simple checkout process.
Problems such as slow websites, long and complicated checkout processes, security concerns, and many others can be solved easily by implementing the strategies presented in this article.
This will also help you to lower your cart abandonment rates which will skyrocket your conversion rates and boost your sales.
Let us know in the comments if you find these tactics useful, and which of them you would like to apply to improve your business and conversion rates.
If you need help optimizing your e-commerce for a higher conversion rate, reach out to us and learn how we can help you generate more sales.