Is SEO still worth it?! Is investing in organic traffic a viable marketing strategy in 2021?! Is SEO dead?!
As an agency dealing with digital marketing, these are questions we face every year.
Let me tell you, never have these questions made more sense than in the past couple of years, with all the Google algorithm updates (Panda, Hummingbird, etc.) and changes to the Google search results page (SERP).
One of the main issues is those old SEO techniques that used to get results simply don't work anymore.
You'd be surprised to hear that even some well-established corporations with immense budgets like J.C. Penney and Ehow.com have taken a big hit in organic traffic.
SEO has evolved dramatically and now requires much more than just having great content.
So, is SEO still a good investment in 2021, and beyond?!
Short answer: YES!
SEO is more important than ever! It's still one of the most potent digital marketing strategies that drive long-term results. You need to right techniques.
Dive in and learn what has changed and how to do search engine optimization in 2020!
What is SEO?
SEO stands for search engine optimization. It is a set of tweaks and optimizations to your site with the goal of driving organic (free) traffic by ranking high in Google search results.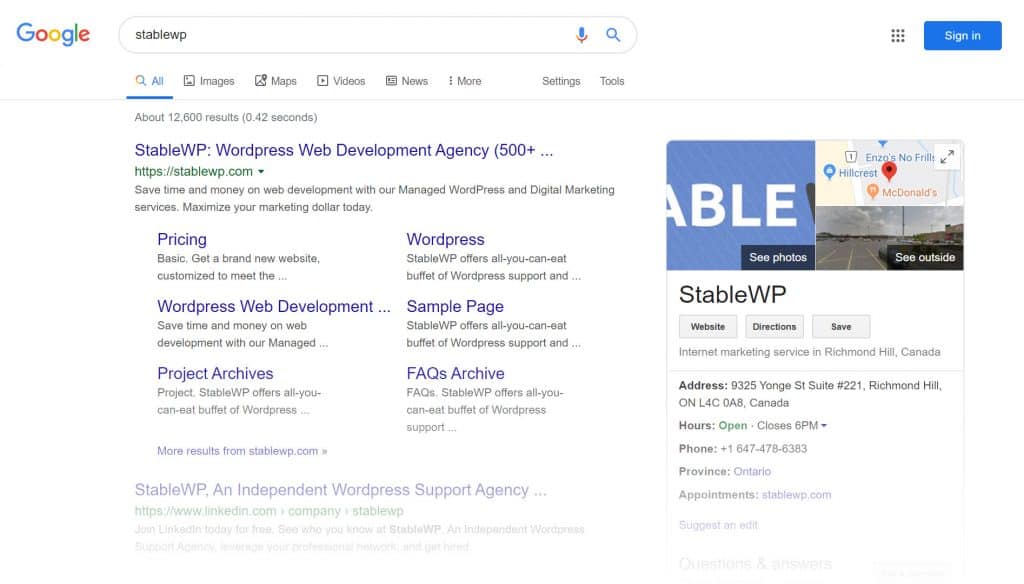 Ranking high in search engines helps your site get discovered by users when they're searching for keywords related to your industry (niche), brand or products/services.
This leads to the next question.
Why is organic traffic so important!?
According to a study by Bright Edge, organic traffic is responsible for more than 51% of all visitors coming to websites, trumping all other sources such as paid (14%) and social (5%) traffic.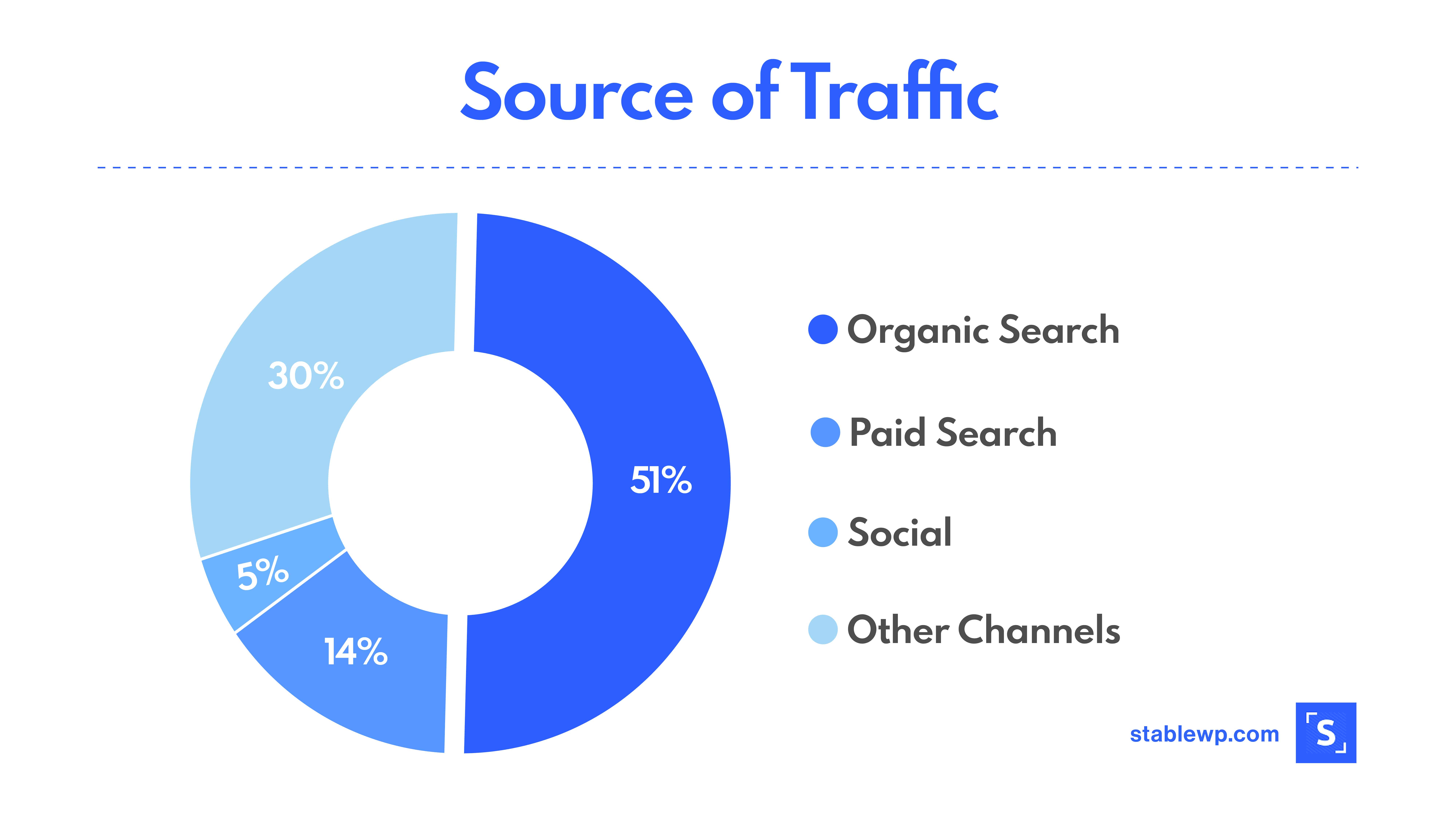 Not only is organic traffic the top source of your website visitors, but it also benefits you in a number of ways:
People 'google' when they are looking to buy products or services – For a majority of people, the first thing they'll do is use a search engine to look for information, products or services when they need them. 81% of shoppers conduct online research before making big purchases.
Organic traffic is highly targeted in terms of user intent – Users searching for a keyword such as: 'auto repair shop toronto' are likely looking to get their car fixed. Google's search results play a big role in discovering a shop or service, as well as making the buying decision. The same goes for product-related searches like "iphone x 256gb," in which case users are looking to buy this exact product.
It's more cost-effective – Investing in SEO is going to get you long-term benefits. Once you get ranked on the top page, you can enjoy being on the throne for a long time (assuming you will continue to maintain your site).
More sales – High rankings bring more potential customers to your site. SEO makes it easy for users interested in your products/services to discover your business.
Organic rankings are critical for local businesses – 30% of mobile searches are related to location, and 72% of consumers who did a local search visited a store within five miles. With good Local SEO, not only will your business show up in SERP but also, customers will show up at your store.
Future-proof – With the rise in voice search and AI technologies, you have even more opportunities to be found organically.
Google's authority – People trust Google to provide the most relevant results for any given search. That's why overall, the #1 ranking on Google search results gets around 21% of clicks, with #2 and #3 with about 10% and 7.5%, respectively. So ranking high will grow your organic traffic exponentially.
Last but not least, thanks to smartphones, people can find your business anytime, anywhere!
87% of smartphone owners use a search engine at least once a day, and more Google searches take place on mobile than on desktop devices.
People can discover your business no matter the time or place, leading to more visitors and customers!
That's why organic traffic and SEO are more important than ever!!!
And you can bet that any and all investments that go to SEO are worth it.
But then, why is everyone asking if "SEO is dead"?!
To help answer this, first, let's take a look at what's new.
How Google rankings changed
Back in the day, it wasn't too difficult to rank on Google, it wasn't very sophisticated, and there wasn't much competition either.
Yes, Google was able to understand the content on your website, but it wasn't very smart.
Many 'SEO gurus" were able to manipulate the information on their websites in order to be favoured by Google's algorithms. Thus, the art of SEO was born.
Fast forward today, Google has evolved and considers a lot more signals to determine which site deserves to be rank #1.
Furthermore, there are two major changes that occurred in recent years:
Google algorithm updates and,
Revamp of Google's search results pages
Let's have a closer look at each.
Google algorithm updates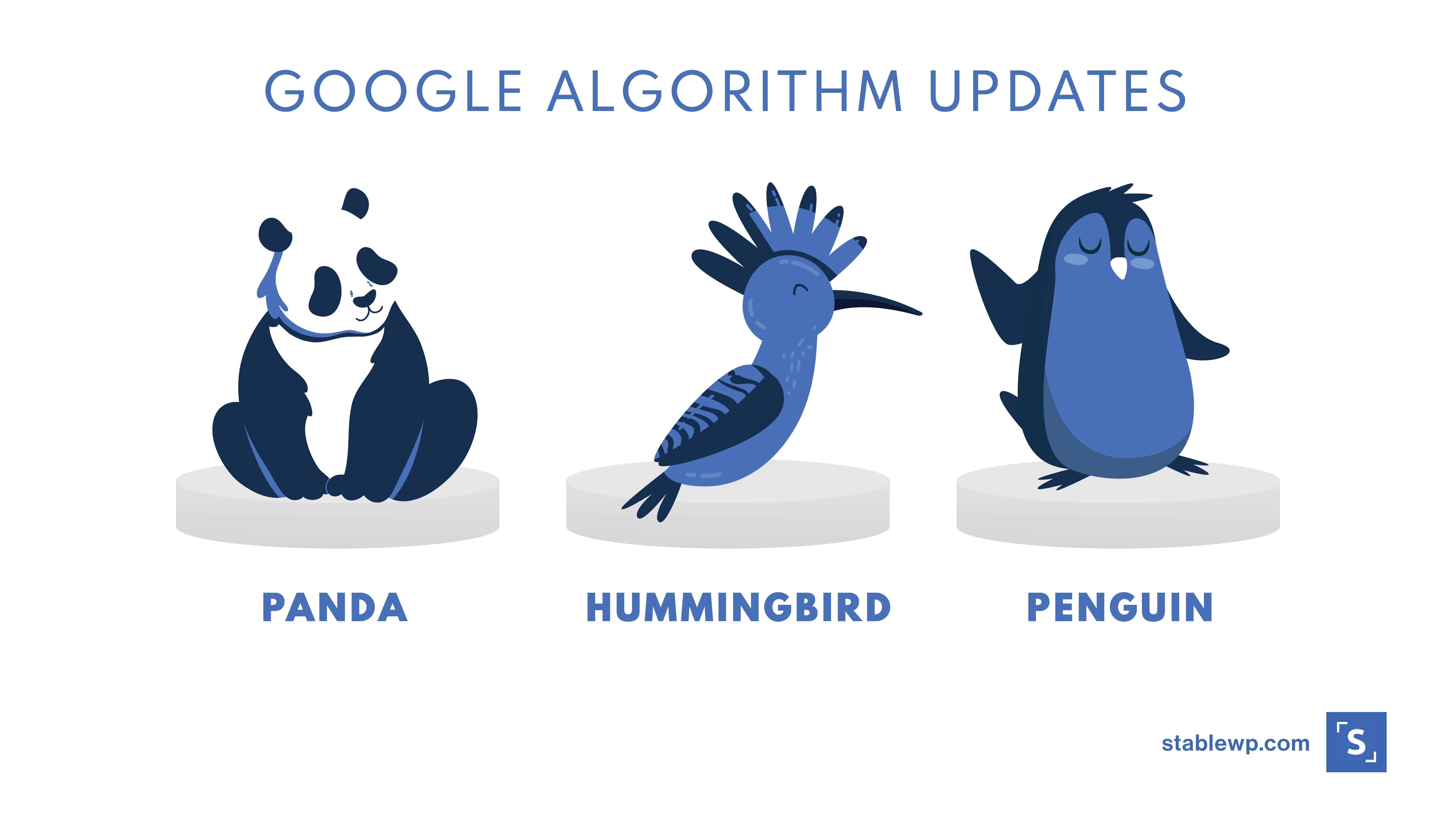 The following is a list of major updates that changed the SEO game completely:
Panda (2011) – Don't be fooled by its cuddly name. This panda is ruthless! It's supposed to penalize websites with poor quality content by stopping them from appearing in Google's top search results. With many websites having already felt the wrath of Panda it's easy to see why many worry about the future of SEO.
Penguin (2012) – Another cute animal, designed with the sole purpose to terrorize websites exhibiting a spammy behaviour (such as buying links to boost website authority).
Hummingbird (2013) – The name comes from being "precise and fast" and is designed to better focus on the meaning behind the words. Thanks to this update, Google can now understand complex phrases based on context. Hummingbird update also means that Google can now understand synonyms as well as user intent much better than it ever could.
Pigeon (2014) – This animal is perhaps a bit more friendly. The Pigeon algorithm update is supposed to provide more useful, relevant and accurate local search results.
Mobile-first update (2015) – In 2015 Google released a major update, designed to give a boost to websites that are mobile-friendly. With this update, Google is spearheading a revolution in the digital world. It represents a paradigm shift from desktop to mobile-first.
RankBrain (2015) – Machines are taking over! One of the biggest revolutions in search engines, RankBrain is a machine learning (AI) algorithm that helps Google process and understand search queries. In short, RankBrain tweaks the algorithm on its own. Depending on the keyword, RankBrain will increase or decrease the importance of backlinks, content freshness, content length, domain authority, and other ranking factors.
BERT (2019) – Bidirectional Encoder Representations from Transformers (BERT) is a neural network-based technique for natural language processing (NLP) pre-training. This new model recently rolled out by Google, is used to better understand natural language by processing words in relation to all other words in a sentence. BERT update helps Google consider the full context of a word and improve understanding the intent behind a search, sort of like humans can understand each other. Besides the update's ability to help users with more useful search results, it creates a new challenge for people in the SEO industry because you can't really optimize for BERT, at least not like before. To harness the power of BERT you need to write outstanding content that matches users' search intent.
But, don't be intimidated by all of this.
Google is constantly evolving itself, with between 500-600 updates and tweaks every year!
This doesn't mean that you'll be worse off. Most of these are minor tweaks to improve stability, reliability and user experience.
Major updates have the potential to be 'game-changers,' and real SEO experts constantly keep an eye out for any changes that might disrupt the industry.
Revamped Google search results page
It used to be that on Google's SERP you could only see organic rankings, with the only competition being an occasional Google AdWords ad, that could potentially appear above your page.
More recently, a typical Google search experience might look something like this:
Now, the first page of Google has so much more going on. Some of these new features show up depending on your search query.
The new search results page is designed to respond to the user's search query much faster, with more useful information and sources.
We see this as an opportunity for more SEO!
Here are some of the key new Google SERP elements and changes:
Featured Snippets
Image Packs
Knowledge Cards
Knowledge Panels
Local Packs
News Boxes
Related Questions
Reviews
Shopping Results
Site Links
Tweets
Video Results
Google Search Ads
Ads on Google are traditionally displayed on top of search results pushing organic results down and can impact CTR.
In some cases, they can also appear on the bottom of the page. They don't turn up for all queries, but when they do, you'll usually see 3-4 ads on top and 3 at the bottom.
Featured Snippets
In some instances, Google extracts information from a well-optimized page, to answer a specific question asked in the search query.
Featured Snippets have higher CTR than regular organic results.
Some refer to this as ranking on '#0 position' in Google.
There are a few different types of Featured Snippets:
Paragraph type
List type
Table type
If you provide clear explanations, direct answers to questions, step-by-step guides or information presented in tabular forms, and do good SEO, you have a great chance ranking #0, high above everything else.
Image Packs
Images may appear for specific searches when Google deems that visual content would be valuable.
These are shown in a horizontal row or as a grid of images, which link to a Google Images search.
Image packs present another valuable piece of real-estate on SERP and a great ranking opportunity. Your content can appear here if you conduct Image SEO.
Knowledge Cards
For queries that request data information, Knowledge cards may be displayed on top of search results.
However, because they are usually based on data agreements with partners, for the most part, they are out of reach for the majority of sites.
Knowledge Panels
Knowledge Graphs, aka Knowledge Panels extract data and information from reliable sources such as WikiData and Google's own index.
They appear on the top right side of search results when users search for common knowledge queries.
Local businesses, brands, and even people can appear in the form of Knowledge Panels as well. This usually happens when users search for a brand name or a local business.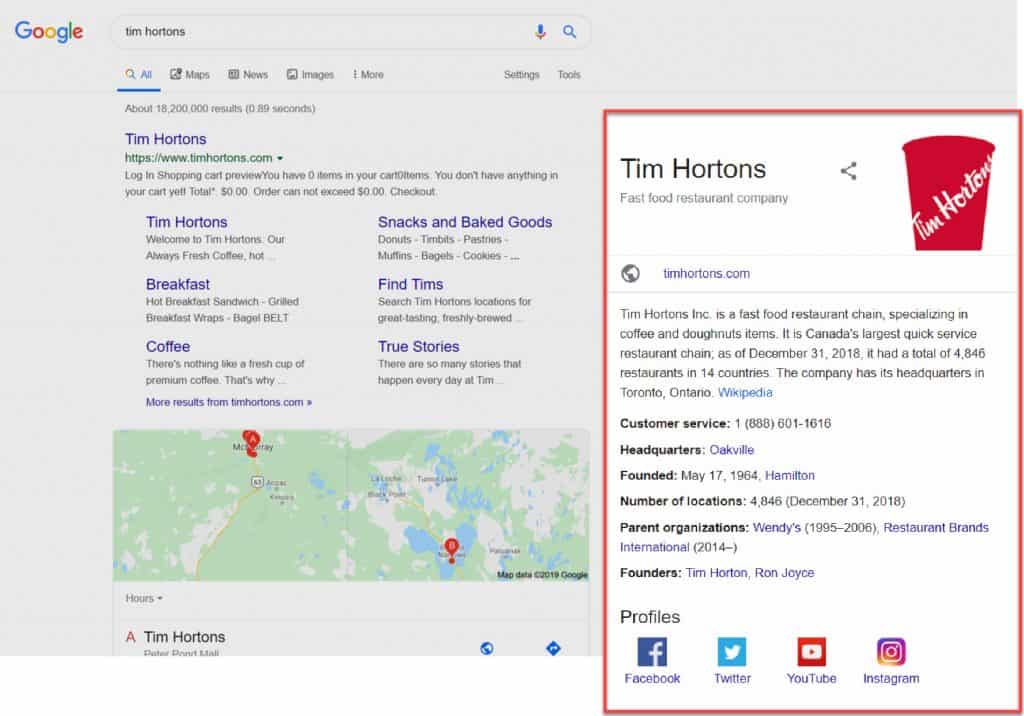 If Google decides to show your panel, your brand will dominate the right side of the SERP.
To appear in Knowledge panels, you need to claim and optimize your Google My Business (GMB) listing.
Local Packs
For search queries with local related keywords, you might see local packs featuring a map, locations, reviews, prices and more.
They feature the top 3 local businesses relevant to the search.
It's shown in a very prominent position (top result on desktop) taking up a lot of screen-space in SERP.
Talk about putting your business on the map – both literally and figuratively.
Ranking for these keywords requires local SEO and good reviews.
Learn more about how to rank for #0 position in Google with our Ultimate Local SEO Guide!
News Boxes
If search keywords related to the latest news, you might see these somewhere on the search results page.
They are usually reserved for news websites. You won't have much of a chance ranking for News Boxes unless you optimize your site for news articles.
Related Questions
These appear when Google thinks that there are more questions related to your search query.
Related Questions are typically related to featured snippets, the page that ranks for the featured snippet also ranks for related questions card.
As for their position, they can appear in different locations on SEPR, and they usually consist of 4 question-based results.
Good keyword research is essential – target keywords that include one of the 5 Ws (What, Where, When, Who and Why) or How.
Reviews
Ratings sometimes appear for products, services, and other relevant items. You can see them in the form of 5 stars just above your meta description.
If your page has a rating (especially if it's high), you'll get a bump in CTR but also a boost in sales.
Having rating stars next to your result is especially important for e-commerce and local businesses where people often use reviews to help make a buying decision.
Although you cannot directly influence if they appear for your site, you can enable schema markup for reviews to increase your chances.
Google also scrapes your GMB listing, Facebook page and other trustworthy sources around the web to compile your star rating.
Shopping Results
Paid Shopping results or Product Listing Ads (PLAs) sell your products directly with rich information, such as images and pricing.
Recently this type of advertisement was named Google Shopping Ads, which is a big part of every e-commerce PPC arsenal.
This is a paid feature similar to other Google ads.
Site Links
When someone searches for an exact brand or domain name in Google, site links may appear as the top result in SERP.
They can occupy five organic positions, dominating the SERP, so it's a great opportunity to get more exposure.
Using Site Links can also improve CTRs and help users get to the exact page they want.
To enable site links, you need to implement a search action anchor markup on your site.
Twitter cards
For some searches, you can even see relevant tweets in Google SERP.
Tweets in Google search usually appear for keywords related to trending topics.
Video results
Videos in SERP organic results appear only for certain keywords when Google deems videos as useful.
If you want your content to appear as a video result in Google SERP, it's necessary to perform video SEO. You need to at least have video schema markup implemented on your page.
Google SERP now looks richer, more useful, but with so many new elements on the page, your organic click-through rate (CTR) might go down.
According to a study by Internet Marketing Ninjas, between 25-30% of all search queries on Google end up with 0 clicks!
With a reduction in CTRs, some may jump to conclusions, asking themselves again: Is it even worth investing in SEO if I won't get those clicks!?
But where others see a downfall, I see opportunity.
If you do your SEO right, you can potentially rank for some of these new features, granting you even more exposure on the top page of Google. You now have more opportunities to appear in multiple spots on page #1 if you do things right.
Is SEO worth it?!
SEO is not dead, but some old SEO techniques are!
Google's algorithm updates are only supposed to get rid of poor quality content, which has no place on the #1 page of SERP, to begin with.
Yes, the redesign on Google's search results page means that your organic rankings have to compete for clicks with more elements. But at the same time, they also bring in new opportunities for high-quality content, image, and video SEO.
Google is smarter and more sophisticated now. It has gotten a lot better at distinguishing high-quality content from poorly optimized, spam.
Spammy SEO practices that used to dominate before will no longer work. For example:
Spammy backlinks to your site.
Copying content from another source
Keyword stuffing
Slow and unreliable sites
Sites not optimized for mobile devices
Clickbait headlines
And other malpractices that get penalized by Google.
With so many updates and tweaks in Google's algorithms, some older SEO tactics that used to dominate and propel websites to top rankings, simply don't work anymore.
The algo updates have many self-proclaimed "SEO experts" scrambling. Spammy practices that used to be their bread and butter are no longer valid.
Yes, if you were buying $5 for 100,000 backlinks on Fiverr – you need to stop! It's a big NO!
Not only are they not going to help you rank high in search results, but they're also more likely to get you penalized, and reduce your chances of ranking even further.
So, when answering "is SEO worth it," I need to point out that it's still worth every penny. But you need to know how to do SEO correctly if you want to reap all the benefits without getting slashed by Google Panda.
With that said, let's have a look at how to conduct SEO to rank on Google, in 2021.
How to do SEO in 2021 to rank #1 in Google
SEO is actually becoming more effective, with 82% of marketers reporting effectiveness is on the rise, and 42% of this group stating effectiveness is increasing significantly.
By understanding how Google works, you can take advantage of this knowledge and make it work in your favour.
There are three ranking pillars of Google:
Great user experience (UX)
High-quality content
Website authority
You need to optimize each part of your website to align with what Google considers great UX and high-quality content. That's essentially what SEO is.
With this in mind, to rank high in Google in 2020, you need to perform two types of SEO:
On-page optimization
Off-page optimization
On-page optimization
This type of SEO is conducted on your site; you have full control over the process and the end result. On-page SEO can be further divided into two more sections:
Technical SEO – This includes tweaks and improvements to your site's performance and UX such as: having a mobile-friendly site, fast loading speed, correct site architecture, sitemaps, implementing schema markup (important for those new SERP features), installing an SSL certificate, etc.
Content Optimization – Starts with keyword research to find topics around which you'll use to create your content. You can use tools like Ahrefs and Google Keyword Planner for this. Read our comprehensive guide on how to find the most profitable keywords. Once you find your target topic, you optimize it with title tags and meta descriptions, H1, H2, H3… headings, keyword density, image SEO, internal and external linking, etc.
According to Databox report, Meta descriptions and page titles are key to turning SEO rankings into website traffic.
Both need to include the main target keyword, be attractive (aka "click-worthy") and be of the right length.
Page meta title ideal length is around 60 characters. Meta description ideal length is between 120-160 characters.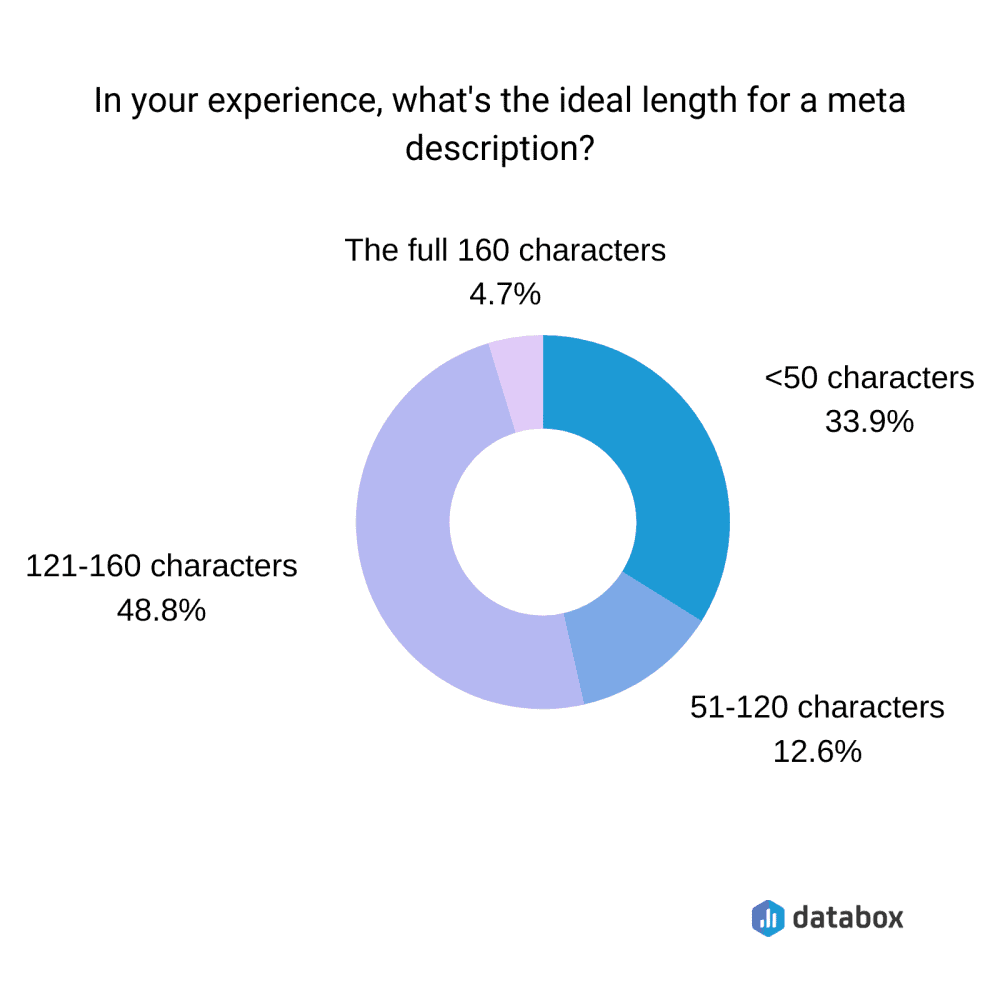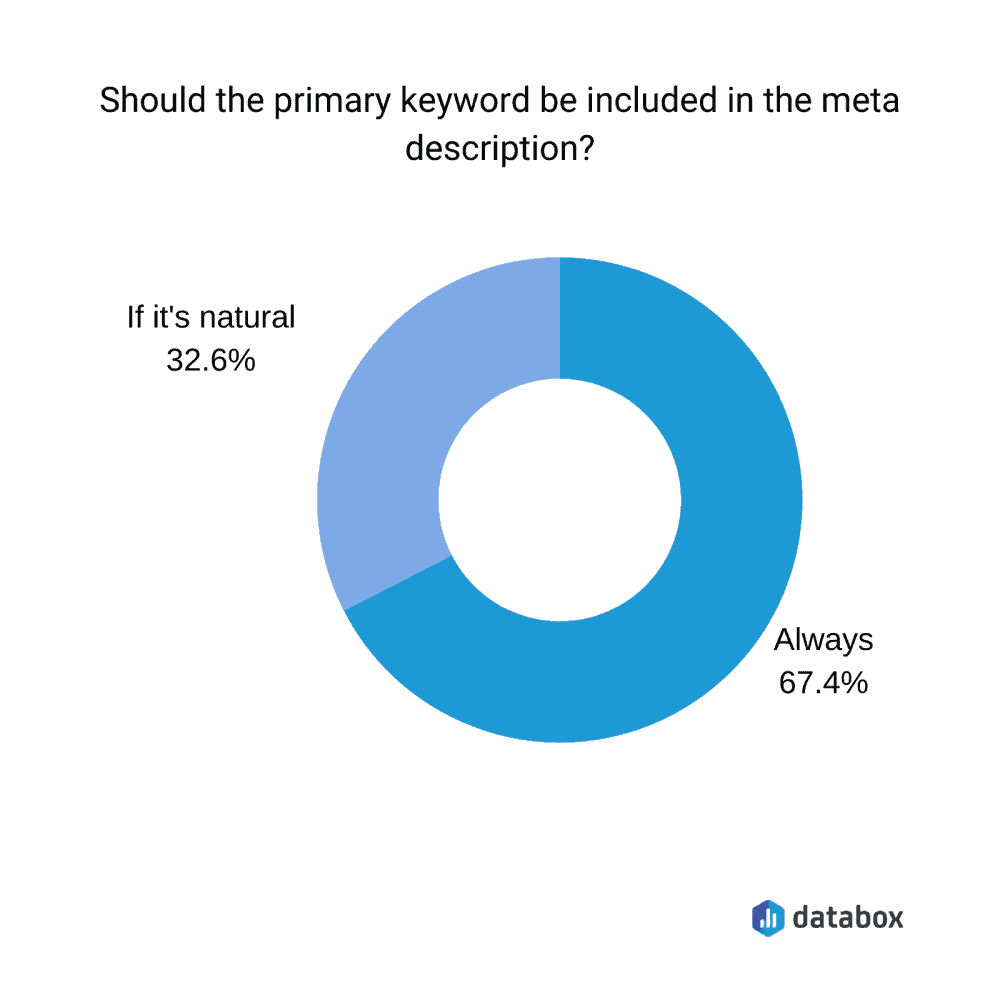 You can learn how to conduct On-page optimization on your WordPress website using the Yoast SEO plugin.
Off-page optimization
Off-page SEO is often referred to as link-building.
This process is done away from your site, and you don't have much control over it. Its purpose is to increase your site's authority in your niche.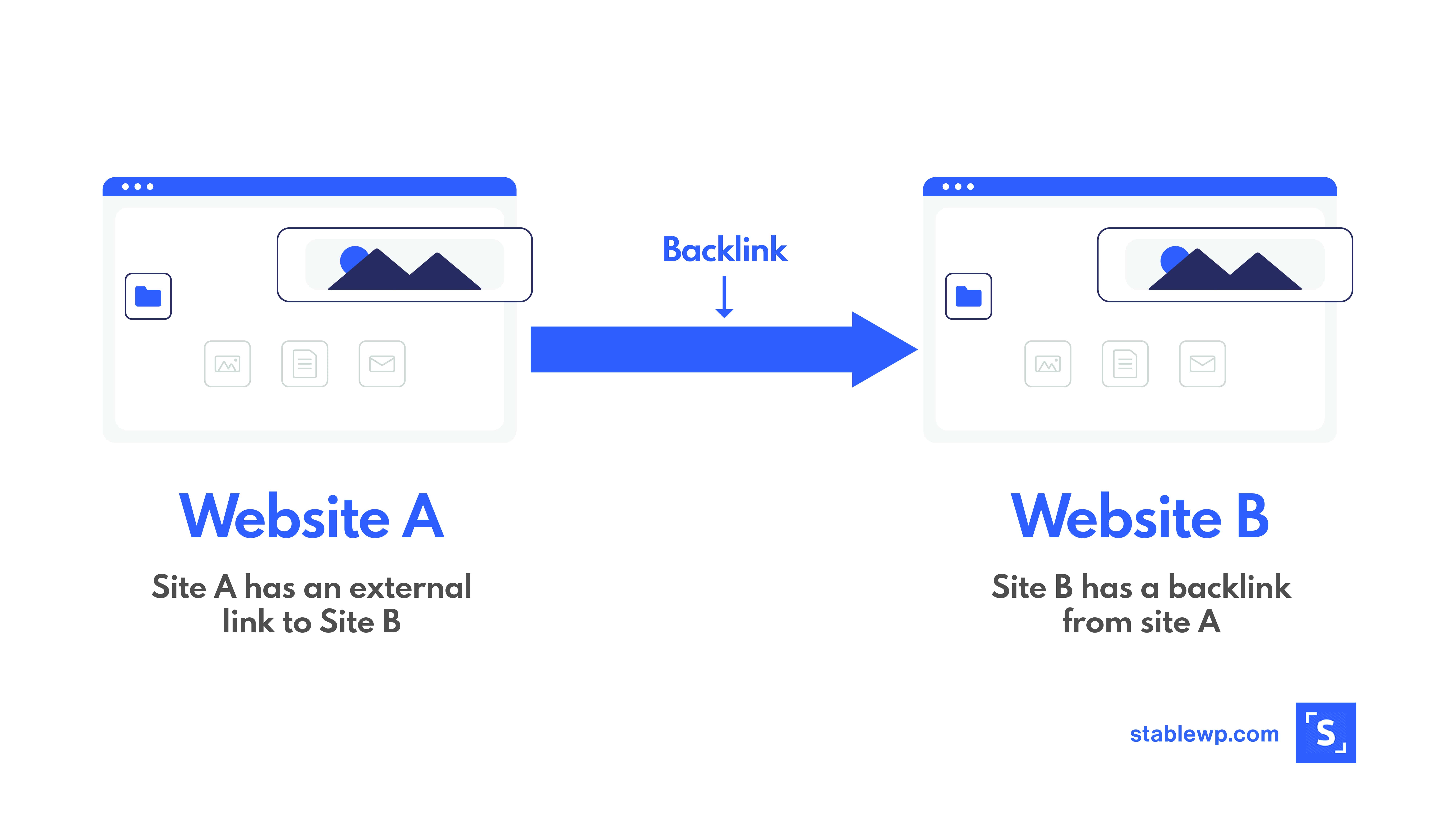 Higher authority means that other websites refer to your pages, signaling Google that your content is high-quality. Your best bet is to create amazing content and get links (aka backlinks) from other sites.
Learn how to build high-quality backlinks using these 32 link building strategies.
Also, be sure to check out our quick and dirty guide on how to rank your brand new website fast.
SEO vs PPC
SEO and PPC often sound like polar opposites of one another, so which one is right for your business, which one should you use?
Both SEO and PPC represent marketing channels that work in different ways and deliver different results. To make a good decision it's important to know the pros and cons of each.
SEO provides a long-term position on Google if you do things right and consistently.
SEO pros:
SEO delivers long-term results. Once you rank high in Google, you can reap the rewards for a long time.
It's also cheaper because the initial investment in SEO is spread around over an extended period of time.
SEO is excellent for targeting information-based keywords.
SEO cons:
It takes time to get results from SEO. For a new website, it may take anywhere from 3-6 months to generate any serious amount of organic traffic.
SEO requires not just the technical tweaks and optimizations but high-quality content as well.
It won't work well if you're running a disruptive new business where people are completely unaware and aren't even searching for you yet.
On the other hand, ads on Google work very well because they're not intrusive and they feel native to the page. They seamlessly fit other organic results, you barely even notice that these are ads.
Other than that small badge that says 'ad,' they look completely the same as other organic listings.
With Google Ads, you can get to the top page within minutes. But as soon as you stop paying for them, your listing is going to disappear from Google results.
PPC pros:
PPC delivers fast, immediate results. Once you enable your campaigns you will start generating clicks and traffic almost instantly.
It also allows you precision targeting. You can set your campaigns to target only specific keywords, demographics, interests, etc.
With PPC you can experiment and test at unprecedented speed. Because you can start seeing results from ads very fast, you have the ability to A/B test everything and optimize for maximum performance quickly.
PPC works better for sales and product-related keywords.
PPC cons:
Pay-per-click campaigns can often be prohibitively expensive. The competition for PPC is on a perpetual rise which causes the cost-per-click (CPC) to increase. And since you must pay for each click/visitor costs can get out of control very fast. Not only will you have to optimize your campaigns for max performance, but also figure out your backend offers if you want to run profitable PPC campaigns.
You need to pay for each click, which makes it very expensive to scale. The biggest caveat to Google Ads is that they cost you money directly. Every click that goes to your page means you have to pay a certain amount.
Google Ads is a great way to occupy even more real-estate on SERP, provided your budget can afford advertising costs.
If that's not the case, you should at least consider bidding on your own site name, so potential clicks that would go to your website are not hijacked by other businesses offering similar services as you.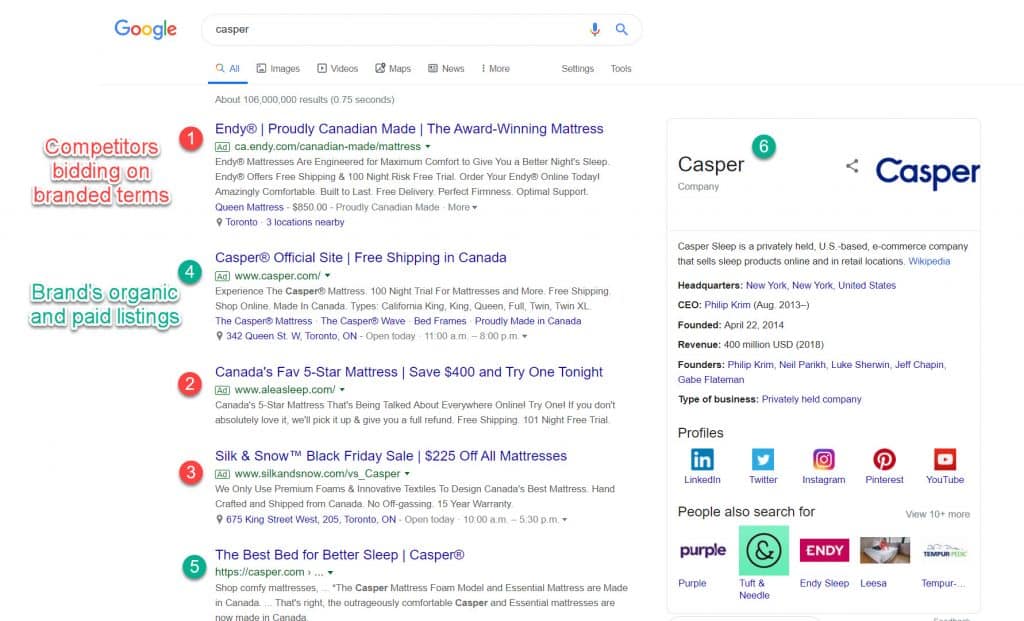 But don't think of PPC and SEO as marketing alternatives. They're not!
Both are viable options that have a place in your overall digital marketing strategy. Where one falls short, the other one shines. They complement each other perfectly.
The best advice is to use SEO and PPC in tandem. Use PPC to raise awareness, promote your special limited time offer, and to ensure you own your branded search results page.
Optimize your site with SEO for long-term organic traffic. Then again use retargeting ads to bring back users to your site to finalize the purchase.
How to get started with SEO today
Ready to get started with your own SEO?!
Now that you know SEO is still alive and doing better than ever, there are a few things you can perform right now at no cost whatsoever. There is no better time to start than now, after all!
Do a quick search to check if your site is indexed by Google. Being indexed means that Google knows your site and pages exist and it can rank for relevant keywords.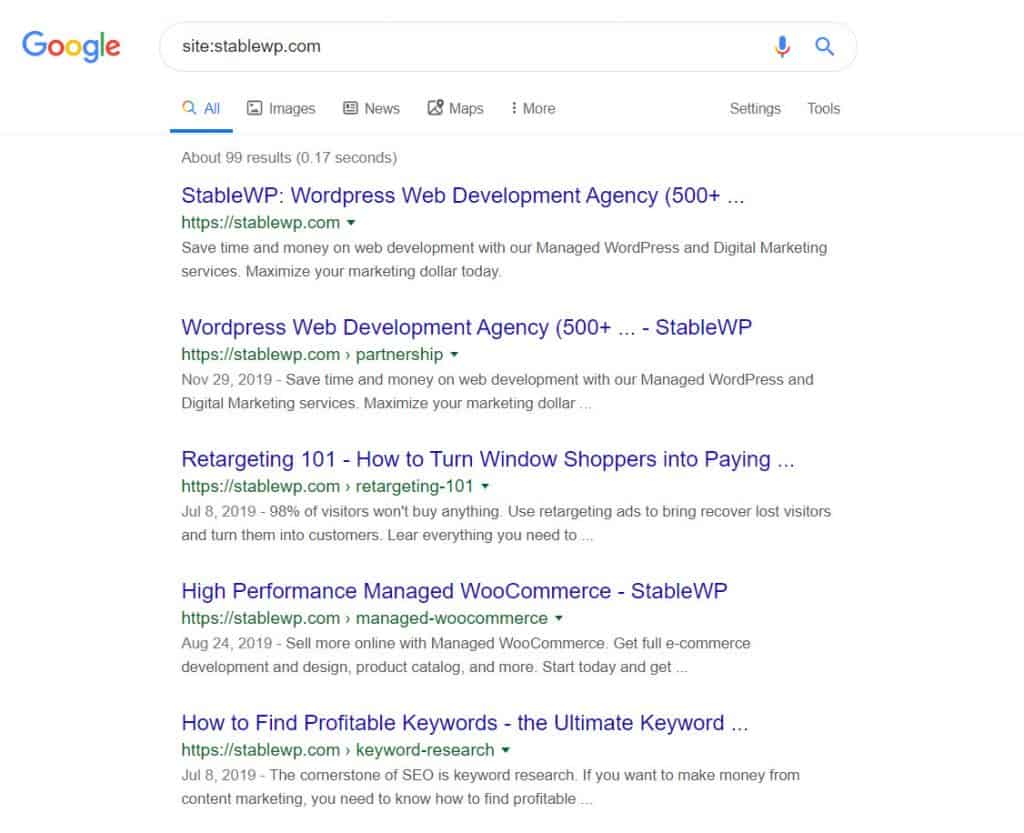 To check this, simply type in Google:
"site:yourdomain.com"
This will show you a list of all the pages on your site that are indexed by Google.
You can also use Google Search Console, for this purpose.
If there are no results found, this means your site is NOT indexed, and you are in quite a big trouble.
For more information, learn 12 ways Google Search Console can supercharge your SEO.
You should also check your site's loading speed.
As I mentioned earlier, page loading speed plays a huge role in SEO 2020. Having a fast and responsive website is a necessary condition if you want to rank on Google.
You can check the speed of your site with another one of Google's free tools called Page Speed Insights.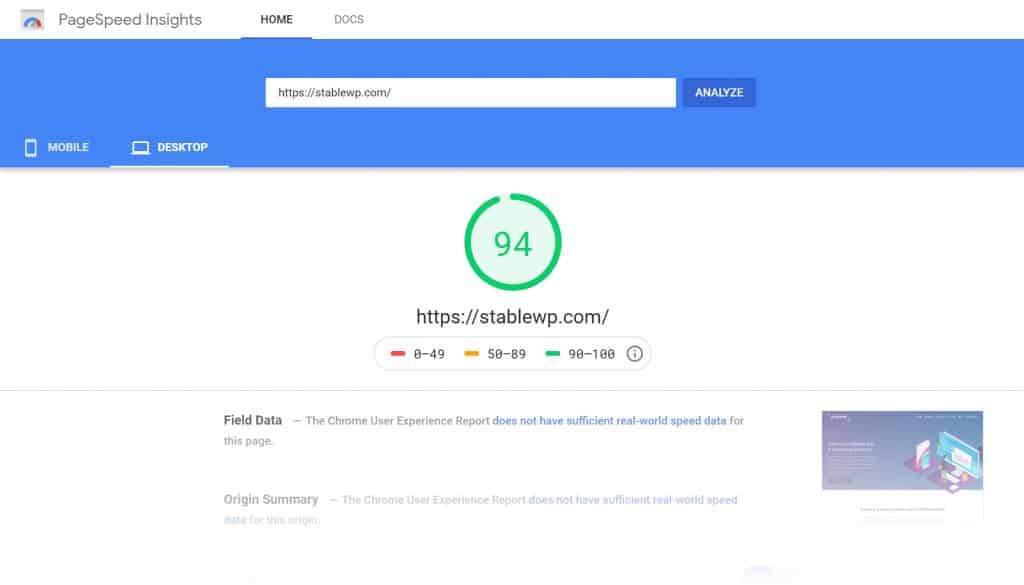 Simply input your page URL and check how your site's performing on desktop as well as mobile devices.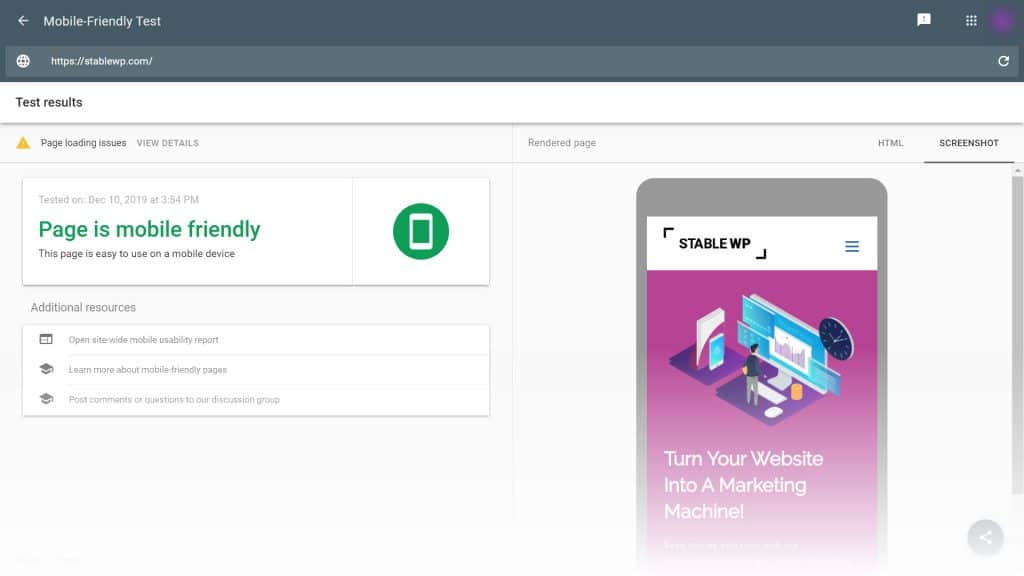 See if your site is mobile-friendly, which is another major ranking factor. You can use another free tool provided by Google to check this – Mobile-Friendly Test.
Last but not least, measure your organic traffic.
Log into your Google Analytics and under Acquisitions > Source and Medium, look for the google/organic row and take a look into how much traffic you're getting.
Analyze and see if you're getting the traffic volume you're expecting or if there is room for improvement.
SEO is an iterative process, you need to measure results and improve for better performance. That's why it's critical to perform regular SEO audits every three to six months.
Wrap-up
Is SEO worth it in 2021?
Damn sure it is!
Organic still dominates all traffic sources and it shows no sign of letting go. When people need your products or services, they're going to search for relevant keywords in Google (or ask their voice assistants).
New technologies provide even more opportunities for potential customers to discover your business.
To increase your chances of appearing at the top of Google search results you need to perform the right SEO techniques described in this article.
PPC and Social Media are great, but they are not going to replace organic traffic. These marketing channels are not alternatives; they complement each other perfectly for a complete digital marketing experience.
Investing in SEO will get you long-term, reliable traffic, leading to more sales and loyal customers. And that makes it such a great investment.
Now, over to you. What's your take on SEO and organic traffic in 2021?
Do you think it's a sound investment?
Let me know in the comments below.