Competitive research is critical for existing and new businesses alike.
To dominate your market, you need to know who you're up against. Have a look at what others in your industry are doing and what's working for them.
You can learn so much from your rivals, especially the most prosperous ones.
Replicating a thriving competitor will boost your chances of succeeding right from the get-go. So why not take it from them, model their success and build on it.
I think Tony Robbins said it best:
"If you want to be successful, find someone who has achieved the results you want and copy what they do and you'll achieve the same results."
What is competitive research?
Before diving deeper into the subject at hand, let's define the concept of competitive research so it's clear what we're talking about.
Competitive research (aka competitive intelligence or competitive analysis) is a part of your marketing and business strategy that specializes in identifying your competitors, then collecting and analyzing information about them. Your aim is to uncover their strengths and weaknesses as well as the strategies they're using.
As the legendary general Sun Tzu (The Art of War) said:
"If you know the enemy and know yourself, your victory will not stand in doubt; if you know Heaven and know Earth, you may make your victory complete."
Translating this famous adage into a strategy for your business, you can interpret the "enemy" here as your competitors, and "Heaven and Earth" as your market and your potential customers.
If you know each piece of the puzzle well, your victory is guaranteed every single time.
Benefits of competitive analysis for your business
To the untrained eye, spying on your competition might seem like it's stealing or something illegal, but it's nothing like that, I promise.
It's a completely normal and acceptable business practice of discovering new opportunities and best business practices that you can use to help your business flourish.
Consider these 7 major benefits of competitive analysis to fully appreciate its importance:
It saves you time – Gathering intelligence about your rivals can save a ton of time on other research. If you're a newcomer in online business, chances are you don't have a clue about digital marketing, where to get started, how to design your site, conduct SEO, setup email campaigns, etc. The best way to learn all this is by having a look at what others in your industry are doing and what works for them.
Learn from competitors' mistakes – By analyzing your competition, you'll not only learn from their successes, but also from their failures. Have a look at failed campaigns, for example, and try to find out why it was a bust. Was it because of them not doing it correctly or perhaps was this is a campaign that had no chances from the beginning and should be avoided at all costs? In addition to learning from your own mistakes, utilize your competitors' experience to save effort, time, and money.
Discover new opportunities – To be successful you don't have to reinvent the wheel. Industry leaders are a great source of innovations you can snatch and use for yourself. Keep a close eye on what others are moving towards such as new products, design, tactics, etc. Be flexible and ready to move as soon as you recognize an opportunity that starts producing results for others. But be quick, and never be the first to enter or the last one to exit.
Differentiate yourself – Just copying your competition is not going to be enough in a highly competitive market. You need to be memorable, stand out. For this, you need to know what others are doing. Take that and give it your own twist, make it unique or better.
Dominate the market– Use the intelligence you collect to grow your business and topple even the strongest competitors. Disrupt the market by not only mimicking others but also building on their success. Add a new value to the market to net a substantial advantage, one that will help you stay on top for years.
Stay alert and agile– Pay close attention to what's happening in your marketplace, your industry, and the overall digital world. Keep an eye out for innovations and any other changes, and especially watch out for your direct competition. Be flexible and ready to react fast. Adjust your prices, introduce new products, modify your campaigns, do whatever it takes to always be a step ahead.
Benchmark your performance– One of the simplest, yet often overlooked benefits of competitive research is the ability to compare your performance against your peers, market leaders, or other similar businesses. See how you stack up against other companies to uncover your own weaknesses and strengths and determine what you need to improve to unleash your full potential.
Most of the information is already out there, you just have to learn how to recognize it and find a way to implement the best practices in your own business and marketing.
Your best bet is to conduct competitor analysis online, since it's the most time-efficient and cost-effective (often free or almost free) approach.
How to conduct competitive research to spy on your competition
Competitive analysis might sound scary, but don't be intimidated, in most cases, you don't need a whole marketing or intelligence department or some fancy-pants strategies, and it doesn't even have to cost you a dime.
I'll show you how you can do competitive research by yourself without hiring extra people or investing too much money in it.
The online competitive research process is pretty straightforward:
Set your goals – What's the purpose of your research, what information are you trying to find out?!
Identify your competitors – Find out who you're up against.
Gather information–Collect relevant data about what your rivals are doing to discover new opportunities or to simply benchmark your performance.
Analyze data and find areas for improvement – The value is not in the data itself but in what you do with it. Analyze their performance, strategies, tactics, etc. and identify what you need to do to get to their level or even higher.
Take action and implement the necessary changes – Use this intelligence to grow your business and dominate your marketplace.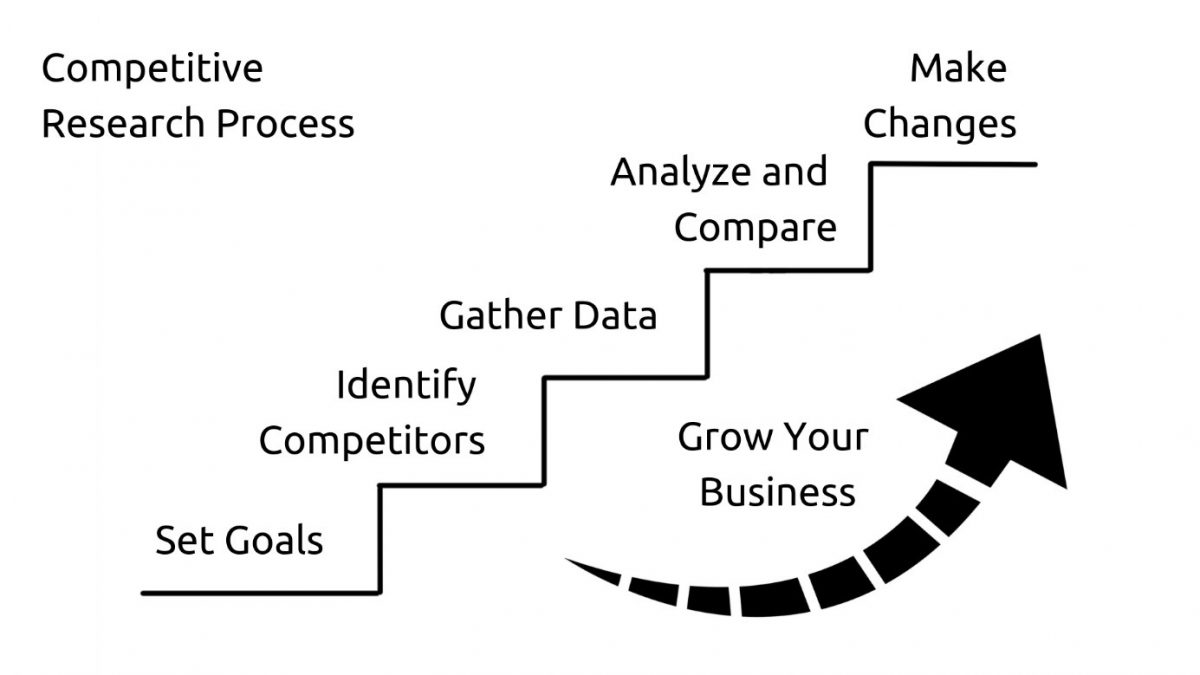 But take note that this is an ongoing process, you can't just "set and forget." Keep your eyes open and watch out for anything that could disrupt the industry and be ready to act fast.
22 Tools to Stay Ahead of Competitors
Download the ultimate competitive research toolbox with the top research tools. Spy on your competitors, steal their high-performing strategies and outcompete them.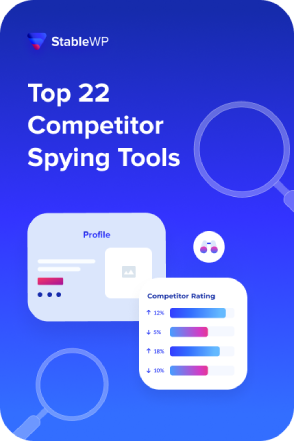 Step #1 Identify your top competitors
Once you set the goals for your competitive research, the first obstacle you may encounter is identifying your competitors. This may prove challenging for both purely online as well as brick-and-mortar businesses.
That's why I compiled a list of techniques you can use to find out who your competitors are. And like I promised, it's straightforward, it's not going to cost you much and you can do it today.
Your competitors will come in many different shapes and sizes, but all of them will fall under one of two categories:
Direct competitors – These are the companies that are directly competing with you for the same potential customers.
Indirect competitors – These are other businesses that offer similar products but don't directly target the same customers as you. They might be from a different city (for local businesses) or country, they might target different categories of customers (higher or lower-income, different age group, etc.), or they may even come from different industries. Even these companies can be a great source of inspiration and best practices that you can use for yourself.
It helps to target both categories with your competitive research in a fierce market, where you always need to be zealous and one step ahead of others.
To identify your competition, use the following techniques:
1. Start by looking at the competitors that you already know
If you're already on the market, surely you know at least a few rivals that are competing for your target customers' dollars.
Even as a rookie, you probably had a few competitors in mind when you decided you were starting your business. This is the easiest way to figure out who you want to research.
Compile a list of all direct and indirect competitors you can think of. This will be a solid start for your analysis.
Chances are that you'll quickly run out of ideas on who to include in this list, so turn to the next technique.
2. Run a Google Search
As is the case in most other situations, when doing competitive research, Google is one of your best friends.
Plug in your services, product, or brand keywords in Google and see what it comes up with. Observe who's ranking for the keywords relevant to what you do as a business.
For instance, if your business is selling jewelry online, then you can run a search on a keyword such as "engagement ring Toronto."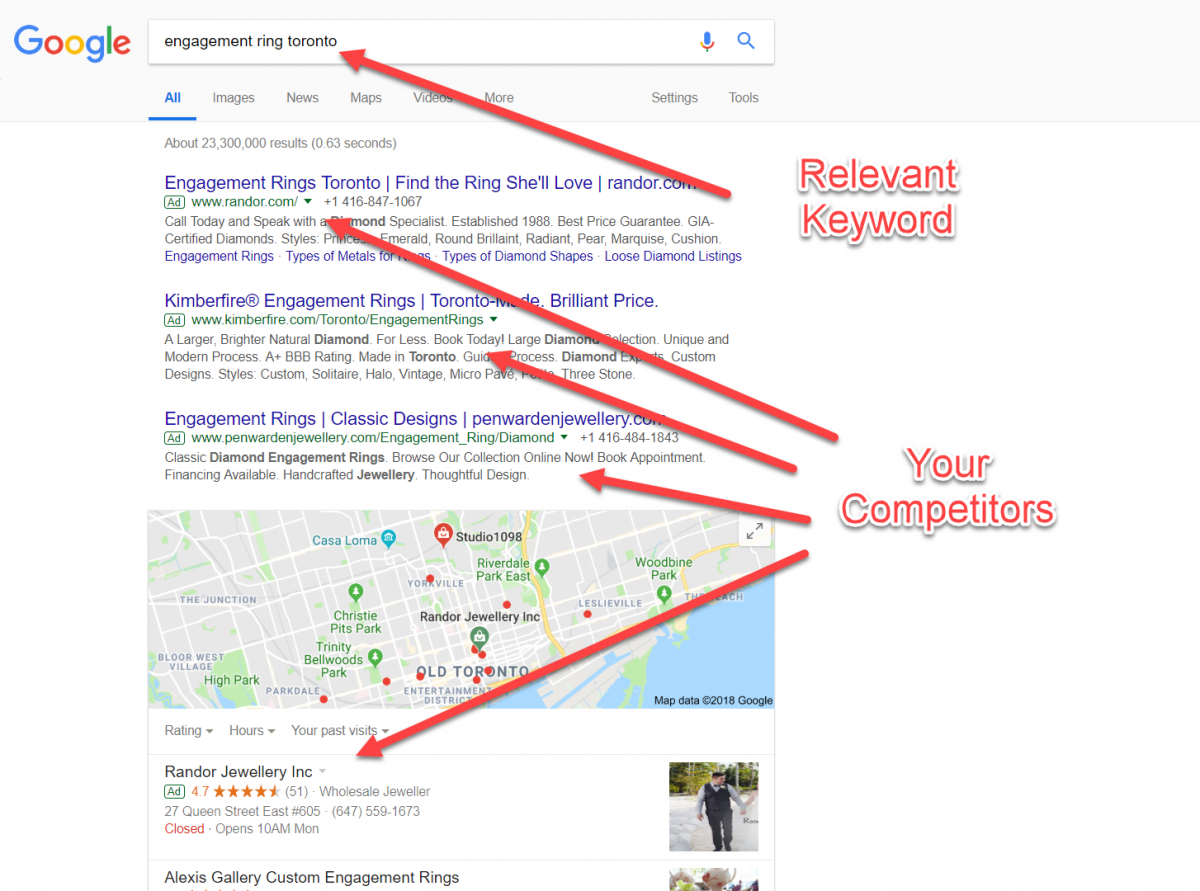 Websites ranking for this keyword would be your direct competition in terms of organic traffic (SEO) as well as PPC (Google Ads). Either way, for the most part, these are other businesses competing for the same customers as you.
To help you discover relevant keywords you can use tools like Ubersuggest and Answer the Public.
You can learn more about how to find keywords for both SEO and competitive analysis in our other article about keyword research.
3. Use Google Search Operators
In case you didn't know, Google Search Operators are symbols that you include in your queries to help refine your search and give you more precise results.
They can help you find:
Prices with $ symbol included (For example "laptop $1000")
Social Media results with the @ symbol (Example: @facebook)
You can demand to only get results with the exact match to your keyword with "" search expression (For instance: "fastest car"), etc.
But for our purpose of discovering rivals, put the term related: in front of your own web address. You'll see a list of websites that Google thinks are similar or somehow related to yours.
For instance, if you're researching competitors of Canadian Insurance Brokers Inc., type in related:cibi.ca in Google to get a list of their rivals.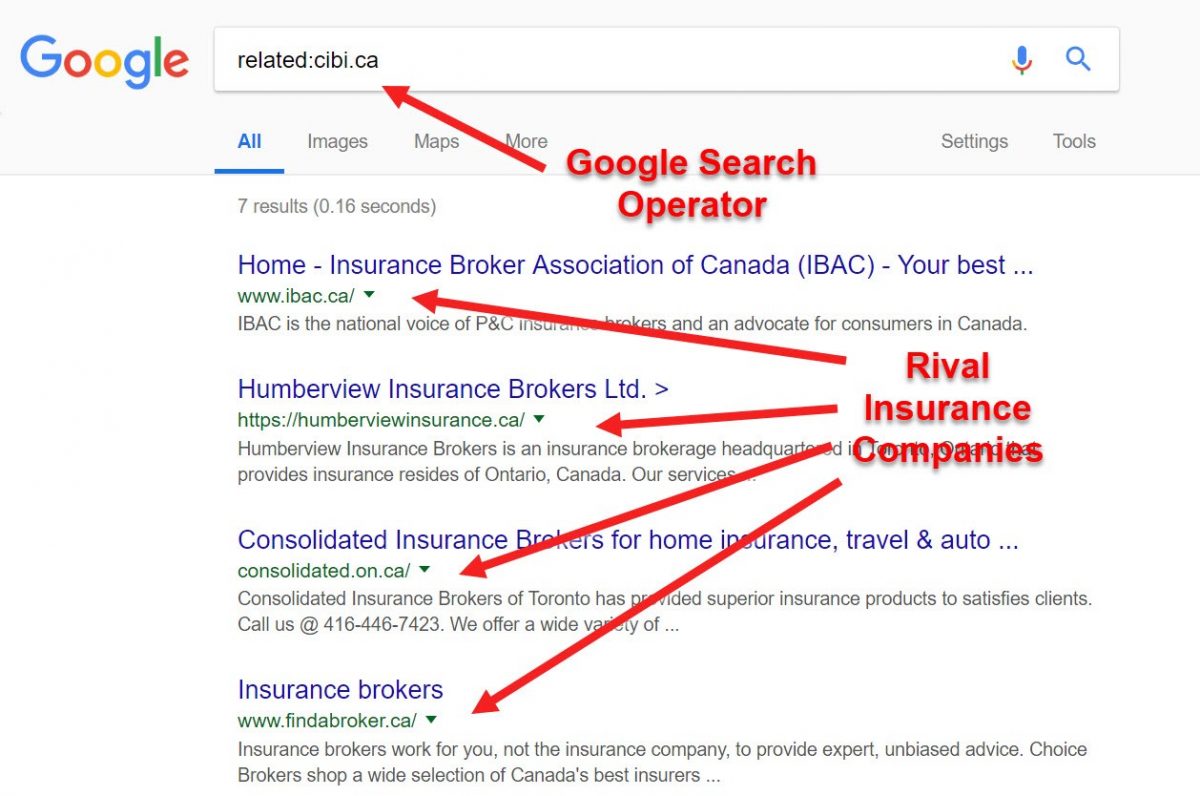 4. Find out who's ranking for your target keywords with SpyFu
SpyFu's main purpose is spying and gathering competitive intelligence. It's a powerful tool that allows you to identify competitors for both organic and paid traffic.
Just type in your website URL into the search box and check out detailed information about you and your competitors.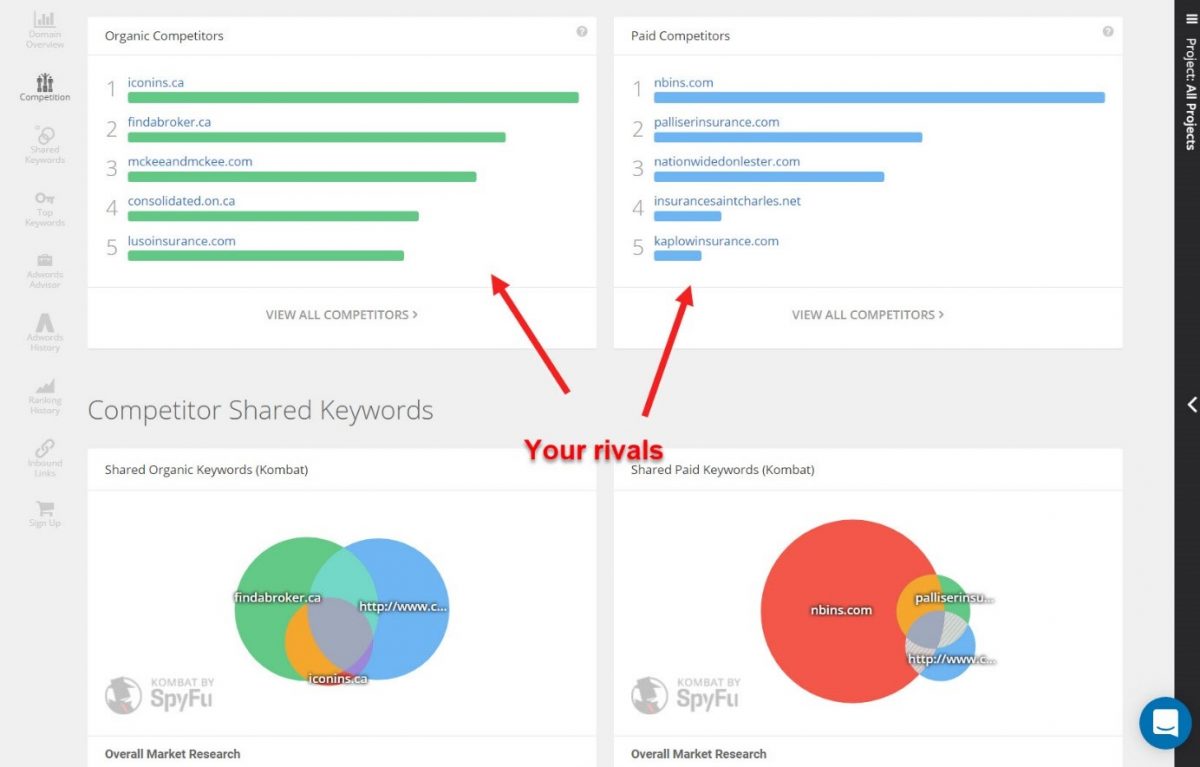 You can extend your list of adversaries even further by researching your competitors' competitors.
This is the complete spy kit you need for competitor intelligence: you can discover who your rivals are, conduct SEO and PPC competitive research, backlinks analysis, and a lot more.
But all of this does come at a price. Although you can use all the features for free, each report will give you only a few (5) results, and if you want to see the full list, you have to sign up for their paid plan.
5. Discover competitors with Similar Web
This is another must-use tool for competitive research. Similar Web can help you identify other websites similar to yours and competitors.
Run your site URL through this free-to-use tool and find out which other companies are competing in the same space as you.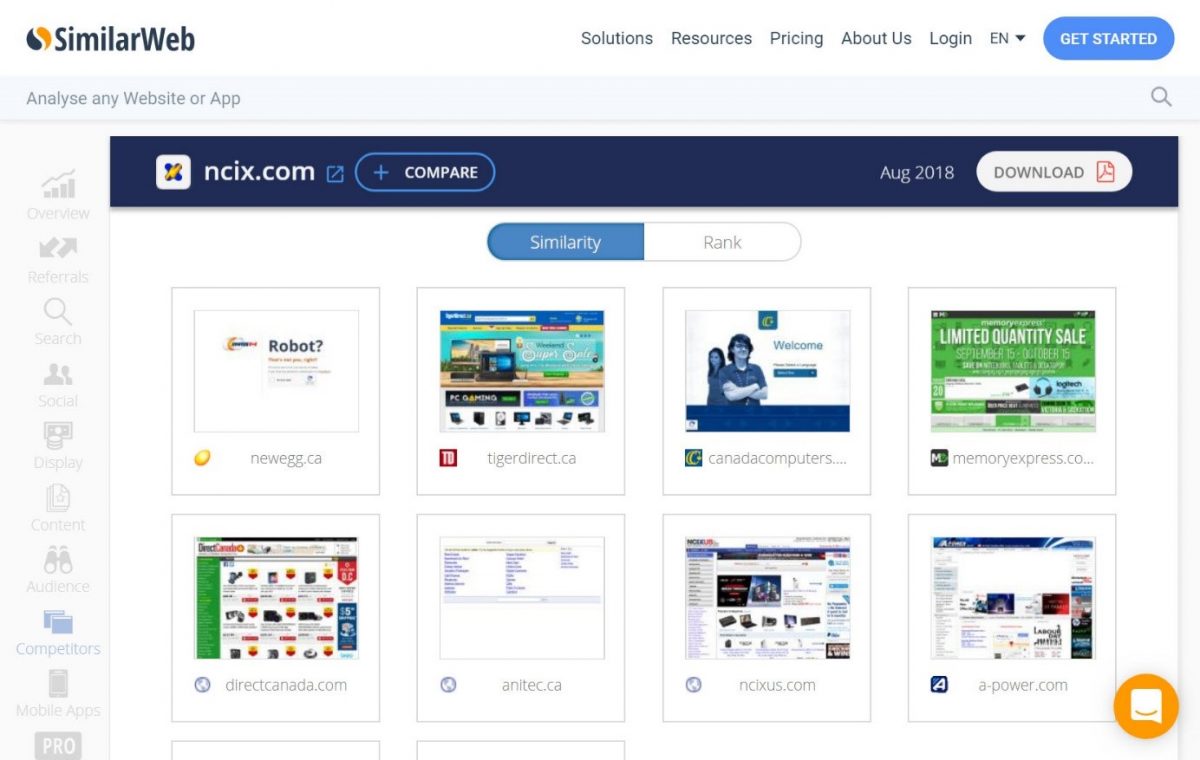 You can see a rundown of sites by similarity and ranking. You'll get a grid of twelve or so rival websites, and if you want to unlock the full list, you have to purchase their subscription.
Go a step further, enter your competitor's URL and check the referral traffic report. These are other websites that are linking back to your rival's content. Sometimes these can be industry bloggers, but more often then not, other competitors might be behind these backlinks.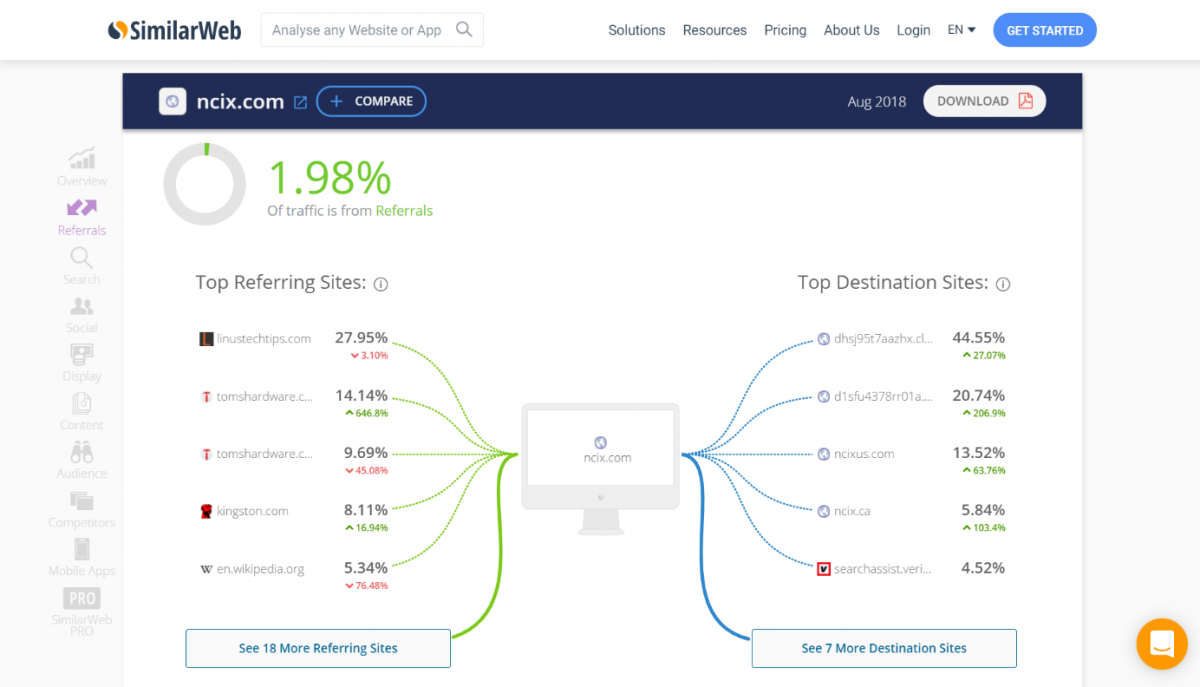 Make sure to check each of these websites to identify if they're your actual opponents.
Similar Web is a great all-in-one tool that can go well beyond identifying your competitors. Deeper insights into your or competitors' traffic, sources, referrals, audience, etc., are also available for a more comprehensive competitive analysis (which we'll cover in the next section).
It also comes as a Chrome extension, to analyze competition while you're browsing the internet.
6. Find competitors in your area using Google Maps
Remember when I said that Google's your best friend?! Well, this remains true for local businesses as well, only this time Google Maps will be your biggest comrade.
You can easily discover rivals in your local area using keywords such as " in " or " near me."
For example, if you're running an auto repair shop in Toronto, you can search for "auto repair shop downtown Toronto" to see a list of nearby competitors.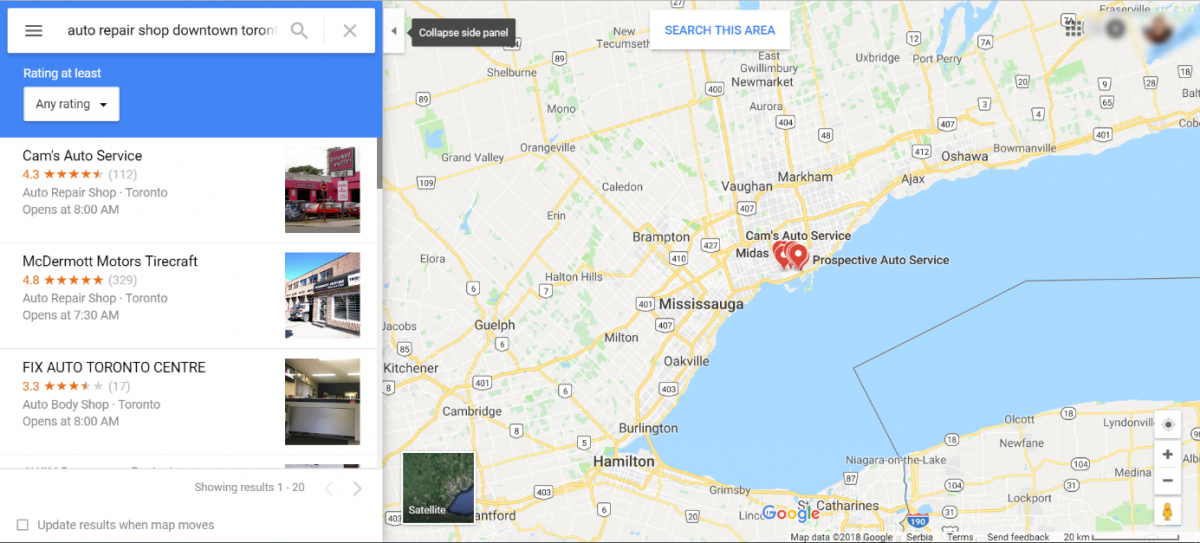 Not only will you find all the competitors around you, but you will have a better understanding of how you stack up against other businesses in the same area and you can even find ideas to improve your local SEO.
7. Scour through business directories for rivals in your locale
Local industry directories are a wealthy source of information about other businesses in your area that are competing for the same customers.
Use local directories like Yellow Pages, Industry Canada, Found Locally as well as review sites such as Yelp, Foursquare, TripAdvisor, etc., to find other businesses in the same area you're servicing.
Going through directories should be a key element of your competitor research, especially if you work in a very niche or local market.
Step #2 Analyze your competitors
Once you've identified your competition using the techniques mentioned above, it's time to analyze them.
Here are 12 ways to investigate your rivals:
1. Examine competitors' websites and UX
The easiest thing to start with is to go to your competitor's site and visually inspect the following elements:
Observe their overall design and website elements.
Take a look at what their home page and landing pages look like. Do they include social proof and trusted logos?
Check out their CTAs – what colours, text, and fonts they're using. Do they stand out? Are they enticing enough to click through?
Which pages do they include in their Navigation menu?
Where do they place social sharing buttons? Which social media channels are they linking to?
What methods for contact do they offer? Do they have 24/7 support?
Which imagery are they using?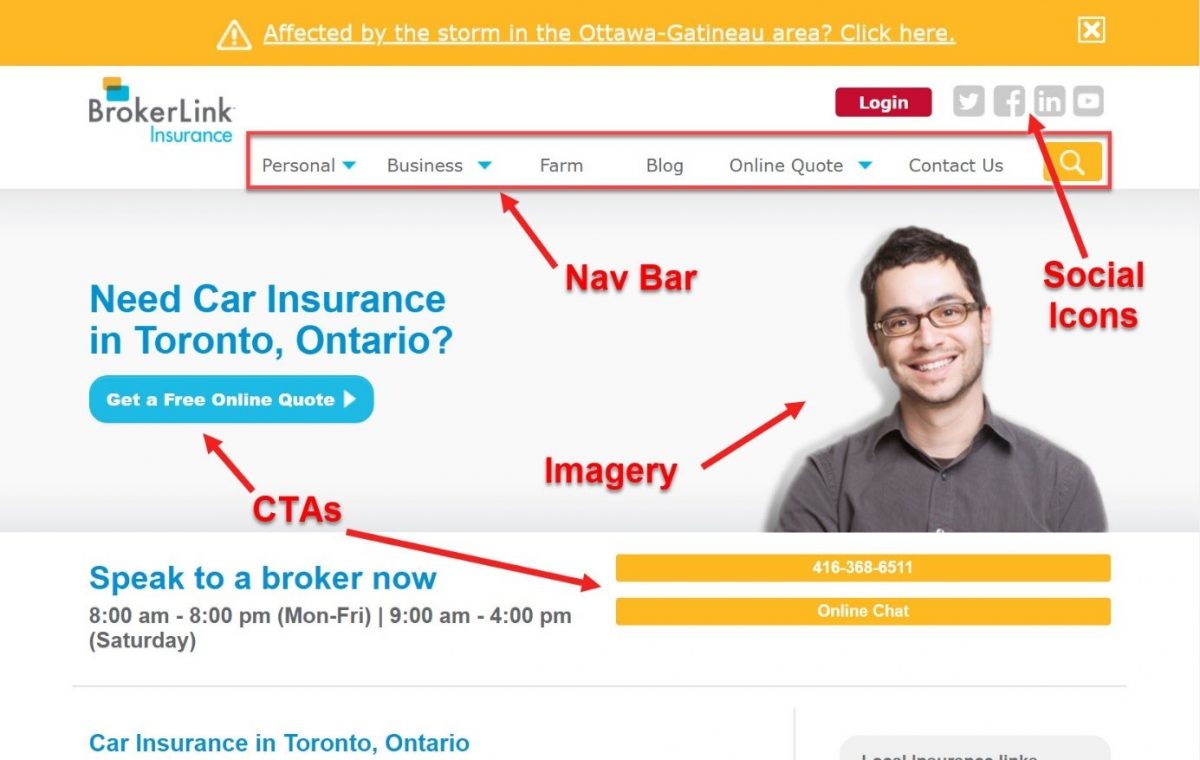 Does their page have list-building elements, such as a sign-up form, popup form or others?
Is there a live chat option or a chatbot on the site?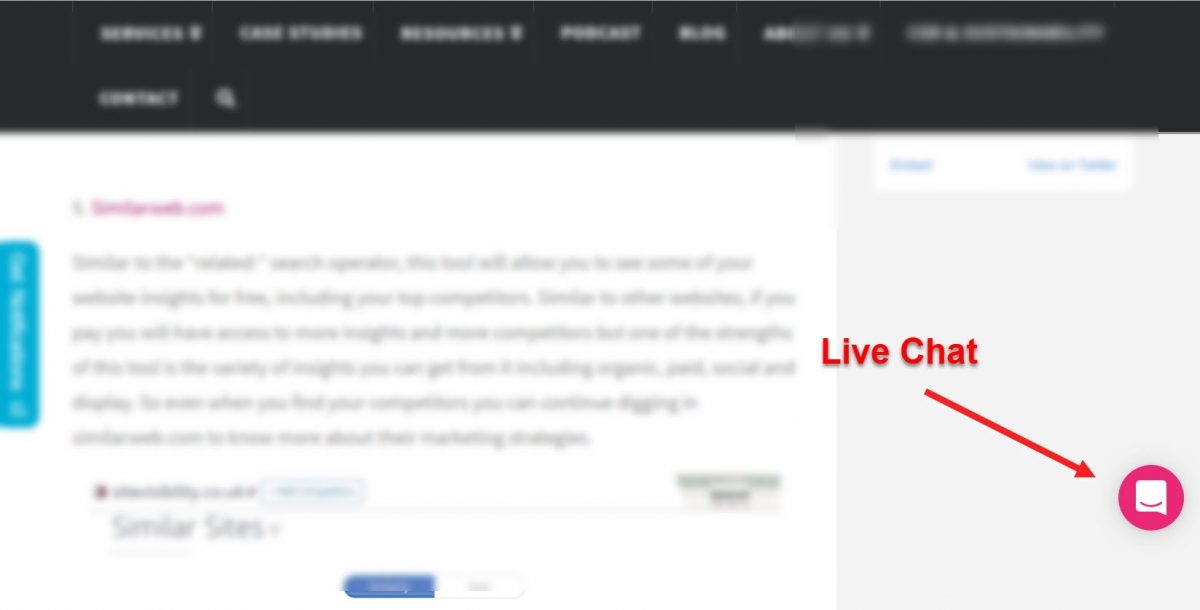 Check out the footer as well, which pages are listed there!?
Also, make sure to click around and investigate where each link takes you. See how easy it is to navigate and find what you're looking for. Finally, check the overall behaviour of the site, are there animations, drop-down menus, and other special UX elements?
For an e-commerce website, it's also important to check the following:
What kind of product photos are they using? How many angles do they include for each product? Do they offer zooming features for their images?
Read their product descriptions, what information do they include in the short copy?
Are there ratings present on each product page? Which system do they use: stars, numbers, etc.?
Analyze their "add to cart" button. What colour, font do they use? Also, where on the page is it placed, is it prominent?
Can you see breadcrumbs for easy navigation?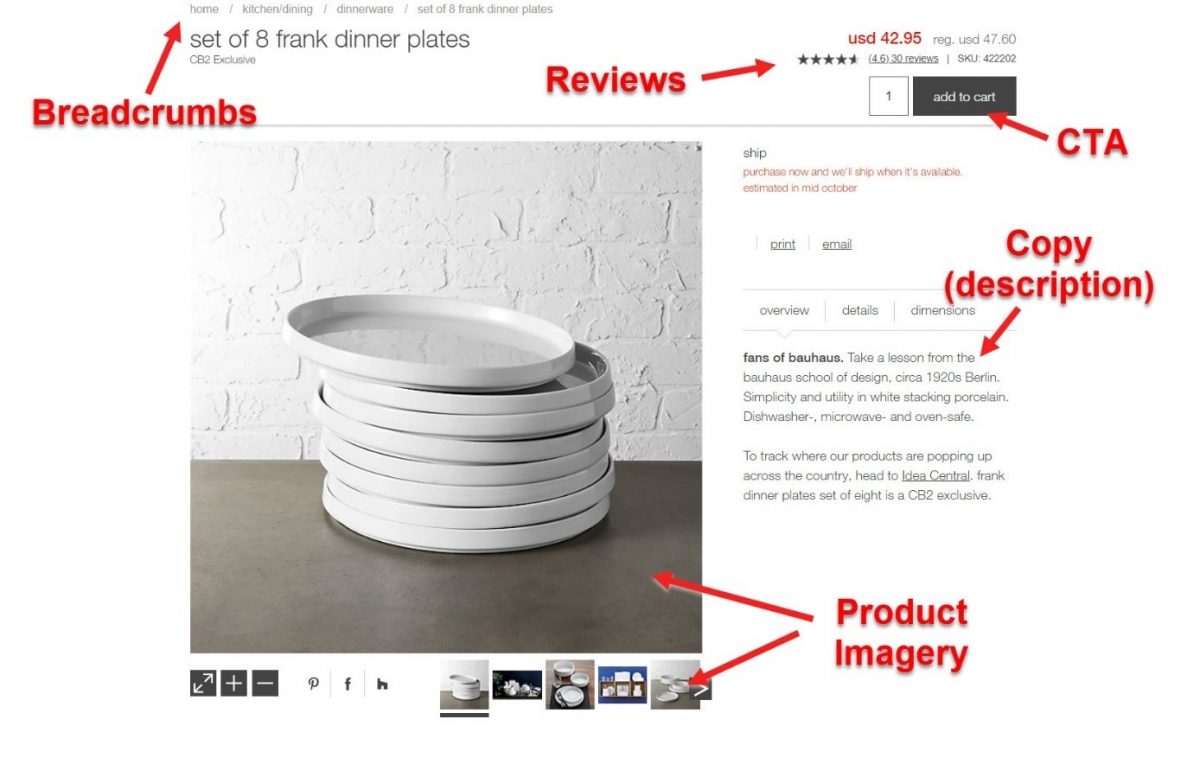 For both regular websites and e-commerce, you should keep an eye out for what type of conversion optimization tactics they're using. For example: are they using urgency and scarcity models?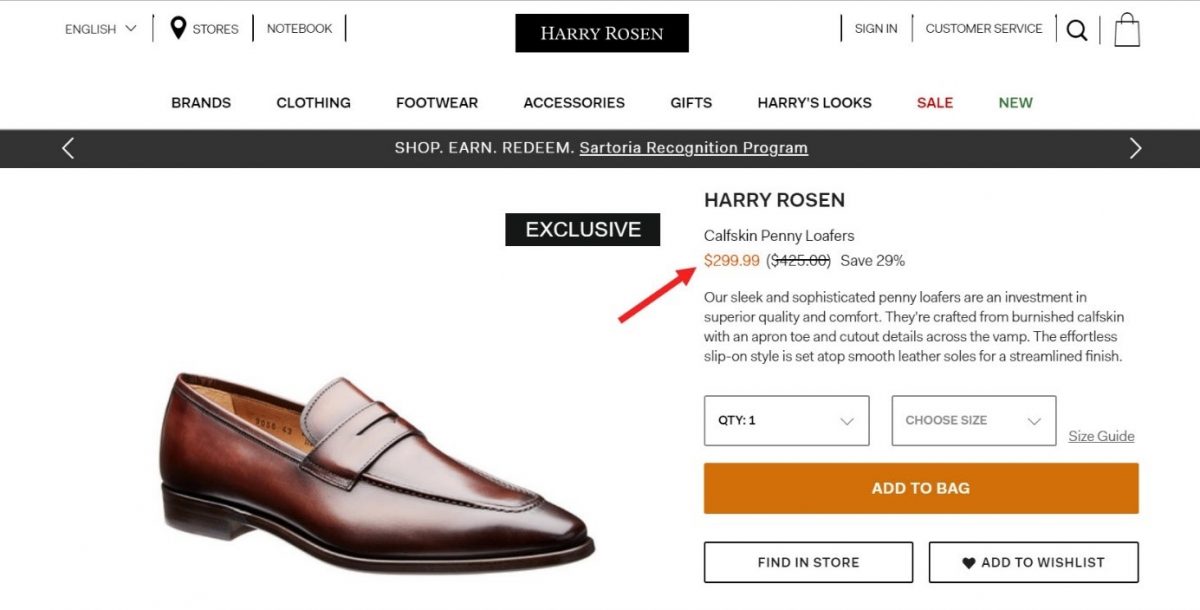 After the visual inspection, you should also check a few other things:
How fast is their website loading? You can check that with a free tool Page Speed Insights provided by Google. Read our site speed optimization guide and learn how to make your website load in less than a second.
Is the site optimized for mobile devices? You can test that with another free tool provided by Google, Mobile Friend Test.
Find out what WordPress plugins and themes are used in each site, with this guide by Codeable.
Each site is different, but if you look at what others (especially industry leaders) are using, it's going to make designing your site and user experience so much easier. After all, if it works for them, it's most likely going to work for your site as well.
If you already have a site, you can use this analysis to compare to others in your industry. Perhaps you'll find new optimization opportunities to help grow your business.
2. Identify competitors' traffic sources
One of the most important components of your competitive research is learning about your rival's traffic.
You want to know as much as you can about their visitors in order to replicate their success. Reverse-engineer their strategies by looking at:
Which locations their traffic comes from. This is useful to learn where your potential visitors and customers reside. Knowing more about potential customers will help you create products and content which cater to their needs and resonates with them.
Devices their visitors are using. You can optimize your site for those devices.
Traffic sources, such as direct, referral, social, organic, and paid. Uncover which sources are the most effective at driving visitors and which ones you should invest in the most.
SEMrush provides you with all this information, and much more. When you run your competitors through traffic analysis you'll get a very detailed report such as this one: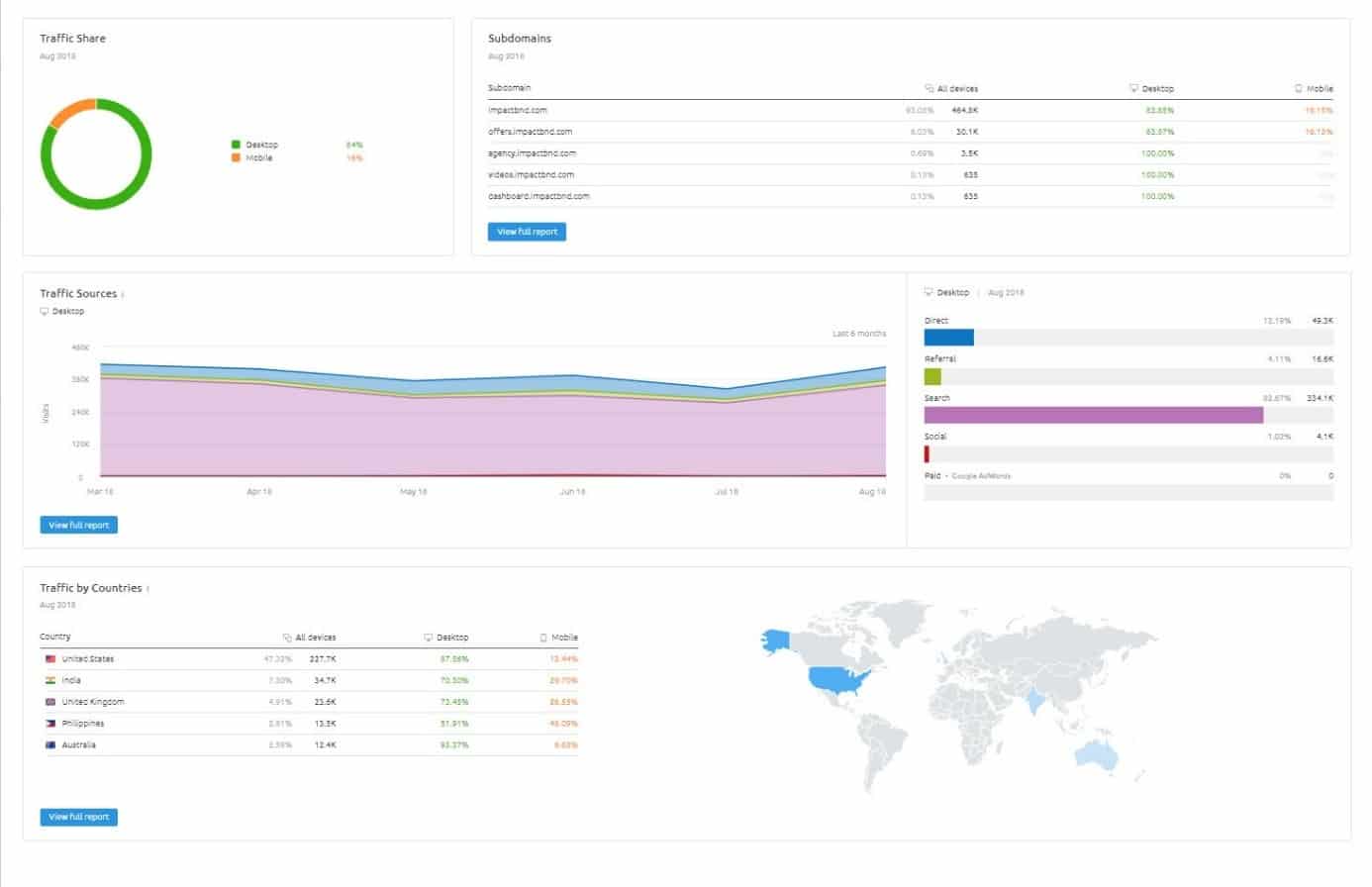 You'll also get deep insights into your competitor's audience, such as:
Number of Visits
Unique visitors
Pages per visit
Average visit duration
Bounce rate, etc.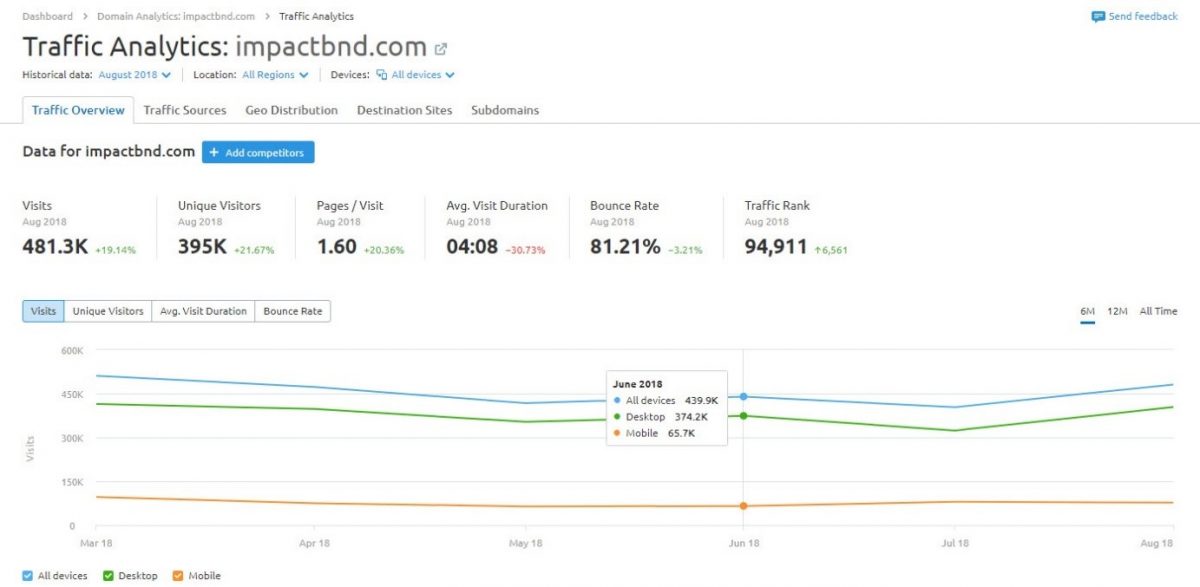 Before SEM Rush, this type of info was only reserved to site owners in their Google Analytics accounts. But this tool has unlocked a new and unparalleled way to spy on your competition and steal their traffic strategies.
3. Inspect competitors' content
Content is king! You'll hear this proverb whenever you ask any seasoned marketer about what's the single most important thing in digital marketing.
Content is what will rank you in Google and drive visitors to your site, and help you sell your products/services online. So, take special care analyzing your rivals' content.
Analyzing their content can help you expose opportunities to outperform your competitors.
Research:
Is there a blog page on their site?
What type of content they publish, whether it's textual, videos, podcasts, infographics, case studies, ebooks, webinars, slides, etc.
Determine the quality of their content and what it would take to beat them
How frequently are they posting new content?
What topics do they cover?
Are people engaged in the comments section of their blog?
Set a Google Alert to send you an email every time someone posts new content relevant to your target keywords.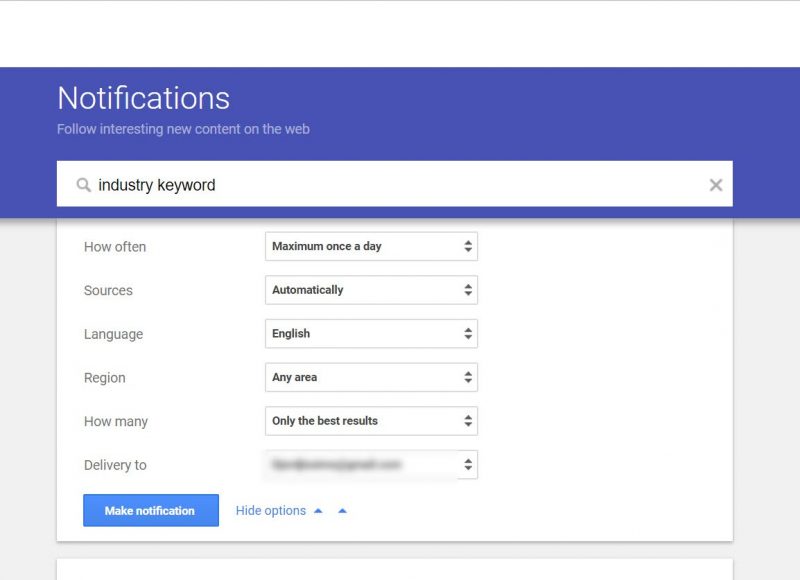 You can also use it to notify you whenever someone mentions you or your competitors, so you can quickly investigate what people are talking about.
You can also use BuzzSumo to discover trending topics and what content topics perform well. Investigate what caused them to have such high engagement and figure out how you can replicate these results.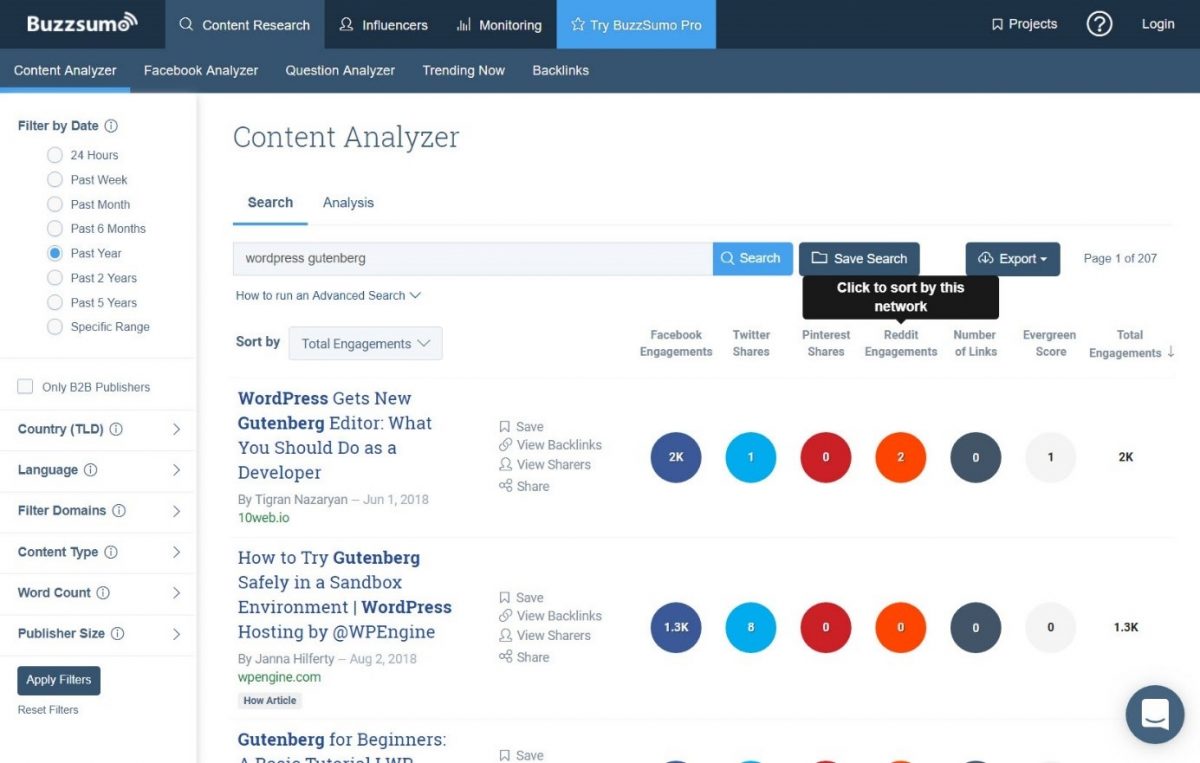 Finally, subscribe to your competitor's newsletter to receive timely updates regarding their latest content and other news. You'll also be able to track their newsletter campaign strategy as well as their content strategy.
4. Analyze competitors' SEO structure
SEO structure can make a huge difference when it comes to ranking content on Google search. If you do it right, Google will love your content, users will click through your results and visit your site.
When I say SEO structure I mean the correct usage of target keywords in:
The page titles
The URL architecture
H1 Tags
Content
Internal links, and
Image alt text
If you want to find out which keywords a page is ranking for (targeting), you can use the Ahrefs Site Explorer tool.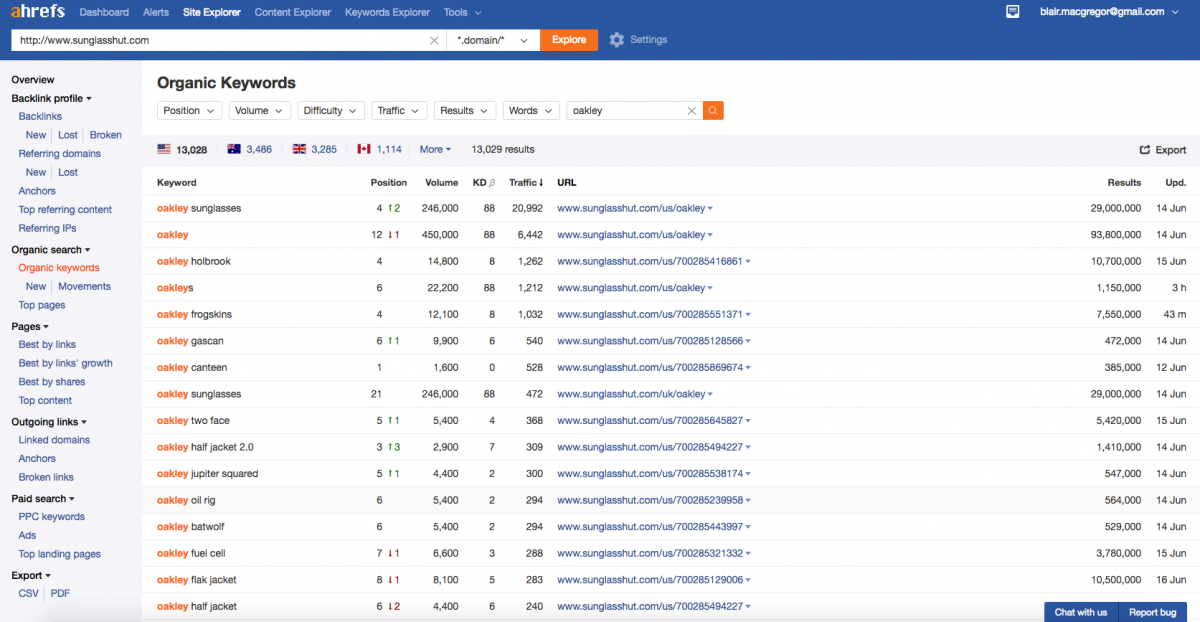 You'll see a full list of keywords that this site is ranking for, as well as the position in SERP, the number of visitors (volume) and other valuable insights.
Ahrefs is a tool like no other. The information it provides about SEO is unparalleled. However, a major caveat is its price. It's quite expensive starting at $99 a month and there's no free option.
You can get similar results for free using SEMrush, however, you'll get a limited report in the free version.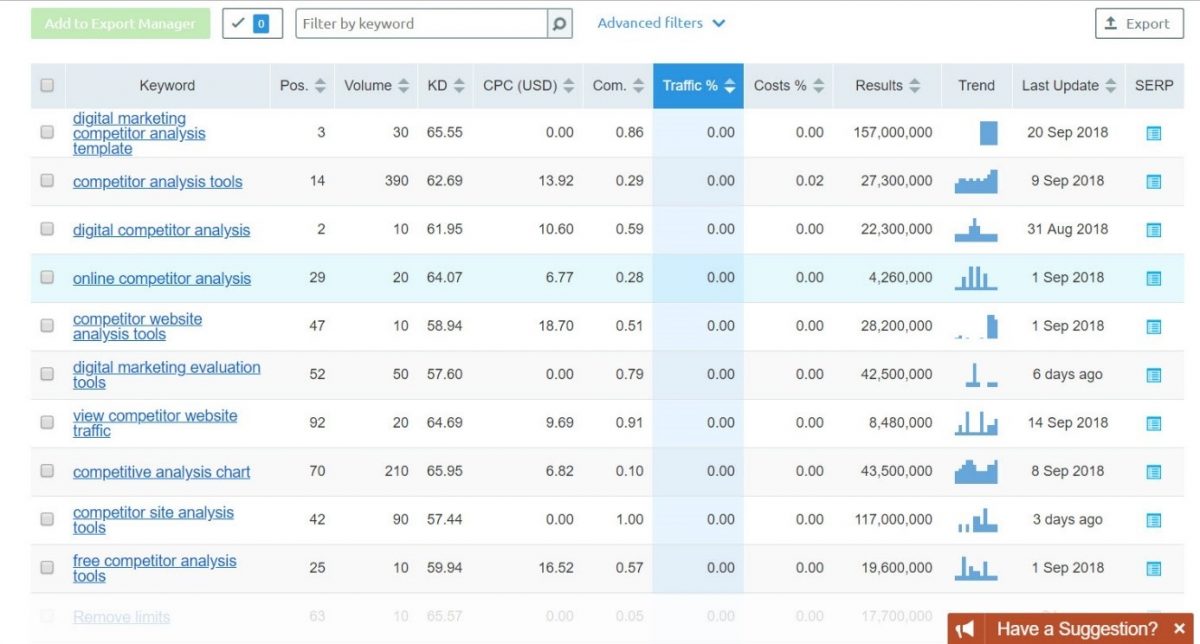 5. Research competitors' backlink sources
Backlinks are among the top factors Google uses to rank websites on their SERP. They increase the authority of your site and deem it as a trustworthy source of information.
That's why it's crucial to get as many backlinks as possible. But link building is hard, it takes a lot of work to do it successfully.
But why not spy on your top competitors to see where they get their backlinks from. Same as with traffic sources, this can help you reverse-engineer effective strategies others are using.
You can use Moz's Open Site Explorer to check your competitors' backlinks for free.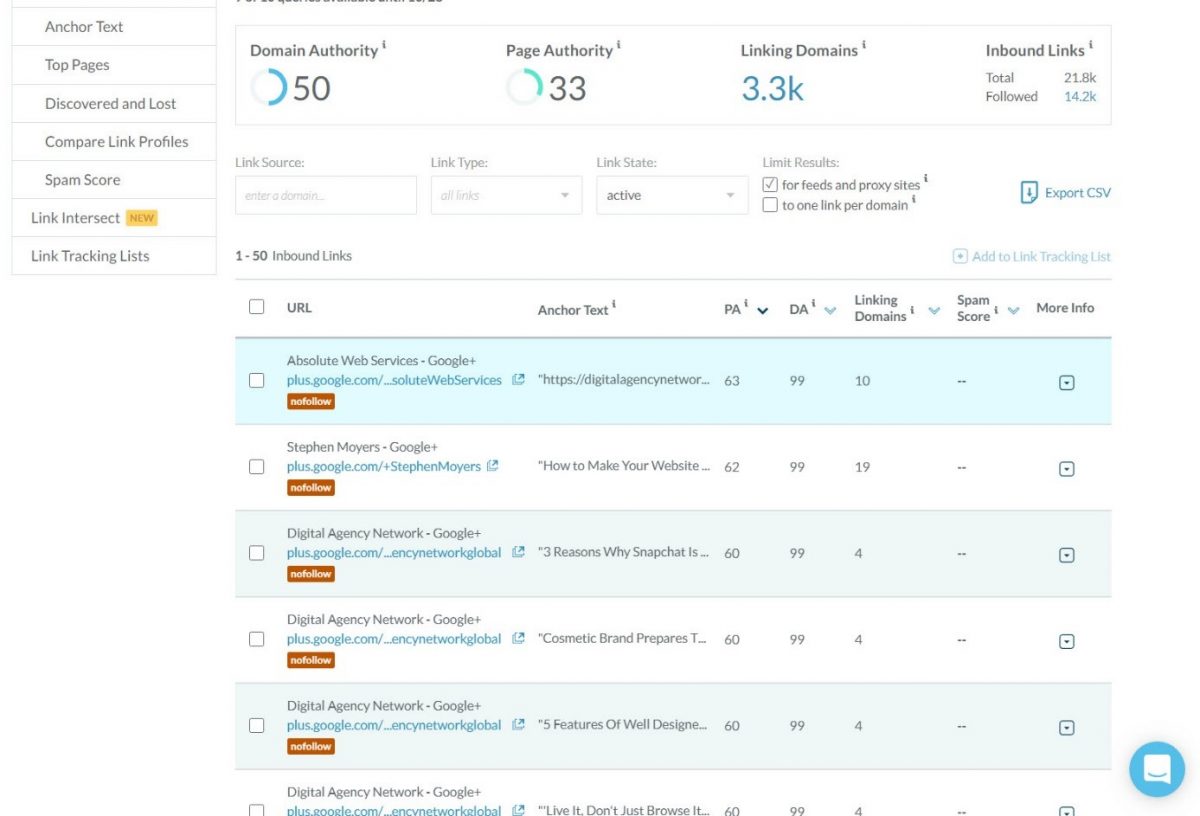 You can check the domain authority of your competition, the number of backlinks, as well as URL of websites that refer to them, anchor text of each link, and more.
SEM rush allows you to dig even deeper into backlink research with reports such as these.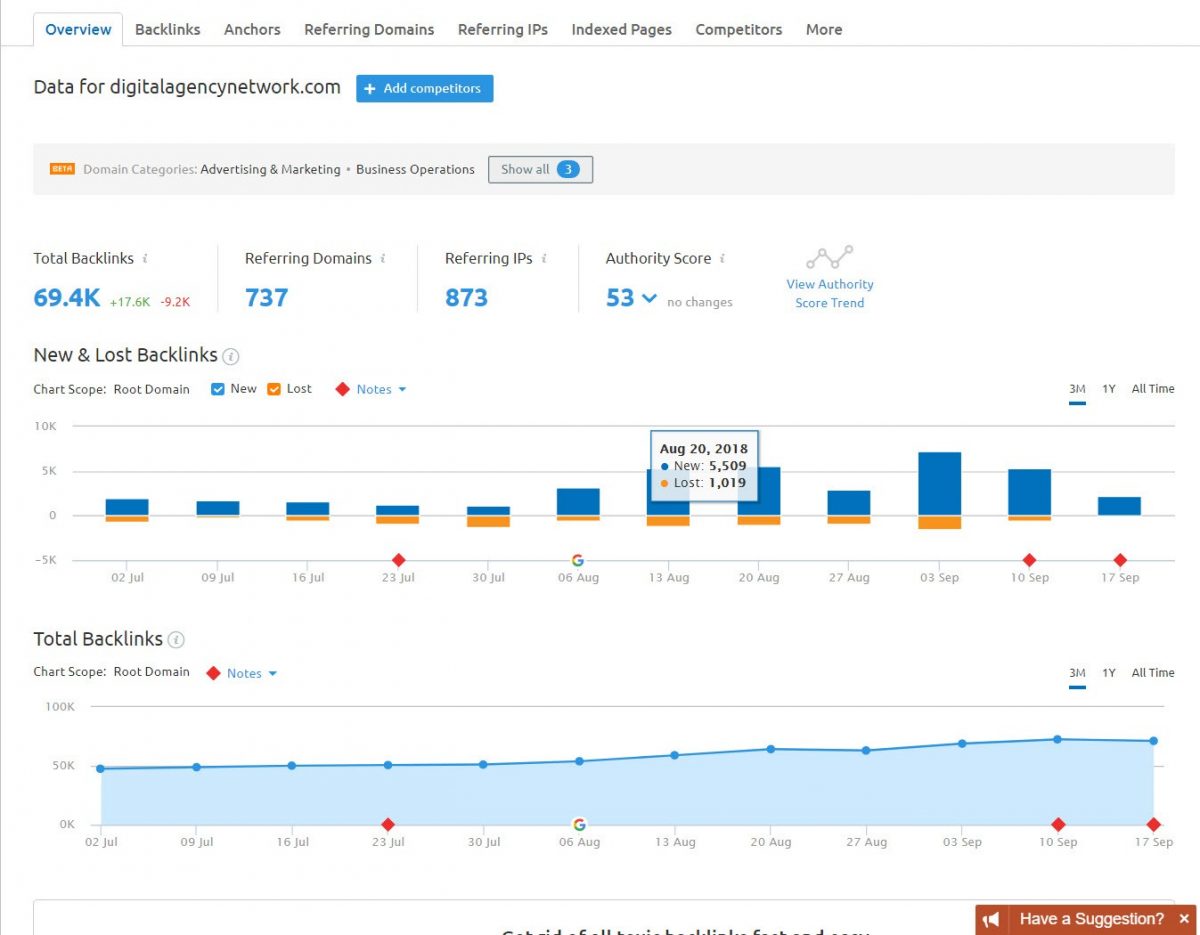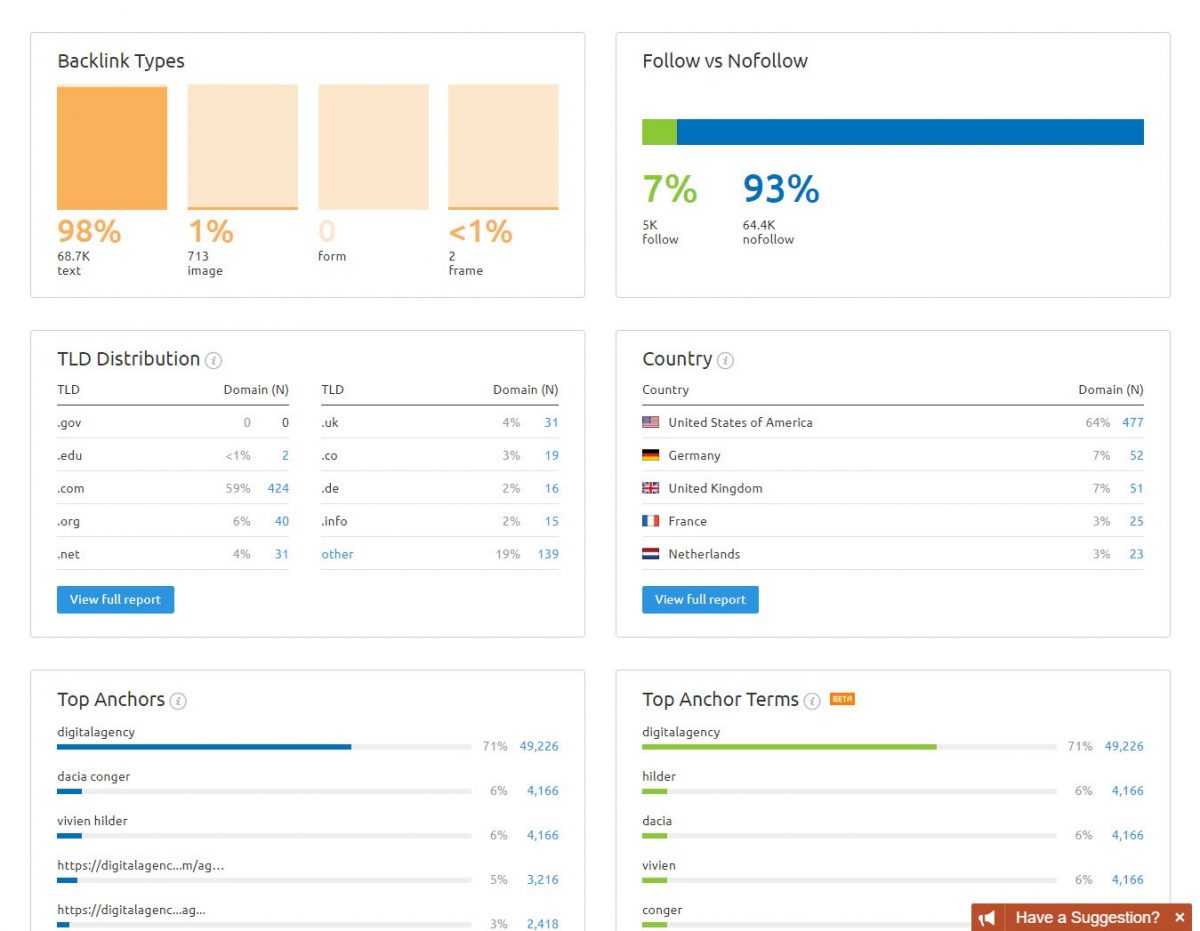 SpyFu, on the other hand, allows you to plan and perform your outreach efforts within the tool itself.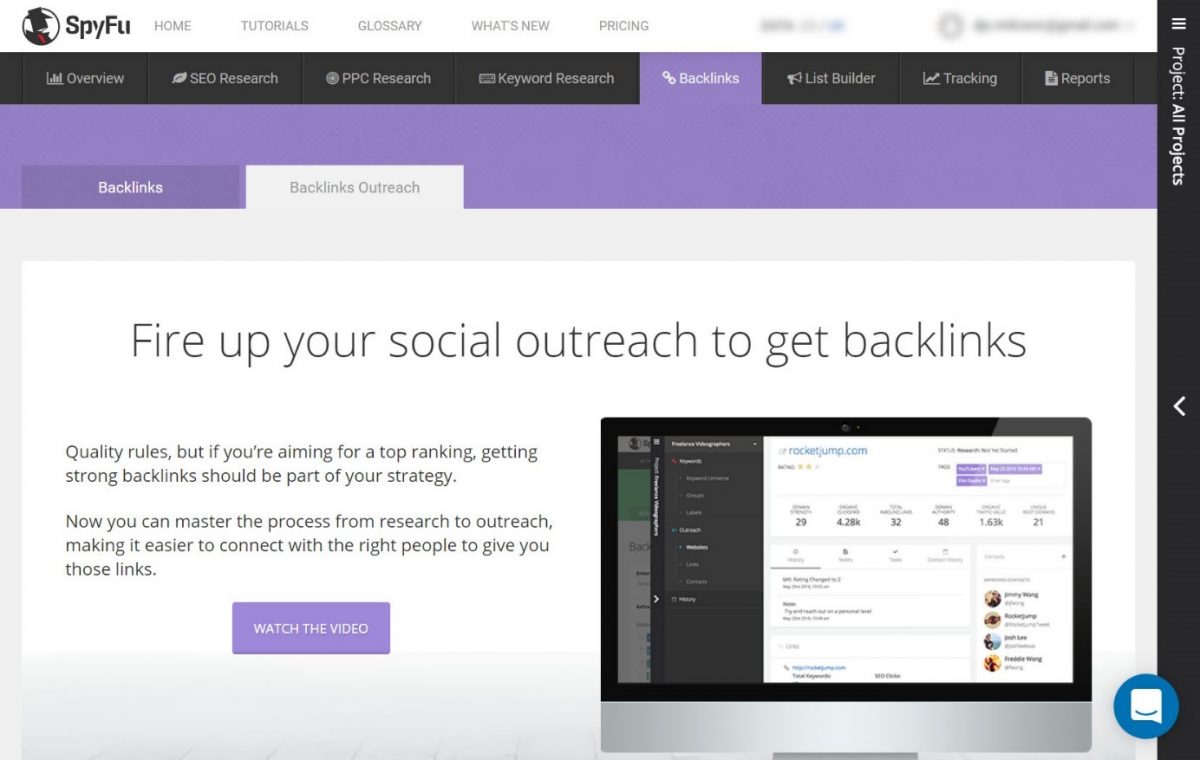 6. Compare your pricing models to improve competitiveness
Pricing strategy is a critical business decision. It can mean the difference between triumph and failure. A well-thought-out pricing model can be a huge competitive advantage for you.
That's why it's imperative to know how others in your industry set prices for their services or products.
Pricing intelligence will give you a signal of how much people are willing to pay and help you understand what prices might work well for your offerings.
7. Explore rivals' shipping and return policies (for e-commerce)
Shipping is a major factor when it comes to the success of an e-commerce business. 66% of online shoppers have decided not to buy an item because of shipping costs.
If you can offer free shipping and return policies that would be perfect. But we don't live in a perfect world, so it's not going to always be possible, especially in Canada with our high transportation costs.
That's why it's critical that you set competitive shipping prices and return policies.
So, head on over to rivalling e-stores and check out what they're offering in these terms.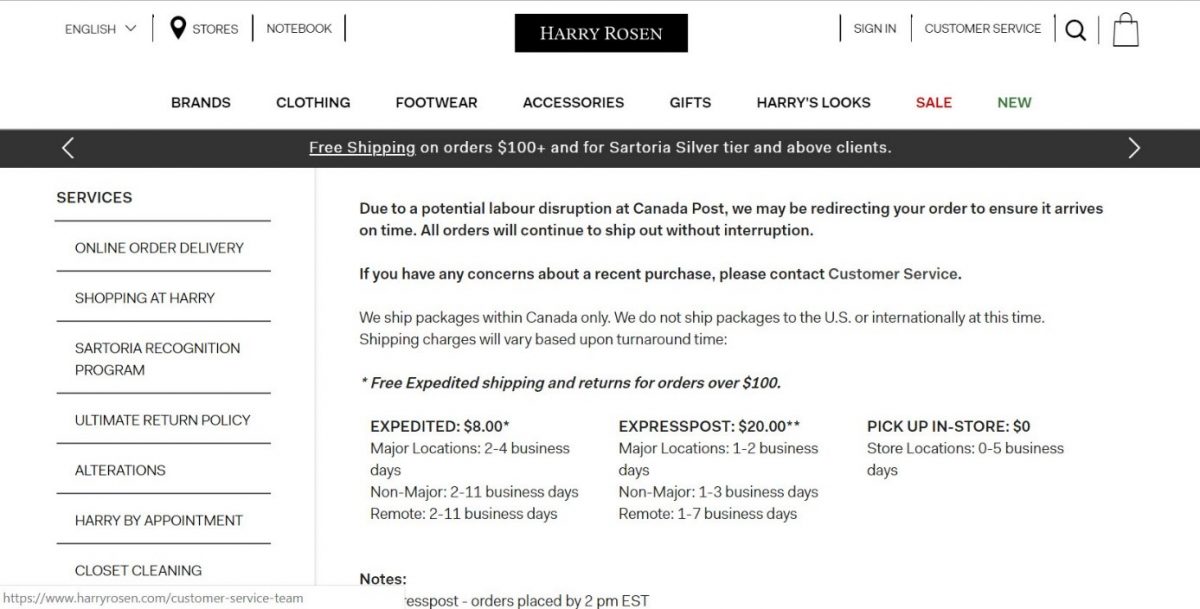 8. Use reviews as a barometer of customer satisfaction
Research and find as many reviews of your competitors as possible, including everything from product reviews on their website to business reviews on social media to comments left on their blog.
Google search results will also sometimes show you ratings, especially for local searches.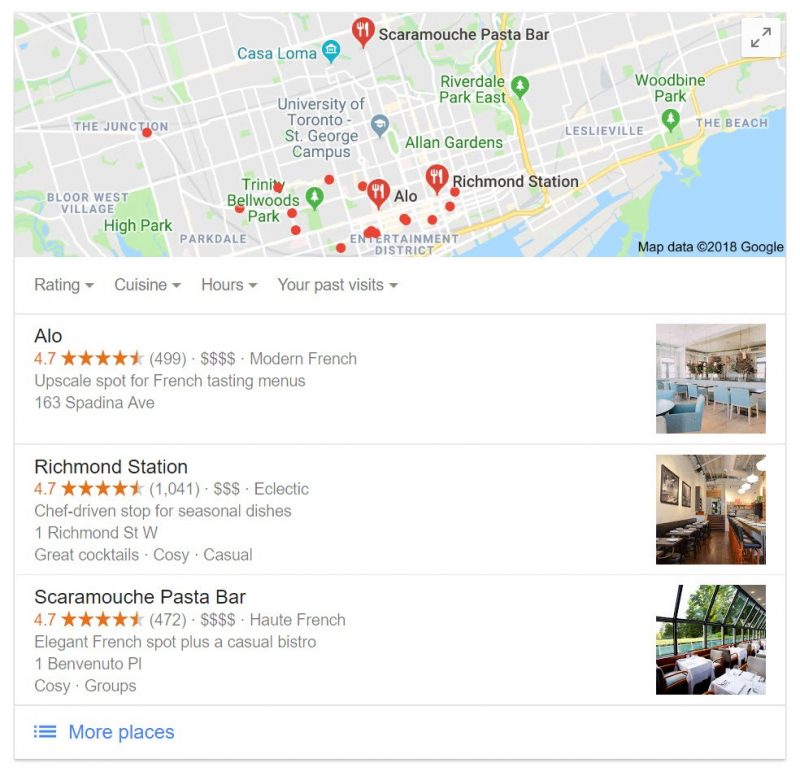 Analyzing reviews about your opposition can be a pretty good heat check as to how much customers are satisfied with what they get. This can help you find weaknesses in your competition which you can exploit with better products, prices, or customer service.
Make sure to look at the reviewer's comments and check what they praise and what they complain about. There are hidden gems here, you just have to know what you're looking for. Pay close attention to 2–4-star reviews, because they usually provide the most useful feedback.
Differentiate your business by providing the exact thing customers are asking for in these comments.
Also, if you find many reviews on a product similar to yours, it's a good signal that people are interested in buying it.
9. Monitor rivals' social media
Social Media is a great way for companies to interact with users and fans. That's why it's becoming increasingly important for all businesses to utilize their social media presence.
Run your competitive analysis to learn how others are using social networks and how it's integrated into their overall marketing strategy.
Conduct an audit of their social media profiles:
Look at their profile and cover images. Are they memorable and easily recognizable?
Read through the bio to get inspired when writing your own.
What kind of content are they posting?
Are followers engaging? And what are they engaging with the most?!
How frequently and at what times do they post content on social media?
Do they have many followers and who are those followers?!
Use Likealyzer to run a full audit of your competitors' Facebook pages.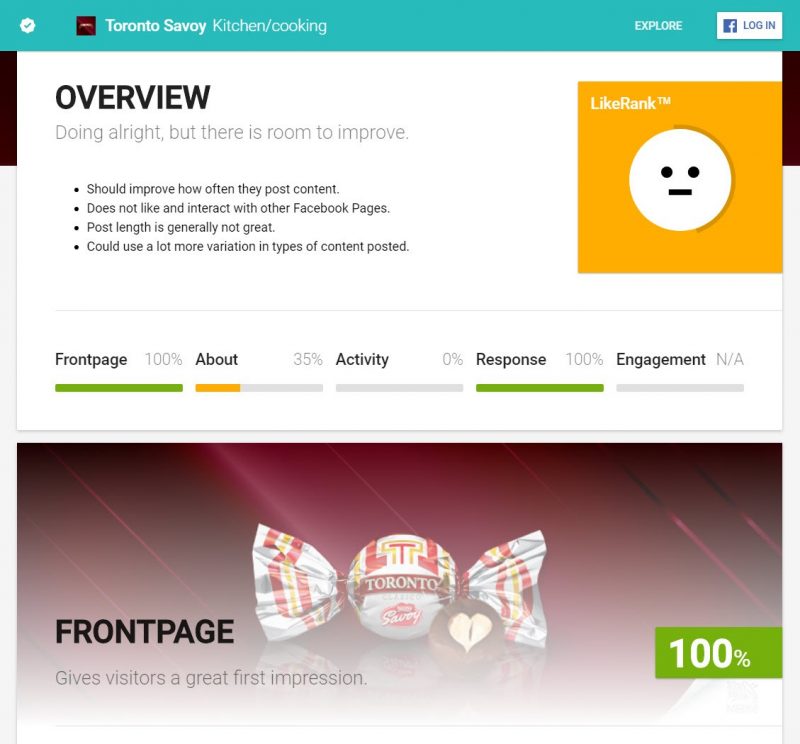 But don't stop at just researching Facebook, have a look at other networks your rivals are using such as Twitter, Instagram, Pinterest, LinkedIn, and others.
Keep in mind that if your competitors have a big following on social media, it most likely means that people are generally interested in your industry and that there is a market for your products.
10. Hack competitors' email marketing funnels
Email marketing is one of the most effective channels that drive people to buy products from you.
But effective email campaigns (aka funnels) are often complicated and difficult to create. Luckily you can steal some from your competition.
Go to a competitor's website and submit your email address in their sign-up form. Then wait until emails start hitting your inbox.
Keep track and analyze:
When you receive those emails
How frequently you get them
What is the content of the email? What kind of message are they sending out to potential customers?
Keep an eye out for special deals or discounts they might offer to get you to buy quicker. Are they using scarcity and urgency( like countdown timers)?
What's their call to action?
Look at the subject line as it's what entices people to actually open the email.
You can even go a step further. Buy something from your competitors to start receiving after-sales emails and up-selling offers. It's again something you can model for your business.
For e-commerce sites, put an item in your cart and abandon the checkout process. Keep track of whether or not they send an abandoned cart email series and note what language and structure they use for their emails.
Another strategy can be to head over to ClickBank (famous affiliate marketplace) and learn from the best.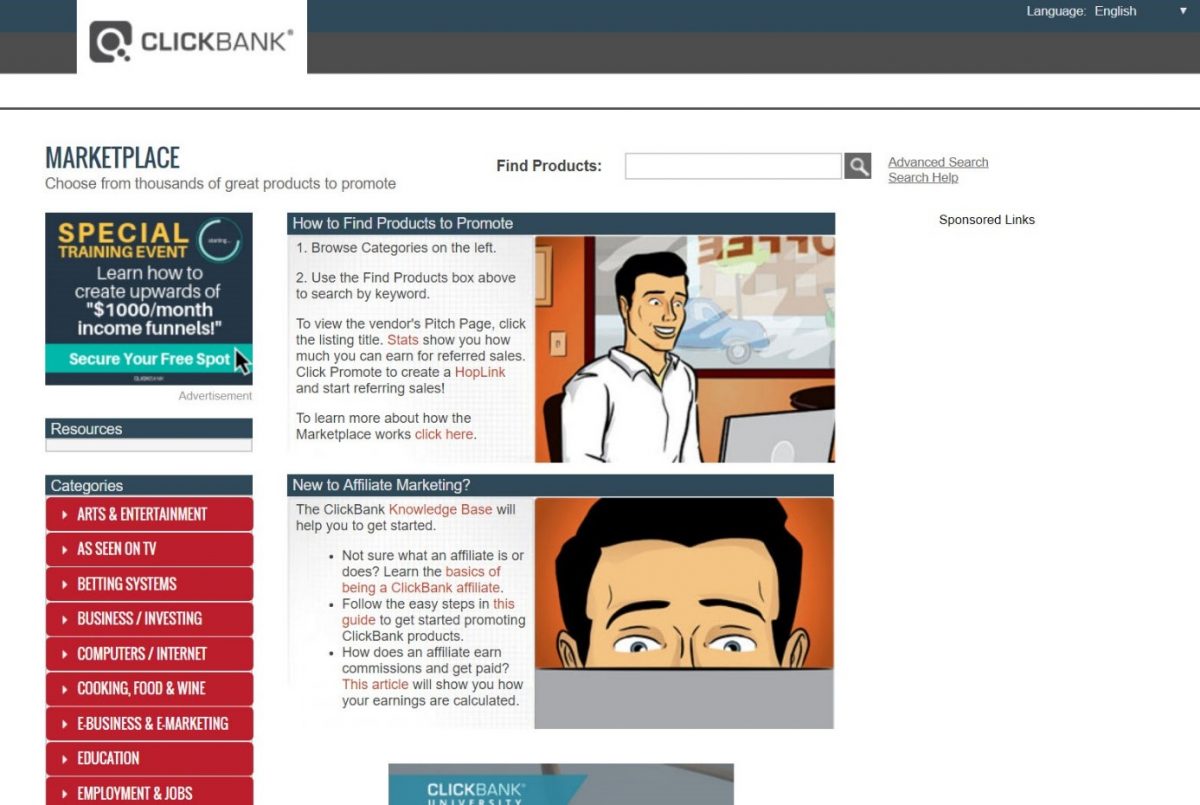 Find a category that corresponds to your industry, then look for products you can promote.
When you find a product similar to yours, click on the affiliate page. You'll see instructions on how to set up your email campaigns in the most effective way to sell this product.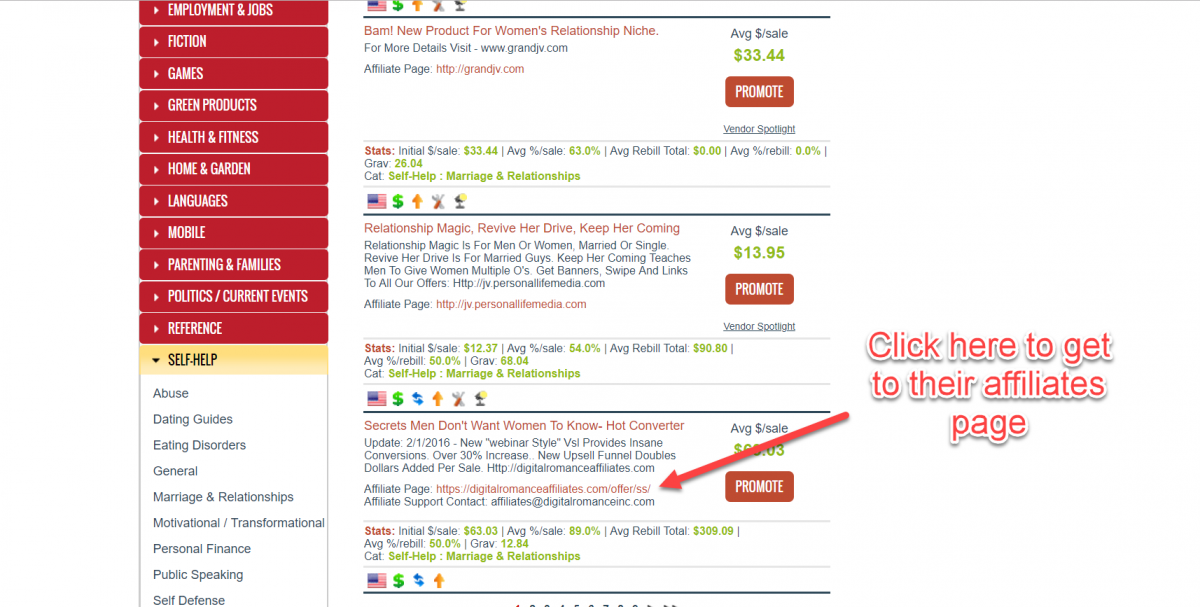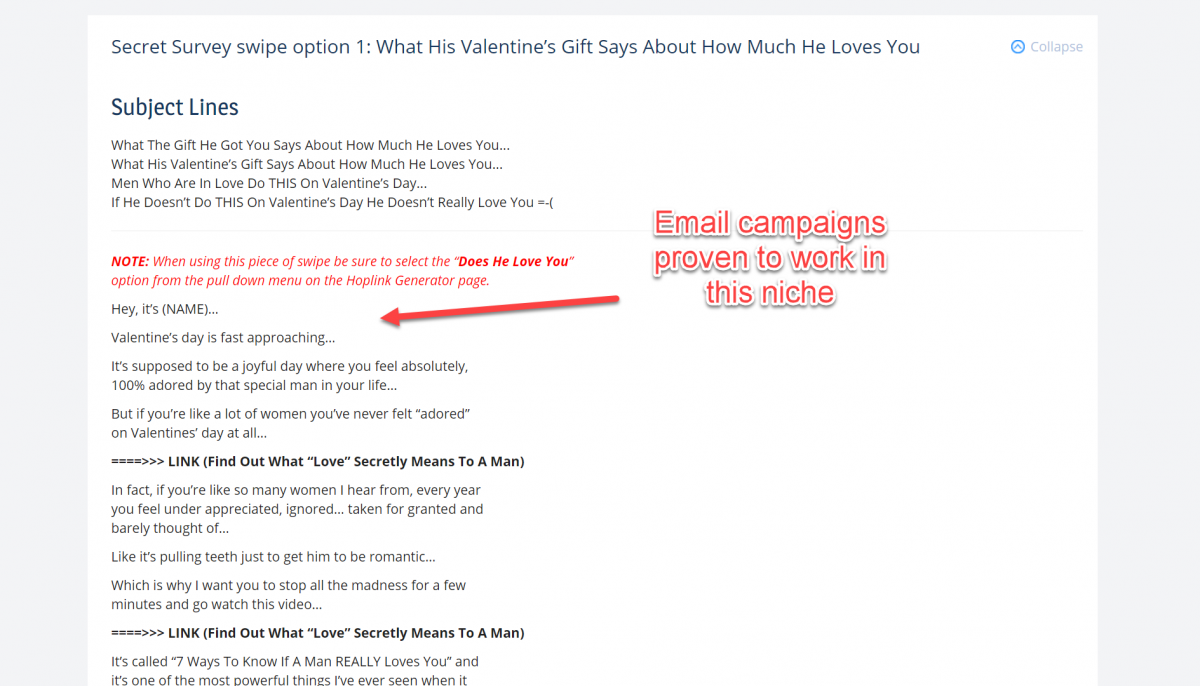 These email campaigns were specially created in a way that is proven to work. If it is so effective at selling a product similar to yours, it's definitely going to convert your leads into paying customers as well.
11. Stay on top of mentions
Use social mentions to monitor what is said about you, your competitors, and your keywords on other blogs and social media.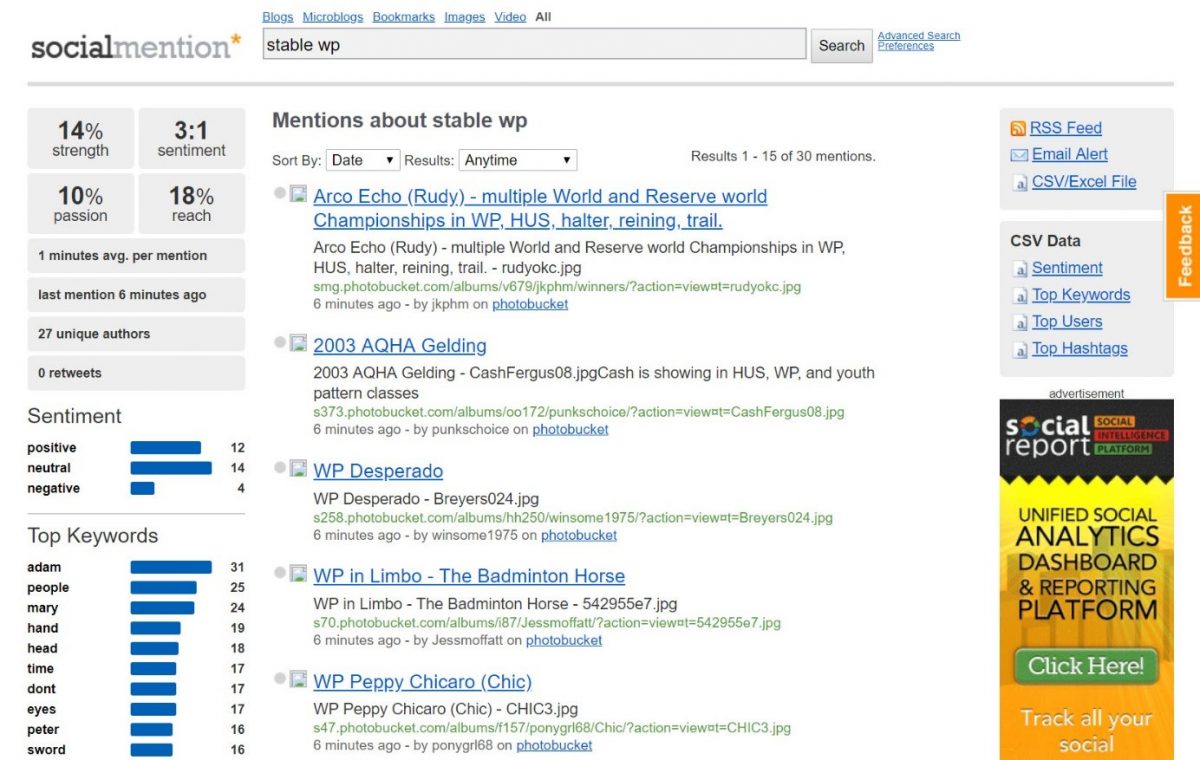 Gauge the sentiment of people towards you as well as your competition. You can see how many times and how often your target keyword was mentioned, and you even subscribe to an RSS feed or email alerts for that term, so you never miss a beat.
Staying on top of social mentions is a great way to keep track of your online reputation as well.
12. Research competitors' ads
Running ads directly costs you money, so you want to make sure that you get the biggest bang for your online ad spend.
To make the most of your online advertising, it's critical that you get your targeting right!
The two biggest advertising platforms online are Google Ads and Facebook Ads. Each of them works in a different way, with different targeting systems:
Google ads let you target the keywords people use to search.
Facebook ads target audiences or users, based on set targeting criteria.
To get started with online advertising, your safest bet is to have a look at successful ad campaigns of your competitors and try to replicate their results.
For spying on websites using Google ads, SpyFu should be your weapon of choice. Analyze top competitors' ad campaigns to discover which are the most profitable keywords to target.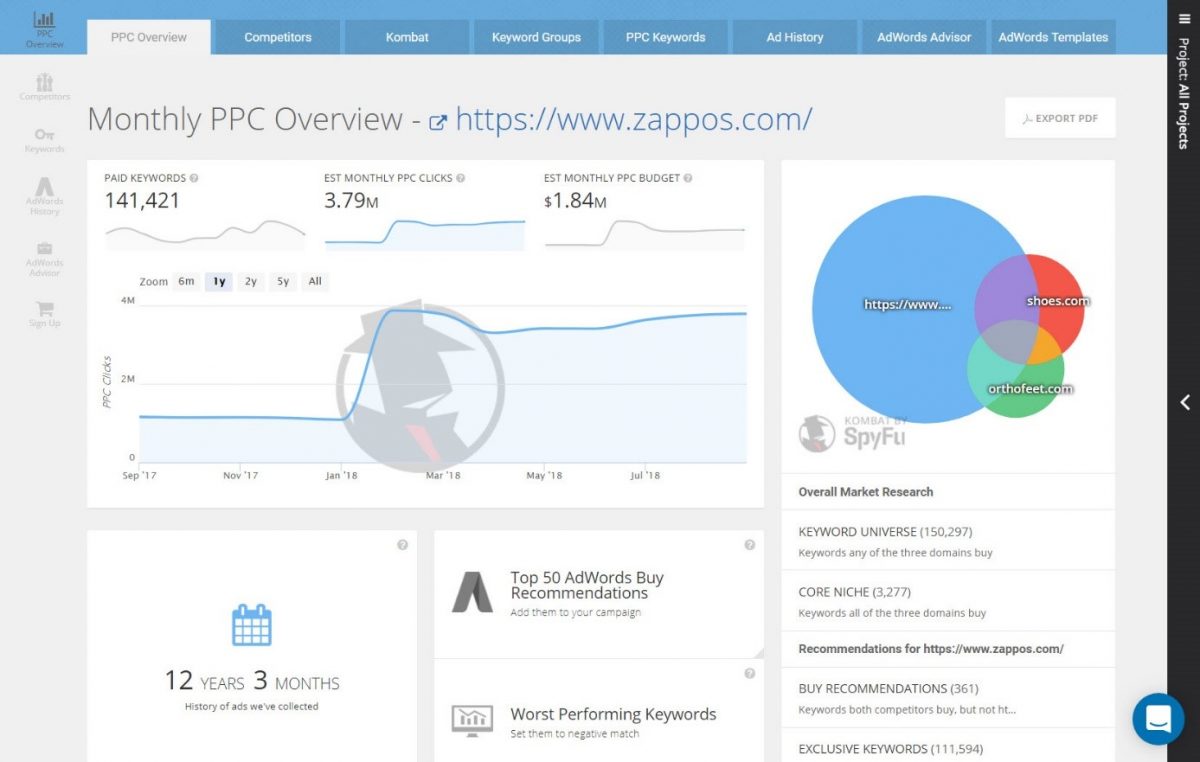 SEMrush has a similar feature. You can snoop into competitor display ad campaigns as well as PPC.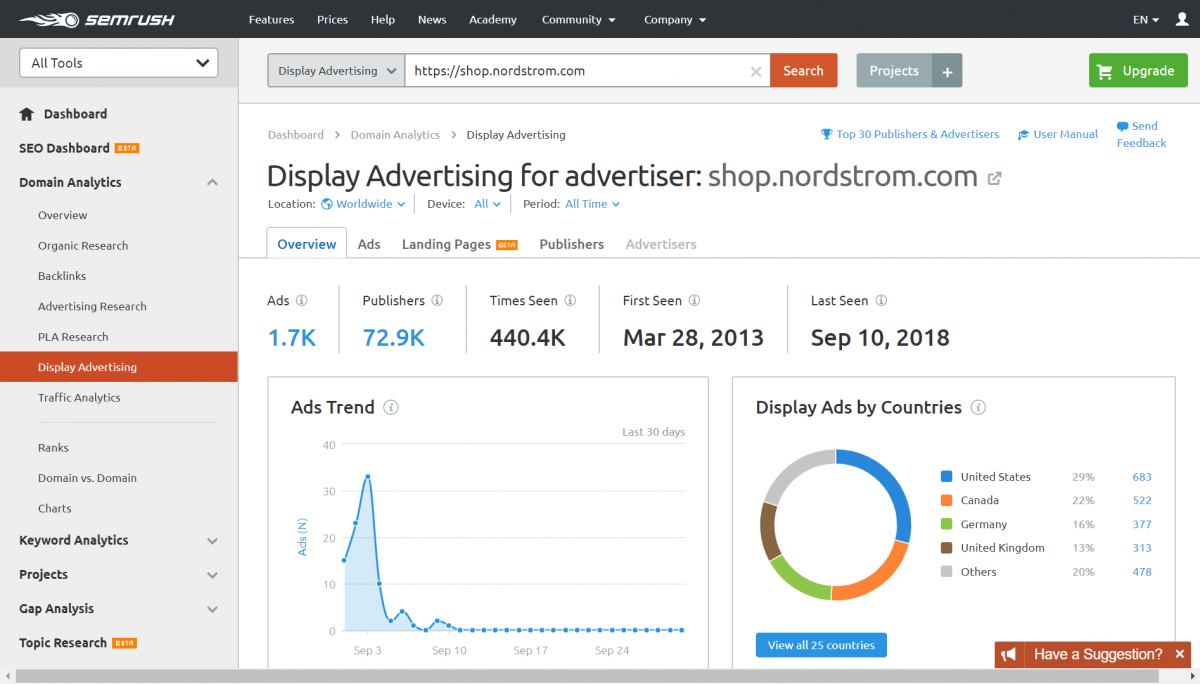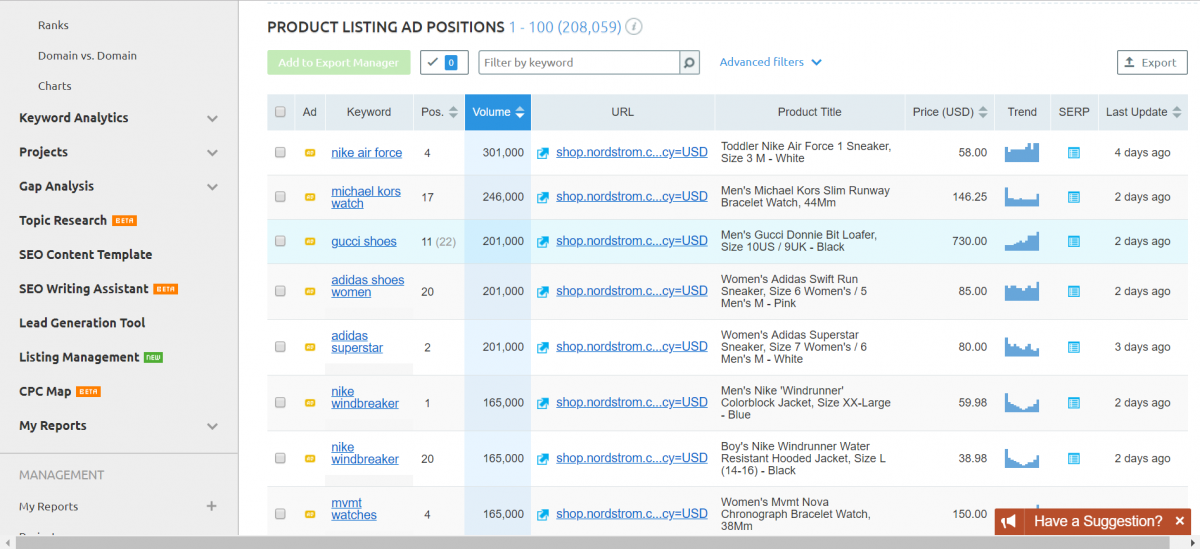 When it comes to Facebook advertising, you can research ads from your opponents that are performing exceptionally well, using AdEspresso by Hootsuite.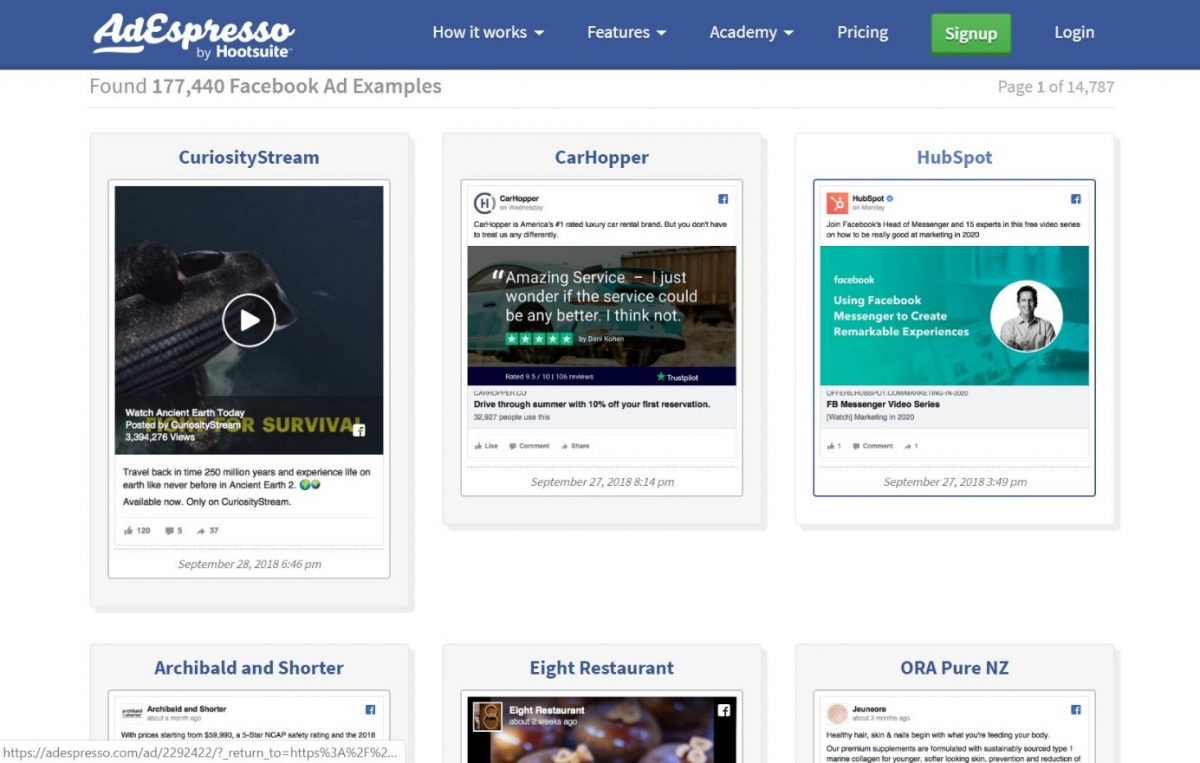 Get inspired by top-performing ads, then figure out what made them resonate so well. Test them out for your business and get the results you're after.
Also, use Facebook Insights (Facebook's own tool) to learn more about your audience's interests to improve your ad targeting.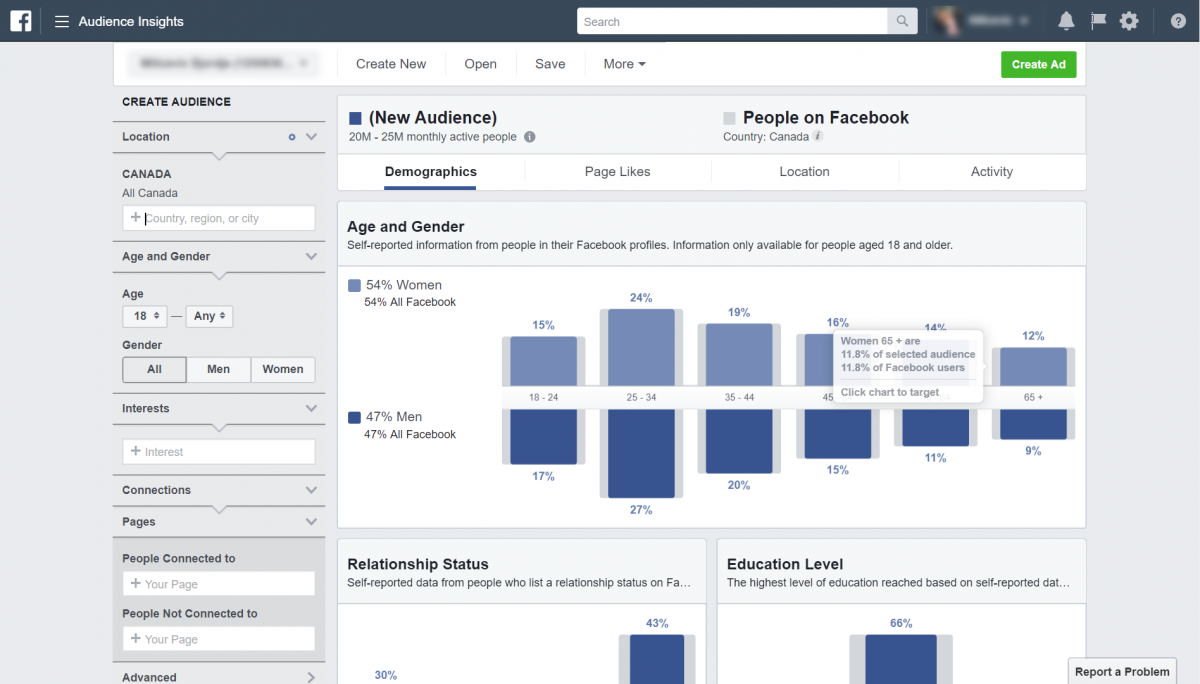 Additionally, leverage everything you learn about your audience to produce better creatives for your ads that will resonate with them.
Takeaway
Every business that takes itself seriously ought to collect and analyze intelligence about their competitors.
All the benefits I mentioned in this article point to one thing: competitive research is a vital part of your business success.
Not knowing what others in your industry are doing would be a huge waste in terms of money, effort, time, and lost opportunities.
So, don't procrastinate, do your research today with the techniques outlined in this article.
Download our free Competitive Analysis Toolbox for even more spying tools and research secrets.
And let me know down in the comments, what tools do you use to spy on your competition.