So, you launched a new website and you know Google can bring you a steady flow of organic (free) traffic.
But how can you put your brand new website on Google?! Where to get started?!
Let's solve this mystery!
I'll show you how to rank your new website fast so people can find you on Google (over your competitors) and you can start getting some sales!
How to rank your new site on Google
Before you do anything, you need the right mindset – you want your website to appear when someone googles for keywords related to your niche, business, products or services.
For this, you need to optimize your site, so Google considers it high-quality and worth ranking your site on the top. This is what SEO (search engine optimization) is all about.
Having a new website and a good SEO strategy means you can start off on the right foot.
Step 1: Start with keyword research
Keyword research is the cornerstone of SEO. You need to figure out which keywords you want to rank for – aka 'targeted keywords'.
Start by thinking which keywords best represent your business, what you do, and what you offer?!
This can be "dog food" if you're selling pet food, "landscaping company in Toronto" if you're running a local business, or "hardwood furniture" if you're in the furniture business.
But simply guessing which keyword to rank for usually isn't the best way to go. Yes, that's an excellent approach to generate keyword 'ideas', but you need to analyze the search volume and competition of those keywords.
This will help you estimate the keyword popularity and how difficult it would be to rank.
Remember, not all keywords have the same value!
Luckily, there are many tools that can help you get precise data on every given keyword.
From free tools like Google's Keyword Planner and Ubersuggest to premium (paid) tools like SEMrush and Ahrefs.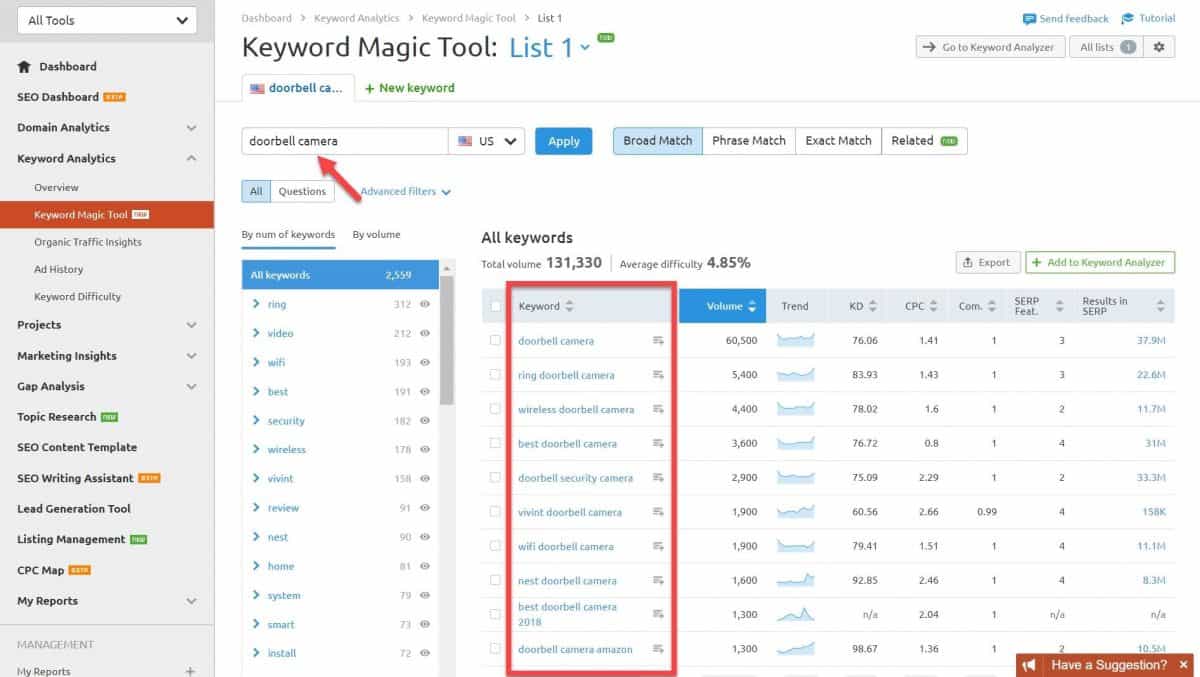 Make sure to look at which keywords your competition is ranking for, as well.
Competitors are a treasure trove of insight into what works and can help guide your SEO strategy.
Learn how to spy on your competitors with our detailed competitive analysis guide.
Create a list of potential keywords, then prioritize them according to their popularity and difficulty. Check out our guide to learn how to find the most profitable keywords.
If you have an e-commerce site, focus on product-focused phrases like "Bluetooth speakers," "wireless keyboard," or "travel yoga mat."
You will use these keywords to optimize your product pages in the next step.
Step 2: Optimize pages for your target keywords
Once you identify the keyword that best represents your business, has enough search volume and isn't insanely competitive, it's time to optimize your site around those target keywords.
IMPORTANT NOTE: Target one primary keyword for every page on your site. To avoid competing against yourself, choose unique target keywords for each page.
Optimize your home page for your general business keyword, your product/services pages around your product/service keywords, and so on. You get the picture.
This process will help Google understand your website and pages, and which search phrases to rank you for.
1. Optimize your headings
Headings are important for organizing your page copy. They give structure to your content and help both users and Google skim through and understand your content.
Make sure to have only one H1 heading and organize the rest of your copy with H2, H3, etc. to give your content structure and hierarchy.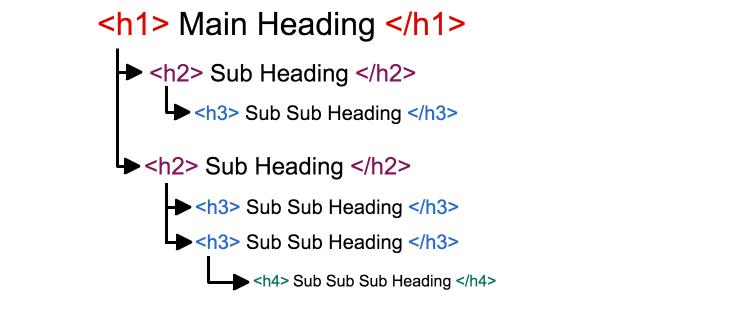 Insert your primary target keyword in the H1 tag and ensure all other heading tags are relevant and connected to the main keyword.
2. Insert keywords in page URLs
Customize the URL of every page on your website. Each URL should be easy to read, remember and should communicate what's on the page.
Insert your target keyword in the page URL to describe what the page is about. This will help both users and Google.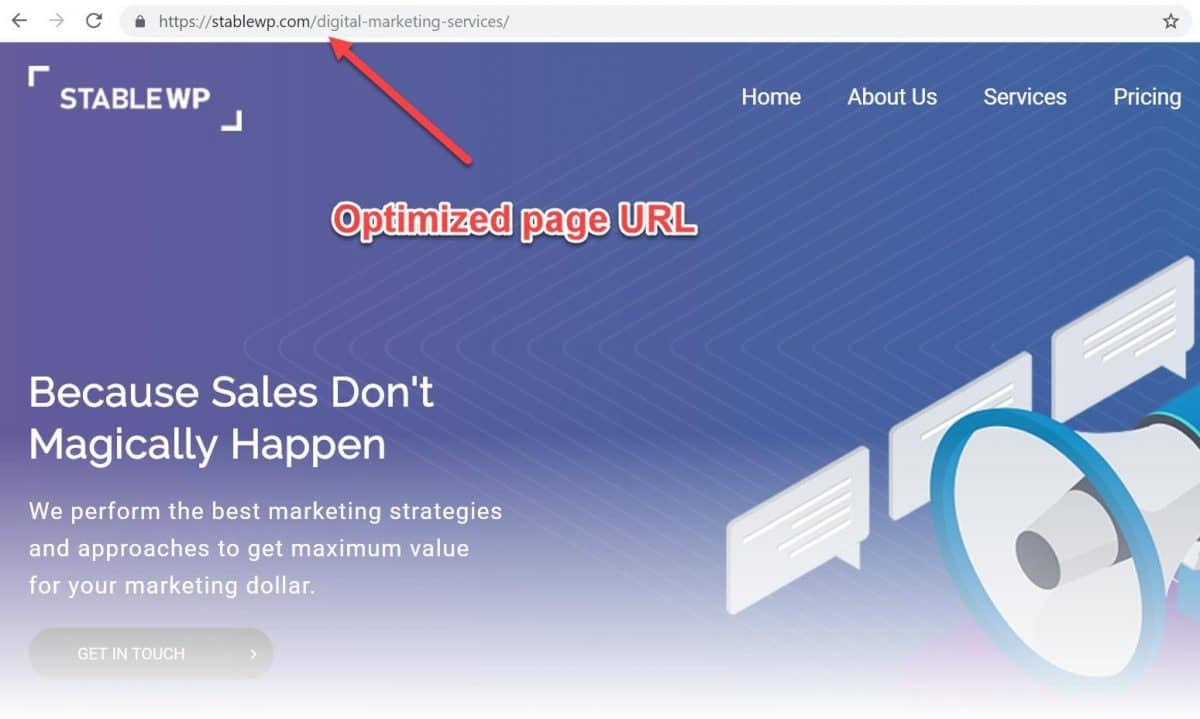 3. Write keyword-rich page content
Make sure your page copy is compelling, relevant and easy to read. It's essential to include your target keyword a few times in the text.
Your page content should be keyword rich.
Avoid keyword stuffing, which is not a good practice and might even get you to penalize by Google. Instead, include synonyms and variations of your target keyword to make the text natural and readable.
Another best practice is to drop your target keyword in the first 100 words of your text so visitors and Google can immediately see what the page is about.
Also, make sure you write long (1000+ words), quality content. Longer content not only helps in adding more keywords, but it also makes it more in-depth (which Google loves) and increases the marketing potential of your page.
41 Steps to Boost Your Rankings and Grow Organic Traffic
Download the ultimate SEO checklist with detailed steps to optimize your website for higher Google rankings and more organic traffic.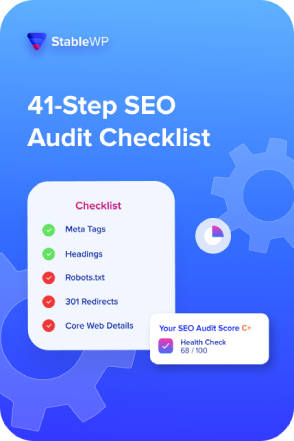 4. Have click-worthy title tags and meta descriptions
Title tags and meta descriptions appear in the search results. Their role is to convince searchers to click through to your website.

Google likes to see high click-through rates (CTR) that's why you need to make compelling title tags and meta descriptions to capture more clicks.
Title tags are another page element that Google looks at to learn what the page is about, which makes it another excellent spot to insert your target keyword.
Make sure your title tag is catchy and attractive; it should grab the searcher's attention. A good strategy is to put your target keyword at the beginning of the title, so it appears more relevant, and searchers are more likely to click on your result.
Keep your title tag short (50-60 characters), so they aren't truncated in the search results, especially on small devices.
Meta descriptions don't directly contribute to your rankings, but they assist your titles to get those clicks. So, make sure you describe what your page is about, include your target keyword and give a good reason for users to open your page.

On WordPress, it's super easy to edit your title tags and meta descriptions using the Yoast SEO plugin. In fact, this plugin can help you with most of the page optimization, so be sure to check out our comprehensive guide and learn how to use Yoast SEO.
5. Optimize images with descriptive alt text
Having HQ images on your page enhances your content and user experience. However, Google is not able to read and understand images; that's why you need to give it a hand.
Optimize your image alt text to help search engines understand what's on your image. Google reads your image alt tags, and if they find your images relevant and connected to your target keyword, that's a quick win to help your rank.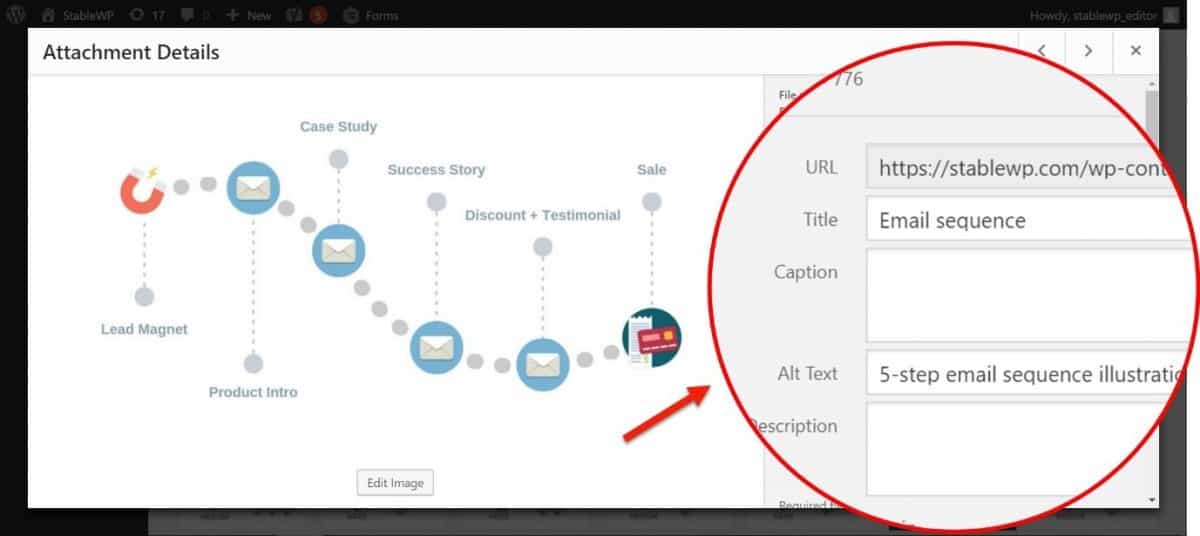 Include your primary keywords in your image filename and alt text whenever possible. This is purely for Google, so it deems your images relevant to your page, and your page relevant to your target keyword.
Always remember, if your page and content is relevant to your target keyword, Google is going to rank you higher, faster.
Step 3: Ensure high speed and performance
Google insists on high performance and excellent user experience. That's why you need to optimize your page to make it snappy, responsive and secure.
1. Boost your loading speed
Page speed was confirmed (2018) by Google to be a major ranking factor. Google says:
"People want to be able to find answers to their questions as fast as possible — studies show that people really care about the speed of a page.
Although speed has been used in ranking for some time, that signal was focused on desktop searches. Today we're announcing that starting in July 2018, page speed will be a ranking factor for mobile searches."
Loading speed is a significant component of user experience, which makes it super important for Google and users alike. So, make sure your website and pages load as fast as possible.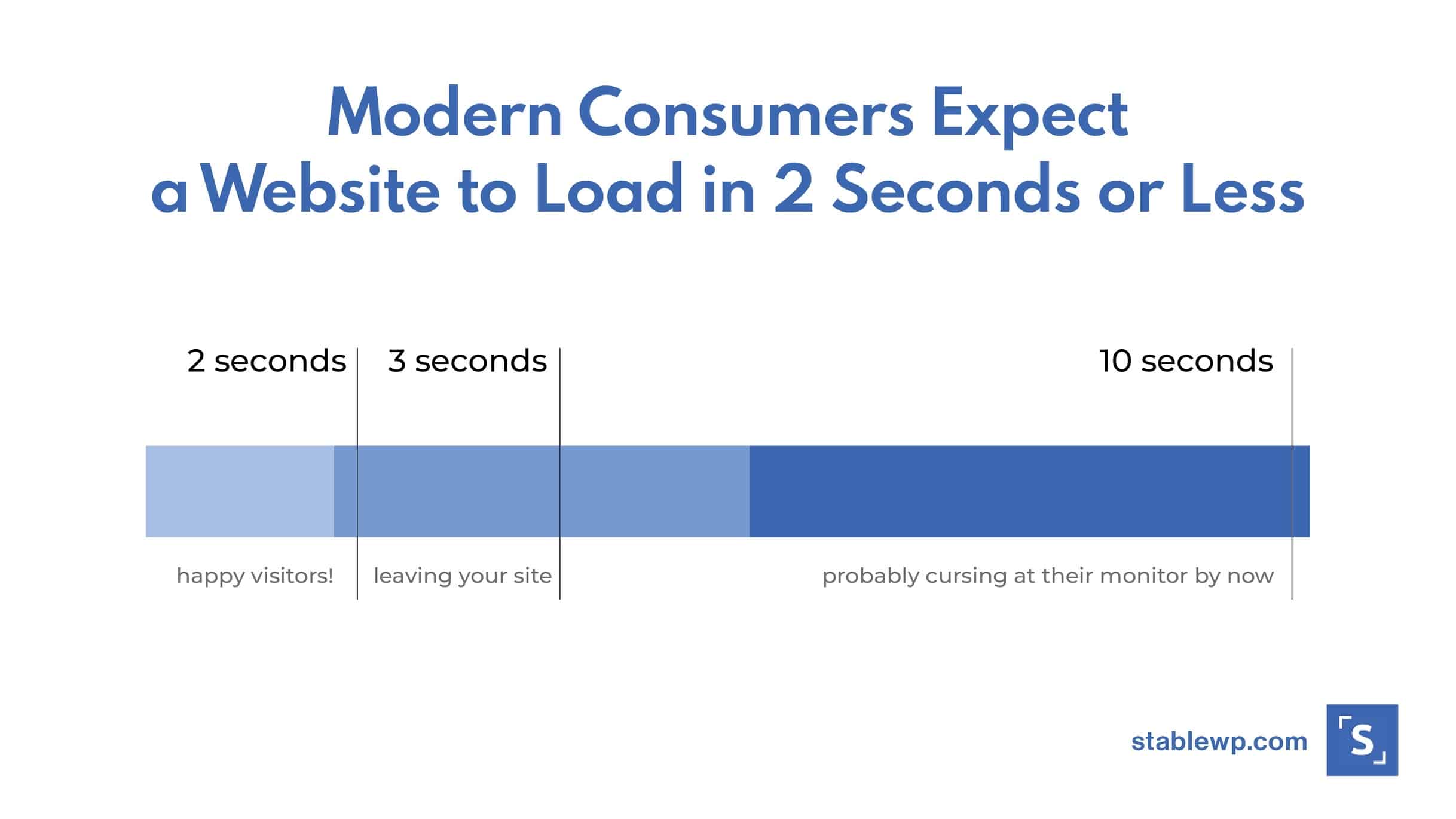 Use Google's free Page Speed Insights tool to check the speed performance on desktop and mobile devices.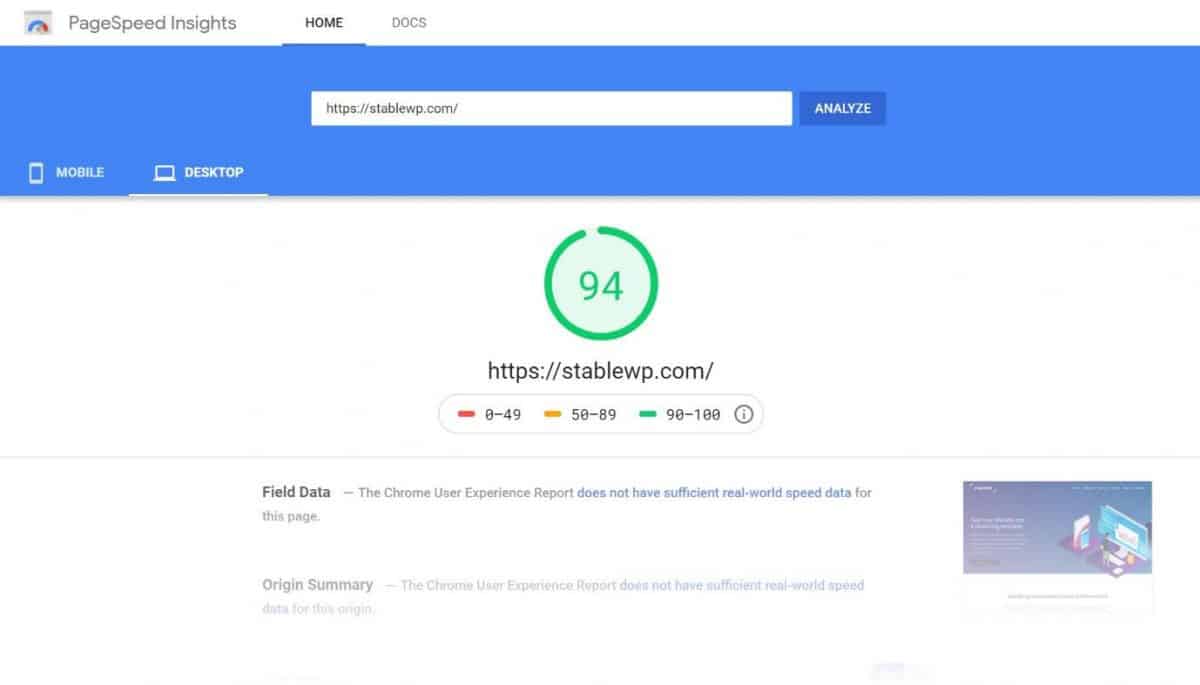 You will get a speed score, as well as some recommendations on how to improve your loading times. Some of it might be too technical, so consider hiring a web development team.
If you want to make your site snappy and fast, check out our speed optimization guide and learn how to make your site load in less than a second.
2. Have a mobile-friendly site
People are using mobile devices more and more to browse the internet. Studies show that over 50% of internet traffic comes from mobile devices.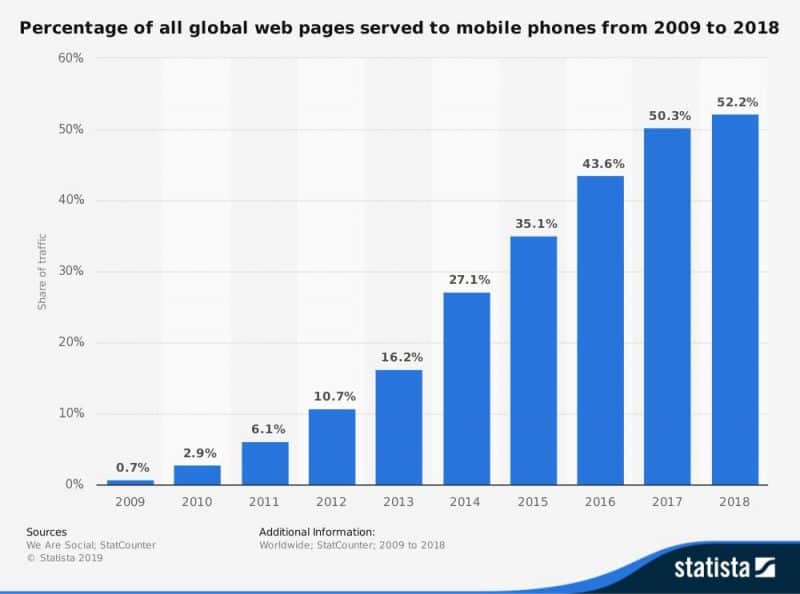 Google also announced its mobile-first indexing, starting in July 2019. This means Google will use the mobile version of your site for ranking and indexing.
If you want to rank your new website, it needs to be mobile-friendly and responsive. Your site needs to be optimized for small screens and touchscreen devices.
Check out Google's Mobile-Friendly Test to see how your site performs on mobile devices.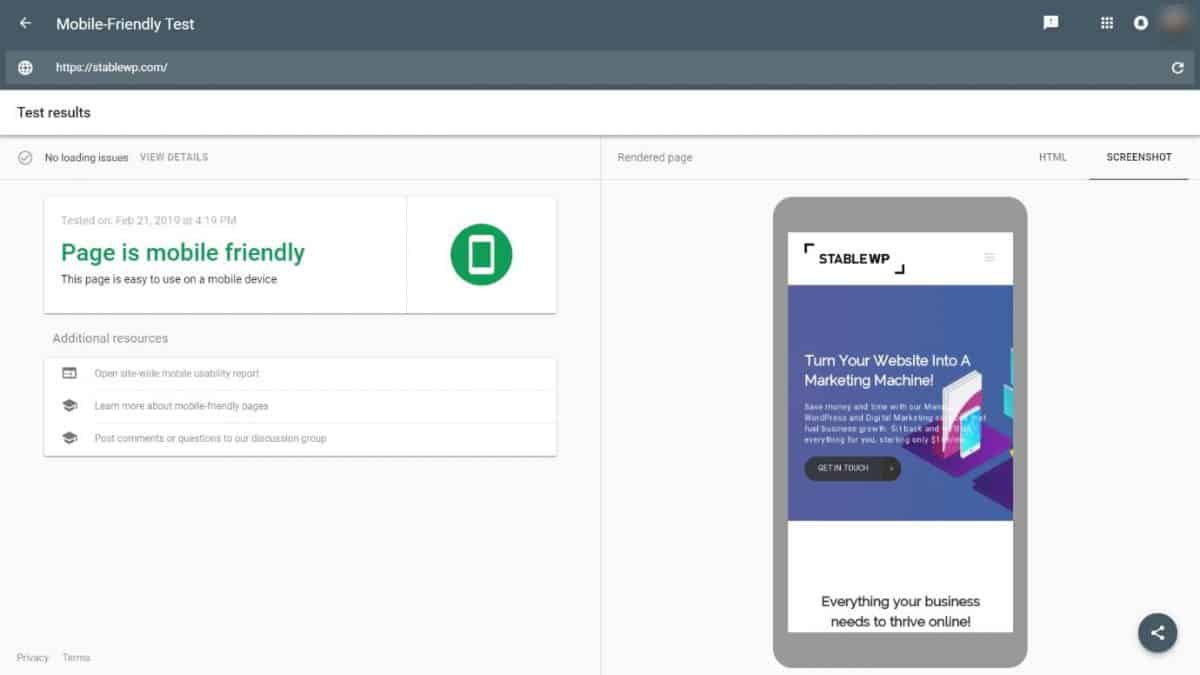 3. Make your site secure with HTTPS
Security is another one of Google's ranking priorities. And it makes perfect sense since security is a big concern in today's online world.
That's why you need to make sure your site is secure with an HTTPS connection.
Having a secure (HTTPS) connection is a top priority for every site, new and old. It's essential for ranking your website, as well as building trust and credibility.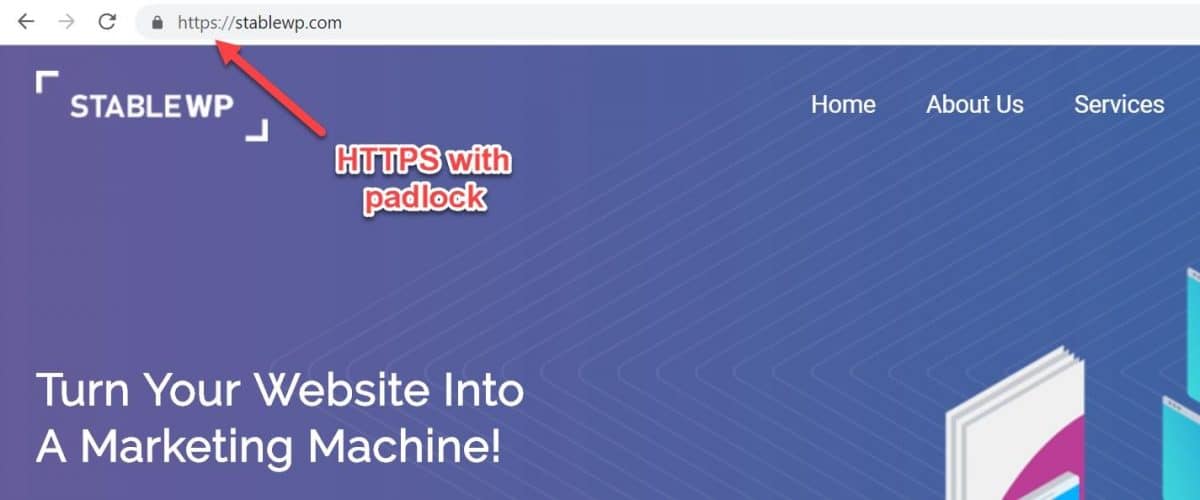 HTTPS means your site is using SSL encryption to secure the connection between your site and visitors' browsers.
All the data that passes through is encrypted and private, preventing hackers from stealing information like passwords and credit card details.
Security is a big focus for Google as well as your users, so to rank your new website, be sure to enable a secure (HTTPS) connection.
Learn more about WordPress security and how to secure your site from hackers with 23 actionable tips in our in-depth guide.
Step 4: Help Google find and index your website
The steps so far helped you optimize your pages for your target keywords and ensure top performance. But, to rank your new website, you need to help Google find and index your site.
You need to ensure Google bots can find your new site and crawl each page, to understand the content and be able to put it into their web index.
1. Set up Google Search Console
Google Search Console is another free tool essential to ranking your site.
You can use GSC to analyze search traffic data, fix crawling/indexing errors, track and improve performance, and so much more.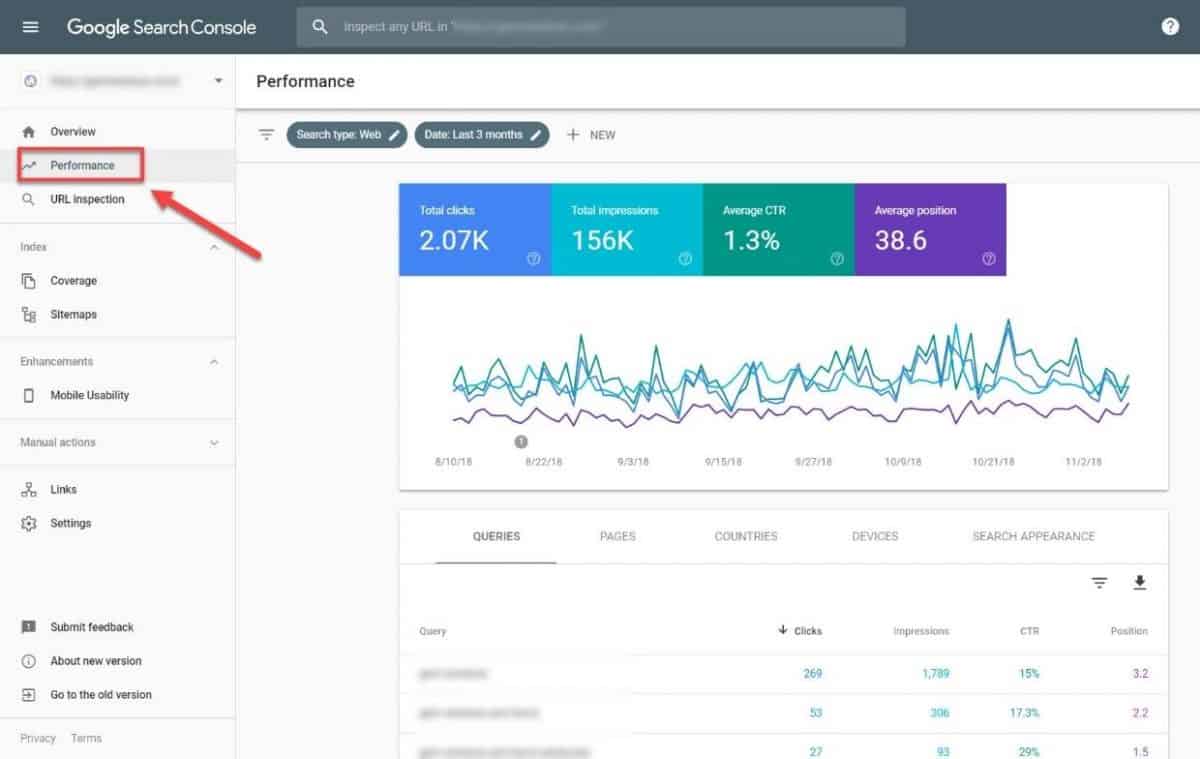 Verify and claim your site in Search Console to inform Google your site exists, and you are the owner.
Next, submit an XML sitemap to GSC to inform Google about all URLs on your site that are available and ready for crawling.
This is essential because submitting sitemaps trigger Google bots to crawl and index your site faster.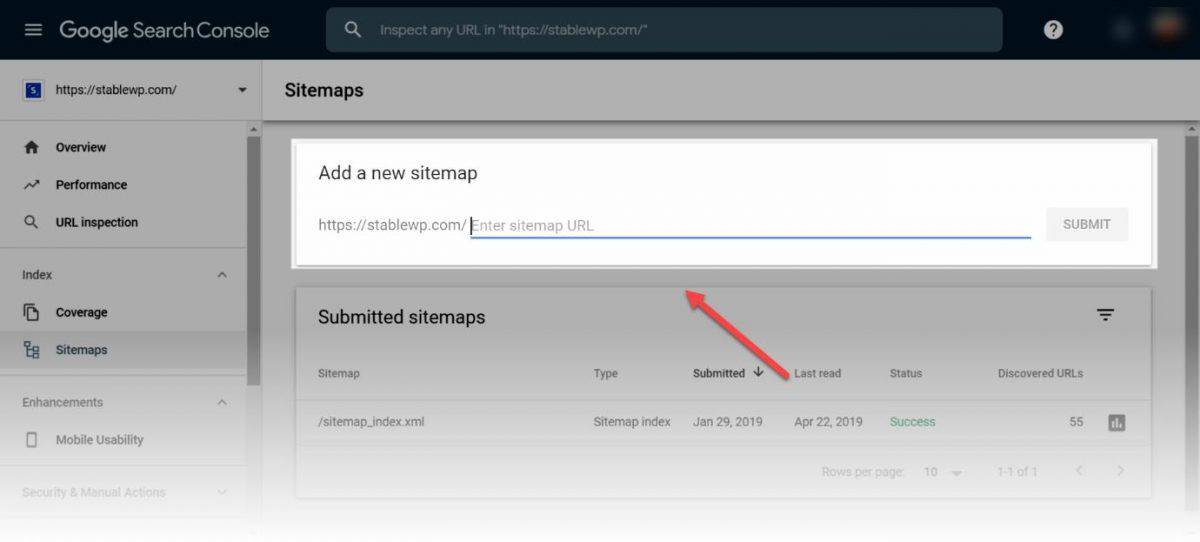 Once Google crawls your website, you can monitor the indexing status of your new site and watch for any errors.
If you get any alerts or warnings, be sure to fix every error immediately.
GSC also helps you index and rank new pages faster. When you create a new page or make changes to existing pages, you can directly request indexing to get it on Google ASAP.

Google Search Console is a must-have tool to rank your website faster as well as monitor your performance and check for errors.
2. Optimize your site architecture
Site architecture represents how your website is organized into categories and pages.
A good site structure helps search engines crawl and index your new site. Googlebot and other crawl spiders can easily find each page on your site.
If pages are buried deep in your site, or not properly linked together, Google may not consider them worthy of indexing. Even worse, Google can't find them.
A solid site structure can also help your site appear more prominently in Google with site links.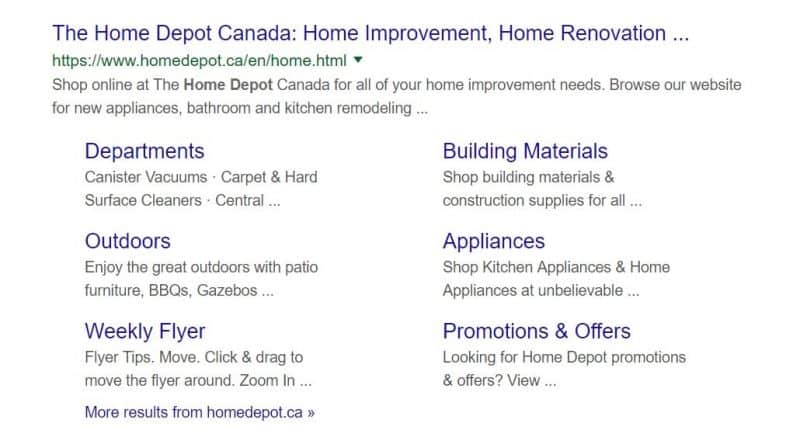 Follow these rules of thumb when it comes to site architecture:
Keep your structure simple and scalable
Ensure every page is up to 3 clicks away from your homepage
Make sure there's a link pointing to and from every page (internal linking)
Step 5: Create and optimize content to capture more traffic
To get more rankings and traffic to your new site, create a blog section to capture visitors searching for informational keywords.
These can be lists, comparisons, checklists and how-to guides (like the one you're reading now).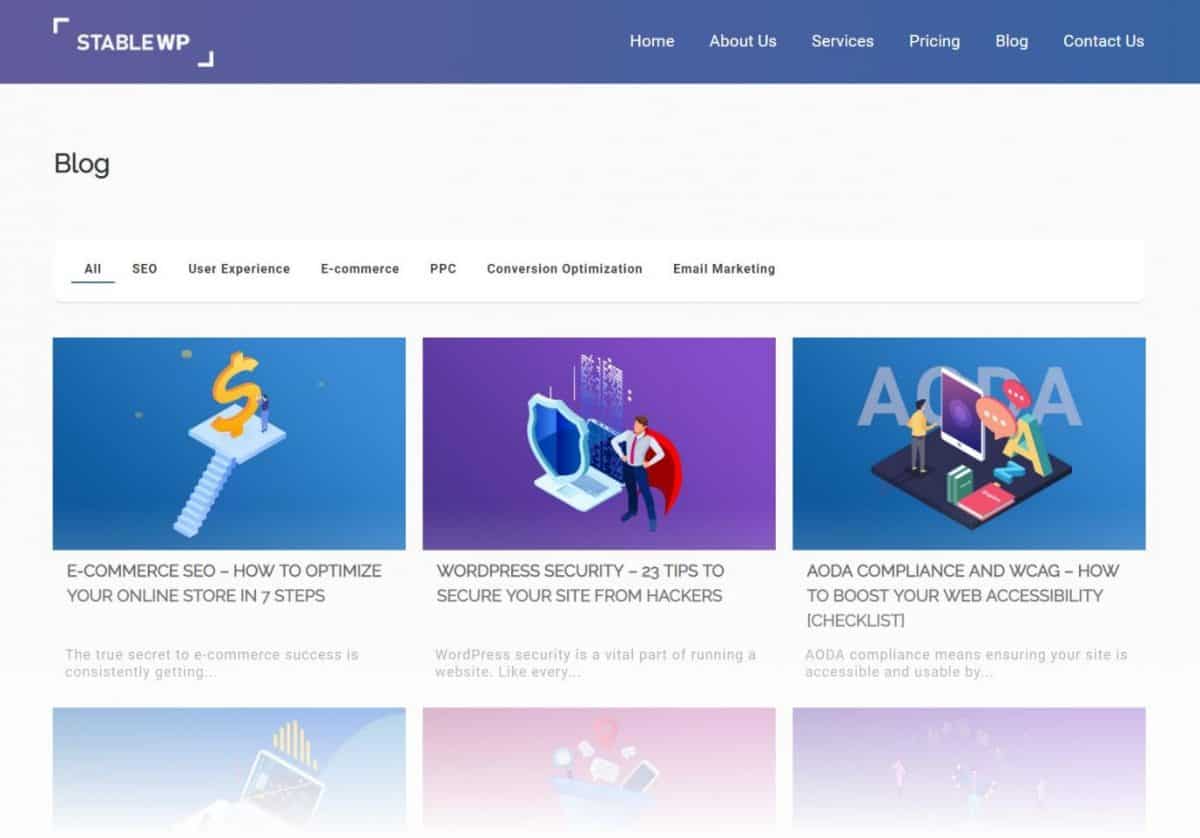 Blog posts can bring you valuable visitors who are in the early stages of their buyer's journey.
If you can rank for these keywords and deliver valuable content, guess who's the first one they'll go to when they're ready to buy – you!
Run keyword research to identify topics that your potential customers are googling. Consider what questions customers may ask and what problems you can help them solve.
Use BuzzSumo to find popular topics in your niche.
Also, use tools like SEMrush and Ahrefs to estimate the search volume and difficulty, as mentioned before.
Focus on long-tail keywords because they have much lower competition and your new site can rank faster.
Once you find good topics with enough search volume and low-moderate competition, follow these best practices for the win:
Create long-form content (1500+ words)
Sprinkle in your target keywords, synonyms, and variations
Run page optimization (as described earlier)
Make your content easy to read with short paragraphs, subheadings, bullet points, etc.
Provide value with your informational content – don't pitch your products, it's too early
Content and blog posts can help you rank for informational keywords, but it can also help boost rankings for your money pages (homepage, product/service pages, etc.).
Google puts significant weight on the authority of a website measured in backlinks. More authority helps you rank faster and higher.
Don't expect too many backlinks to your money pages, though. People are just not interested in linking to those.
However, high-quality content is a true link magnet.
Interlink your blog posts with your money pages to spread your authority or "link juice" to those pages and boost their rankings.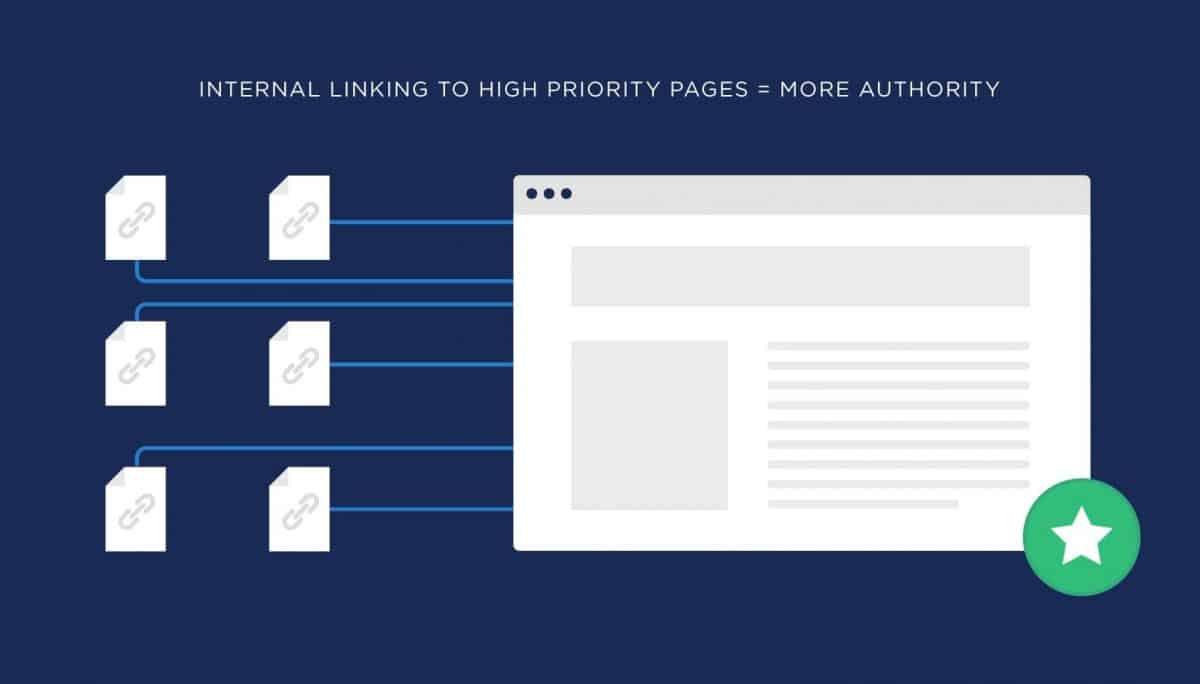 This leads to the next step…
Step 6: Boost your rankings with backlinks
Backlinks tell Google your site is credible and worth ranking.
To rank your new website you need a link building strategy to increase your authority.
Start by analyzing your competitors to see where they get their backlinks from.
Pay attention to the following: Why did these sites decide to link to your competitors? What about the page made it worthy of a link?
Reverse engineer your rivals' link building strategies with tools like Ahrefs, SpyFu, and SEMrush.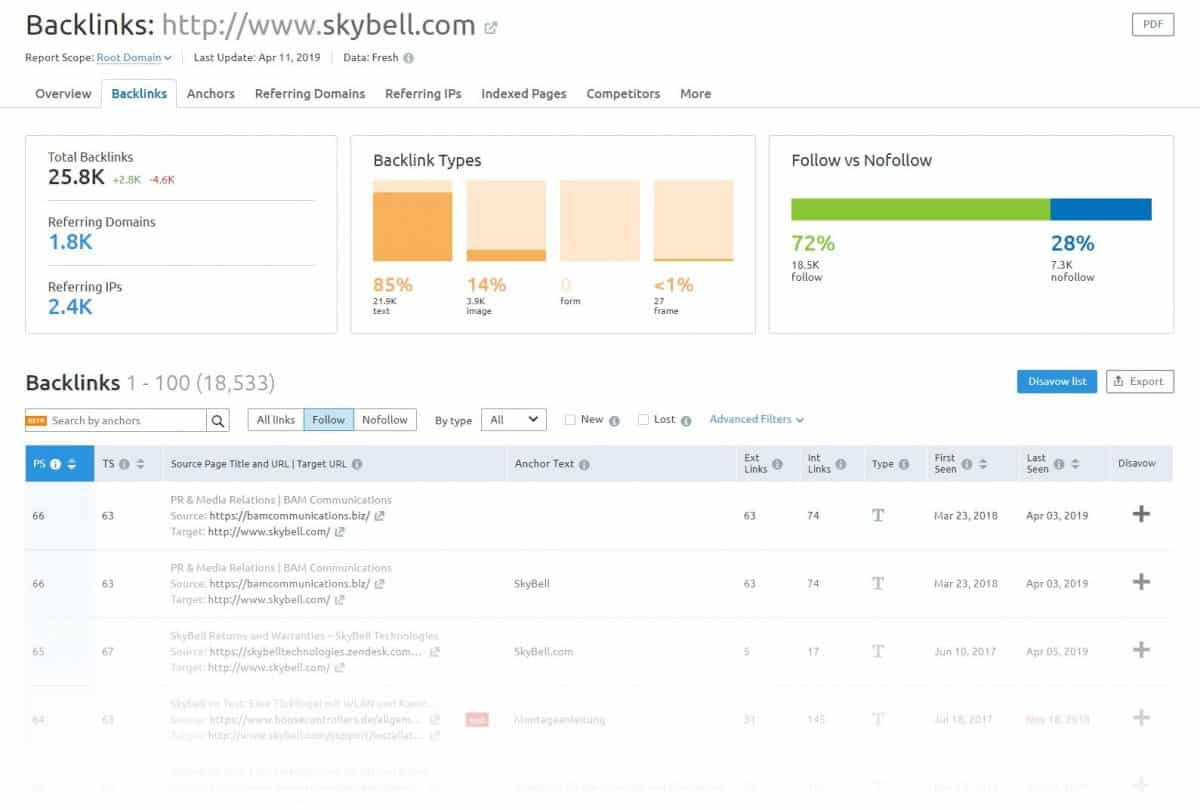 Use SEO Quake to analyze the authority and backlinks of websites that rank for your target keywords.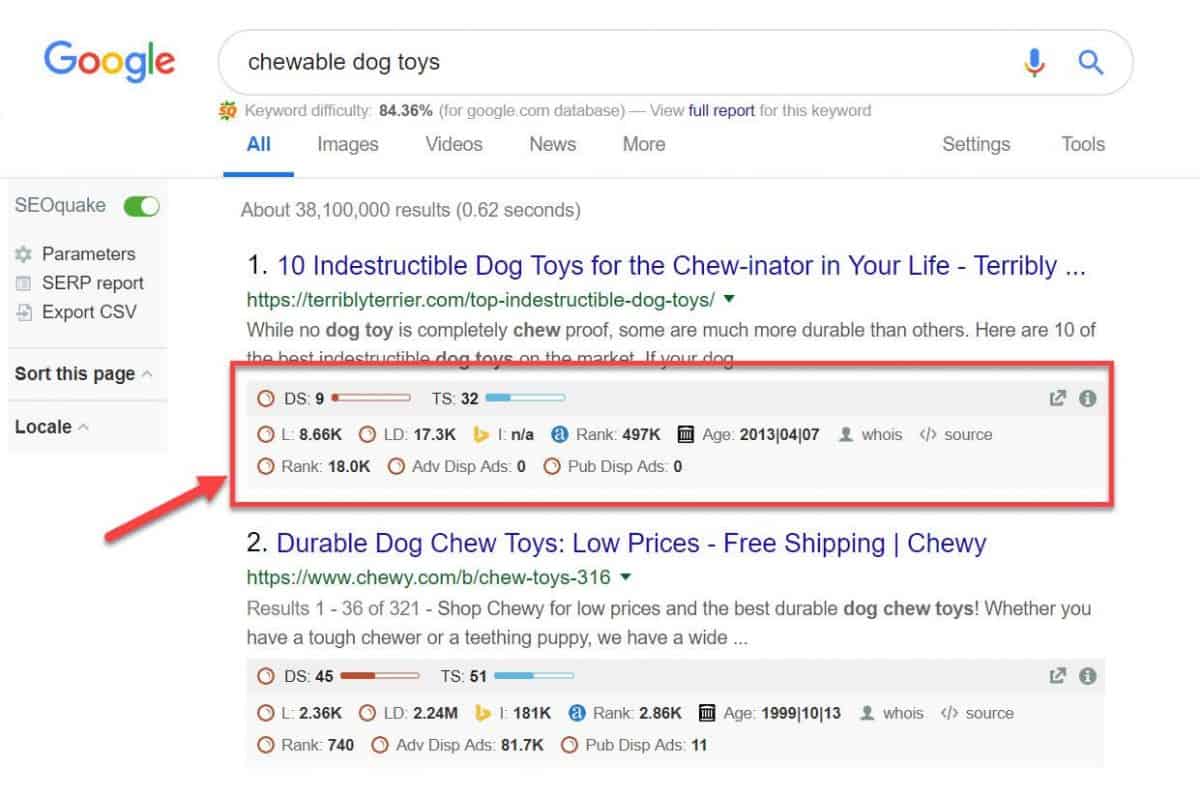 This will help you determine what you need to do to outrank them.
Amplify your new website and content by promoting it on social media, forums, engaging communities on Reddit, answering questions on Quora, posting links on WEB 2.0 sites, etc.
Link building can be quite an arduous task, especially for a new and relatively unknown website.
That's why I compiled a comprehensive link building list with 32 best tactics to get those coveted backlinks.
Start with simple link building strategies for some quick wins, then work your way to more demanding and sophisticated tactics.
How to rank a local business website
If you want to rank your new local business website, there are a couple of extra steps you need to take.
Google looks at additional factors when ranking local business sites like:
Citations
Google My Business (GMB) page
Reviews
Citations help Google see your business as legit and trustworthy. Google checks your local citations to determine if your NAP (name, address and phone number) are consistent and accurate.
They work similarly to backlinks, so the more you have, the better for your website ranking.
GMB helps you rank on both Google search in the form of regular organic results and Local Packs, as well as Google Maps.
This is essential for every local business because it multiplies your ranking opportunities.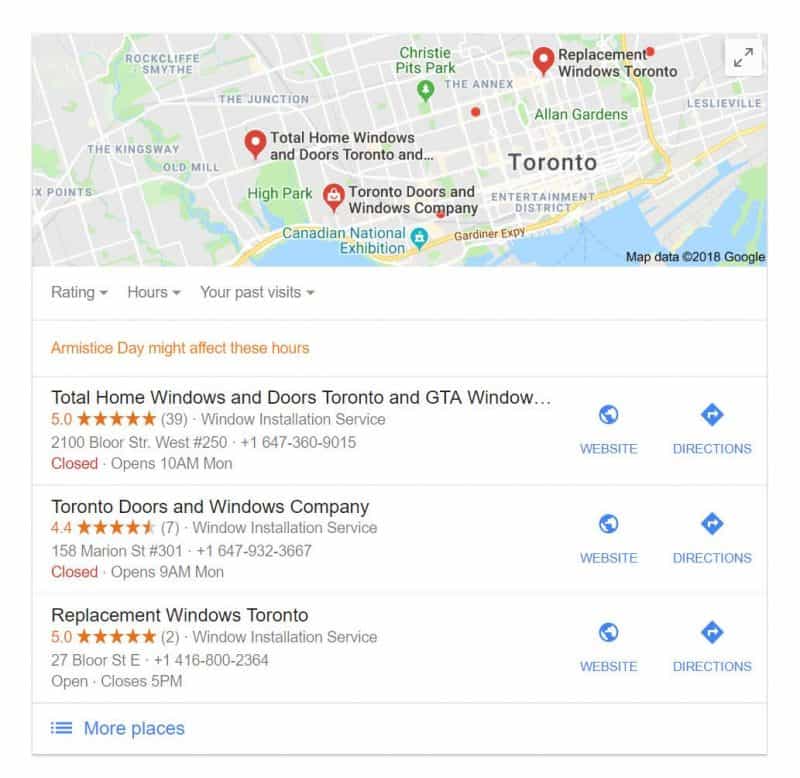 Reviews are the third major ranking signal for local business websites. Google wants to display the best local companies first, and reviews play a huge role.
Studies show that local business reviews are among the top 6 ranking signals with 6.47%.
Get more positive reviews and build a strong online reputation. It will help your rankings as well as getting more customers and growing your business.
To learn more about how to rank your new local business website check out our ultimate Local SEO guide.
How long does it take to rank a new website
Ranking a new website on Google may take from 3-6 months, but this depends or your niche, competition and your SEO efforts.
Studies show, if you are starting a new website now, then you may have to wait for 3-4 months to see your first ranking results and traffic from Google.
You can expect more tangible results after 6-7 months, provided that you keep working in the right direction.
Generally speaking, you can start getting some serious traffic from Google only after 6-18 months.
Conclusion
Ranking your new website is a long-term strategy – it takes a while to get results, but it brings you high-quality organic (free) traffic for years to come.
Don't be discouraged by the initial long wait, with the right SEO tactics your site will eventually start ranking and climb up in Google's search results.
Monitor your traffic with Google Analytics to keep an eye on your performance and measure results.
And if you need help ranking your new website leave a comment below or reach out and see what we can do for you.