Social proof is an essential persuasion tactic to encourage e-commerce shoppers to buy on your online store.
E-commerce is a growing industry and a subject to ever-intensifying competition.
Anyone who wants to make their online store a success needs to pull out all the stops — the alternative is being consistently overlooked.
This means paying close attention to the best techniques for attracting e-commerce customers.
And a big part of that is earning shoppers' trust.
As you're surely aware, social proof has played a massive role in generating leads and driving conversions since the early days of retail in general, and it's been particularly key since retail has moved online.
In this post, we're going to consider whether it still deserves to be considered the most important motivating factor, or whether there's something more influential. Let's begin.
Why is social proof so important for e-commerce
Social proof is essential for e-commerce sales since it helps install trust in shoppers and provides confidence that they're buying quality products from a reputable online store.
People rely on the opinions, experiences, and actions of others to guide their own decisions. And social proof helps validate purchasing decisions.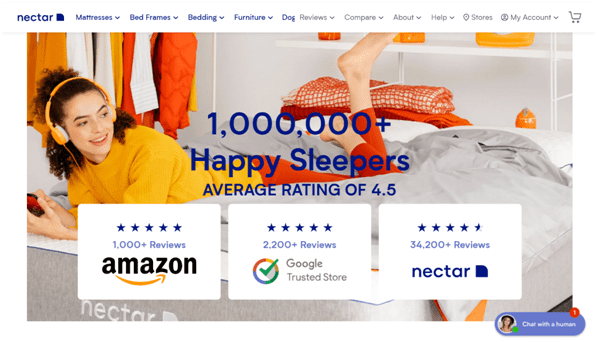 We, humans, are fundamentally tribal. And most people love to spend time in groups, discussing life, learning, and taking social cues.
Those social cues help us live in ways that will keep us in good standing with our peers, and they influence so much of what we do.
That makes their significance impossible to ignore. The thoughts and feelings of others will always hold a lot of power over how we make decisions, making them of paramount importance to conversion-hungry online sellers.
You can look at Amazon's trailblazing review system to see just how neatly they fit into the e-commerce sphere.
Its star ratings and crowdsourced recommendations (see above) make its marketplace incredibly potent for securing high-value purchases and sparking impulse buys.
Everyone pays attention to that information, using the wisdom of crowds to steer their choices.
But social proof online hasn't just been about pushing people to follow in the footsteps of others.
Another key part of it concerns trust in the online buying process.
Buying from an old-fashioned brick-and-mortar store is markedly more experiential, after all, and can earn (or lose) trust. When you walk into a store, you can assess the quality of the interior, the professionalism of the staff, the presentation of the products, and numerous other contextual indicators.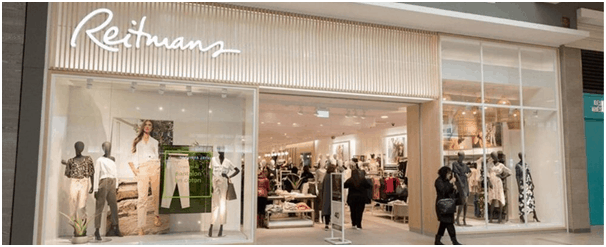 When you buy online, you don't have that first-hand reassurance.
You can gauge the quality of the website, but it's fairly straightforward and inexpensive these days to create an e-commerce store that looks good and loads quickly, so you can't infer too much that way.
You can pay attention to claims made by the brand concerning its quality, but every company is going to claim to be fully reliable, so those claims won't mean much.
That's where social proof comes in.
If you can see that plenty of other people have been satisfied with their purchases, you can continue with confidence.
Download the 2023
E-commerce Benchmarks Report
Get the latest industry trends, stats and insights to benchmark your e-commerce performance and find unique growth opportunities.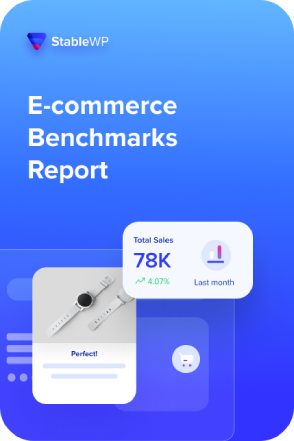 How to leverage social proof for more e-commerce sales
Social proof is a proven marketing tactic to increase your e-commerce sales. It can significantly improve the conversion rate of your online store.
Whether used in your ad campaigns aimed to attract potential customers or strategically placed throughout your online store to drive conversions, social proof is highly effective at encouraging shoppers to take action, add products to the cart and complete the purchase.
Here are the most effective ways to leverage social proof to drive online sales.
1. Include social proof on product pages
Using social proof on an e-commerce product page is key to persuading potential customers that are considering a product to add it to the cart and proceed to the checkout.
Some of the most effective ways of showing social proof on a product page are:
Show product rating stars
Display customer testimonials, product reviews and comments
Indicate how many people have already bought the product
Include user-generated content (UGC) of the product
Highlight product awards, certifications, or expert reviews
Placing review stars just below the product title will help immediately instil confidence in shoppers' minds that this is a quality product.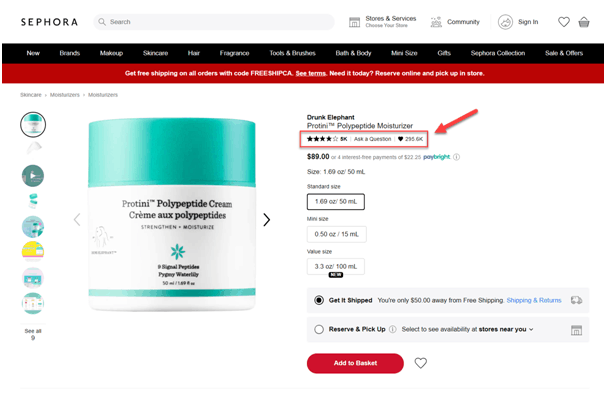 And the more reviews the better.
High ratings from a large number of people can be just the right incentive to tip the scale in your favour and nudge shoppers to add the product to the cart.
Sephora takes an extra step, in the example above, by showing the number of people that added this product as a favourite to showcase its popularity.
Written product reviews below the fold are just as important. They help potential customers learn about the product they're considering in more detail.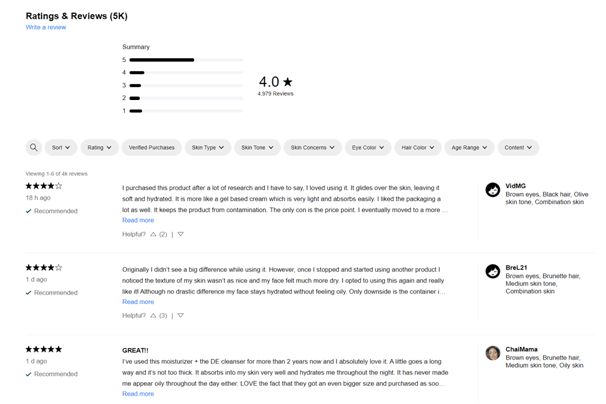 Shoppers can find out more about actual experiences from customers using the product.
And these reviews can help address some of the main concerns or objections.
Seeing other satisfied customers recommend the product can be enough to persuade a shopper to buy.
2. Highlight social proof during the checkout
Having social proof elements strategically placed throughout your checkout process helps validate the purchasing decision. It also gives shoppers confidence that they're buying from a legitimate business that will surely honor the transaction and keep the sensitive payment info safe and secure.
Some of the main concerns regarding shopping online are:
If the transaction will be honoured
Issues regarding the product quality
Payment security
More than 80% of consumers feel safer seeing trustworthy logos during the checkout.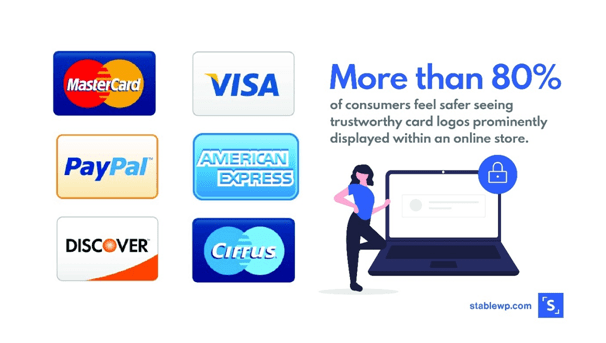 Having logos from major payment processors (PayPal, Apple Pay, Stripe, etc.), credit card companies (VISA, MasterCard, AmEx, etc.) and even security firms (i.e. Norton Security) can significantly improve your conversions since it drives home the idea that users' payment information is safe.

Place your trusted logos strategically in your checkout process, especially on pages that require sensitive information such as your billing/payment page.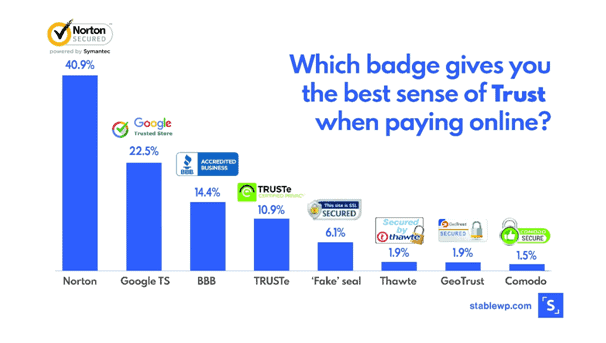 Other elements like certification badges, awards and any other form of social proof that can boost shoppers' confidence is a good thing to use during the checkout.
3. Leverage social proof in your paid advertising campaigns
Social proof can make your e-commerce advertising campaigns highly effective. It can help your ads stand out from the crowd and capture users' interest quickly.
Using social proof in ad copy can persuade potential buyers that your products are effective and work as intended, thus resulting in high-converting ads.
This is especially true for Facebook and Instagram Ads due to them having more room to write a longer ad copy.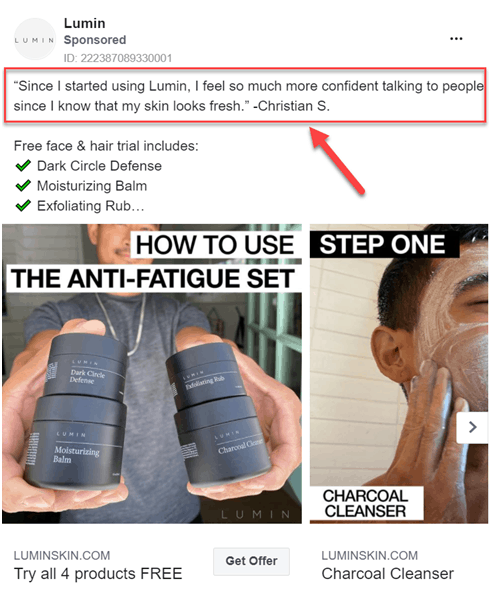 Social proof is especially effective in the latter stages of your Facebook Ads funnel where shoppers are just a nudge away from converting into customers.
Strategically using testimonials in your ad copy can also help address and resolve any buying objectives.
Social proof in ad campaigns can come in a few main forms:
Customer testimonials
Rating stars and reviews
Number of happy customers
User-generated content (UGC)
Celebrity endorsements
Although many platforms are cracking down on including non-genuine rating stars in ad copy, with Google Ads, especially in Shopping campaigns rating stars are one of the standard features.

Some requirements need to be met first to be eligible to display rating stars in your Google ads. So be sure to read through their documentation or hire a digital marketing agency that will set and run everything up for you.
Showing customers using your product can also be a highly effective way to not just attract attention but convince shoppers to buy from your online store.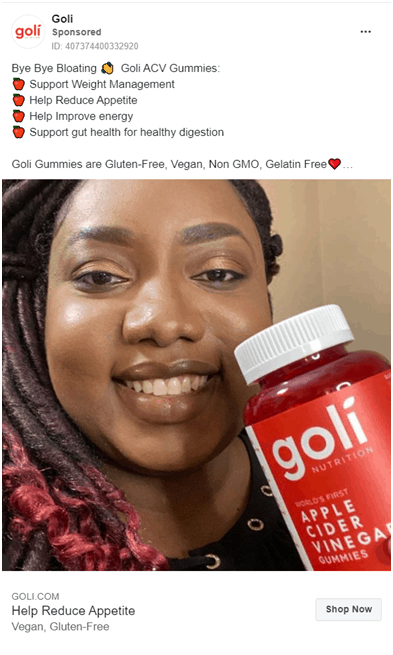 User-generated content can help shoppers relate to other satisfied customers and "feel" what it's like to experience using a product.
4. Include social proof in your email marketing
Promotional emails are a perfect opportunity to leverage social proof to help potential customers take the next step in the buyer's journey and make a purchase. It's a perfect incentive to recover abandoned carts and turn leads into paying customers.
Shoppers that land on your e-commerce website, browse products, but leave without buying are not lost. With clever tactics, you can at least try to capture users' emails and build a remarketing list.
Once on your list, you can send out promotional emails with various forms of social proof to increase buyer confidence and prime those leads to make a purchasing decision.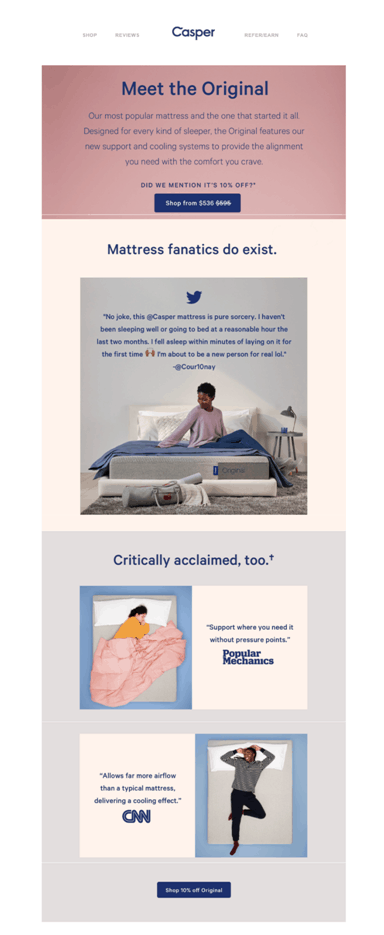 Casper does this masterfully with emails that not only feature customer testimonials, but also other forms of social proof that demonstrate that their products are "the real deal."
5. Use social proof on your social media accounts
It's become common for shoppers considering a purchase online to turn to social media for information and experiences about a specific brand or product. That's why it's important to leverage social proof on your social media accounts whenever possible.
One of the ways of showing social proof is through post/profile engagement. When your posts consistently get high engagement (likes, shares, reactions, etc.) it helps build credibility and shows your brand is popular.
A high follower count on social profiles can also work to boost your credibility by showing how popular your brand is.

Another form of leveraging social proof is the post comments section on your Facebook and Instagram accounts.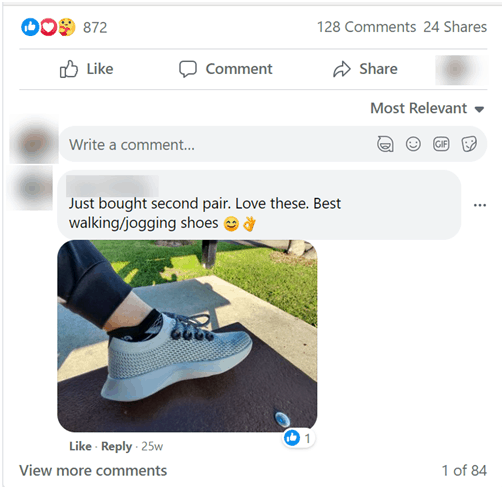 Seeing comments from other satisfied customers can work to create a positive sentiment towards your e-commerce brand.
You should also share any instances of getting featured on TV or in the news, to give your e-commerce brand an extra boost.
Different types of social proof for e-commerce
Social proof for e-commerce stores can come in many forms. So far we touched upon the value of reviews and how it can be used to drive sales.
In the next few sections, we'll go over some of the most effective types of social proof you should consider for your online store.
On-site reviews and rating stars
Customer reviews on your e-commerce website are an essential form of social proof since they can directly influence purchasing decisions. On-site reviews and rating stars are some of the most popular trust signals that can encourage shoppers to buy products from your online store.
Today's online shoppers rarely make purchases without checking product ratings and user reviews.

Genuine on-site reviews provide a sense of transparency and can also help clear up some common buying objections.
This is especially important for online sales since visitors can't touch and feel the products so they must rely on other people's experiences to guide their purchasing decision.
Be sure to collect and showcase reviews on individual product pages to allow interested shoppers to quickly evaluate if a product they're considering is worth buying.
Customer testimonials
Testimonials from satisfied customers are another powerful tactic for encouraging online sales.
As shown earlier, testimonials can be used in almost any situation, from ad copy to email promotions to site homepage and product pages.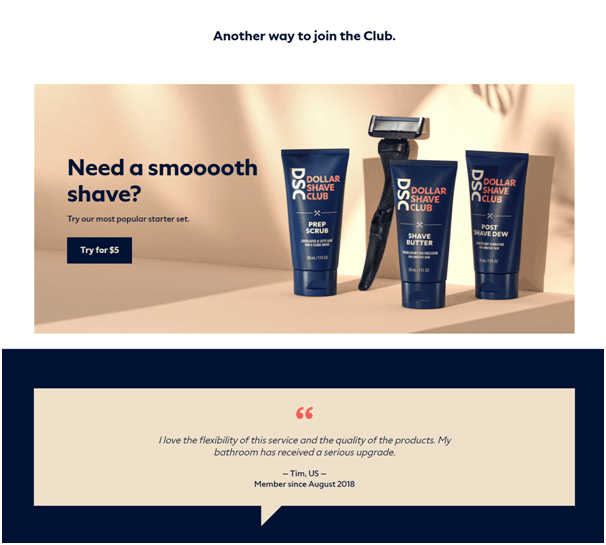 Strategical use of customer testimonials can also help overcome buying objections.
By carefully choosing reviews or comments that address potential shopper concerns, you can effectively resolve any issues and encourage purchases.
Proof of demand
Using proof of demand signals is a highly effective way to drive e-commerce sales. You can simulate the familiar experience of a shopper browsing a crowded store with others eying the same products.
It works by demonstrating that certain products are in high demand which triggers a sense of urgency and scarcity.
Proof of demand also helps users feel comfortable buying a product, knowing that others are making the same decision.
By leveraging proof of demand, you can effectively encourage shoppers to make a purchase where they may have otherwise put it off.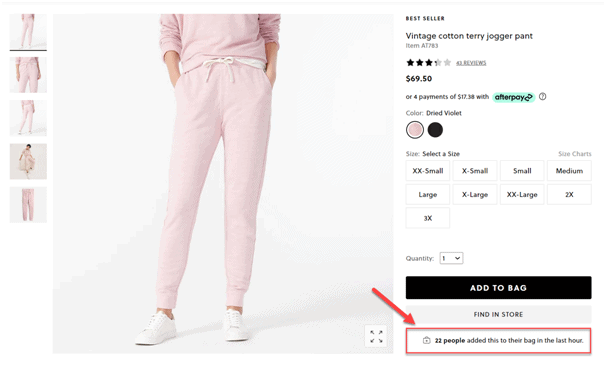 Here are some effective ways to use proof of demand to generate online sales and improve conversion rate:
Show the number of items sold
Indicate that the supplies are low or sold out (imply scarcity)
Show callouts with individual customers who recently purchased specific products
Display the number of customers currently viewing a specific product
This can create a snowball effect where existing demand generates even more demand and sales.
External review sites
External validation can be extremely persuasive, of course: not just the thoughts of regular customers, but commentary from notable experts.
Anything that involves online payment will push people to seek out confirmation that they're doing the right thing, and the more money's on the line, the more likely they'll be to look outside the native review system to avoid bias.
This is where the glut of sites offering reviews, insight and roundups enters the picture.
These sites assess what businesses provide and rate them, accordingly, helping those on the fence to reach reasoned decisions, and they're particularly key for sites that deal in risky areas such as medical treatment and therapy.
Look at how Bookimed reviews hospital services and GoodTherapy points to suitable practitioners. Sites in risky areas like these are suitably named "Your Money or Your Life" pages.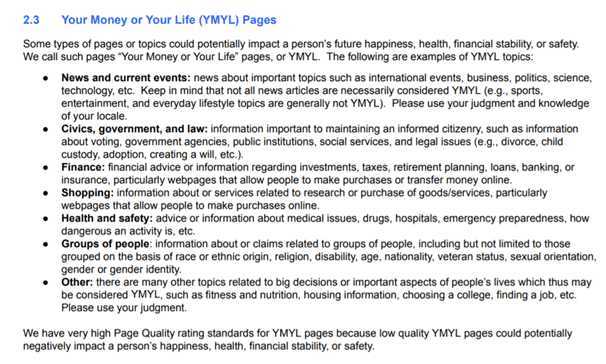 External reviews are rather trickier to solicit, of course.
Picking up on-site reviews is straightforward enough: simply ask for feedback as a matter of routine (automating it where possible) and incentivize it very slightly if you don't get the response rate you need.
If you ask for external sites to consider you, though, you'll need to be very careful.
Phrasing your requests as though you're expecting positive comments might prompt them to be overly negative (or just opt not to talk about you at all, which is always going to be easier).
And you need to be confident before you start down that road that your product (or products) will stand up to scrutiny.
You can curate your on-site reviews and remove them if you think they're unfair or misleading, but you'll have no power on any pieces written about your site elsewhere.
Popularity signals
Signals that an e-commerce brand or its products are popular can also help influence buyers and make them feel more confident when placing their orders.
Like other forms of social proof, popularity signals can come in many shapes and sizes.
One common way to gauge the popularity of an e-commerce brand is to look at its social media following.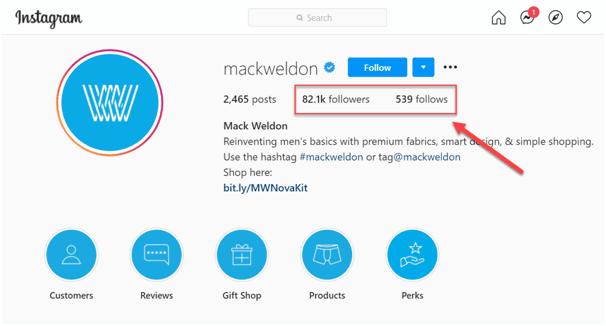 Quantifiable popularity signals are so effective because they're easy to understand. The more followers an e-commerce brand has, the more trustworthy it seems.
Other forms of popularity signals that can be used as social proof are:
Social media likes, comments, shares
Video views, whether on live broadcasts or pre-recorded videos
Subscribers on YouTube, etc.
Although they may sometimes feel like vanity metrics, they do play a role in persuading potential customers to buy online.
User-generated content (UGC)
User-generated content is a proven method to leverage social proof to encourage online sales. UGC is any form of content that's created by product users/customers and shared online on social media. This can be images, videos, blog posts, etc.
Visual UGC, especially when it's in its most authentic form – raw images or videos taken with users' own devices – can show how a product looks like in the real world.
Brands like Pura Vida Bracelets often allow users to take over their Instagram account and create content featuring their products.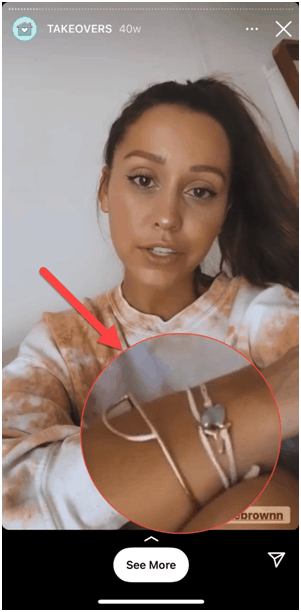 User-generated content works like an online version of word-of-mouth and serves as a subtle personal recommendation by a satisfied customer.
This type of UGC can easily convince other prospective buyers that this is the "right" product to purchase.
Social media discussions
General social media discussion is another form of social proof: seeing how people talk about your brand (and what the typical sentiment is) can play a big role in winning or losing someone's custom.
You should always be ready to engage with people, regardless of the form of proof, as there's always the possibility that you can change someone's mind.
It must be done very cautiously, though: everyone knows by now how damaging a social media faux pas can be.
Expert and influencer endorsements
Endorsements from trusted and high-profile individuals can be powerful social proof to boost your online sales. Be it paid partnerships with influencers or expert reviews, it can bolster your credibility and provide the extra validation consumers need to make the buying decision.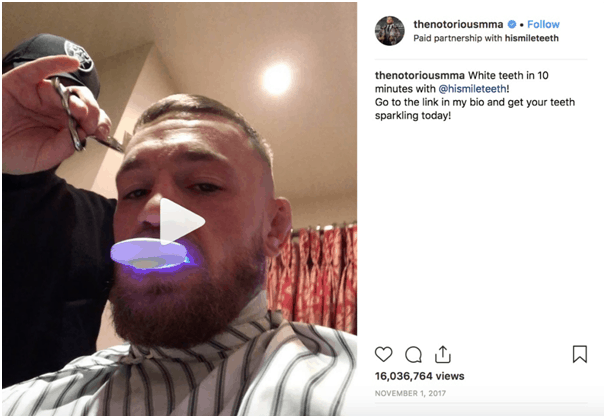 This type of social proof can come in many forms:
Celebrity endorsements
Influencer endorsements
Features in popular industry blogs
Sponsored posts on high-profile websites (i.e. Forbes)
Micro-influencer social media posts, etc.
For best results, be sure to get endorsements from relevant, trustworthy people that seem genuine and won't come off as a sales pitch or a commercial.
Potential issues with online review legitimacy
A problem with e-commerce reviews is that they're relatively easy to fake.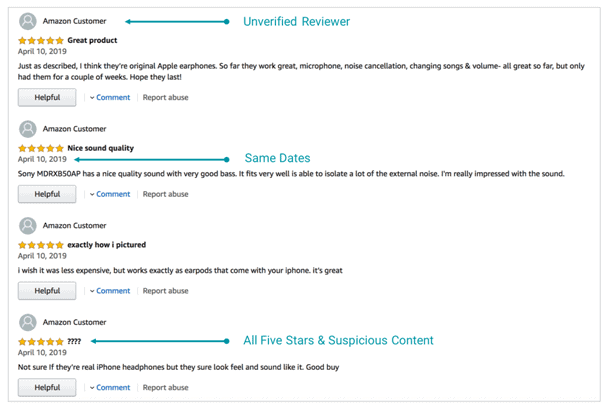 Genuine reviews can be deceptive due to the common issuing of product samples.
Retailers and manufacturers can send items out in return for reviews — and while they can say that the reviewers are under no obligation to review them positively, it's very unlikely that the reviewers will be negative because they'll know they won't be contacted again if they're critical.
Amazon has a record of fighting against incentivized reviews, but it's an ongoing battle.
This has increasingly given rise to skepticism about the veracity of reviews (at least, those found on unfamiliar sites).
That said, having a rational appreciation of the questionable nature of reviews and being able to ignore the difference between four stars and five stars are different things — so a high rating is still incredibly effective at winning people over.
How the social proof impact differs across niches
There are two main ways in which the significance of social proof differs across distinct e-commerce niches.
The first is that having as much social proof as possible runs the gamut from essential to counter-productive, and it depends on what you're trying to sell (and to whom).
The average Amazon product is a practical purchase, and the reviews serve to confirm that it does what it's said to do and is sufficiently high-quality to be worth investing in.
The more reviews acquired, then, the more useful the aggregate rating becomes.
But high-end luxury items — the kind you can only get through dedicated sites — don't benefit from most reviews.
Why?!
Because they're all about scarcity and exclusivity.
If you want to buy a diamond-encrusted toilet seat, you probably don't want to see a star rating from other people who've purchased it, because you want to focus on how rare it is for someone to own such a thing (though the appeal of exclusivity veers paradoxical when it makes those products popular).
And when you're paying so much for something exorbitant, you don't need social proof.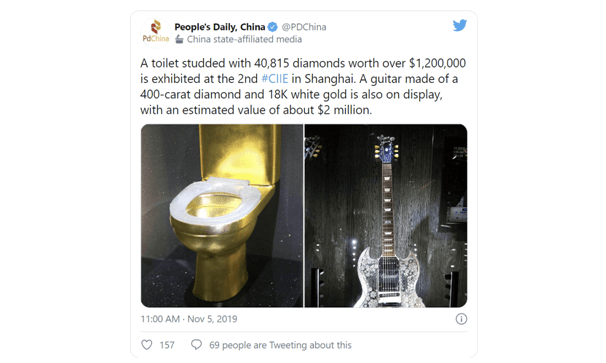 The other common difference is the interest in the text of reviews and not just the numbers being achieved.
For lower-end products, the number of reviews is the big factor, because it demonstrates manufacturing consistency. But for higher-end products that are more complex, it's important to know what the reviewers thought and not just the scores they chose.
Someone who's looking to buy a power tool for a specific task, for instance, might not be too impressed by 1000 five-star reviews with no comments — but they would be impressed by 20 three-point-five star reviews with comprehensive reasoning from skilled DIY enthusiasts.
Knowing that a product is rated positively by someone with high standards means far more.
The dangers of unfiltered opinions
As noted earlier, on-site reviews can be curated, and sellers can be uncertain about whether they should curate them.
There's an argument to be made that they should be left untouched, and it's straightforward: shoppers are looking for authenticity, and a set of glowing reviews doesn't typically appear very authentic.
If you're hiding some negative reviews, then why should your ratings be considered valuable at all? They really shouldn't be.
On the other hand, unfiltered reviews are dangerous, and not only because negative reviews can make you look bad.
Negative reviews that address legitimate gripes with your products should assuredly be left alone — if you want to react to them at all, you should reach out to see if you can do anything to make those situations better.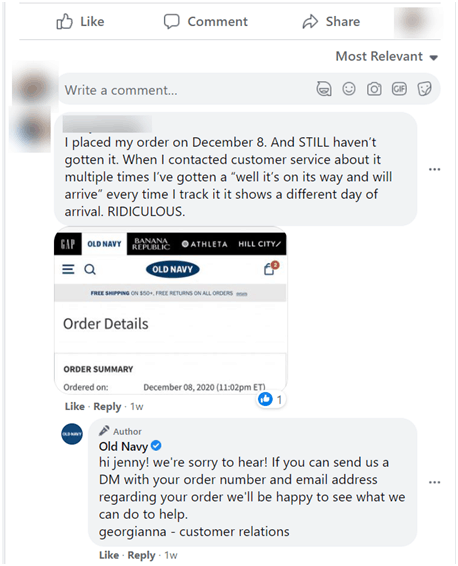 You should be taking action, though, when there are reviews (or other elements of social proof) that go off the rails.
I'm talking about spammy fake reviews left by bots to artificially improve ratings for certain products.
I'm talking about general rants from customers that stray entirely from issues related to their purchases.
I'm also talking about instances of people taking advantage of automated image imports: companies can display Instagram feeds to show photos with brand hashtags, and that can be abused to have them show inappropriate imagery.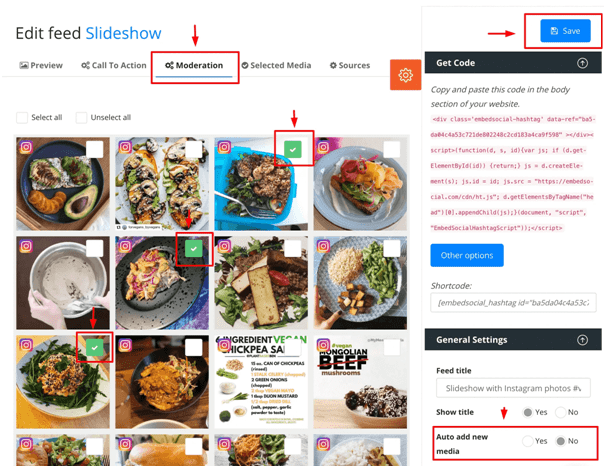 To be most effective, then, social proof should be filtered but not curated.
Take out all the spam and inappropriate content, and focus on highlighting the proof that's most extensive, regardless of how positive or negative it is. That's the kind of proof people are looking for.
Conclusion
Now that we've been through some elements of social proof, we can return to the titular matter: that of whether social proof is still the best way to win over e-commerce customers.
Human nature hasn't changed, and social proof is still the key decider once other factors (budget, delivery, functions, etc.) have been accounted for.
So, is it still the best incentive?
It will always be among the top incentives, let's put it that way.
If you need help generating sales and scaling your online store, reach out to our team of professional marketers to learn what we can do for you.
And if you have any questions or comments, drop us a line below. 😊