As a B2B company, you live and die by your sales process. If you can't generate new sales consistently, then it becomes nearly impossible to run a sustainable business.
That's why you need to systemize your approach with clearly defined customer interactions.
So each time you capture a new lead, you can effectively guide them through the customer journey, from the first appointment to closing a deal.
But developing an effective B2B sales process can be challenging. After all, each business is different and each customer is different.
The truth is, there is a proven method for B2B sales that works across all industries.
In this article, we're going to take an in-depth look at the steps involved in building a B2B sales process that delivers.
What is a B2B sales process
A B2B sales process is a repeatable and scalable set of steps and actions created to help convert prospects and leads into customers. It's designed to guide potential customers through the sales cycle, from the initial contact to closing a deal and nurturing customer relationships.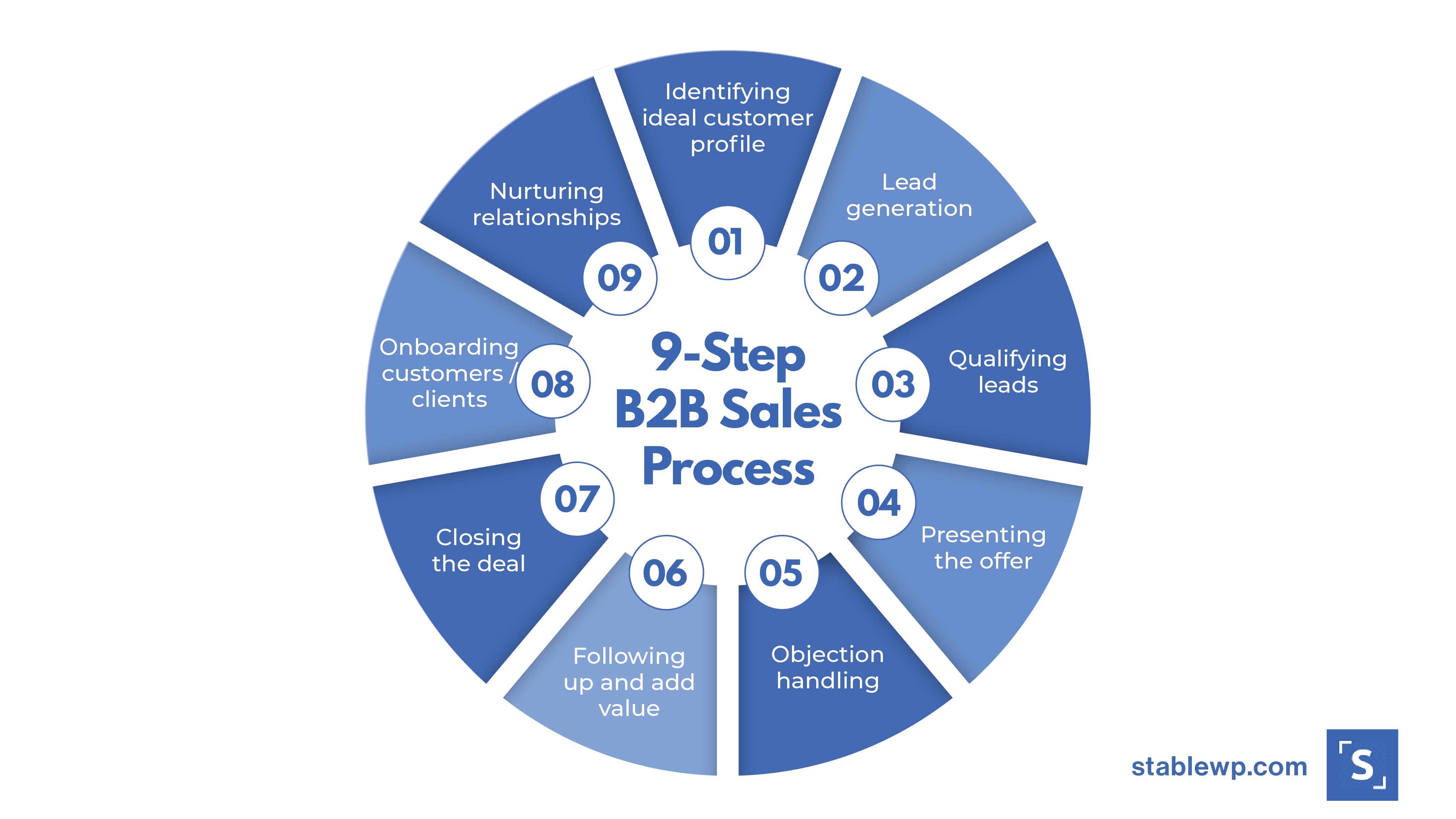 Since B2B sales cycles often require nurturing leads for months before they turn into opportunities and customers, the B2B sales process must be aligned with the complexity of the decision-making involved to consistently close deals.
B2B customers conduct meticulous analysis before making a buying decision for their company. This decision depends on many factors, but mainly on what the company will gain from it.
To be effective, the sales process needs to be in line with the B2B funnel, or the journey a prospect takes from the first contact until becoming a paying customer.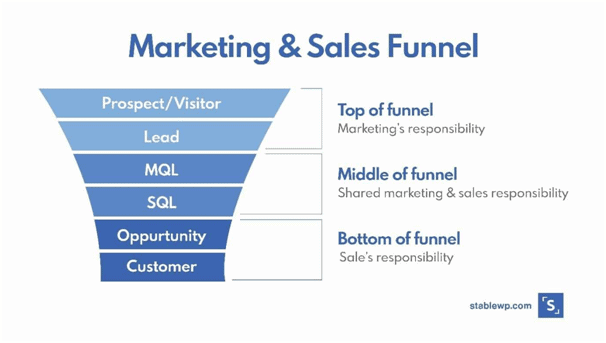 So, each step in your sales process should help B2B prospects move to the next milestone in the customer journey.
In general, a B2B sales process consists of steps like identifying your buyer persona, running lead generation campaigns, initiating contact, identifying needs, presenting offers, handling objections, and closing the deal.
Why you need a clearly defined sales process
With the B2B sales cycle being a long and complicated series of calculated moves, it's quite important to have a detailed and established sales process, which will successfully convert a considerable number of prospects and leads into customers.
If you are still not sure why you need a B2B sales process, let's take a look at the three main benefits of having a clearly defined sales process:
a) Higher conversion and closing rates
A well-engineered and detailed B2B sales process can help increase your conversion and closing rates. It will allow your sales team to be more prepared and have higher success across all steps of the process.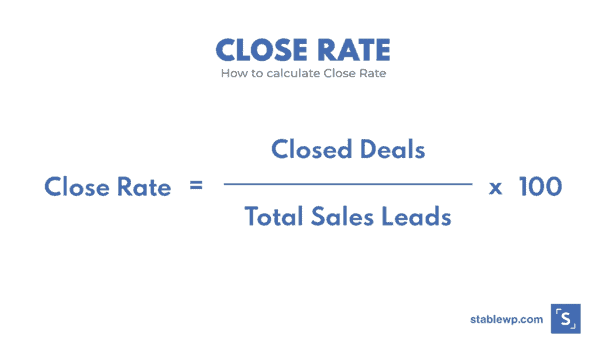 For example, a sales process can help your team anticipate and prepare for potential buying objections. It can also help better understand core needs of prospective customers to improve and position your value proposition in a way that is interesting and valuable to them.
All this leads to higher close rates and a more streamlined sales cycle.
Having a B2B sales process that is easy to understand and follow will help your salespeople start to naturally implement best practices into their conversations and interactions with prospects.
A well-defined B2B sales process is easy to track with metrics and KPIs which lay the groundwork for optimization. So, the sales process itself can be improved as time moves on and you gather more data.
b) Higher sales efficiency
Since a sales process needs to be replicable, it can be adapted and used for each potential customer. Having a defined sales process in place removes any time waste that your sales team may have spent wondering how to approach and interact with new prospects.
Instead, your sales reps can get straight to work following a clearly laid-out step-by-step plan on how to take a prospect from cold lead to new customer.
If your B2B sales process is well-engineered, it will help your salespeople determine whether a prospect is a good fit, are they worth your time and effort, and identify a lost deal before it's too late.
c) Easy onboarding
Having a clearly defined sales process facilitates easier customer onboarding. Easy onboarding is all about making your customer's experience as smooth as possible. You need to convince them they made the right choice.
If you give your customers a great experience, it is more possible that they will stay with you for the long haul. We all know how important it is to keep your customers happy, and it is equally important at the beginning of engagement as it is throughout the rest of their time with your company.
Customers will pay more for a company that serves them better. That is not the only benefit of properly onboarding your customers. Some other benefits include customers coming back for more, telling their friends about your business, shortening the Time to Value, and controlling the avoidable churn.
With all that in mind, let's dive into the stages of a successful B2B sales process.
3X Your Business in 90 Days
Get an unfair advantage with our powerful 3-step funnel strategy and learn how to increase leads and sales by 300% fast.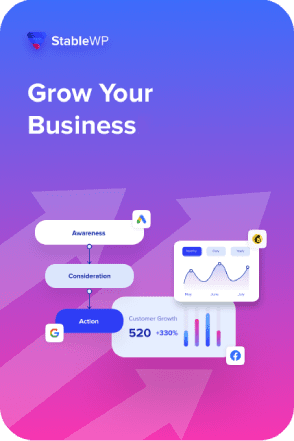 The 9-step B2B sales process that delivers
The ultimate goal of your sales process is to close deals and increase the value of each customer. However, since a B2B sales cycle is typically long and complex with multiple touchpoints, your sales process also needs to consist of steps that help prospects complete the cycle and become paying customers.
Let's go through each of the 9 steps that comprise a proven B2B sales process guaranteed to help your business consistently close deals and generate new business.
Step 1. Identify your ideal customer
The first phase in any B2B sales process is to identify your ideal customer profile (buyer persona). By having a clear buyer persona, you will not only be able to reach new prospects but also understand their needs and pain points.
This will make your marketing messaging more effective by appealing to the exact needs of your potential customers. It will also improve how you present your solutions and offers as well as with objection handling in later stages of the sales process.
Personas include important information about your ideal customers, such as their goals, motivations, behaviours, budgets, values and pain points.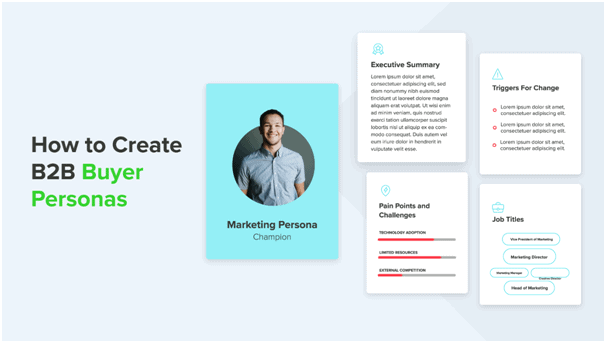 Who is your product or service a perfect fit for? What pain point or problem does it solve? Who would find it most useful? What kind of customer is easiest to work with?
These are all questions you should ask yourself to begin creating your buyer personas.
Once you have your personas defined, you can proceed to plan your lead generation campaigns.
Step 2: Plan out your lead generation campaigns
Once you have identified your ideal customers, the next step is to plan out your lead generation campaigns so you can start filling your sales pipeline with a consistent flow of new leads.
Your need lead generation campaigns to attract new prospects and acquire leads to create new sales opportunities. Growing your business is only possible if you have a steady stream of quality leads.
Lead generation may be the most challenging part of your sales process, as every business and every type of prospect is so different. You need to determine what kind of lead generation campaign will be the most effective for your unique customers.
There are two major types of campaigns for B2B lead generating – outbound and inbound.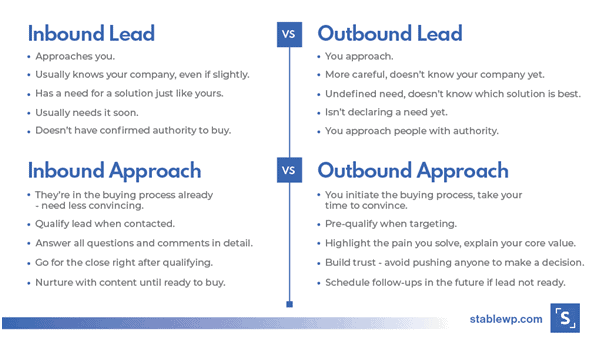 Outbound lead generation
The outbound approach focuses on lead generation specialists reaching out to potential customers directly to bring in new projects. This includes traditional ways to reach B2B buyers through cold-calling and cold-emailing as well as modern ways like LinkedIn outreach.
Cold calling and B2B appointment setting services involve reaching out to total strangers, designated as potentially good contacts, who have not previously expressed interest in your products or services.
This method is still effective, but it often requires access to a large number of highly trained staff to conduct the calls as well as a database of potentially good contacts. That's why hiring a third-party company can be beneficial because you're outsourcing the entire lead generation and lead qualification process to experts.
Similarly, cold emailing is a technique of sending outreach emails to contacts that have not expressed interest or opted-in to receive emails from you.
Finally, there's LinkedIn. LinkedIn has proven to be a highly effective platform for generating B2B leads since it's a social network dedicated to business connections.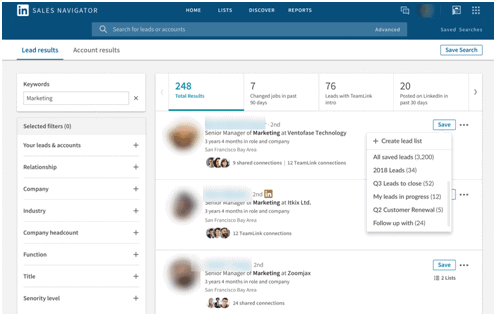 Using LinkedIn's built-in Sales Navigator, you can find prospects that fit your buyer persona based on their industry, company size, position in a company, seniority and other firmographic attributes.
In modern times, LinkedIn has proved itself to be an invaluable database of B2B prospects, making outbound campaigns highly effective with more precise targeting as well as more personalized outreach.
Inbound lead generation
Inbound lead generation typically focuses on attracting website visitors and capturing their lead information. The idea is to make your business discoverable to prospects, so they are the ones that take the initiative and approach you when they're ready.
It makes your brand more noticeable and recognizable online, in search engines and on social media platforms. You engage visitors in information trade, in which they give you their contact info in exchange for valuable insights and useful information.
It's the prospect who decides how and when they will reach you. Inbound marketing relies on quality content, which is used to earn attention, build trust and establish a relationship.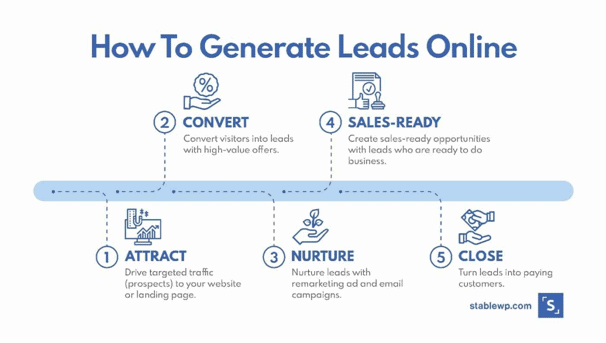 Inbound lead generation campaigns are focused on helping rather than selling.
One of the principal inbound tactics is SEO. Search engine optimization is a method of optimizing your website to rank high in Google search results for relevant searches. The main benefit is you can get 'free' or 'organic' traffic from search engines without paying to be shown in the results.
Having an excellent SEO means that people can easily find your content on Google and other search engines by typing in specific keywords.
For example, if your prospects search for "how to build a B2B funnel" they will see your website on top of the Google search results.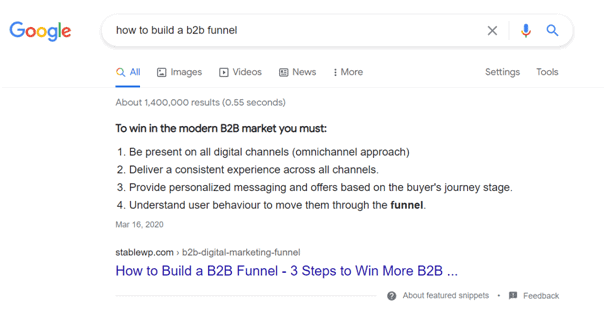 Google Ads are used to drive traffic with the highest purchase intent.
Using Google search ads helps capture searchers who are closer to making buying decisions by targeting relevant keywords to your service or product.
LinkedIn Ads are highly effective for reach business prospects and account-based marketing. This ad system allows you to target people based on industry, company, company size, position or job seniority.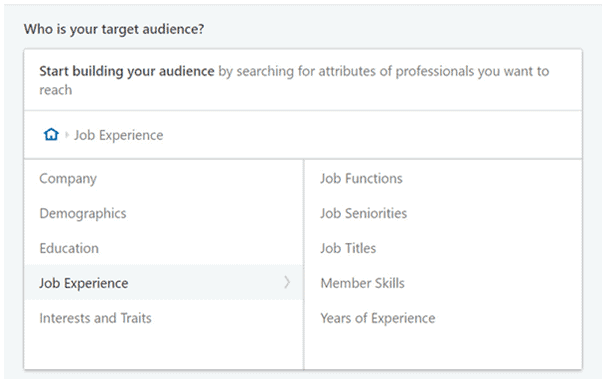 Using Facebook Ads, you can reach your ideal customers and drive them to your website.
Facebook allows you to target users based on their demographics, interests, behaviour, etc.
Creating content that both educates and informs and then targeting that content to reach your ideal leads is a great way to help grow your pipeline. The same goes for paid advertising campaigns. However, again, this is quite a bit of work even with robust in-house sales and marketing teams.
If you're able, it's a great idea to consider outsourcing the lead generation part of your sales process to an online marketing agency.
Step 3: Design your questions to qualify leads
Once you acquire leads, the next step is to qualify each lead to determine if they are a good fit for your business and assess the chance of them becoming a (long-term) customer.
Lead qualification is usually done over the initial discovery call where your sales team asks open-ended questions to assess the lead's suitability as a customer.
The discovery call and lead qualification are also a great chance to probe deeper and understand each lead's true needs, challenges, pain points, business goals as well as doubts or potential buying objections. These are essential insights that help you position your offer as the best solution.
Based on the information you gather about your lead, you can calculate lead scores and qualify them based on how close they are to becoming a customer:
Marketing qualified leads (MQLs)

Sales qualified leads (SQLs)

Sales opportunities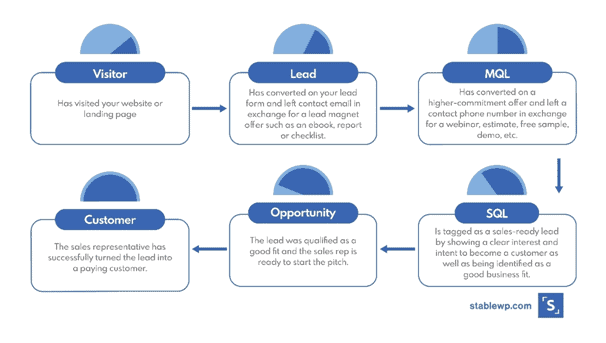 How your sales team approaches their first conversation with a prospect is just as important as how they find them. Training your salesperson on how to ask efficient, open-ended questions to their prospects can be the difference between losing a lead and closing a sale.
So, what should your sales reps know?
The most important part of designing questions that help to qualify your lead is to keep them open-ended. Open-ended questions help to create a dialogue between sales rep and prospect.
While these questions should flow naturally in conversation, they are really probing prospects to learn more about their business, needs, and problems.
These open-ended questions don't require any sort of specific answer. Instead, they are designed to facilitate an exchange of ideas.
This helps to not only inform the sales rep but to build up engagement and rapport between the two parties as well.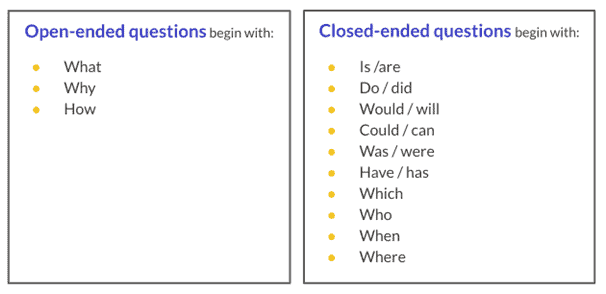 To make this question-designing process simpler, remember this:
Open-ended questions typically begin with the 5 W's:
Let's look at an example.
If your sales rep wants to find out who a decision-maker is for a specific company, they could ask a closed-ended question:
"Are you the best person to speak with about this?"
A prospect could simply reply with a 'no' and end the conversation. On the other hand, using an open-ended question delivers a more detailed answer:
"Who is the best person to speak with about this?"
The prospect might answer, 'I am', which gives the sales rep the ability to continue the conversation. Or they might answer 'It's Jim, my boss', which will provide the sales rep with the information they need to contact the correct party.
These subtle differences in how you design questions for your prospects are significant and using them should be a natural part of your sales process.
Qualifying leads can occur during an initial cold call, discovery call as well as during a sales presentation.
Another way to gather important information is to ask relevant questions in the forms on your landing pages after the signup.
The questions you ask should be designed with the company's ideal customer profile in mind, and their goal is to identify the qualities of your lead.
Some possible questions are:
What business problem are you hoping to solve?

Can you describe your current situation?

What did you like or dislike about your previous provider?

What results are you trying to achieve?
4 main lead qualification frameworks
You can use several methods to help you qualify your leads:
a) BANT stands for budget, authority, need, and timeline. It is a simple and straightforward method, but the questions don't follow a logical order. However, it's a good option to start with and develop from there.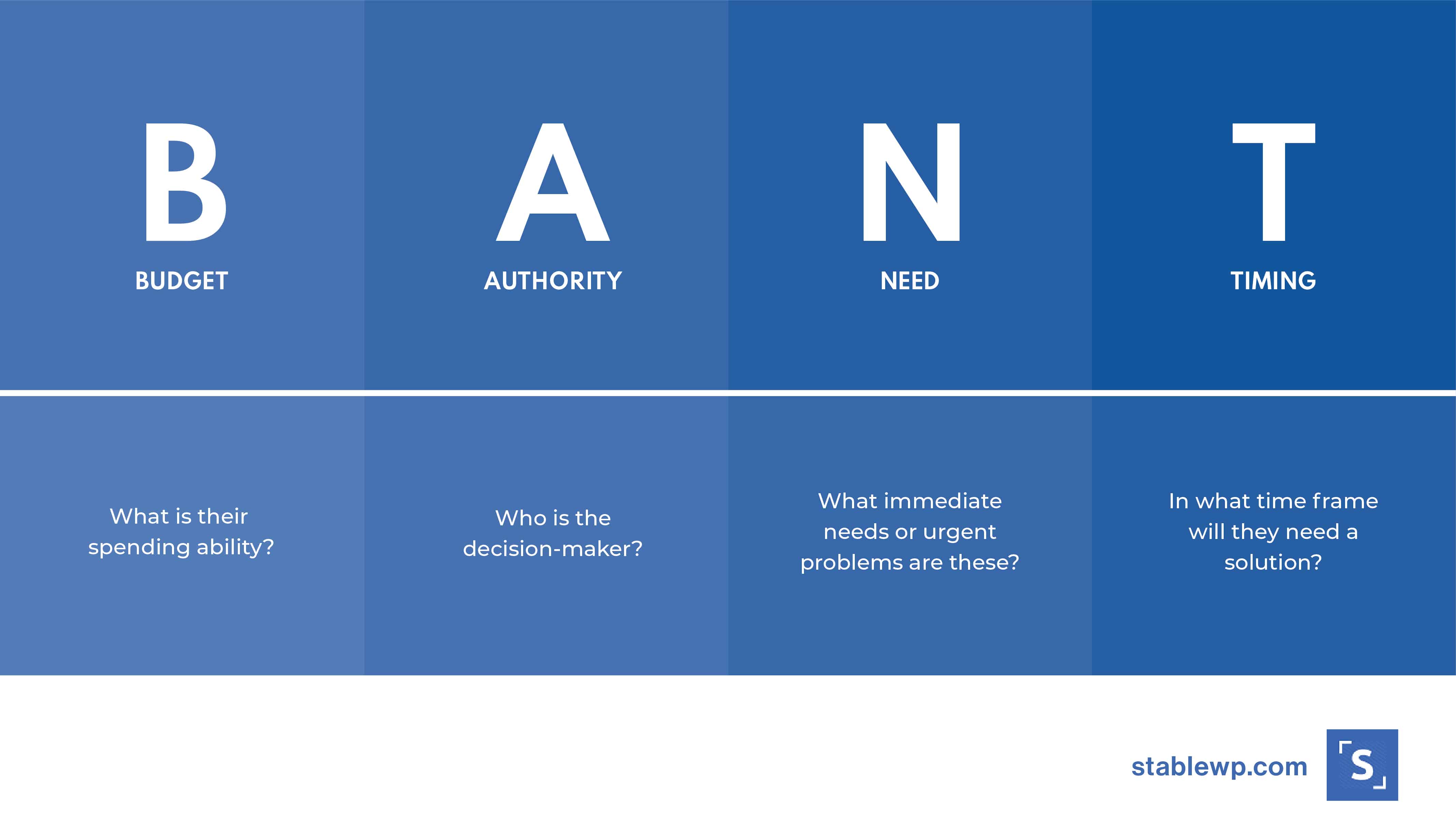 b) CHAMP represents challenges, authority, money, and prioritization, and the more important questions are asked first for both the buyer and the qualifier. The downside of this method is that, as far as conversations go, CHAMP is still a little shallow.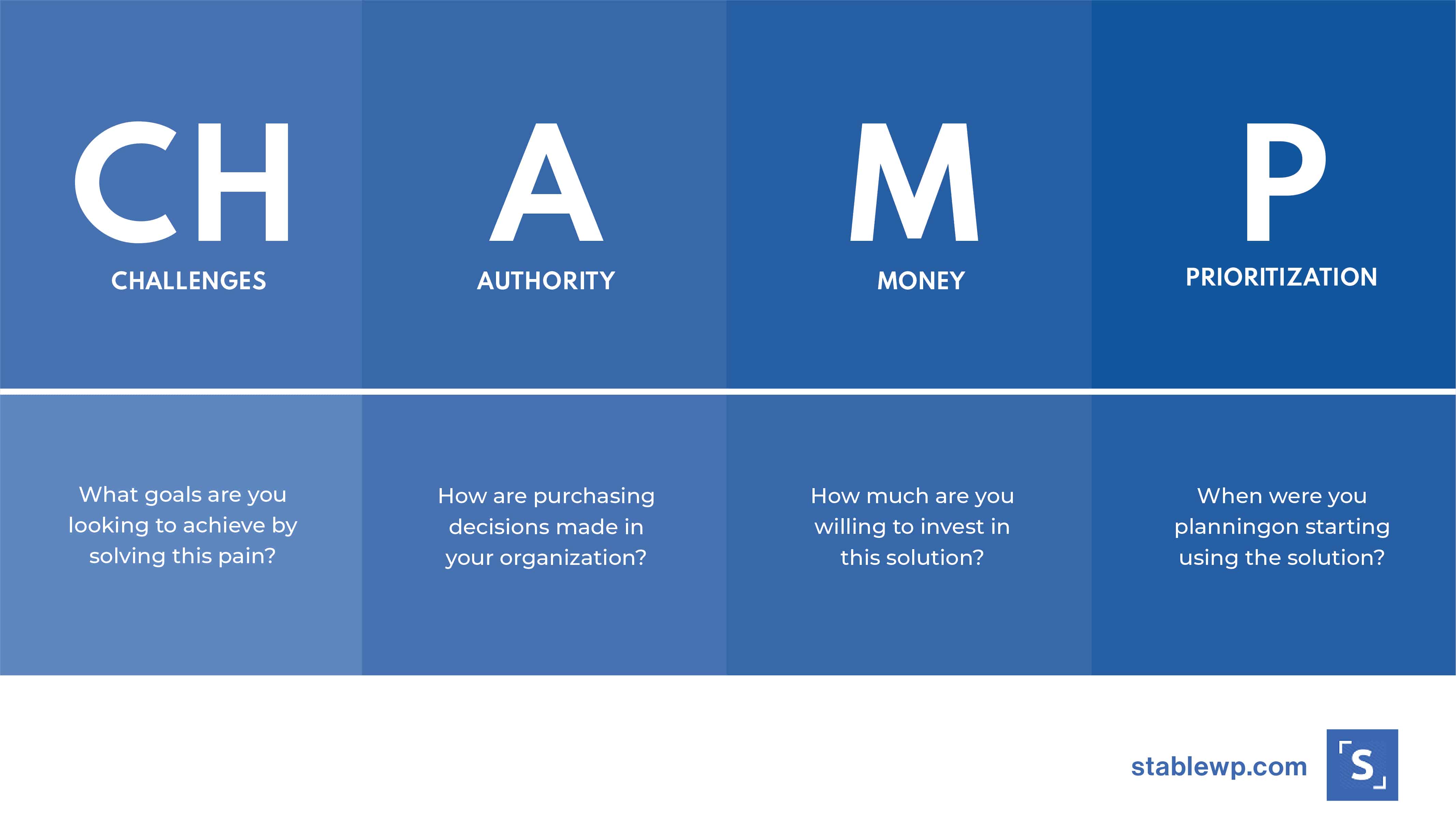 c) GPCTBA/C&I, an acronym that many salespeople swear by, in a nutshell, stands for: goals, plans, challenges, timeline, budget, authority, negative consequences, and positive implications. This framework can quickly indicate if the lead is truly viable. Sales reps need to practice holding a conversation that touches on all these topics in a natural way if they want to qualify leads with this method successfully.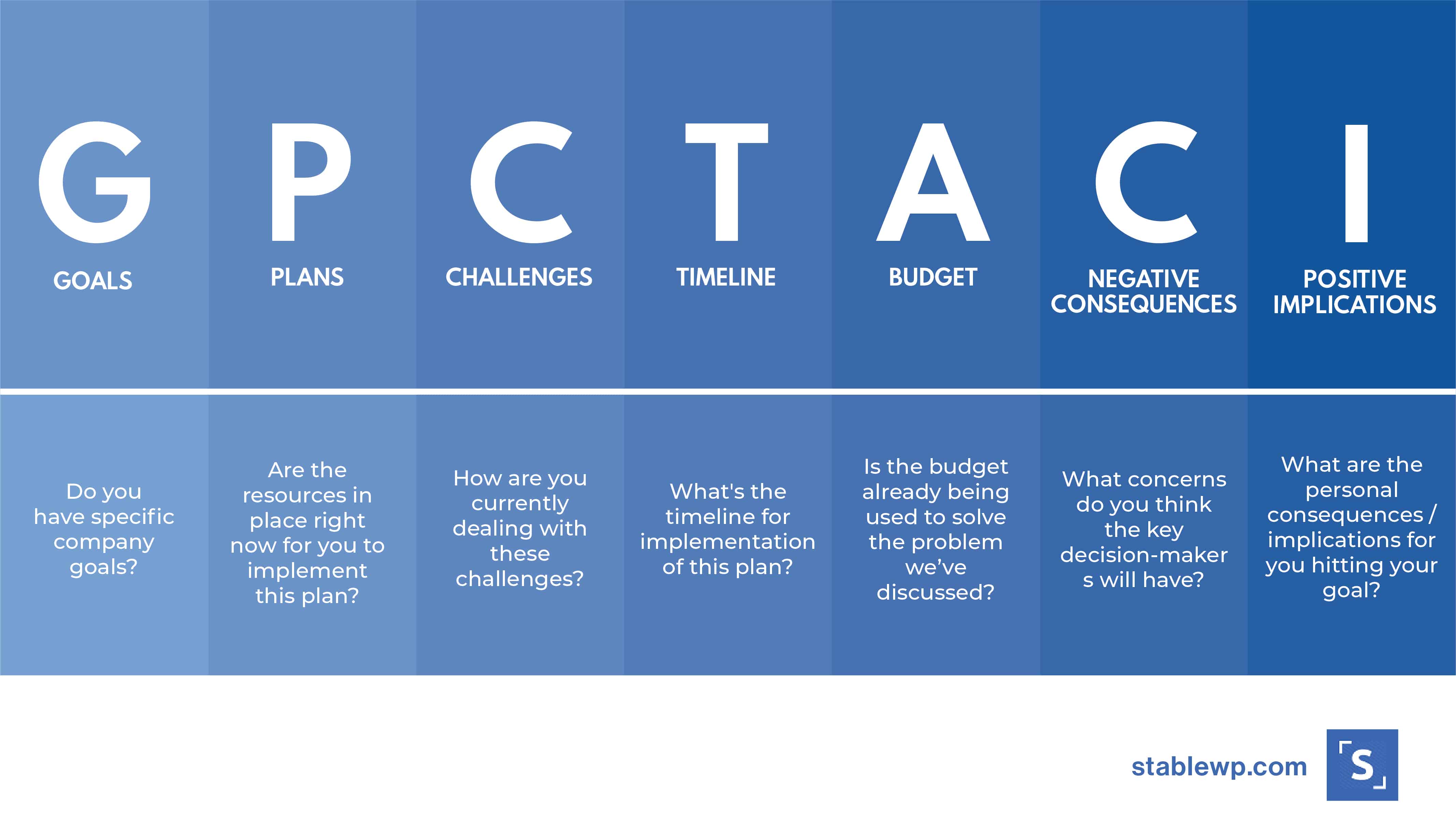 d) MEDDIC means metrics, economic buyer, decision criteria, decision process, identify pain, and champion. This process relies on attaining knowledge rather than using sales tricks, and it is easy to implement even for the leads that are not considered easy to sell to. Bear in mind, keeping track and documenting all of the changes that MEDDIC requires is a lot of work.
If a lead declines to answer any of these questions during a cold call, presumably, they are not a good fit for you. You might also get some complaints about the questions.
Explain that it's your goal to make sure your product is highly compatible with what they are looking for, and you don't want to fiddle them around.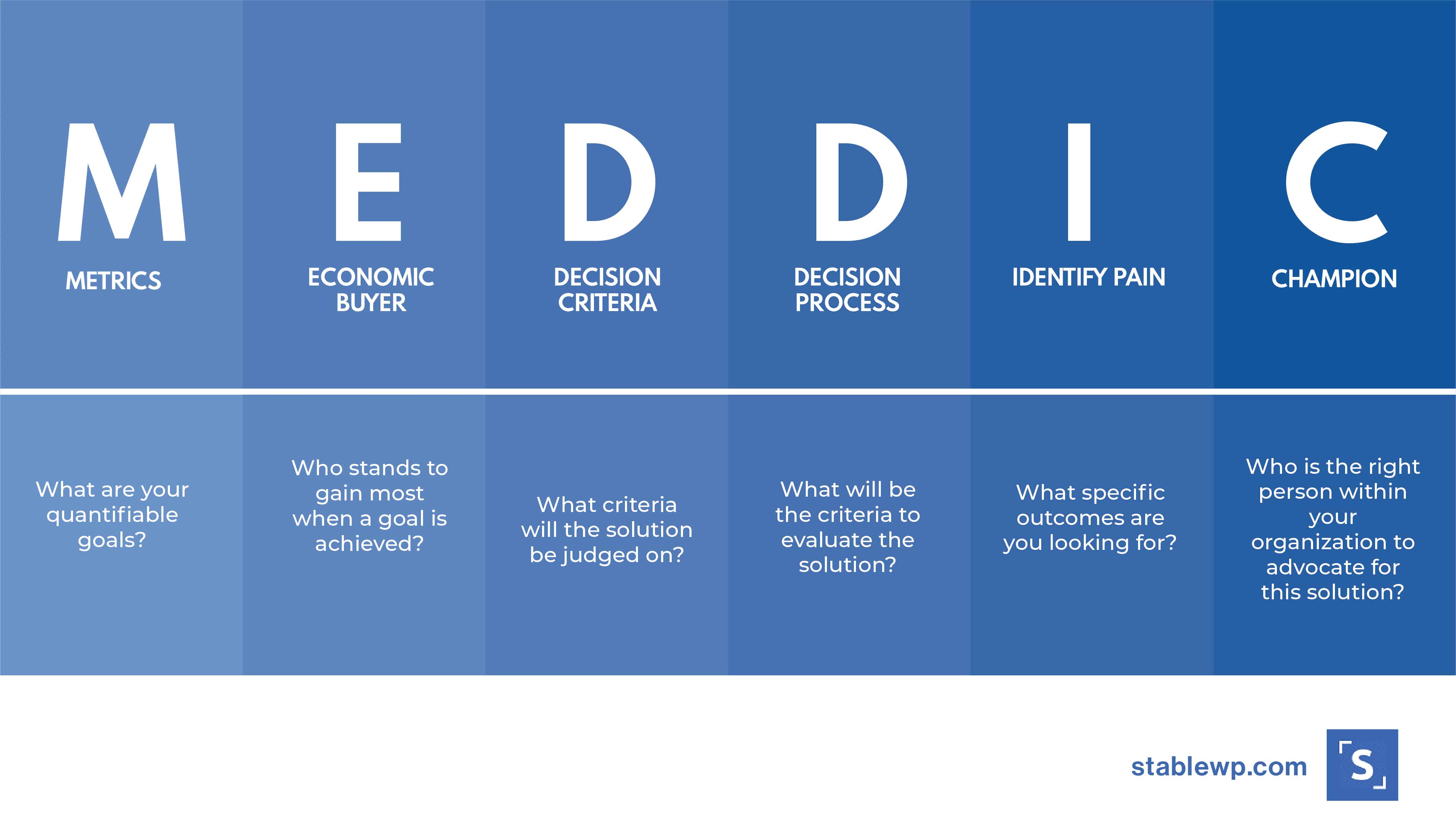 Step 4: Present your offer
By this point, you should have a sense of the struggles your lead encounters and it's time to pitch your offer and demonstrate the unique value potential customers will gain from purchasing your product or service.
Deliver a pitch customized to solve the key pain points of each lead. Use the opportunity to connect their needs with unique features and advantage of your solution.
Thirty seconds should be enough for a good sales pitch. Your leads need to see that you have done your research and have a good understanding of what is being addressed in the appointment.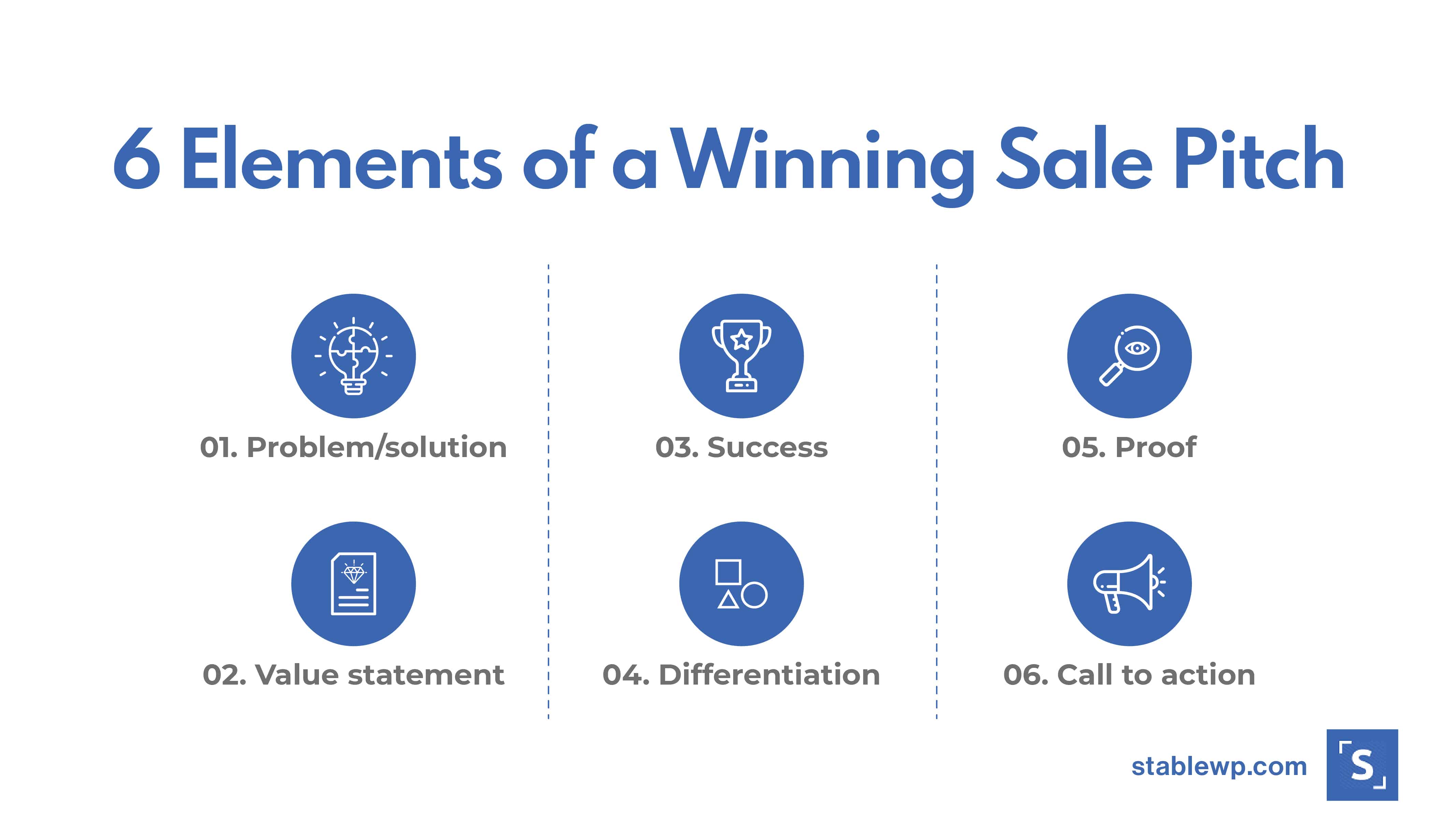 A good B2B sales pitch consists of these 6 main steps:
Problem/solution

– Illustrate the key problem or challenge your prospects are facing. Introduce a solution to the problem that includes the features you offer.

Value statement

– Present and position your offer as the one that can best resolve the pain point.

Differentiation

– Demonstrate what sets you apart. Highlight unique differentiators and explain what and how you do it.

Success

– Describe what success will look like from using your solution. Present quantifiable outcomes to win over B2B decision-makers.

Proof

– Show clear references and share customer examples and success. Provide industry validation and recognizable achievements.

Call to action

– Close the pitch with instructions on what to do next.
Step 5: Objection handling
Sales objections make even the most interested leads hesitate. Leads will rarely be ready to buy immediately after your initial pitch. Once you present the offer, potential customers often raise concerns or ask questions. And you need to be prepared to address and handle these buying objections.
Some typical examples of these objections are: financial objections (high price), skepticism, indecisiveness, not the right time, being stuck in a contract with another company, etc.
Listen carefully to what they have to say and try to find the right approach to answer them.
Think of a sales objection as an opportunity to reframe your offer and do another pitch.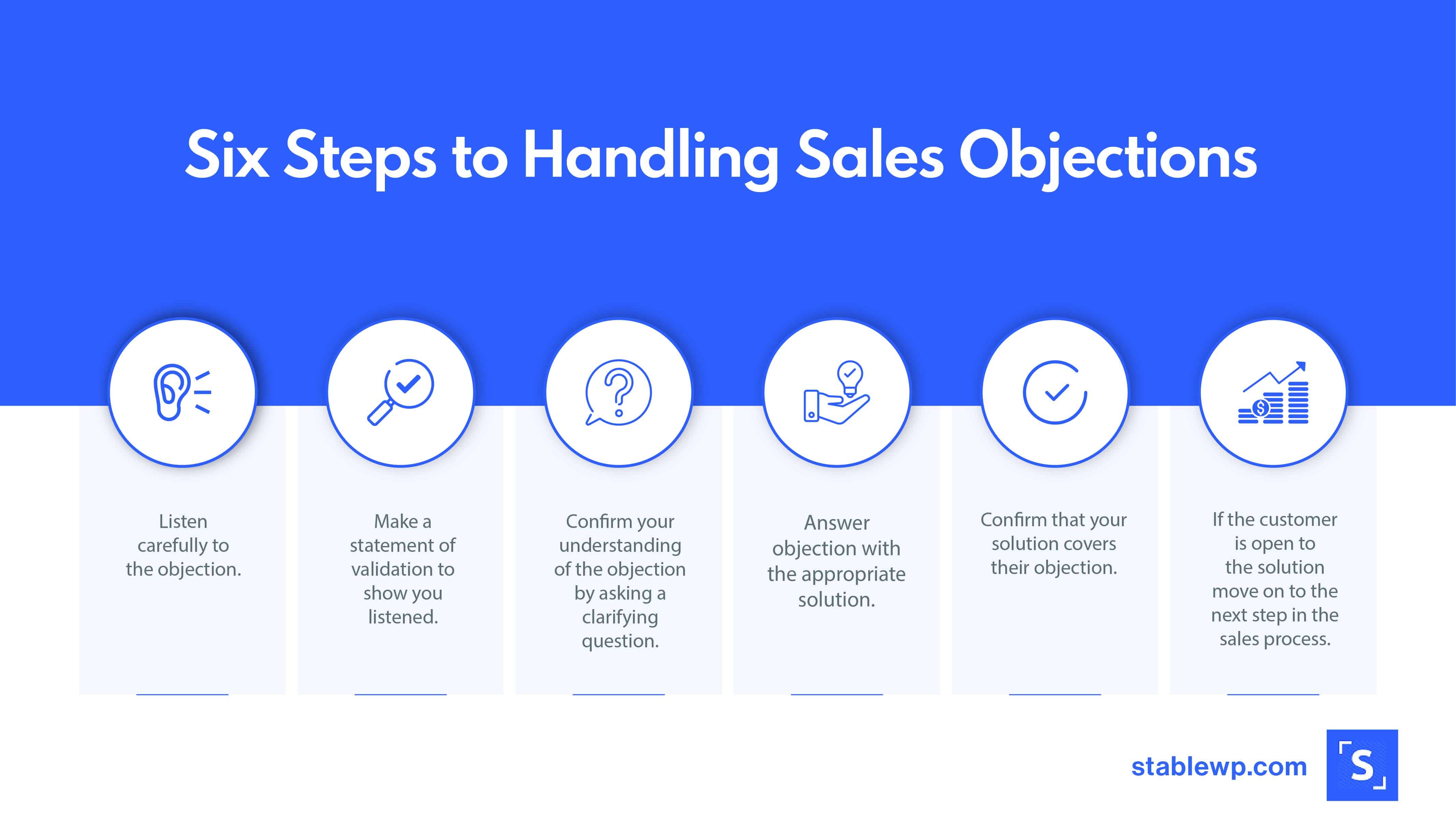 If they are concerned about anything, it is your job to have well-prepared responses and convince them that your product is the best choice.
For example, your opportunity might like your idea, but be concerned that it is too expensive. You can offer a discount or a different type of deal.
To be a successful sales rep, you must have a thick skin, practice empathy, and process the situation from the opportunity's perspective. Try to acknowledge the objections and suggest legitimate solutions, and if it goes well, the lead will be ready to close the deal.
Step 6: Design follow-ups to add value
B2B sales processes can be quite long. In fact, the average B2B sales process is 102 days! And during that time, not every prospect will flow through your process in one predictable pattern.
Sometimes, good leads stall. Other times, prospects will drop off the radar for months at a time, only to return at a later date. So, it's important to plan for these types of scenarios in your B2B sales process.
One of the best ways for your company to stay relevant when a lead has lost touch is to continue adding value to the relationship. This means, following up just for the sake of following up is not the most effective means of trying to reengage a lead.
Instead, try adding value to every follow-up.
For example, if you notice that a new law just passed or a recent acquisition just happened that might affect your prospect's company, send an email with the info and then move into your follow-up.
Or, if your company just released a new e-book or published a blog post your prospect might find helpful, use it as a reason to contact them for a second follow-up.
Step 7: Close the deal
Closing the deal is one of the final stages of the B2B sales process that typically involves sending a proposal or a quote covering the customized solution, customer/client agreement to your terms as well as pricing.
By this point in your sales process, you've followed the steps above to find the right prospects, asked the right questions to qualify them, and built trust with them by adding value. Congratulations, with any luck, your next step will be to close the sale and celebrate.
However, a mere sale does not win the customer's loyalty and secure a good B2B sales cycle. If your customer feels like they have been guided through the sale, it will eventually bring more to you and your business.
Help your soon-to-be customer to feel heard and valued.
And be aware – this is not the end of your process! Closing a sale is just the beginning of another part of your sales process: nurturing your client relationships.
Step 8: Customer onboarding
Customer onboarding is the process of welcoming new clients into your business and ensuring they understand the services available to them. It includes activities in which new users and customers get acquainted and comfortable with your product or service.
Excellent onboarding plan includes tutorials, videos, unlimited guidance and support, and celebrations when a customer achieves success throughout your solution.
Depending on if you are providing services or selling a product, there are two types of onboarding: customer and client onboarding.
Customer onboarding is intended to help people understand how to use a product, while client onboarding helps customers understand the value of being a paying client and builds a sense of loyalty.
Onboarding is crucial for your business. It begins as soon as the prospect comes into contact with your brand.
By ensuring a positive onboarding experience your customers will be more confident they've made the right decision. This, ultimately, helps retain them and establish a long-term relationship.
Step 9: Nurture relationships
Your existing customers hold a golden key when it comes to lead generation. According to a recent study, B2B leads who are referred to a company by a current client have a 30% higher conversion rate than contacts acquired by other marketing means. (The average conversion rate for referrals is 11% vs. the average conversion rate across all industries is 2.35%.)
What this means is, you could get just as many (if not more) leads from this final phase of your B2B sales process as you get from every one of the previous steps!
Keep in mind, your CLV is immensely important to your profits.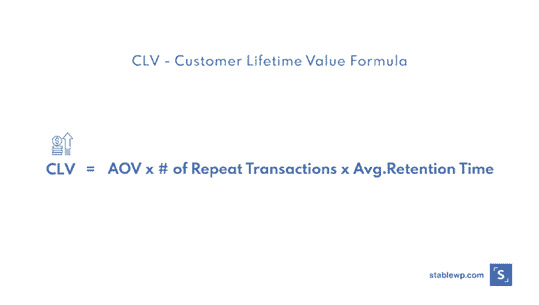 The cost to acquire new customers is anywhere from 5 to 25 times more than to retain existing customers. If you want to focus on your CLV (LTV), making your customers happy is an important step to long-term success.
Happy customers will tell their friends about you and not just that – they will also spend more money with you. So, by nurturing customer relationships you're investing in another form of lead generation: referrals.
Building a happy and mutually beneficial relationship with your customers will take you a long way.
Conclusion
B2B sales process carries numerous challenges, but if you follow the 9-step process we outlined in this article, you can design a robust sales process that actually delivers.
Having a well-defined sales process brings many benefits, such as higher conversions and closing rates. However, do not lose sight of the fact that the world keeps changing, and your sales process should adjust accordingly, as well.
Also, keep in mind that every good B2B sales process relies on getting new leads consistently.
If your goal is to generate leads online and grow your business, reach out to us to learn how our marketing services can help you acquire new leads to fill your sales pipeline.
And if you have any comments or questions, feel free to drop us a line below.