A website Thank You page is full of untapped potential. It can help deliver useful content, improve your bounce rate and engagement, and even increase revenue with upsells.
Unfortunately, its significance very often overlooked.
Users that land on your Thank You page are primed and engaged with your business. So, don't let it be an afterthought and leave them hanging.
Use this momentum to turn leads into paying customers or to increase sales for your e-commerce.
Your Thank You page has so much potential to nurture leads, upsell, gain loyal customers and in turn, grow your revenue and your business. And this guide will show you exactly how!
What is a Thank You page
A Thank You page is a page on your site where users are redirected to right after they complete a goal on your website.

In other words, when users say "YES" to your website offer and become a lead or bought from you, they'll be automatically redirected to your Thank You page.
The core intention is to show your appreciation and confirm that the user completed an action. However, the purpose of your Thank You page should go well beyond that.
A Thank You page is a goldmine that can help win over new and retain existing customers, increase sales, and spark viral growth with more engagement.
More on this later…
First, let's go over the main types of Thank You pages.
Different types of Thank You pages
There are as many use cases of Thank You pages as there are website offers.
For example, a local business that's generating leads might have a thank you page for visitors that request a free quote, submit a contact form or schedule an appointment.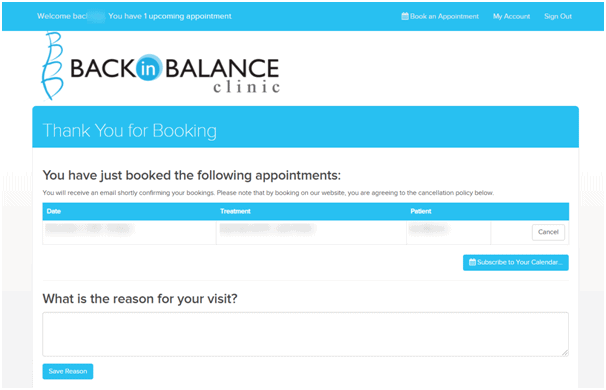 Other lead generation sites can redirect users to Thank You pages after they opt-in for a newsletter, sign up for a lead magnet (i.e. e-book) or register for a webinar.
An e-commerce site might have a post-purchase Thank You page, aka Order Confirmation page. Also, a Thank You page can be used for users who sign up for a discount coupon.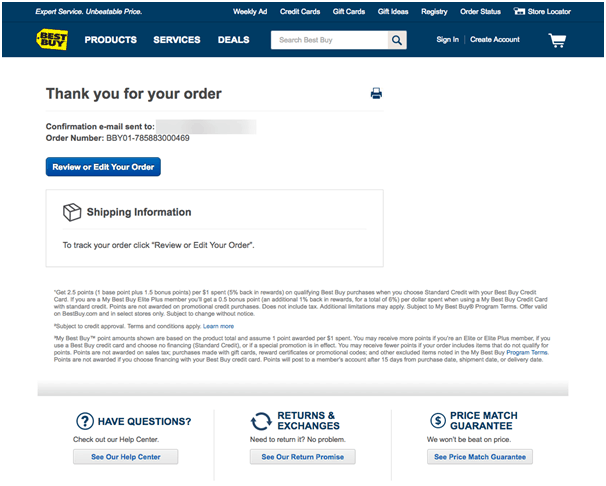 A SAAS company might have a Thank You page that users land on after requesting a demo or signing up for a free account.
You can have multiple Thank You pages, one for each offer. For example, you can have one Thank You page for your Contact form, another one for Quote Request form, and yet another one for your Webinar signup form.
In fact, for better user experience and easier conversion tracking, it's better to have multiple pages for each type of offer.
Why you need a Thank You page
You need a Thank You page to move users that already said "YES" and expressed interest deeper into your sales funnel.
When a person reaches your Thank You page, you got them hooked! So reel them in.
Leverage this downhill momentum to nurture leads, make additional sales or, at the very least, squeeze some extra engagement.
If your conversion is a sale on your e-comm site, use a Thank You page to increase the order value or build customer retention.
Don't make the mistake of thinking a purchase is the end of your funnel. You can still turn each person into a loyal customer and increase their lifetime value.
If your offer isn't a sale, use your Thank You page to push users further along the buyer's journey towards becoming paying customers.
Your Thank You page can be the bridge towards building trust and a strong relationship until (and beyond) the final purchase.
Lastly, a Thank You page can make it so much easier to set up conversion tracking, be it using Google Analytics, Google Ads or any other platform. You can thank me later for that one. ?
3 essential elements of a perfect Thank You page
A perfect Thank You page consists of three essential elements:
Confirmation message
Call to action
Clear instructions on how to proceed
Confirmation
A confirmation message serves the primary purpose of your Thank You page, which is to verify that the user successfully completed an action (goal) on your site.
This can be something like "thank you for subscribing" in the case where a user signs up for your newsletter. Or "thank you for your order" when a shopper completes a purchase from your e-commerce site.
Avert Watches gives you a simple confirmation message that the order was completed successfully. This is accompanied by a brief of what's going to happen next – an email with order details will be received.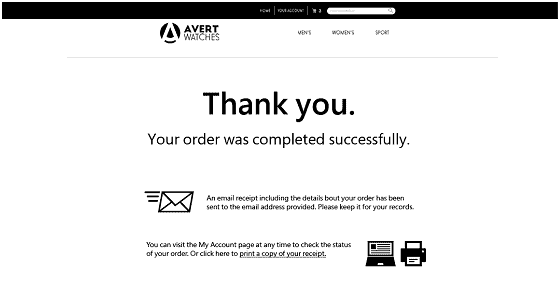 Your confirmation message should be as explicit as possible in describing what just happened. Even if it means spelling out the action.
A simple "thank you" shows your appreciation and confirms the action.
But don't stop there and leave users hanging.
Kick things up a notch with a call to action.
Call to action
Include a call to action (CTA) to tell users what to do next.
Without a clear CTA, users will be baffled at how you expect them to proceed and will most likely just leave your site.
No CTA > No further engagement > Bounce.
Make sure to create a flow where one goal conversion leads to another, as a part of users' journey through your site and your sales funnel.
The CTA on your Thank You page will depend on:
What action led them to this Thank You page
The current sales funnel stage
What is your goal; which logical step you want them to complete next
For example, after enrolling in one of their online courses, CoSchedule Academy invites you to continue to the first lesson.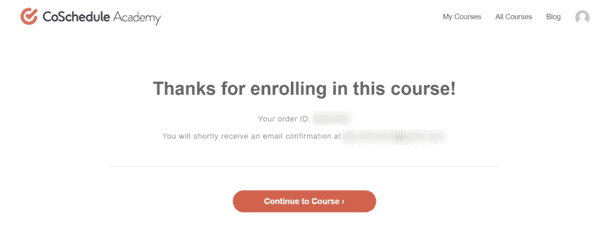 Keep in mind that you can offer multiple options on your Thank You page (unlike a landing page). Just make sure your main CTA, the one with the highest value, is prominent and easy to spot.
PRO TIP: Have your main CTA look like a button.
Instructions on what to do next
Clear instructions on your Thank You page will set further expectations and how you want users to proceed. With a bit of text, you should explain exactly what users need to do next.
Of course, first, make sure you actually provide the value you promised and let users know how to get it.
For example, if a visitor opted-in for an e-book, instruct them how and where to download it.
James Clear uses his Thank You page to welcome converting users to his community along with detailed instructions broken down into three steps.
He also rewards users with a free PDF as a sort of a bribe to complete each step.

Your instructions don't need to be super detailed or long. Just make sure they're precise and easy to follow. That way, users won't have trouble carrying on and more of them will convert.
With that out of the way, let me show you 17 ways to boost conversion and engagement with your Thank You page.
How to use Thank You pages to increase conversions and engagement
As mentioned, your Thank You pages are a golden opportunity to get more conversions, win new and retain existing customers, and grow your revenue.
The following are XX best Thank You page tactics broken down into three categories:
After opt-in
Post-purchase
Growth hacking
3X Your Business in 90 Days
Get an unfair advantage with our powerful 3-step funnel strategy and learn how to increase leads and sales by 300% fast.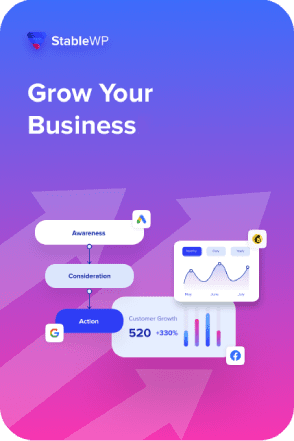 After opt-in Thank You pages
When a visitor opts-in for your email list, a well-optimized Thank You page can help nurture your newly acquired lead and pull them deeper into your funnel.
These types of Thank You pages work great to qualify and warm up leads, and even generate some initial sales.
Use the following Thank You page tactics when a user signs up for your newsletter, submits a contact form, requests quote, opts for a lead magnet, etc.
1. Reaffirm the value of the original offer
First thing's first, reinforce the user's decision to give up their contact info. To achieve that, be sure to restate the value they're getting from your offer.
For example, when users sign up for an e-book, use your Thank You page to summarize what you cover inside and how they can benefit from it.
HubSpot uses the Thank You page to recap in 4 bullet points what you'll learn from their Social Media report.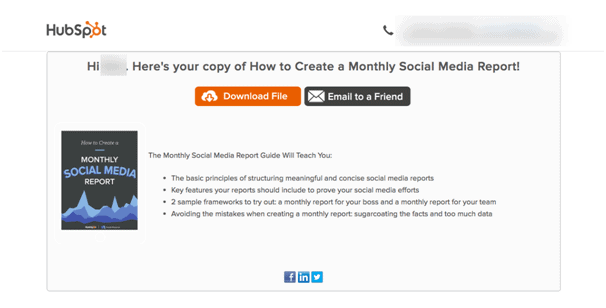 You want to make sure people actually read or use what's in your offer. In case of an e-book, it's a chance to educate your leads and position yourself as an authority.
If users are engaged with your offer, you'll have a much easier time closing the deal when the time comes.
So, use your Thank You page to fend off any remorse and prep your leads for what's to come.
2. Point users to additional resources on your site
Your Thank You page is a perfect chance to point users to supplementary resources on your site, be it guides, articles or other useful material.
The logic behind this that users who opt for your freebie are also likely interested in your core product/service. Feeding leads with additional resources can steer them in the right direction.
ShipStation is a shipping management tool for e-commerce. People that reach their Thank You page will be recommended a myriad of useful resources.
These include guides, webinars, their blog, social media and other communities, and even a video to explain how to set up an account.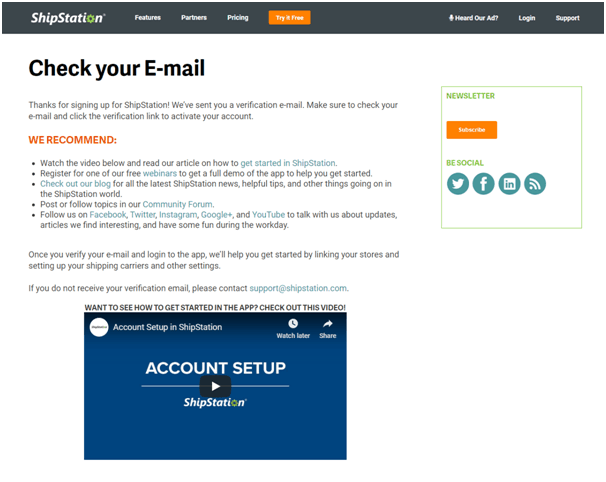 Depending on your business and what the users signed up for you can use a Thank You page to point to:
Your blog to further educate users
White papers, e-books, case studies, reports, etc. to prove your solution works
A FAQ or "get started" guide if they sign up for an account
Exclusive content to create a stronger bond and give visitors a feeling of being valued, etc.
This helps you exceed users' expectations and get them closer to converting on your core offer. Just make sure the additional resources are relevant, helpful and valuable.
3. Suggest users try your service
Visitors who opt-in clearly raised their hand and expressed interest in your business, so you might as well straight up suggest some of your products/services.
This can potentially work particularly well if you offer services that are easy to understand, which is the case with many local businesses.
For example, Hammam Spa from Toronto uses their Thank You page to invite users to book an appointment or check out their products and services.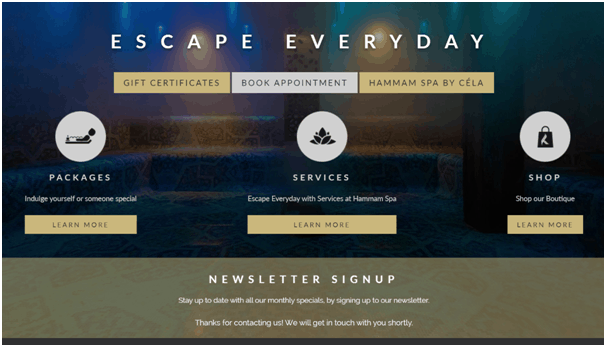 Suggesting your service on a Thank You page can work as a shortcut if you don't have the resources or don't need to nurture leads with a long process.
Just watch out not to come off as pushy and impatient, or you might drive away potential customers.
4. Invite users to your webinar
Another effective way to nurture leads with your Thank You page is to invite users to register for a webinar.
Webinars are highly engaging video presentations where you can provide useful, educational info on how to solve a specific problem, typically using your product or service.
Think of it as a very subtle sales pitch, that offers value and builds even more interest in your core offer.
LeadPages uses their opt-in Thank You page to invite users to a webinar.
Notice how they use clever words such as "unlocked" to make the webinar seem exclusive and increase their perceived value.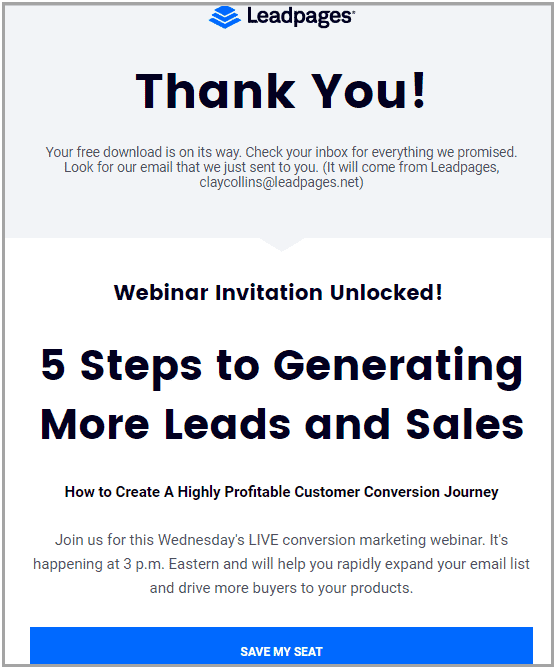 SEMrush doubles down on their webinar marketing.
In this case, after you sign up for one webinar, the Thank You page will suggest even more related upcoming webinars.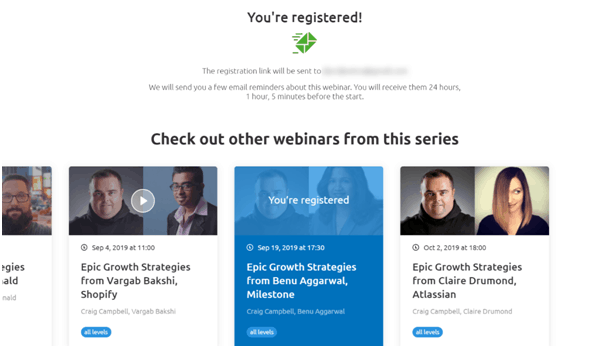 Webinar invitation on your Thank You page works exceptionally well after a user opts for one of your lead magnets.
That's because these users are already engaged and interested in educational content. A webinar can deliver on their expectations as well as give them the nudge they need towards becoming paying customers.
5. Have an add to calendar option
If users register for a webinar, event or even an appointment, make sure your Thank You page includes an "add to calendar" option.
Never underestimate how much people can get distracted. Very often, visitors might sign up and never actually attend. They can get caught up in all sorts of things and forget all about it.
To mitigate this common issue, integrate popular calendar apps such as Google Calendar, Microsoft Outlook, iCal, etc.
That's exactly what you'll see on a Thank You page after Holiday Hustle webinar registration. There's even a countdown timer to help users get a better sense of when to tune in.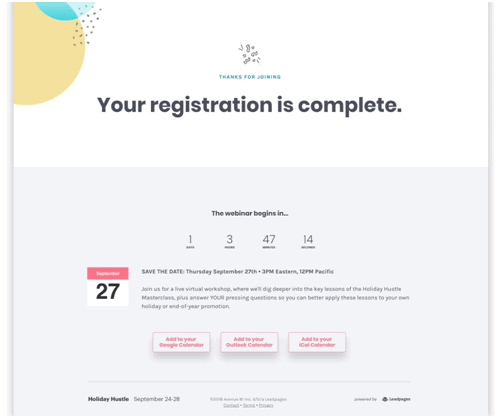 6. Offer a coupon to boost conversions
Discounts are a very effective incentive for pulling users deeper into your sales funnel. It works particularly well for e-commerce.
Offer a coupon on your Thank You page to reward visitors for signing up to your email list. They already expressed their interest and a discount will give them a compelling reason to come back and purchase next time.
NatureBox does just that, and then some. After you sign up for their newsletter, you'll get a welcome gift – a free bag of snack goodies, plus a 25% discount off your first order.
And just to build some suspense and urgency, NatureBox uses words like "Hurry! Offer good while supplies last."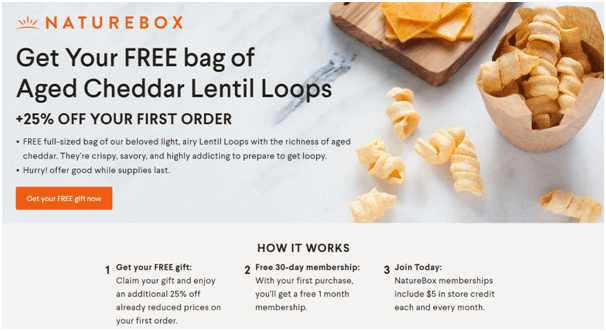 If you want to make users act even faster on your offer, you can include a countdown timer on your Thank You page.
Offering a welcome gift and a discount on your Thank You page rewards loyal customers and will also reduce customer churn (loss of customers).
7. Have a tripwire offer
A low-price offer, aka a tripwire, is an excellent way to convert visitors and even recoup some of your marketing expenses.
The idea is to use your Thank You page to convince visitors to buy something small (low-cost) from you rather than a more expensive product or service.
Customers who purchased from you before are more likely to purchase from you again than first-time buyers. Also, returning customers tend to spend more.
This is why tripwire offers can boost sales of high-ticket items or products with a long commitment. It's like an ice breaker that leads to your core offer.
For example, if your product costs $1000, have a $10 tripwire offer on your Thank You page. Users who sign up and reach your Thank You page are already interested, now it's up to you to use this Jedi mind trick and get them to buy your $1K product.
BlueChic does something similar on their Thank You page. After you sign up to one of their freebies, the Thank You page urges you to get a style template pack for just $12.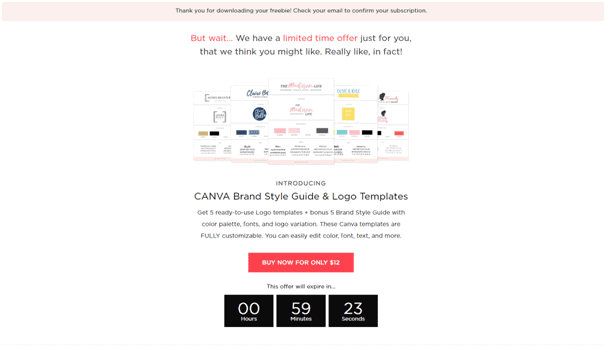 Tripwires work even better with urgency and scarcity, so a countdown timer here is a no-brainer.
And finally, let me point out that marketing doesn't come free. However, a tripwire offer can help you recover some of those dollars that went into getting users to your site and onto your Thank You page.
So, it's a definite win-win for you.
8. Include a video
Videos are the most engaging type of content and for a good reason. You can often establish a much closer and personal connection with users through videos. It works well at representing your business, products or your team.
Videos on your Thank You page can help get a point across that you just can't do with words. Use this opportunity to explain how your solutions work and demonstrate the biggest benefits.
After you opt for one of WordStream's lead magnets, the Thank You page will greet you with the link to your guide as well as a subtle sales pitch. The text invites you to use their free advertising Performance Grader.
However, since people might not understand the concept of the tool, there's a video to explain how it works and what you get out of it.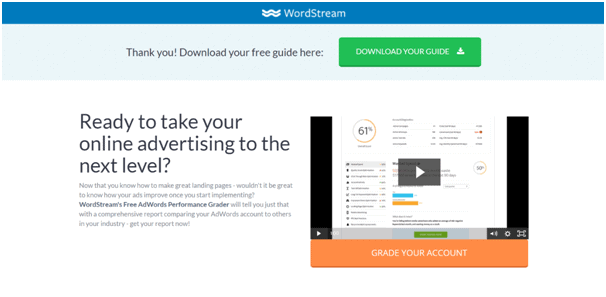 Videos on a Thank You page work very well if your product/service is complex and requires an extra bit of understanding.
Thank You page videos are also highly effective at converting visitors, which is another reason in favour of them.
9. Offer a free consultation/demo
If you're using your site for lead generation, then offering a free consultation or a demo on your Thank You page may be just the thing you're looking for.
This is an excellent choice for consultants, agencies and even SAAS companies.
After users sign up for your lead magnets, offer a free consultation/demo on your Thank You page. You'll get to engage potential customers1-on-1, so you can have a personal interaction and a better chance of moving them along the sales funnel.
Gouchev Law is an attorney firm for business clients that utilizes this tactic to perfection. After you subscribe to their free guide, the Thank You page invites you to book a 1-on-1 consultation.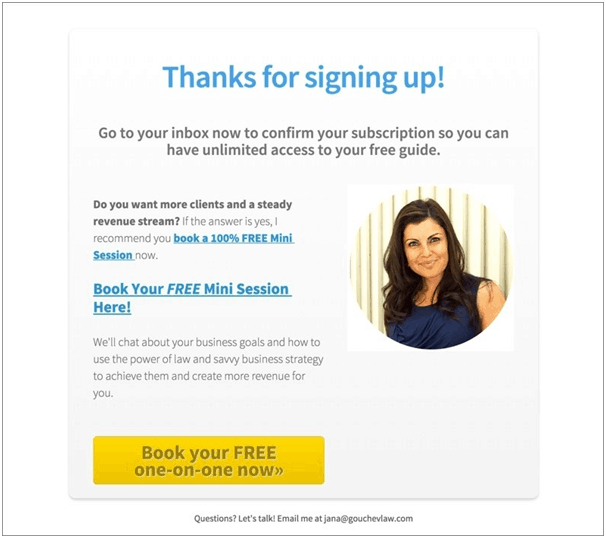 This tactic also works great to qualify leads. Only the most interested users will hop on a free consultation call with you.
10. Solidify your offer with social proof
Use social proof to boost user's confidence even after they sign up for your email list.
Include customer reviews, testimonials, logos from brands you worked with, guarantees, etc., to ward off any potential feelings of regret after signing up (buyer's remorse).
Leverage your Thank You page to boost users' confidence that they're making the right decision.
If a free guide led users to your Thank You page, you can include some testimonials from people who read it and found it useful.
You may also include testimonials about your business or product/services. This will encourage visitors to move further along in your sales funnel and check out your product.
A good example is the All Seasons Landscaping company from Toronto. Their Thank You page features a very prominent testimonial from a happy customer.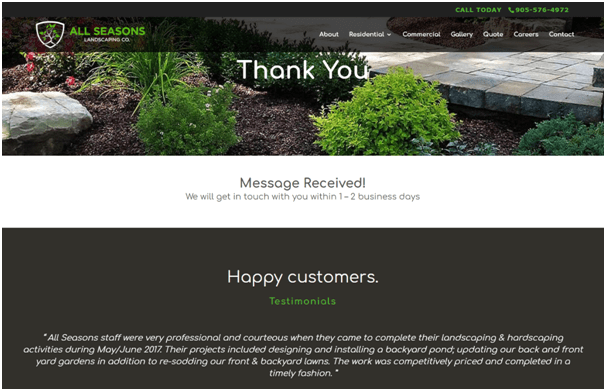 These testimonials can curb any customer objections and prove that your solution works. Any kind of social proof will help potential customers feel better about their decision to buy from you.
Post-purchase Thank You pages
Users that buy from you are at the late stages of the sales funnel. That's why your Thank You page goals will be slightly different. Now you should aim for:
Increasing order value
Customer retention
The next three Thank You page tactics work well right after a customer makes a purchase.
11. Offer cross-sells and upsells
Use your post-purchase Thank You page to maximize the order value through cross-sells and upsells.
This works perfectly for e-commerce when you want to increase the value of each sale to squeeze some extra profit.
Once a customer buys from you, why not offer another complimentary product (cross-sell) or a more expensive product (upsell) on your Thank You page.
Don't waste this precious real-estate just to summarize and confirm the order. Use it to make more money.
Still you gets this, that's why their Order Confirmation page features a clever upsell.
The "people who bought this also bought…" section invites you to fork up a few extra hundreds for dollars on a levitating flower base.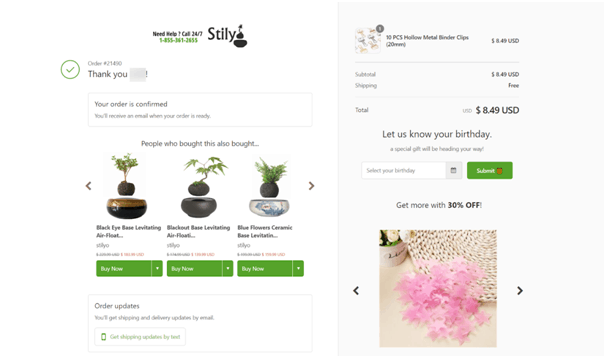 There are plenty of options, you could offer add-ons, related or "recommended" products, more expensive items, and even cheap accessories. Whatever fits your business.
Upsells and cross-sells on your Thank You page work so well because:
Users have already committed to buying from you, they're as hot as they can be
It's easy for your customers. You already have their payment info, so the next purchase is just a couple of clicks away
12. Ask users to create an account
As mentioned in our checkout flow guide, requiring users to create an account during the checkout process creates friction that can deter them from completing the order.
The solution is to move the account creation to your post-purchase Thank You page.
The key thing is to clearly point out the benefit of creating an account. This can be:
To track orders easier
Earn rewards/points
Get a discount
Faster checkout next time around, etc.
Crate&Barrel uses this latter option. The Order Confirmation page invites you to create an account and save information for next time. So, when you return for some more shopping you can checkout much faster by just logging in.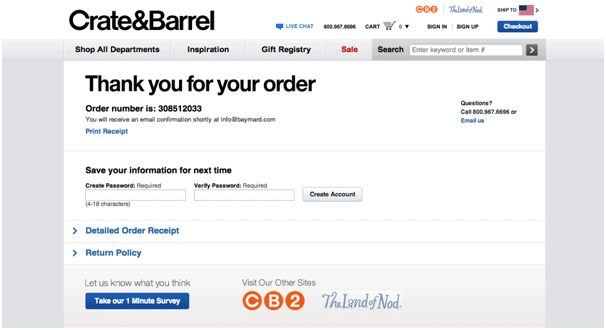 Asking users to create an account on your Thank You page reduces friction for this and all future purchases. This leads to more conversion and returning customers.
13. Reward returning customers
Offer a coupon on your post-purchase Thank You page to entice customers who already bought from you to come back for more.
A coupon or voucher will work as an incentive to existing customers to return and buy from you again, leading to repeat business and higher customer lifetime value.
Book Depository offers a 10% discount voucher on their post-purchase Thank You page as a way to reward customers and make them feel like they're a part of an exclusive club.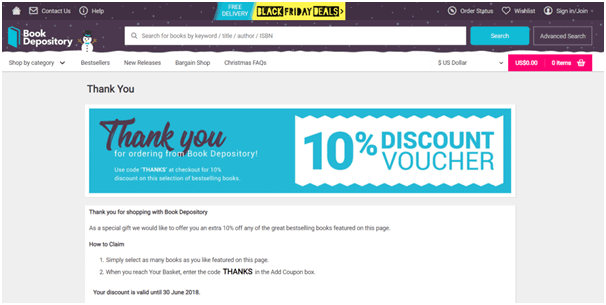 PRO TIP: Offer a discount to returning customers on orders over a certain amount. For example, "get 25% off on orders over $100".
That way you entice customers to buy from you again while increasing the order value at the same time.
Other Thank You page ideas for viral growth
Your Thank You page can do so much; from delivering useful content to increasing sales. But, there's more.
You can use your Thank You page to turn happy visitors and customers into brand advocates and spark viral growth.
14. Invite users to follow you on social media
For starters let's cover something simple. Use your Thank You page to invite users to follow you on social media.
People that reach this page are already engaged and probably have some preference towards you, so why not seize the chance to:
Have them engage with your brand on social media
Grow your social following
Build more trust and a closer connection
Leverage them as social proof
Expose them to your social media marketing (as part of an omnichannel approach)
Stay top-of-mind, etc.
Include a few links to your most important social media profiles and invite visitors to connect with you.
Wistia boosts your confidence saying that you signed up for the best and freshest content as part of a confirmation message.
And bellow, they use clever words to invite you to follow them on Instagram and Twitter.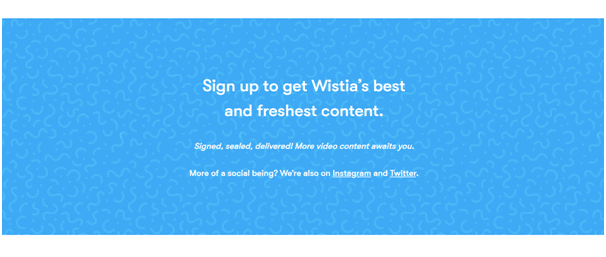 15. Include social sharing buttons to help spread the word
While we're at the subject, you can also leverage your Thank You page as a growth hacking tool to ask visitors to share you on social media.
You can use this tactic for both after sign-up and post-purchase Thank You pages.
Ask visitors to share the original landing page so more people will sign up for your lead magnet, webinar, e-book, etc.
Acquisio, an AI for digital advertisers, uses its webinar registration page to invite users to share the upcoming webinar on social media.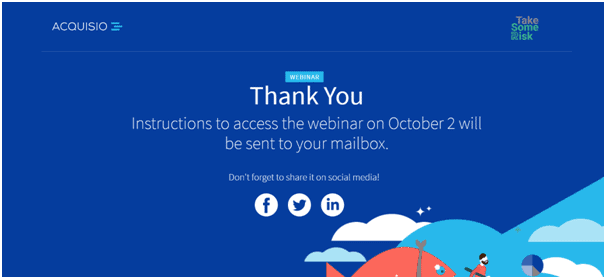 As an e-commerce merchant, you can use your post-purchase page to ask customers to share the goodies they just bought with friends on social media.
For an extra bit of growth hacking, offer an incentive like a small discount to users that share their purchase.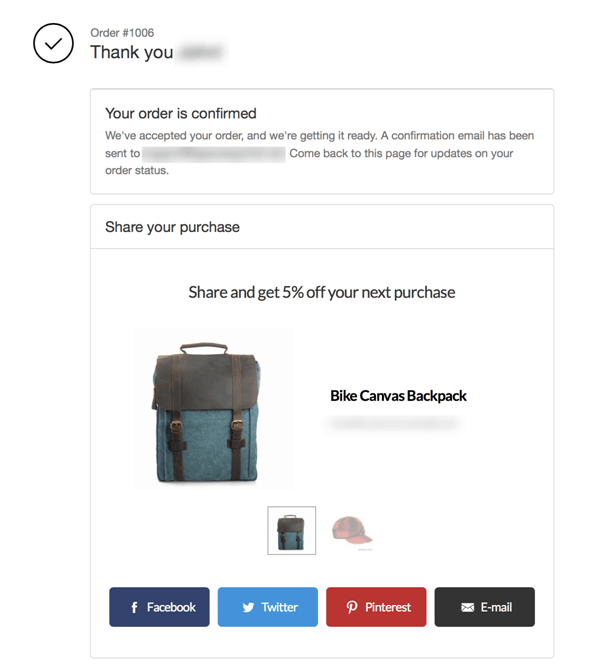 This kind of growth marketing can work wonders if you're a new business and want to grow your customer base through word-of-mouth.
16. Reward users for referrals
A few things work better than word-of-mouth marketing. Use your Thank You page to entice and reward users who spread the word.
Offer special rewards like discounts, free products, add-ons, upgrades, etc., to users who invite their friends and get them to sign up for your email list or become customers.
One of the most well-known examples of this is growth hacking by Dropbox. The company offered 1g GB of free additional storage space in exchange for a referral.
Another example is Sally's which offers free hugs, free shaving cream and 5 free razors in exchange for 0, 5 and 10 referrals, respectively.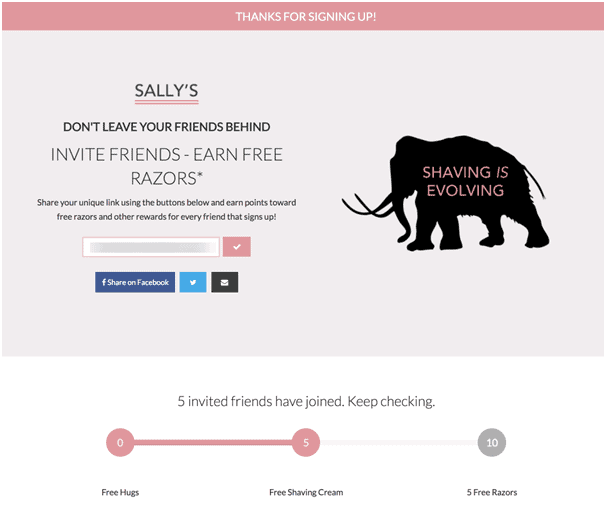 Be careful at how you set your goals and incentives. You want to make rewards valuable and goals achievable.
If you set the bar too high and only have one reward tier, some users might feel like it's mission impossible and won't even bother. If you set it too low, you might not be getting maximum results.
For best results have multiple tiers of rewards depending on how many referrals each person can bring. Have a very enticing offer at the highest tier, to motivate more people to join your referral campaign.
17. Survey your converting users
Last but not least, survey leads and customers on your Thank You page to get unique insight and feedback.
Conduct a short survey to tap into users' minds and learn more about their problems, preferences, satisfaction, objections, topics they're interested in, etc.
You can later use this data to make marketing messages that resonate better with your target audience, as well as improve your products and customer experience.
ChefSteps sells smart kitchen tools and teaches cooking.
After signing up for an account, the Thank You page features a survey to help tailor customer experience for each visitor.
When you sign up, you'll be prompted to answer which cooking topics interest you the most.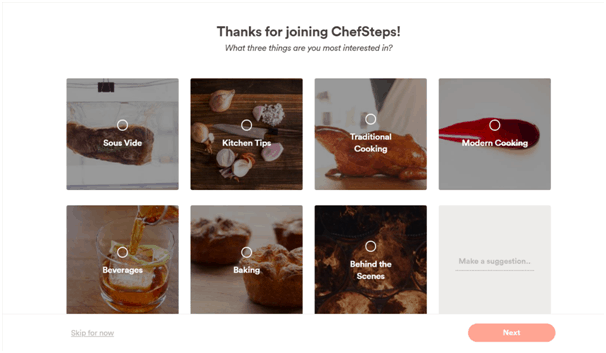 On the next step, CheftSteps will display personalized recommendations for a more engaging user experience.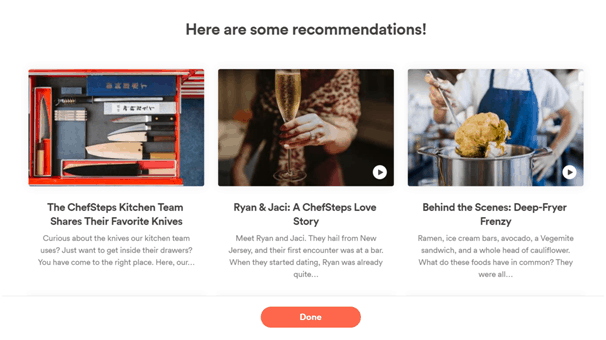 Neil Patel uses his post-webinar Thank You page to survey customers and get some valuable intel.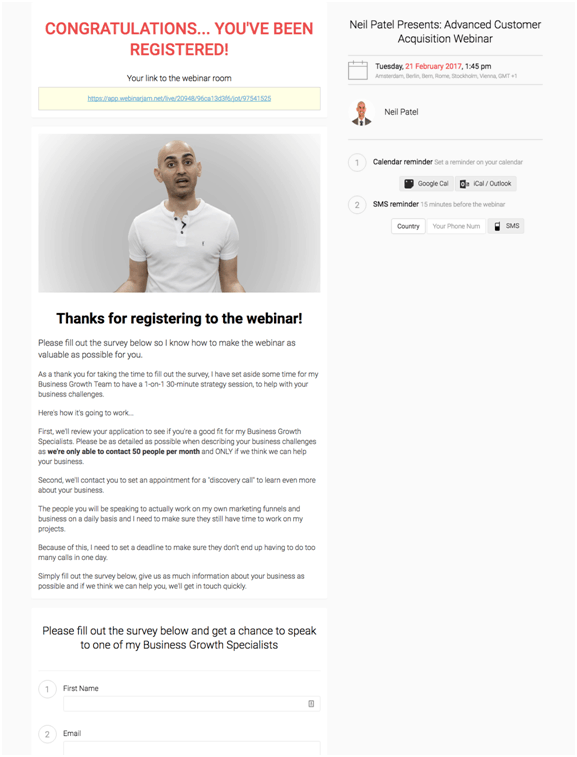 Neil also offers something valuable in exchange for your time filling out a survey. Participants will get a chance to get a complimentary consultation with one of his business growth specialists.
Conclusion
Your Thank You page can serve many purposes, from delivering a lead magnet and increasing website engagement to confirming a purchased and serving upsells.
It can help you at every stage of the sales funnel, from pulling leads deeper in, converting new and retaining existing customers, to even creating loyal customers and brand advocates.
Mix and match different Thank You page elements to drive towards your goals.
Just make sure that your Thank You page fits the original landing page offer and the buyer's journey.
Leave a comment if you have any questions. Or contact us if you need help with your Thank You page strategy and design.