Burns Bath Restorations
Burns Bath Restorations is a bathroom renovation company founded by two brothers James and Matt. They offer top-notch bathroom restoration services in Barrie, ON, and surrounding areas.
James and Matt take great pride in their work. All renovation projects are handled professionally. The high-quality work, great communication, and transparency have earned them a strong reputation in the industry.
However, the Burn's website wasn't living up to their standards. They still depended mostly on word-of-mouth advertising for new businesses.
Their website was due for a remodel of its own.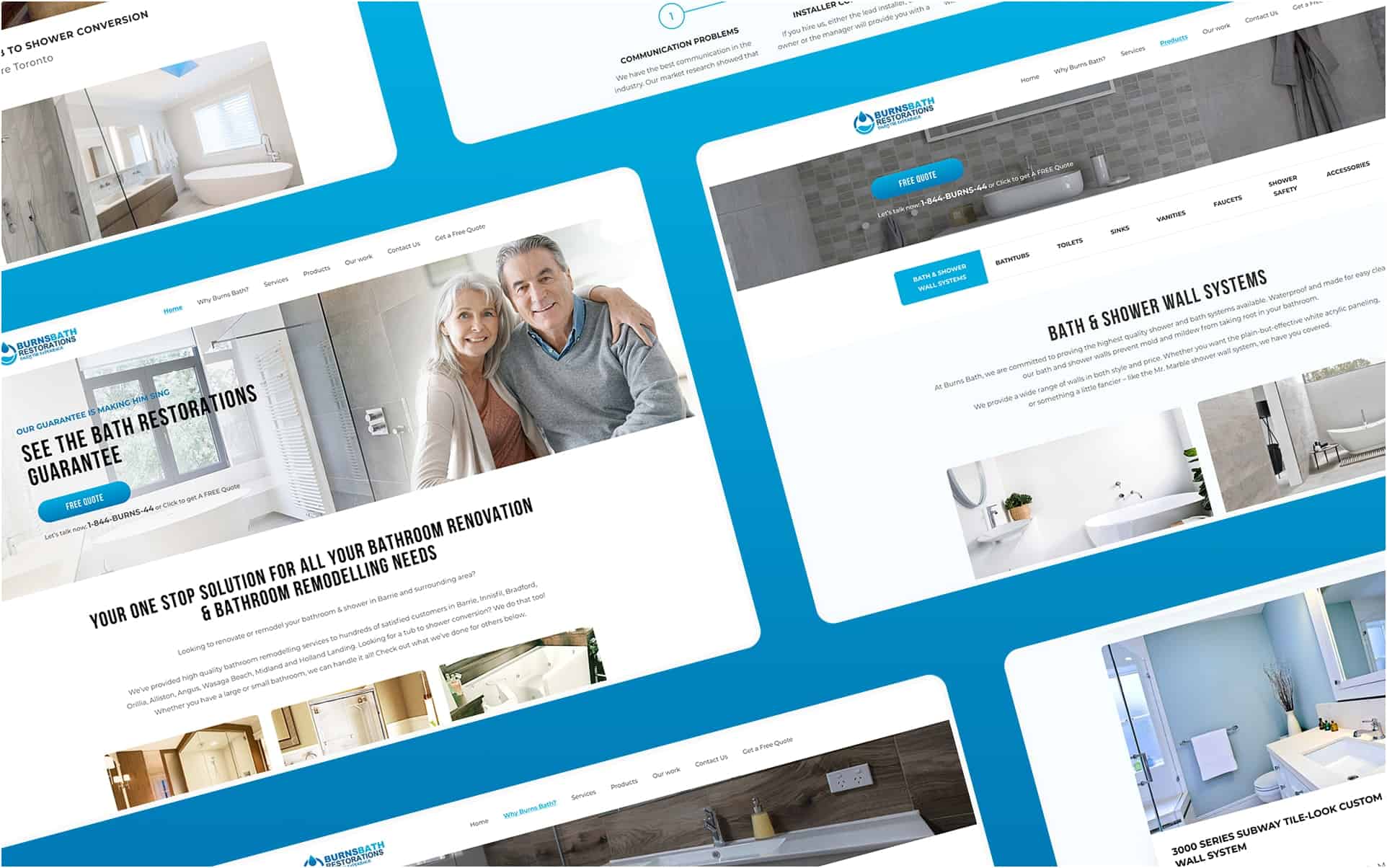 The Challenge
Burns's old website had major issues with user experience where users had trouble finding and understanding the content on the site. The old site also failed to build interest because the main information was tucked away behind convoluted menus or placed in the bottom of the page etc.
Even tho the site was getting a decent volume of traffic, it wasn't converting well. We noticed a high bounce rate and users weren't staying more than 4 seconds per visit. This means people aren't even reading their content at all. This was a total waste of money as they were advertising on Google Ads as well!
The final straw was when their site got hacked because of an outdated WordPress version. James and Matt were very close to pulling the plug on their website project.
The Solution
James and Matt first approached to restore their hacked site. Seeing how quickly we were able to clean and fixed it, they asked if we could help them with their marketing campaigns.
After we analyzed their current digital strategy and goals, we concluded that the old site was not a good fit with what they are trying to achieve, especially when it had so many issues, to begin with (as mentioned above).
Our web development team rebuilt their site from the ground up, with improved UX and UI tailored to their primary target audience. We also made sure their core services are prominently shown with easy navigation, big buttons, strong CTAs, and clear fonts.
We customized Burns's site with their target demographic in mind, addressing their main concerns and needs. Our web designers dedicated the entire homepage to 'safer bathroom solutions,' with high-quality stock images of senior couples as well as their bestselling walk-in tubs in action.
Furthermore, we've applied advanced on-page SEO techniques on the new site to ensure it ranks for the most profitable keywords.
The Results
Snappy performance and mobile-friendly design.
First page rankings for high performance keywords.
Increased visibility and traffic by 58%
Improved engagement and conversions
137% more leads from their website