At the heart of every successful e-commerce is an online marketing strategy built to peak user interest, generate demand and ultimately close as many sales as possible.
But the real challenge is on when you're an emerging e-comm with a limited budget.
Every marketing dollar needs to work twice as hard to reach potential buyers, build a customer base and establish a sustainable business.
That's why your digital marketing strategy and budget allocation play a pivotal role that can make or break your online store.
Here's a full e-commerce marketing guide told through a real-life example of a client of ours that led to tremendous success in a single quarter.
IMPORTANT NOTE: Due to (obvious) privacy reasons we won't mention the exact name of the store or its owner. Instead, let's call the founder Jennifer and the e-commerce store Lynx Jewels. The rest is a real success story of an e-commerce digital marketing campaign in action.
About the business
Jennifer is a liberal art major with an entrepreneurial mind. She always dreamt of running her own business.
Her other passion is fashion. Jennifer had a keen eye for good design, accessories, and jewelry. So, she spent hours every day researching various ideas on how to put her talents to best use.
And finally, at the end of 2017, an opportunity opened up. With the help of the internet, she was able to put her two passions together and start Lynx – her own personalized jewelry business.
The idea was to create an e-commerce store where she would sell unique jewelry with personalized engravings and custom gemstones.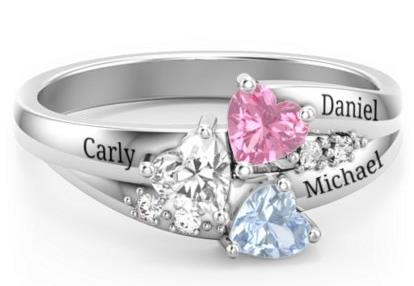 (Illustration)
She set out to create a truly unique online experience where customers could choose, personalize, and customize unique jewelry pieces. Jennifer would design, and her small team of craftsmen would make it in just a few days.
The personalized jewels would then arrive just in time for that special occasion, at the delight of both customers and their loved ones.
After securing the initial funding from all the sources she could find, Jennifer assembled her team consisting of her husband and a few college friends.
Now it was time to get the show on the road.
Lynx's challenge that every new e-comm faces
Jennifer reached out to us, looking for an e-commerce website that would fit her style with a clean, modern look and an excellent user experience.
Once the site was done, she was exhilarated about all the new customers she'd hoped would start coming in.
Except, it's never that easy. You can't follow the famous quote, "If you build it, they will come."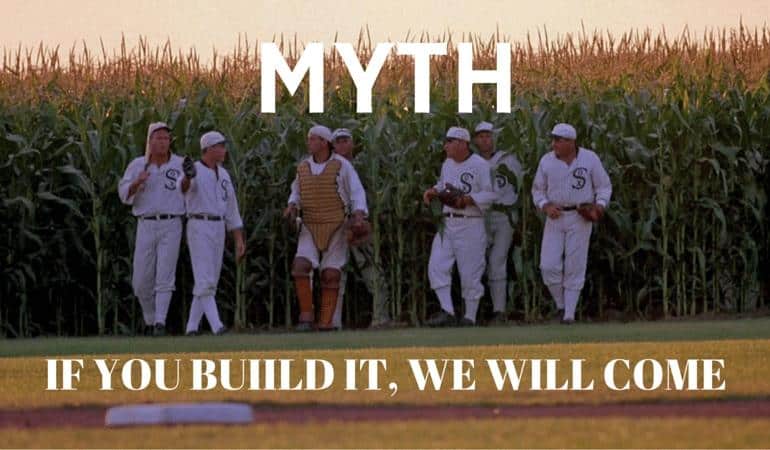 It takes effort to attract customers and create a demand, especially when you're new and no one knows or cares about you yet.
That's what Jennifer quickly realized. Without a digital marketing strategy, her awesome new e-comm would be doomed.
She was desperate to make sales and prove her idea was worth it. The fast-approaching holiday season was her best chance to hit the ground running.
Still, with no customer base, Jennifer was even considering starting on Amazon with the hope she could eventually funnel those customers back to her own site.
That was a bad idea, which we'll get to in a moment.
Luckily, before she made any moves, Jennifer consulted with us on how to get customers for her new e-commerce site.
With a pretty tight quarterly budget ($5,000) for marketing and the holidays just around the corner, the challenge was on.
Why selling on Amazon wasn't a good option
Let's quickly glance over why going with Amazon was a bad idea Jennifer would regret.
NOTE: The same applies to almost every other business looking to sell products online.
Amazon is a beast. No doubt about that.
It's the biggest e-commerce platform on the planet, with a huge catalogue selling everything from tissue paper to power tools.
You can get instant exposure on Amazon's marketplace and get your products in front of millions of potential buyers. It's perfectly reasonable; Jennifer too was tempted to try Amazon in pursuit of some initial sales.
However, for sellers like Jennifer, Amazon is brimming with potential problems.
The main issue with Amazon stems from the fact that it's a marketplace – the competition is brutal.
Just searching for "personalized pendant" yields over 100K results.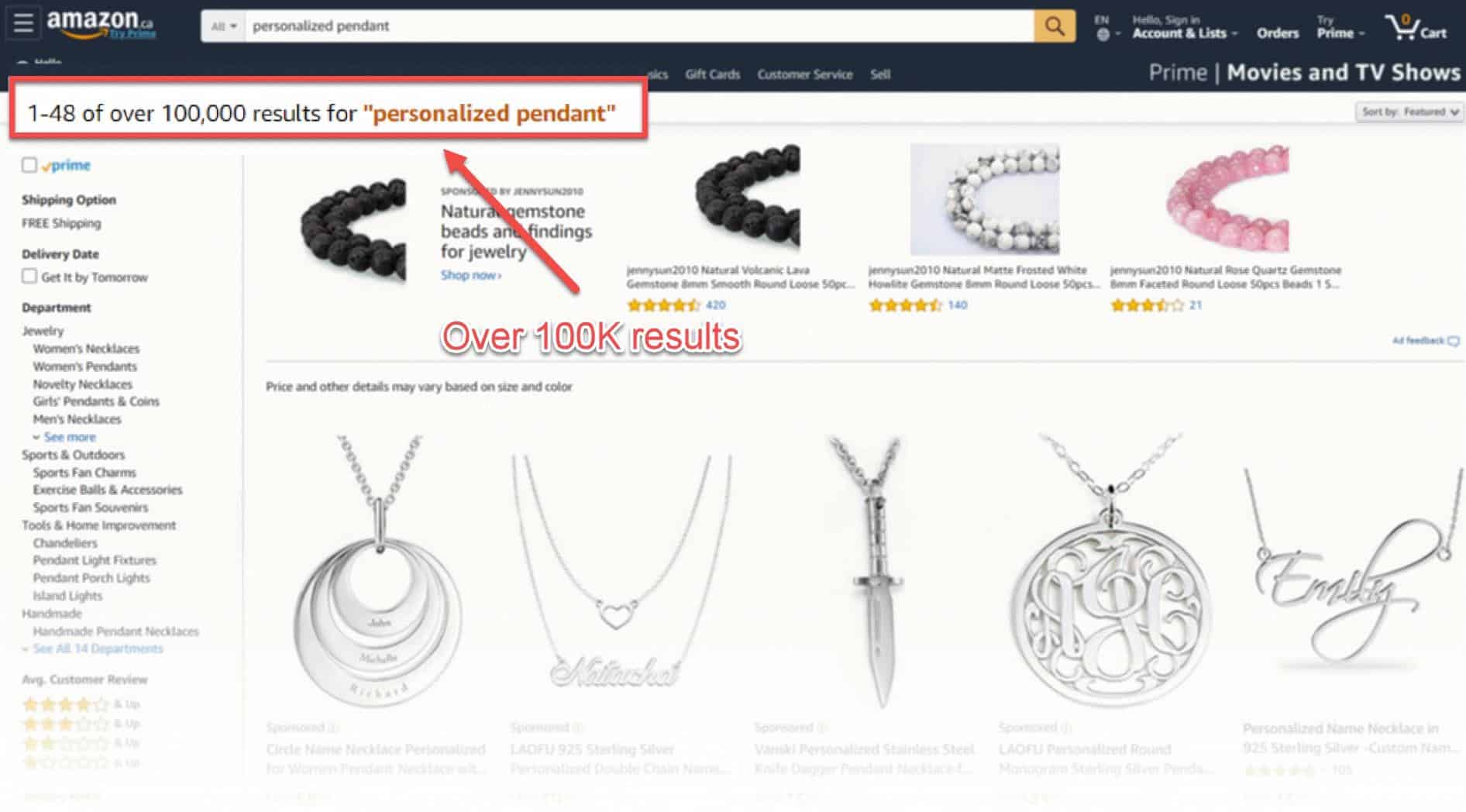 Since Lynx did not have any brand reputation or credibility at the moment, standing out in such a competitive marketplace would be an uphill battle.
People are doing a lot of comparison shopping on Amazon. If you don't have a distinct brand (like Pandora, for example) to separate you from everyone else, then the only thing left is to compete with prices.
Jennifer would need to slash her prices and margins to stand a chance on Amazon.
Of course, she could just pay to advertise on Amazon (sponsored ads) and get more exposure. But that would also increase her cost of selling on Amazon.
While we're at the subject, selling on Amazon isn't free. Amazon takes a big cut.
For individual merchants, Amazon charges $0.99 per item + referral fees.
There's also a Professional plan, suitable for those selling 40+ items per month. Pro plan would cost Jennifer $39.99/month + referral fees (no per item selling fee).
For jewelry items, the referral fees are 20% for the portion of the total sales price up to $250.00, and 5% for any portion of the total sales price greater than $250.00.
A typical Lynx Jewels item costs around $200. Selling on Amazon would look like this:
+$200 (revenue)
-$0.99 (per item fee)
-$50 (referral fee for jewelry)
_______________________________
$149.01 Total revenue from Amazon
Over 25% of her revenue would go to Amazon.
Add to that other potential expenses like shipping and fulfillment fees or advertising, and the cost of selling on Amazon gets out of hand fast.
The other downside of Amazon is that eventually if Jennifer wanted to grow the sales on Lynx (her own site), she'd end up competing against herself.
This is what we saw happen to many other e-comms. They struggle to make sales on their own sites just because Amazonaccumulated so much trust, and things like free shipping make it considerably more appealing.
Amazon will appear in every product search on Google, even the branded ones (if the brand sells on Amazon).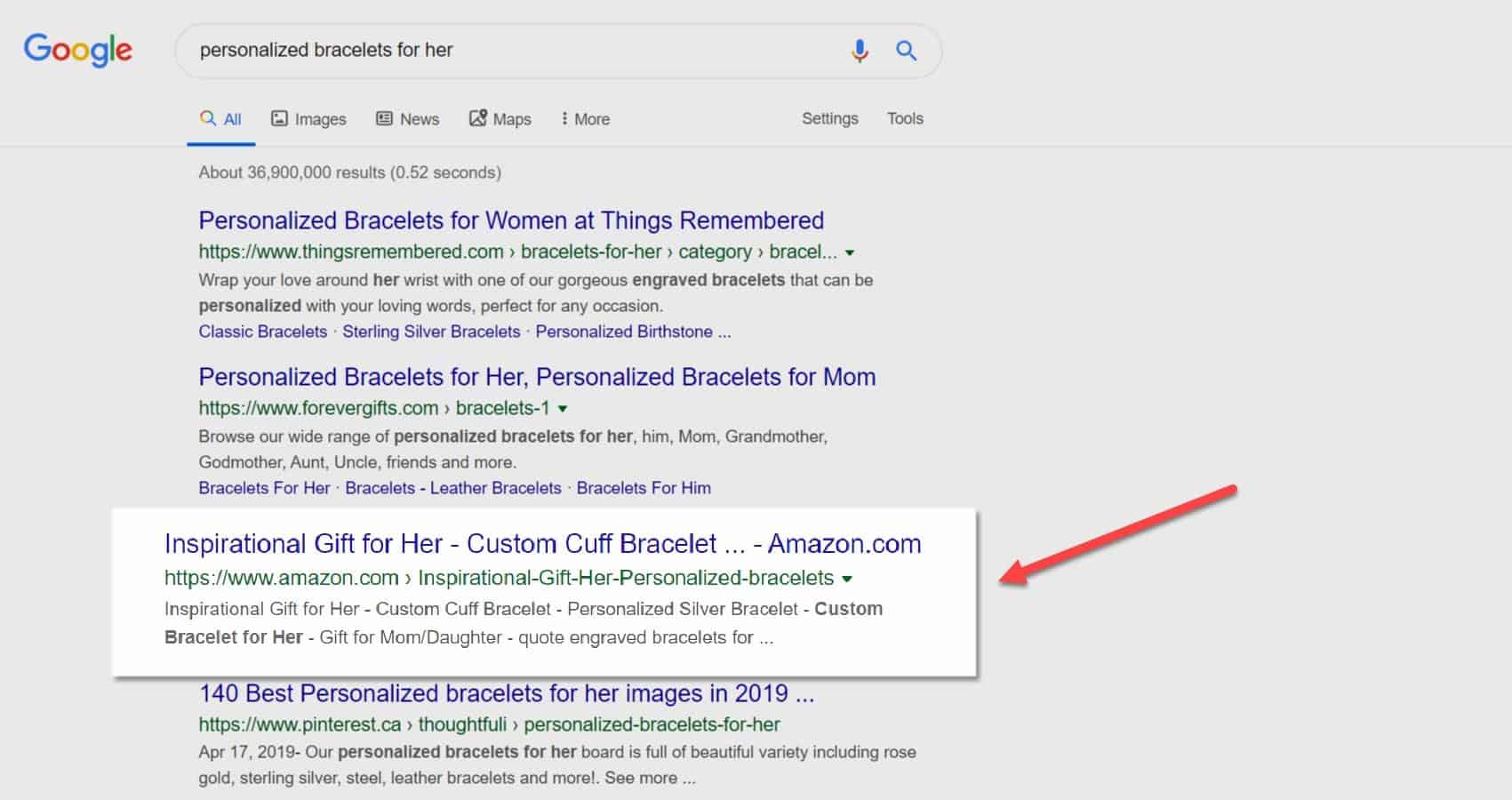 Since the prices are lower, the shipping is free, potential customers might as well just shop on Amazon and forgo Lynx completely.
Amazon also leaves you clueless about your customers. You don't have detailed analytics and you can't collect data on your visitors and customers.
Jennifer wouldn't be able to build a detailed customer profile, understand who are her best buyers, nor build a remarketing list.
Up to 40% of e-commerce revenue comes from repeat buyers. No customer data or contact info means Lynx would completely miss out on this highly profitable segment.
Understanding who are the most profitable customers can help Lynx better focus marketing budgets and improve targeting.
Jennifer and Lynx Jewelswould be stuck with Amazon and had to rely on its costly platform for any future sales.
| Selling on Amazon | vs | Selling on Your Own Site |
| --- | --- | --- |
| Yes | Initial access to a large customer base | No |
| Brutal | Internal competition | None |
| ~25% | Cost | Free |
| Very low | Control | Full |
| No | Detailed customer data | Yes |
| No | Ability to build customer profiles, remarketing lists and get repeat customers | Yes |
| Low | Flexibility | High |
| No | Ownership of the selling platform | Full |
Online marketing strategy for the first quarter
With Amazon out of the picture, it was up to our team of digital marketers to develop a solid strategy in line with Lynx's business and goals.
The main objectives were to get initial sales and lay the groundwork for the upcoming holiday season (and beyond).
The marketing priorities for a start-up like Lynx Jewels is to raise brand awareness, generate demand for its products, build a customer base and ultimately make sales.
The plan was to allocate the quarterly marketing budget like so:
60% on prospecting for potential customers
20% on generating demand with those who expressed interest
10% on customer acquisition (getting sales)
10% on re-acquisition (re-engage lost customers and entice repeat business)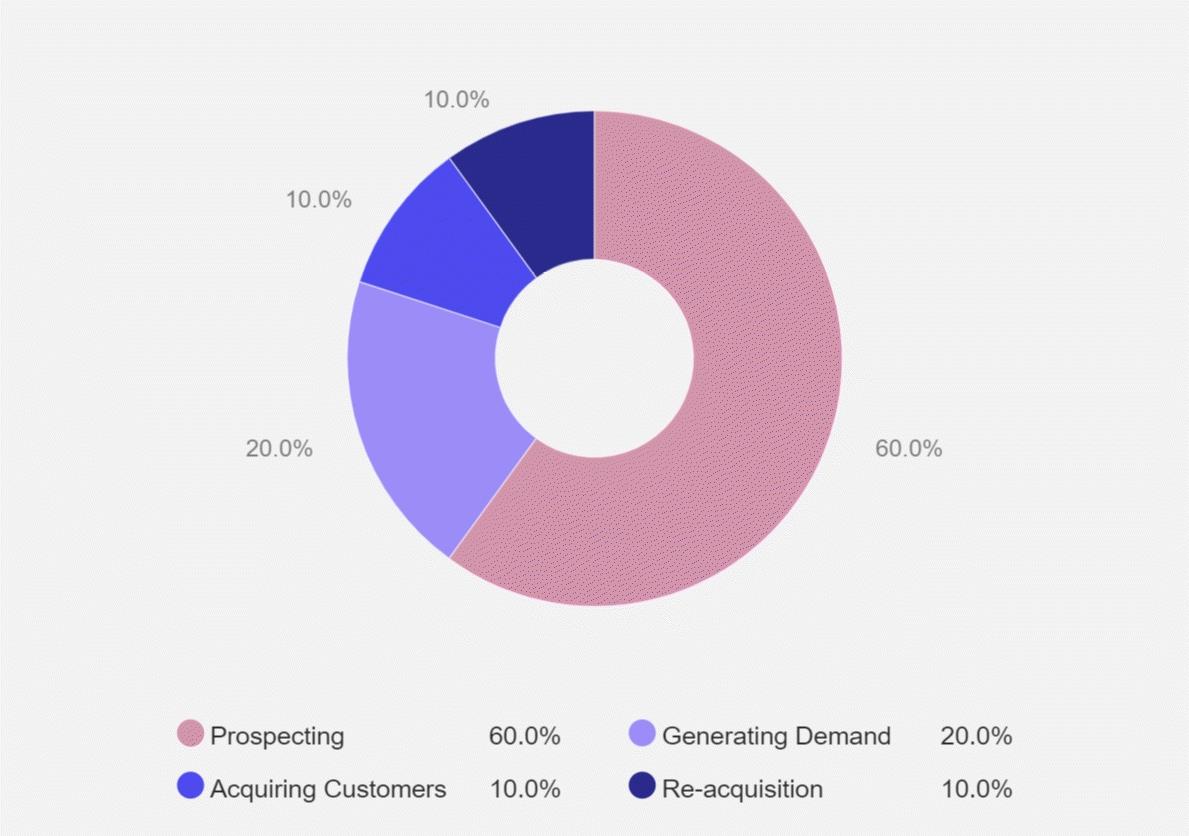 But with a fairly small quarterly budget of $5000, we had to work smart.
That meant choosing the optimal marketing channel for Lynx Jewels.
Choosing the right marketing channels
As mentioned, Lynx needed to make some sales and build a customer base to prepare for the upcoming holiday season.
The stakes were high and not a moment to spare. Jennifer needed results fast.
Working on a tight budget meant the marketing funds needed to be spent wisely and efficiently, to deliver the highest ROI in only three months.
Because of that, organic growth was out of the question in the first quarter.
It takes time to build social media profiles and reach solid following that could translate to sales. SEO could potentially deliver the highest returns, but it would take longer than three months to get any results.
So, the full focus shifted to paid advertising (PPC).
The main decision came down to Facebook Ads, Google Ads or a combination of the two.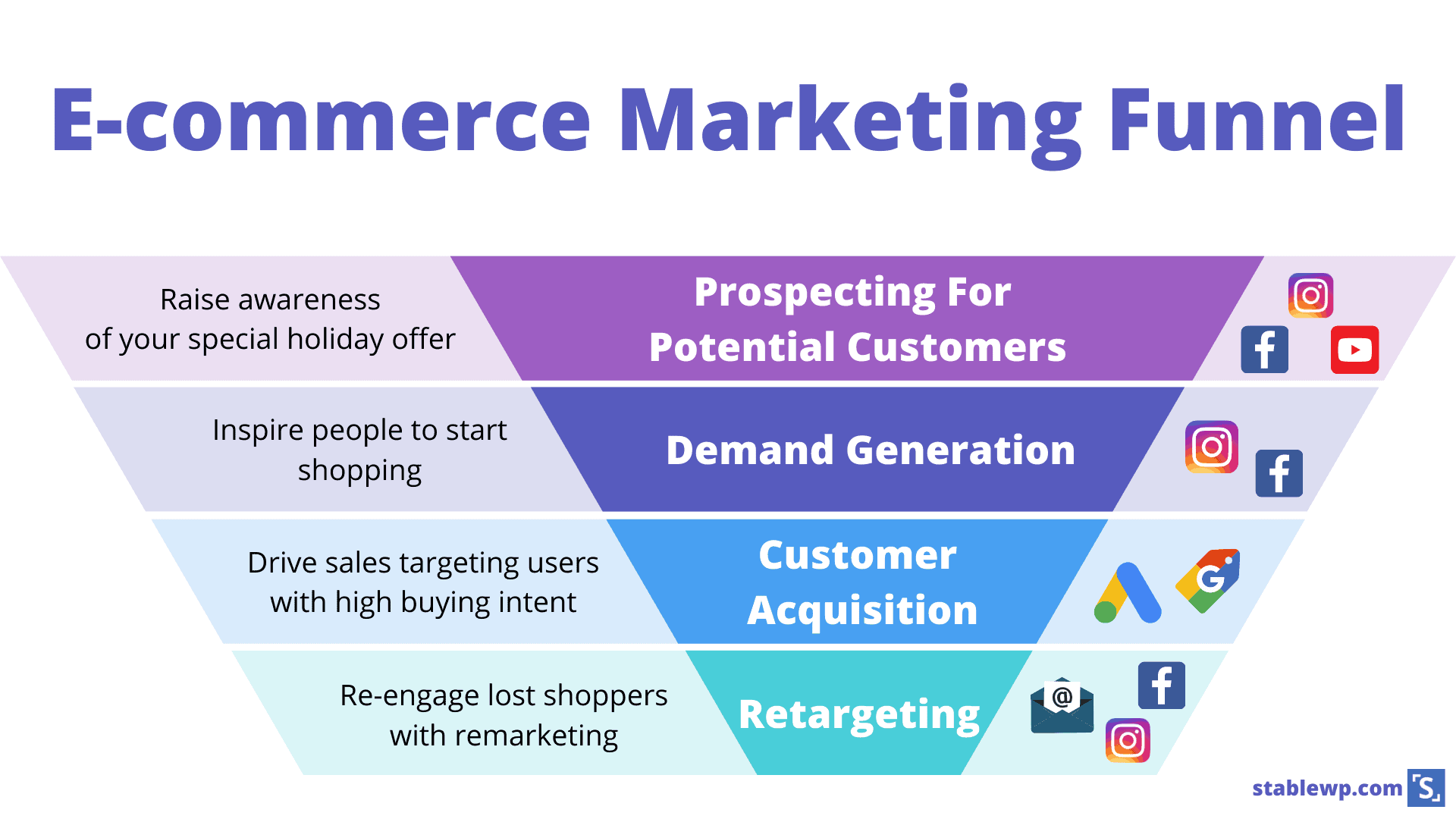 Both advertising platforms work great, but they target audiences with different approaches.
On Google, you can target keywords that people use when they search for products, for example. People that do use these keywords usually have a very high buying intent which is great for e-commerce.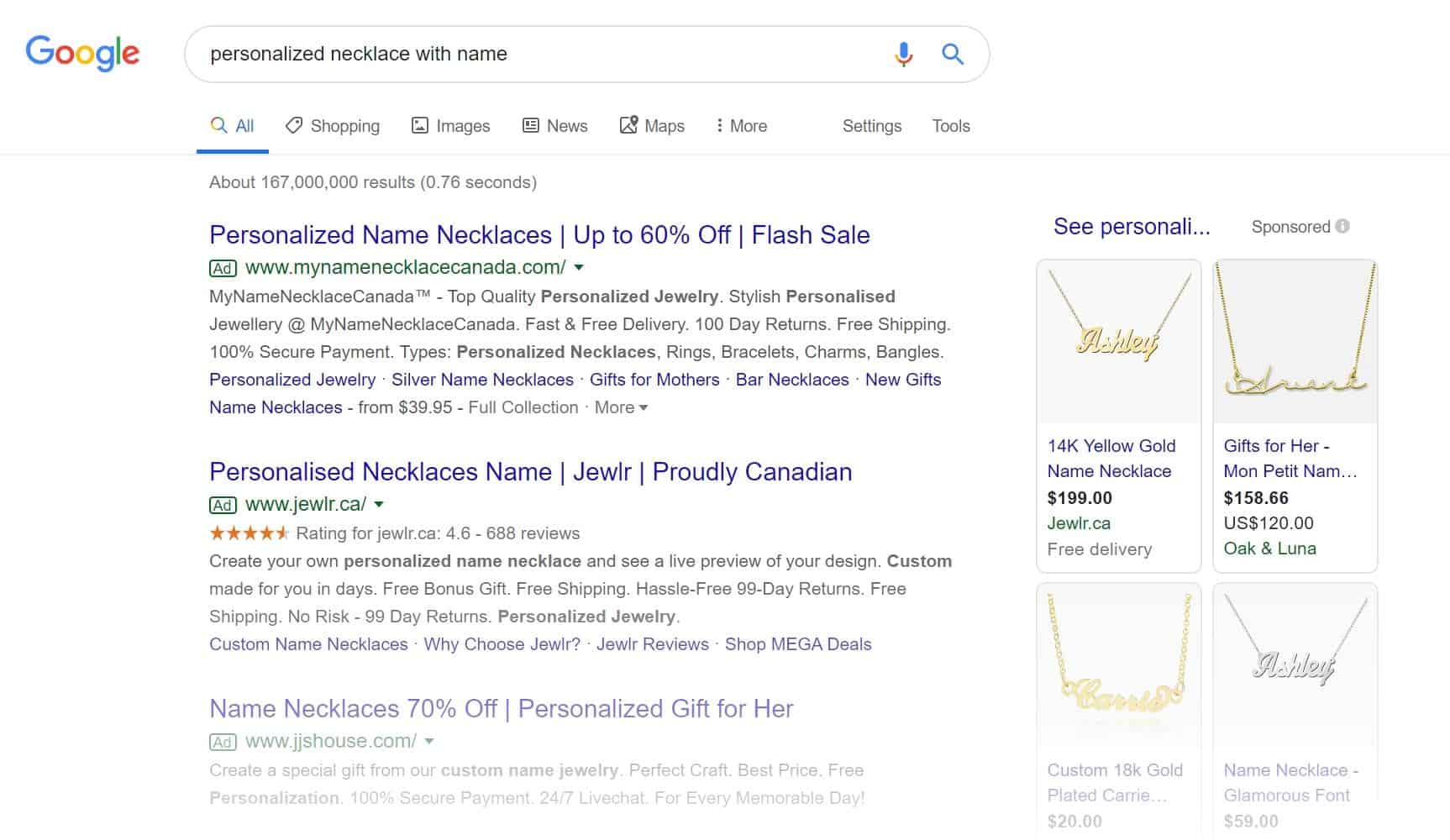 However, since Lynx Jewels is a completely new and unknown business, no one was searching for it or its branded products yet.
Targeting generic search terms like "personalized pendant," "diamond stud earrings" and "gemstone engagement rings" was too expensive due to very high competition for these keywords.
On the other hand, Facebook allows you to target audiences based on age, gender, location, income, life events, interests, etc. These ads can appear on the two most popular social networks – Facebook and Instagram.
Facebook Ads also work great for jewelry products because of the visuals that can inspire users to buy.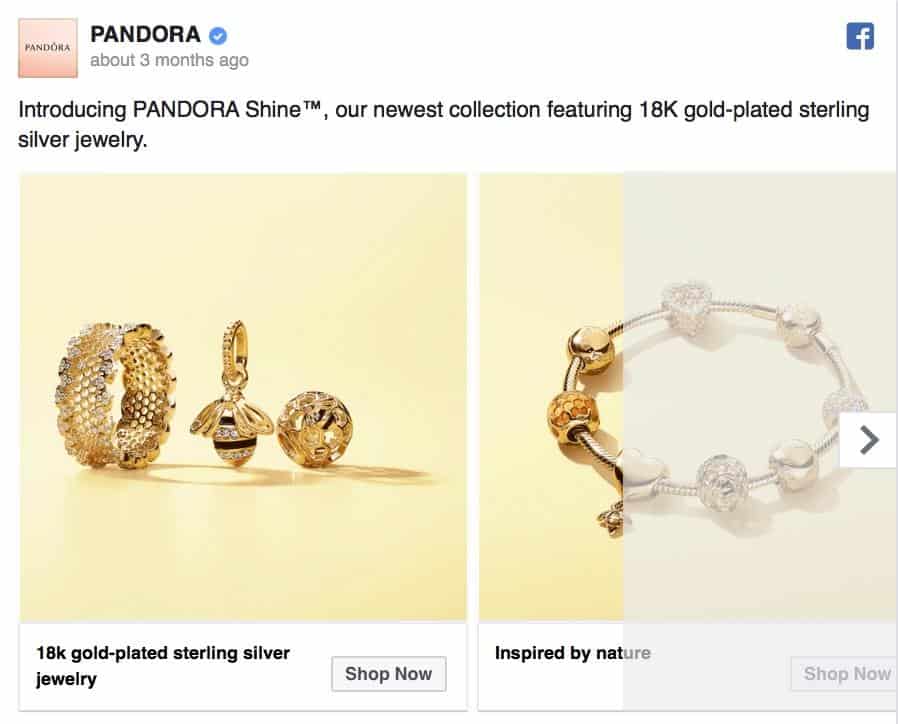 Much more engaging than plain text ads you can see on Google search.
Facebook Ads are far cheaper than Google Ads. According to our projections, advertising on Facebook would cost on average $0.85 per visitor. That's opposed to Google Ads which would cost around $3/visitor.
Considering the budget, Lynx would get around 6000 visitors from FB, compared to only around 1700from Google. Facebook was clearly a better choice since Lynx would be able to reach more people and drive more potential customers to its site.
The lower cost of ads on Facebook comes from the fact that users on social media aren't actively looking to buy products, so the buying intent is fairly mild.
Still, even with a lower projected conversion rate (3%), Lynx would get around 180 sales, compared to only 85 from Google.
Facebook Ads could potentially generate around $36,000 in revenue for the first quarter which is more than double compared to Google.
Ultimately, Lynx could achieve rapid growth and positive cash flow, which is exactly what a product-based start-up e-commerce needs.
Based on research and our experience, the conclusion was that Lynx should stick to Facebook Ads. This would deliver the best ROI in the first quarter, considering Jennifer's goals and her budget.
| $5000 Quarterly Budget | Facebook Ads | Google Ads |
| --- | --- | --- |
| Cost per visitor | $0.85 | $3 |
| # of Visitors | ~6000 | ~1700 |
| Conversion rate | 3% | 5% |
| # Sales | 180 | 85 |
| Revenue | $36 000 | $17 000 |
| ROI | 720% | 340% |
We also ended up discarding Google Display Ads. While they cost less per click, the targeting system isn't precise enough for prospecting, and it would be like shooting in the dark.
Download the 2023
E-commerce Benchmarks Report
Get the latest industry trends, stats and insights to benchmark your e-commerce performance and find unique growth opportunities.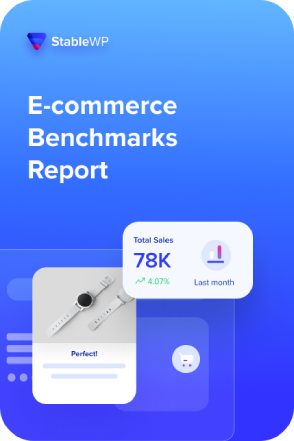 The perfect Facebook campaign structure
When it comes to Facebook advertising for e-commerce, many are tempted to go for the kill straight away.
However, pushing products on Facebook and Instagram social feeds isn't the way to go. A few people will buy your product the first time they see your ad. This could be because they don't know you, don't trust you, or they simply don't care.
While making sales is the ultimate goal for every online store, including Lynx, we needed to be strategic and patient.
The perfect e-commerce Facebook campaign works like a mini sales funnel with multiple touchpoints that allow prospects to interact with your brand across all stages of the buyer's journey.
To set Lynx up for success, we structured the initial Facebook Ads account with multiple campaigns in line with different goals. Each one would target users based on their familiarity with the brand, engagement with ads, and interest in the products.
Nailing the optimal campaign structure enabled us to target the right audiences with the right ads that resonate well at various stages of the funnel.
This has proven to be crucial for success.
For Lynx, the Facebook campaign structure went on something like this:
All campaigns and ad sets complement each other perfectly.
They work as a sequence of ads that take potential buyers across a journey from learning about the new jewelry brand towards becoming a paying customer.
Prospecting campaigns
A prospecting campaign is like casting a wide net on Facebook to see what you can catch.
Our goal here was to introduce Lynx and its awesome jewelry items to as many people as possible.
The targeting was based on a number of factors like demographics, interests, income, and life events (such as upcoming birthdays or anniversaries).
Eventually, with more engagement and as paying customers start coming in, we would have more data to work with. At that point, we could tune our audience more precisely to look for users that are similar to Lynx's best customers.
This ensures a true snowball effect– more effective and efficient marketing leads to more customers and even higher returns.
The ads needed to be powerful and engaging to stop users dead in their tracks and grab their full attention. That's why we went with a few short videos that introduced Lynx Jewels in a fun and interactive way.
The best part is, these video ads would only cost around $0.05 per view, so we could reach a ton of users from the outset.
But we also crafted some carousel and image ads to test what works best for this particular audience.
Any engagement such as reactions, likes, comments, or shares on the ads would serve as additional social proof that further amplifies the impact of the ads.
(Illustration)
Going for the jugular and trying to make a sale here wouldn't work. As mentioned, people at this stage don't know about Lynx or its products.
Instead, the best idea was to create a low-threat offer. The ads direct users to a landing page where they can simply enter a name to see what it would look like on a piece of Lynx jewelry.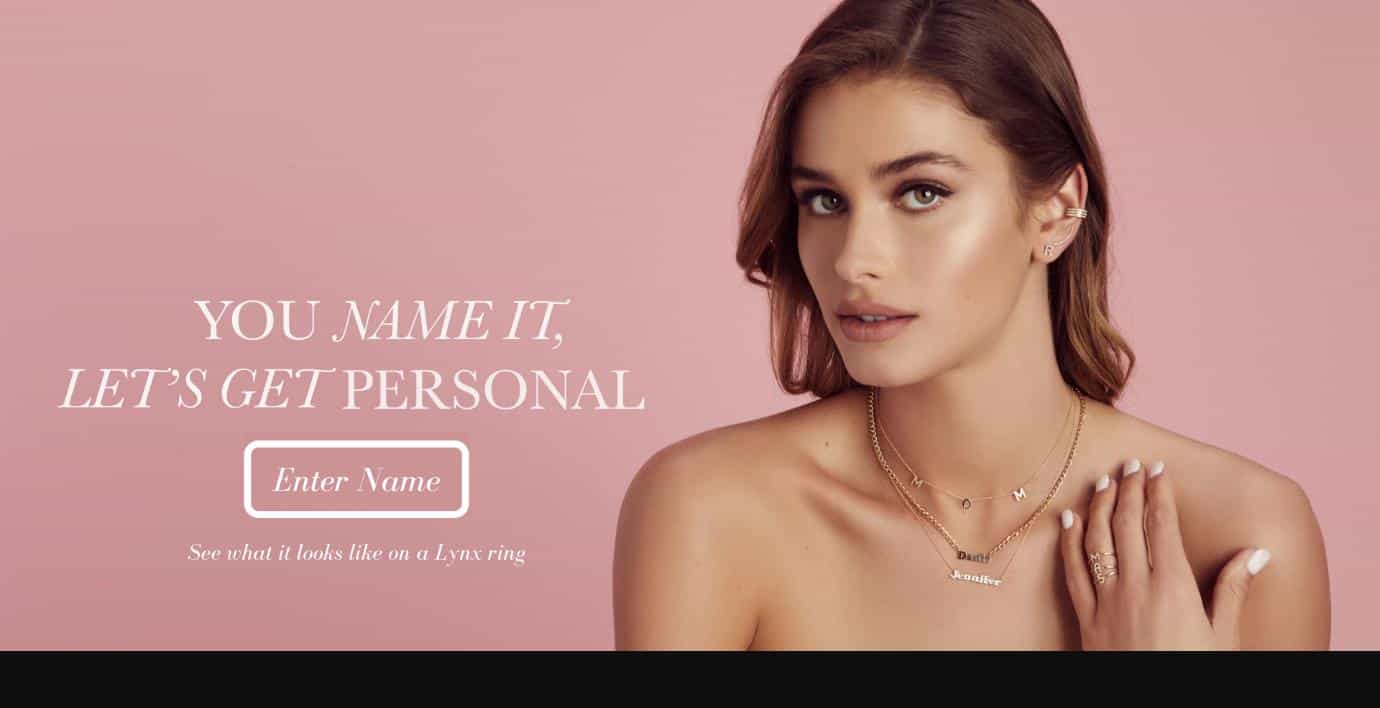 (Illustration)
The idea was to gradually warm up engaged users. Once people see the desired name on a Lynx ring, they would become even more interested in buying it.
Generating demand campaigns
The next step was a campaign aimed at users who expressed some interest in Lynx and its personalized jewelry.
This campaign targeted users that have somehow interacted with the brand. For example, users that have watched the full video, engaged with the ads, played around with the landing page from earlier, etc.
We knew these people are at various levels of interested, so the goal was to turn that interest into demand.
The ads in this campaign showcased the products, introduced prices, focused on the shopping experience and other themes designed to get users shopping on the Lynx online store.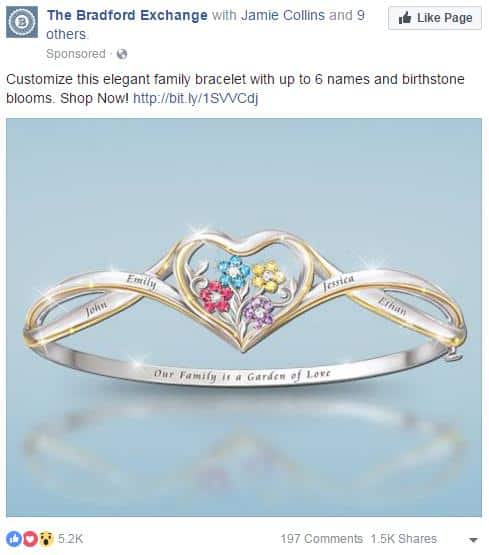 (Illustration)
To make the ads compelling enough to click through, the focus was on the value of shopping with Lynx.
The CTAs needed to be a tad more aggressive here. We wanted to cut to the chase and invite users to visit the site and straight-up shop at Lynx.
The primary KPI at this stage was how many people added items to the cart. More "adds to cart" is a good signal we're targeting the right audience with the right ads and generating real demand.
Driving sales (conversion) campaigns
Now, it gets even more interesting. Users that made it all the way to Lynx's online store but haven't purchased anything yet would start seeing dynamic ads.
Dynamic ads on Facebook and Instagram allow you to promote relevant products to shoppers who have already been your website.
You can upload your entire product catalogue, and dynamic ads will automatically display the exact products the users were browsing on your site.
For Lynx, this allowed them to show the right products to the right shoppers at the right time, for maximum impact.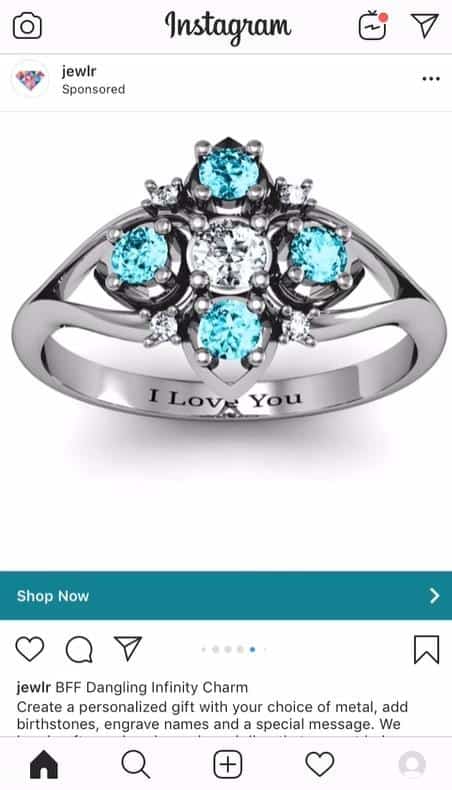 (Illustration)
To measure the effectiveness at this stage, we used the number of sales and the conversion rate. Higher numbers indicate that Lynx's ads were effective at not just creating demand but also translating it into actual sales.
Re-engaging lost shoppers
Users that left their carts without completing the order entered this final step.
These people need an extra push to go through with the purchase. The buying intent is very high, however, some objections prevented them from buying.
The smart way to re-engage lost shoppers was to use to highlight things like discounts on the first order, conditional free shipping, and even testimonials.
These are all useful incentives that can reassure potential buyers and encourage them to return and complete their purchase. Ideally, you should use an omnichannel approach to tackle abandoned carts and reach lost shoppers on the channels they like to hang out, e.g. email, Messenger, SMS, or via web push notifications.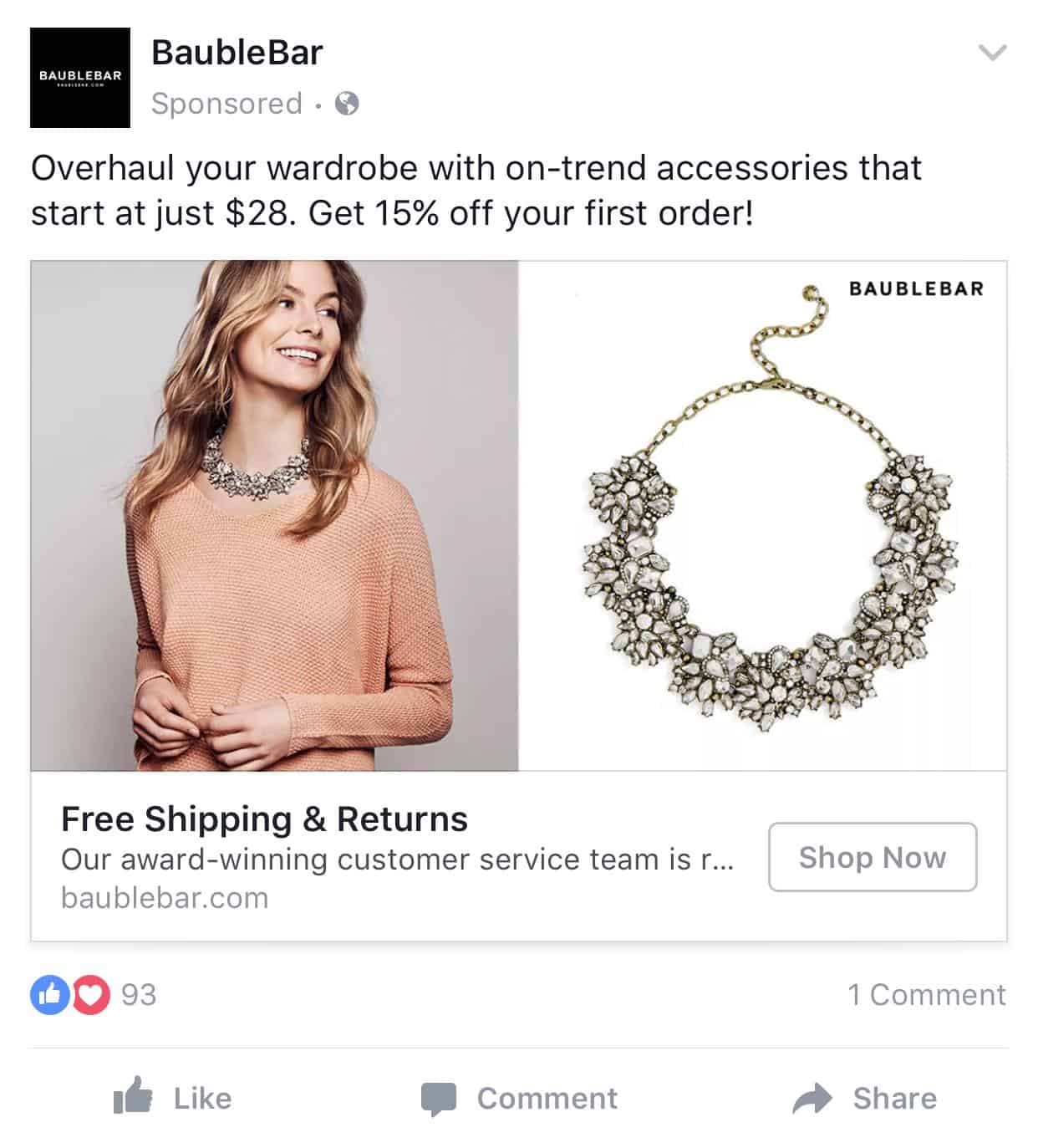 (Illustration)
We tested several different ads and offers to see which one (or a few) the users respond to the best.
A marketing strategy with multiple touchpoints based on users' "temperature" helped Lynx generate 3x the interaction and pay less for it.
It was all about targeting the right people, with the right ad message at the right stage of their buyer's journey.
Budgeting and focus
The goal and focus of the first quarter were to find new customers then use that data to improve targeting.
As time progressed and more data was collected, the focus gradually shifted, and so did the budget.
I Month – Prospecting
Initially, since we didn't have any customer data, we had to prospect for potential buyers by targeting Facebook audiences based on demographics, interests, and life events.
For example, based on our marketing research, we created an audience of women in Canada, employed, and between the ages of 25-50.
Another example was an audience consisting of users that have friends with upcoming birthdays. Also, users that got married a year earlier, started a relationship, etc.
Lynx jewelry is a perfect present, so we wanted to capture those who might be gift shopping.
All were very broad audiences, but with not much data to work with, we had to reach a large number of people and see who is actually interested.
It takes a while for campaigns to truly kick off since Facebook needs to figure out your targeting and setup. So, the bulk of the first month was spent on prospecting with broad audiences.
A relatively smaller portion of the budget went to generate demand and drive sales.
II Month – Generating Demand
In the second month, the focus largely remained on prospecting.
Only now, we knew more about Lynx's potential customers.
We already started bringing in thousands of visitors and enough paying customers.
In the second half of this month, it was time to fine-tune the audience targeting. We started aiming for high-converting customers with the Lookalike audience.
Basically, this means telling Facebook: these are my best customers, go and find users who are just like them.
We also gradually started increasing the budget on campaigns that were bringing in sales.
With Black Friday coming, we had the perfect offer.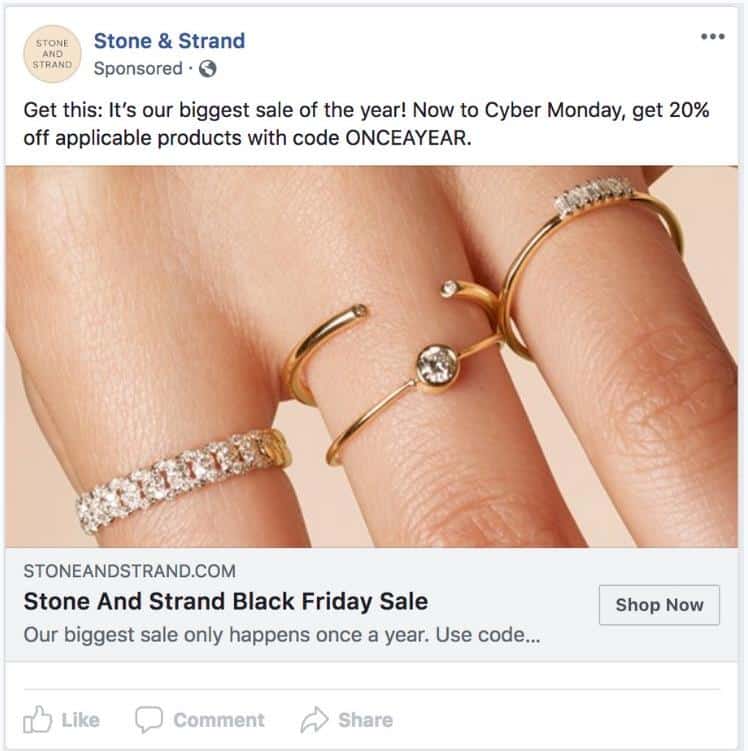 (Illustration)
III Month – Holiday Sales
Finally, in December, we were ready for the holiday season.
We had plenty of data on customers to shift the prospecting focus on Lookalike audiences almost entirely. That meant far better results because we were targeting users who are most likely to be interested in this sort of product.
But not just interested, those who are ready to get their wallets out and buy a piece of personalized Lynx jewelry.
Since holiday season means everyone is in a shopping frenzy, we took the opportunity to retarget users that purchased from Lynx before. The Christmas spirit helped us get even some repeat customers.
The budget also switched more in favour of promoting direct sales with holiday discounts.
Quarterly results
Ultimately, after the first quarter, the results surpassed our expectations and projections.
Lynx managed to reach over 65K users on Facebook and Instagram for a total of 7485 visitors.
The conversion rate was also slightly higher than expected at 3.16%, amounting to 237 sales.
The total revenue after Q4 of 2018 was $56,062. ‬‬‬
The reason why this campaign worked so well was that we chose the optimal marketing channel, picked the right audiences to target, and patiently matched the ads with the users' temperature.
Future plans
The plan for the following year was to continue prospecting with highly targeted audiences.
The focus and budget would be more centred around hunting for perfect prospects – those proven to turn into profitable customers. That means doubling down on Lookalike audiences.
Retargeting to users who abandoned carts would ensure no shopper is lost.
This would also include aiming for repeat business by enticing existing customers to come back for more.
Finally, as more people start to search for Lynx personalized jewelry, and as the marketing budget increases, we planned to expand to Google search ads as well as SEO and organic growth.
If you need help with your e-commerce marketing, StableWP is always ready for new challenges.
Feel free to reach out and find out how we can help your business grow.