The e-commerce landscape has dramatically changed over the years. The rising acquisition costs make it harder to earn a profit. This leads to an ever-growing need to make more money off each sale – that is, increasing your average order value (AOV).
Due to the high traffic and acquisition costs, relying solely on finding new customers to generate more sales isn't going to cut it anymore.
Rather than only trying to increase sales, focus on tactics that increase the amount your buyers spend on each transaction.
But how do you actually get customers to spend more?!
In this article, I'll show you exactly how to turn traffic into profit. You'll learn not only the best tactics to increase your AOV but also how to stack them for maximum gain and profitability.
IMPORTANT: Don't get me wrong, getting new customers and driving more sales is great. It's an important foundation for successful e-commerce. However, you also want to make more money off each transaction which is why increasing the AOV is a critical part of your marketing strategy.
What is AOV
Average order value (AOV) is the average amount of money each customer spends when they make a purchase from your online store.
Knowing your AOV is key to understanding who your best customers are, how to set up campaign targeting, and is also a decisive factor that helps position your pricing, shipping and other key strategies.
Increasing your average order value directly impacts your revenue growth and leads to more profitable sales.
We'll get to that in a minute, but first, let me show you how to determine your AOV.
How to calculate your AOV
To calculate your AOV, divide the total revenue by the total number of orders (sales).
AOV =
Total Revenue
Number of Orders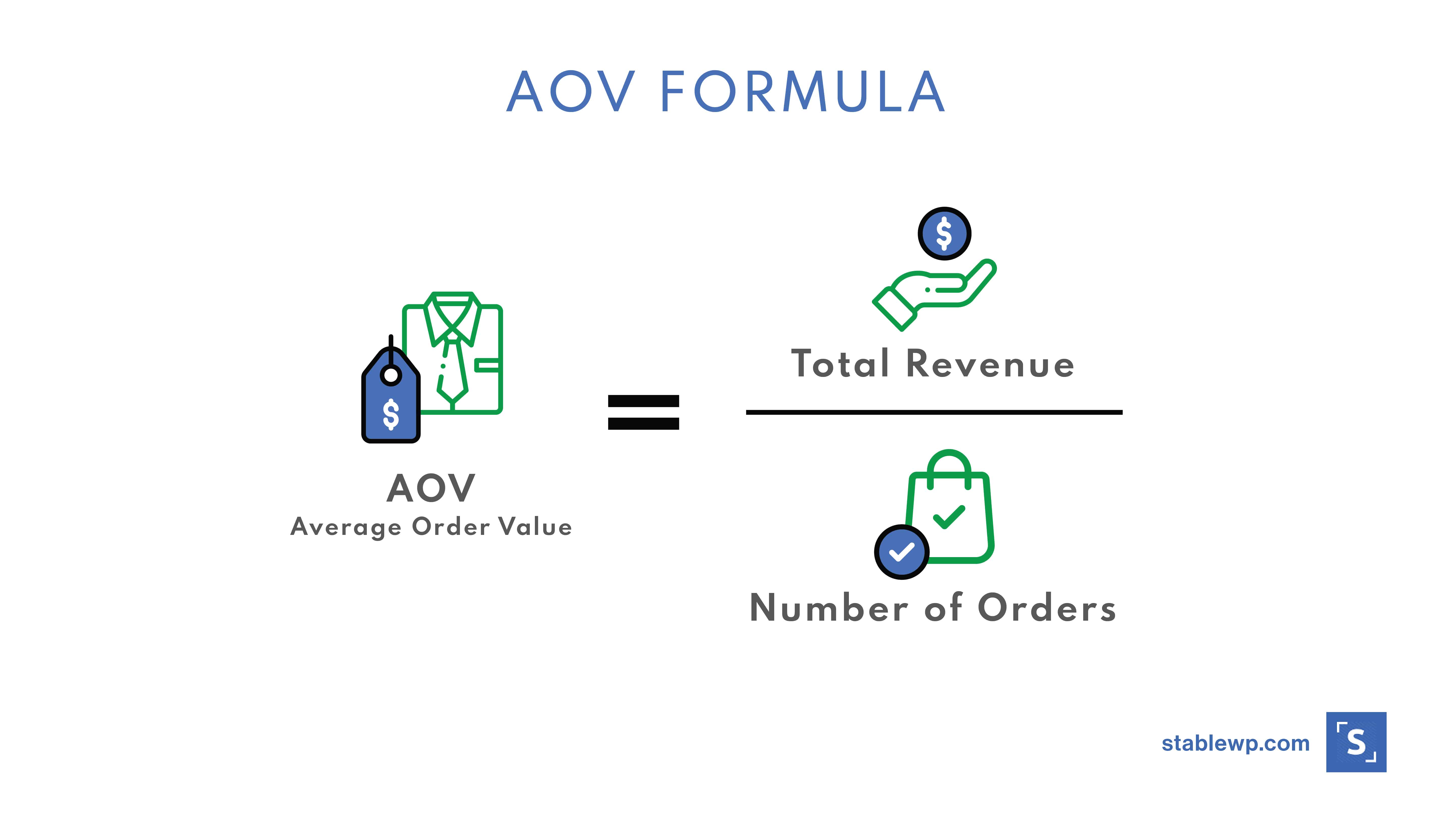 If you're selling only a single product in your online store, let's say a $30 pair of yoga pants, and each person buys only one pair per order, your AOV is $30.
But if you have multiple products and each transaction is different, then you'll have to do a bit of math.
For example:
Your total revenue for Q3 was $250,000.The total number of orders on your e-commerce in the same period was 4500. This means that your AOV for Q3 is:
AOV =
$250,000
= $55.6
4500
So, on average your customers spent$55.6 per order in Q3.
Not too shabby, right?!
However, your AOV doesn't paint the whole picture by itself. Things get interesting when you throw in other key metrics into the mix.
Why increasing AOV matters
Improving your AOV will directly and positively impact your revenue growth and help you scale profits upward.
Not only that but having a higher AOV will also help your e-commerce stay afloat. It's a major differentiator between business success and failure.
You see, as customer acquisition costs continue to rise and competition gets even more fierce, you need to squeeze more money from each sale to stand a chance.
Let me prove that with an example.
For instance, let's assume you're selling a $30 item, like yoga pants, and the cost per click (CPC) for a keyword with high buying intent like "buy yoga pants online" is $1. Also, let's say your conversion rate is 2%, which is typical for e-commerce.
To acquire one customer, you need to drive 50 visitors to your online store.
Conversation Rate =
# of Visitors that Converted
× 100
Total # of Visitors
With some math, we get the number of visitors needed to acquire one new customer/conversion:
# of Visitors Needed for 1 Conversion =
# of Conversions
=
1
= 50
Conversion Rate
0.02 (2%)
And if each click (visitor) costs $1, it means you have to spend $50 to acquire one single customer. That's your CAC or customer acquisition cost.
If that buyer only spends $30 for a single item (yoga pants) and you paid $50 to acquire that customer, it immediately puts you $20 in the hole.
Profit = AOV – CAC = $30 – $50 = -$20
Add to that other expenses like the cost of goods sold (COGS) and your overheads, and you quickly realize that this business model is doomed to fail.
In reality, the CPC for such a competitive keyword is usually much higher and hovers in the $2-4 range.


This further increases your CAC and puts you even deeper in the red.
While you can (and always should) try to increase your conversion rate, at some point you'll reach a plateau where you can't improve it fast enough to keep up with your business growth.
To make a profitable sale you must squeeze more $$$ out of each order.
In our example, you must go beyond $50 traffic cost, cover other expenses and still have something left to call a profit.
Even if you're selling a more expensive product, the rising traffic costs and brutal competition will eat away your margins, fast.
The answer lies in increasing your average order value. And let me show you how.
Download the 2023
E-commerce Benchmarks Report
Get the latest industry trends, stats and insights to benchmark your e-commerce performance and find unique growth opportunities.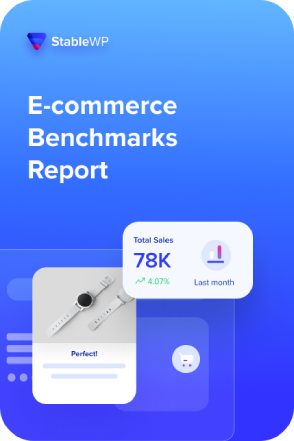 How to increase your e-commerce AOV
Increasing your AOV means you'll be able to recoup the cost of converting a customer, while still being able to make a profit.
Gone are the days in e-commerce where you could bring shoppers to your store with Google or Facebook ads for pennies.
Now, because of unforgiving competition and high advertising costs you need a much more advanced strategy in order to really turn that traffic into profit.
To increase your AOV, you need to convince customers to add more items, or more expensive items, to their cart.
Upselling, cross-selling, conditional free shipping and other tactics are tried and true AOV boosters.
In case one simple upsell doesn't do the trick, you can have a continuous flow of various offers aimed to raise your AOV.
Stack multiple offers to maximize your order values, grow revenue and supercharge your profit.
This is why some online stores (including your competitors) can afford to pay high CPC, constantly run discounts and still make a profit.
An online store such as LikeBunny can spend money advertising low-cost leggings at a discount because its website is dialled in for high order value.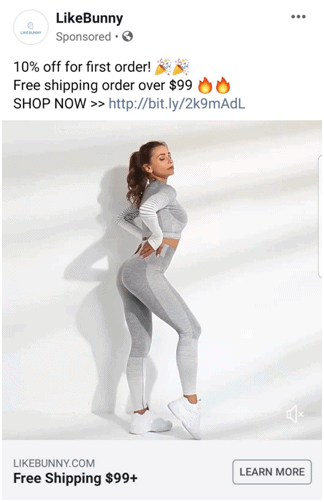 LB expects its customers to not only buy the $30 leggings, but also get the matching sport's top, or even the entire outfit.
These upsells are intentionally prominently placed on the product page to grab attention and encourage shoppers to add more items to the basket.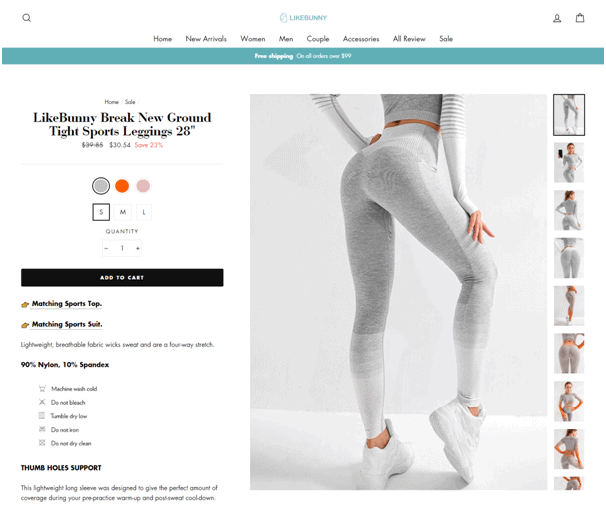 There's even a conditional free shipping incentive to get customers to spend more. To qualify for free shipping, you must spend over $99.
Now let me show you the best tactics to increase your AOV. You'll learn how to implement and stack these tactics together to maximize the value of each sale.
Let's look at 4 e-commerce companies that masterfully stack upselling tactics.
Upsell a more expensive version of your product
Upselling means promoting a more expensive version of the product or a product upgrade.
This is one of the most common and compelling ways to increase the order value.
Your goal is to encourage shoppers to buy a better, or deluxe version of a given item.
Once the user is set on buying a product from your online store, offering an improved version seems like a better deal.
For you, it means higher value sales and additional revenue per customer.
Here's how Casper, a mattress e-commerce company, upsells their products.
Casper's product pages come filled with options. All have the goal to increase the revenue from each sale.
For now, let's focus on material choices. The Wave Mattress comes in two varieties, the Original one made of foam and the Hybrid version made of foam/springs combination.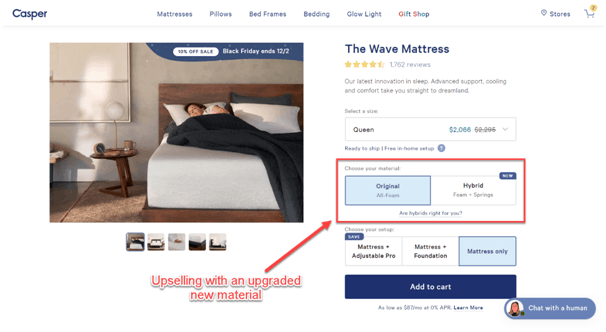 Needless to say, the Hybrid option is the more expensive one, costing around $200 more.
Casper encourages you with a subtle "NEW" tag to lead you to believe this is an improved version of the mattress.
But Casper isn't leaving anything to chance. There's also a small link that says: "Are hybrids right for you?" Once clicked, a popup makes a compelling case why you should go with the hybrid version by highlighting all its benefits.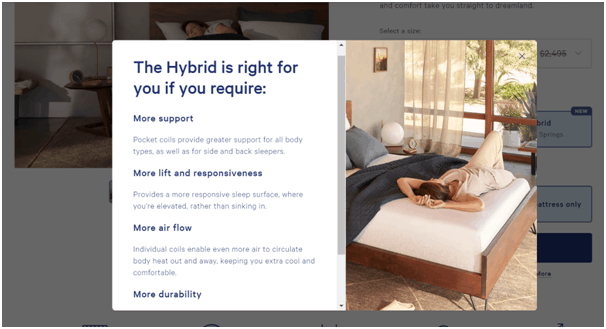 This nifty upsell already increases the AOV by around 10%.
But there's more. Casper is putting on a clinic on how to maximize the order value by stacking multiple tactics together.
The next tactic is product bundling.
Offer product bundles
Product bundling means combining multiple, related products into a single item on your e-commerce store.
Bundles should cost less than if the same items were purchased individually. This increases the perceived value for customers, making the combo offer that much more appealing.
An excellent solution is to offer a package of products that create an all-in-one solution for the desired experience.
It's very convenient for customers to buy everything they were looking for with a single click of a button.
As a bonus benefit, bundles reduce the risk customers will abandon their cart during the search for additional products.
On Casper's site, below the material upsell lies another prominent AOV booster.
Casper offers three setup options: just the mattress, mattress and the foundation, or the mattress plus an adjustable bed.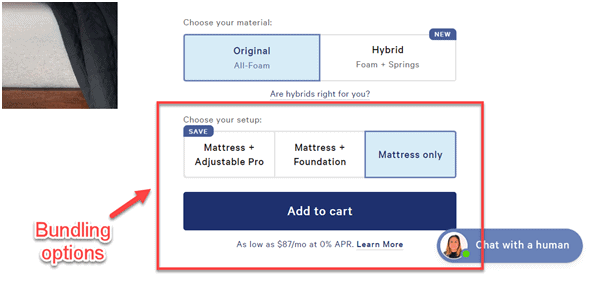 But Casper really wants to sell you the entire package. That's why the adjustable bed combo features a prominent "SAVE" tag, signalling that's the best deal.
And indeed, you save 20% if you buy the adjustable bed + mattress bundle.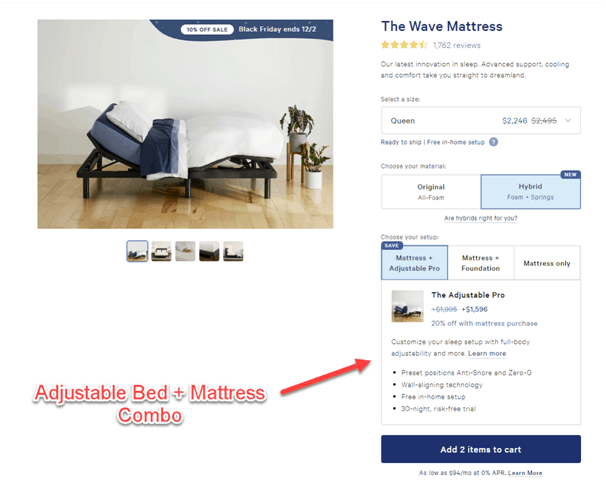 That's an additional $1600, or around 73% more on top of the initial mattress sale.
Wow, right?!
Well, we're not done with Casper yet. Wait till you see what happens once you add to cart.
Include add-ons at checkout
Add-ons are accessories to current products. As the name implies, they're just accessories, and cannot stand alone.
The main purpose of add-ons is to provide extra functionality and increase the value of a product.
Add-ons are typically small, very cheap items that don't cost you much but can bring in additional revenue.
Extras like these increase average order value. It might not seem like much, but they quickly add up to at least cover the cost of advertising.
If you sell leather furniture, you could recommend an accompanying care kit. Or, if you sell shoes, you could offer comfy shoe inserts.
Back to Casper, once you click on the add to cart button, the cart popup urges you to "complete your bed" with The Mattress Protector cover.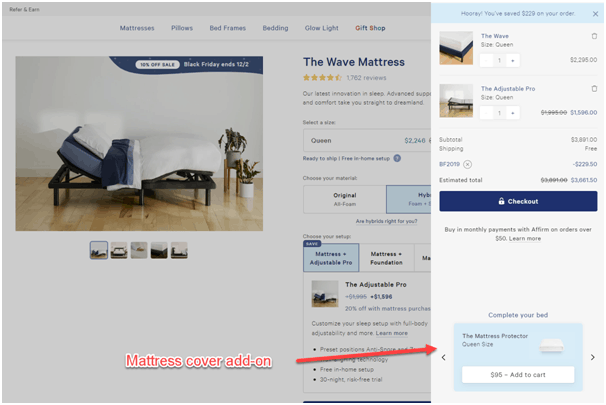 Despite its $95 price tag, this item is only around 3% compared to the total cost of $3600.
The mattress cover is just one add-on, you can also include a pillow, sheets, quilt, etc.
All these add-on items are affordable enough to trigger your impulse purchasing mode.
And there's, even more, coming at the billing page.
To nail the order value, Casper finally pitches its 10-year protection plan at the checkout.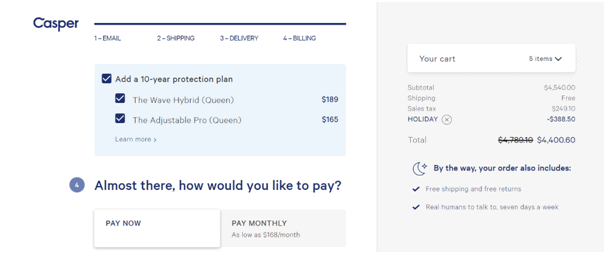 It's an additional $354 if you opt for an extended warranty on both your mattress and your adjustable bed. And considering it's less than 10% of the original price tag price, the 10-year protection plan seems like a good deal extra for peace of mind.
Finally, it's clear to see that what could have been a $2000 purchase is now more than doubled with these tactics.
No wonder Casper topped $400 million in annual revenue (2018) and is now valued at $1.1 billion.
All these tactics work perfectly well for both low-cost and high-ticked items.
Increase each sale with quantity breaks
Quantity break pricing is a powerful marketing strategy to get your shoppers buying more. This tactic is also known as volume breaks or volume discounts.
Customers that buy more than one unit of a product get a discount. The same goes if they buy a larger volume pack.
The more customers buy, the more they save making quantity breaks a very attractive offer.
Here's how Sephora uses volume breaks to increase the order value by offering two perfume bottle sizes.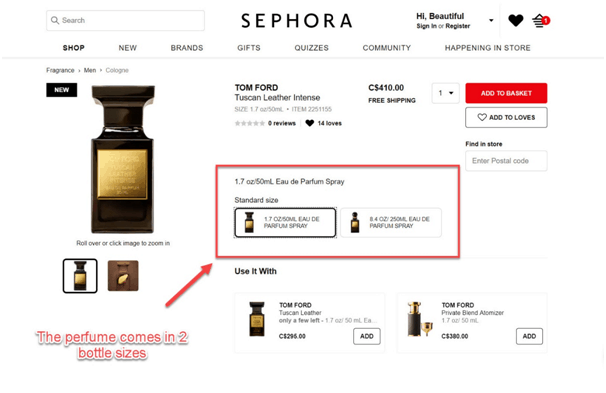 The 50ml bottle costs $410 while the 5 times larger pack (250ml) is "only" $860.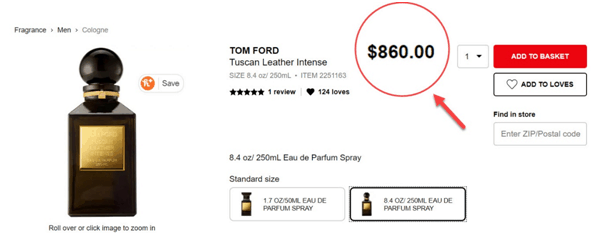 Now the price seems much more reasonable. The smaller bottle costs $8.2/ml, while the larger one is only $3.44/ml.
What this does is it increases the perceived value of the bigger bottle. Customers get 5 times more perfume for only twice as much money.
But for you, as the e-commerce merchant, you just doubled your order value. And now the ratio between AOV and CAC looks much more in your favour.
Let's see what else Sephora holds in its bag of AOV increasing tricks.
Cross-sell with complementary products
Cross-selling is another core tactic to increase AOV by suggesting other, related products that supplement the main product.
These items can be sold as standalone products, they can complement or even replace another product.
You've probably noticed a very common section on e-commerce product pages that says something like "Frequently Bought Together," "Similar Products," or "You May Also Like."
Sephora has these sections as well.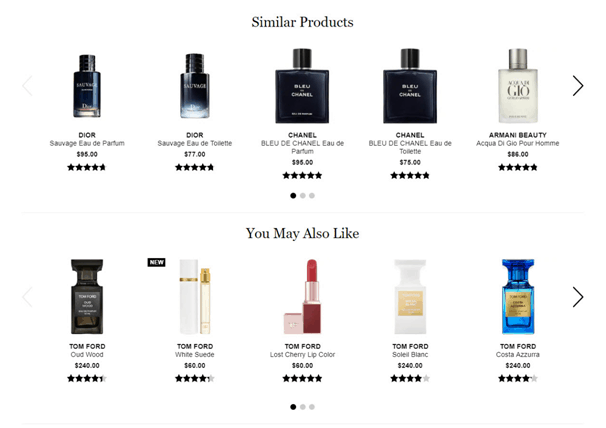 It's a very soft and subtle cross-selling suggestion to add more items to the cart.
These sections also provide alternatives to customers that are having second thoughts. Instead of leaving the site empty-handed, you can offer other products to either buy together or replace the main product customers are looking at.
However, Sephora cranks it up to 11 with another type of cross-sell.
The above the fold area contains an even more compelling offer. The "Use It With" section recommends shoppers to buy another perfume that mixes well with Tom Ford's Tuscan Leather Intense.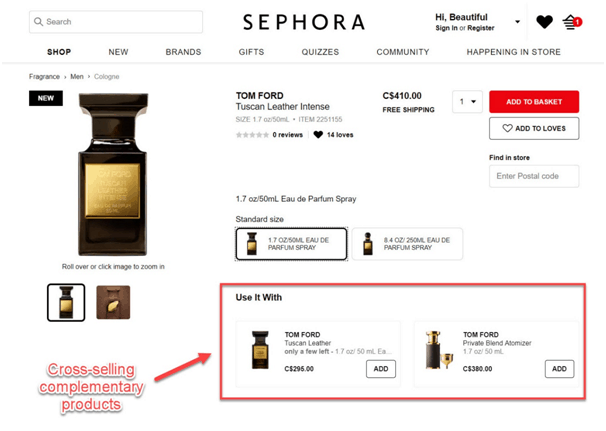 One of the latest fashion trends is to layer two or more perfumes to create a signature scent.
The other product is the Private Blend Atomizer which is used to mix and hold your personal blend in style.
Sephora knows this and banks on fashionistas desire to stay on top of the latest trends.
Notice how convenient it is to add another item, no need to visit another product page, just click on the Add button. And there's also an urgency trigger – "only a few left."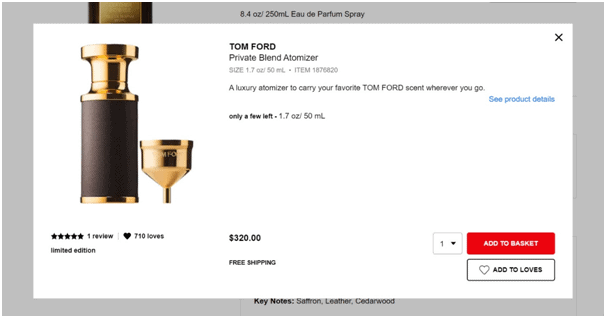 Cross-sells like these work wonders for impulse purchases.
That adds another $675 to the cart value.
Cross-selling doesn't stop there. Once you add a product to the cart, the popup suggests you buy some matching products for your partner or a loved one.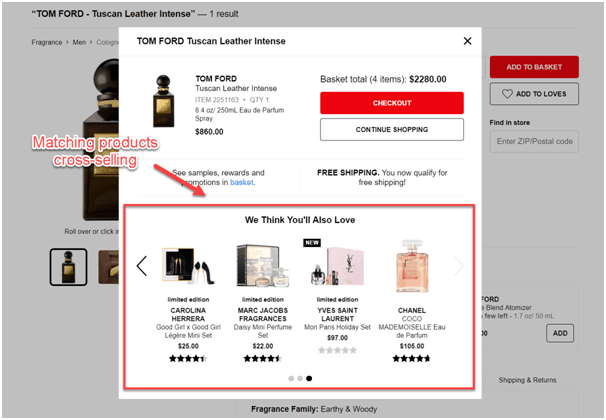 These are all comparatively inexpensive items that can be bought as a gift.
If you want your partner to smell good like you, this is another impulsive purchase you can't avoid.
Another $25 to $100+ in the bag.
From potentially $410 to a whopping $1442.
Offer express delivery at a cost
One annoying thing about e-commerce is that you must wait for your order to be delivered. And if you're like me, you're too impatient to wait for standard shipping.
The same is true for a lot of your potential customers.
But, if you can offer a faster shipping option, it can work as another potent order bump. For a few dollars more, eager customers can get their items delivered in only 1-2 days.
The best way to go about this is to offer standard shipping for free as an incentive to get people buying (boosts your conversion rate and lowers CAC). Once they're hot and in the buying mood, hit them with the expedited shipping offer at a cost (increases AOV and revenue).
Kill three birds with a single stone (conversion rate, CAC and AOV).
Sephora has a very discrete order bump on its basket page.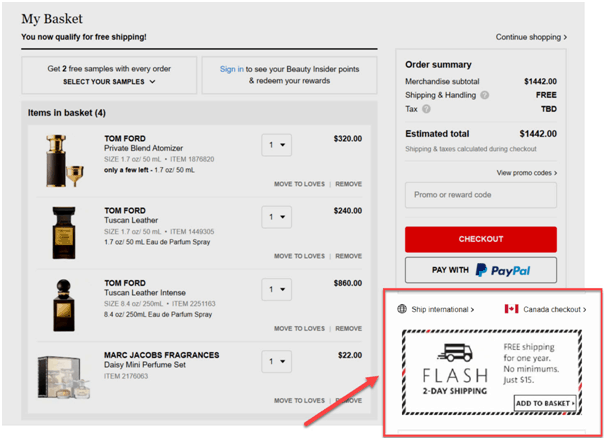 Sephora offers flash 2-day shipping for an entire year, costing you only $15.
You pay, but it's FREE! But more importantly, it works.
This type of offer is great not only for your AOV but it increases customer loyalty as well. Shoppers should come back again and buy more often, otherwise, their "free" shipping will go to waste.
But if you need even faster delivery, there's also a 1-day option for $5.95 more.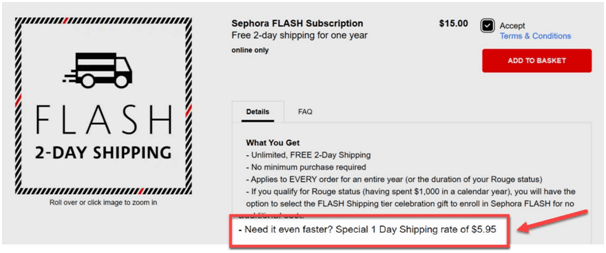 In case you missed the offer on the cart page, the checkout reminds you to consider opting for expedited shipping. Only now, it costs $11.95 for a single express delivery.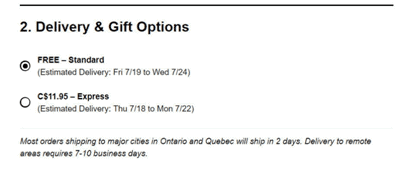 That's $11-15 more amounting to a total of $1457. That's 355% more than the original sale would have been without using the AOV increasing tactics.
The expedited shipping offer is another small revenue bump to liquidate the delivery costs and make your sale even more profitable.
Encourage customers to add more items
Another way to increase your AOV is to encourage customers to buy more items.
Just like upsells boost transaction value with more expensive items, this tactic does it by increasing the cart size.
And to do so you need an incentive.
A minimum-spend discount is an excellent motivator for customers to buy more items.
For instance, you can offer a 10% discount when customers spend $100+, or if they add two or three items to cart.
Gnoce, a personalized jewelry brand, incentivizes large cart size with a "buy 2, get 1 free" promo.
It's featured everywhere, from Gnoce's Instagram ads…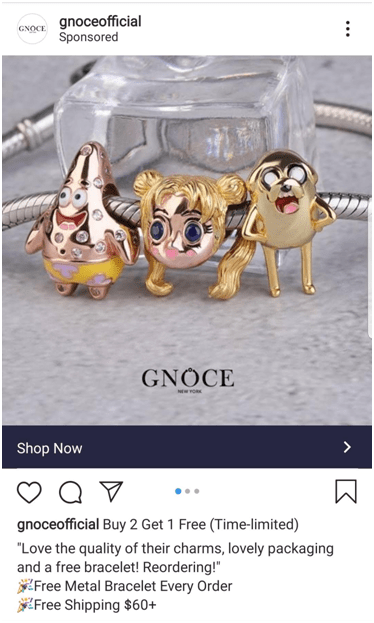 …to its product pages.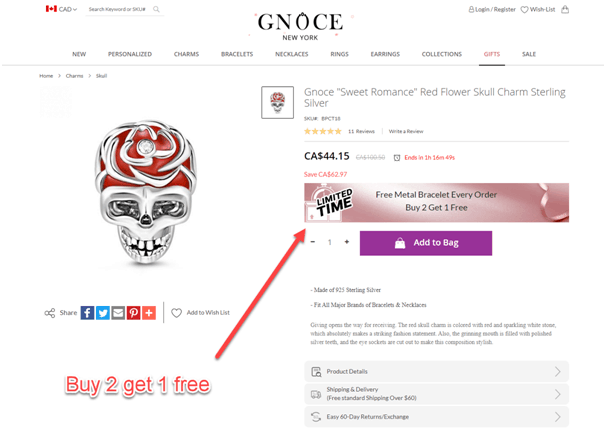 Instead of buying only one charm for ~$40, Gnoce motivates its customers to add more items for higher purchase.
To keep shoppers from getting distracted, the below the fold area suggests which products to buy. It's the typical cross-selling section we mentioned before.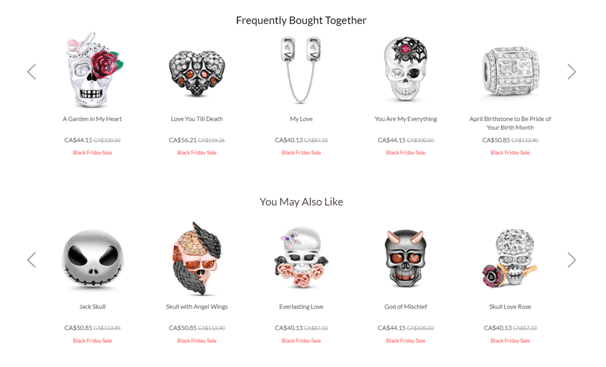 It's a non-intrusive, but constant reminder to customers to purchase more products, and increase your average sale value.
This approach works best as part of a promotional campaign, such as Black Friday.
But this next tactic works every day of the year.
Boost your AOV with conditional shipping options
Shipping options can be a powerful marketing strategy to increase AOV.
High delivery costs and the fact that customers hate paying for shipping make it a go-to tactic for many e-commerce merchants.
The most popular tactic is conditional free shipping. Customers must spend a minimum amount to qualify for free delivery.
In the case of Gnoce, you're eligible for free standard shipping if you spend $60 or more.
However, you can get creative with your shipping incentives. Gnoce plays around with its delivery, like this:
Free standard shipping over $60
Free expedited shipping over $120
UPS express shipping over $150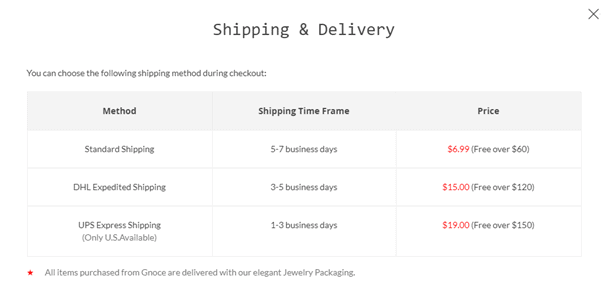 A good idea is to display the free shipping progress on the cart page.
In our example, Gnoce reminds shoppers to spend at least $36 more to qualify for free standard shipping.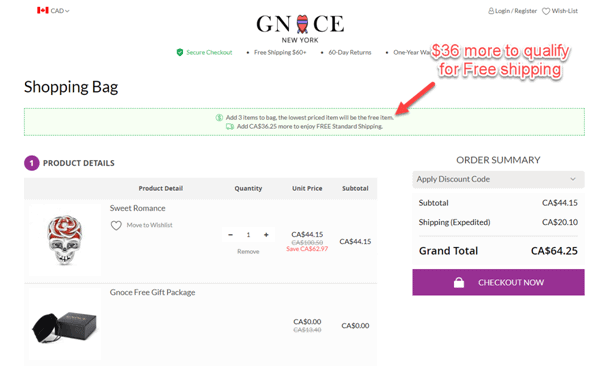 The same progress box also reminds customers about the other, buy 2 get 1 free promo.
The tricky part is setting the free shipping threshold. Set it too high and it may feel out of reach, thwarting its effectiveness. If you set the limit too low, it can hurt your margins.
You can learn more about delivery options and strategies in our Ultimate E-commerce Shipping Guide.
This free shipping incentive potentially could improve Gnoce's AOV by at least 36%.
Offer gift wrapping at checkout
Gift wrapping is another way to increase AOV by enhancing the value of your product.
People buy gifts online all year long, not just during the holidays.
Similar to add-ons, you can provide a gift-wrapping option at a small fee to squeeze a few more dollars from each purchase.
Among other AOV boosting incentives, Gnoce offers a $5 gift message card to go along with the charm.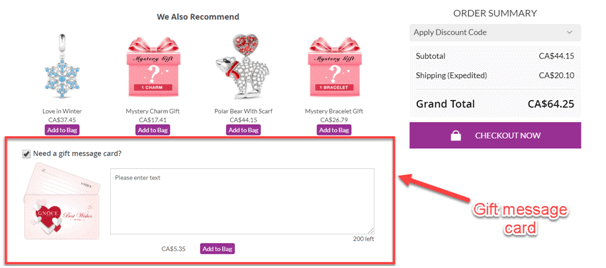 In this case, gift wrapping means an additional 10% revenue.
It's practically additional profit because it comes at (almost) zero cost to you.
Tripwire offer
Having a tripwire offer is a sophisticated marketing strategy. The idea is to advertise a very cheap or even free product.
The cheap item is just there to get customers through the door. You're not supposed to make any money on it. At best, it can cover the advertising expenses to break even.
Where you actually make money is on other products that you upsell and cross-sell on your e-commerce store.
Zeelool does a masterful job at this.
It hooks customers with ads promoting cheap prescription glasses and then lets the e-commerce backend take over to make the purchase profitable.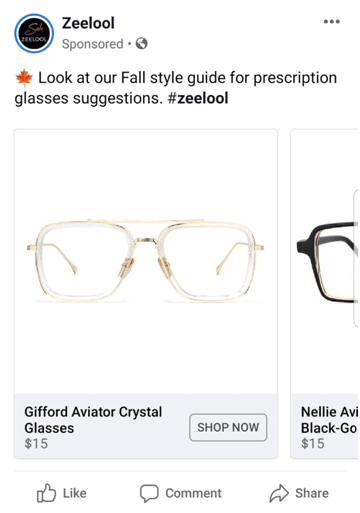 The glasses are only $15. But Zeelool is only looking to break even with this frontend offer.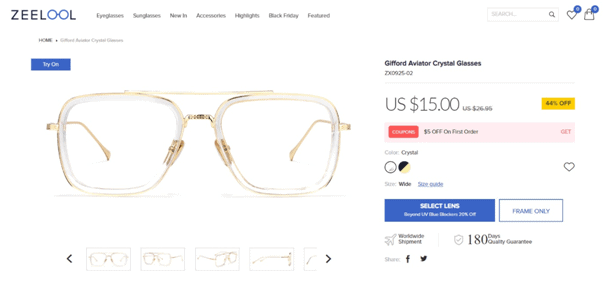 The $15 price tag is just for the glasses frame. The core product is the lenses.
And you can see the upsell immediately on the product page.
The standard lenses cost up to $129.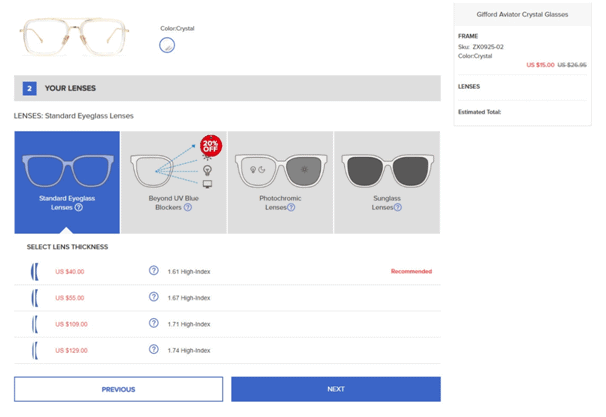 Other varieties such as photochromatic lenses go up to $165.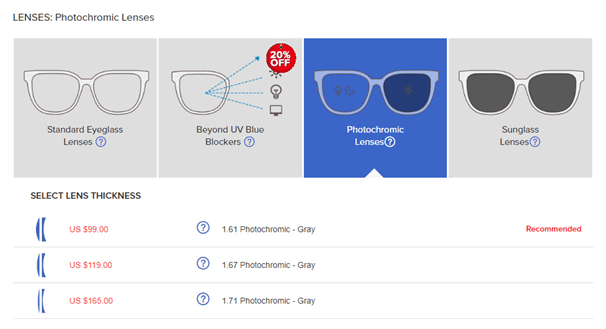 Instead of a $15 purchase, the order is now $165 for lenses plus the frame, which amounts to $180. That's more than a 10-fold upsell, right there.
For an even higher-order bump, the next step tries to upsell on add-ons, such as the lens coating. And that costs up to $9 bucks more.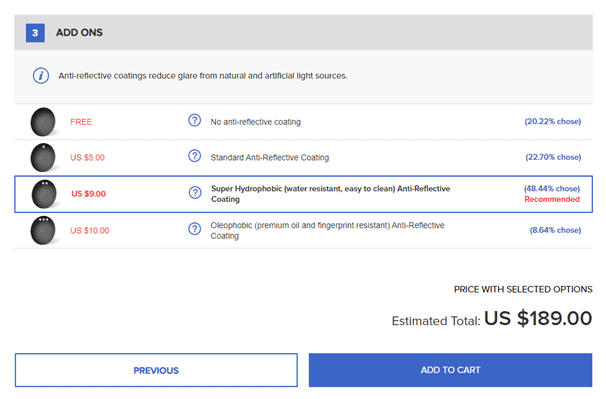 The cart page comes riddled with more upsells.
There's a promo to buy one pair and get another one for 50% off. Other usual suspects are all there as well, like the conditional free shipping and other product add-ons that may be useful.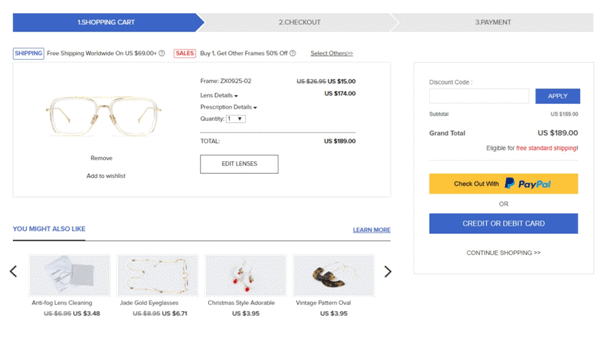 And finally, there's the $18.85 expedited shipping option and even a free express shipping membership that costs $29.8/year.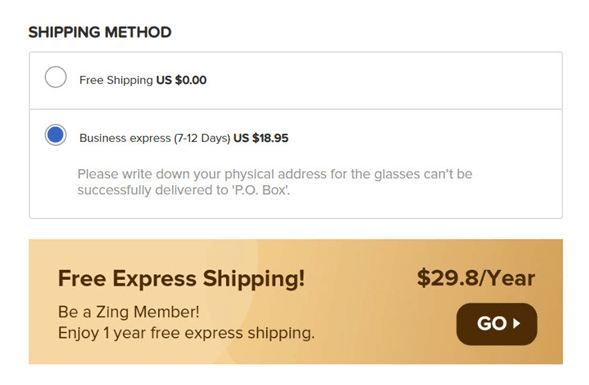 See how it all comes together. Zeelool is a terrific example of how to stack almost all of the upselling tactics mentioned earlier to make sales extra profitable.
The grand total comes to $207.95.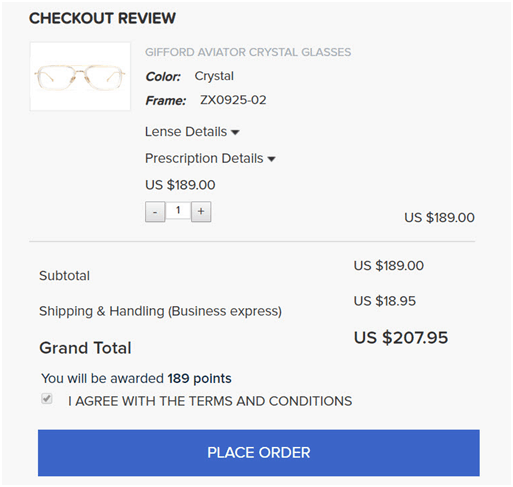 This is why Zeelool can afford to advertise cheap glasses at a discount and still make a killing on the backend.
Conclusion
Average order value (AOV) is one of the most important e-commerce KPIs.
To truly understand your performance, compare your AOV with other metrics like customer acquisition cost (CAC) and customer lifetime value (CLV).
The acquisition costs are on the rise. Increasing your AOV is a powerful way to counter high advertising and traffic costs.
To truly supercharge your e-commerce profit, focus on maximizing your average order value. Stack multiple order bump tactics together to increase purchases by 10, 50, and even 300%.
That's what it takes to run successful e-commerce these days.
Hope you found this guide useful. If you have any questions or comments, drop us a line down below.
And if you need help with your e-commerce marketing, get in touch and find out what we can do your business. ?