Video content is booming, so much so that Cisco predicts almost 82% of all internet traffic will be video by 2022. And it's about time you get in on the action as well.
But how to stand out in a sea of billions of hours of video content?! What does it take to get your videos in front of your target audience?!
The key to success is YouTube Video SEO!
Keep reading and learn how to optimize your videos to rank on the first page of both YouTube and Google and supercharge your search traffic.
Why YouTube is the best video hosting platform
There are plenty of video hosting/sharing platforms (Vimeo, Wistia, Dailymotion) out there, but none can match the power of YouTube!
This argument stems from the fact that YouTube is far more than just a platform to upload your videos. Let's look at some of the main points that separate YouTube from the rest:
With numbers like these it clear to see why YouTube dominates the online video space. YouTube's colossal user-base of a highly engaged audience is a great potential for your marketing as well.
When you upload a video on YouTube, you have a chance to reach and win over a huge chunk of your target audience. It's all about serving quality, useful video content and optimizing it for high rankings.
YouTube videos have enormous SEO potential since they also dominate Google search results…
Videos in Google search results
Google tries to provide the best combination of experience/satisfaction to its users. That's why if videos might be helpful for the searcher, they may appear on the regular search results page.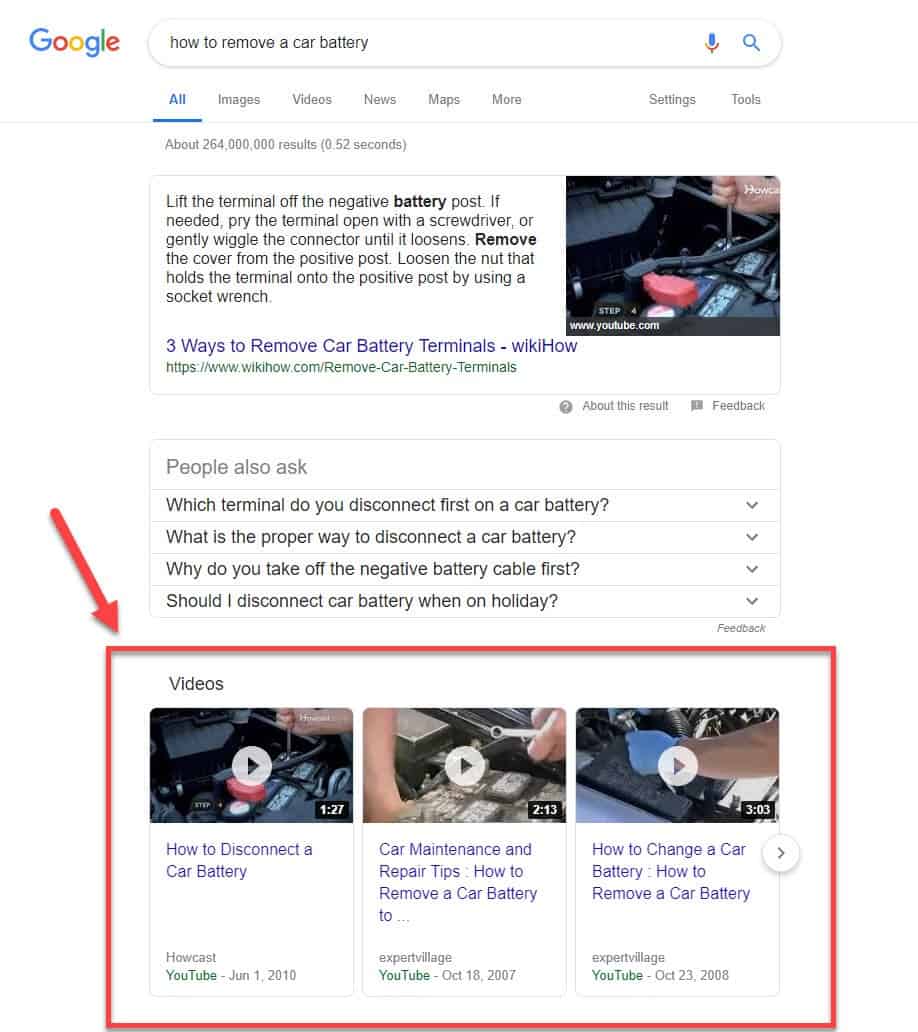 It's all about user intent. Google assesses various search features (e.g., videos, news, images, etc.) according to the intent of the search and how useful they might be to the user. That's why for many "how-to" queries you might see videos ranking on the top page.
Some searches may also yield a Suggested Clip. They usually appear for "how-to" related search terms.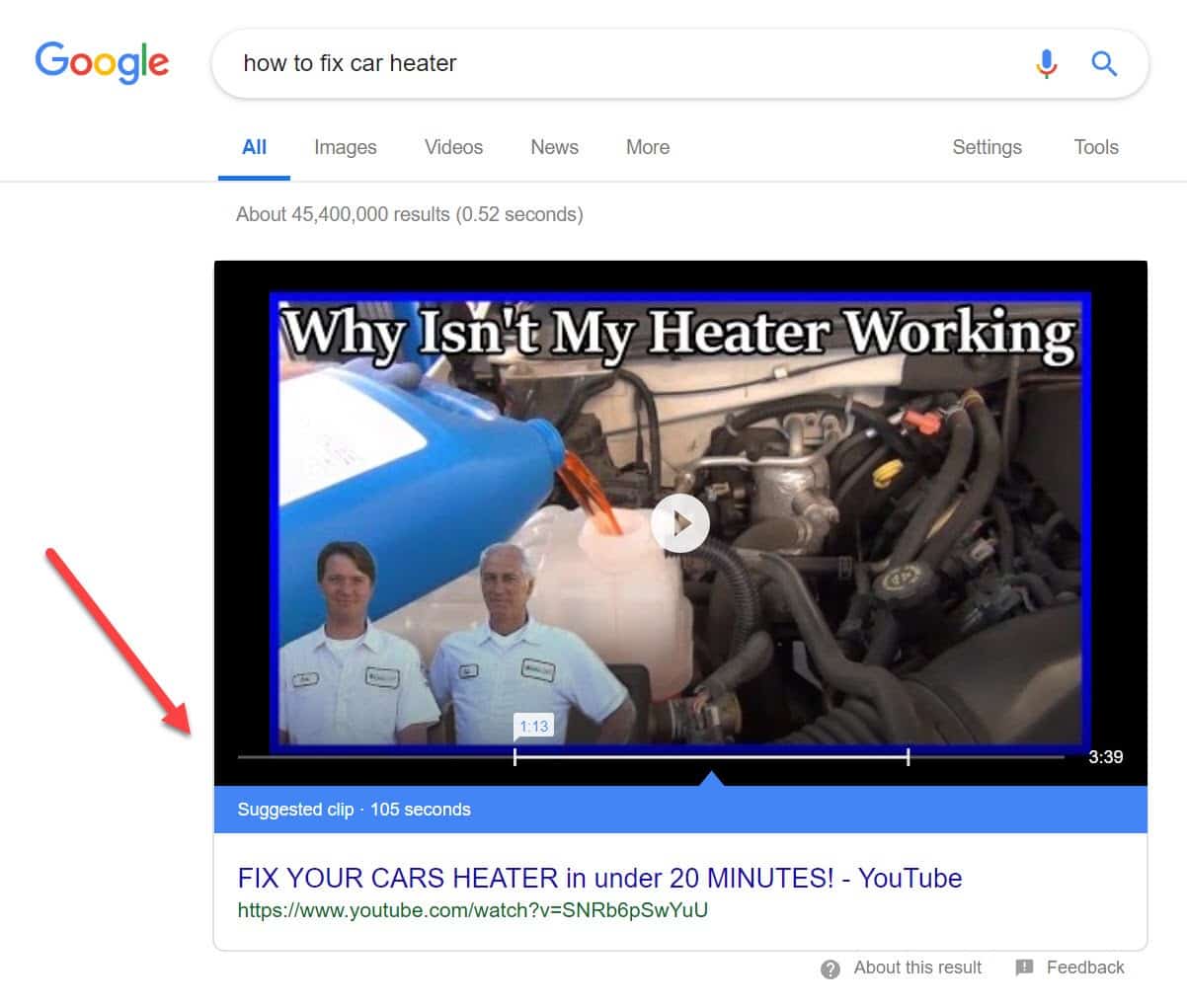 Unlike other search results, suggested clips jump to a specific point in the selected video that features the answer to the search query.
There's also a new Featured Snippet opportunity for videos – YouTube descriptions.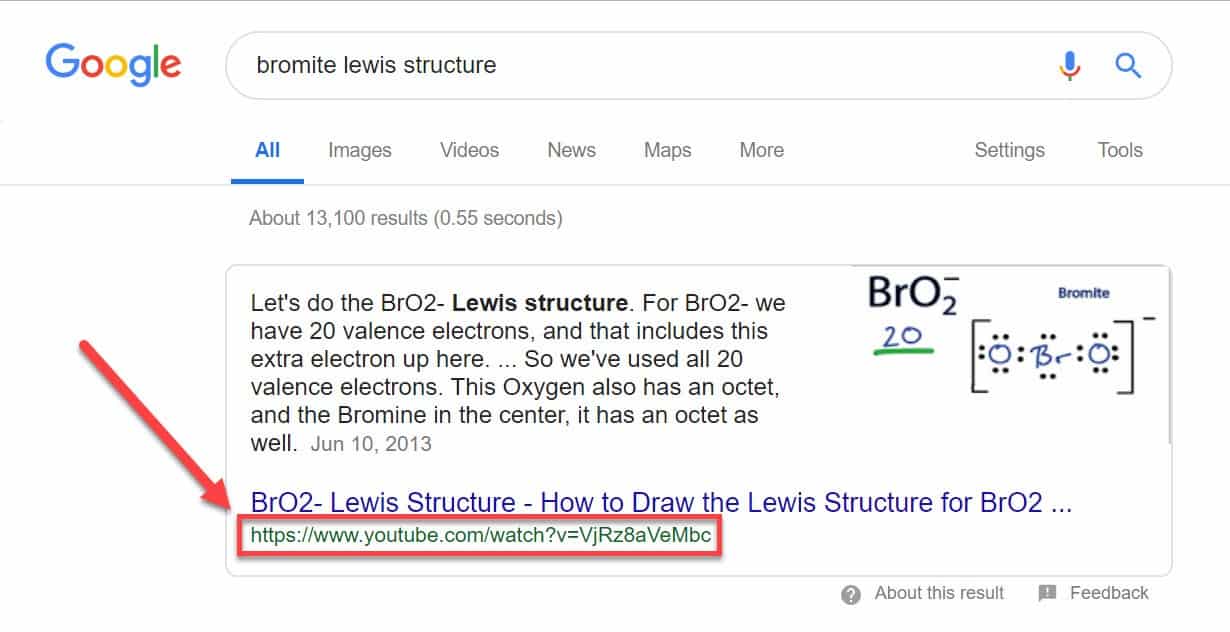 This means Google is digging through YouTube video descriptions to find the best answers to queries that could pop up as a featured snippet.
Lastly, Google results feature a dedicated section for video results.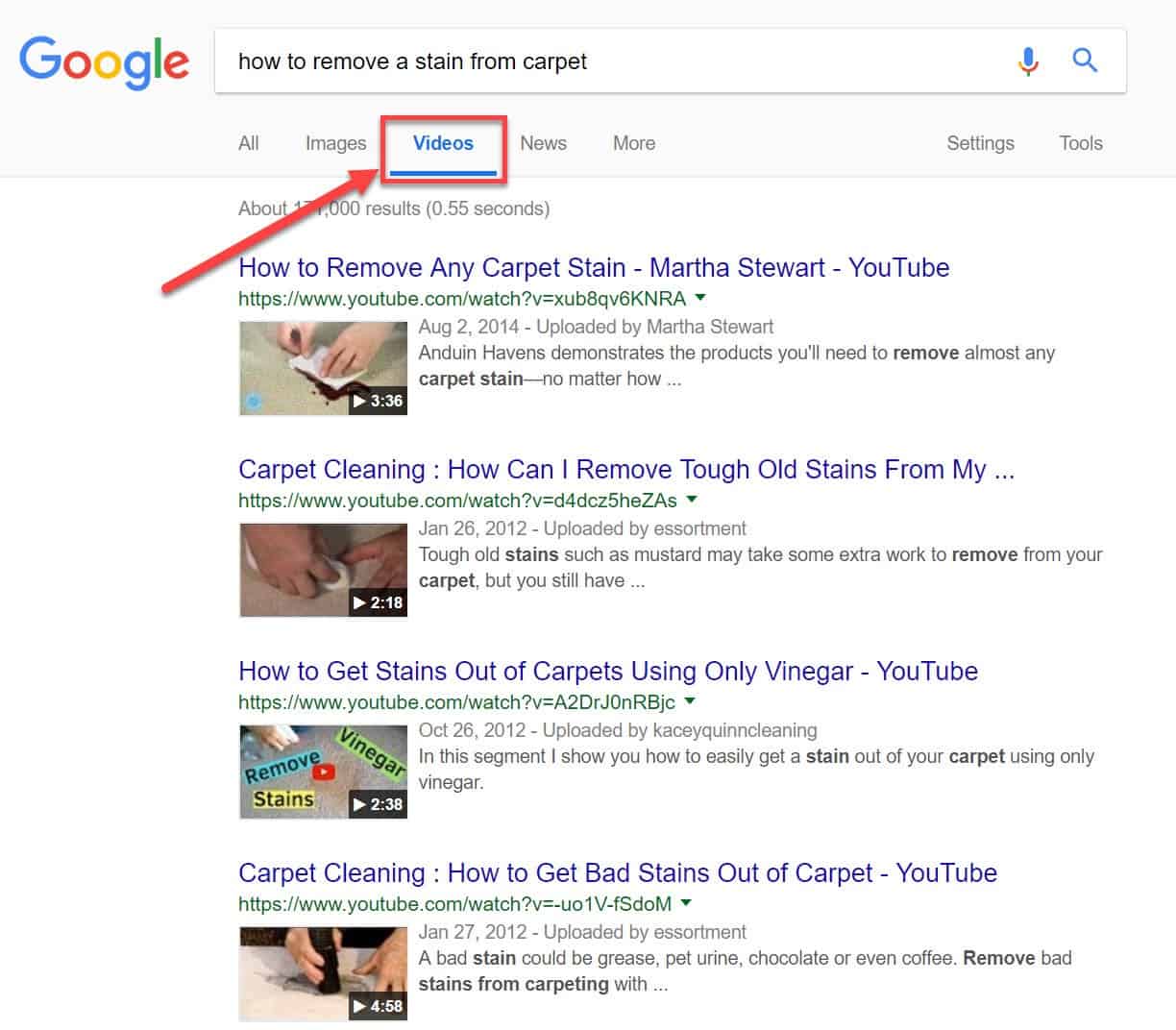 And upon closer inspection, you can see that the vast majority of videos belong to YouTube.
According to studies, 88% of videos on the first page of Google come from YouTube.
This might seem like an unfair advantage, but let me explain why this makes perfect sense.
Google's apparent YouTube bias
YouTube's prevalence in search results might look a bit unjust considering that it's Google's property (G bought YT in 2006). It's almost as if Google is biased to push their own product.
Before you get all riled up, let me say: there's no conflict of interest here, it's absolutely normal.
Google ranks videos similar to how it does with other websites and content. It uses over 200 ranking signals, with two most important ones being relevancy and site authority (more on this later).
The relevancy bit is aligned with user intent. If Google deems your video is useful for the searcher, it's more likely to show up in the search results. We already covered this in the previous section.
The decisive factor for YouTube's dominance is its tremendous authority.



YouTube has accumulated so much authority over the years that it's next to (but not entirely) impossible to outrank. With over a billion hours watched every day and over 27 bn backlinks, YouTube's authority is unrivalled by any other video hosting platform.
So it stands to reason that YouTube videos have a one-of-a-kind monopoly in Google's video results.
Ranking paradox
Let's talk about an important side note before we delve into the actual YouTube SEO.
You might be surprised to find that when you look up a search phrase on both Google and YouTube, the results you get will vary greatly.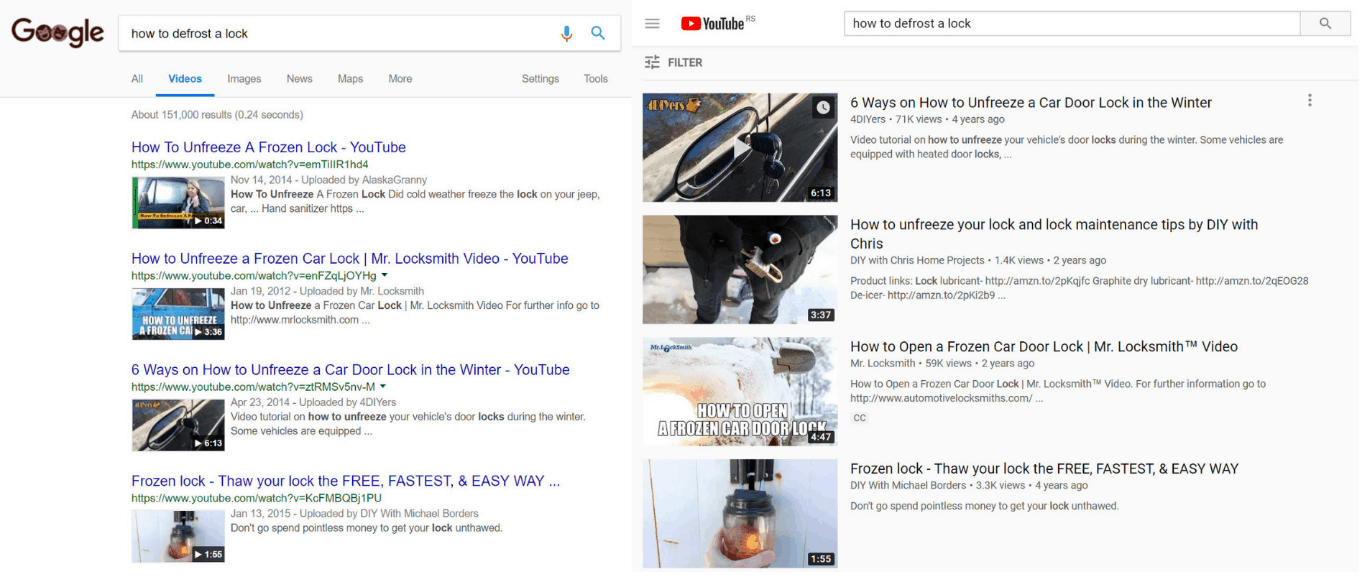 For most queries, you will see different videos ranking first on Google than listed first on YouTube.
What's more, a study by Stone Temple shows that in many cases video rankings are almost inverse between the two search engines.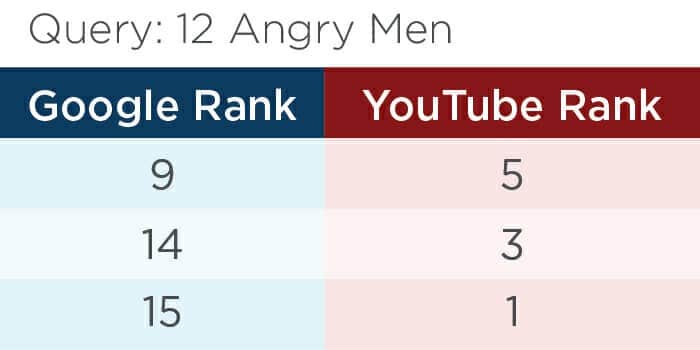 Videos that rank high on YouTube oftentimes rank lower on Google, and vice versa.
But how could this be?!
It may seem utterly counter-intuitive that the same search term yields different video rankings. After all, isn't YouTube owned by Google?!
However, this will make more sense once you understand the fundamental difference between Google and YouTube rankings. And the difference is in user intent.
"Google's goal is to deliver a result that causes you to get what you are looking for on a page view basis." – Stone Temple
This means Google understands that the intent of your search is to get an answer, and it tries to deliver it instantly on their search results page. Hence the featured snippets, videos, Knowledge Graph, Local Packs, and other SERP features.
On the other hand, when you search on YouTube, your goal is to watch a video. You are looking to consume video content, and unlike on Google, you're looking to spend more time on the platform.
And that fundamental difference impacts what videos come up in a search on Google and YouTube.
This is a perfect segue into our next section…
How videos get ranked
If you want to rank your videos with YouTube SEO the right way, you will first need to understand what ranking signals Google and YouTube factor in.
YouTube video ranking
Engagement is the #1 ranking signal on YouTube. Some of the main components of user engagement are:
Watch time – It's a measurement of the total amount of time that users watch your video. In other words, it is an aggregate of the amount of watch time (in minutes) that your video accrued.
Audience retention – This is how much (%) of your video people watch. For example, if a user watches 8 minutes of your 10-minute video, the audience retention would be 80%.
Video view count– How many users watched your video.
Number of video shares – How many times your video was shared.
Subscribers – The number of subscribers on your YouTube channel.
Likes and comments – How many likes/dislikes and comments your video gets.
Video embeds – How many times your video was embedded on other websites outside YouTube.
Backlinks – The number of links on other websites that point to your video.
YouTube also looks at if users keep watching other videos after viewing yours (Session watch time).
This is a good signal that your videos are engaging enough to keep users watching more videos on the platform and will give you an SEO boost.
Google video ranking
As mentioned, Google ranks videos differently from YouTube.
Google forgoes the whole engagement thing and emphasizes some more traditional ranking signals like:
Relevancy – This means how relevant your video is to the search query and user intent.
Authority – This is a measure of importance, and it factors in the number of backlinks and referring domains that point to your video.
Despite the fact that each of the two search engines uses different ranking factors, the video optimization steps largely overlap.
The entire next section is dedicated to answering the question:
"How to optimize your videos to rank on the top page of both YouTube and Google?"
YouTube Video SEO checklist
To help you master YouTube video SEO and dominate search engines, I've devised the following optimization checklist:
1. Find video topics with keyword research
Your YouTube SEO starts even before you create your video. The first step is to run keyword research to identify high-demand topics to create videos around.
Look for topics relevant to your business, but also something that a lot of users are interested in watching. Brainstorm for ideas that make sense, then run them through a keyword research tool.
You can use Keyword Tool IO to find popular search terms that people type in YouTube.


Keyword Tool IO is especially useful since it scrapes data from YouTube's autocomplete to generate a list of keywords along with their search volume (popularity) and competition (difficulty). It's a freemium tool, so if you want to unlock all the features, you have to subscribe to their paid version.
Learn how to find the most profitable keywords in our Ultimate Keyword Research guide.
To set you up, here is a list of general topics that perform very well on both Google and YouTube:
Informational videos (News, latest trends in your industry, etc.)
How-tos (How to calculate interest rate, how to relieve back pain, or How to )
Tutorials (Proper way to protect your teeth and gums)
Reviews (Best pressure washer 2019, Clarins Double Serum review, etc.)
Entertaining videos (Behind the scenes show, funny videos, etc.)
Another awesome way to find your video topic is to look at which YouTube videos appear in Google's universal search results. If you see a video already ranking in Google universal for a specific keyword, you should probably create a video around that topic.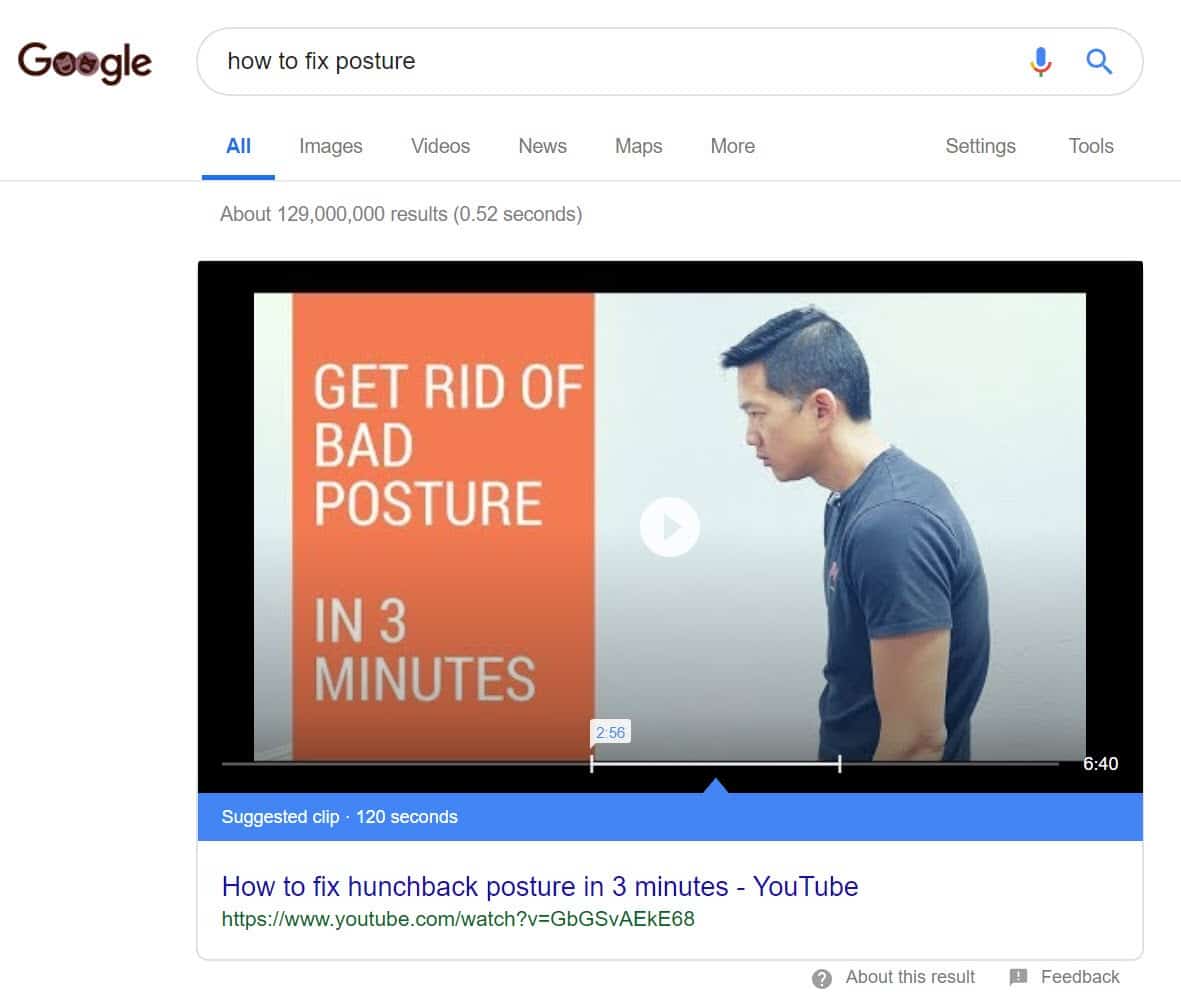 Google's own Webmaster Trends Analyst Gary Illyes confirmed this to be a valid strategy.
A neat trick is to insert your target keyword in your video file. So instead of your file name being, for example, "20190113_161955.mp4", you can change it to something that includes your keyword, like: "how_to_fix_bad_posture_in_3_minutes.mp4."
This way you tell search engines what the video is about even before you publish and optimize.
2. Consider the video length
Both Google and YouTube love in-depth, long-form content.
Users are looking for relevant and worthwhile videos. On the other side, search engines want to maximize user satisfaction by showing compelling videos that cover the topic effectively.
Another argument in favour of long videos is that YouTube wants to keep people on their site. The more time people spend there, the more ads YT can serve and make more money.
But this also aligns with YouTube's watch time metric, which is a crucial ranking factor.
That's why longer videos tend to perform much better on YouTube.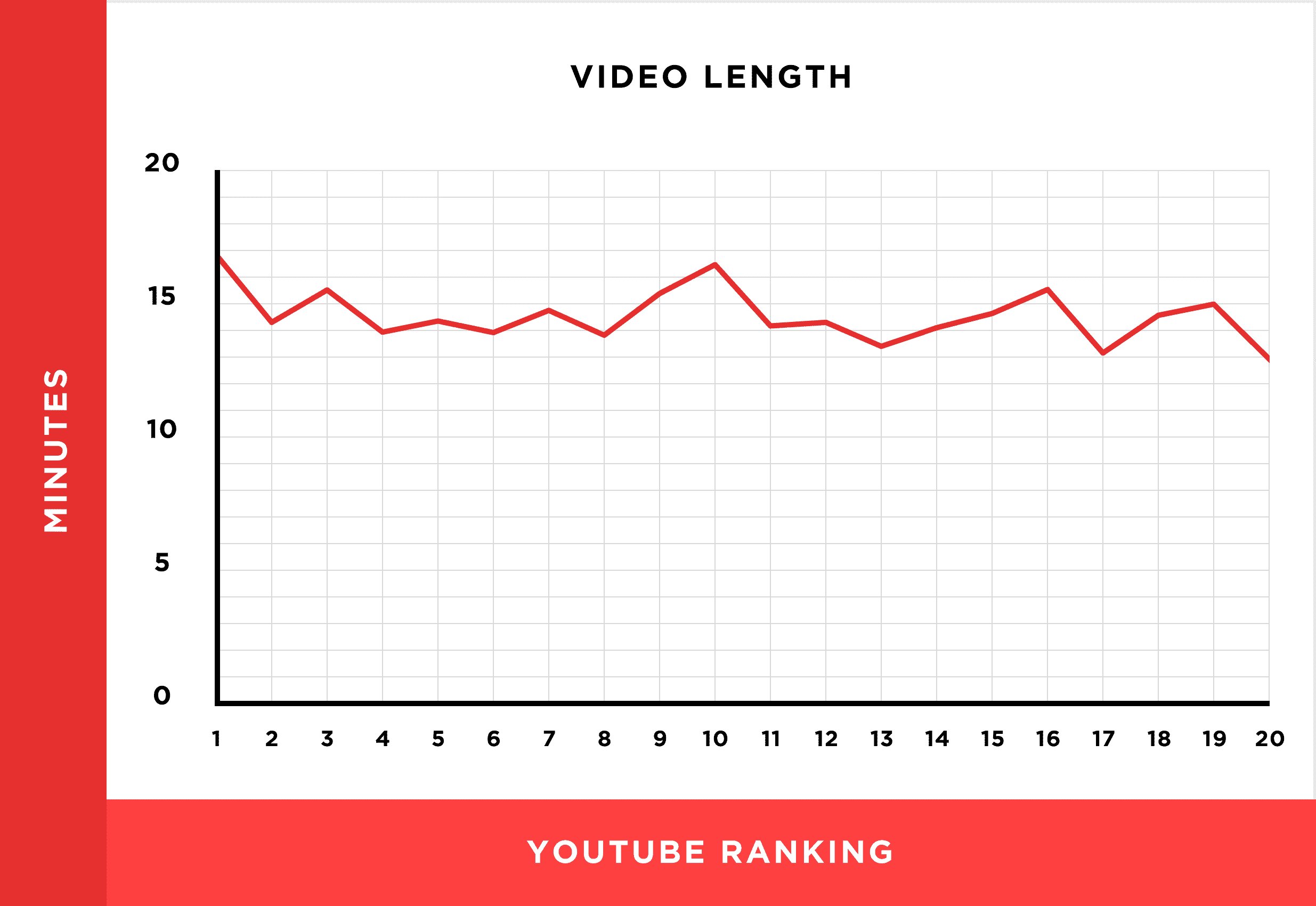 The longer the video, the more value you can provide. This is especially true for informational content like how-tos and tutorials. So, if a topic deserves depth, go with a longer video. Ideally, this should be between 10-16 minutes long.
On the other hand, promotional videos should be kept shorter. Most industry experts agree that in this case, anything longer than 6 minutes is too much.
But don't stretch your video just for the sake of it. Keep in mind the other important ranking factor – audience retention!
3. Create eye-catching thumbnails
Once you've created your video, it's time to do some SEO to boost discoverability, get more views and rank higher.
Thumbnails are instrumental in grabbing people's attention!
In a massive swarm of YouTube videos, you need to stand out. Your video thumbnail is the first thing that users notice, so make it intriguing and captivating.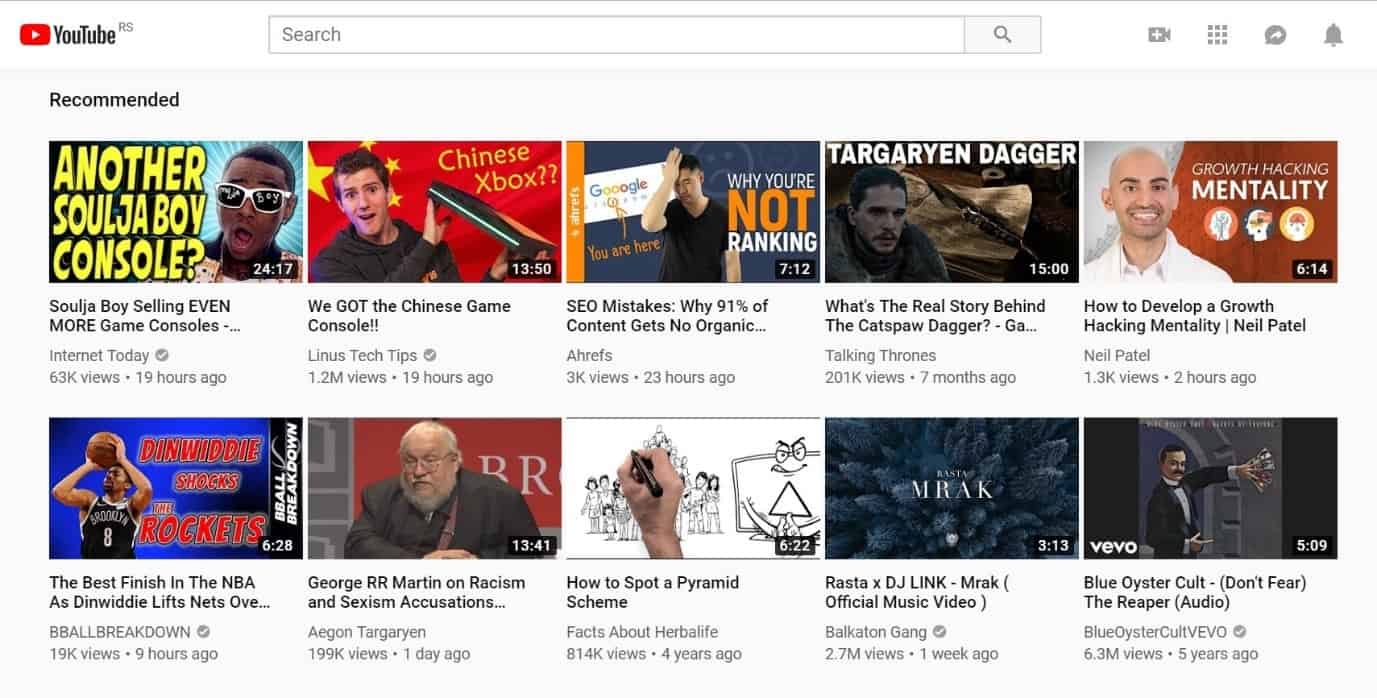 To make your video thumbnails pop, use flashy, high-contrast imagery. Also, don't forget to tease what the video is about to truly captivate users' attention.
Some thumbnail optimization best practices include:
Use bright, contrasting colours
Have a solid background
Include visual cues (colours, images, shapes, personality) consistent with your brand
Grab attention with bold text
Include people, ideally expressing certain emotions that spark interest (e.g., a surprised headshot)
Optimize your YouTube thumbnail size
You can edit your video thumbnails with Photoshop or Canva.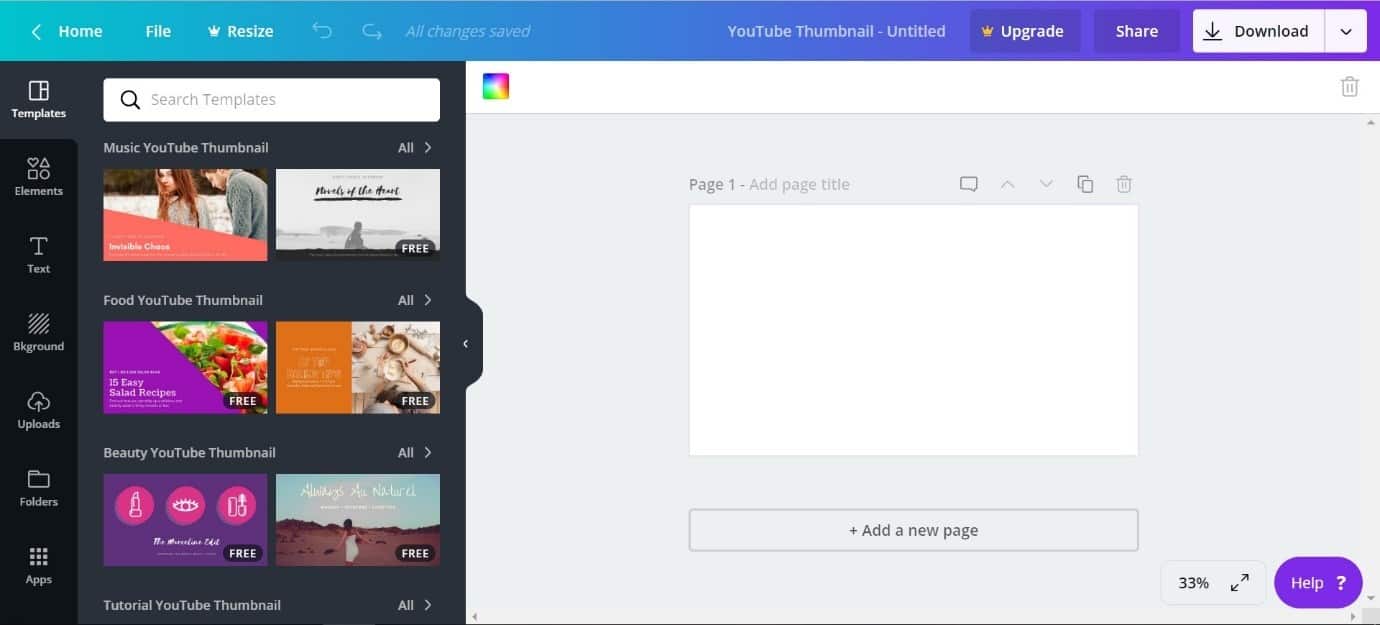 Canva offers some great YouTube thumbnail templates. You don't need to worry about the image size. Just select a template and start customizing. Very easy!
One thing you should definitely avoid is using thumbnails that are auto-generated by YouTube.They're usually of lower quality and don't convey powerful messages that attract your audience.
Once you've grabbed users' attention with eye-catching thumbnails, optimize your videos for CTR (click-through rate) with a magnetic title.
4. Use titles as click-magnets
Thumbnails and video titles work in tandem to grab attention and compel users to click and watch your video. They work like a one-two punch where the thumbnail hooks the user, while the title reels them in.
Titles should be enticing and intriguing enough for users to want to click and watch the video. That's why optimizing your video titles is often referred to as optimizing videos for CTR.
YouTube titles have two main components:
A catchy headline – compels users to click
Target keywords – add relevancy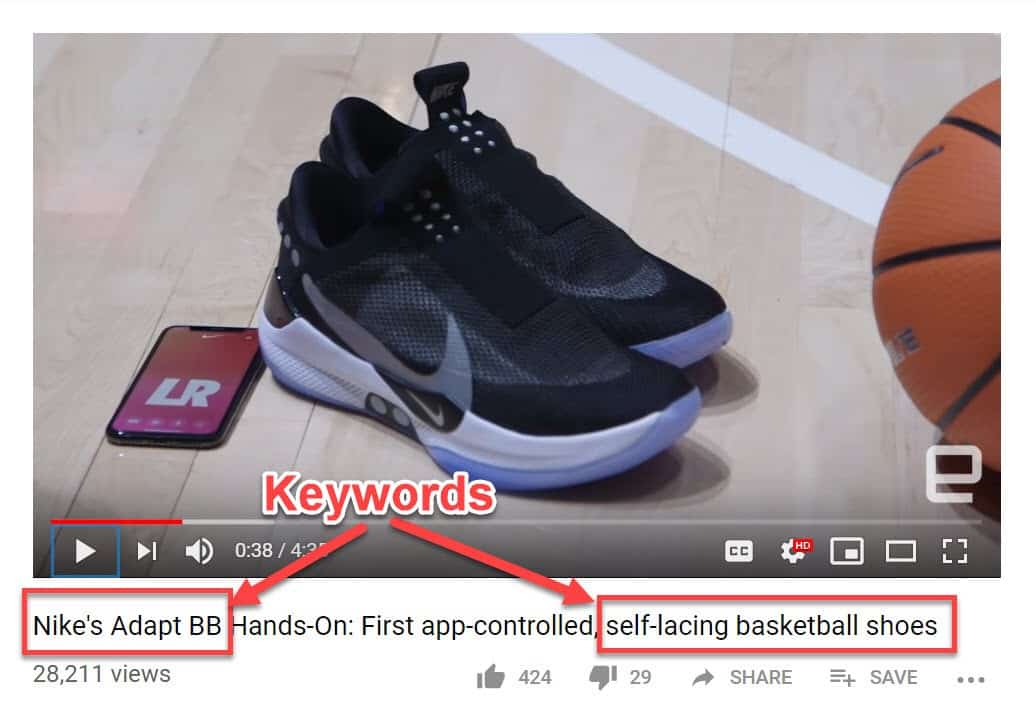 Video titles should be snappy and concise. You don't want to use too many words, but just enough to give users a good reason to click through and watch your video.
CTRs and views play an essential role in YouTube rankings, so crafting compelling titles will give you a big SEO boost.
Definitely avoid clickbait titles! Yes, they may get you more clicks and views.
However, if you fail to meet users' expectations, your audience retention will suffer. And so will your SEO.
5. Optimize your video descriptions
YouTube descriptions are like your SEO swiss army knife. It's a multipurpose space that can:
Boost your SEO and discoverability
Increase CTRs
Promote links (affiliate or your own products)
Connect to your social media profiles
Funnel users to your site or landing pages, etc.
For example, you can use descriptions as an intro to your video in the above the fold area (before the show more button).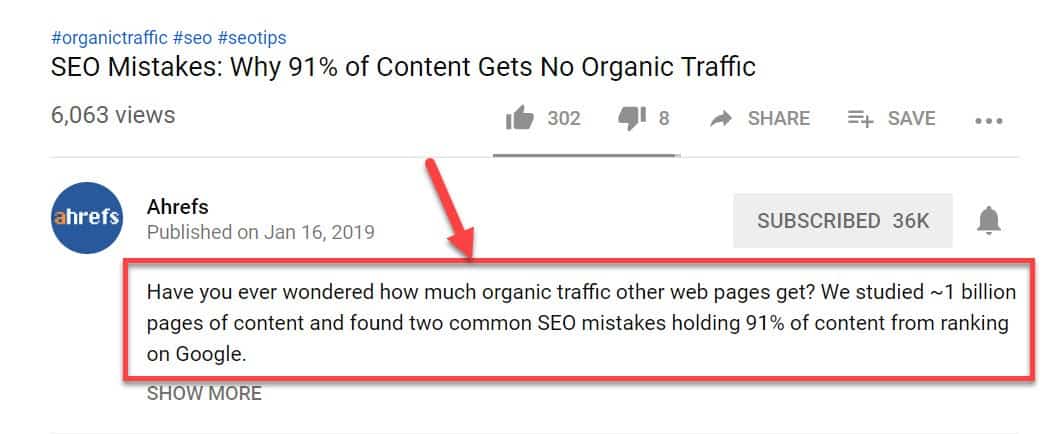 They also appear in the search results and can impact the CTR and view count of your video.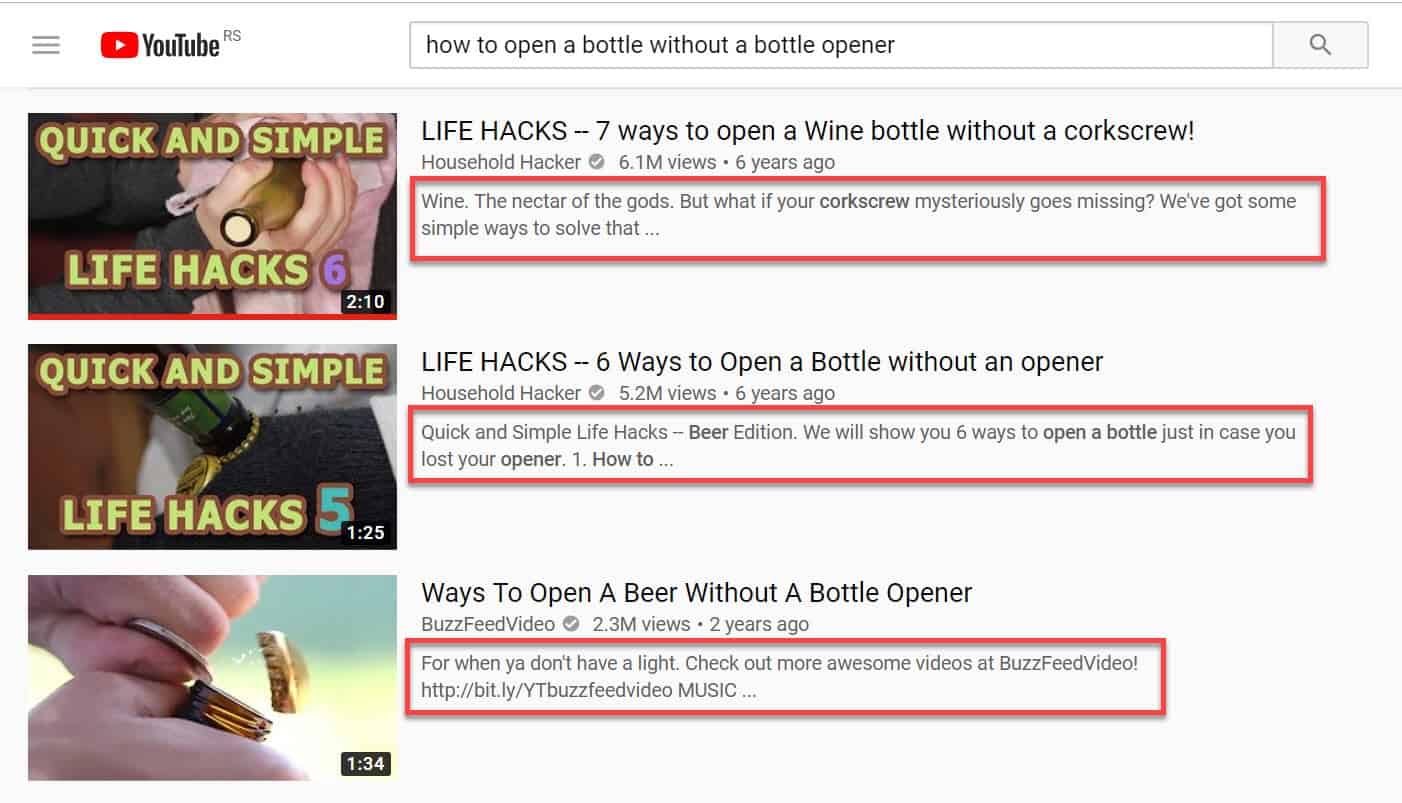 YouTube displays the first 125 characters, so use them wisely to get users to click and watch your video.
And as mentioned earlier, descriptions may also appear as featured snippets in Google universal search results. To rank in Google featured snippets you need to clearly answer the target question, preferably right at the beginning of the description.
Despite its versatility, descriptions are vastly underutilized. Many people fail to see the potential and write only a few short sentences. But now you know better than that.
Here are some YouTube Description SEO best practices:
Describe what the video is about
Include relevant keywords naturally in the text (preferably in the first few sentences)
Slip in CTAs (like, share, comment, subscribe)
Link out to your other related videos
Include timestamps for long videos
Include a link to your website or landing page
Insert links to your social media profiles
Promote other relevant links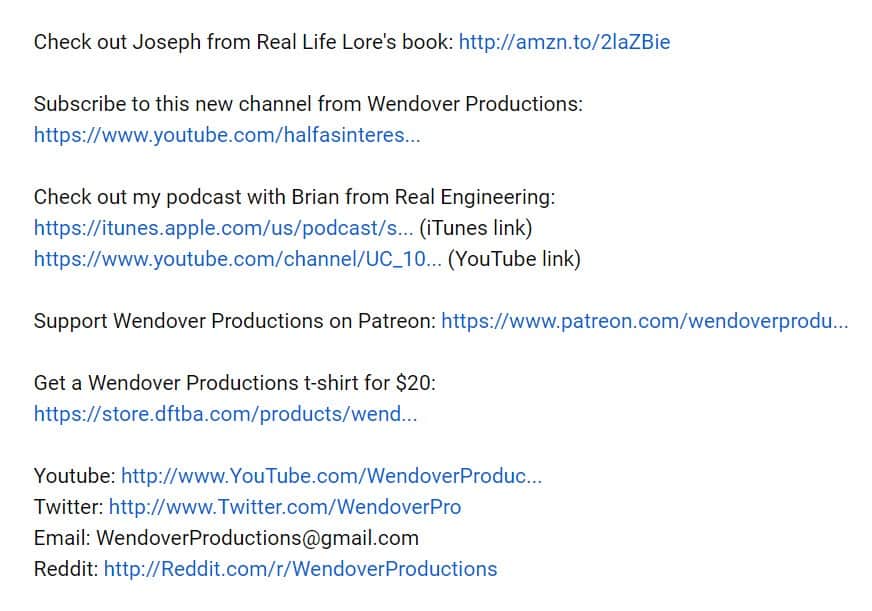 YouTube also allows you to add up to three hashtags in your video descriptions that will also appear above the video title.



Hashtags are clickable and searchable on YouTube so they can significantly boost your video discoverability.
6. Boost video discoverability with tags
While we're at the subject of discoverability, make sure to add relevant tags to your videos. Tagging is useful for indexing your videos, and it will help YouTube's search engine understand what your video is about and where to categorize it.
However, because it's so easy to game the system this way, tags don't have nearly as much impact as they used to. Even so, since the option is there, I would suggest tagging your videos with relevant keywords.


For best results, you can follow my YouTube video tagging recipe:
Video-specific tags (keywords)
Tags that describe the type of video (how-to, tutorial, review, etc.)
Channel (or brand) specific tags
Relevant niche tags that are trending in your industry
You don't have to overthink this part, include at least ten relevant tags, and you're good to go.
7. Utilize cards and end-screens as CTAs
You can use cards and end-screens as call-to-action buttons on your YouTube videos to:
Make people watch more of your videos
Drive traffic to your site
Send users to your landing page
Promote products
Ask questions with polls
Invite users to subscribe, etc.
Both cards and end-screens are a great way to boost conversions with your YouTube videos. So besides the obvious SEO advantage, you'll be able to increase your conversion rate as well.
Cards are interactive notifications that pop up during videos. They appear as a small white rectangular box in the top right corner of your video. This is called a card teaser.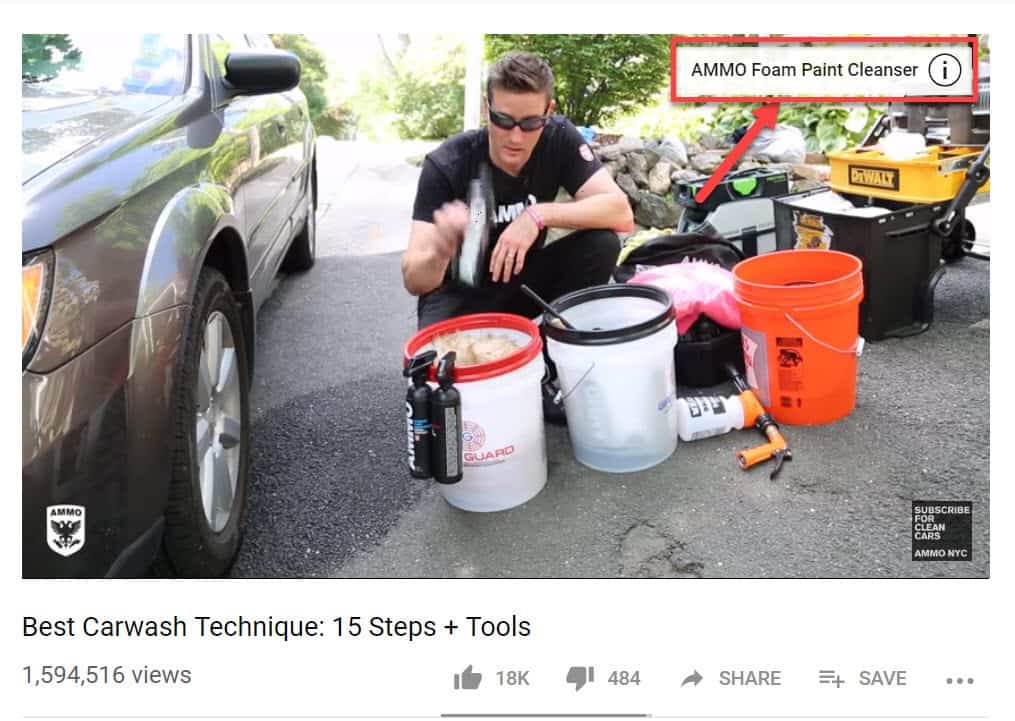 Once users click on the card teaser, the full card will open up in the right sidebar (or below the video on mobile).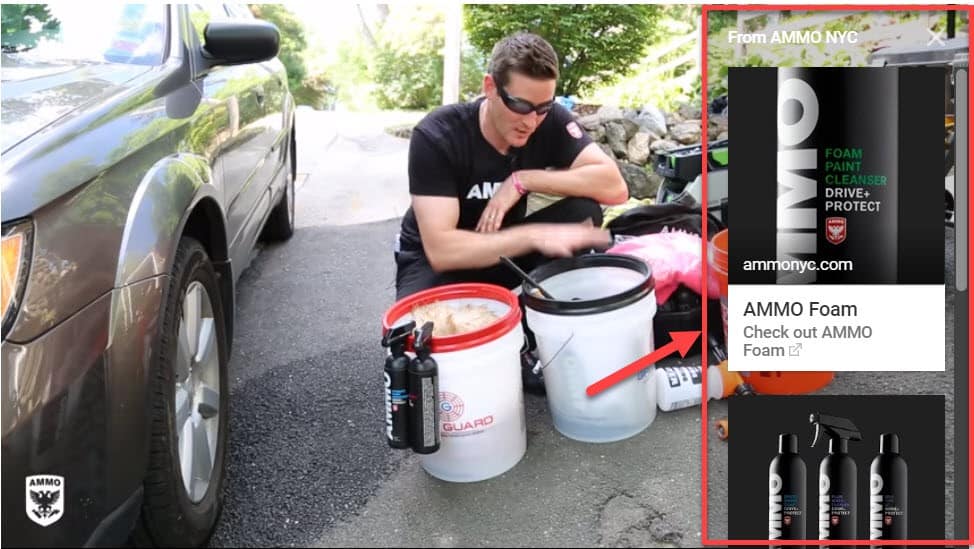 Cards work best in conjunction with audio and visual cues within your YouTube video. To maximize the effectiveness consider verbally telling users to click on the card. You can also point to the card with your hands or an arrow animation.
This means you have to plan your calls-to-action early and insert them in your video script. Figure out the best time to insert cards in your videos and craft a compelling and enticing teaser text.
On the other side, end-screens appear towards the end of your video, in the last 5-20 seconds.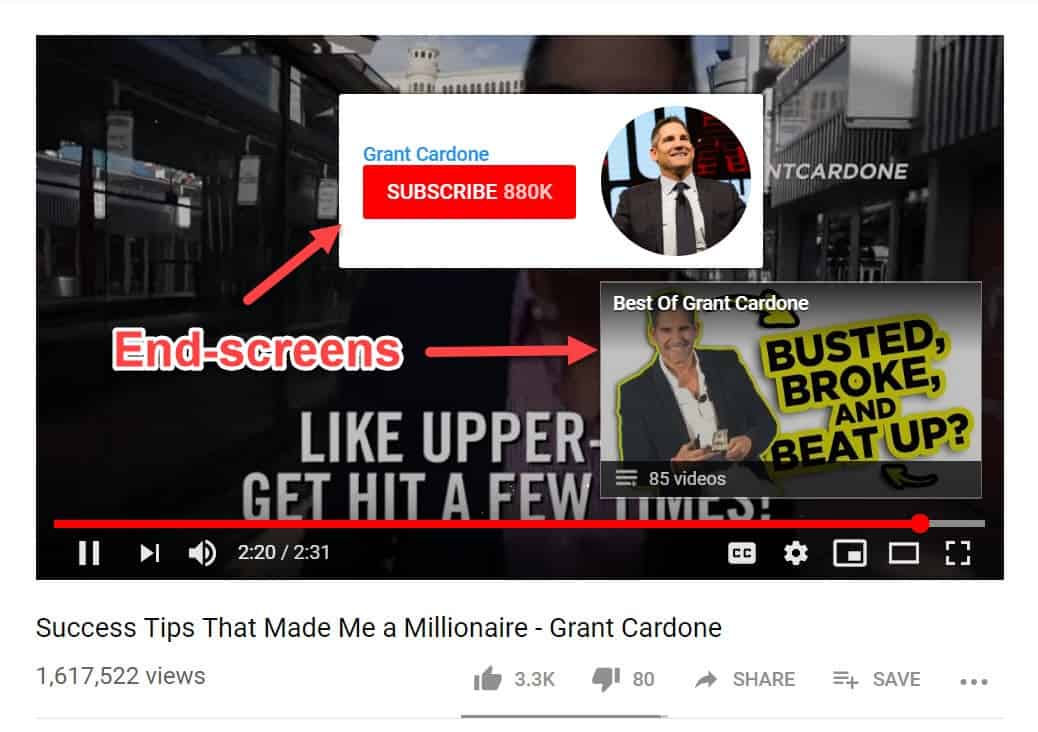 End-screens are very effective since they appear in front of the most engaged YouTube users that sit through the entire video. These users are far more likely to click on your call-to-action buttons.
The most common way people use end-screens is to invite users to watch other videos or subscribe. You keep users watching more of your videos thus increasing users' "session watch time" which is a crucial ranking factor.
8. Keep users watching with playlists
Another way to increase users' session watch time and boost your SEO is with playlists.
YouTube playlists are collections of videos organized around a specific topic or theme. Playlists will keep users watching more of your video content since videos automatically play one after the other.
Playlists also help you arrange and categorize your videos in a meaningful way, to help users find the right content. If you have a YouTube channel, your playlists will have a dedicated tab, like this: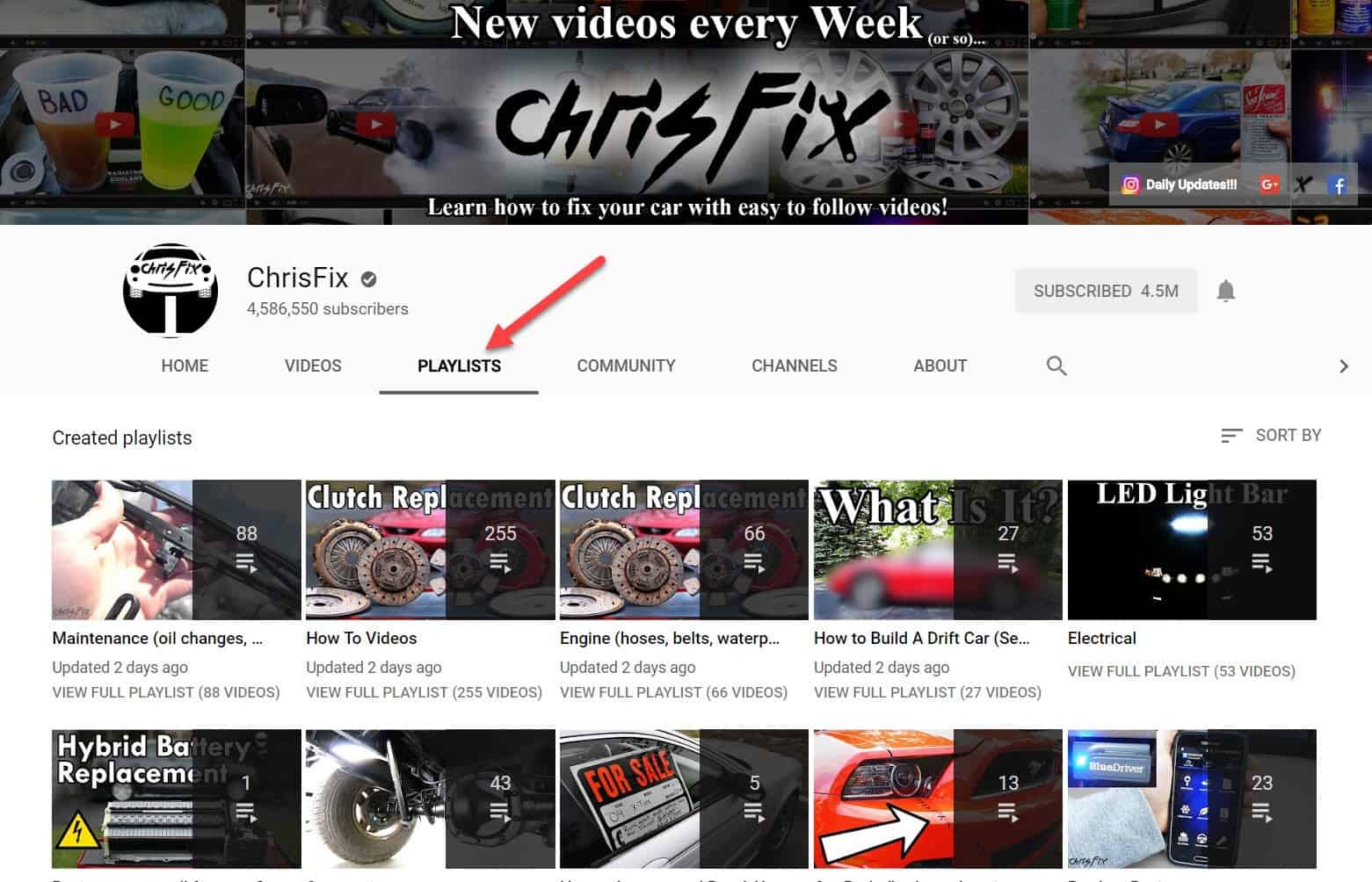 You can include playlists in your video descriptions, cards and end-screens to entice viewers to watch more of your content.
There's another huge benefit of having playlists, and that is the increased visibility and discoverability of your videos. When you create a playlist, that's another one of your assets that can appear in the search results as well as suggested videos.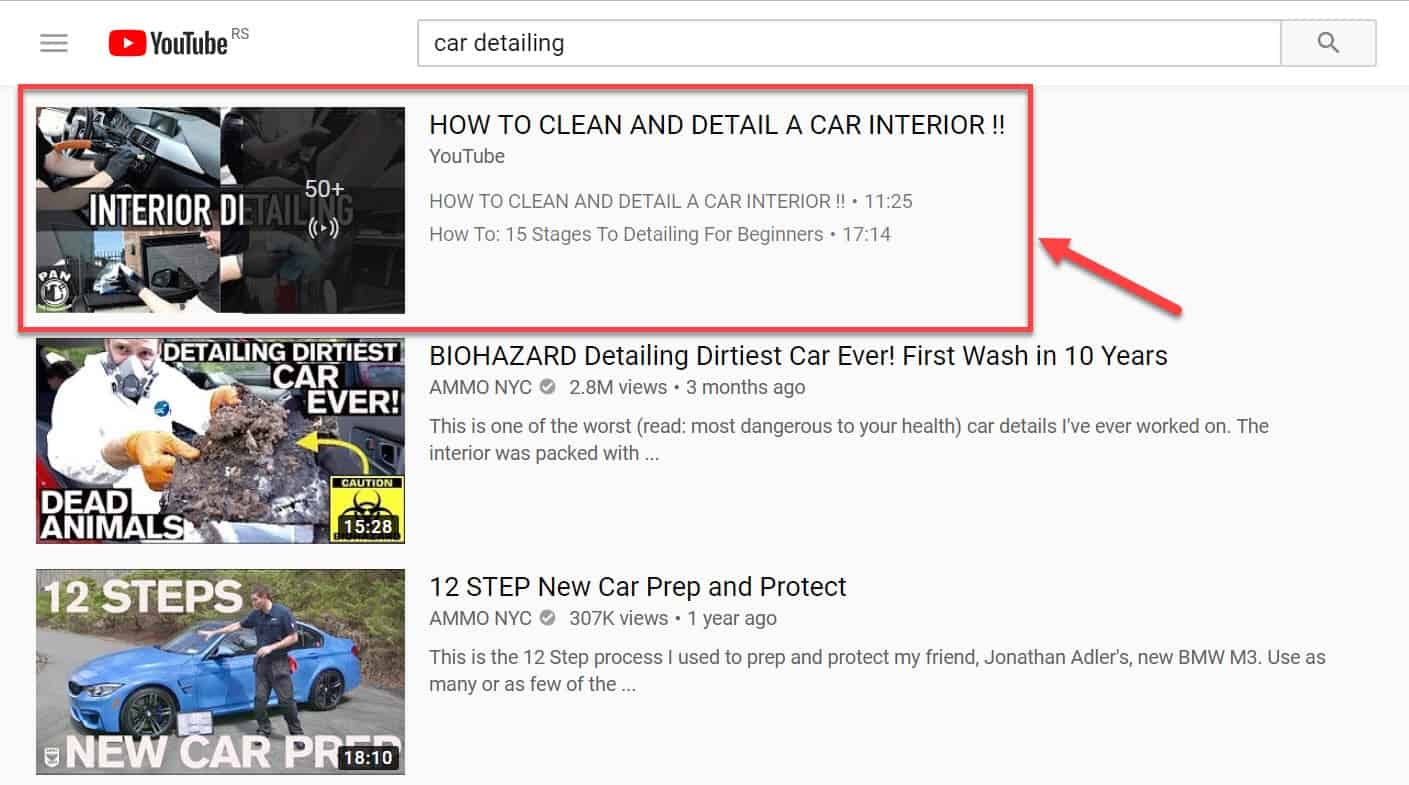 Your videos can appear in search as both standalone and as a part of a playlist side by side.
As you can see, playlists essentially double your chances of appearing in search results.
Just make sure to optimize your lists with enticing titles and keyword-rich playlist descriptions. Use keyword research to discover topics that people are searching for in your industry. These can serve as themes for your playlists.
9. Include closed captions and subtitles
Closed captions can enhance the viewing experience of your videos. CCs and transcripts make your videos accessible to a broader audience (especially for non-native speakers).
But did you know that they can also have an unexpected SEO benefit?!
You heard me right!
Closed captions are crawlable by search engines. That means YouTube, Google and others can use transcripts of your videos to understand your content better, which can help you rank for the right keywords.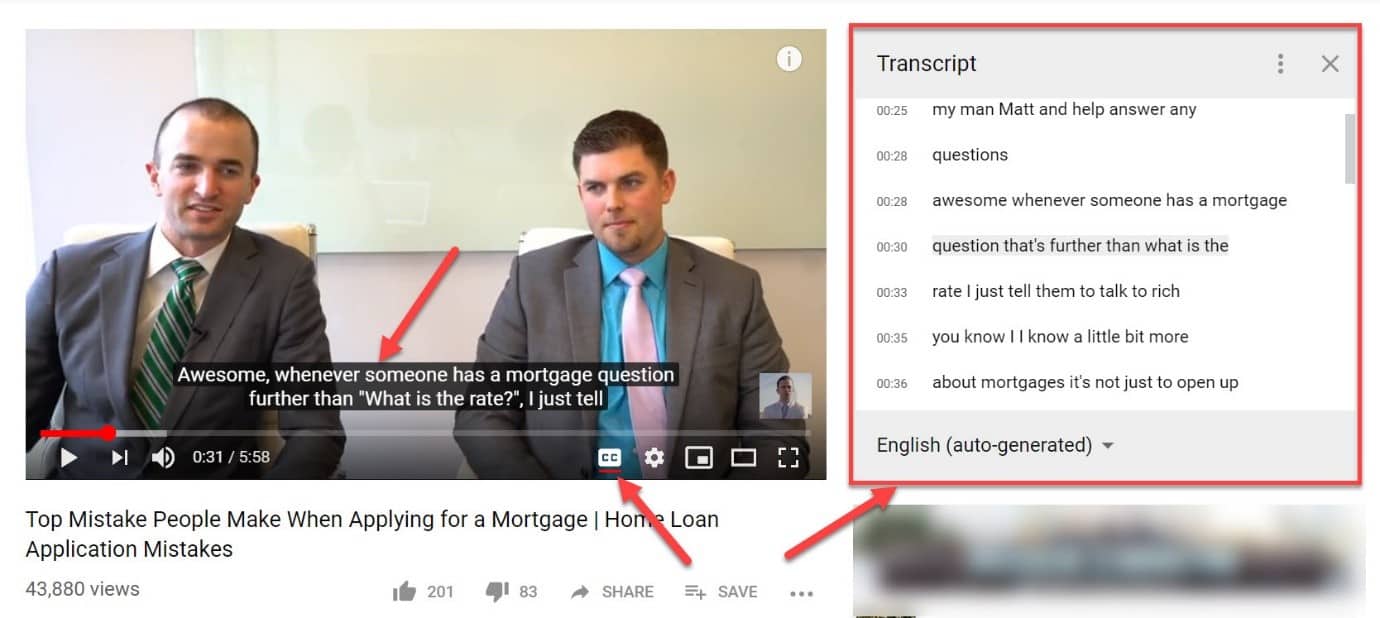 Video transcripts help search engines realize the topic of your video since there's more text that they can analyze. In that sense, captions help establish the relevancy of your videos and give you a ranking boost.
YouTube will automatically generate transcripts of your videos based on their voice recognition software. However, the system is nowhere near perfect. Don't rely on auto-captioning because your transcripts will be full of errors and broken English.
I suggest uploading your own transcript manually or at the very least proofread the auto-generated captions.
You can even go a step further and improve the user experience and indexation by uploading a translated version of your video transcript.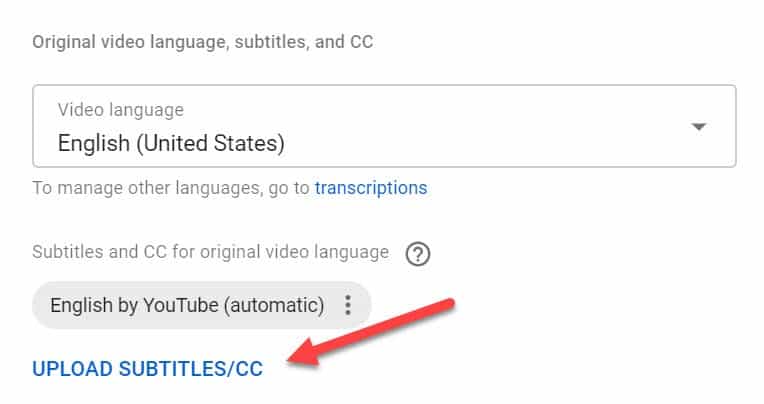 Figure out where (other than your country) most of your audience comes from. Translate your captions in their native languages and upload them as subtitles.
For example, if your target audience is in Canada, you can publish videos in English with French subtitles.
Now, your videos can rank for keywords even in other languages.
This is a great way to globalize your content and expand your reach.
10. Create a YouTube channel
Having a YouTube channel can supercharge your video SEO and increase the chances of ranking in search engines.
Your YouTube channel can help individual videos with things like subscribers who watch and engage with your videos on a regular basis. This can positively impact all sorts o metrics like total watch time for example, which is a major SEO signal.
With a channel, you can create a strong community of users that can hike up your view and engagement count, as well as increase your authority. You can build links not only towards your individual videos but to your channel as well. That way you spread out the link juice and increase the authority for your videos, playlists and the overall channel.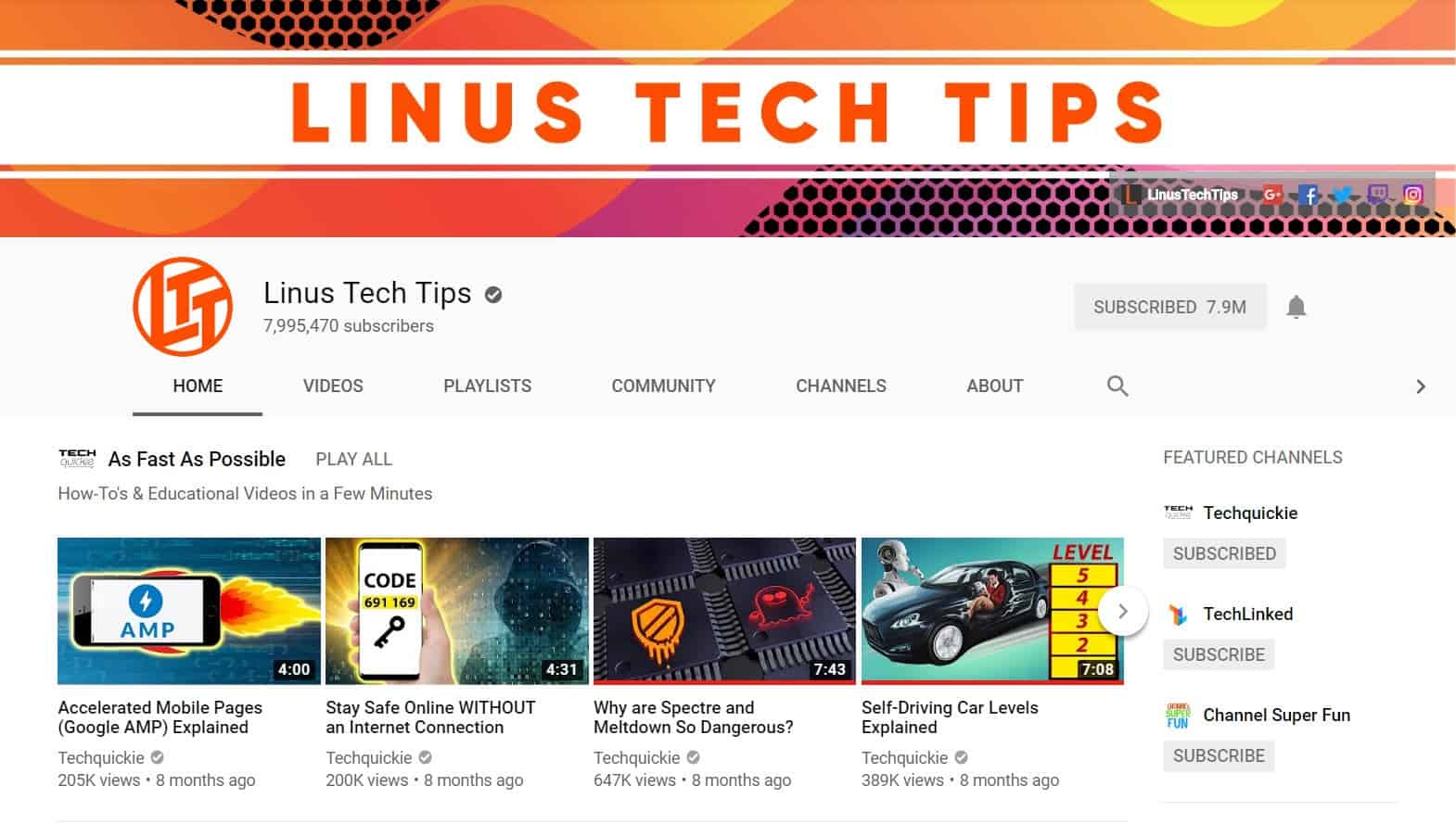 So, create a YouTube channel and optimize the following:
Name – This is an excellent branding opportunity. Make sure you use a consistent name (handle) across all your social media, as well as your website domain.
Icon – You can use your brand logo or a headshot if you want a personal channel.
Channel art – Use this large banner to communicate what your channel is all about. You can even use it to promote your website, products, videos, etc.
Description – Not to be confused with your video description, these are used to outline what kind of content you publish. You can also announce your uploading schedule as well as a link to your website and other social media profiles.
Trailer – This is a special, short video that quickly tells unsubscribed users what the channel is about so as to entice them to subscribe.
Playlists – Create a playlists tab to help users find relevant playlists and hook them to watch your videos.
You could even go so far as to say that the success of your videos relies on your YouTube channel.
It's going to help grow your audience, create a community of engaged viewers and bolster your SEO.
All this will tell search engines that you're an authority in your niche and thus improve your rankings… especially in Google.
11. Optimize your videos for engagement
As mentioned, engagement plays a vital role in your video SEO. So, don't make the mistake of just uploading your videos, only to abandon them soon right after. Set and forget doesn't work here.
What you should be doing is engaging your audience. Remember that likes, shares, comments are all signals that YouTube is looking at when deciding which videos to rank on top.
Here are a few tips to help maximize the engagement of your YouTube videos:
Ask directly to like and share your video.
Even dislikes count as engagement so don't be afraid to tell people to dislike if they didn't like your video.
Invite people to subscribe. You can do this verbally within your video, with visual cues or CTAs (cards and end-screens).
Encourage viewers to comment on your videos, for best results give them a good reason to comment. You can do that by asking a specific question, or inviting them to share opinions.
Respond to comments. This is the best way to engage users to comment more. When they see their voice is heard, they're more likely to keep commenting and engaging in the future. Plus it will help you create that community of users that stick around on your channel.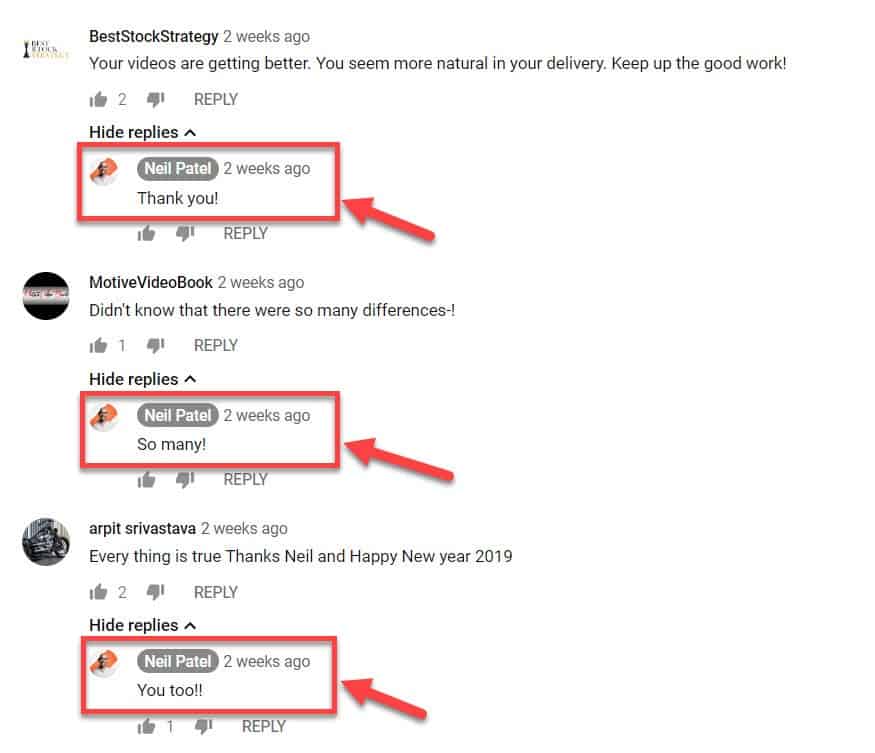 Another tip is to focus on the first 15-30 seconds of your video. That's where most of the viewers drop off if they don't find what they're looking for.
So, don't beat around the bush – cut straight to the point!
Start your videos with a bang! Have an engaging opening. You can even tease users with intrigue or controversy to keep them watching till the end.
Also, keep your video intros short and sweet. Most YouTube experts agree that you should keep your intros below 6 seconds for the best results.
This will help with audience retention and can have a positive impact on your video SEO.
12. Embed video on your page
One more trick to boost your YouTube SEO is to embed videos in your blog posts. This will help you in a number of ways:
Embeds are an engagement signal for YouTube
They will count as a backlink to your video
Your videos will be exposed to more people (website visitors)
You have more chances of ranking, both as a YouTube video and as a video on your site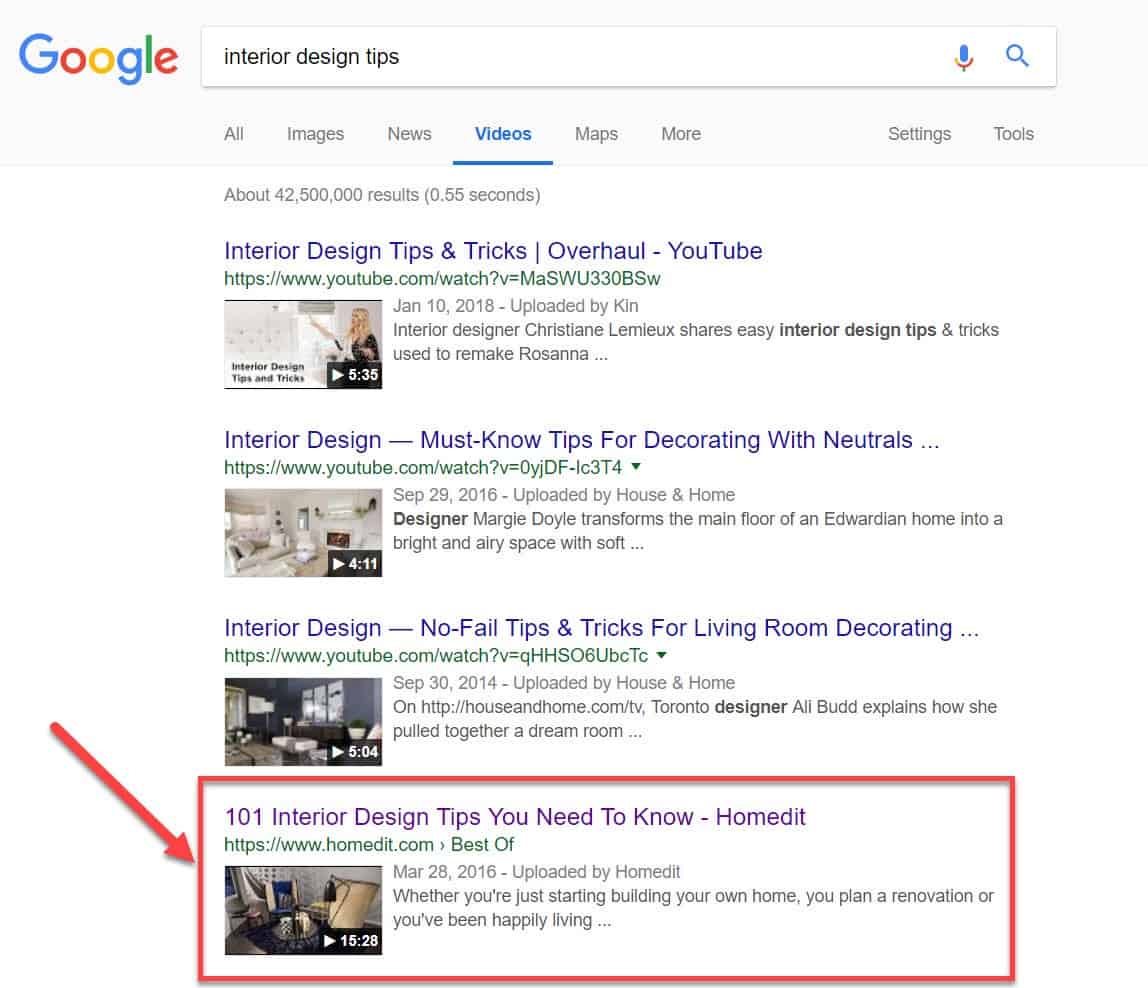 Embedding videos on your website can be a double blessing for your SEO. Not only will it help your video rank, but it's also going to boost your website rankings as well.
Having video content in your blog posts can increase the ranking of your web pages in regular search results. Embedded videos can contribute to your website SEO because: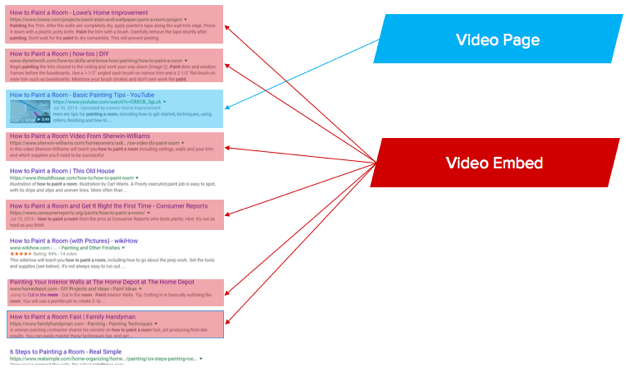 Source: Briggsby
It's fairly easy to find opportunities to embed your videos in your blog posts. You can repurpose your written articles and create videos, which you can later embed in the original article.
You can also reverse this process and create a new blog post related to your videos. In that case, you can utilize your video transcript and publish that as a text on your blog page. It's added a bit of text that can help search engines index your page.
Embedding videos in your blog posts is a sort of cross-promotion where both of your marketing assets (YouTube channel and website) get a significant SEO benefit and a boost in search traffic.
13. Use video schema
To help Google understand that there's video content in your blog post, you can set up a video schema markup for your page.
Google themselves encourage webmasters to use schema for the video to help interpret what's on your page.
The video schema will mark up your content with structured data to help your content appear in Google featured snippets. You can provide information such as your video description, thumbnail URL, duration and upload date.
Google provides its own detailed guide into how to set up video schema for your site.
However, if you're a WordPress user there's an easier way – you can use Video SEO plugin by Yoast (premium) to add video schema, video sitemaps, and other relevant optimizations.
Some even use video schema to trick Google into thinking there's a video on a page when there's actually none.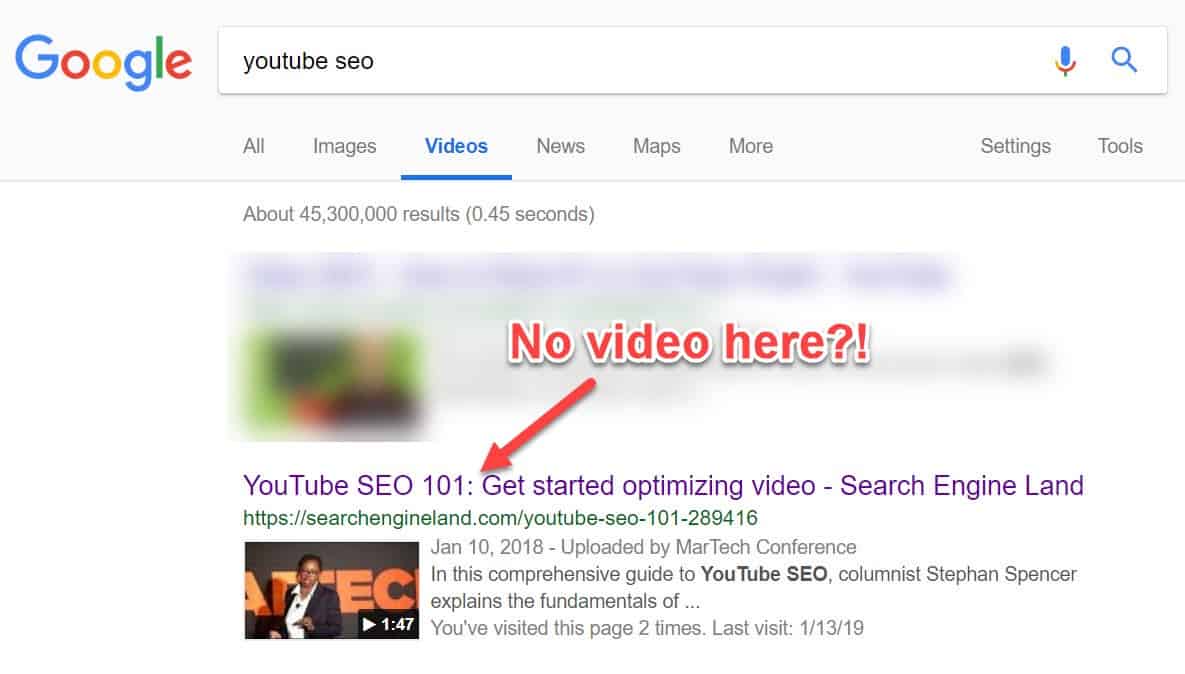 Although this trick will help you game the system in the short run, it's malpractice (black hat technique) that can cause more harm than good. When users see there's no video on your page, they're more likely to bounce and exit your site.
It can also lead to Google penalizing your site and a downgrade of your search rankings.
14. Promote your videos and build links
Both YouTube and Google rely on authority signals to rank videos. That's why it's critical to promote your videos and build links to them.
There's so much video content out there, and you can't expect your new videos to gain traction without a little bit of elbow grease. So, here are some tactics to promote your videos:
Promote videos to your email subscriber list
Share your videos on social media (Facebook, Twitter, LinkedIn, etc.)
Use Q&A websites (Quora) to promote your video
Post videos on Reddit and relevant forums
Engage users on Facebook Groups
But don't' forget that you should promote not just your videos but also your YouTube channel. Both need backlinks to bolster authority and increase rankings.
You can also read our link-building article to learn 32 most effective strategies to build links and boost your authority.
15. BONUS: Secret weapon to reverse-engineer successful videos
If you want to replicate the success of viral videos and channels, then I have the right tool for you.
Use VidIQ Chrome extension to uncover SEO strategies that successful YouTubers use to get more views and boost their rankings.
Once you download and install the VidIQ extension, you'll see a dashboard like this on the right-hand side of YouTube videos.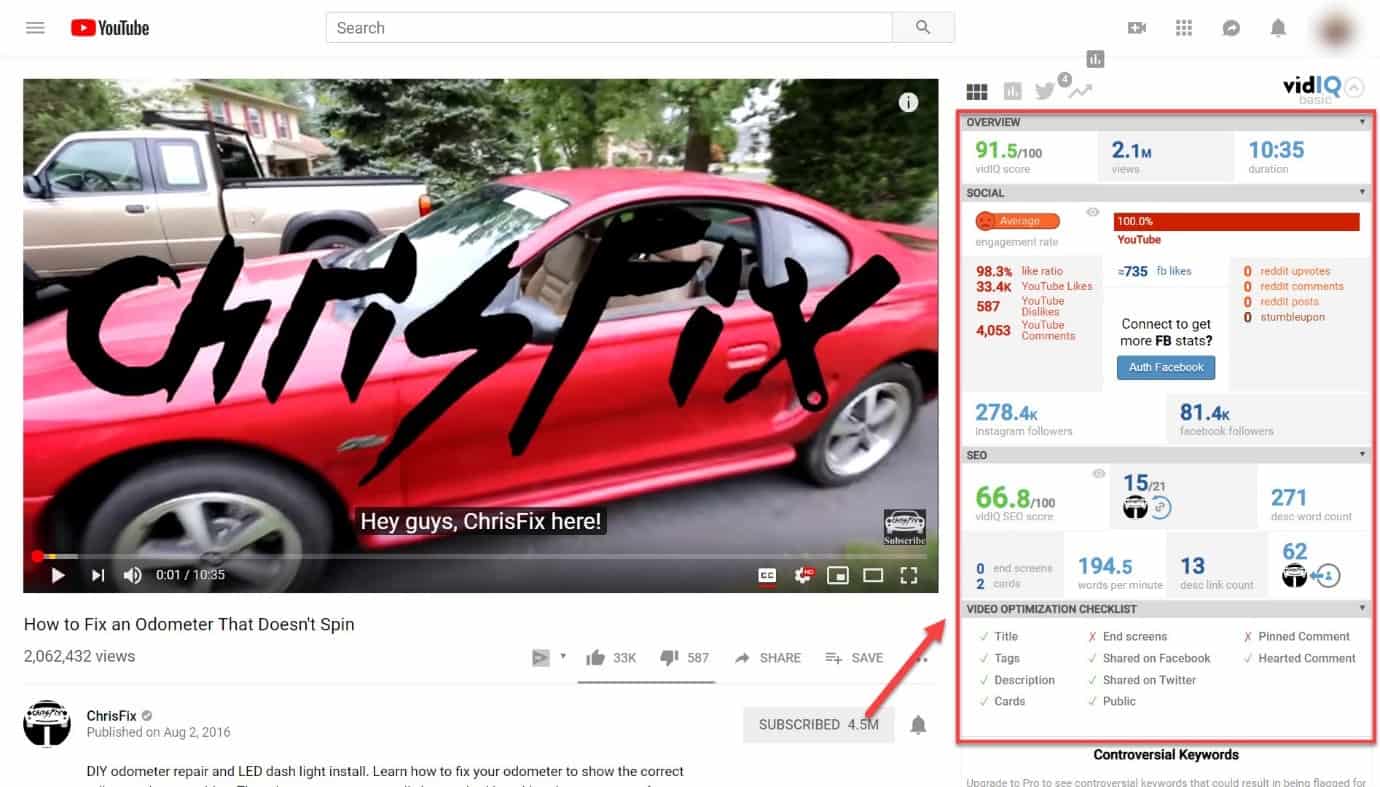 You'll be able to tap into each YouTube video and check out what SEO tricks other YouTubers use. You can get a feeling of overall SEO, the number of backlinks, engagement rate, etc., of each video.
If you scroll down a bit, you can see an overview of the entire channel.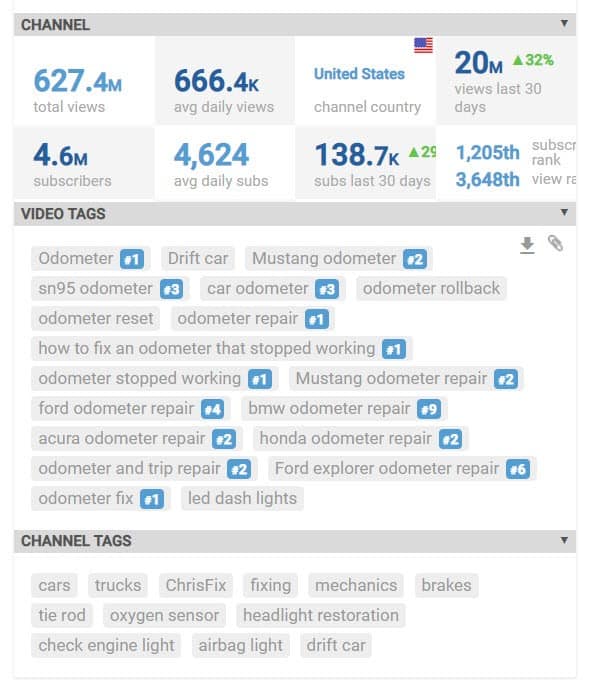 You can inspect relevant channel metrics like the total number of views, avg. daily views, subscribers and subscriber growth, video and channel tags, and more.
VidIQ is a freemium tool that can help you discover video optimization tactics that work well for other channels so you can reverse-engineer their success.
Conclusion
Video content is super important for your digital marketing. Videos are a highly engaging way to promote your business and products.
However, considering how much video content already exists on the internet, the very thought of video SEO might seem daunting.
But in essence, YouTube's "monopoly" over Google search results means you have a chance to get a massive upsurge in search traffic. And with the right SEO tactics, you too can reap the rewards for years to come.
Be sure to follow our YouTube SEO checklist and your videos will dominate the top page of YouTube and Google in no-time.
Let us know down in the comments, what type of videos do you use to promote your business.