LinkedIn Ads have emerged as a true champion when it comes to feeding your sales team with high-quality leads.
So much so, that it forever changed account-based marketing (ABM).
LinkedIn's precision targeting system can help you reach the right B2B audience, capture lead info and close those high-value deals.
However, without a LinkedIn Ads funnel to segment your audience, your advertising may end up costing $1000 per conversion. And you still may not close nearly enough sales to make it worth the while.
The answer lies in our LinkedIn Ads system that will help harness the full power of this amazing platform.
Learn how to achieve a scientific advantage with our LinkedIn Ads funnel strategy and fill your sales pipeline with quality leads that drive actual business.
Using LinkedIn Ads Funnel for Account-Based Marketing
Account-Based Marketing (ABM) on LinkedIn uses highly targeted offers to attract a very specific audience of key decision-makers and stakeholders.
LinkedIn Ads allow you to target specific accounts by:
company name,
company size,
industry,
job title,
department,
seniority,
skills,
groups, and more.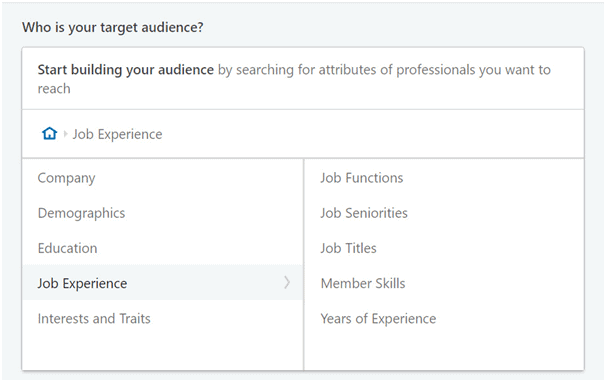 LinkedIn replaces the traditional, broad approach with its unparalleled ability to pin-point accounts with the highest potential.
For instance, let's assume you're selling a disruptive new B2B solution. Instead of taking a blanket approach, going after everyone in your target companies, you can focus exactly on user accounts that make or influence buying decisions at those companies (think CEOs, CFOs, CMOs, etc.).
That's great and all, but if you only use LinkedIn Ads to reach key accounts, you're doing it wrong. That's just half of the equation.
You probably know it all too well, B2B sales cycles can often last for 3 or more months.
Potential customers require nurturing through multiple touchpoints before they're ready to hop on a call with your sales team.
Being too aggressive with your offer early on can and will scare off prospects. Even free trials are too much of an ask for users that don't know you well.
As a result, you get poor conversion rates and your cost/conversion goes through the roof with not much new business being generated.
Not many CEOs would continue paying $5-10K per month for underperforming LinkedIn advertising.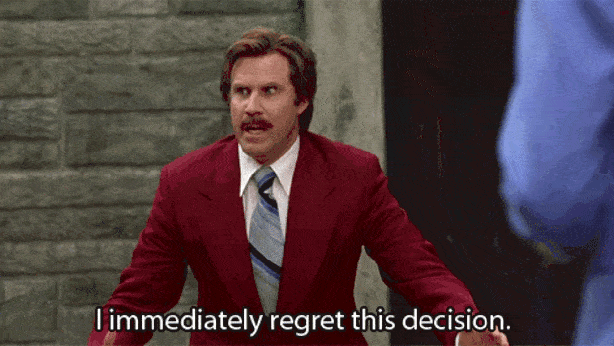 LinkedIn Ads not only help you reach highest-value accounts but also build and nurture relationships throughout the entire sales cycle to fuel your ABM.
That's where our LinkedIn Ads funnel strategy shines.
LinkedIn Ads funnel
LinkedIn Ads funnel is a strategy that uses highly-targeted ad sequences aimed to attract new prospects, then generate and nurture leads until they become paying customers.
LinkedIn Ads funnel perfectly complements the account-based marketing approach. By segmenting the audience based on the sales cycle stage it ensures each key account is delivered the right message and offers at the right moment.
LinkedIn Ads funnel consists of three main stages:
Awareness stage (Top of the Funnel) – Prospecting
Consideration stage (Middle of the Funnel) – Lead Generation
Conversion/Decision stage (Bottom of the Funnel) – Closing the Deal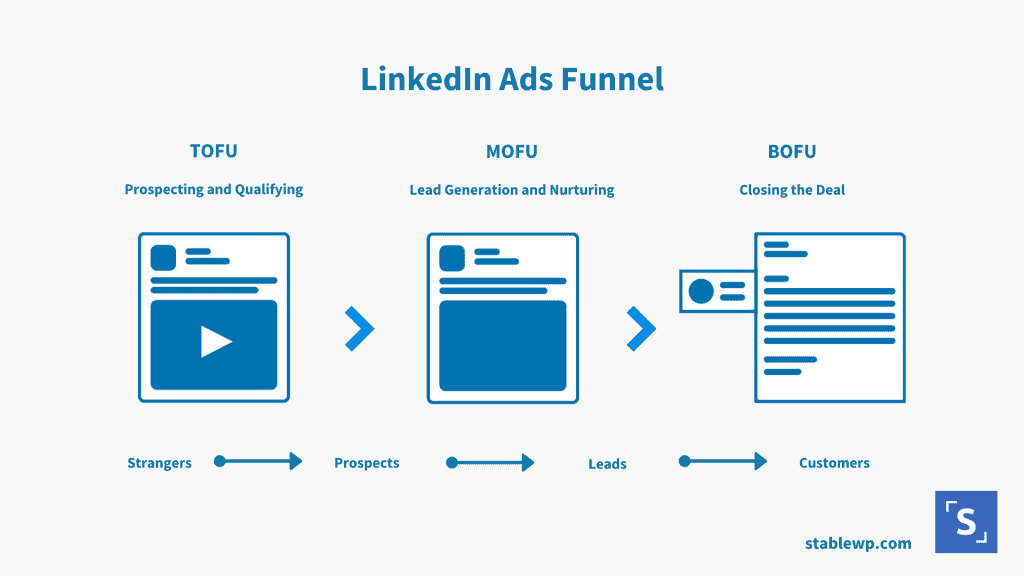 The LinkedIn Ads funnel allows you to target users with personalized messaging and offers at all stages of the sales cycle:
Strangers (cold audience) – Introduce the value of your solution and make initial contact
Prospects (temperate audience) – Learn more about your prospect to properly qualify
Leads (warm audience) – Nurture leads and demonstrate your solution
Sales-ready leads (hot audience) – Overcome objections, send a proposal and close the deal
LinkedIn Ads provide the ability to automate this process and move users from one stage to the next based on their interaction with your business and website.
For example, LinkedIn users that are still strangers to your business will see ads that introduce the value of your solution.
Next, users that express interest get a different set of offers highlighting features and results, like case studies.
Finally, in late stages of the sales cycle, LinkedIn ads can help clear any objections and close the deal.
It's very similar to the Facebook Ads Funnel which we described in our comprehensive guide. However, this time the audiences are quite different.
LinkedIn's proven itself as a prime network to reach high-value B2B audiences. And with the right strategy in place, you will escalate the effectiveness of your LinkedIn advertising.
By making your ads more effective and efficient, our LinkedIn Ads funnel will generate more conversions and leads, keep cost/conversion at a minimum and help close more sales.
To set you up for success, here's how to create a perfect LinkedIn Ads funnel.
How to create a perfect LinkedIn Ads funnel
Creating your LinkedIn Ads funnel is the process of mapping out and building a LinkedIn ad campaign sequence in line with your sales cycle.
IMPORTANT: The LinkedIn Ads funnel consists of three main stages (as described above). However, each stage usually includes multiple ad campaigns that gradually nurture users with content and offers that resonate at each step. How many steps each stage will have depends on your business, industry, target audience, the complexity of your solution, etc.
The two most critical factors of your LinkedIn advertising success are:
Audience targeting
Aligning offers with audiences based on sales cycle stage
Of course, there are other key elements to configure, like your message perspective, ad formats and creative, the ad copy, calls to action, campaign objectives, etc.
They all contribute to running your LinkedIn campaigns as effectively, efficiently and profitably as possible.
There's a lot to cover, so let's get started…
3X Your Business in 90 Days
Get an unfair advantage with our powerful 3-step funnel strategy and learn how to increase leads and sales by 300% fast.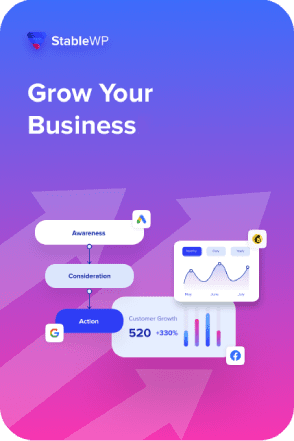 Stage 1: TOFU – Prospecting and Qualifying
At the top of the LinkedIn funnel, during the Awareness stage, your goals are to attract new prospects, build interest in your solution and qualify for further nurturing.
When prospecting for potential customers you want to reach new B2B audiences. Most likely these are people who are complete strangers to your brand.
The Awareness stage has two main parts:
The initial touchpoint
Informing and qualifying
As your initial touchpoint with cold audiences like this, it's best to start with a video ad. The ad should only feature a common problem your B2B audience is facing.
Neste, a Finnish sustainable fuel company, uses LinkedIn ads to create awareness with a scroll stopping video that asks a question:
"Are we going to witness 100% zero-carbon emissions for aviation within this century?"
The ad copy is followed by the looping video that answers this question in a quite intriguing way:
"Instead of "No", it's a "Yes, if"."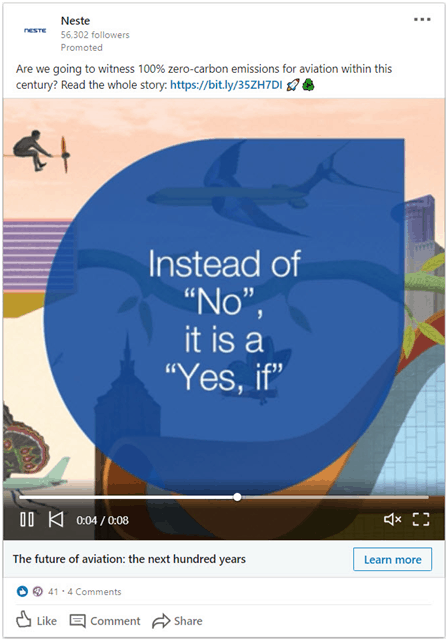 If you nail your targeting, with an ad like this you're bound to get clicks and drive the right traffic to your site.
After that initial contact with your brand and website, the rest of the Awareness stage should focus on educating about the value of your solution…and grabbing lead information.
Stripe offers a step-by-step PCI compliance guide in exchange for your email and lead information.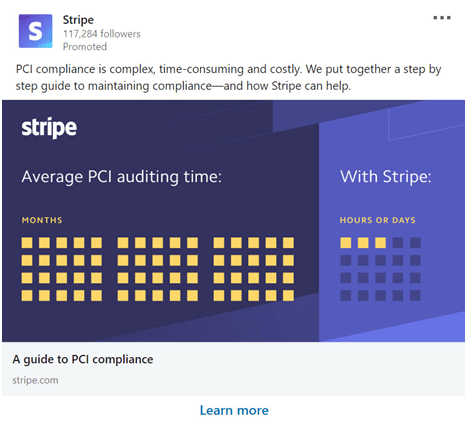 The ad presents a challenge most of their target businesses face – complex, time-consuming and costly PCI auditing process. A problem that perfectly resonates with their target audience.
The downloadable guide is a compelling offer since it promises to help overcome the PCI audit challenge.
Stripe's ad also very subtly embeds the value proposition by showing reduced audit times in the ad image.
Remember that this step is 100% about the target user, not about your brand. So, you want to be helpful and gradually educate the user.
Educate prospects with helpful content and monitor which offers (lead magnets) and website pages they interact with.
a) Audience targeting in the Awareness stage
In the Awareness stage, you're trying to expand your reach and grow your business. The best LinkedIn audiences to use for the Awareness stage are:
Retargeting website visitors (Matched audience)
List of companies (Account list)
List of contacts (Contact list)
Broad prospecting based on audience attributes
Lookalike audiences
1. A great way to initiate your LinkedIn funnel is by retargeting website visitors.
If you already have a decent amount of traffic coming from other channels like PR, networking, SEO, Facebook Ads, etc., you can start with just retargeting.
In that case, skip the initial touchpoint (the video ad from earlier) and jump to educating with useful content.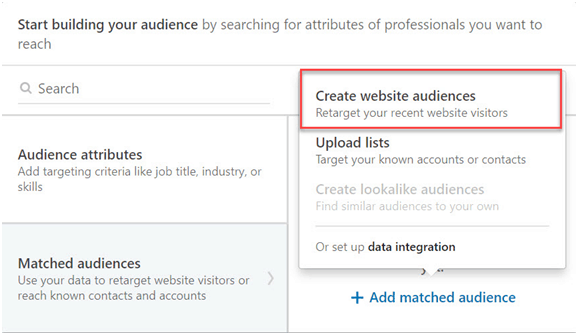 You should definitely NOT retarget all website visitors, but only those that visited your key pages.
Also, for the highest business impact layer with audience attributes to only show ads to visitors who are decision-makers.
The biggest drawback is you may not get you a huge volume of new leads and sales.
However, you'll definitely get a big boost in cost per acquisition (CPA).
Retargeting your website visitors makes it easy for LinkedIn to find suitable audiences so you get awarded with much cheaper CPC. Also, since these users already know you a little bit you also get more engagement and conversions.
There are other drawbacks to this approach as well. LinkedIn retargeting relies completely on a cookie (unlike Google and Facebook). Visitors from cookieless browsers won't end up in your retargeting list.
Also, the cookie audience only lasts for 90 days, so you won't be able to retarget users that haven't visited you in the past 3 months. You need a consistent volume of traffic to keep the retargeting list populated.
Still, starting with retargeting is a great way to get your feet wet and get some traction from LinkedIn advertising.
If you don't have enough traffic, use the next LinkedIn targeting option.
2. LinkedIn allows you to target specific companies by uploading a list of company names.
In LinkedIn, this is called the Account list.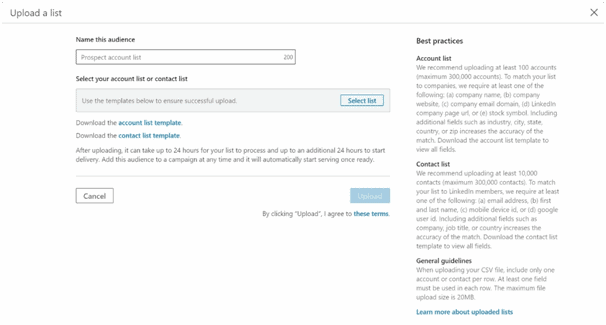 Of course, you don't want to show ads to everyone in those companies. So, layer your targeting with company demographics to only show ads to, for example, managers and above.
Also, it's important to say that since this is a cold audience that isn't familiar with your business, you need to start with the initial touchpoint (the video ad).
3. Similar to the Account list from above, you can target specific contacts by uploading a list.
LinkedIn will look through its userbase to find users that match your Contact list.
Depending on your list, this could be a cold or a warm audience so set your offer accordingly.
The drawback to using Contact lists is that LinkedIn needs at least 10,000 contacts to figure out who to target.
4. If you want to reach completely new, cold audiences, use LinkedIn's native targeting. It allows you to target Audience attributes like job title, industry or skills.
Targeting by job title is a no brainer. However, because it's very specific and it works so well everyone on LinkedIn uses it, so it becomes very expensive.
Some other Audience options worth exploring are layering combinations like:
Job function + Seniority
Skills + Seniority
Groups + Seniority
For example, you can target everyone who's job function is Marketing with seniority of Manager, Director or VP.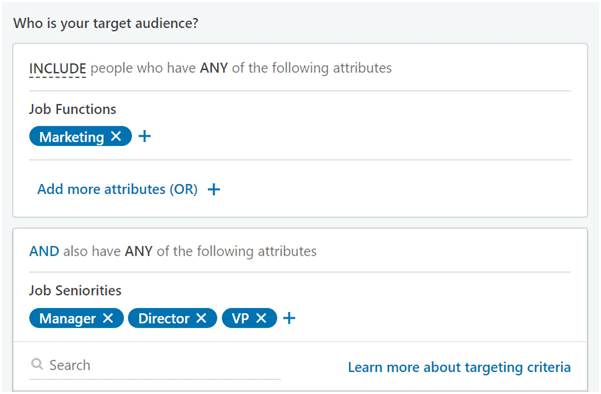 5. Finally, over time, when you rack up high traffic and conversion volume and want to scale, you can use LinkedIn's Lookalike audiences.
With Lookalike audiences, LinkedIn is going to try and find similar users to your specific audience.
For example, you can tell LinkedIn to find users that are similar to your highest-value converters.
Keep in mind that this is also a cold audience, so start from the very beginning of the funnel.
b) TOFU campaign objectives
Setting campaign objectives means telling LinkedIn to deliver your ads to users most likely to take your desired action. The best LinkedIn campaign objectives for the Awareness stage are:
Brand awareness
Website visits
Video views
Lead generation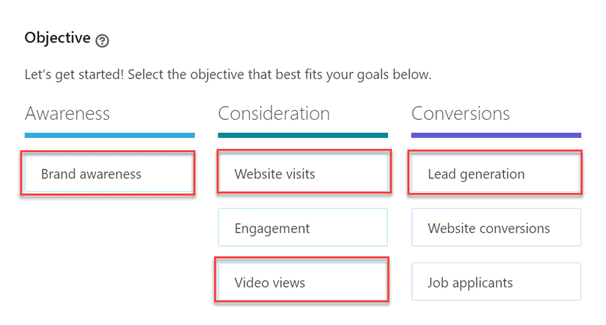 The Brand awareness objective will help increase your reach, while with Website visits objective, LinkedIn will try and drive the highest amount of traffic.
Video views objective work great for that initial video ad. It will help you increase the distribution and get as many eyes on your video as possible.
Finally, the Lead generation objective will unlock a special type of ad format called Lead Gen Forms. More on this later.
For now, it's enough to know that this objective works well at later steps within the Awareness stage where you want to collect users' lead information.

Campaign objectives can impact your relevancy score which in turn affects your cost per click (CPC).
If you misalign your objectives to the funnel stage and chose Website Conversions during your Awareness stage, you'll get poor conversion rates and LinkedIn will deem your campaigns as irrelevant penalizing you with high CPC.
Also, campaign objectives will determine your ad format as well as required minimal budget.
Also, don't be fooled by LinkedIn's naming of each objective, some may not work the way you intend. So, keep to our suggested objectives for each stage.
c) Optimal offer and ad messaging for cold audiences
Offers are a critical component of your LinkedIn Ads success. You want to match the offer to your audience's temperature.
The optimal LinkedIn ad offers for Top of the Funnel audiences are:
Landing page
Guides
Checklists
Cheat sheets
Reports
Industry stats
Infographics
E-books
During your very first touchpoint with new audiences avoid asking for anything.
Your LinkedIn ads at this point should spark curiosity without being intimidating. You just want to drive them to your site (home page or landing page).
Your landing page should be informative, explaining how you can help solve prospects' needs.
This is the case with Entrata, the TOFU video ad…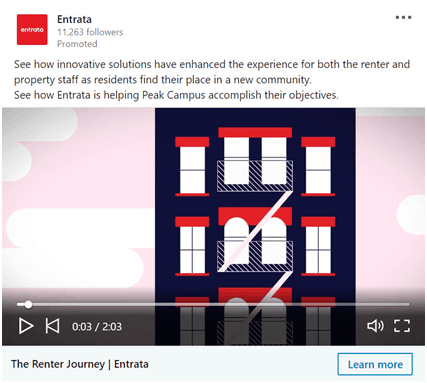 …directs users to an informative homepage.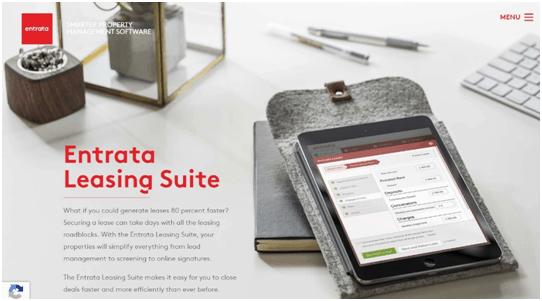 Even so, a strong call to action on your landing page is a must to direct users to take the desired action.
After the initial contact, you can start educating and informing with relevant content based on pages they visit and interaction with your content.
The point is to educate users on the benefits and value of your solution.
Subtlety is key! Make sure your ad sparks curiosity without being intimidating.
Promote low commitment and low pressure offers to your prospects.
Introduce a problem that you can solve effectively. Focus on issues and challenges your target audience struggles with.
InVision uses LinkedIn ads to offer a free report on how developers can save time and money.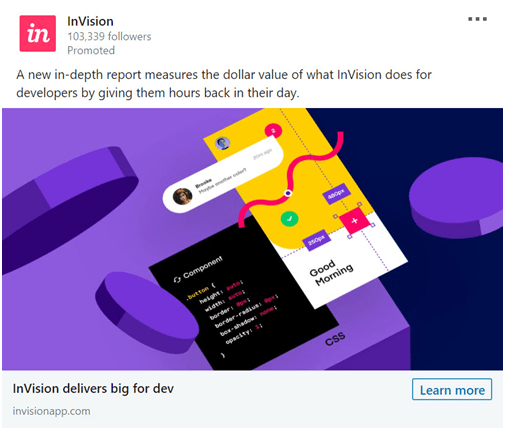 Cheatsheets are also a great fit for prospects.
By framing your cheatsheets as simple, helpful guides you can build a rapport with your target audience and gradually win them over.
Salesforce never mentions themselves in this LinkedIn ad.
However, a valuable productivity cheat sheet like this can be more than enough to trigger users into giving up their lead information.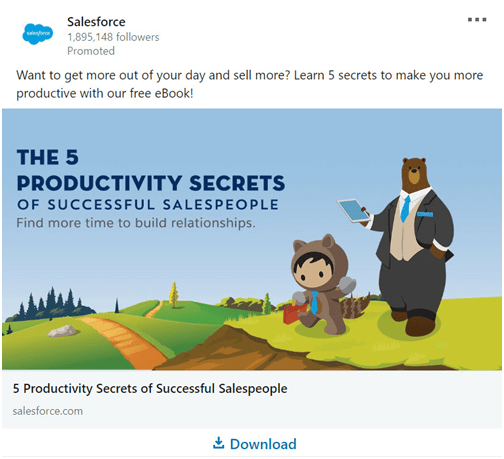 Other types of gated content such as free e-books, guides, checklists, etc., will provide value to your prospects and help qualify leads.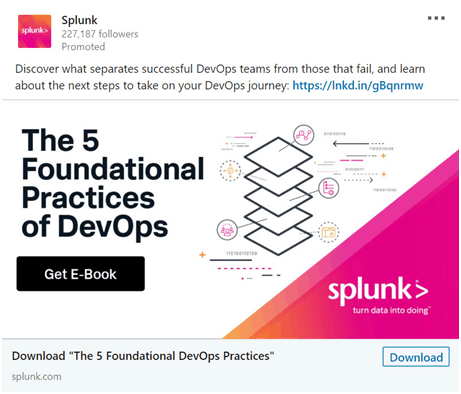 d) Best LinkedIn ad type in the Awareness stage
Since you're targeting new B2B audiences in the Awareness stage, you may need to work a bit harder to grab their attention. That's why rich ad formats work great at this stage.
Best LinkedIn ad formats for the Awareness stage are:
Video ads
Carousel ads
Image ads
Lead Gen Forms
Users that are not familiar with your brand aren't going to stop scrolling and click on your ad unless it's instantly noticeable.
As mentioned, video ads are wonderful scroll stoppers for cold audiences.
Video ads on LinkedIn play automatically as soon as they appear, so you can engage users with an interesting video that sparks curiosity.
Maximize the impact of your Awareness video ad by addressing a common user problem.
Slack does this in an excellent way.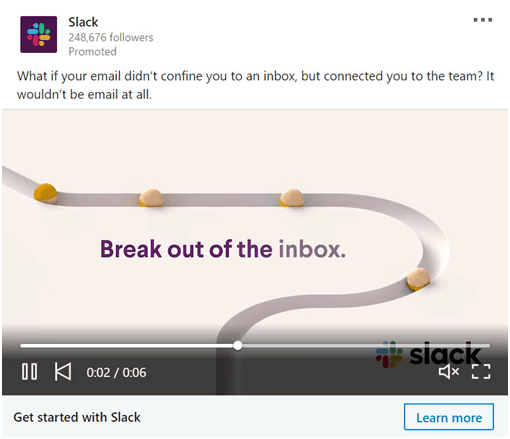 Slack's video ad offers an instant solution without ever mentioning the product or the brand.
The video is short, to the point and works great with the sound off, which is how most of your ads will be viewed.
LinkedIn Carousel Ads are also excellent for telling a story with only images.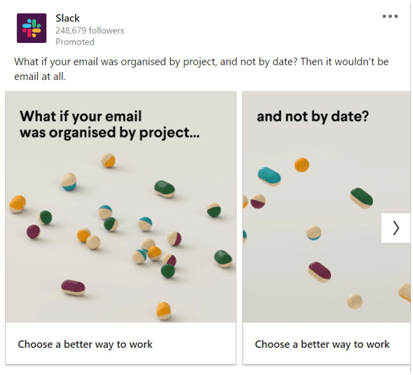 Carousel Ads can also be effective when used to give a sneak peek into your lead magnet with multiple images.
Salesforce does a great job with this LinkedIn ad by offering a preview of the report content.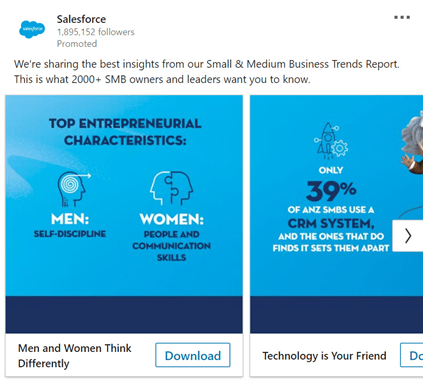 Even regular, Image Ads work well in the Awareness stage, for promoting lead magnets to users already familiar with your brand.
InVisionuses LinkedIn ads to offer a downloadable UI Animation Handbook.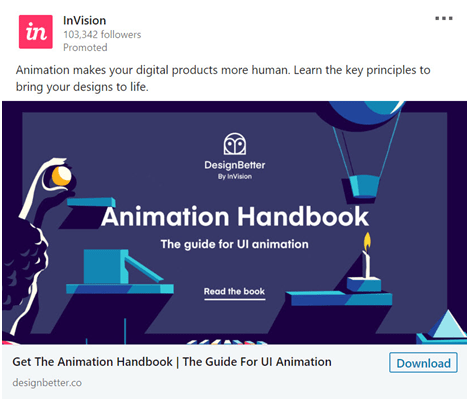 LinkedIn's Lead Gen Form ads are another format to test in the Awareness stage.
Leadfeeder promotes a free Account-based Marketing guide. A very relevant offer from a SAAS company that provides a sales automation tool.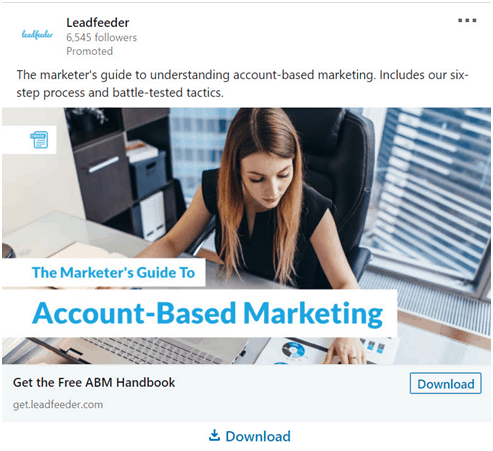 Lead Gen Forms reduce friction since users don't have to fill out their name, email and other information. All lead information is automatically populated according to users' LinkedIn account.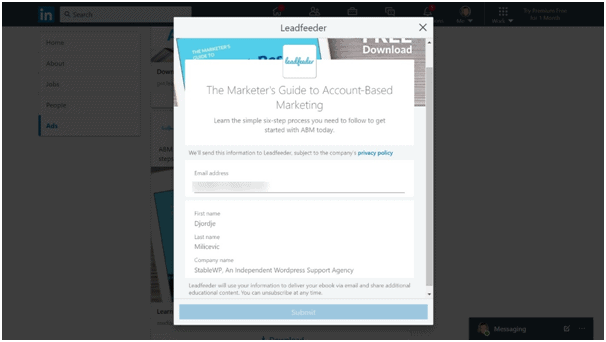 There are pros and cons to using Lead Gen ads on LinkedIn.
Lead Gen is also great if you don't have a landing page.
Test also show that they can increase conversion rates by 10-50%.
However, the pitfall of Lead Gen ads is that users don't reach your site, only a form on LinkedIn.
The quality of the leads from this format may also dip since it's so easy to submit a form like this.
Stage 2: MOFU – Lead Generation and Nurturing
Users that have expressed strong interest in your solution are moved to the Middle of the Funnel or the Consideration stage.
You can gauge user interest based on how they engage your site and which lead magnets they download.
All offers from the previous stage filter out your prospects so only the highest quality leads are moved to the Consideration stage.
Once the audience temperature is warm enough, it's time to start nurturing.
At this stage, you can talk more about your product/service. Explain the value of your solution and how it relates to the user (or their company).
Airtable's uses LinkedIn ads to introduce its automated Gantt chart which can be updated in seconds to help project managers organize their teams.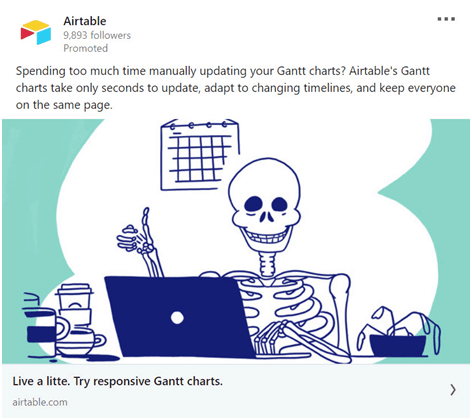 The ad itself perfectly introduces the value proposition:
Don't become a skeleton performing long and tedious tasks – live a little.
Save time on menial tasks with Airtable.
Deliver white papers and run webinars to show off your product, introduce its features and educate on how they can help your leads solve their problem.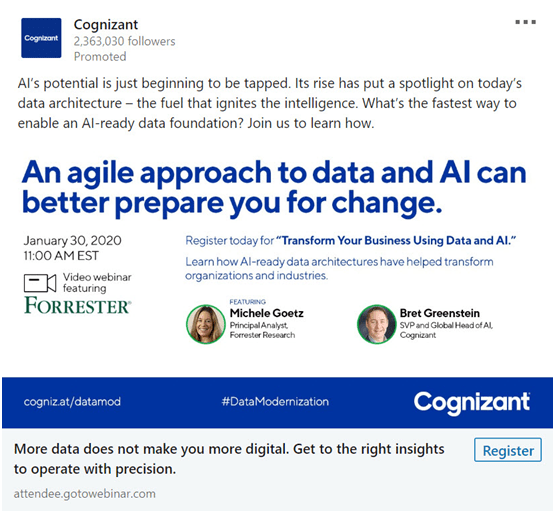 Industry stats and case studies work well at later steps in the Consideration stage to prove your solution is lifechanging and generate demand.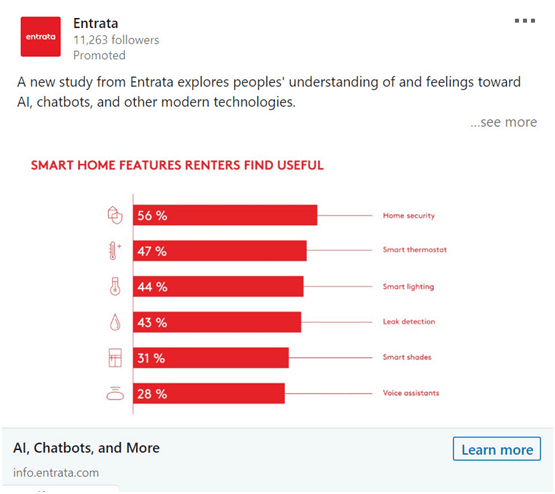 With your audience warmed up, you can gradually start asking users to engage in more committing offers.
Users at the middle of your LinkedIn funnel are considering your solution, make sure to give them a good reason to decide in your favour.
a) Audience targeting in the Consideration stage
In the Consideration stage, you want to target users that previously engaged with your website or business. Warm leads that expressed interest in your product are a perfect fit.
Best LinkedIn audiences to use in the Consideration stage are:
Retargeting website visitors (Matched audience)
Contact list
Create a retargeting list of users that have been on your website and visited key pages or downloaded lead magnets.
Include users from Top of the Funnel that took some action qualifying them as quality leads.
For instance, you can retarget users that converted on your free guide offer.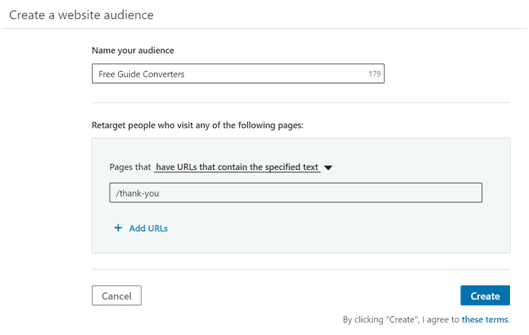 These users are a perfect fit for targeting because they are already familiar with your business and have expressed a strong interest in your offers.
You can also upload a list of qualified contacts that engaged with your business offline or on other channels.
Just make sure these contacts have been warmed up enough to be ready for this stage.
b) MOFU campaign objectives
In the Middle of the Funnel, you're looking for conversions on somewhat higher commitment offers. That's why it's best to use the following LinkedIn campaign objectives:
Website visits
Lead generation
Website conversions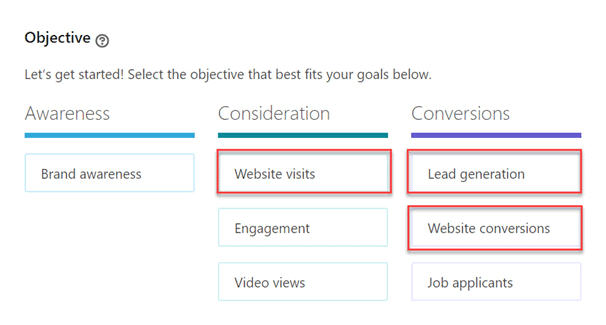 Website conversions objective will help you reach users that are more likely to take action on your site.
Make sure you tag these conversions on your site correctly using LinkedIn's Insights Tag (similar to Facebook Pixel).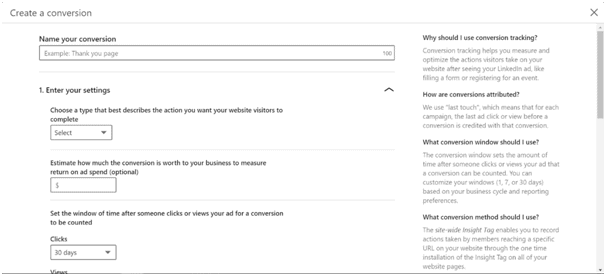 However, using Website conversions objective may also be more expensive since LinkedIn needs to dig through their network to find suitable users.
If you have a solid landing page and a strong call to action, you can use the Website visitors objective to drive more traffic at a lower cost.
With a conversion-optimized landing page, you can count on good conversion rates even without LinkedIn's objective assistance.
Finally, Lead generation objective can help increase your conversion rate and lower advertising cost by having users convert on LinkedIn without going to your site, as described earlier.
c) Optimal offer and ad messaging for warm audiences
Warm audiences in the Consideration phase are familiar with your business. You already made the first contact, built interest and now it's time to generate demand.
The following offers are optimal for the Consideration stage.
Reports
Quiz or Survey
Webinars
White Papers
Case Studies
Success Stories
Demo
Free trial
Notice how the ads in the Consideration stage are more product-centric. They focus on specific products, their benefits and features.
Stripe's LinkedIn ad features an ROI report that promotes a clear user benefit – Stripe reduces chargebacks by 25%.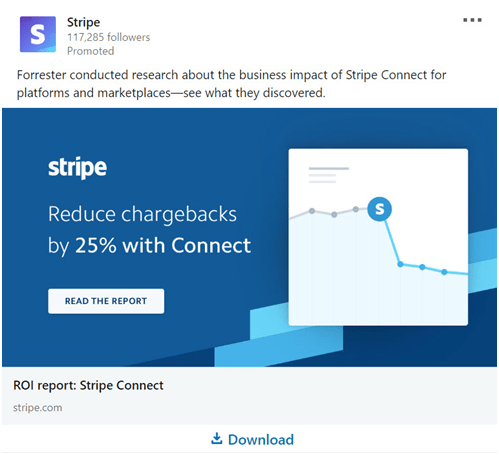 This is borderline TOFU offer, but it's still more specific which is why it may work better for the Consideration stage.
White papers, on the other hand, are the best representation of a Consideration stage offer.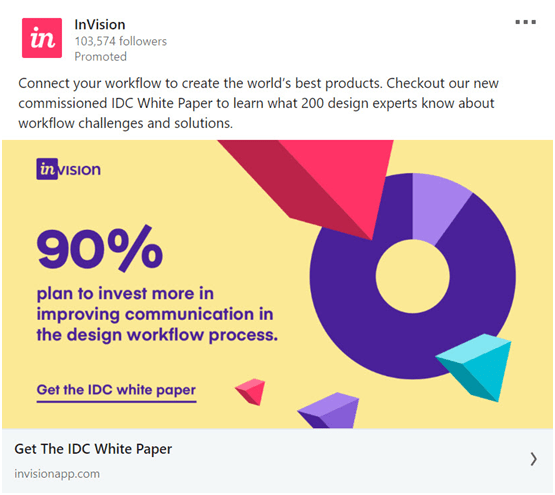 In InVIsion's white paper you can learn all about workflow challenges and solutions.
Webinars are another excellent offer to promote to warm audience.
It's a high commitment offer, but very effective. You can use it to segment leads based on their interest and sales-readiness.
Slack uses LinkedIn ads to promote a webinar that demonstrates how its tool perfectly complements Salesforce.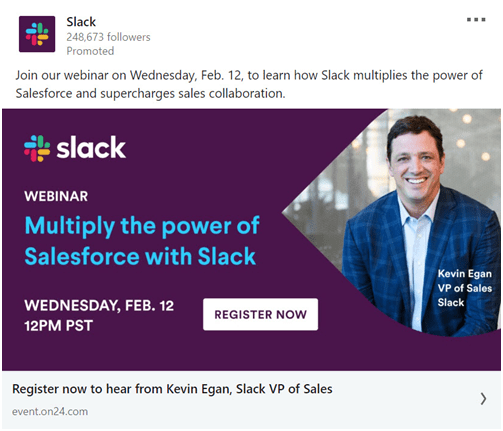 Webinars typically end with a limited offer for attendees. Use it to pitch a free trial to most engaged users and instantly move them to the next stage.
Users still on the fence can benefit from reading a case study.
Figma uses a case study in its LinkedIn ads to show how the design tool helps other emerging brands.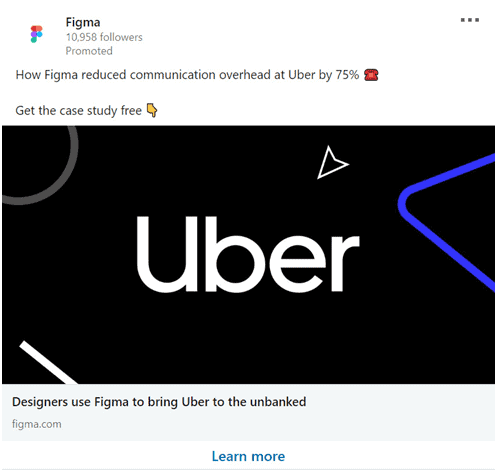 Case studies are a vital part of your LinkedIn Ads funnel arsenal that can tip the scale in your favour.
d) Best LinkedIn ad type in the Consideration stage
Best LinkedIn ad formats for the Consideration stage are:
Image ads are by far the most used ad format for the Consideration stage.
There are many advantages to image ads with the cost being the most compelling one.
It's much faster and cheaper to design an image ad than any other format.
Zoho uses simple image ads to promote an upcoming webinar.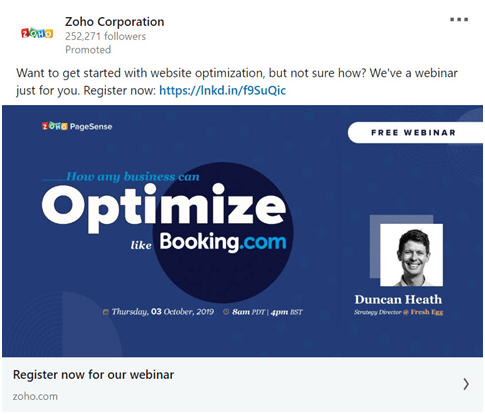 You can also be creative and use video ads to promote customer success stories like Leadfeeder.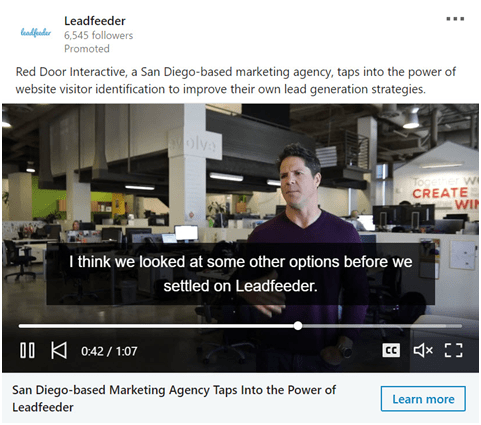 Unfortunately, video ads on LinkedIn tend to be quite expensive so it's best to reserve them for moments with the highest impact.
Avoid Carousel ads at this stage since they require multiple images and they won't get you a significant lift in CTR.
Stage 3: BOFU– Closing the Deal
In the Decision (aka Conversion) stage or the Bottom of the Funnel, leads enter the final stages of the sales cycle and it's time to get more direct and aggressive. Your goal is to drive conversions on your core offer.
As users get to know your solution and brand, you can up the ante and introduce offers like free trials, consultations and account signups.
Only the most engaged users reach the bottom of your LinkedIn funnel.
Since you only target sales qualified leads at this stage, you can put more pressure and drive high-value conversions.
Leadfeeder uses LinkedIn to start a free trial by driving home the value of their solution – getting more sales leads.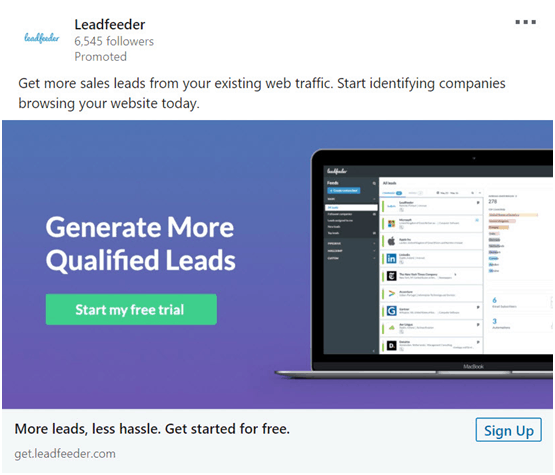 Zoho reinstates the main selling points of their analytics tool with a strong CTA urging users to contact the company.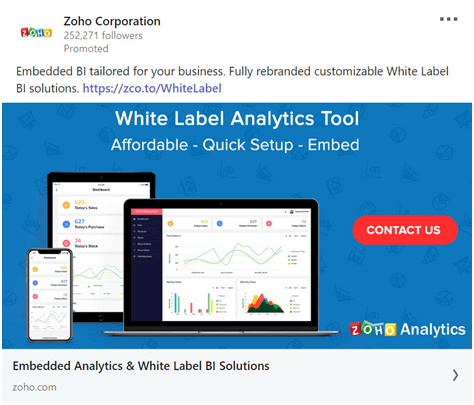 During the Decision stage, it's also good to talk about the pricing and any special offers you may have.
Shippo, a shipping management software, introduces their special offer – 2 free months of their Professional plan.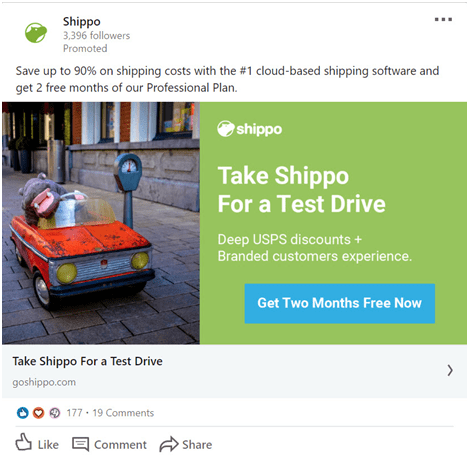 Shippo's LinkedIn ad copy repeats the value proposition. The ad includes a mention of potential savings of up to 90% on shipping costs.
The intention of these ads is to compel decision-makers to act immediately.
a) Audience targeting in the Decision stage
Targeting in the Decision stage should be very specific. Only include users that have previously converted on high offers or visited key pages on your site.
Main LinkedIn audiences to use in the Decision stage are:
Matched audience based on website traffic
Contact list
Your Bottom of the Funnel targeting should only include sales-ready leads.
Use LinkedIn's Matched audience to reach website visitors that converted on your MOFU offers or visited key pages such as your Pricing or Contact page.
You can be even more specific and layer two or more Matched audiences.
For example, target users that visited your Pricing or Contact page and also downloaded your white paper.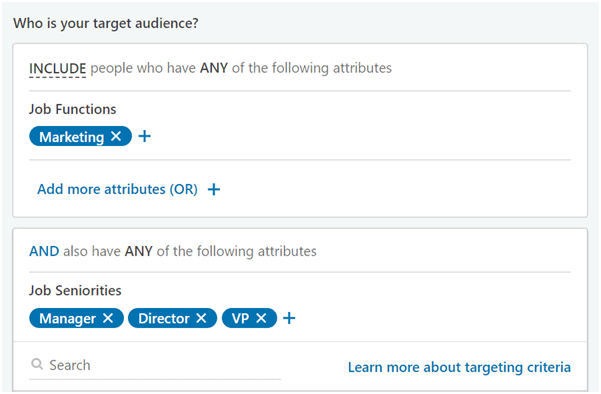 If you have leads that expressed strong interest offline, such as networking events, you can upload a list of those contacts and include them in your sales-ready sequence.
This is similar to what we used in the Consideration stage. Only this time you want to focus exclusively on sales qualified leads.
b) BOFU campaign objectives
The Bottom of the Funnel campaigns are all about driving conversions on your site. In the Decision stage the two best LinkedIn campaign objectives are:
Website conversions
Website visits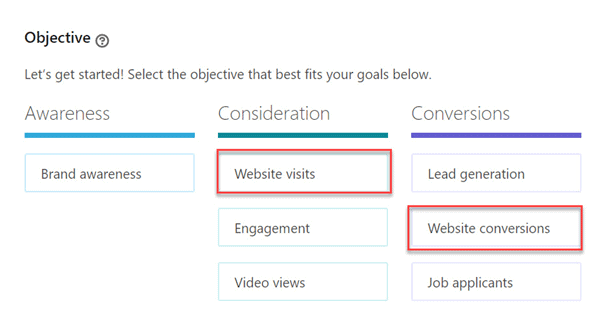 As you want to optimize your campaigns for actions on your business site the Website conversions objective is a no brainer.
LinkedIn will optimize your campaign to deliver the highest number of conversions possible with your budget.
For this to work well, you will need a lot of data on the types of people that complete your on-site conversions. This way LinkedIn can adjust your ad delivery for maximum results.
If you don't have enough conversion data, Website visits objective can be a solid alternative. And if you have a conversion-optimized landing page, you can expect to get just as good results.
c) Optimal offer and ad messaging for hot audiences
It's time to put more pressure on your leads to get those highest-value conversions and seal the deal. Offers to use in the Decision stage are:
Consultations
Demos
Free trials
Quotes and Pricing
Plan upgrades
Purchases
In the Decision stage, use LinkedIn ads to encourage users to engage with your sales team.
Offers like consultations, demos, quotes, etc., will get you the best results.
Your ad messaging shifts from focusing only on benefits and features, to including premium plans, special discounts, and other pricing models.
Including social proof in your ad copy can be effective at dismissing some common objections.
Notice that some offers like demos and free trials can overlap between stages. Don't get confused about seeing the same offer twice at different stages.
This really depends on your type of business and sales process.
For example, if you use demos to introduce the general solution (i.e. the free version) it belongs to the Consideration stage.
However, if you use demos to promote your Enterprise (paid) plan, like InVision, that's a part of the Decision stage.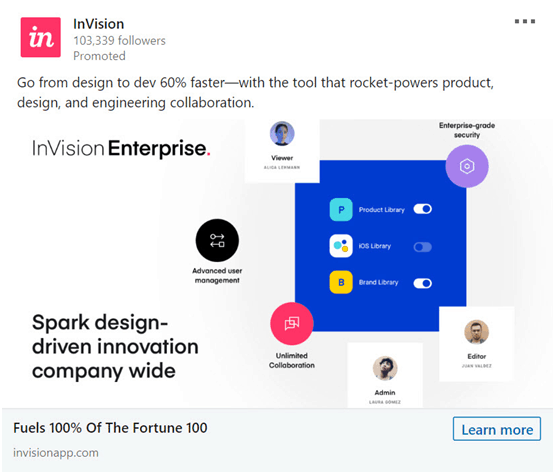 The ad leads to a conversion-optimized landing page for InVision's Enterprise plan.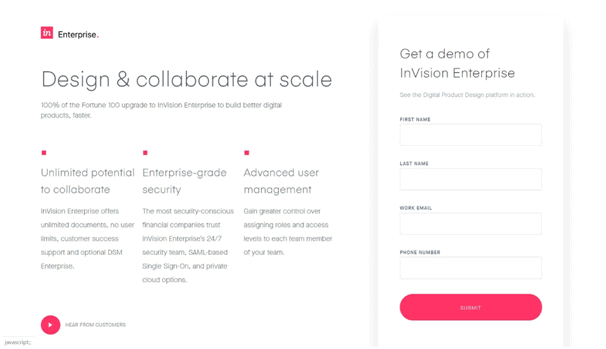 Leadfeeder uses BOFU LinkedIn ads to reassert the value of its software. The ad includes a testimonial from a happy user.
This confirms that signing up for an account is the right decision.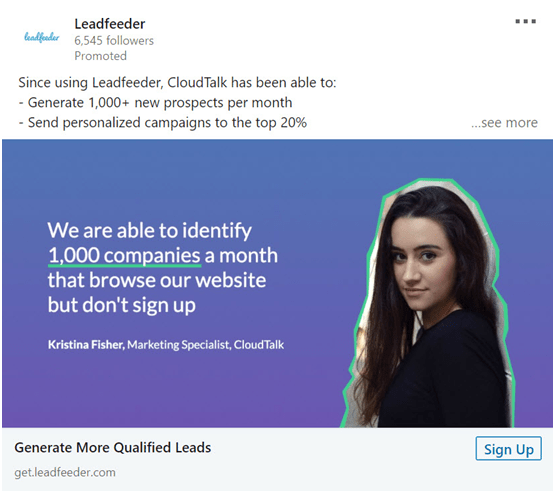 You can even use LinkedIn ads to close the deal.
For those that do sign up for your free trial, use LinkedIn ads to encourage upgrading to your paid plans.
Slack uses LinkedIn promoted content to invite free trial users to compare the features and pricing of premium plans.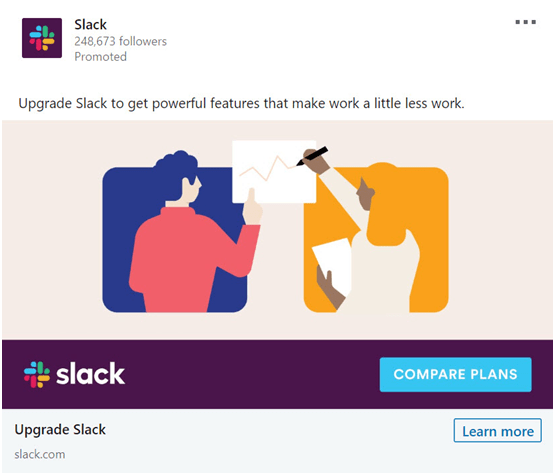 The Decision stage is critical to closing your deal so make sure to clear up any objections and promote an offer your leads can't resist.
Don't hesitate to use commanding voice to direct users to take the desired action.
With the right offer and ad messaging, the users will be only a few clicks away from your core conversion.
d) Best LinkedIn ad type in the Decision stage
The Conversion (or Decision) stage is where you go straight to the point. Your ad format should also reflect that, so no need to do anything fancy.
The best LinkedIn ad formats for the Conversion stage are:
Image ads
Message ads (aka InMail)
Image ads are very focused, making them a perfect candidate for your Decision stage advertising. This type of ads helps you emphasize a single key action that you want your leads to take.
As mentioned, this could be driving account sign-ups, requesting a quote, scheduling a consultation or even upgrading to a paid plan.
Another InVision's bottom of the funnel ad features a high contrast image accompanied by ad copy that drives home the value proposition and clears up the biggest objection – price.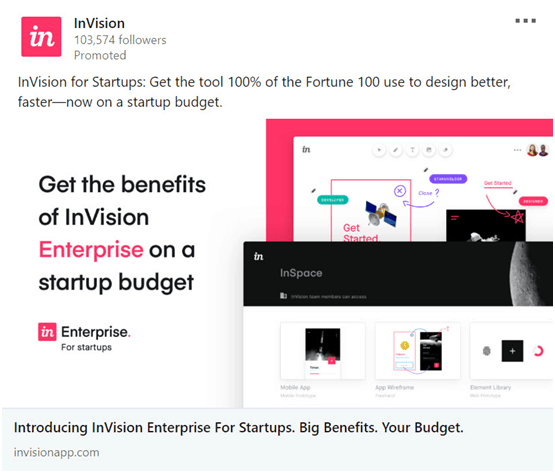 Notice also the commanding language in the ad copy – "Get the tool."
The other ad format that works great in the Decision stage is LinkedIn's Message ads (aka InMail).
Sponsored InMail or Message ads allow you to send a message to anyone you want on LinkedIn, regardless if they're in your network or not.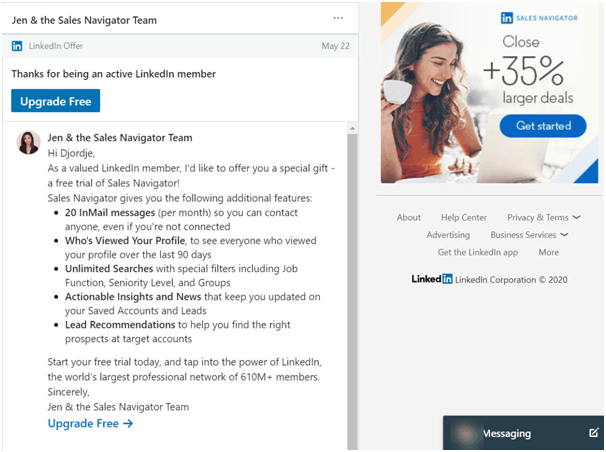 InMail ads are delivered to users' inboxes just like regular messages.
You can write up to 200 characters in the subject line and up to 1900 characters in the body.
The message also features a call to action to direct users to your landing page.
The great thing about InMail ads is that users get notified just like with regular messages.
They also feel very personal so it's a great way to drive conversions in the Decision stage when users are already familiar with you.
For best results make sure your InMail ads feel like a personal invitation.
Avoid using your company account for these ads, it's best to use a personal profile from someone on your team. You'll see far better open rates.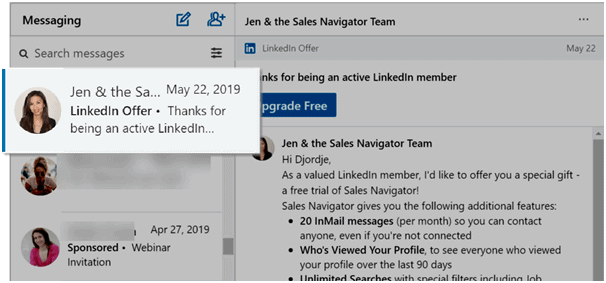 And the biggest drawback to InMail is that they're expensive. And they're expensive because you pay whenever you send this kind of message, not when someone opens it.
You want to use LinkedIn's Message ads sparsely, only when you expect to make the biggest impact.
We recommend using InMail ads only for special kind of offers, and only send it to users who are already engaging with your business. These could be things like special discounts, event invitations, webinars, early access, sneak peek, job offers, etc.
This increases the chance of users opening your message and converting on your offer.
Otherwise, it may just feel like spam and you won't get many opens, clicks or conversions.
LinkedIn Ads FAQ
Here are some of the most frequently asked questions about LinkedIn Ads, answered.
1. Are LinkedIn Ads expensive
LinkedIn Ads are relatively expensive compared to Google and Facebook ads.
The cost of LinkedIn advertising is impacted by its unprecedented targeting capabilities which let you target specific companies, but also specific people within these companies.
On LinkedIn, you can run extremely efficient advertising thanks to the options to target only relevant people such as decision-makers, stakeholders and others that influence a company's buying decision.
This makes it an indispensable advertising platform for anyone trying to reach the B2B market.
2. How much do LinkedIn Ads cost
LinkedIn ads cost benchmark costs are:
CPC (median) – $4.19
CPM (median) – $8.45
The cost of advertising on LinkedIn can vary depending on a number of factors like:
The audience you're targeting
Industry
Ad format used
Placement
Campaign objective
CTR (click-through-rate)
Conversion rate, etc.
Here are some benchmarks for LinkedIn ads costs depending on ad format:
Promoted Content – $6-9 per click
Text ads – $2-5 per click
InMail ads – $0.35-0.85 per send ($15-27 per click)
Video ads – $0.6 per 2 seconds viewed
The cost can vary depending on the audience type. If you bring your own list of contacts or companies to target, LinkedIn is going to award you with cheaper minimum bids than if you use its native targeting (by company, job title, seniority, etc.):
LinkedIn's native targeting – $4-6
Your own data (list) – $3-4
Running LinkedIn profitably requires efficient and effective advertising. That's why a funnel system, like the one in this article, can significantly improve your performance and deliver profitable results.
3. Who should use LinkedIn Ads
LinkedIn Ads work best for B2B businesses looking to target specific companies as well as specific people within those companies.
Due to LinkedIn's audience consisting of business professionals, it makes perfect sense to use this platform to reach companies and specific decision-makers.
The cost of advertising on LinkedIn also sets some general budget requirements. We suggest setting a starting budget of at least $3000-5000 per month.
Although you can run LinkedIn ads with any budget, bigger or smaller, the amounts suggested will produce enough conversion data to be statistically significant to make any kind of business impact.
Also, depending on your industry, companies that have a customer lifetime value (CLV) of around $10,000-15,000 can expect a solid payoff and ROI from LinkedIn ads.
However, this can vary depending on your business model, competition, close rates, cost-per-conversion, customer acquisition cost (CAC), etc.
4. How to move users from one stage of the funnel to the next
To move users from one stage of your LinkedIn funnel to the next you need to include and exclude specific audiences. Include all users from the previous step and exclude the ones that have already converted on your current offer.
For example, to switch between MOFU and BOFU, you can include all users that downloaded your white paper (MOFU offer) and exclude all that have already signed up for a free trial (BOFU offer).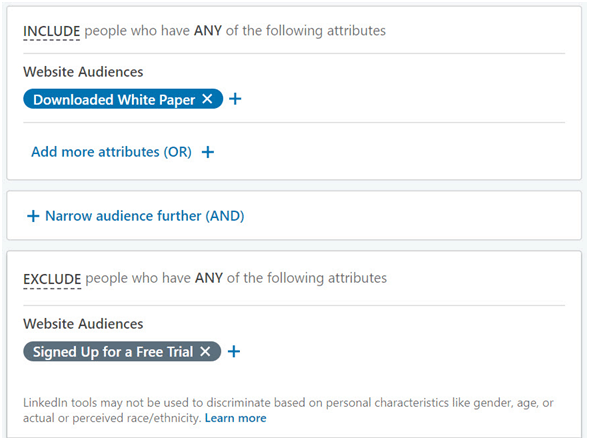 Excluding users is extremely important for your LinkedIn Ads funnel.
Without excluding, you'll end up showing ads from all previous funnel stages even to users that reached the bottom of your funnel. That would create confusion and inefficiencies that could ruin your entire funnel and a waste of your precious ad dollars.
5. How to scale LinkedIn Ads
Once you've reached peak performance with your current LinkedIn Ads setup, it's time to scale and accelerate growth. There are two main ways to scale LinkedIn Ads:
Vertical scaling
Horizontal scaling
a) Vertical scaling means increasing your LinkedIn ads budget.
One thing you must wary of is audience exhaustion.
LinkedIn doesn't tell you how many times each person saw your ad.
If you don't set up your targeting right, LinkedIn might use your increased budget to increase the impression frequency.
This means your ads will be shown over and over to the same people. Even those who will never convert, meaning your increased budget goes to waste.
To save yourself from this, keep an eye on your Target Audience size in Forecasted Results size and compare it with the number of impressions.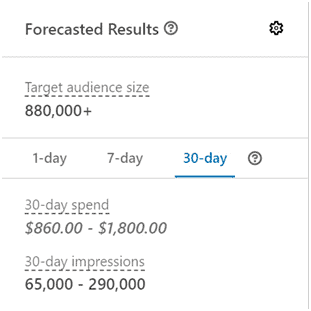 If the number of impressions is significantly higher than the target audience size, you're reaching people multiple times.
Over time this will lead to a decline in your CTR and may experience a drop in conversion rates and other KPIs.
Once you've exhausted your vertical scaling options turn to horizontal scaling.
b) Horizontal scaling on LinkedIn means taking your successful campaigns and expanding to new audiences on LinkedIn.
Test the following audience setups when doing horizontal scaling:
Use Lookalike audiences
Target companies of different size
Test targeting different people based on seniority and job roles
Expand to other countries
Test different demographics
Conclusion
LinkedIn is an amazing advertising channel with unparalleled targeting abilities. You can use its precision targeting options to reach your target customers in the B2B market.
Yes, it's true that LinkedIn ads are expensive compared to Facebook and Google.
However, with the right strategy like our LinkedIn Ads funnel, reach the right audience with the right offer at the right moment audience to win new customers, grow your business and maximize your ROI.
For best results use LinkedIn advertising in tandem with other channels like Google and Facebook Ads, email marketing, SEO, etc.
Tell us what you think, what audiences do you target, and have you found success on LinkedIn. Feel free to drop a comment down below.
And if you need help setting up a perfect LinkedIn Ads Funnel for your business, get in touch and see what we can do for you ?