Bring your vision to life
Get a unique website that's tailored to your needs. We listen carefully, to turn your dream website into reality. Take full control over your design and functionality with StableWP.
Hosted on superfast servers
Host your site on our blazing-fast servers for the highest performance and a kickass user experience. Our servers are ready for traffic surges to make sure your site loads in a blink of eye.
Spur growth with a website worthy of your brand! Build trust and authority that engages visitors to become loyal customers. Integrate with other power tools to automate your business success.
WordPress powers over 32% of all websites on the internet! Set your site on a solid foundation, built to last. Establish your business on the most versatile and flexible platform with over 50K plugins and thousands of themes.
Staying current and secure
Have complete peace of mind knowing that your site is backed-up and secure. We monitor all events on your site 24/7 to prevent any suspicious activity or attacks. Your site, plugins and themes will regularly be updated to ensure maximum performance and security.
Make informed decisions with integrated Google Analytics and other power tools. Get all the performance data needed to make smart moves towards your business bottom line.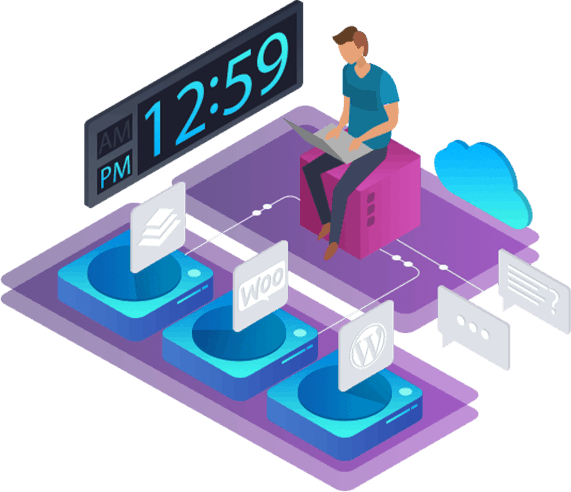 The best part of our service is that we manage everything for you! We can save you a ton of time, so you can focus on running your business. All that for a single monthly payment.
Frequently asked questions
How would your service benefit me?
We're a team of WordPress geeks and we help solve massive amount of problems every day. If your WordPress site is experiencing any problems or even things that you aren't even sure about – simply shoot us an email and we will see what we can do for you. We offer a flat rate service from just $197 for unlimited support and small tasks each month. This will allow you to focus on your business and a peace of mind.
What do you mean by 24/7?
Our team will be on standby and complete your request (usually within 12 hours), Monday to Friday, during business hours. If by any chance the task is urgent, we will be go beyond that and work on it over the weekend as well.
What's usually the turn around time for each task?
Most tasks would be completed within 12 hours (if not, 24 hours max). If you request a task over the weekend, it will be handled first thing on Monday morning unless you deem it to be very urgent.
Can you please define what you mean by 'small jobs'. I am not sure if mine is one.
We define small jobs that can usually be accomplished within 30 mins (see plans). If you're sure, feel free to sign up and we will try to finish it. If not, you can request for a full refund.
Do you support more than 1 site?
Each subscription plan is attached to 1 domain only. If you have 2 sites, you are welcome to sign up twice.
I have a network of sites, do you offer discount?
If you have more than 5 sites with us, we can work out discounted rates. Please email us with your domains and further information.
What do I have to provide you to work on my site?
We would require full access to your site. This normally includes FTP and Cpanel credentials.
My site is hacked! can you help?
Absolutely. We will do our best to recover and secure your site. If you're on our standard or professional plan, we will even work around the clock with no additional charges to fix the site. This is part of our security guarantee on standard and professional plans (not available on lite plan).
Do I have to commit to a contract with your service?
No. There is no contract to sign, setup fees or cancellation fees. Our monthly/annually service is billed using recurring subscription.
Do I have to commit to a contract with your service?
No. There is no contract to sign, setup fees or cancellation fees. Our monthly/annually service is billed using recurring subscription.
Do you only work with WordPress sites?
That would be 'Yes', in most cases. Unless you have a site on another platform (such as wix or blogger) and wanted help to migrate it to WordPress.
Unlimited small tasks? Do you really mean it?
Absolutely. We will be happy to handle all small fixes and tasks for you, that can be completed within 30 mins (see plans). Anything beyond that would consider would be consider a complex task and outside of scope. For larger tasks, we recommend seeking for a professional WP developer instead.
I have a long list of small tasks here and there. can you help?
Absolutely. That's what we are here for! Simply send us an email with the task you need done (1 at a time), and our team will handle it promptly.
Where is StableWP located? I am worried about security.
We are located in a beautiful city known as Toronto, Canada. Our business hours is in EST zone (UTC -5:00). However, we actively monitor all incoming tasks to ensure urgent requests would be handled promptly.
What form of payment do you accept?
We are flexible. You can pay us using Paypal, or credit card (through Paypal gateway) including Visa, Mastercard, Amercian Express & Discover Card. Simply decided which plan suit you best and get started. You will be charged for the plan you selected and auto-renewed on your desire billing cycle (monthly or annually).
What's the difference between month-to-month and annually subscriptions?
For month-to-month subscriptions, you will be charged per month basis. For annual subscriptions, you will be offered a discounted rate and will be prepaying for 12 consecutive months from the start.
What if I want to change plans or cancel along the way?
No problem! We understand that your business needs may change and we are here to provide flexibility to change your plans anytime, whether if you want to upgrade, downgrade or even cancel. Simply shoot us an email and we will provide further instructions accordingly.
I am ready to sign up, but just a few more questions!
No problem. Feel free to send us an email or through our contact form. We would be more than happy to have all your questions answered!
It's easy to get started with StableWP
Get in touch, and learn more about how we can help your business grow in the digital world.